Magic's newest expansion has us returning to Innistrad just in time for Halloween. Innistrad: Crimson Vow is the second of two expansions set in the horror-themed plane, and this second set sees the two main vampire lineages uniting in the most consequential wedding in the history of the plane to thwart the besieged humans' attempt to reset the balance of day and night and plunge the world into the Eternal Night. A new set means new cards to examine, and in this article we'll talk about the monocolored cards and what they mean for the game in different formats and how they'll play.
Multicolor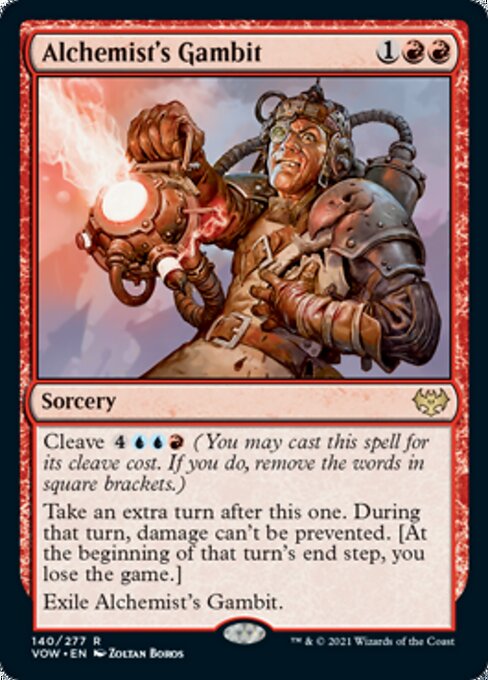 BPhilipYork: I think this is nicely balanced.  7 is a bit much for a single extra turn spell that exiles itself, blue has some better comparable 5 for an extra turn, and then instants and double extra turns or with delve or whatnot up from 7.  However this is a great card for Obeka, Brute Chronologist decks, and also just for decks that struggle to close out games; where I mostly see it being played though is with Obeka or other end the turn effects or some other way to cast it for 3 and avoid the downside, really this is a standard card.
TheChirurgeon: Not sure why this wasn't in red, but happy to talk about it now. Hoo boy, this card feels like it's playing with fire. As-is, I'm not sure it's what RDW decks want and it may be too slow and without enough upside for Izzet turns (not sure why you'd play it over Alrund's Epiphany) but adding another effect like this into legacy formats is always risky.
FromTheShire: You're in EDH territory now son, there's blue in the Cleave cost so it's IDENTITY is multicolor. This is super good though. Extra turns are always powerful, and being able to fire this off cheaply if you can close the game out immediately, or if you have a way to stifle the trigger, is great. There's already a really sweet looking aggressive Izzet Dragons list floating around for Standard and I wouldn't be surprised if this pops up there as well.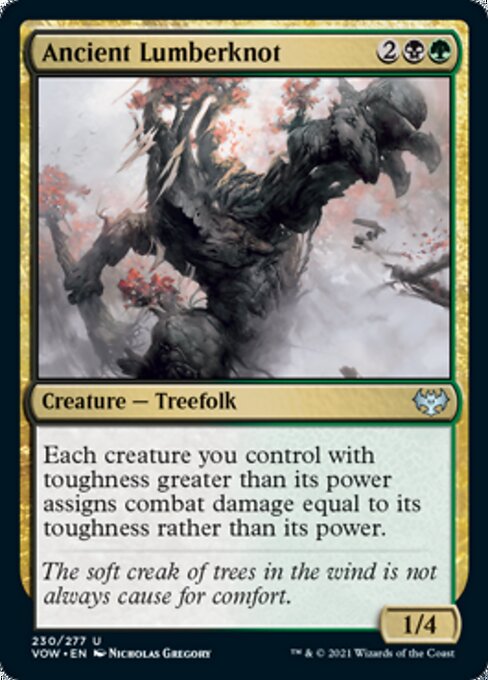 BPhilipYork: What I like about this is the redundancy, though sadly the colors are wrong to make an Arcades, the Strategist, there are still cards like Ikra Shidiqi, the Ursurper to use with this, and some goofy defender things, and that's where it'll see play.  It's a fun "fair" card, and that's where it'll have an impact.
FromTheShire: Nice to have another backup Doran, the Siege Tower or piece for Sapling of Colfenor, mostly limited to those decks though
TheChirurgeon: I've always liked building around Doran as a Commander in my more casual Commander group and so it's cool to have a secondary effect that can do the same thing. But otherwise this guy's just a 4/4 for 4.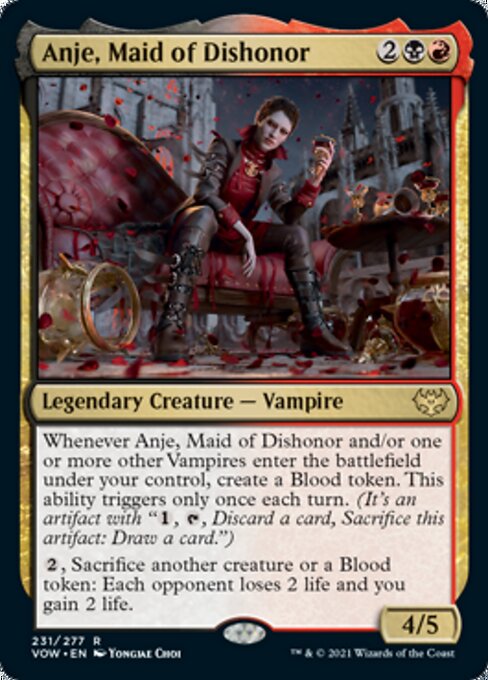 BPhilipYork: I'm not that sure about Blood Tokens, they basically play into the same theme as Prosper, Tome-Bound, though I think there's enough there to build around.  Generating artifacts can be powerful, and there are plenty of things that just care about the sheer numbers of artifacts or artifacts etb or artifacts going to the grave to get some leverage here.  Generally I'd see this version of Anje as an enabler in another deck, rather than as something build around with the 4 cost commander, especially lacking blue since izzet is the colors best able to leverage discards for card advantage generally, but there's probably some kind of grixis deck to build around this.
FromTheShire: Really nice constant drip of Blood tokens, and being able to turn those tokens or sac fodder into drain when you're ready to close out the game is excellent. Abilities like this that give low value pieces "reach", or the ability to push through damage, make for excellent curve toppers. Expect this to be a serious player in the Standard deck.
TheChirurgeon: Getting artifacts as an ETB trigger for Vampires seems abusable but smarter people than me will come up with less tortured combos to make it good.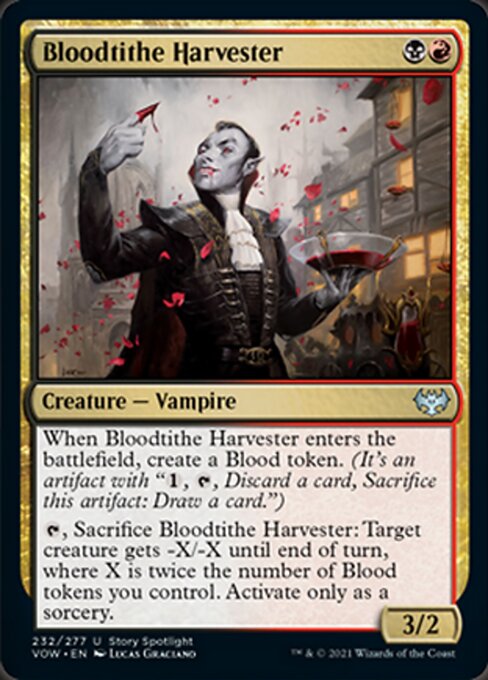 BPhilipYork: As a piece in an artifact deck or a combo enabler it's something, it's also a 3/2 vampire for 2, which is nothing to sneeze at.  There's plenty of chance you can build a loop around this or just use it as utility removal, also -X/-X is probably nearly the strongest kind of creature removal since it overrides indestructible and effects like that.
FromTheShire: A "sign post" uncommon that helps signal newer players what they should be trying to do in draft, this card is really solid. A 3/2 for 2 that also makes a token is great, and then you can also use it as removal? Excellent.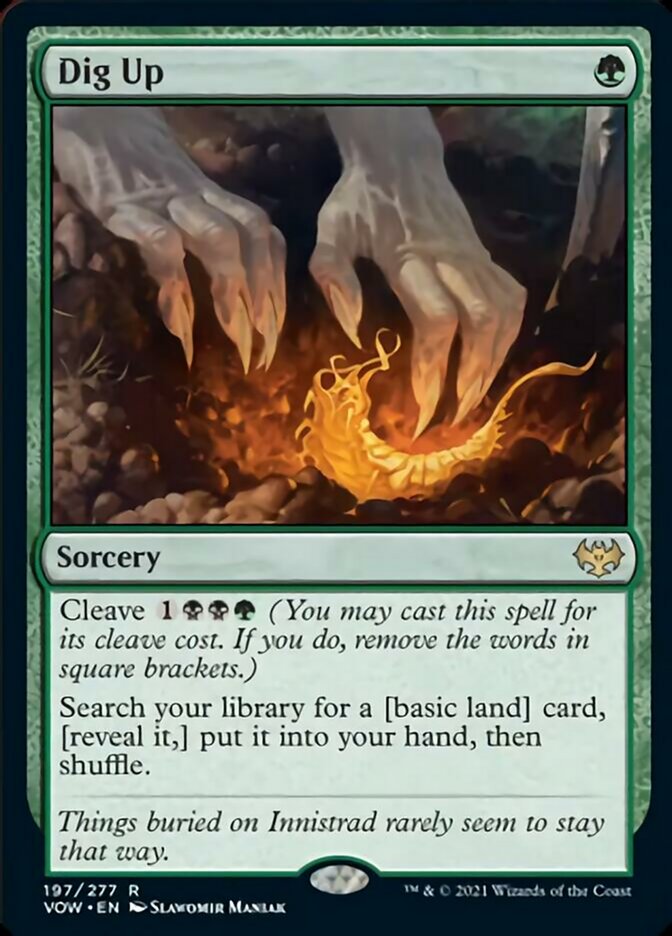 BPhilipYork: I like this card a lot, feels just like clever design and neat, scales up nicely and lets you grab a land if you need early game, late game it's a 4 cost tutor.
FromTheShire: Really love this card. 1 mana to get a basic early is fine, and then later you can get an unconditional land tutor which is outstanding. We've seen cards with this same 1 mana get a basic with a rider consistently be extremely good across multiple formats as well.
TheChirurgoen: This is great. I love how it scales and being able to tutor for any card later in the game is very, very solid. Also 1-mana fixing is always welcome.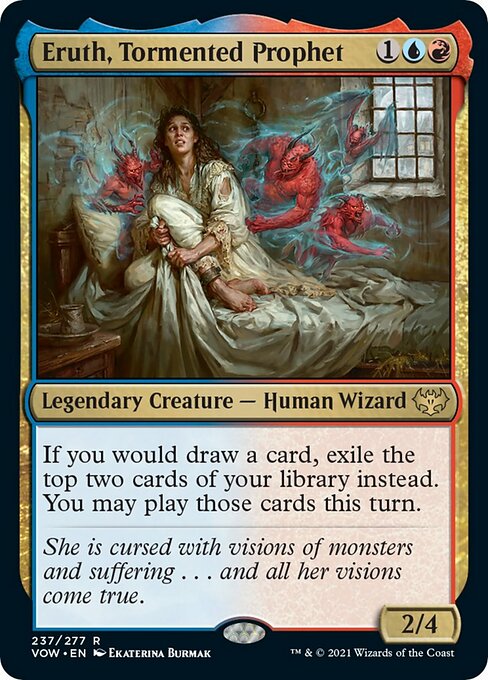 BPhilipYork: This is a strong card.  Like really strong in a number of ways.  Having a bunch of cards in exile you can play can be enormously strong, and lets you do things like force all players to discard or exile cards from hand and ignore it.  That being said it's not just straight card draw, it can be stopped short by something like Drannith Magistrate, and so it has to be build very carefully around.
FromTheShire: If you're getting ready to wheel/storm off, this doubles up the effectiveness of all of your wheel effects, cantrips, etc. Obviously it's very all in but that doesn't matter when you're already on a win now or lose plan.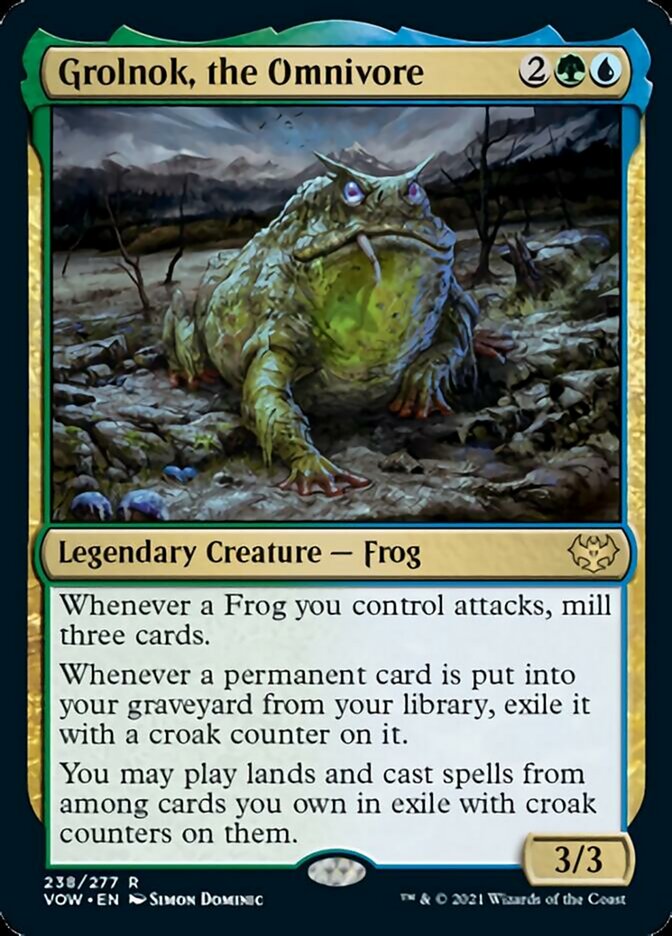 BPhilipYork: This is a potentially cEDH commander, you can do things like mill away Leveler and Thassa's Oracle and then just cast them, usually self mill is pretty trivial.  However the ability to play cards with croak counters on them is linked to Grolnok, the Omnivore being in play, so it's definitely a dangerous omnivore.  I think, given the many strong options available to simic this card won't see a huge amount of play aside from tribal or goofy frog decks.
FromTheShire: This is a fun self mill commander, a shame that it isn't Sultai, as cliché as that is. Still, there's been a few frogs coming out recently and there are some decent ones in Simic from sets past, so maybe this is a precursor of things to come.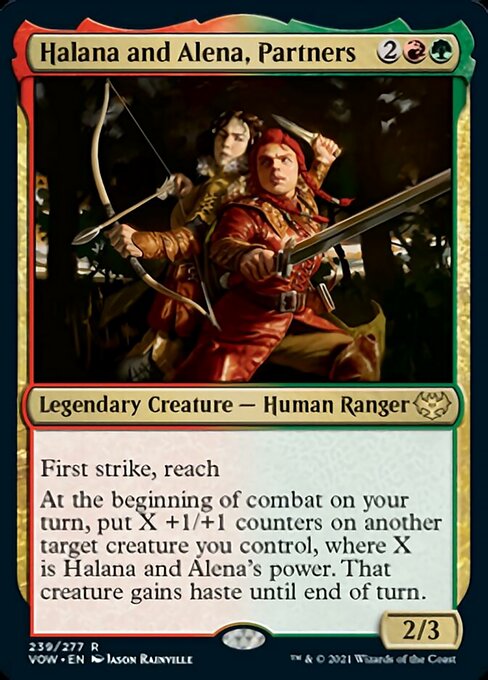 BPhilipYork: This is lamer than the original versions of these, which are much more playable.  This is just kind of … bleah, it's not a powerful enabler for Gruul, it makes some other creature permanently bigger but, like, I don't know what's going on.  In best-case scenario it seems like it's being used to buff a creature, probably a commander, that can buff it, so you use Xenagos, God of Revels to make this a 4/6, and then in turn make Xenagos a 10/9.  that's pretty far to go for so much mana and effort.
FromTheShire: An interesting twist on Xenagos, God of Revels. The creature getting counters instead of a temporary buff is nice, but it's generally going to be smaller and this is much easier to remove. I don't think I would even run this as a backup commander in that deck.
TheChirurgeon: How does this not have Partner?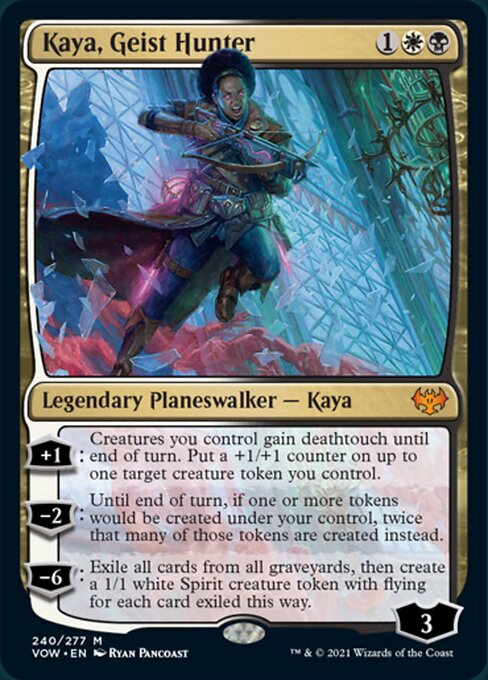 BPhilipYork: The real play here is the -2, where you can potentially be combining something like smothering tithe with a wheel to just go nuts.  Other than that these seem like lackluster abilities.
FromTheShire: Deathtouch isn't bad, more often than not you're probably dropping this as effectively 3 mana to make double tokens for a turn which could be fine maybe.
TheChirurgeon: It feels like this Kaya arrived too late to catch the BW tokens/spirit movement, and now all the decks she'd want to be in are either Bant or UW. Not sure there's much of a place for her now.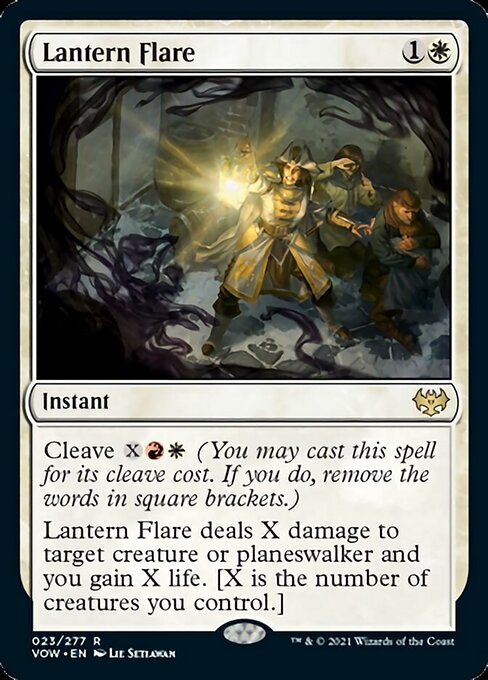 BPhilipYork: I think this is a really neat card, though deal x and gain x life is kind of meh.  But I like how sometimes you won't want to cleave, since you'll do more for 2 mana than you will by cleaving, and other times, opposite.  Neat design, but it's power level doesn't blow me away.
FromTheShire: Interesting Lightning Helix adjacent card. The scalability is nice, but not being able to go face with it is a major drawback.
TheChirurgeon: I like how this scales up, but I'm not sure drain life in red/white is efficient enough to make this playable – you're really banking on the 2-mana effect being worth it and having the Cleave version be a late-game finisher, and I'm not sure there's enough value here.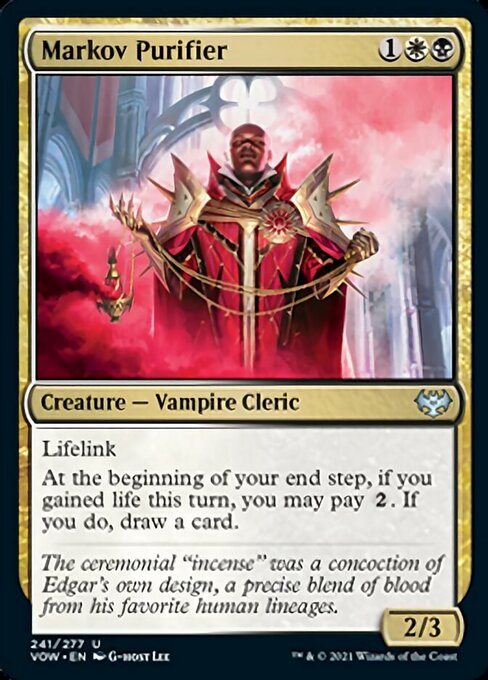 BPhilipYork: Orzhov Vampire Clerics are useful to have for theme decks and cleric decks and vampire decks.  The ability is too expensive, mana wise, to see much use.
FromTheShire: Solid rate, can trigger its own ability to draw you cards, benefit from all of the incidental lifegain found in Vampire tribal, or just slot into a generic drain/gain deck.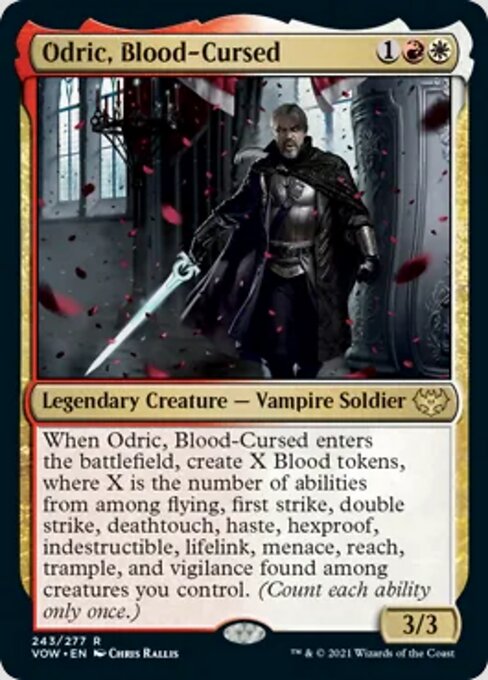 BPhilipYork: This has the potential to create a ton of hilarious tokens all at once, especially in colors that have spells like ephemerate.  Generating a ton of tokens this way could potentially be pretty powerful, though I see this is as a card in a deck, a deck built around tokens and blood tokens, not as a commander, as most of the uses for blood tokens lie in Rakdos.
FromTheShire: Adding another color to Odric is nice and he keeps the same cares about keywords feel, I'm just not sure that Blood tokens are enough of a payoff for this to be worth it.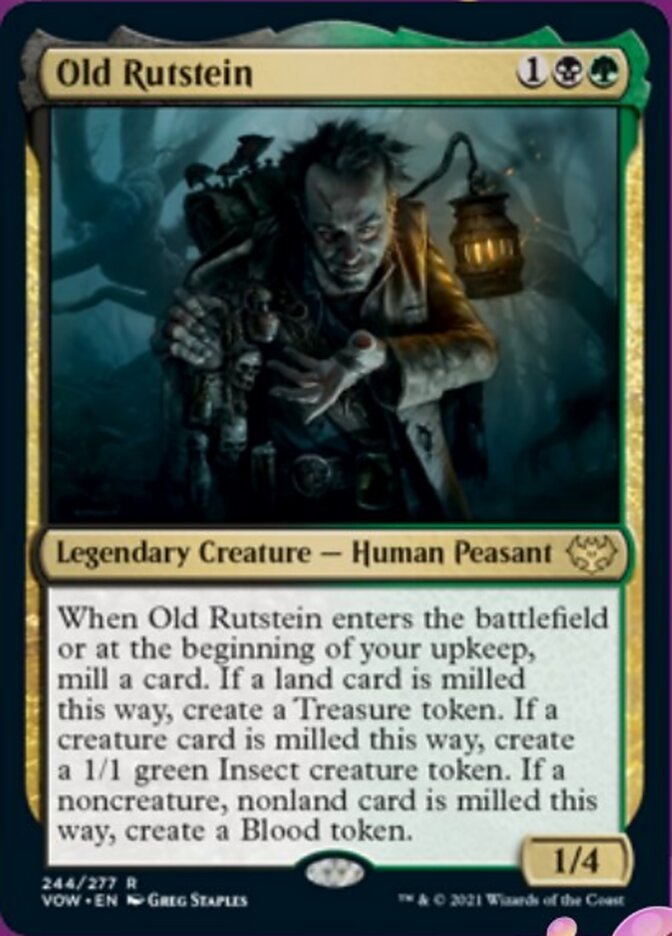 BPhilipYork: This seems too slow and ponderous to really do much, milling can be nice but there are just generally better cards.
FromTheShire: Solid value generator. With all of the graveyard value in these sets and cards like Mulch returning, there's some real potential here.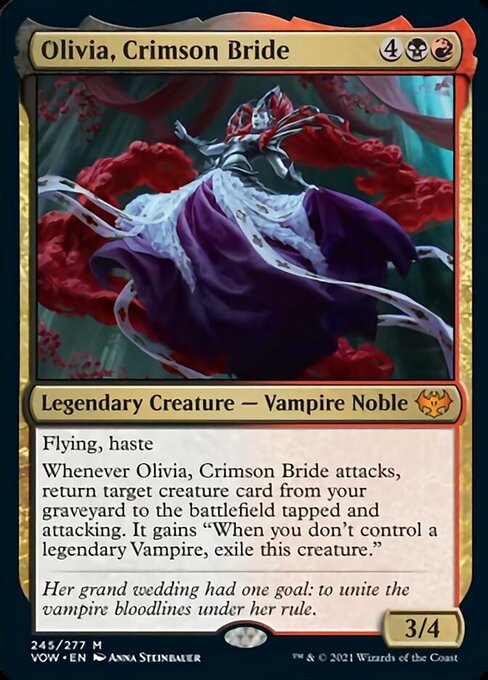 BPhilipYork: So this definitely lends itself to a deck built around filling your grave and free reanimating.  Frankly reanimating stuff like It that Betrays is pretty nutso, though you end up missing the Annihilator trigger itself, to me, this is a card that screams Mardu, not Rakdos, and a piece of a deck, not it's commander.  Reanimate a Sun Titan and you can reanimate something else at the same time, have sac outlets in case Olivia, Crimson Bride get blown up.  With cards like this you can cause a chain of creatures to leave and enter your graveyard over and over again, all of which can be to the good.
FromTheShire: Crazy powerful, especially if you can cheat it out early with something like Sorin, Imperious Bloodlord. Pick your busted reanimation target of choice and go to town.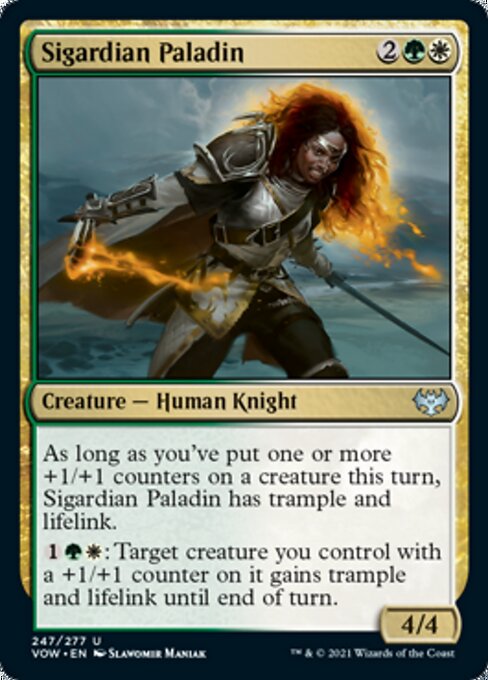 BPhilipYork: I'm kind of confused by this card, to be honest, and it seems like it must've looked different in playtest, with some kind of synergy around gaining life and putting a +1/+1 or something so that there's something here.  Yes, you can give your creatures trample and lifelink, for 3 mana.  Yes, it can end up with trample and lifelink itself if you've put a +1/+1 counter on a creature you control.  Okay.  Why play this over something else?  I guess it's a Selesnya knight, to go with Galea.
FromTheShire: I don't think this even makes the cut in the GW Humans deck in Standard, if that even materializes to begin with.
TheChirurgeon: I'd draft this but I can't see it being good enough for constructed play unless the methods for putting +1/+1 counters on creatures change.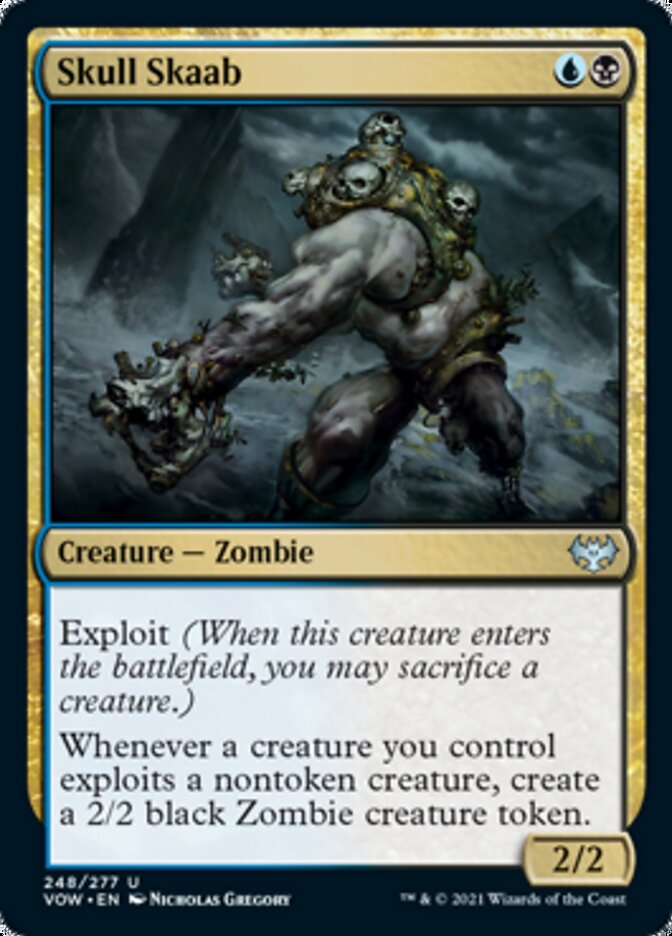 BPhilipYork: This is a gross card.  Skaabs and Dimir and exploiting and sacrificing, making tons of tokens, 2 for a 2/2 that does what this does is really a key piece in making interesting decks work, and while it isn't flashy or huge, it's a core component of a machine to bring out or mill zombies, reanimate and sacrifice and copy them, and lather, and rinse, and repeat.
FromTheShire: On the one hand I can see this being pretty useful for the Zombie decks, but on the other I think most of the time you're going to be exploiting the tokens you get from Jadar, Ghoulcaller of Nephalia or similar, which kind of limits the utility here.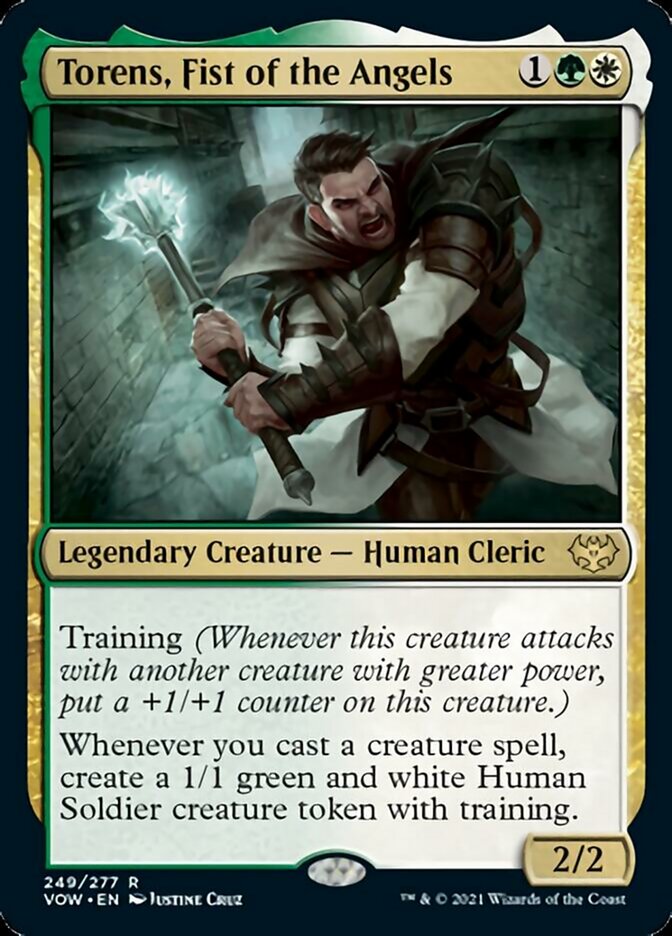 BPhilipYork: Well this is definitely potentially pretty boss.  I can't see it as a commander, frankly, but in terms of spamming out decent token creatures that is a scary ability.  It's almost on par with the monk with prowess who makes monks with prowess.  Oh right it's essentially the same template with a new ability okay.  Well even so, neat card for humans decks and fun little hordes of humans running green white.
FromTheShire: Torens, on the other hand, will be a key part if this deck goes anywhere. The Training is eh, but doing a Young Pyromancer impression where the tokens you create can make themselves bigger is pretty darn good.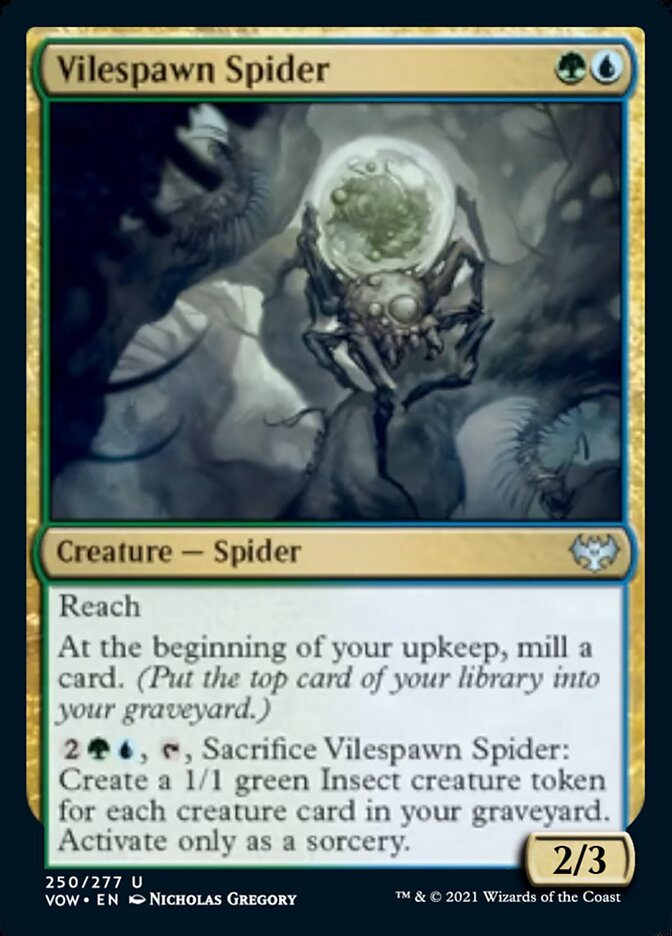 BPhilipYork: If you can somehow dump your library into your graveyard then yeah, that's a neat ability.  Also spiders aren't insects.  But simic isn't that good at what this cards want's to do, and since spiders aren't insects, then you're talking about adding black and ending up in Sultai, and yes, generating a ton of insects (but not spiders, since spiders aren't insects) is "neat" those are also the colors generally least equipped to leverage a horde of tiny insects (which are not spiders), except maybe black.  It is a 2/3 with reach for 2 which isn't nothing.
TheChirurgeon: I like this. It's efficient enough with plenty of upside and the imposed self-mill in a card that fits into Sultai colors feels playable to me at lower power levels.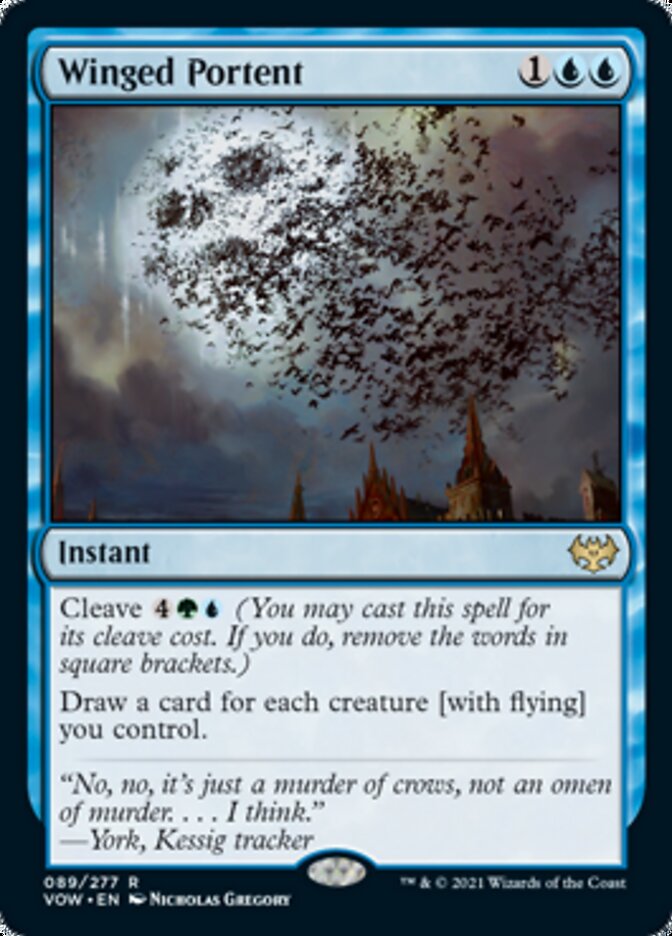 BPhilipYork: The art is so good.  The card is, also, a card.  Yeah, why does the cleave cost include green?  Why is it not white, the color of auguries stuff, or well?  Normally the main use for this would be in things like spirit decks, but that's blue-white, and this is blue-green.  So I'm sure it'll see some play, but in commander, the colors just aren't right.  In fact green is kind of the "anti flying" color so it's a bit confusing.
FromTheShire: I'm super sad that this has green included because I have a couple of Bird decks that would looooove this card. Is the color restriction and extra mana worth being able to cast your Shamanic Revelation at instant speed? Probably, honestly.
Double-Faced Cards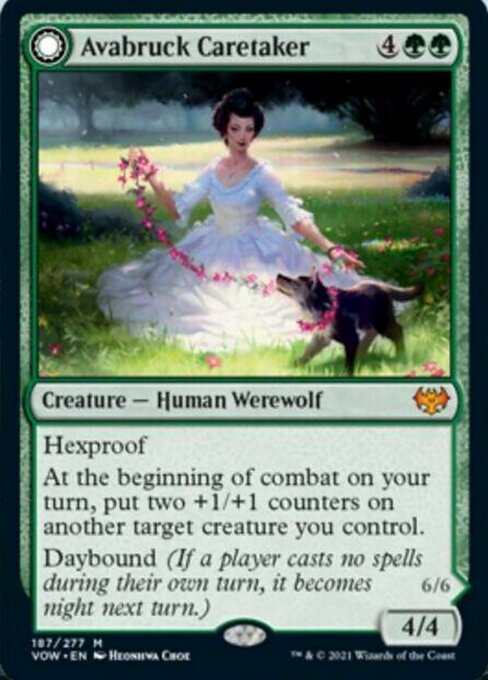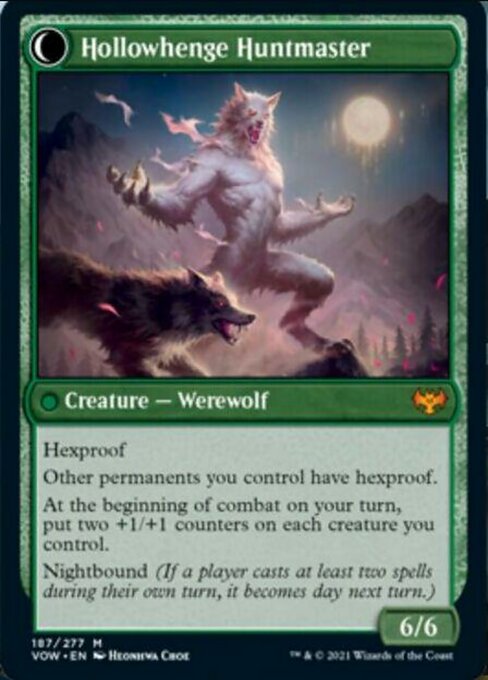 Avabruck Caretaker / Hollowhenge Huntmaster
BPhilipYork: This is a beast werewolf.  A huge powerup for werewolf decks and tremendously threatening as such.  Yeah, it's not "good" in a cEDH or high-power sense, but in a "go wide and beat down" sense it's a scary card.
FromTheShire: Really nice tool for EDH decks. The base creature is ok not great, but once you transform protecting your entire team, including itself, and cranking your damage up really helps close out the game. The fact that it's counters is really nice because even if you transform back, you're still keeping the buff.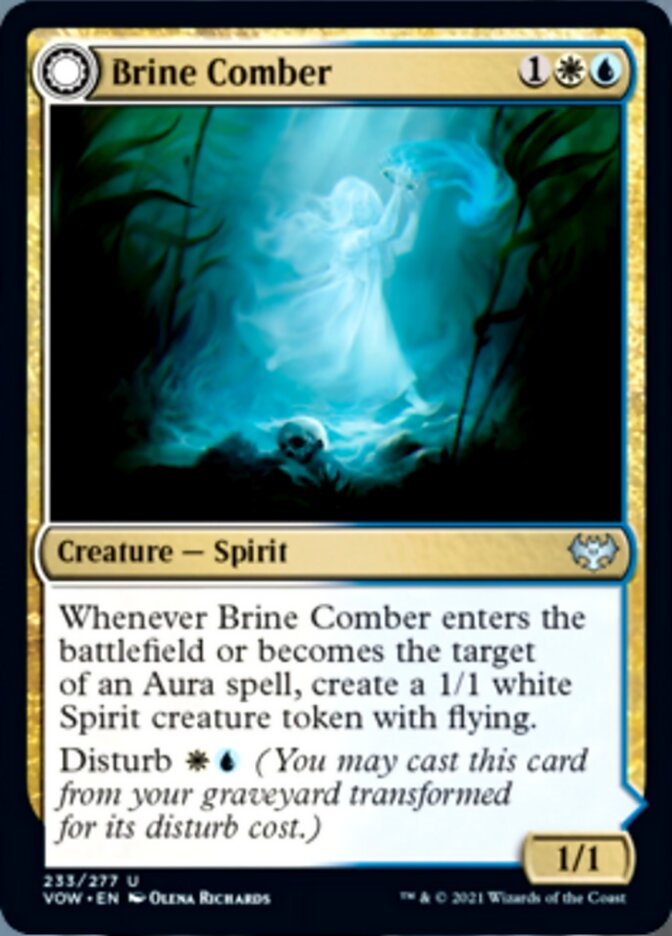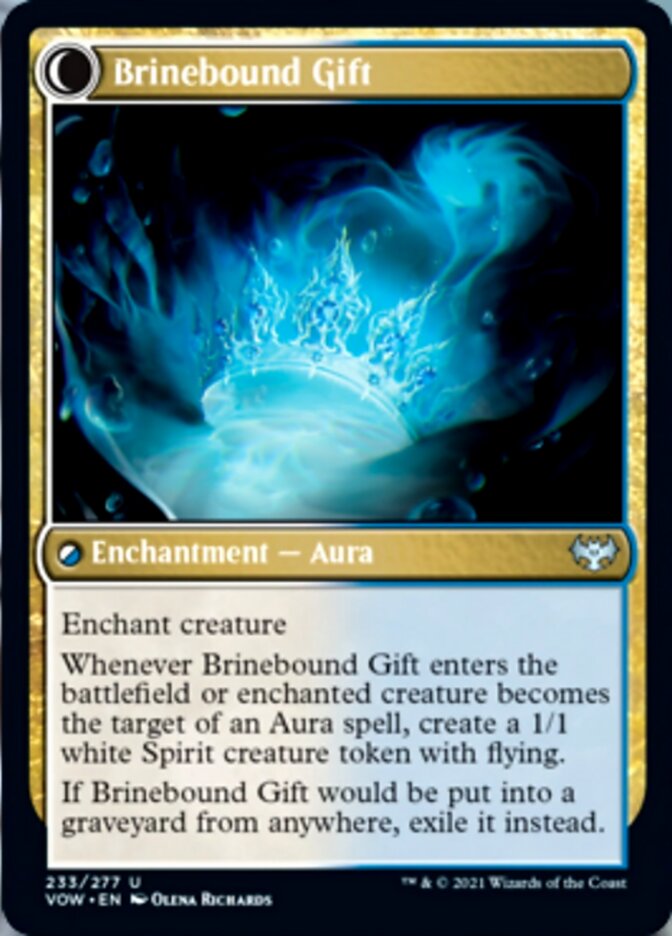 Brine Comber / Brinebound Gift
BPhilipYork: There is totally a deck to build around spirits/enchantments and clerics, the deck is Esper and it will be fun, but not amazing.  Other than that I don't really know, a lot of this round of spirits are disturbed into auras, so that fits right in.
FromTheShire:  I think this is interesting in weird formats like pauper commander but probably doesn't get there in regular games.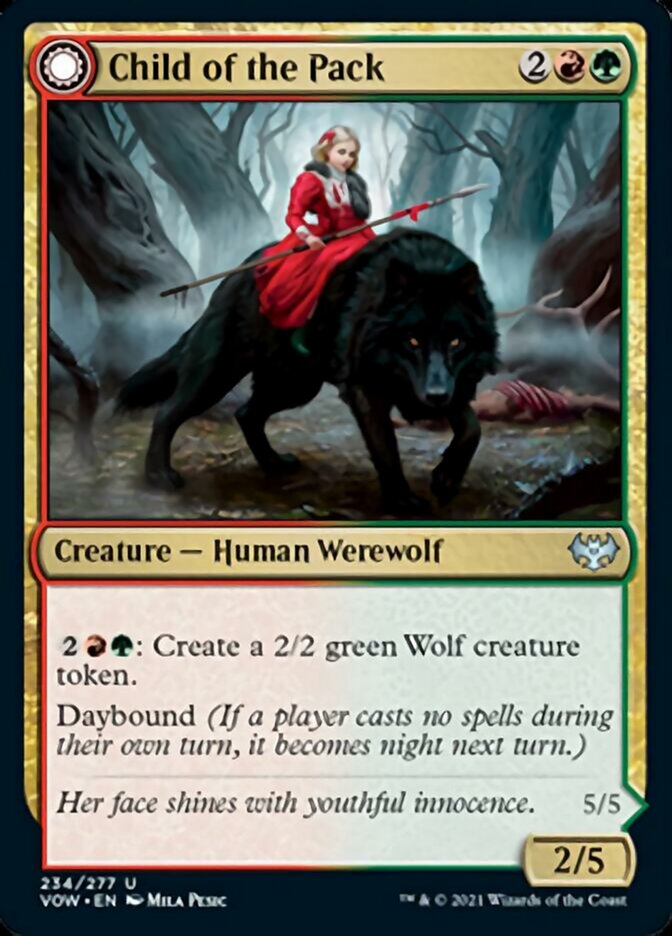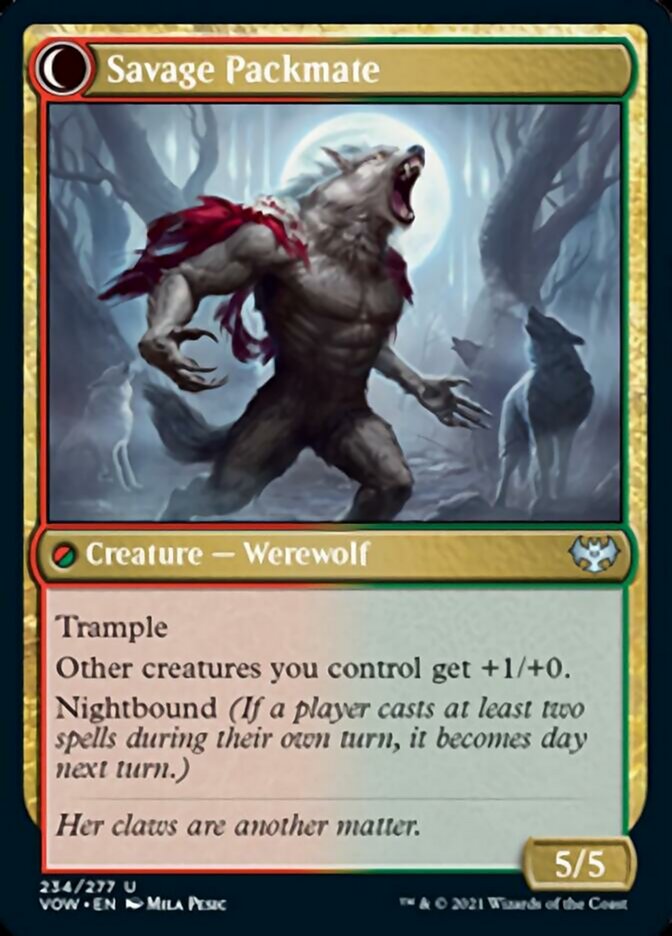 Child of the Pack/mtg_card] / [mtg_card]Savage Packmate
BPhilipYork: As werewolves go this one is okay, giving a buff for go-wide is nice.  4 for a 2/5 that becomes a 5/5 and is a man dump is useful.
FromTheShire: Very playable but it's not setting the world on fire. About what you'd expect from a good uncommon.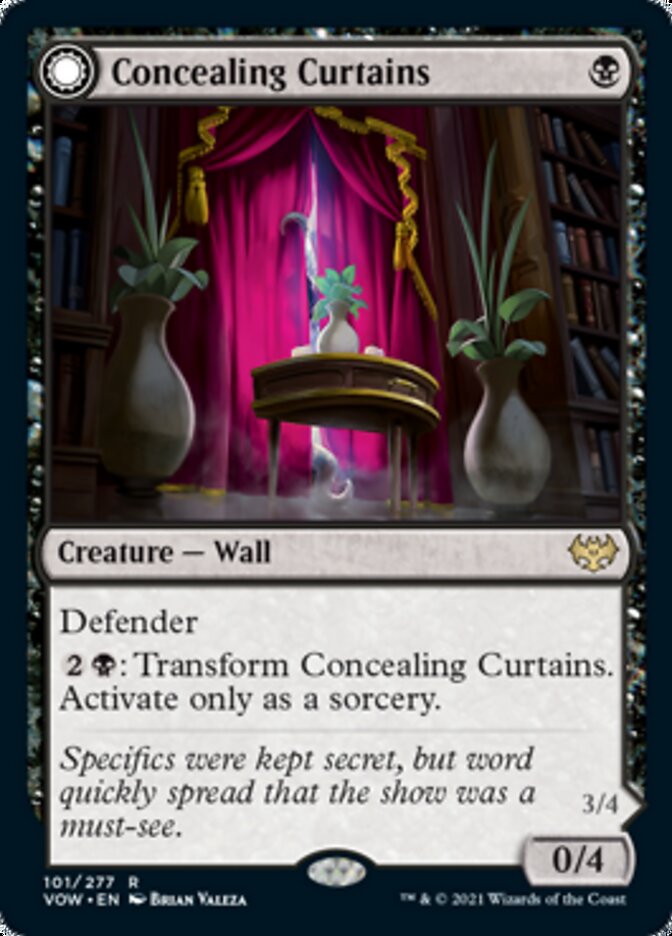 Concealing Curtains / Revealing Eye
BPhilipYork: This would be a really funny card if you could keep de-transforming it, but for commander I think it's going to struggle to see any play, as creepy as the art is.
FromTheShire: Comes down on one as a blocker against aggro, flips into a threat and takes a card from them later…. I don't hate it, but I don't know where this will find a home other than in maybe a control deck. Most of the black lists right now are some form of aggro themselves.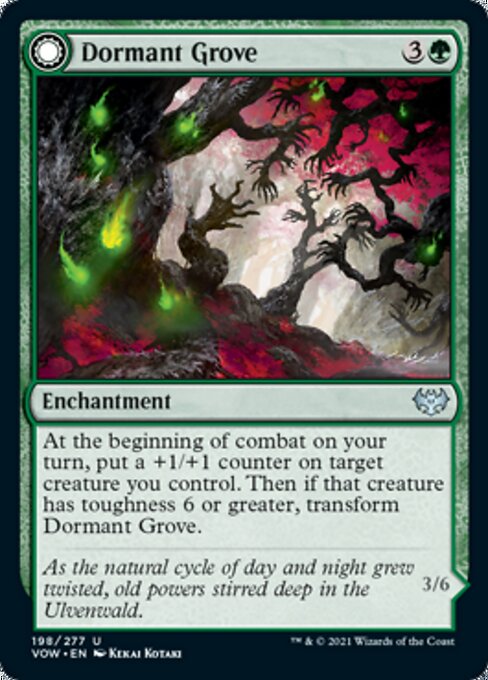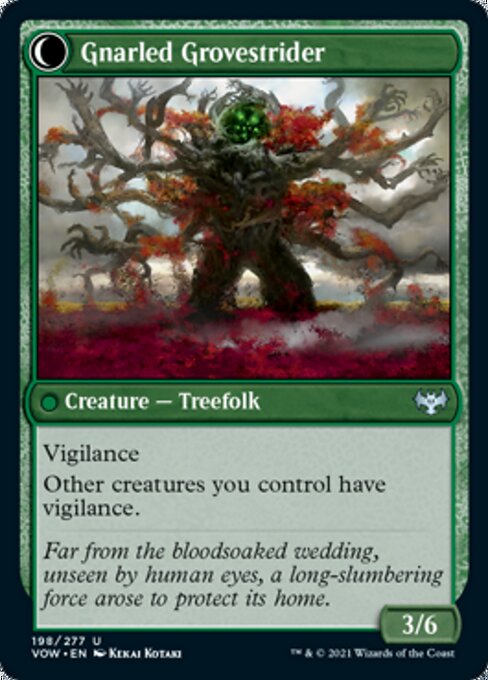 Dormant Grove / Gnarled Grovestrider
BPhilipYork: Probably too expensive, it seems like as a dormant grove it should generate mana or something useful, at least for fast-paced 4-color multiplayer.  The one way I could see it is in some kind of deck around board clear into go-wide, where you hide your creatures as things then transform them after a wrath.
FromTheShire: Vigilance is a extremely good and underappreciated ability in commander, but this seems like a lot of work to get it, plus once you do it becomes a creature and thus much more fragile. Probably goes in Doran and Treefolk decks because of flavor and that's about it.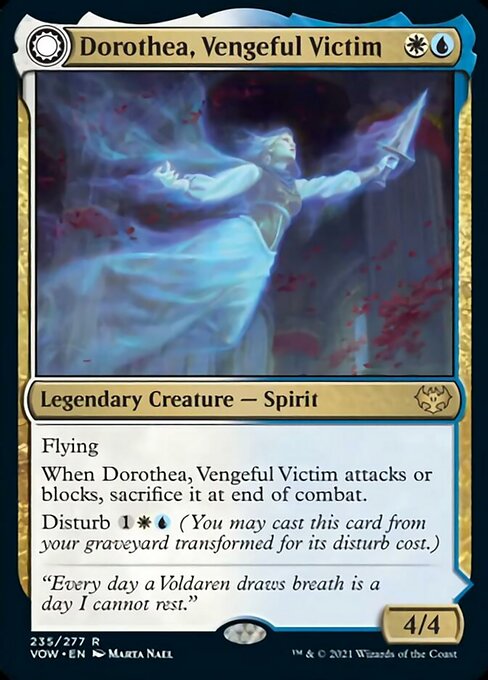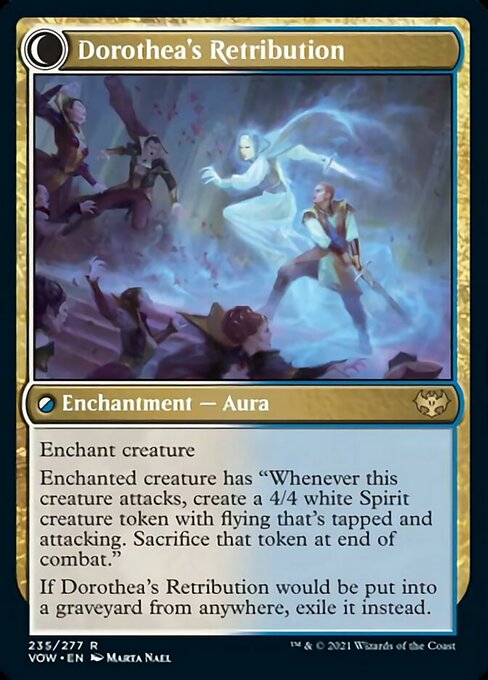 Dorothea, Vengeful Victim / Dorothea's Retribution
BPhilipYork: Yeah so this is Geist of Saint Traft ability, basically, but a spirit instead of an angel, it is 2 for a 4/4 that sacrifices itself then returns.  It's not bad, does some neat things, can trigger Vega, the Watcher, and some stuff like that, and obviously gives you spirit tokens that also get sacrificed.  Sadly white/blue doesn't usually care to leverage creatures dying or sacrifice them, or it would be a lot more utilitarian, say in Rakdos colors.
FromTheShire: Can definitely get some big hits in and do serious damage if left unchecked, but it doesn't protect itself like Geist of Saint Traft, which is a big part of what made the card so good.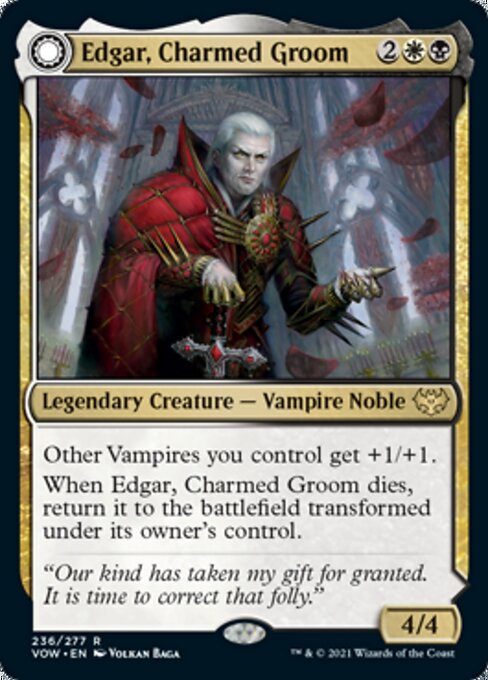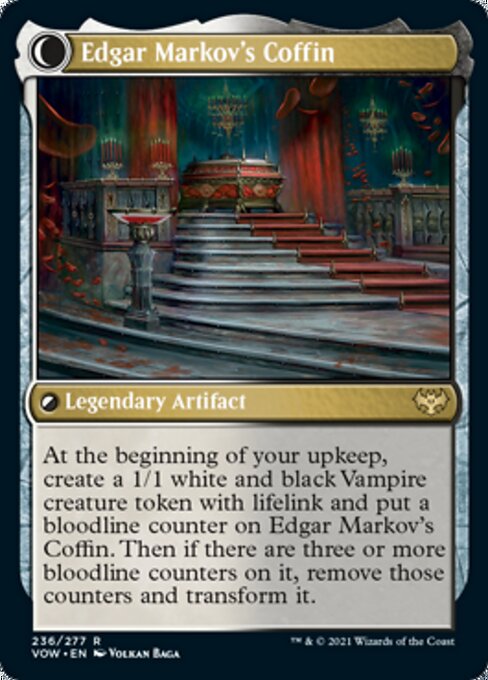 Edgar, Charmed Groom / Edgar Markov's Coffin
BPhilipYork: This is not as good as the other Edgar, but for non-singleton formats I can see the point.
FromTheShire: Very powerful, especially if you draw both of the two copies you will probably run. The problem in the short run at least is that almost all of the Vampire decks we're seeing in Standard are Rakdos. Maybe that changes as the format gets solved and aggro decks drop off but we'll just have to see.
TheChirurgeon: I can kind of see Edgar as a piece in a vampire tokens deck but man that's a slow way to make vampire tokens. I do really like how you can play with two of these and just have one constantly being sacrificed to become the coffin while the other is in play, though.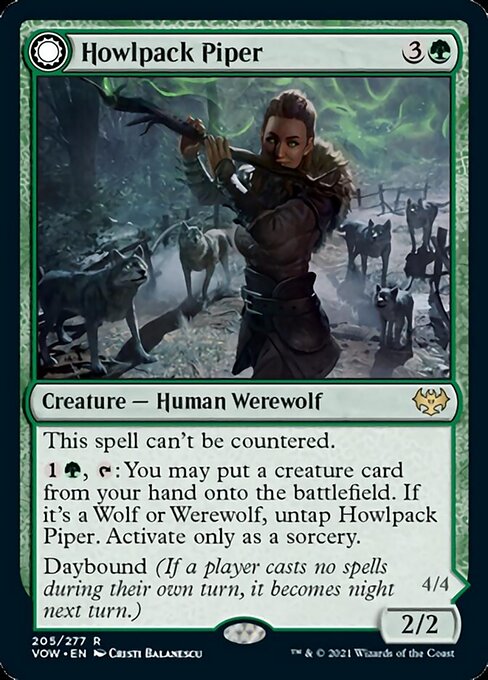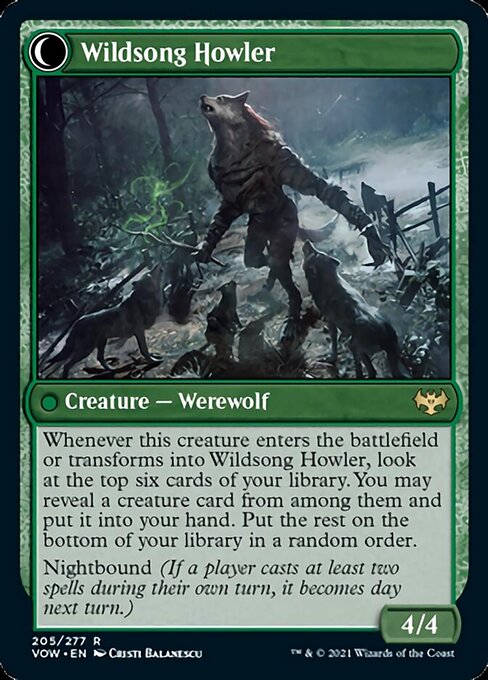 Howlpack Piper / Wildsong Howler
BPhilipYork: This has enormous potential to just spam out even more werewolves, for nothing, and can be manipulated by things like The Celestus.  For go-wide werewolves, a nifty card indeed.
FromTheShire: Tribe specific Elvish Piper that can be used more than once and then gives you card advantage when it flips? Quite good.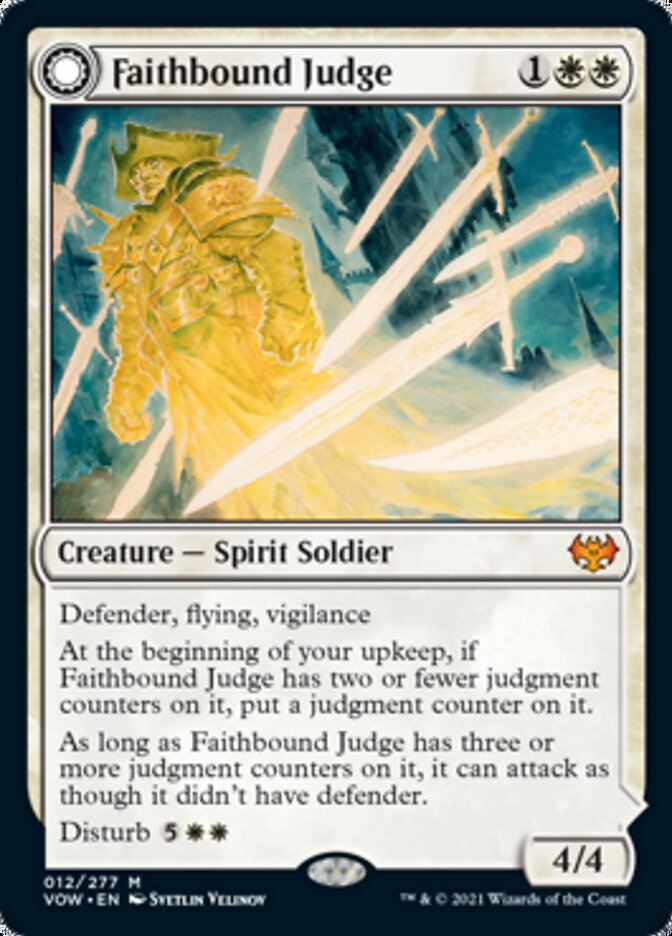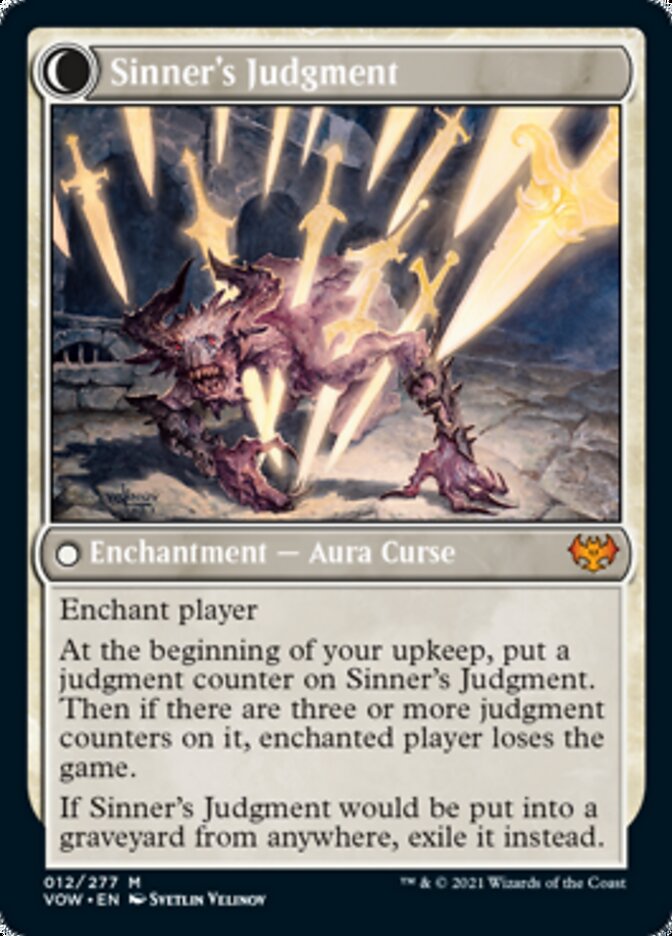 Faithbound Judge / Sinner's Judgment
BPhilipYork: This is the kind of effect I don't really like in commander because it's tremendously threatening, but doesn't win you the game or take someone out.  It just kind of hovers there, incentivizing one of your opponents to go ham on you.  If you have extra turn spells or something like that though, I can see it.
FromTheShire: The creature is whatever, I'm here to try and pull off a stunt win with Paradox Haze and Strionic Resonator one time before taking it out of the deck forever because that's a lot of hoops to kill one player. Maybe it can be main decked in an Atraxa, Praetors' Voice deck with a bunch of proliferate if you want to try and meme people consistently.
TheChirurgeon: This seems like silly fun but making one player lose the game isn't good enough for Commander and it's a pretty slow way for white to win in other constructed formats.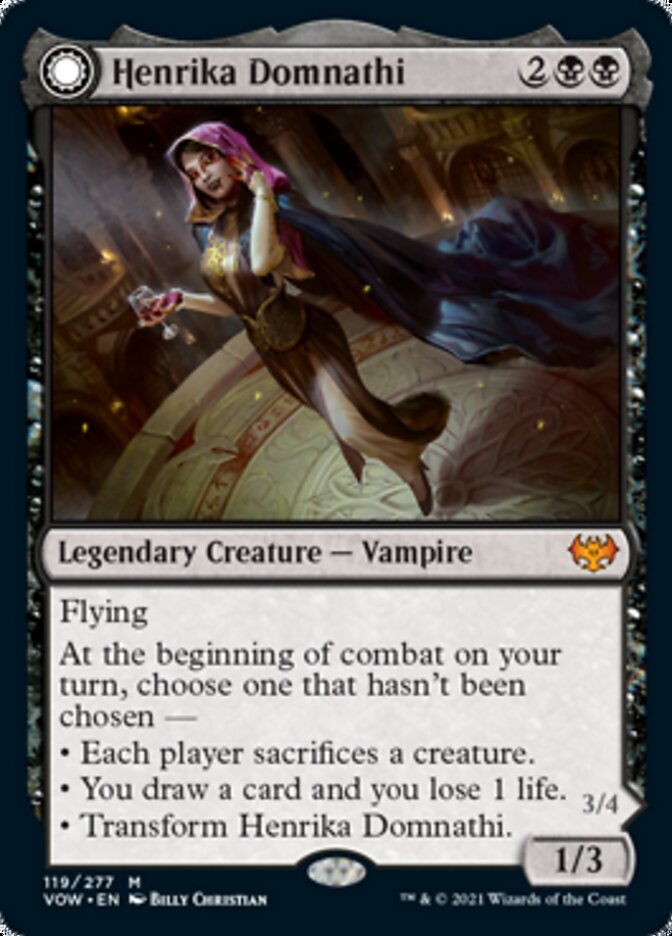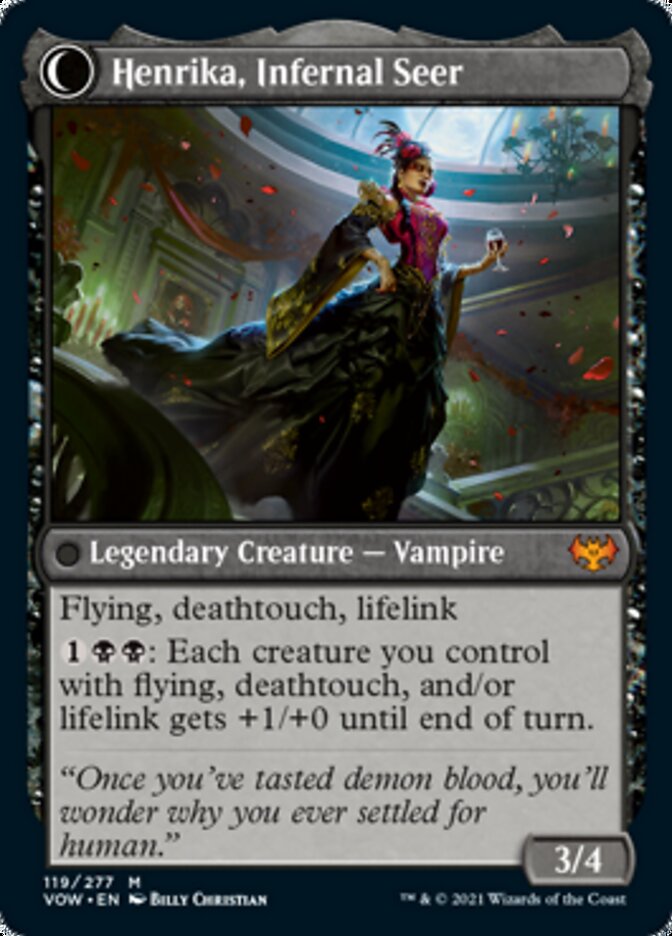 Henrika Domnathi / Henrika, Infernal Seer
BPhilipYork: I think these choose one of the, but only once, effects that black is running now, and Henrika, Domnathi slots nicely into decks that care about sacrificing, like Tergrid, God of Fright..
FromTheShire: Maybe a one or two of in Vampire lists or at the top of a mono color aggro deck. Not bad but not a slam dunk either.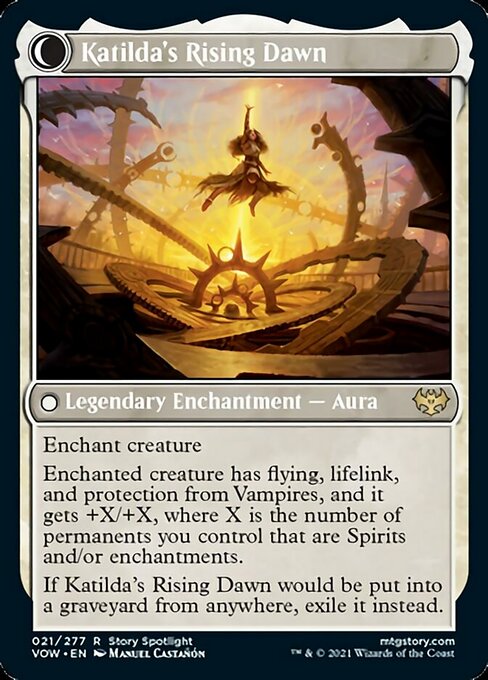 Katilda, Dawnhart Martyr / Katilda's Rising Dawn
BPhilipYork: This could be pretty hilarious in some weird Kykar, beats down deck, where you spam spells and make Kykar huge.  Also great in spirit tribal decks, and just decks that run a lot of enchantments or Auras, scary to drop onto a commander.
FromTheShire: Does what it says on the tin – gets real big in Spirit decks. Flying and lifelink make that way more relevant than most creatures like this.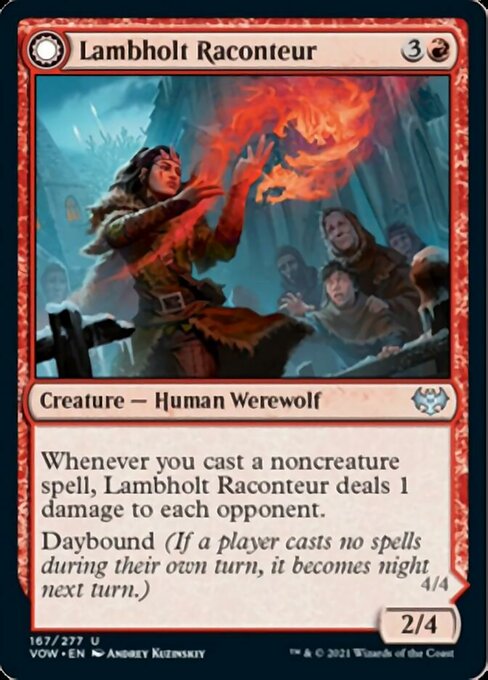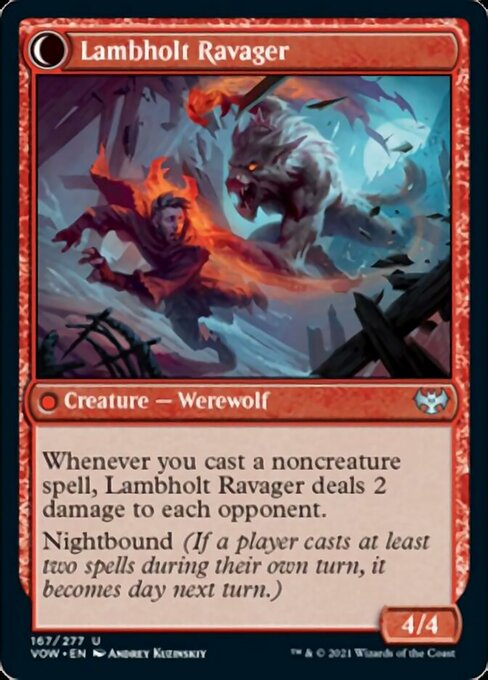 Lambholt Raconteur / Lambholt Ravager
BPhilipYork: This is a game-winning combo card, can be used in a number of red or red + a color or two scenarios, to just cast a spell infinite times.  And it's a werewolf.  Though as a werewolf it's not really as useful for it's secondary ability, since werewolves aren't generally doing weird things, just attacking to the face over and over.  That being said, you can also just drop Curiosity on this and draw crazy cards.  Ancestral Recall everytime you cast a non-creature spell is uh, strong.
FromTheShire: Kind of a weird one. In Standard werewolves want to be casting creatures and smashing through as quickly as possible, and that largely holds true in EDH as well. It's a solid body and getting some chip damage while you're ramping and the like isn't bad.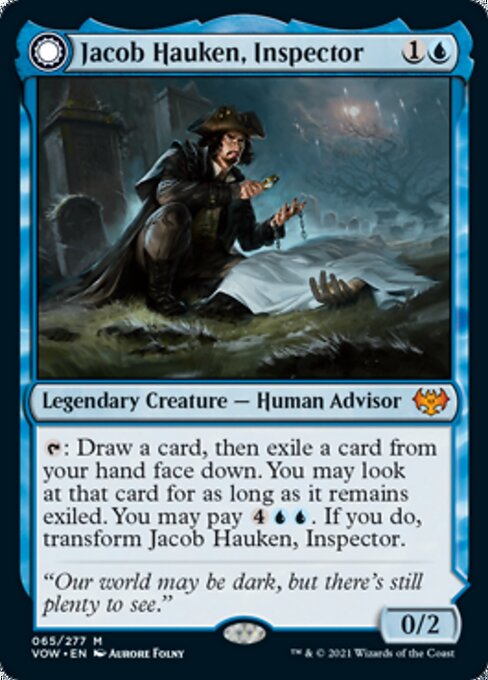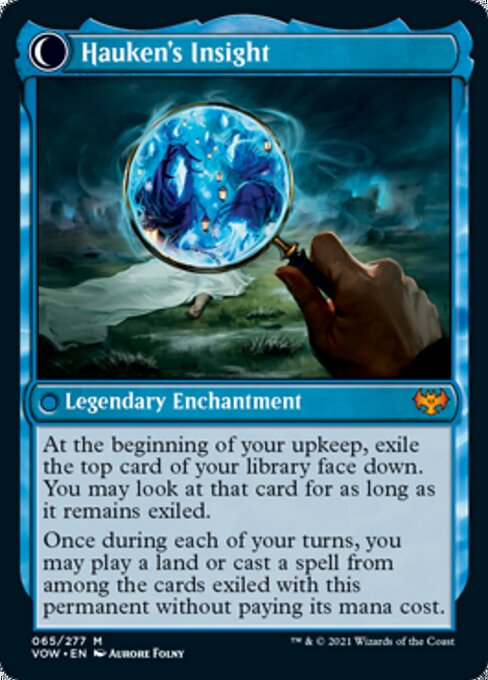 Jacob Hauken, Inspector / Hauken's Insight
BPhilipYork: What's scary about this is it's a way to cast a spell like Omniscience for 6 mana and just go absolutely berserk.  Or Enter the Infinite or something equally stupid.  And the nice thing is he comes out relatively early, for cheap, for what is often a dead turn or a dead mana cost.  You can also use things like this to instacast suspend spells, which can be neat.
FromTheShire: Extremely powerful effect that is absolutely going to annoy the hell out of you to play against sometimes. Watch out for all the extra turn spells the deck obviously contains.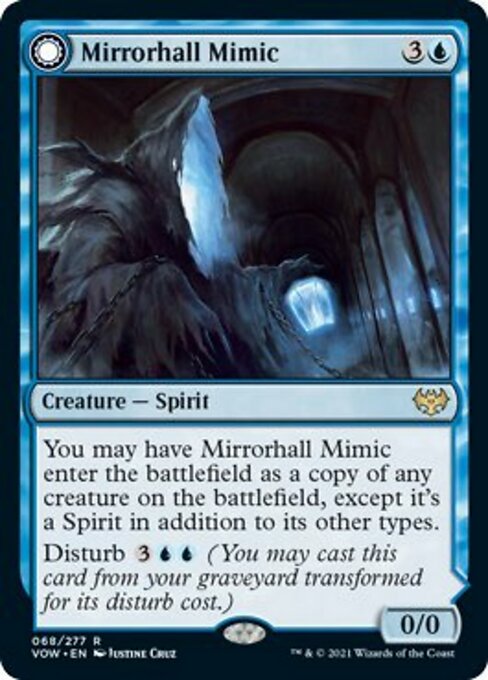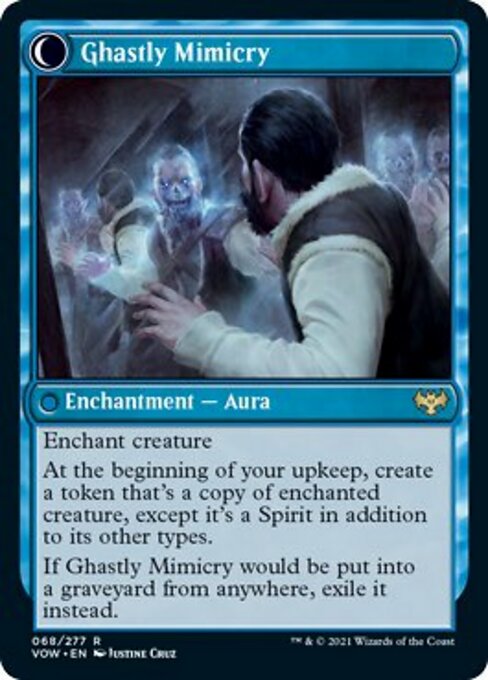 Mirrorhall Mimic / Ghastly Mimicry
BPhilipYork: This gets kind of hilarious, pretty fast.  There are certain creatures not meant to be copied or when copying them gets truly out of hand, and if you're focused on ETBs it basically lets you copy that creature twice, which is great.
FromTheShire: Clones are broadly good, especially in 75% decks, and this is a clone with some upside. Will see a good bit of play in the array of clone and steal style decks.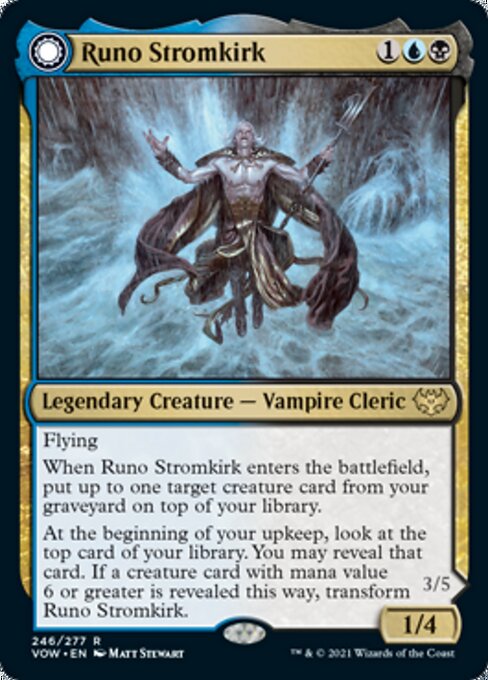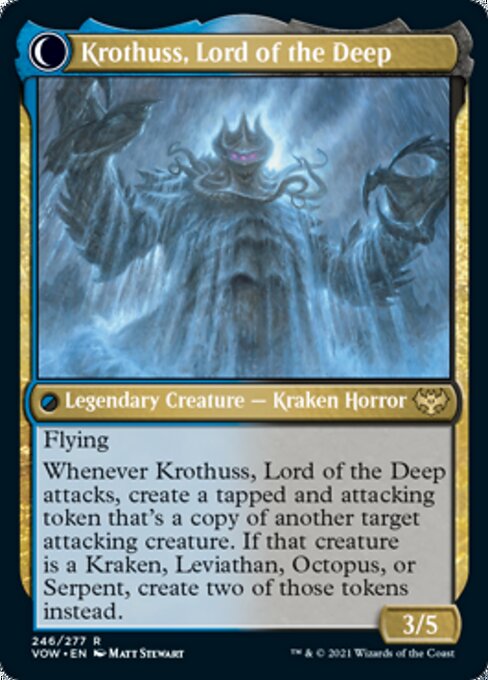 Runo Stromkirk /  Krothuss, Lord of the Deep
BPhilipYork: Everyone loves this guy and I agree, it's just a fun stupid commander for big ass krakens and things, all of which are mostly terrible in a lot of ways, with a few amazing standouts.  For a fun weird deck that drops huge sea creatures onto the board, this guy is great.
FromTheShire: What a baller sea creature tribal commander, I'm in love. I've long held a soft spot for the enormous, multiple drawback Leviathans of my youth, and I can't wait to bust out those bad ideas again. The tokens come in tapped and attacking, which means you only have to sac one island to attack with three Thing from the Deep! The tokens even stick around for subsequent turns! This is close to the platonic ideal of battlecruiser Magic and I am stoked.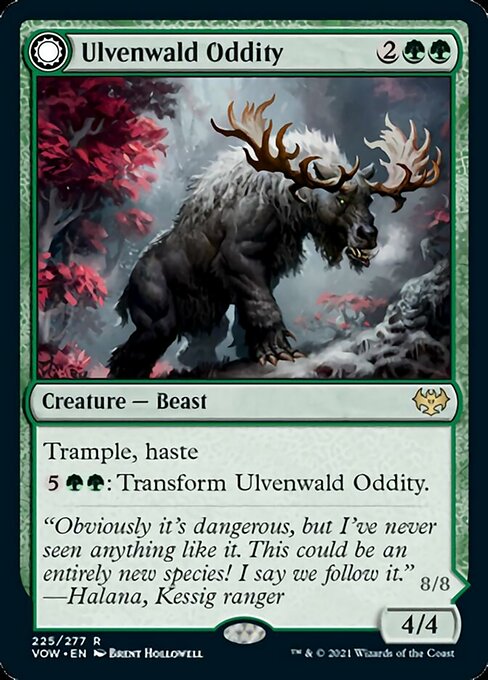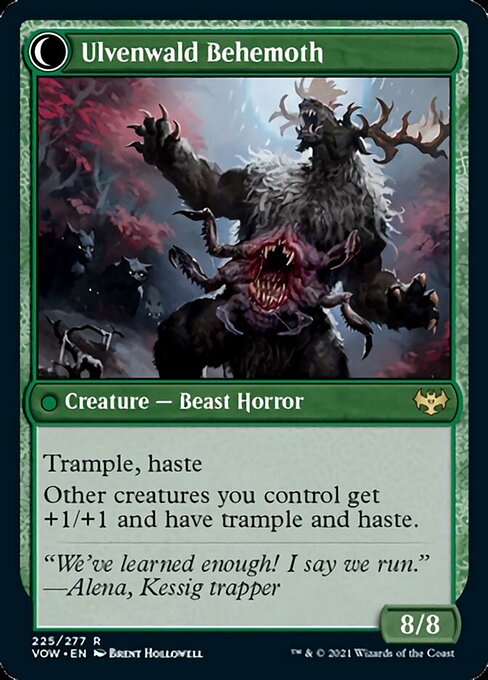 Ulvenwald Oddity / Ulvenwald Behemoth
BPhilipYork: 4 for a 4/4 trample haste is not bad, especially when it transforms for 7 into finisher, buffing and giving tramples and haste and +1/+1 to all other creatures you have.  This is essentially another craterhoof behemoth, and as such it's a dangerous and powerful card.
FromTheShire: Not bad, the flip cost is uh, shall we say a bit steep. Personally I would rather just slam a Craterhoof Behemoth and win the game.
TheChirurgeon: This seems just good enough to play. Or at the very least good enough that I'm going to try it since I like how it can have more value pushing damage through late-game. Also I love the callback to Eldritch Moon.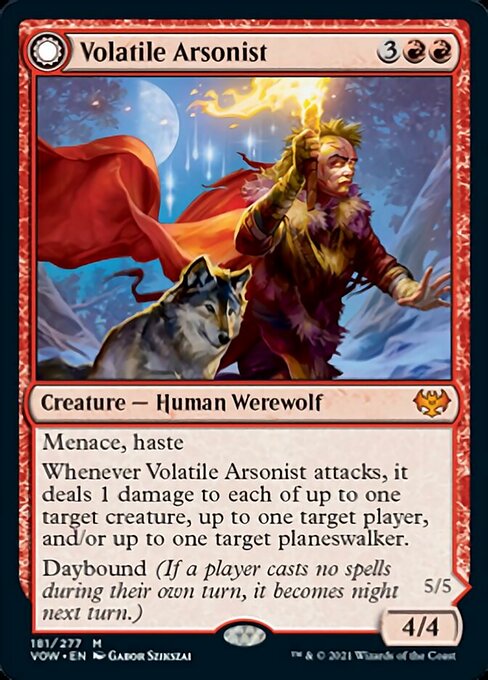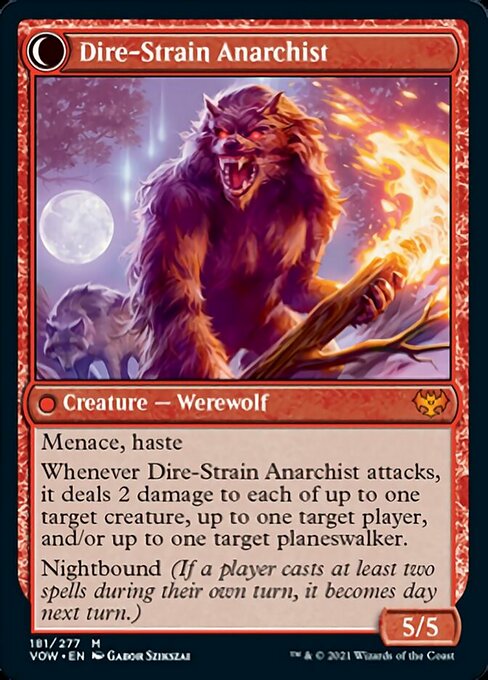 Volatile Arsonist / Dire-Strain Anarchist
BPhilipYork: Just another solid werewolf with control aspects, which can be really helpful.
FromTheShire: If you actually make it to swinging with this guy, it's quite a beating. In EDH you're definitely including it in your Werewolf deck to ping off annoying utility creatures.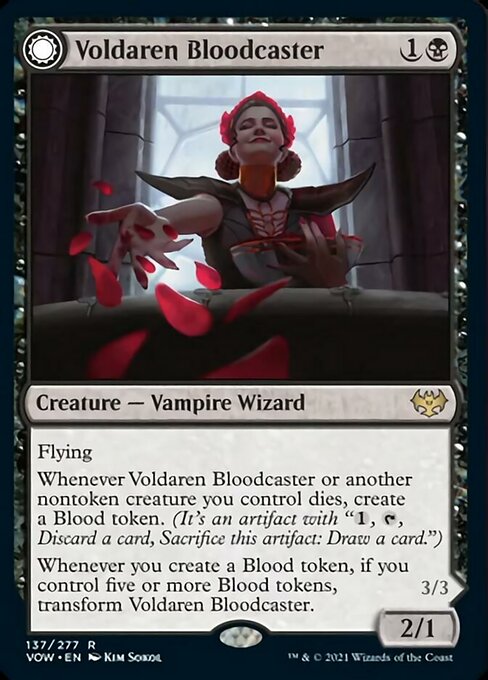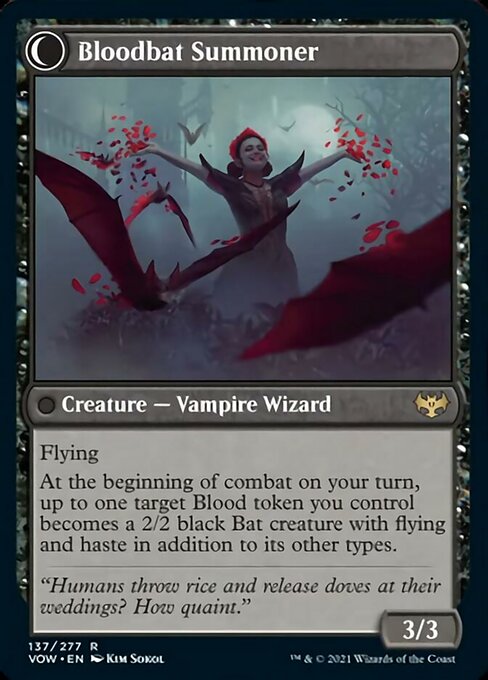 Voldaren Bloodcaster / Bloodbat Summoner
BPhilipYork: This is one of those cards where it's like, I wish I didn't have to transform it, like Storm the Vault.  It'd be stronger if it was a may, in my opinion. Turning blood tokens into bats is uh… not that great in commander.  But just generating mad blood tokens, that can be great.
FromTheShire: If a Blood based deck emerges, this will definitely be part of the reason why. Also very good source of card filtering in a lot of sacrifice based decks.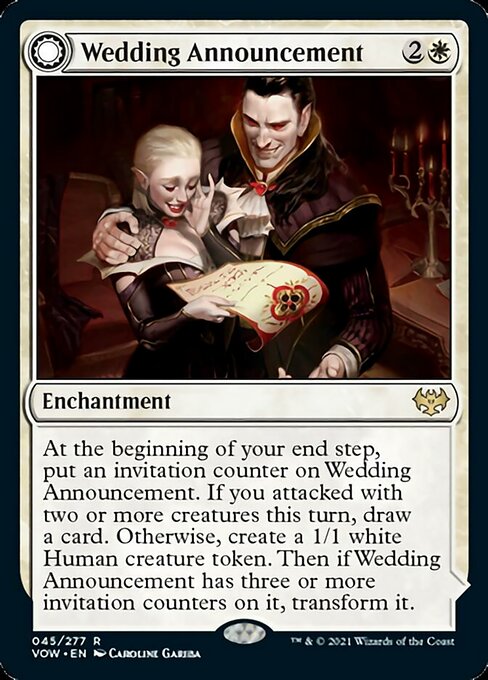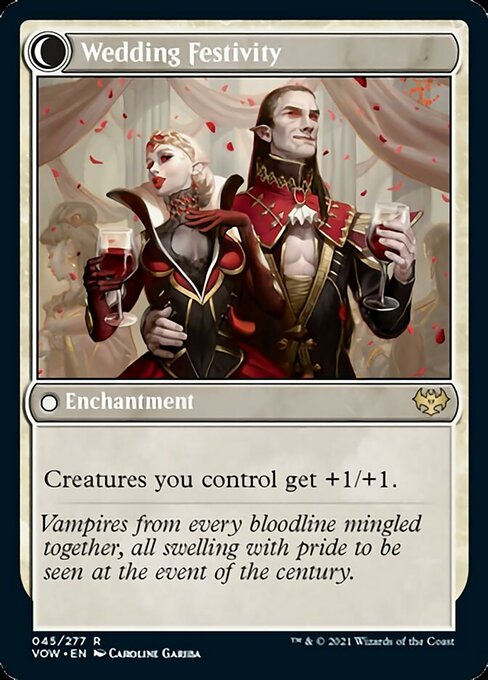 Wedding Announcement / Wedding Festivity
BPhilipYork: I guess this is a neat card, it lets white draw cards, which normally white only gets to do badly, and then it becomes an anthem, which is fine.
FromTheShire: The transform is actually a downside on this one, I'd much rather have the card draw and token generation. White has plenty of anthem effects already.
TheChirurgeon: This is a neat way give white some extra card draw with later upside from the anthem effect. I like it, but like most of these transform-if-it-has-X-counters-on-it effects, it's pretty slow for something that wants to be in an aggro deck.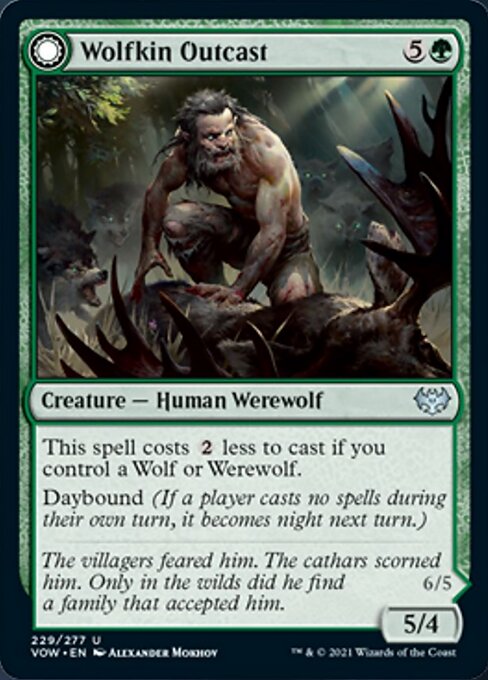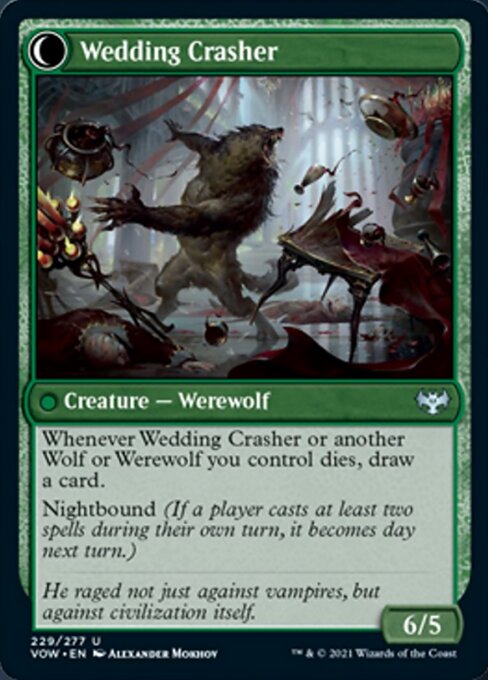 Wolfkin Outcast / Wedding Crasher
BPhilipYork: Another really solid mid-range werewolf with even more card draw for werewolves, so uh, good solid card for go-wide werewolves.
FromTheShire:  Well costed with the reduction. In theory you're here for the draw when your board gets wiped so you can rebuild, which is one of the main weaknesses of tribal creature decks, but a lot of the time somebody is going to cast two spells before the wrath happens and your werewolves are going to be flipped back over when it drops.
Colorless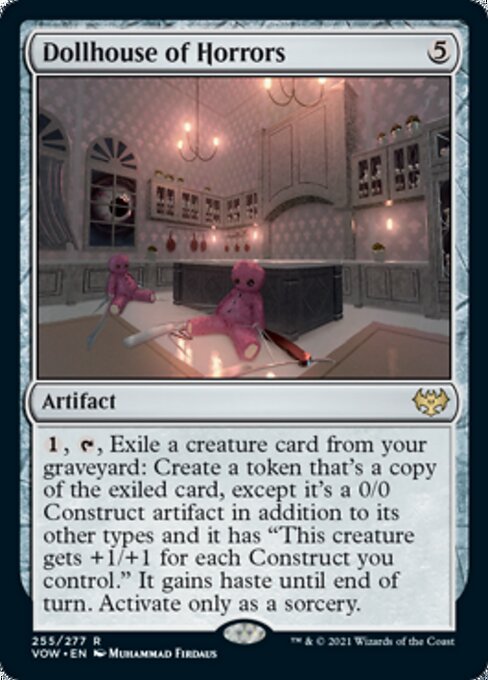 BPhilipYork: Recurring ETBs seems like the core of this, there are also some loops or just using it with Clock of Omens, to rapidly empty your graveyard.  5 mana is a lot, but it's colorless and only 1 to activate.  It can also let you make a horde of big constructs, which is nothing to sneeze at.
FromTheShire: Pretty sweet, though the initial investment is pricey. You can absolutely do some fun stuff here, or even just recur your value ETB creatures.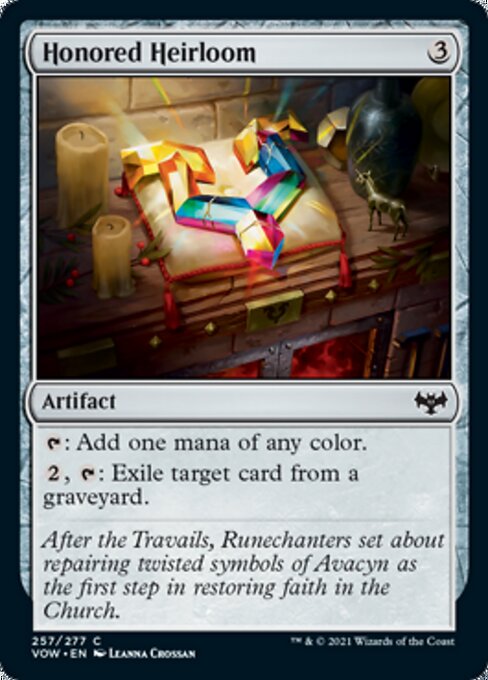 BPhilipYork: 3 mana rocks tend to be pretty bad, the reusable exile a card from a graveyard has some potential since it lets you do things like remove a fetchland in response to a deathrite shaman targeting it, and it is of any color, but I'm not sure the utility upside is enough here, but your meta may be heavy on reanimation.
FromTheShire: 3 mana rocks are rapidly falling out of vogue in Commander, but if you're going to play one this is one of the better ones. There are an absolute shitload of decks that treat their graveyard as a resource and a second hand, and being able to exile a key piece on demand can be clutch. Every deck should have at least one or two pieces of graveyard hate, and having it be a rock during the rest of the game when you don't need it is a good use of a card slot.
BPhilipYork: Generally too expensive for commander and card draw.  Would you pay six to draw 2?  No?  Then….  Yes, it potentially draws you like 20 cards but for 42 mana.
FromTheShire: Very good colorless draw effect for slotting into red or especially white decks that still struggle to draw cards. Even better in the Boros artifacts matter decks.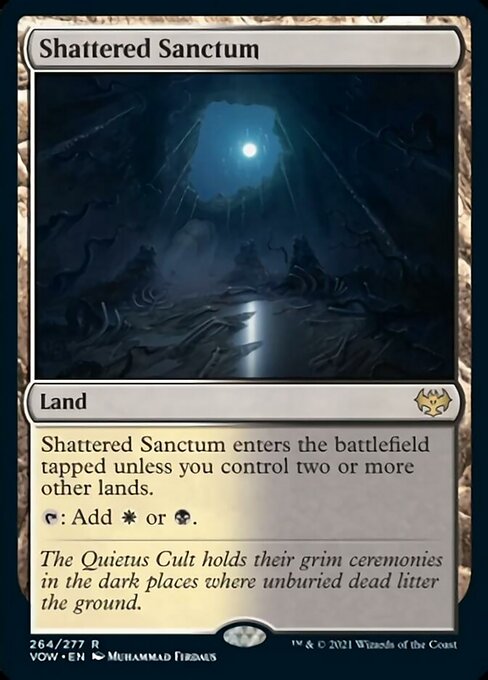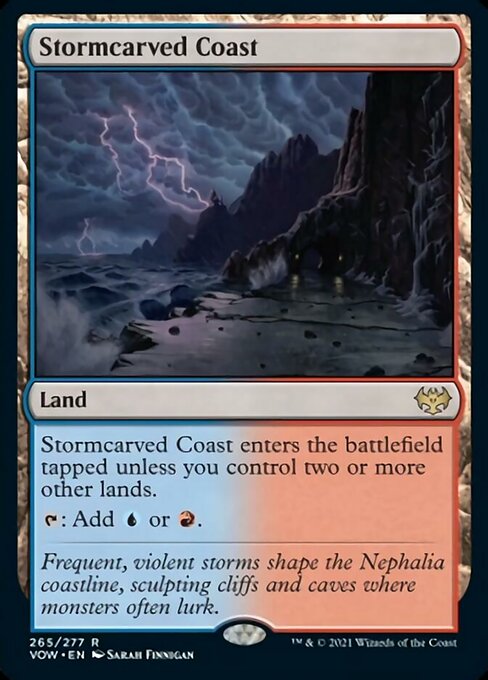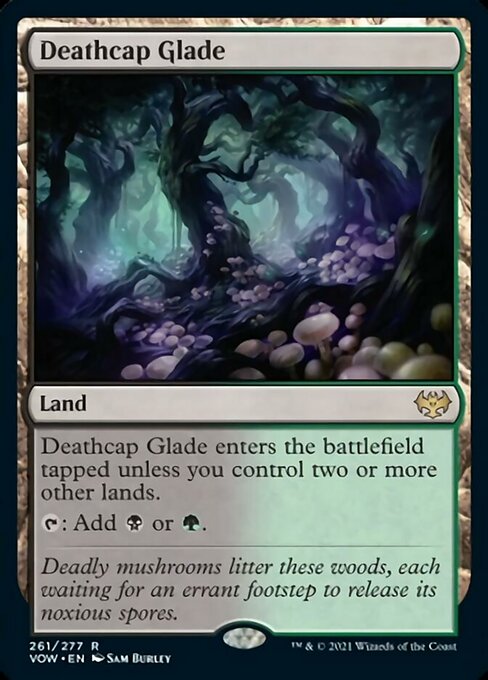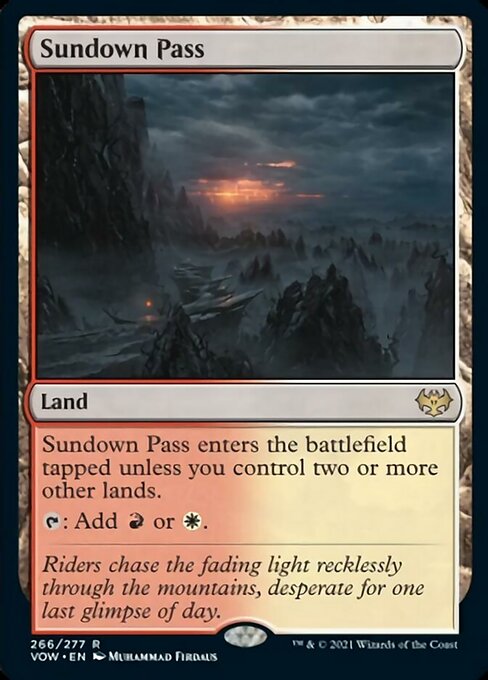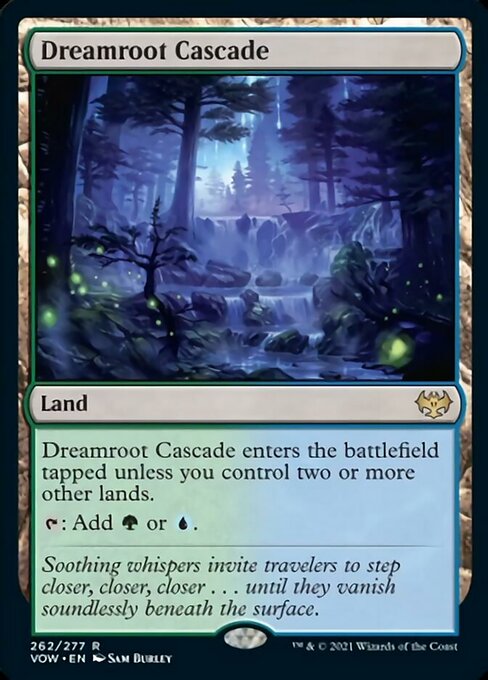 BPhilipYork: We don't really need more bad dual lands, what we need are more prints of fetchlands and duals that can be fetched.
FromTheShire: I went on a whole rant about these in our Midnight Hunt review and how good I think they are, and I'm very happy to see the cycle completed.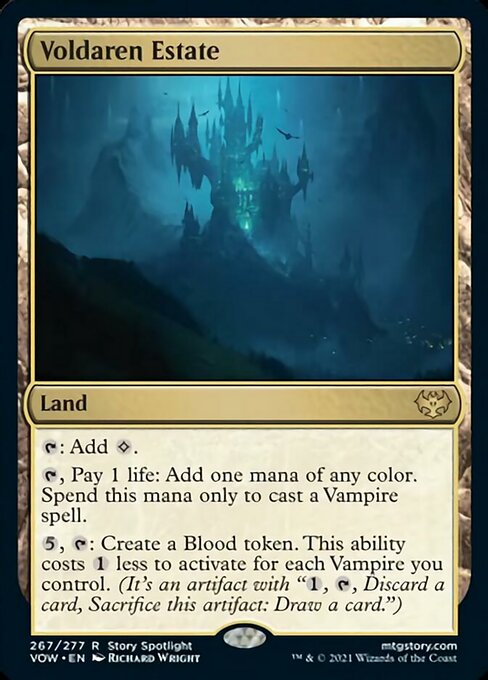 BPhilipYork: This is a straight upgrade for Vampires of other lands that are playable in tribal, so good in that sense for sure, and making a blood token each turn has some potential, especially once it's free.
FromTheShire: Are you playing Vampires? Then put this in your deck, it's that simple.
Next Time: Commander Decks
That wraps up our look at the set's multicolored and colorless cards. Join us next time as we do a deeper dive into the Commander decks released alongside the set, picking out our favorites, and talking about the future build-arounds. In the meantime, if you have any questions or feedback, drop us a note in the comments below or email us at contact@goonhammer.com.