The 2022 Las Vegas Open is the largest Age of Sigmar event of the year, with more than 250 registered players competing across 8 rounds in Las Vegas, attracting the best AoS players in the world.
Over the last four years – excluding the COVID-shortened 2020 season – I've finished 4th, 4th, and 2nd in the ITC standings. This year I'm currently sitting just outside the top 10, missing two RTT scores, but winning LVO would give me a great shot at 1st overall. And if it doesn't, I'll be pretty damn happy with winning the biggest event of the year.
So my goal for LVO is to go 8-0, and in today's article I'm going to lay out my plan for doing that.
Searching for the Right List
Since the dragons were announced and especially since the rules were released, I have been on a dragon-shaped adventure to find the perfect list. Was it "oops, all dragons?" Hm. Maybe. I mean, yes that's the REAL answer we all know in our hearts, but sometimes you have to explore a few other ideas before you land on the right one. 
Immediately following the Renegade Open, some mates and I were already discussing where a dragons list could improve or at least be altered to have more diversity and a better chance at winning some different matchups. And so I was convinced, begrudgingly – but also excitedly – to settle on an initial list concept that swapped out a dragon in favor of a fox since, as we all remember, I do love my foxes. This seemed fun and decent enough: You couldn't outflank against this list because it also had a unit of Aetherwings to support its flanks from silly tricks like that, and still had a ridiculous number of dragons.

We debated removing 2 dragons and adding 20 lumineth sentinels… since they still have all the special rules they need from LRL on their own warscroll, except the Shining Company rule (what ever would the dragons do about that? Shucks). We debated fulminators, and we debated the current "dragons, longstrikes and fulmis" build. We debated other subfactions (ignore opposing monster reactions? Is it worth it? Could be nice?) But at the end of the day, once the FaQ came and went and completely ignored the dragons and the potential issues they'd be causing, we had to make a decision.
Testing Some Theories
Good list building involves testing and like any half-decent player, we need to get models on the table and test via some in-game reps to see how each build feels and performs. Some of our ideas were scratched from the process before even attempting, like the sentinels list – the longstrikes and company took too much away from the dragons and just wasn't really the vibe we were going for. And ignoring monster reactions just wasn't really necessary except for like… maybe against Morathi. And as long as I just kept my head and didn't do anything stupid like last time, even Morathi wouldn't really be able to do much against me. 
That left two options to work with:
Oops! All Dragons

Fox and Dragons
"The

Army Faction: Stormcast Eternals
– Army Type: Scions of the Storm
– Army Subfaction: Hammers of Sigmar
– Grand Strategy: Beast Master
– Triumphs: Beast Master

LEADER

Knight-Draconis (300)*
– General
– Command Traits: Envoy of the Heavens
– Artefacts: Mirrorshield
– Mount Traits: Thunderous Presence

BATTLELINE

1 x Stormdrake Guard (680)*

Stormdrake Guard (340)*

Stormdrake Guard (340)*

OTHER

Aetherwings (65)*

Hurrakan Spirit of the Wind (265)*

CORE BATTALIONS:

*Battle Regiment

TOTAL POINTS: (1990/2000) >
I had already been playing the Oops! All Dragons list locally against my crew (who were not so excited to back up against it so soon), and in testing it continued to do about as well as it had been doing. The Dragon-Fox build also did about as well as expected, even against the new Nurgle list. I made the blunder of "ending your movement within 12" of a Glottkin and getting charged." and still managed to pull a win. Remember when I said "just don't go within 12" of a Glottkin and you can ignore that whole thing? " Well that's my new saying. That's a thing I say. All the time. 
Anyways after feeling like a dunce for a bit the dragons eventually tore down the Glottkin, 15 Blightkings, some Plaguebearers, and some drones, leaving my opponent with nothing but some summoned Nurglings and 10 Plaguebearers. Pretty solid.
After all that carnage and mayhem one of my good friends recommend I take a look at Gardus Steelsoul and Hallowed Knights, a subfaction that does literally nothing for the Stormdrake guard. He started spewing rules that felt like he was making stuff up. A re-roll Charge aura, 5+ ward aura, +1 attack to the knight draconis, and the ability to get where he needs to be when you need him thanks via deep striking. Add to that the ability to reduce the "Oops! all Dragons" list down to a 1 drop? Seems decent. He also convinced me to finally take a look at Fulminators. I had skimmed them previously and knew that they had been doing well across the pond and in lists with either full Dracothian Guard or combined with Longstrikes, but hadn't seriously considered them.

And then he sent me the list, and all the dots connected.

Army Faction: Stormcast Eternals
– Army Type: Scions of the Storm
– Army Subfaction: Hallowed Knights
– Grand Strategy: Beast Master
– Triumps: Beast Master
LEADER
Knight-Draconis (300)*
– General
– Command Traits: Envoy of the Heavens
– Artefacts: Mirrorshield
– Mount Traits: Thunderous Presence
Gardus Steel Soul (150)*
BATTLELINE
Stormdrake Guard (340)*
– Drakerider's Warblade
Stormdrake Guard (340)*
– Drakerider's Warblade
Stormdrake Guard (340)*
– Drakerider's Warblade
OTHER
1 x Dracothian Guard Fulminators (460)*
Aetherwings (65)*
CORE BATTALIONS:
*Battle Regiment
TOTAL POINTS: (1995/2000)

This absolutely trumps the dragon-fox list, and outperformed it in my playtest games. Of course, during those games I also realized that my previous conversions weren't going to make it to Las Vegas traveling on a plane. So I added an army's worth of the official dragon models to my hobby bench, along with some previously converted but never painted Fulminators.

After a few test/pick-up games with the list, doing exactly what it looked like it was going to do, it was time to test it out in a more competitive environment. We had a small local tournament just two weeks before LVO, which was the perfect setting for a final test run. Let's go through the results:
Round 1: vs Adam's Stormcast Eternals

"Adam's

Yndrasta

Knight draconith

Krondys
–
X2 stormdrake guard
X5 liberators
X5 liberators
X5 judicators
Battleplan: Savage Gains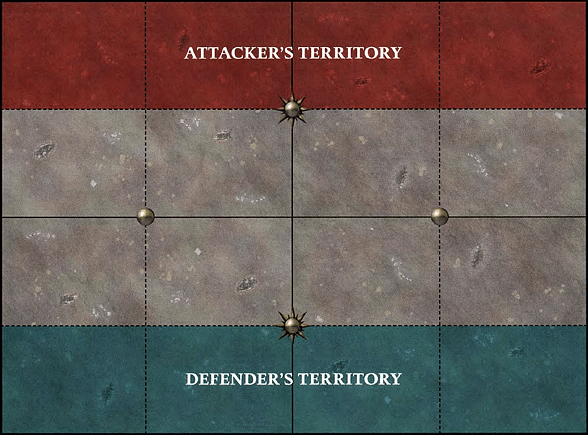 We both deployed back, and he deployed Yndrasta in the heavens and the judicators off in the corner to harass me if I came forward. I outdropped him and he assumed I'd take first. I gave him the turn. He couldn't quite make it to any of the middle objectives with a single running pack of liberators, and took his secondary and 1 point and scored 3 for the round.
On my turn I took "Broken Ranks" And chose his center-field pack of 5 Liberators. All of the drakes double moved up to get in range of the Liberators. Gardus and the Fulminators deepstruck down to join the dragons and after the dragon fire and a few charges (excluding the fulms, who failed their re-rollable charge), all the liberators were dead and some wounds had been shaved off his knight draconith. I was set up for a vicious priority roll if I could get it.

I did not.

On his second turn, he took Krondys and the 5 Judicators into my 4 Fulminators, and his 3 smaller dragons into a pack of 2 of mine. Ynrdrasta comes down and lands a charge on the three Aetherwings I kept to guard my home objective.

Krondys and the shooting only managed to pull off 2 Fulminators, who were in cover and guarded by Gardus' aura. Adam's drakes brought down either one or both models from one of my 2-model units of Guard, while his Yndrasta whiffed and only killed one Aetherwing, leaving the objective in my control. In retaliation – and with Unleash Hell – I was able to burn and claw off more than half of Krondys' wounds. Then on my second turn two Fulminators, Gardus, and a group of 2 Stormdrake Guard torched Krondys off the other Fulminators while the remaining force dog piled his two Stormdrake Guard and killed them.
This left Adam with Yndrasta, 5 Judicators, and a Knight Dracolith. I seized priority and rallied back one of my two fallen Dracothian Guard. Everything I have left – the Knight Draconith, two 4-model units of stormdrake Guard, Gardus, and 3 Fulminators – connected in combat. The game was over.
Round 2: vs. Josh's Kruleboyz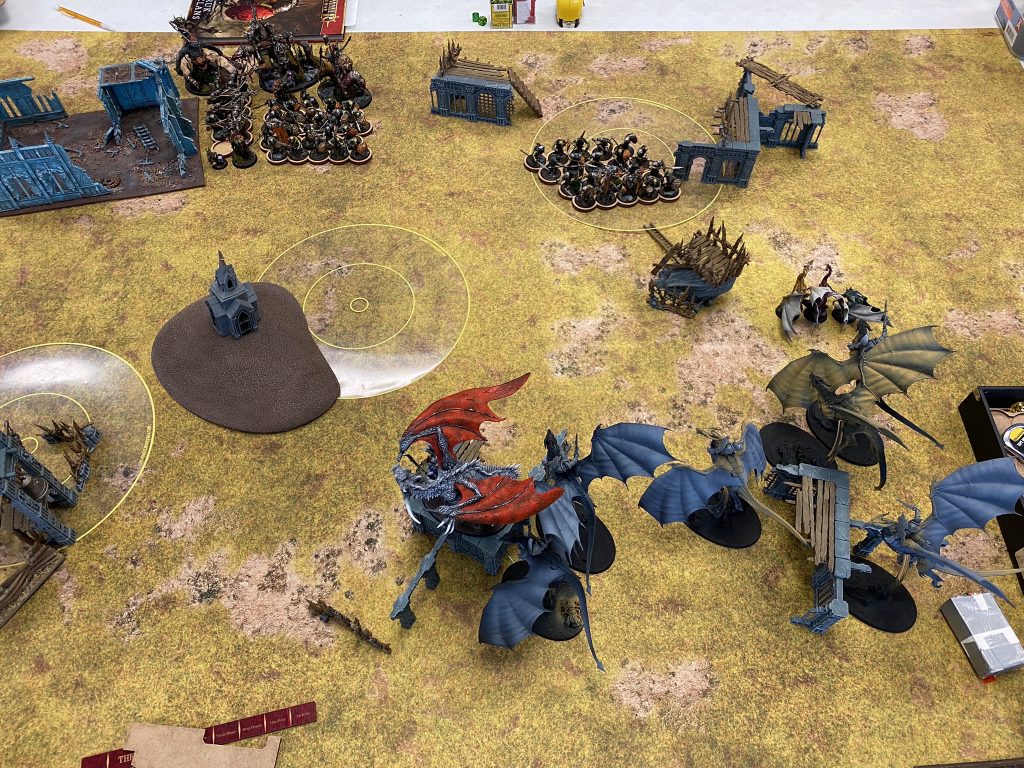 "Josh's

Skumdrek

Mirebrute Trogboss

Swamprat boss

Shaman

Shaman

X20 gutrippas

X20 gutrippas

X9 bolt bois
Battleplan: First Blood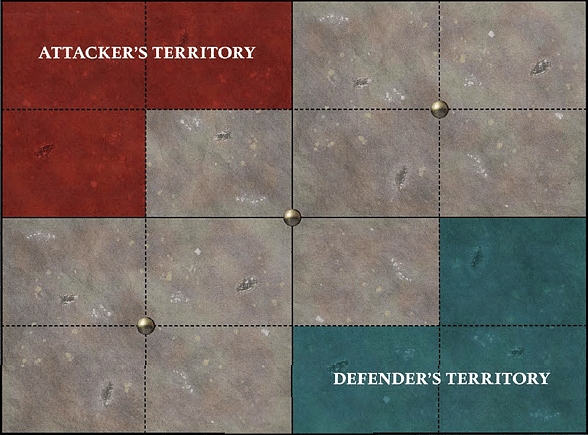 Josh has the Supa Sneaky command trait, and places 20 gutrippas on the topmost objective (from my point of view). I out deploy him by a lot and decide to take the first turn. I pick the Broken Ranks battle tactic to score 2 VP if I can destroy the battleline unit out in the middle of nowhere, and begin.

My Stormdrake guard, again, triggered their once-per-game moves, the Knight draconis triggered his once-per-game Wrath of the Draconith ability to make one friendly unit within 12" shoot into the Gutrippas, and one of the squads connected on their Draconic Onslaught charge to keep that 20 block still and not able to redeploy in their Movement phase. The remaining dragons surrounded the Gutrippas. Dracothian Guard and Gardus then drop from the sky, in range to charge the other 20-model block of Gutrippas while remaining in range to shoot at the 9 Man-skewers and give the dragons the re-roll charge and ward benefits.

All 7 Stormdrake Guard connect with the target Gutrippas, and the Fulminators connect with the other Gutrippas without getting in range of the Man-Skewers. After the dust settles, their targeted Gutrippas are deleted before the 4th or 5th dragon can activate, allowing him to swing with the untouched block of 20 Gutrippas at the Fulminators. I roll pretty well and after the 15 mortals he does to me, only 1 Dracothian Guard falls, and the remaining 3 Fulminators' return punch removes 33/40 total wounds for the unit and kills 16 gutrippas. After blowing up one fulminator in combat, 34/40 gutrippas are dead.

During Josh's turn he kills 1 fulminator. I kill his Swamprat boss who charged me.

Josh scores the double and uses it to clear the last 2 fulminators. And his general Mirebrute is now in combat with 2 Stormdrake Guard, which reduces him to about 3 wounds left.

On my turn 2, his Skumdrek and Mirebrute boss die. We call the game before the four remaining Stormdrake guard can swing in to his pair of shamans and 8 Man-Skewers.
Round 3: vs. John's Host of the Everchosen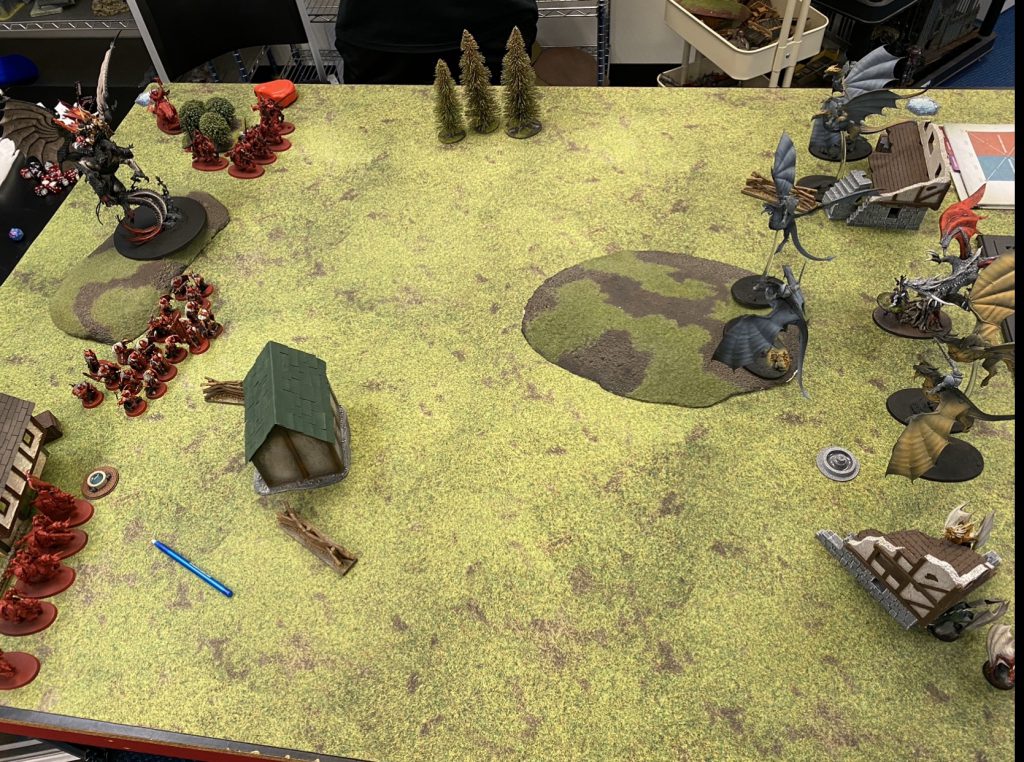 "The

His list:

Archaon

Chaos sorcerer lord

Chaos lord on karkadrak

X5 sword Knights

X5 lance Knights

X20 chaos warriors.
Battle regiment



Mission: The Vice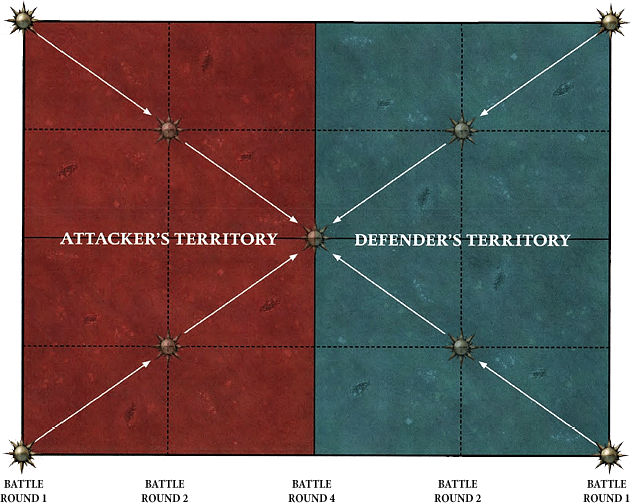 I win the roll-off for set up.

I deploy far back – my plan is to prevent any turn one charges. At this distance, his only chance to reach me turn one is with the Mask of Darkness teleport spell. And then my dragons can deal with him piecemeal.

I give him turn 1.

He decides not to go for it and chooses the Ferocious Advance Battle Tactic, which nets him 4 points. On my turn I move up to put my stormdrake guard into cover but no further and use the same battle tactic, scoring 5 points for the turn with an extra point for the monsters.
We roll for Priority for turn 2, and he takes it.

He fails to cast mystic shield and forgets about the Eye of Sheerian's -1 to hit trigger. He scores his secondary and passes.

On my second turn I decide the safer battle tactic is to go with Savage Spearhead, which requires having 2+ units in John's territory, and I score the extra again for monsters. John opts not to Finest Hour. I then Draconic onslaught all 6 dragons up to Archaon who is now almost completely on his own. I deep strike Gardus and the Fulminators, the Fulminators shoot Archaon and deal 1 wound to him. The 6 dragons shoot their dragon breath at him, the dice rolls are: 1,5,5,5,6,6… so 17 mortal wounds later archaon has taken 8 total from both Stormdrakes and Fulminators. The 6 stormdrake guard connect in combat with archaon while partially tagging the 5 lance knights and 20 warriors to his flank. After 2 units activate, Archaon, who failed to kill a single dragon in his activation, dies to the claws of the drakes.

John wins priority again, charges his now buffed Karkadrak lord into combat, kills the drake Archaon couldn't kill and then I take out the knights he previously had in combat, plus 7 warriors (4 to damage and 3 to battleshock). The game is called before my turn in round 3.

Final Thoughts on the List
That's a successful outing with the list and a pretty good test. It's good enough to finalize things and go ahead and finish it off on the painting table. After painting 18 dragons and four Fulminators you'd think i'd be sick of it by now. But next is one of the K brothers, I think… Krondys or Karazai, and then maybe I'll paint up two more drakes to make it an even 20 Stormdrake Guard. That's fine, right? I don't have a problem. You do.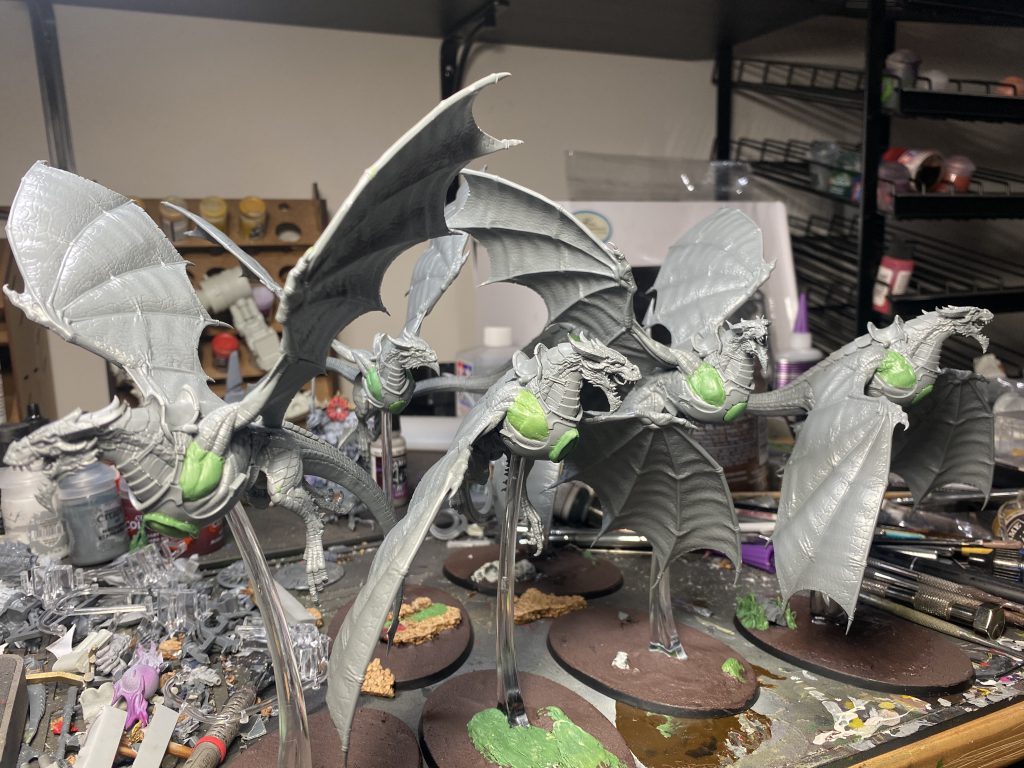 Assembling and Painting The Dragons
Since my previous 12 dragons only included 8 that were GW models, and with GW models potentially being required to be on Stream, plus the fact that the ones I made were very difficult to transport, I decided to acquire 6 new Stormdrake Guard from some local shops. A good friend of mine who had already built his showed me how they looked without the front legs, which makes them look more Wyvern-esque, and I fell even more in love with them. 3 boxes later, and a few days' worth of greenstuff work, and my Storm wyverns were ready for paint.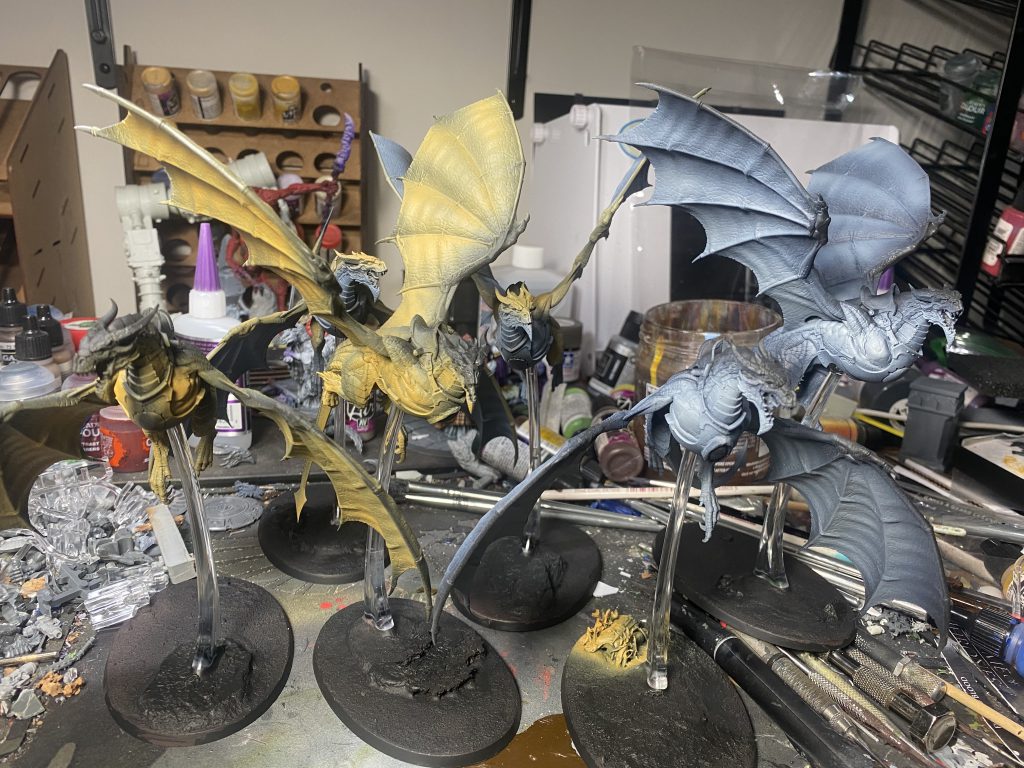 As almost all my non-Tzeentch/non Aelf armies are, I needed to do a little more work on the riders and armor plates to make them visibly corrupted by Tzeentch. Giving the rider's plate's gemstones instead of the Sigmar emblem, chaos knight weapons, and Kairic acolyte heads and shields also fit well on the riders and on the newly purchased Gardus. The Fulminators I had already converted some time earlier (possibly back in early quarantine?) to be Varanguard and so they've been dual-based via magnets to be either. And on top of that work, the only thing in the army I had already painted was the Knight-Draconis.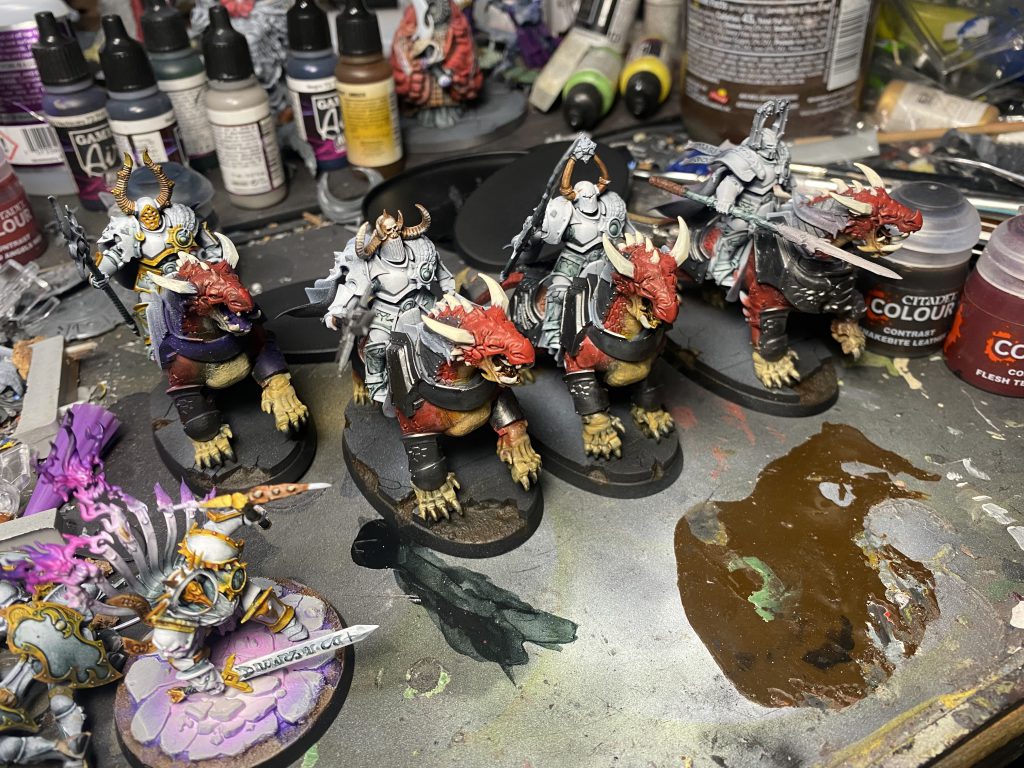 My assembly, and the basecoats on the dragons was all but done before the local RTT, and then my airbrush stopped working… so after 2+ days of cleaning out some of the worst build up i've ever seen, I am back up and running full tilt on paint. All the greenstuff is dried, and base layers are down. Still have a lot of trim left to do on the fulminators and then the armor and gems on the wyverns, and ideally clean up the airbrush work on the dragons with a brush.  The bases of the dragons are about half done and the bases on the fulminators are… just covered in overspray from the Airbrush at the moment, and I have exactly one day off between the 18th and the day the I leave for LVO… as the great plumber Mario would say: "Here we GO!"
Next Time: LVO
The next stop is the Grand Tournament. I'll have a recap of my results, win or lose, following the event, and I'll talk about the games and matchups. And as always, if you'd like coaching and list building help directly, consider supporting me on my Patreon, where I offer custom coaching services and advice.
Have any questions or feedback? Drop us a note in the comments below or email us at contact@goonhammer.com.