Welcome back to part two of our Kill Team Compendium Review, which was so long we split it up to make it more manageable to both read and write. In Part 1 we covered the basic rules for building teams and the Imperium teams. In this intermediate part we're covering the book's Chaos teams. There are four of these – Traitor Marines, Death Guard, Thousand Sons and, not having been forgotten this time around, Chaos Daemons. In part 3 we'll cover the remaining Xenos teams and offer our final thoughts on the book and the future of Kill Team.
Before we dive into our review we'd like to extend a big "thank you" to Games Workshop for providing us with a review copy of Kill Team Compendium.
A Note on Chaos Legions
Although there's good support for Chaos Space Marines in here, long-time legion players will note that, although Traitor Legion teams can choose a legion keyword, those keywords do not do anything at this time. You still can't mix and match, but outside of the Death Guard and Thousand Sons teams, you won't see any rules benefit for choosing a particular team.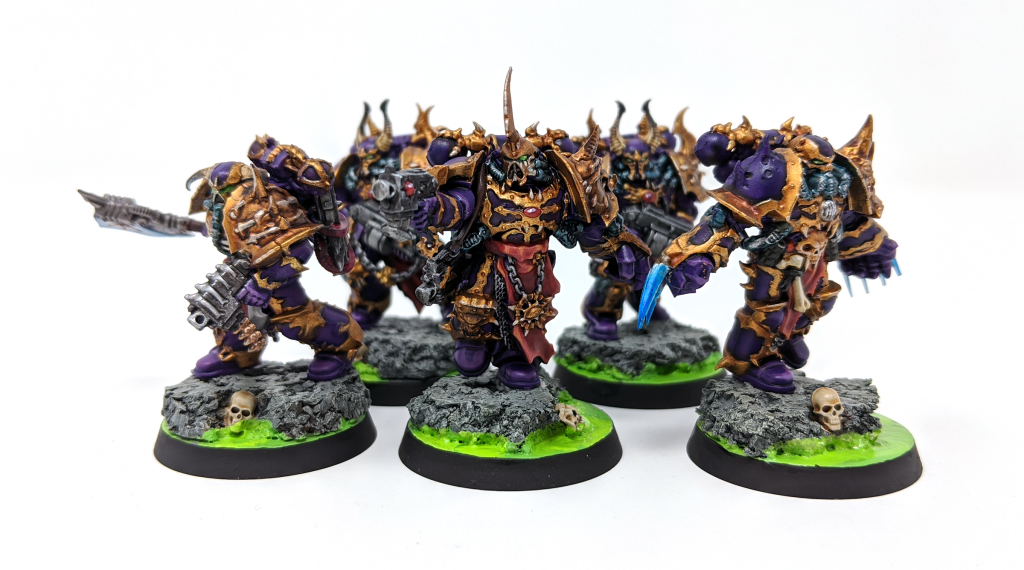 Traitor Space Marines
Traitor Space Marines can select from two Fire Teams: either a team of 3 Chaos Space Marines or 8 Cultists, but can only take one cultist Fire Team in total, so you can't take a 16-model team. This means that your teams will either be six marines or three marines and a mob of Cultists. These aren't bad choices, but they aren't without issues.
One issue with this is that the Cultist choice is built around the assumption (as was the case in the previous edition) that you have the Cultist models from Dark Vengeance, the 6th and 7th edition starter set. This is why the special weapon options for Cultists are heavy stubbers and flamers, when the cultist special weapons that you can walk into a GW and buy are in the Blackstone Cultists of the Abyss set and are heavy stubbers and grenade launchers, which only has seven models. So if you want flamers you are using the weird flamer character in the Blackstone Cultist box, but you'll need two boxes as you are one model short.
Chaos Space Marines have access to champions, warriors (basic marines), Icon bearers, gunners (special weapons), and heavy gunners (heavy weapons). You'll need to take one Chaos Space Marine Fire Team, which is going to likely mean a champion, icon and a gunner of some sort in your first fire team. You can of course take a double scoop of Chaos Marines for your Fire Team, and have six much like the Space Marine Tactical Marines. Your heavy gunners can take the heavy weapon options packed into the Chaos Marines plastic kit – heavy bolters and missile launchers – but are locked out of any other options like autocannons. Fortunately, both of the options that *are* available are pretty decent, and neither is something that Death Guard or Thousand Sons have, making Traitor Space Marines feel a bit more distinct. The Icon bearer is worth noting here, as they're key parts of a chaos marines team in any flavor: Icon bearers have a special action they can do for 1 AP and it turns on an aura that affects friendly operatives within 3″. For CSM, that aura improves your shooting attacks by letting you turn a miss into a hit if you score any critical hits. 
As with all Kill Teams that have the option to take a horde fire team you have a choice between board control and elite punch. Chaos Marines are reasonably well equipped for these, and with 6" of Movement can get around the table faster than their Death Guard counterparts. The Traitor Marines' ploys are focused primarily on the marines, giving them the ability to double shoot, double fight, or shrug off injury and negative modifiers to APL. They won't feel as tough as the other two chaos marine options, but they'll certainly feel more versatile.
Chaos Marines have some solid equipment choices, and you can tool up your marines in a variety of different ways. Cultists give you numbers, but can't benefit from most ploys and aren't worth spending equipment points on. I think a lot of Kill Teams will focus on a Sinister Six of Chaos Marines rather than throwing in a cultist horde, due to both speed of painting and the squishiness of cultists. 
Death Guard
An even tougher marine variant, a Death Guard kill team offers two fire teams: Plague Marines or Poxwalkers (limit 1). Compared to "standard" Chaos Space Marines, the Plague Marines give up a model for a host of defensive buffs and strong equipment/ploy selection. Like their 40k-equivalent, this trade gives up a little flexibility for much greater staying power. Newer players may also appreciate this faction as their durability can be forgiving when mistakes occur.
Unlike a number of other Astartes fire teams, Plague Marine fire teams get a bonus model in the form of a Plague Marine Champion if the team includes their leader. It's a bit confusing, as this works differently from every other faction, so be sure to read carefully. Essentially, your first fire team gives you 3 models and if you elect a second Plague Marine fire team you will get 2 models instead, which is probably the most elegant way they can manage giving you an odd number of models over two fire teams. Given the faction only has two fire team types and you can only choose Poxwalkers once, this means you're either going to have 3 Plague Marines and 8 Poxwalkers or 5 Plague Marines.
For a Plague Marine fire team, players can elect to have warriors, gunners, heavy gunners, fighters (melee specialists), icon bearers, and champions. A Poxwalker fire team provides (surprise) 8 Poxwalkers. Lacking a toughness attribute, Plague Marines instead have more wounds than their loyalist and non-Nurgle counterparts, but also have a 5+ roll to ignore damage for every wound they take, meaning that a 12-wound plague marine will often feel like it has more like 18 wounds. This can be further boosted by the icon which, when activated, lets allies within 3" re-roll 1s and 2s on their Disgustingly Resilient rolls. This is huge, and a great way to watch the light in your opponent's eyes fade as you shrug off 8-9 damage from a couple of melta blasts. The price you pay for all of this is that Death Guard are slow – they only have 4" Movement, which means lots of turns spent move+dashing to cover ground. 
Overall, a Death Guard kill team plays pretty strong. They have the firepower and (disgusting) resiliency to go toe-to-toe with most factions, but can struggle a bit with accomplishing missions objectives simply because they lack the bodies for full coverage and operatives they have are slow (Poxwalkers in particular have to spend an extra AP to action objectives, making it impossible for them to move and action one in the same activation). Players will need to be confident in their overall plan; Death Guard could very well clear most of the opposing force off the table but lose because they lost sight of (or couldn't make it to) mission and Tac Ops objectives.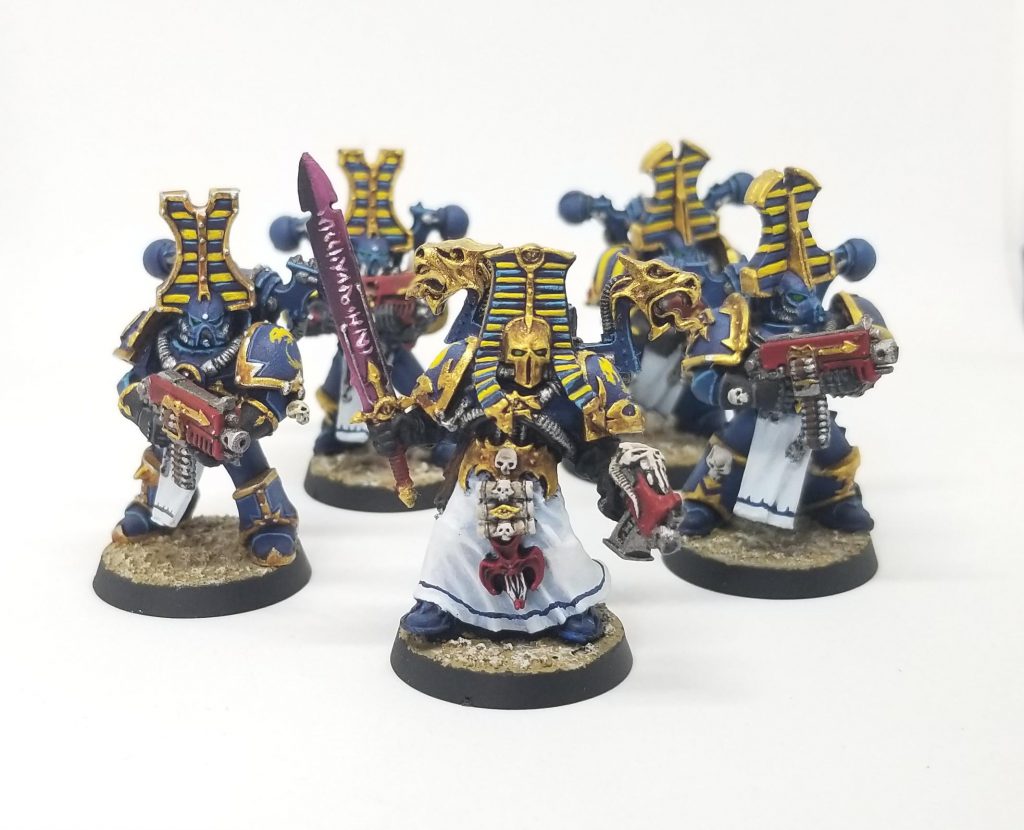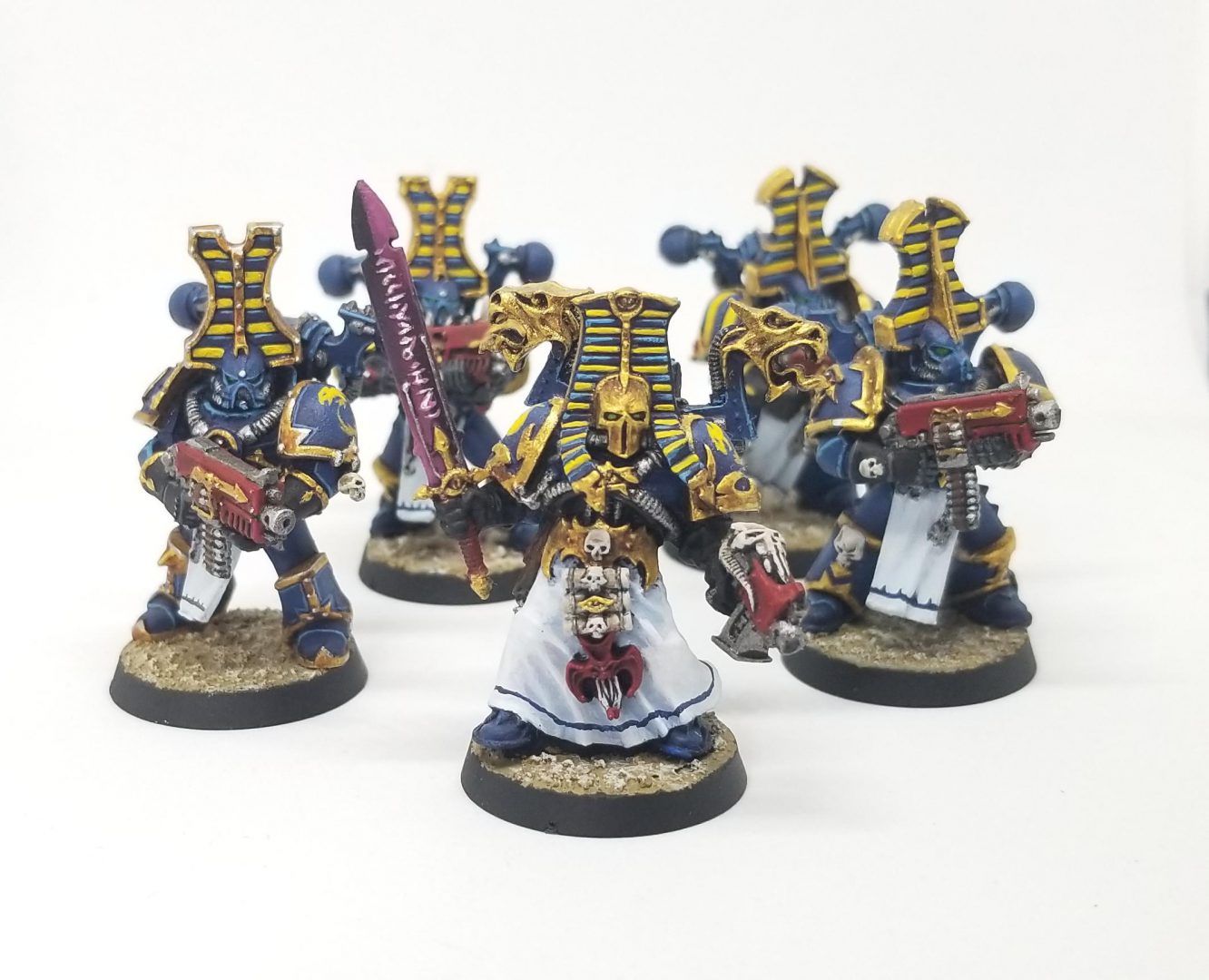 Thousand Sons
Not quite as tough or slow as Death Guard, the Thousand Sons trade one model in their team (compared to regular Chaos Space Marines) for psychic punch. Thousand Sons have two fire team options: two Rubric Marines, with a free third Leader if your kill team doesn't already have a Leader, or six Tzaangors. This means your team will either be five Rubrics (including their Aspiring Sorcerer), 3 Rubrics and 6 Tzaangors, or 12 Tzaangors, and since doing that last one gives up your team's psyker, I suspect it won't happen particularly often.
Rubrics have similar stats to Death Guard but trade Disgustingly Resilient (5+ FNP) for All Is Dust, which gives them a 2+ save against weapons with a normal damage characteristic of 3 or less. This isn't quite as good, but Rubrics make up for lower toughness with harsher firepower: That said it'll cover you against bolters and most of the game's other basic trooper weapon profiles, but it won't feel nearly as good when you're going up against Custodes or Heavy Intercessors. Rubric Marines' basic inferno boltguns are AP1 and their gunners can take Soulreaper cannons, 6-shot AP1, Fusillade weapons with no Heavy penalty, giving them some nasty ranged firepower compared to Death Guard.
Like Grey Knights, Thousand Sons have access to psychic powers, though only a single model – the Aspiring Sorcerer – may cast them, and the powers you get are more offensive. Doombolt throws out 4 attacks that hit on a 3+ and do 3 damage, but scores critical hits on a 5+ and drops 2 mortal wounds each time it does. Your sorcerer can also attempt to manifest a second power per turn, rolling a D6. On a 3+ they succeed, and on a 1-2 they take 3 mortal wounds instead. That said, the squad's icon bearer gives the caster a second power without having to roll. Similar to Death Guard, taking an Icon Bearer is going to be a mandatory move (note that this is always-on for Thousand Sons and doesn't require an activation like it does for Death Guard).
Tzaangors are the faction's cheap bodies, though they're tougher than they look thanks to a 5+ invulnerable save and 8 wounds. On the whole, the Thousand Sons are another interesting and differentiated faction for chaos, capable of tanking some damage and throwing out even more. They're more offensive than the Death Guard, but still pretty tough and their extra speed makes it easier to swallow the loss of one model compared to standard Chaos Marines.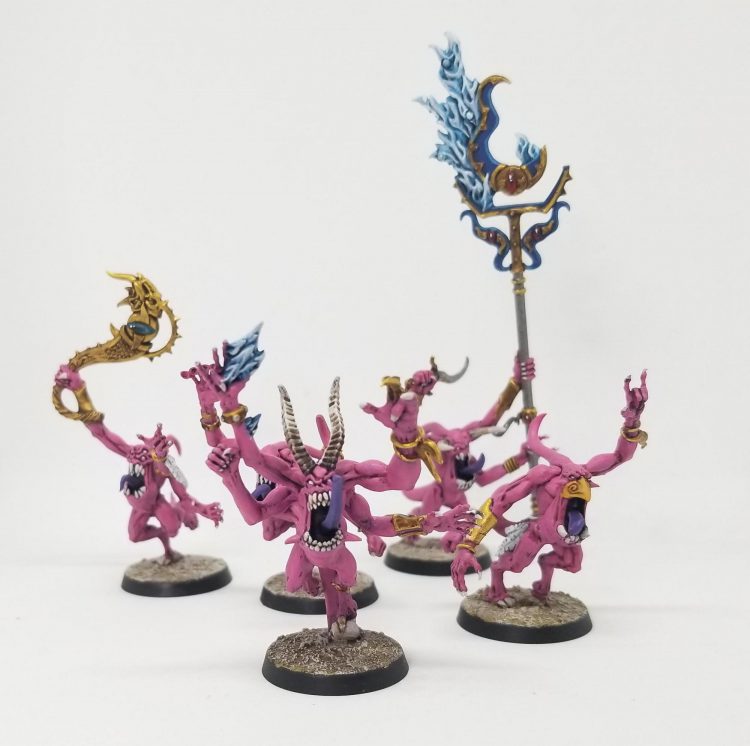 Chaos Daemons
Hoo boy, Daemon Kill Teams are complicated. After being little more than an afterthought in Kill Team 2018 it's good to see Daemons return as a real option here, with all of their troop options and rules for icons, instruments, and champions. Daemons are very much a horde option in Kill Team 2.0 and have access to five different fire team (you pick two when you build your kill team):
Six Bloodletters

Six Daemonettes

Six Plaguebearers

Six Pink Horrors

Eight Blue Horrors (max 1)
Bloodletters are the best fighters of the bunch, sporting 4 attacks with swords that do 4/6 damage and are letal 5+, plus with 9 wounds they're reasonably tough. Daemonettes trade that damage for Relentless to get re-rolls and are nearly as scary in melee. Plaguebearers get Disgustingly Resilient, giving them a 5+ FNP and ignoring injuries, at the cost of movement (they only move 4"), making them more like tough objective holders. And Pink and Blue Horrors have weaker melee attacks but sport the faction's only ranged attacks – Coruscating Flames are basically boltguns. Blue Horrors get a weaker version of this and Brimstone Horrors only have fists.
All Daemons have the 5+ invulnerable save you'd expect, while all four icon options – one for each daemon type – improve the invulnerable saves of nearby daemons of that type by 1, making them nearly indispensable. Instruments give you a similar boost when activated, with +1" on Normal moves and charges. Making good use of both is pretty important, since you can get one of each in a fire team. 
The Ploys for Daemons give you a lot of flexibility, though Warp Surge (1 CP) to re-roll your defence dice and Ephemeral Regeneration (1 CP) to heal an operative 2D3 wounds are going to see common use to mitigate your poor saves. Split (1/2 CP) is one of the funnier options, letting you split a dead Pink Horror into two blues, or a blue into a Brimstone. There are also some attractive equipment options, with two specific to each daemon type. My favorite of these is the Tzeentch-only Trinket of Flux (2 EP), which gives you +1 damage on your coruscating flames. So far my notion has been to take five of them and max out the damage output on my horrors' ranged attacks while approaching for melee with Bloodletters.
On the whole Daemons are really tough to get a handle on play-wise. They're one of the only "pure melee" teams in the new Kill Team if you don't take Horrors, and so managing them well will mean making careful use of cover and Conceal orders and finding ways to get in against your opponent's models early and often so you don't spend 3 turns of a four-turn game trying to make your bloodletters/daemonettes useful.
Next Up: Xenos and Final Thoughts
As we mentioned, we've split this review into three parts in order to cut down on the length of each part and make it easier to find the factions you're looking for. In part 3 – also out this morning, we'll cover the Xenos factions, then offer up some final thoughts on the Compendium, all the teams, and what this means for the game's future. In the meantime, if you have any questions or feedback, Drop us a note in the comments below or email us at contact@goonhammer.com.