Games Workshop have just launched their new additions to the Contrast range and have started previewing Into the Dark, which is the 2nd phase of Kill Team 2nd edition. So by the end of September, we'll be painting up space hulk scenery and Kroot, and getting used to a new way of playing. So what's the best thing to do to keep us busy till then?
The answer is of course to do some painting. It's summer, the temperature's rising (in some places to truly unpleasant levels so drink plenty of water) and we have a lot of light in the evenings.
If you cast your mind back to the Christmas Kill Team challenge, it was to finish a Kill Team. This challenge is going to be very similar.
During Kill Team Summer (so by the end of September, which is the end of meteorological summer) you will finish either a Kill Team or a Killzone worth of terrain. You can do more if you like, but the goal of this is to finish a painting project.
At the end of September we'll do an article with the finished projects, same as we did for the Christmas teams. I fully expect we'll get Into the Dark at some point during that time and we'll see some of the new teams done as well.
You can post progress and pictures online using the #Goonhammer#KillTeamSummer hashtag on twitter.
The rules
Can I complete a project I've already started? – Yes. This is about finishing a project and the sense of achievement you get from it. If you want to pull something out of the projects pile, do it.
Can I convert? – Of course.
Can I do a team and some terrain? – Of course.
Are there prizes? – Only the friends we make along the way and getting a project finished.
The only rule is to get a Kill Team related project finished (either a team or terrain or both) to help you be able to play Kill Team and have a good time.
What We're doing
Thundercloud: Here is a picture of my Phobos team undercoated before the UK roasted in hellfire at the start of the week. While I was fairly critical of Phobos in my initial review, I want to make them work for me as a high performing elite team (I think I was a little biased because the Legionary team are so good and flavourful, while Phobos are almost there but not quite, with Reivers needing a little more attention).
So here's every specialist, one of each sergeant, and a bonus standard trooper, ready to go on Sector Mechanicum bases and Marine Team Six their way around a Space Hulk.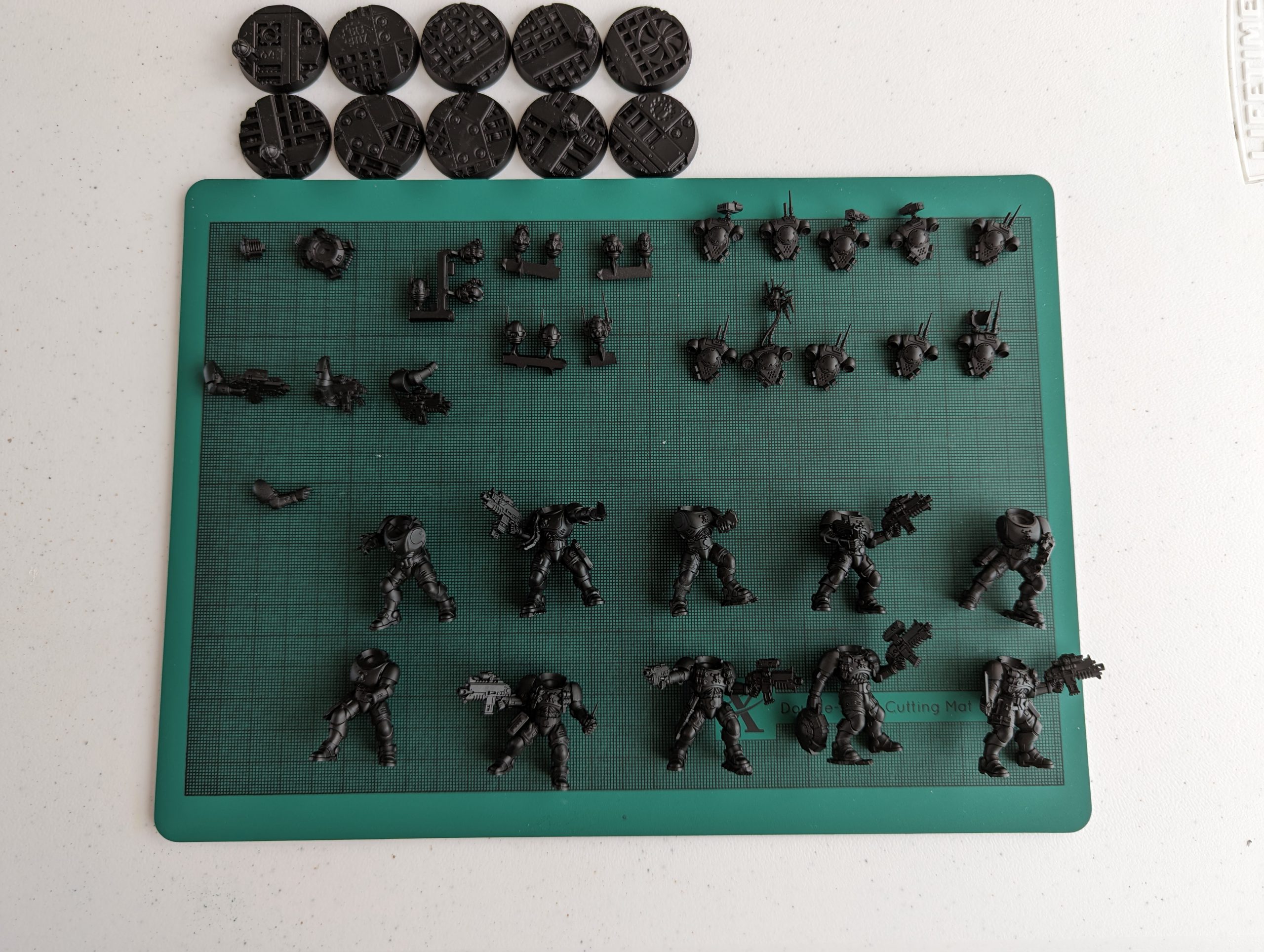 Can I paint ten models in ten weeks? Of course I totally can. Fingers crossed. Could you do a similarly sized project? Give it a try.
TheChirurgeon: I need a Kill Team for the November GW Narrative event, so I'm going to assemble and paint up a Legionary team from Nachmund to go with my Black Legion. Should be some good times.
Have any questions or feedback? Drop us a note in the comments below or email us at contact@goonhammer.com.