The Las Vegas Nopen, taking place on 29th-31st January 2021, is going to bring together some of 40K's biggest names in a unique tournament to entertain the community and raise some money for charity in these dark times. 16 players will enter the first round of this knockout event, but rather than the winners themselves advancing, the triumphant lists will be passed on to another pair of streamers to clash in the following round. After a blowout weekend of gaming, one list will emerge triumphant from a gauntlet put together by some of the finest minds in 40K – so what will it be?
In the leadup to the event, we're going to be introducing the sixteen first round competitors and taking a look at the creations they're about to unleash, covering a first round pairing every day. James "One_Wing" Grover will take you through the lists and what makes them tick, then a guest panel from our competitive team will make their predictions about which army they think is going to triumph.
Welcome to the first of our previews for the Las Vegas Nopen. With the event rapidly approaching, it's time to introduce some of the players and lists that are going to be competing in the first round. In order to ensure Covid safety, the first-round matchups are all happening within the various streaming groups that are participating, so if you're already a fan of their channels you're in for a treat as some familiar faces throw down with some serious glory and prestige on the line.
How This Works
If you've already had the lowdown from the introduction article you can skip straight onto the lists, otherwise click below to expand the details.
Details - Click to Expand

For each of these previews we're going to be looking at the lists in the same style as the Competitive Innovations series, breaking down what the big highlights are of each list are and then digging in to some of the things they can do on the table. For this special event, I'm also going to take things a bit further – having studied all 16 lists, I've rated each out of five on the following criteria:
Ranged Power: how much damage the army can do while the opponent is still at arm's length.
Close Quarters: how much damage the army inflicts up close, either via short ranged firepower or melee attacks.
Mobility: How effectively the army can manoeuvre around the table.
Durability: How much punishment the army can soak up.
Tricks: How many tricks and clutch options the army has up its sleeve to turn the game to its advantage.
Bear in mind when looking at these ratings that I've done them in the context of the lists in the event, not the wider 40K world – because with the power that our 16 top players are bringing to bear, I'd mostly just be handing out fives otherwise, and there wouldn't be a one in sight!

Once we've been through the two lists, I've assembled a panel of Goonhammer's finest tournament minds to vote on the outcome of each matchup and tell me why. We'll pick out who we think is going into each game with the upper hand, then come the event itself find out whether they manage to cruise to victory or if we have an upset on the cards.

The panel are:
Cyle "Naramyth" Thompson: All-round Imperium fan and currently ranked 7th in the ITC.
James "Boon" Kelling: Aeldari mastermind and winner of the Mid-MO Maelstrom GT, currently ranked 13th in the ITC.
Shane Watts: Multi-faction mastermind with multiple 9th Edition top-fours. You might have seen his Ork list featured over on Metawatch!
Chase "Gunum" Garber: Creator of our "Hear Me Out" series, and a big fan of more unusual lists.
Liam "Corrode" Royle: Goonhammer's editor in chief and TO at Black Heart Wargaming.
Matchup 1 – Stephen Box vs. Joe Coles
Today, we're going to dive in to the first round one matchup, which is being hosted by our friends at Vanguard Tactics. Masterminded by top Blood Angels player Stephen Box, Vanguard Tactics provides a wealth of free content for the competitive community via podcasts and videos, as well as premium coaching services for players looking to step up their game. This is sure to be a really intense showdown to open the event, so let's see what the players have decided to bring!
Stephen Box – Adepta Sororitas
About the Player
Stephen is the director of Vanguard Tactics, who specialise in teaching Warhammer 40k to help people get the most out of their hobby, build community, and help people escape from their day to day stresses. Box is probable best know for becoming the number 1 player with the Blood Angels and more importantly his stand on sportsmanship and fair play.
Stephen decided to move away from the Blood Angels for the NOLVO, as everyone else jumped on the Blood Angels bandwagon so he decided that he would play another army. Stephen didn't move too far away thought as he will be running the Bloody Rose Adeptus Sororitas.
The List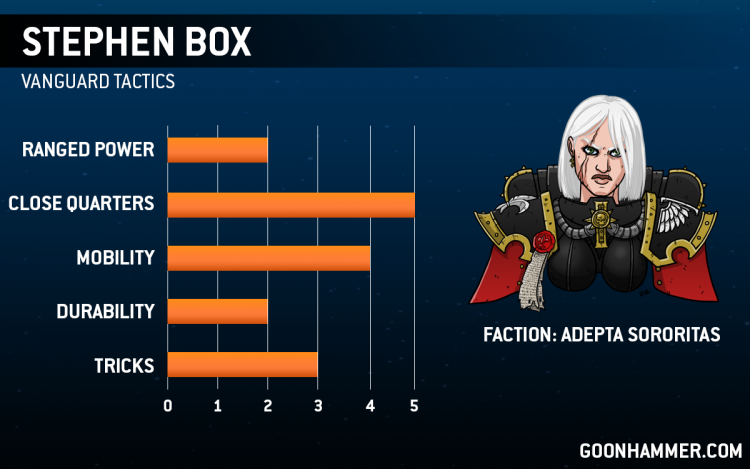 Adepta Sororitas Battalion Detachment ( 3CP – 1997PT )
SUB-FACTION: Order of the Bloody Rose
Agent of the Imperium
Culexus Assassin (100)
HQ
Canoness (60) Inferno pistol, Power sword
RELICS: Litanies of Faith
WARLORD: Celestine (170)
TRAITS: Beacon of Faith
Missionary (45)
RELICS: Book of Saint Lucius
STRATAGEMS: Open the Reliquaries
TROOPS
Battle Sisters Squad (55)
4x Battle Sister
1x Sister Superior
Battle Sisters Squad (55)
4x Battle Sister
1x Sister Superior
Battle Sisters Squad (55)
4x Battle Sister
1x Sister Superior
ELITES
Sisters Repentia (144)
9x Sister Repentia
Sisters Repentia (144)
9x Sister Repentia
Sisters Repentia (144)
9x Sister Repentia
Zephyrim Squad (185)
9x Zephyrim
1x Zephyrim Superior: Zephyrim pennant
Zephyrim Squad (185)
9x Zephyrim
1x Zephyrim Superior: Zephyrim pennant
Zephyrim Squad (185)
9x Zephyrim
1x Zephyrim Superior: Zephyrim pennant
HEAVY SUPPORT
Retributor Squad (155)
1x Retributor Superior
4x Retributor: Multi-melta
1x Armorium Cherub
Retributor Squad (155)
1x Retributor Superior
4x Retributor: Multi-melta
1x Armorium Cherub
DEDICATED TRANSPORT
Sororitas Rhino (80)
Sororitas Rhino (80)
STRATAGEMS
Open the Reliquaries (1CP)
The Highlights
A vicious Bloody Rose Sisters list that maxes out on their best melee threats.
Retributors providing some ranged troubleshooting and showing that they're going nowhere after their point increase.
A Culexus Assassin amps up the anti-psyker capabilities of the army, and gives some flexibility for other matchups.
The Details
Well in some ways we have an upset straight out of the gates, because Stephen has decided to leave his signature Blood Angels on the shelf – not something I would have predicted going in to this!
As soon as you look at the list, however, it's pretty clear that Stephen's taste for jet pack melee death hasn't gone anywhere, it's just found a new home. Zephyrim were one of the top performers in Adepta Sororitas in 8th Edition, and have continued performing strongly in 9th even at the 20pts price tag the 2020 Munitorum Field Manual gave them – meaning that the cut to 18pts they just received in the latest update is fantastic news for Sororitas players. Now that their power swords hit at S4, their natural ability to re-roll wounds means that they can quickly blaze through anything with toughness 7 or less, meaning that packing multiple units is way better, as the number of things that you need Tear Them Down to on is reduced. Combined with their ability to automatically charge out of deep strike with an act of faith, they're ferocious independent operators, and get even better if they can stay in range of Celestine to boost their Shield of Faith or the range-boosted aura of the Missionary. These should be an all-star unit for the faction going forward, and Stephen has captured the spirit of Vegas by going all-in on them out the gate.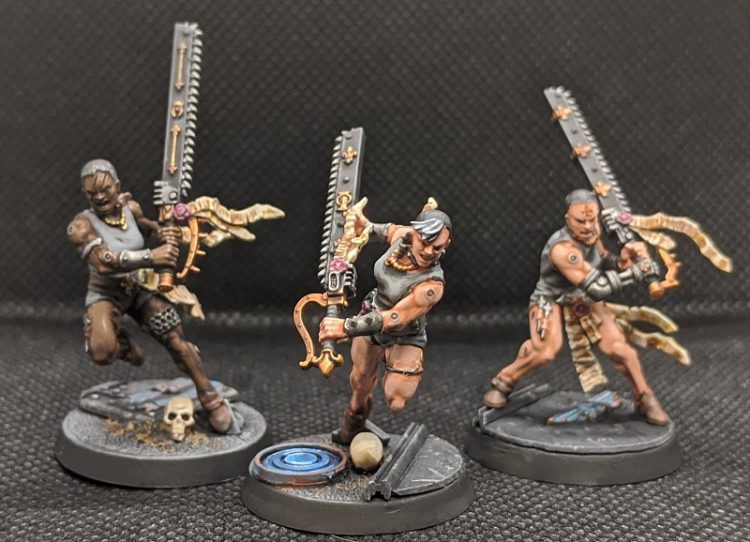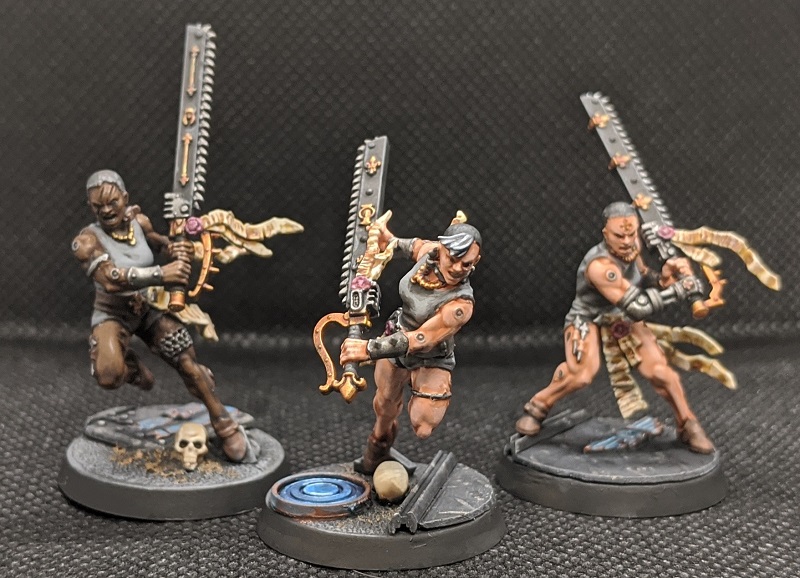 The other big damage dealers in the list probably need less introduction – Repentia and Retributors have been rocking out on tables the world over, and while they've each caught a mild nerf in the latest updates, they're still some of the strongest choices in their roles across the whole game. The Repentia look to be following the fairly common pattern of having two Rhino squads and one in Strategic Reserves, maximising the chance of getting these fragile but deadly killers into the fight. Meanwhile, the Retributors fulfil a powerful role for a melee-focused army – they give Stephen the ability to reach out and neutralise a couple of key ranged threats early on. This list obviously plans to deal most of its damage via melee, and will lose a protracted gunfight, but being able to pick out and eliminate whichever opposing threat poses the most danger to the bulk of the force helps ensure that it reaches melee in good condition, and gives it an answer to ranged units that can keep their distance or are effectively screened. We've seen Eradicators as a common choice in this slot in Blood Angels, and Retributors bring a lot of the same energy to the table here.
The final important thing to mention about this list is how many neat tricks it brings to the table. Acts of Faith make playing against melee-heavy lists a nightmare for an opponent because if you take your eyes off a threat for even one moment, they're suddenly auto-advancing 6″ and making massive charges, and this leans into that by packing the Beacon of Faith warlord trait and Litanies of Faith relic to maximise the number of good dice in the pool. That's backed up by the exceptional stratagem sheet the Sororitas have access to and, here, an Imperial Assassin. For the purposes of the event, it has been ruled that the Assassin swap stratagem does work as it should, and also that taking an Assassin doesn't break Sacred Rites. That explains the choices of the Culexus here – with Psykers likely on the upswing in the metagame thanks to the changes to Abhor the Witch, being able to combine a Culexus with the Aegis of the Emperor rite gives the army an angle to massively close-down any sort of psychic damage dealing, while in other games it can happily swap to a more flexible option like a Callidus. Because the army relies on 1W models with good saves, mortal wounds are a potential weakspot, so closing that down in the matchups where it matters is extremely valuable.
Overall, this is a very extreme example of a Sisters list, but is definitely leaning in to something the army does well, and is absolutely vicious when it hits right. The only challenge it's going to face in some games is that many of its alpha units are quite brittle, making it vulnerable to Counter Offensive if it overextends. In the hands of a player like Stephen, however, I expect it to be deployed with the kind of lethal, tactical precision required to work around that.
Joe Coles – Adeptus Custodes
About the Player
Joe is the co-host of Vanguard Tactics, army painter and generally Stephen Box's studio slave/beat stick. He helps teach Warhammer 40k to help people get the most out of their hobby, supporting the Vanguard Tactics community and generally undermining Stephen at every turn.
Joe is best known for playing Drukhari and pushing the limit on trying to run terrible units in his army, trying to make them work. He was in a good place to top 10 the Drukhari faction this season, until all the events stopped in the UK.
Joe, despite knowing Drukhari inside out, has opted to run Custodes instead. With the new Drukhari Codex not far off the horizon has chosen to run the golden host to stand in a chance of winning something! Winning a game would be a good start.
The List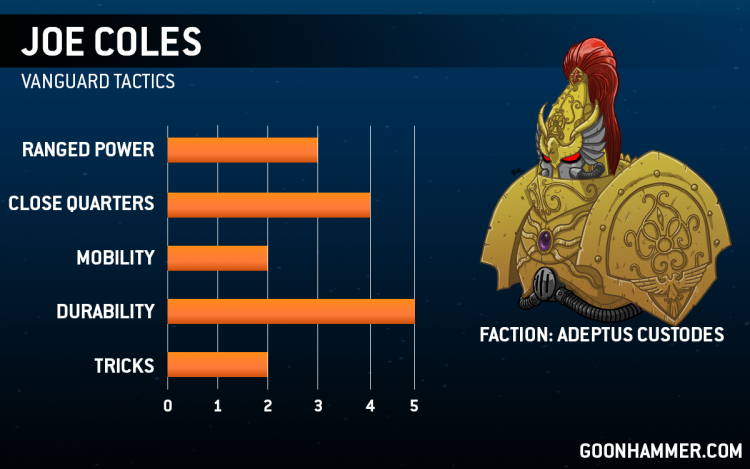 ++ Battalion Detachment 0CP (Imperium – Adeptus Custodes) [93 PL, 9CP, 1994pts] ++
Battle Size [12CP]: 3. Strike Force (101-200 Total PL / 1001-2000 Points)
Detachment Command Cost
Shield Host: Shadowkeepers
+ HQ +
Captain-General Trajann Valoris [10 PL, 190pts]: Champion of the Imperium, Warlord
Shield-Captain on Dawneagle Jetbike [9 PL, -2CP, 175pts]: Auric Aquilas, Captain-Commander, Hurricane Bolter, Indomitable Constitution, Superior Creation, Ten Thousand Heroes, Warlord
+ Troops +
Custodian Guard Squad [13 PL, 239pts]
. Custodian: Sentinel Blade, Storm Shield
. Custodian: Sentinel Blade, Storm Shield
. Custodian: Guardian Spear
. Custodian: Guardian Spear
. Custodian: Guardian Spear
Sagittarum Custodians [10 PL, 265pts]
. Sagittarum Custodian: Misericordia
. Sagittarum Custodian: Misericordia
. Sagittarum Custodian: Misericordia
. Sagittarum Custodian: Misericordia
. Sagittarum Custodian: Misericordia
Sagittarum Custodians [10 PL, 265pts]
. Sagittarum Custodian: Misericordia
. Sagittarum Custodian: Misericordia
. Sagittarum Custodian: Misericordia
. Sagittarum Custodian: Misericordia
. Sagittarum Custodian: Misericordia
+ Elites +
Allarus Custodians [15 PL, 375pts]
. Allarus Custodian: Castellan Axe
. Allarus Custodian: Castellan Axe
. Allarus Custodian: Castellan Axe
. Allarus Custodian: Castellan Axe
. Allarus Custodian: Castellan Axe
Contemptor-Galatus Dreadnought [9 PL, -1CP, 170pts]: Eternal Penitent
Prosecutors [3 PL, 60pts]: Sister Superior
. 4x Prosecutor: 4x Boltgun, 4x Psyk-Out Grenades
Vexilus Praetor [6 PL, 90pts]: Guardian Spear, Vexilla Magnifica
+ Fast Attack +
Venatari Custodians [8 PL, 165pts]
. Venatari Custodian
. . Kinetic Destroyer and Tarsus Buckler
. Venatari Custodian
. . Kinetic Destroyer and Tarsus Buckler
. Venatari Custodian
. . Kinetic Destroyer and Tarsus Buckler
++ Total: [93 PL, 9CP, 1994pts] ++
The Highlights
The Golden Host line up to receive the charge of the Sororitas – will the unstoppable force or immovable object triumph?
Allarus and a storm shield squad provide an anvil while the newly deadly shooting of the Sagittarum reaps a terrible toll under the gaze of Trajann.
Venatari and a Bike Captain provide some powerful reactive threats, while the Galatus is an extra hammer to deploy where fighting is thickest.
Prosecutors provide an inexpensive objective holder or Action unit.
The Details
This first game is shaping up to be a great one, because we've got a list that can hit like a veritable avalanche of bricks throwing down with an army that just might have the durability to take that punch. Custodes have consistently performed at a reasonably high level in 9th Edition, and the Shadowkeepers Shield Host (as used here) have been the most consistent top performers. The reason for that is that unlocking an extra defensive stratagem in the form of Grim Responsibility helps give the army a critical mass of defensive tools to allow their units to roll with whatever an opponent throws at them, giving another option alongside Auramite and Adamantium, The Emperor's Auspice and Arcane Genetic Alchemy. With armies consisting of relatively few models Custodes need to minimise their chances of losing whole squads to a big swing by the opponent, and by being best equipped for that the Shadowkeepers win out.
Just being tough won't always be enough, of course, and this list takes advantage of how potent Sagittarum Custodians now are (thanks to D2 bolter profiles) to ensure that it can apply some real damage at range, especially buffed by Trajan's aura. The list ends up with a neat two ranks in its main force – the Allarus and Custodian squad out front as the units best able to soak up the enemy charge, and the shootier Custodians lined up behind to apply withering volleys of fire. They are of course no slouches in combat either, with four S5 AP-2 swings each thanks to paying for misericordias, and in this matchup the fact that they're going to be quite effective on the countercharge is a notable challenge for the Sororitas. All of this is further protected by a Vexilus Praetor waving the now free Vexila Magnifica, making the army extremely tricky to chew through at range. The core of this army ends up durable, flexible and dangerous both at range and at melee, which is a great place to be in 9th. In this game (and plenty of others), Tanglefoot Grenade is also going to be an absolute all-star, as potentially shutting down what's meant to be an auto-charge out of Strategic Reserves could be a brutal swing.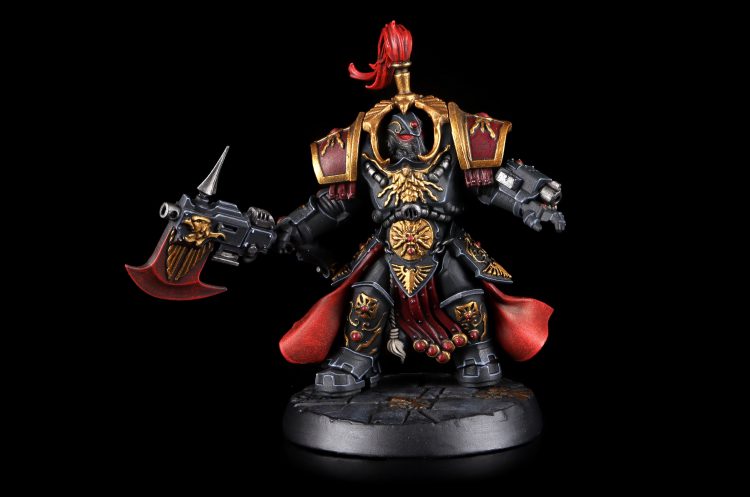 Surrounding that core we have some more specialised units. First up, we have a Contemptor-Galatus Dreadnought, generally considered to be the best of the Contemptor-tier options Custodes have access to thanks to the combination of 4+ invulnerable save and a high number of D3 attacks. It gives the list something that's both a highly effective countercharge option and is capable of acting as the tip of the spear if the army needs to press out into another part of the board. Because it's a VEHICLE, it can also act as an effective tag team with the Bike Captain if needed, protecting the latter from shooting. Those two between them are an extreme threat to any sort of elite forces, and gives the list some ways to be a bit more muscular when the situation calls for it. The Venatari squad can also help out with that, and also give the list an option on taking Deploy Scramblers, in combination with the presence of a cheap Prosecutor Squad to look after the deployment zone.
I really like this list overall – it builds an exceptionally strong core to control the battlefield out of the bread-and-butter units then makes good use of other options to shore up the secondary game and make sure it can be responsive when necessary. We're in for a real treat to open proceedings.
The Panel's Verdict
So, we've gone through these two lists, checked out their strengths, and we know that they'll be throwing down on the Overrun mission. With all that in mind, who's going to take the victory?
I put that question to our expert panel, and after some deliberation they've come back with a prediction. Click below to find out what it is!
The Panel's Verdict - Click to Expand

By a margin of four votes to one the panel reckon that the Adepta Sororitas will carry the day in this Imperium throwdown. The overall consensus was that the high speed and greater number of the Sisters threats would allow them to outmaneouvre the Custodes. They've got the early damage to take out a few key units, and once they've done that it's going to be challenging for the Custodes to contest the Domination scoring of this mission. The reason not to count the Custodes out of it entirely is that if the Sisters make a swing and bounce off their stratagem defences with a low roll then the counterattack has the potential to be brutal, especially with the Sisters being slightly lighter on defensive tools than many lists. Those factors come together to ensure that there's a real game here, and it's going to be fantastic to see how it plays out on the day.
Wrap Up
That's it for day one's preview, check back in tomorrow for a look at another pair of lists. In the meantime, don't forget to check out the Las Vegas Nopen website and the gleam contest, and if you have any comments, questions or suggestions, let me know at contact@goonhammer.com.