The Las Vegas Nopen, taking place on 29th-31st January 2021, is going to bring together some of 40K's biggest names in a unique tournament to entertain the community and raise some money for charity in these dark times. 16 players will enter the first round of this knockout event, but rather than the winners themselves advancing, the triumphant lists will be passed on to another pair of streamers to clash in the following round. After a blowout weekend of gaming, one list will emerge triumphant from a gauntlet put together by some of the finest minds in 40K – so what will it be?
All of this week, we're going to be introducing the sixteen first round competitors and taking a look at the creations they're about to unleash, covering a first round pairing every day. James "One_Wing" Grover will take you through the lists and what makes them tick, then a guest panel from our competitive team will make their predictions about which army they think is going to triumph.
The list reveals roll on, and today we head on up to Canada to take a look at our third first-round match, being brought to us by Play On Tabletop. Bringing us both their signature 40K in 40 minutes battle reports, and plenty more beside, they're another team that knows how to put on a fantastic show – so let's take a look at what they've got for us as part of the event.
How This Works
If you've already had the lowdown from the first preview, you can skip straight onto the lists, otherwise click below to expand the details.
Details - Click to Expand

For each of these previews we're going to be looking at the lists in the same style as the Competitive Innovations series, breaking down what the big highlights are of each list are and then digging in to some of the things they can do on the table. For this special event, I'm also going to take things a bit further – having studied all 16 lists, I've rated each out of five on the following criteria:
Ranged Power: how much damage the army can do while the opponent is still at arm's length.
Close Quarters: how much damage the army inflicts up close, either via short ranged firepower or melee attacks.
Mobility: How effectively the army can manoeuvre around the table.
Durability: How much punishment the army can soak up.
Tricks: How many tricks and clutch options the army has up its sleeve to turn the game to its advantage.
Bear in mind when looking at these ratings that I've done them in the context of the lists in the event, not the wider 40K world – because with the power that our 16 top players are bringing to bear, I'd mostly just be handing out fives otherwise, and there wouldn't be a one in sight!

Once we've been through the two lists, I've assembled a panel of Goonhammer's finest tournament minds to vote on the outcome of each matchup and tell me why. We'll pick out who we think is going into each game with the upper hand, then come the event itself find out whether they manage to cruise to victory or if we have an upset on the cards.

The panel are:
Cyle "Naramyth" Thompson: All-round Imperium fan and currently ranked 7th in the ITC.
James "Boon" Kelling: Aeldari mastermind and winner of the Mid-MO Maelstrom GT, currently ranked 13th in the ITC.
Shane Watts: Multi-faction mastermind with multiple 9th Edition top-fours. You might have seen his Ork list featured over on Metawatch!
Chase "Gunum" Garber: Creator of our "Hear Me Out" series, and a big fan of more unusual lists.
Liam "Corrode" Royle: Goonhammer's editor in chief and TO at Black Heart Wargaming.
Matchup 3 – Space Marine Steve vs. JT
Space Marine Steve – Ultramarines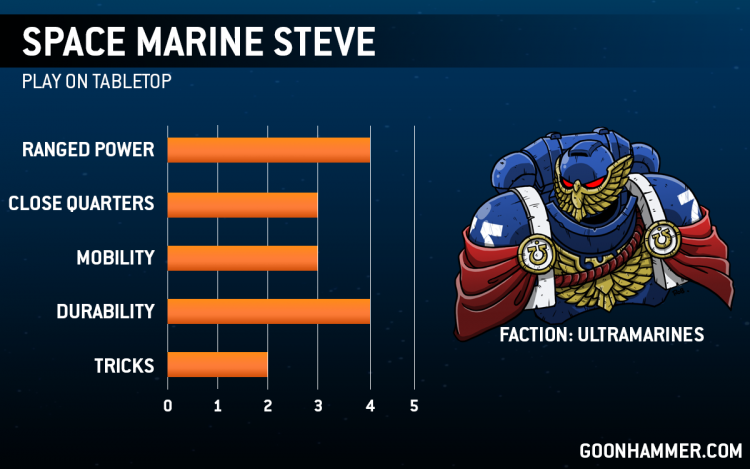 The Player
Steve is a dedicated Space Marine player (if that wasn't already apparent) and a founding member of the YouTube Channel, Play On Tabletop. He loves playing 40k, testing out different lists, units, and play styles, and is super excited to have his Ultramarines list run the gauntlet of the Las Vegas NOPEN.
The List
Adeptus Astartes – Strike Force – Grand Tournament ( 12CP – 1995PT)
Adeptus Astartes Battalion Detachment ( 3CP – 1995PT )
SUB-FACTION: Ultramarines
HQ
Chief Librarian Tigurius (135)
PSYCHIC POWERS: Null Zone, Psychic Fortress, Veil of Time
Lieutenant (70)
RELICS: Seal of Oath
WARLORD: Marneus Calgar (210)
TRAITS: Ultramarines: Adept of the Codex
TROOPS
Intercessor Squad (100)
1x Intercessor Sergeant: Auto bolt rifle
4x Intercessor: Auto bolt rifle
Intercessor Squad (100)
1x Intercessor Sergeant
4x Intercessor
Intercessor Squad (100)
1x Intercessor Sergeant
4x Intercessor
ELITES
Aggressor Squad (200)
1x Aggressor Sergeant: Flamestorm gauntlets
4x Aggressor: Flamestorm gauntlets
Aggressor Squad (225)
1x Aggressor Sergeant: 2x Auto boltstorm gauntlet, Fragstorm grenade launcher
4x Aggressor: 2x Auto boltstorm gauntlet, Fragstorm grenade launcher
Apothecary (90)
UPGRADE: Chief Apothecary (30)
Company Ancient (80) Power sword
TRAITS: Nobility Made Manifest (Aura)
RELICS: The Standard of Macragge Inviolate
STRATAGEMS: Hero of the Chapter, Relic of the Chapter
FAST ATTACK
Suppressor Squad (100)
1x Suppressor Sergeant
2x Suppressor
Suppressor Squad (100)
1x Suppressor Sergeant
2x Suppressor
Suppressor Squad (100)
1x Suppressor Sergeant
2x Suppressor
HEAVY SUPPORT
Devastator Squad (135)
1x Devastator Marine Sergeant
4x Devastator Marine: Grav-cannon
Eradicator Squad (180)
1x Eradicator Sergeant
3x Eradicator
DEDICATED TRANSPORT
Drop Pod (70)
STRATAGEMS
Hero of the Chapter (1CP)
Relic of the Chapter (1CP)
Total Command Points: 5/17
Reinforcement Points: 5
Total Points: 1995/2000
The Highlights
Marneus Calgar leads up an Ultramarines list that plays into all their 9th Edition strengths.
Mobile shooting options like Suppressors and Drop Pod Devastators bring the fury of the Astartes to wherever it needs to strike.
Aggressors of both flavours provide a solid anchor and countercharge threat under the Banner of Macragge Inviolate.
Tigurius provides reliable casts of Psychic Fortress to keep the battle pile safe.
The Details
One of the great things about 9th is how much more important having some flexibility in your army lists is, and in the Marine world no one has profited more from that than the Ultramarines. Barely even on the competitive radar in late 8th and outshone by the raw killing power of Salamanders in early 9th, the shifts in emphasis that have come out of the new Marine book has finally let the heroes of Macragge reach their full potential. The Ultramarines supplement provides fantastic support for infantry-heavy lists, has great Named Characters who benefit from some of the new rules, and lets a number of units overperform via some powerful relics.
This list shows a lot of those factors off, building the battle pile to end all battle piles. Tigurius has always been one of the highlights of the Ultramarines book, but the new version of Psychic Fortress is what's really pushed him over the top to be a metagame staple. Throwing up a wide-ranging 5++ bubble, combined with being able to shield key units like Aggressors from enemy shooting, makes him exceptionally valuable, and providing a reliable cast of Null Zone for when things get spicy can be absolutely back breaking against armies like Daemons, Sororitas and Harlequins (i.e. the three best armies in the game). Surrounding him you have three units of Intercessors (who are as fundamentally good as ever) and then some fancier stuff. A five-model unit of each kind of Aggressors means that this list is going to crush hordes, and the option of putting the flamestorms into Strategic Reserves lets you set up a real headache for some opponents. These two units also provide some excellent counter-charge potential thanks to the Standard of Macragge Inviolate. Adding +1A to all CORE units is a phenomenally powerful effect, and while Ultramarines aren't melee specialists, having the flexibility to do real damage in the fight phase when they need to is part of why they're so strong right now.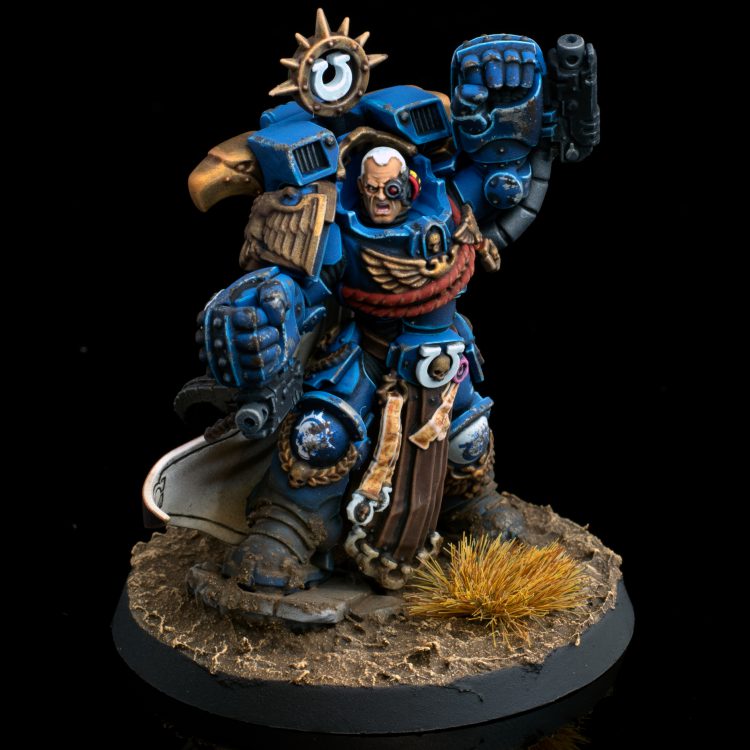 Operating around the periphery of this battle pile you have some of the shooting units that Ultramarines support best. Grav cannon devastators are no longer so universally terrifying as they were in early 9th thanks to the removal of the Gravitic Amplification stratagem – but in Ultramarines the Seal of Oath allows them to re-capture that old magic, utterly erasing the first target they go after with full re-rolls, and doing so at an absolutely bargain price. The only tragedy there is that Drukhari are one of the few armies that this combo is underwhelming against – not a single unit in JT's list has a 3+ save, so the grav cannons are going to only be dealing 1D. Luckily the other shooting unit that's especially good in Ultramarines, Suppressors, are fantastic against Drukhari. The Ultramarine Doctrine allowing them to move and shoot with impunity in Battle Rounds 2 and 3 lets them move around the table to get the shots they need, and high volume AP-1 D2 shooting is practically designed for blowing Drukhari hulls out of the sky. These are great damage dealers for the Ultramarines in most matchups, and being small, mobile INFANTRY units that can deep strike also makes them excellent at playing the secondary game. They're certainly not bad in other Marine lists, but Ultramarines (and their successors) are definitely where they reach their full potential.
All told, this list isn't especially complicated in how it's planning to win games, but it's very effective at doing so. It's one of the best all-rounders in the mix for the event, not excelling at any one thing but having no glaring weak spots either. 9th's mission structure has given all-rounder lists a new lease of life, and armies like this are now fully capable of tangling with the best of them, and I can't wait to watch this one in action.
JT "Painkiller" McDowell – Drukhari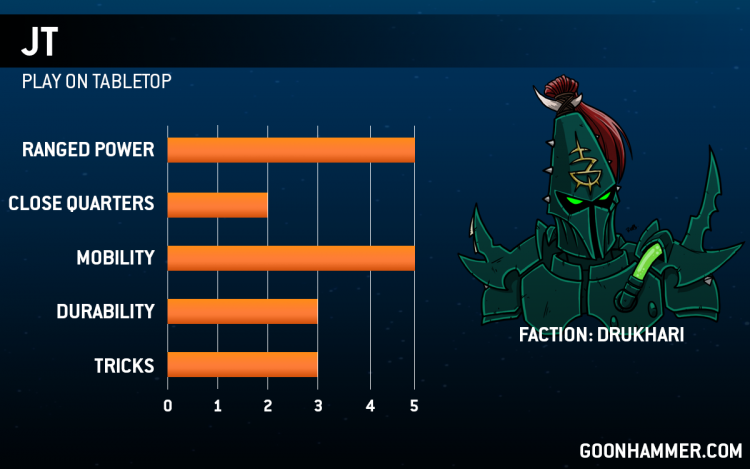 The Player
Though he's been a long time 40k tournament player and TO for the Wetcoast 40K event, western Canadas largest 40k tournament, JT is probably best known for his dulcet tones as the commentator for PlayOn Tabletop.
A rabid Dark Eldar (not Drukhari!) player, and general fan of the perfidious Eldar, JT has waged wars across the webways at the head of all manners of raiding forces. From Corsairs to Exodites, he's played and owns them all, and loves nothing more than to marshal those classic models to victory.
The List
Drukhari Patrol Detachment ( 2CP – 830PT )
SUB-FACTION: Kabal of the Black Heart
HQ
WARLORD: Archon (70)
TRAITS: Kabal of the Black Heart: Labyrinthine Cunning
RELICS: Writ of the Living Muse
TROOPS
Kabalite Warriors (40)
1x Sybarite
4x Kabalite Warrior
ELITES
Lhamaean (16)
Medusae (22)
Medusae (22)
HEAVY SUPPORT
Ravager (155) 3x Disintegrator cannon
Ravager (155) 3x Disintegrator cannon
Drukhari Patrol Detachment ( 2CP – 820PT )
SUB-FACTION: Dark Technomancers/master of mutagens.
HQ
Haemonculus (90) Electrocorrosive whip, Hexrifle
RELICS: The Nightmare Doll
STRATAGEMS: Prizes from the Dark City
TROOPS
Wracks (45)
1x Acothyst: Hexrifle
4x Wrack
Wracks (45)
1x Acothyst: Hexrifle
4x Wrack
Wracks (45)
1x Acothyst: Hexrifle
4x Wrack
ELITES
Mandrakes (75)
1x Nightfiend
4x Mandrake
Mandrakes (75)
1x Nightfiend
4x Mandrake
FAST ATTACK
Scourges (100)
1x Solarite
4x Scourge: Blaster
Scourges (100)
1x Solarite
4x Scourge: Blaster
HEAVY SUPPORT
Reaper (170)
Reaper (170)
DEDICATED TRANSPORT
Venom (85) Splinter cannon
Venom (85) Splinter cannon
Venom (85) Splinter cannon
Drukhari Patrol Detachment ( 2CP – 350PT )
SUB-FACTION: Dark Technomancers/Masters of Mutagens.
HQ
Haemonculus (90) Electrocorrosive whip, Hexrifle
TROOPS
Wracks (45)
1x Acothyst: Hexrifle
4x Wrack
Wracks (45)
1x Acothyst: Hexrifle
4x Wrack
DEDICATED TRANSPORT
Venom (85) Splinter cannon
Venom (85) Splinter cannon
STRATAGEMS
Prizes from the Dark City (1CP)
Total Command Points: 11/12
Reinforcement Points: 0
Total Points: 2000/2000
The Highlights
Dark Technomancers and the Black Heart come together to provide a strong, mobile shooting list.
Discounted Wracks in Venoms provide a highly efficient army core.
Reapers and Ravagers provide potent ranged threats.
Mercenaries and the Archon's Court provide reactive threats and objective focus.
The Details
Drukhari have had a pretty uneven ride in 9th so far, and I'm really glad that this is the army that's carrying the flag for them in the event, because this list really showcases what's been working for them. The Dark Technomancers faction trait, especially when applied to vehicle guns, is one of the more unique and powerful in the game, and in 9th Edition Drukhari players have been leaning heavily on it, using Venoms, Reapers and special-weapon toting Wracks to maximise the amount of extra damage they can squeeze out of it. With Reapers coming through the Imperial Armour Compendium in a very slightly more expensive but still functional state, and some minor-to-great point cuts across a lot of the other components in the recent update (most notably the huge drop on Wracks) the list looks probably the strongest it has all edition, and is definitely the nastiest build Drukhari can put up pre-codex (ignoring the possible mistake around Reavers).
The list floods the board with fast, relatively expendable ranged units that absolutely bury the opponent under the weight of D2 shooting. Technomancered Venoms are the bane of Daemons and Intercessors alike, because it turns out if you make targets take enough 3+ saves against attacks that one-shot them, they'll go down. If you're impatient for Space Marine death you can also, of course, unleash the Ravagers and the Reapers, both of which can engage effectively from a greater distance and have the AP to punch through power armour. The flexible profile on the Reaper can also go after vehicles pretty effectively, and it's backed up in that role here by two squads of Scourges, who can drop out of the skies and unleash a volley of blaster fire into anything that's being a particular nuisance. The other thing that's notable on the shooting front is just how dangerous seven Hexrifles can be while Technomancers is active. They add up to the kind of damage that can plausibly threaten a key buff character, and in this matchup if they manage to pop Tigurius to bring down the Psychic Fortress that could spell disaster for the Ultramarines.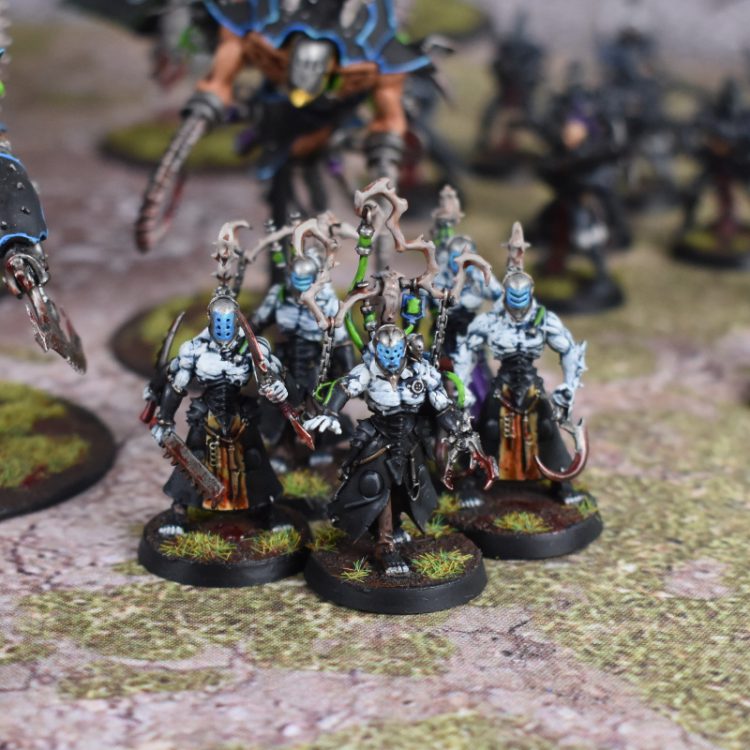 Where Drukhari are weaker, at least for now, is putting down melee threats, and this list is kind of all-in a shooting plan for damage dealing. Wracks aren't irredeemable in a fight but they aren't going toe to toe with real killers either, and even the two units of Mandrakes are probably more aimed at objective play and the odd bit of harrassment than getting into a real fight. Fundamentally, there's nothing in this list that you could confidantly expect to send into a fight with opposing elite melee units and win, and other than the Mandrakes its damage output changes very little as it gets any closer than 18″ away. I'm sure it'll still be getting close and personal sometimes, with bully charging venoms often needing to be sacrificed to slow the opponent down, but a face-to-face brawl isn't what this army is looking for, especially as the surprising durability it has at range thanks to Night Shields on all the hulls collapses when it comes to punching.
That means it needs to rely on careful positioning and focused elimination of opposing points of force to triumph, and also needs a bullet-proof objective game. Happily, as well as the Mandrakes the Court of the Archon models that have been included are excellent for this, since they're dirt cheap non-CHARACTER infantry units that can sneak onto the board for Deploy Scramblers or skulk behind a wall zoning out space as needed. As well as its speed, the list also has Agents of Vect to shut down some tools that might let an opponent catch it in melee (e.g. Advance and Charge stratagems), and this can also be crucial for stopping an opponent's defensive stratagem when a threat needs to be neutralised in a hurry. Here, naturally, Transhuman Physiology has likely got a big target on its head, as being able to wound the Aggressors on twos with Reaper shots if they're a bit too close for compass is going to be a big swing.
We're clearly not too far out from the Drukhari codex at this point, but this list provides a great standard bearer in the event as a demonstration of what they've been succeeding with over the last six months, and if I were the Ultramarines, I'd be preparing for a real test facing it down.
The Panel's Verdict
So, we've gone through these two lists, checked out their strengths, and we know that they'll be throwing down on the Overrun mission. With all that in mind, who's going to take the victory?
The panel have once again weighed in, so click below to see their verdict.
The Panel's Verdict - Click to Expand

We've got our first unanimous call here folks – for this game the whole panel gave the Ultramarines the nod. For those who remember the halcyon days of mid-8th Edition, Drukhari were once the natural predator of Space Marines, but ever since the V2 Codex landed that's been flipped on its head, with the ability to just grind pesty Aeldari off the board. That's still true as of the 9th Edition Codex, and the addition of the Apothecary aura to reduce the number of Marines getting one-shot by disintegrators and Technomancer-boosted guns is an additional major asset. It is worth noting however, that while the panel unanimously thought the Marines go into this with the better shot, it was still felt that the Drukhari had ways to win, and definitely have the ability to capitalise on a strong start. As mentioned above, the presence of the hexrifles does also give the Drukhari a way to unpick some of the buffs, and if they manage to take out the Apothecary or Tigurius, things could change fast.
Wrap Up
Three down, five to go, so check back in tomorrow for a look at another pair of lists, featuring perhaps the most unusual build yet. In the meantime, don't forget to check out the Las Vegas Nopen website and the gleam contest, and if you have any comments, questions or suggestions, let me know at contact@goonhammer.com.