Howdy scummers! Welcome to Mechahammer week. We are celebrating with a special episode of MECHROMUNDAY. Goonhammer authors are throwing down their underhive mechs – it's Ambot time, baby! Let's see what they dug up.
SRM
I grabbed this model when it was newly released, splitting the kit with Dylon in 2019. I was still just starting to experiment with a wet palette and weathering at the time, so I went all out on this big dumb robot, figuring it would probably have seen some shit by the time it took to the underhive.
I wanted to go with something gang-agnostic for this hired brute, so I painted a bold green and purple scheme inspired by the old G1 Transformers Skorponok, in case you ever doubted I was an absolute dweeb. His closed pose made painting him a little tricky but not too bad. Naturally, I added enough hazard stripes to make him feel at home in Necromunda, and before long he was on the tabletop. I generally try to get Nerves of Steel as quickly as possible for this guy, as otherwise he just ends up getting pinned by lasgun fire.
Primaris Kevin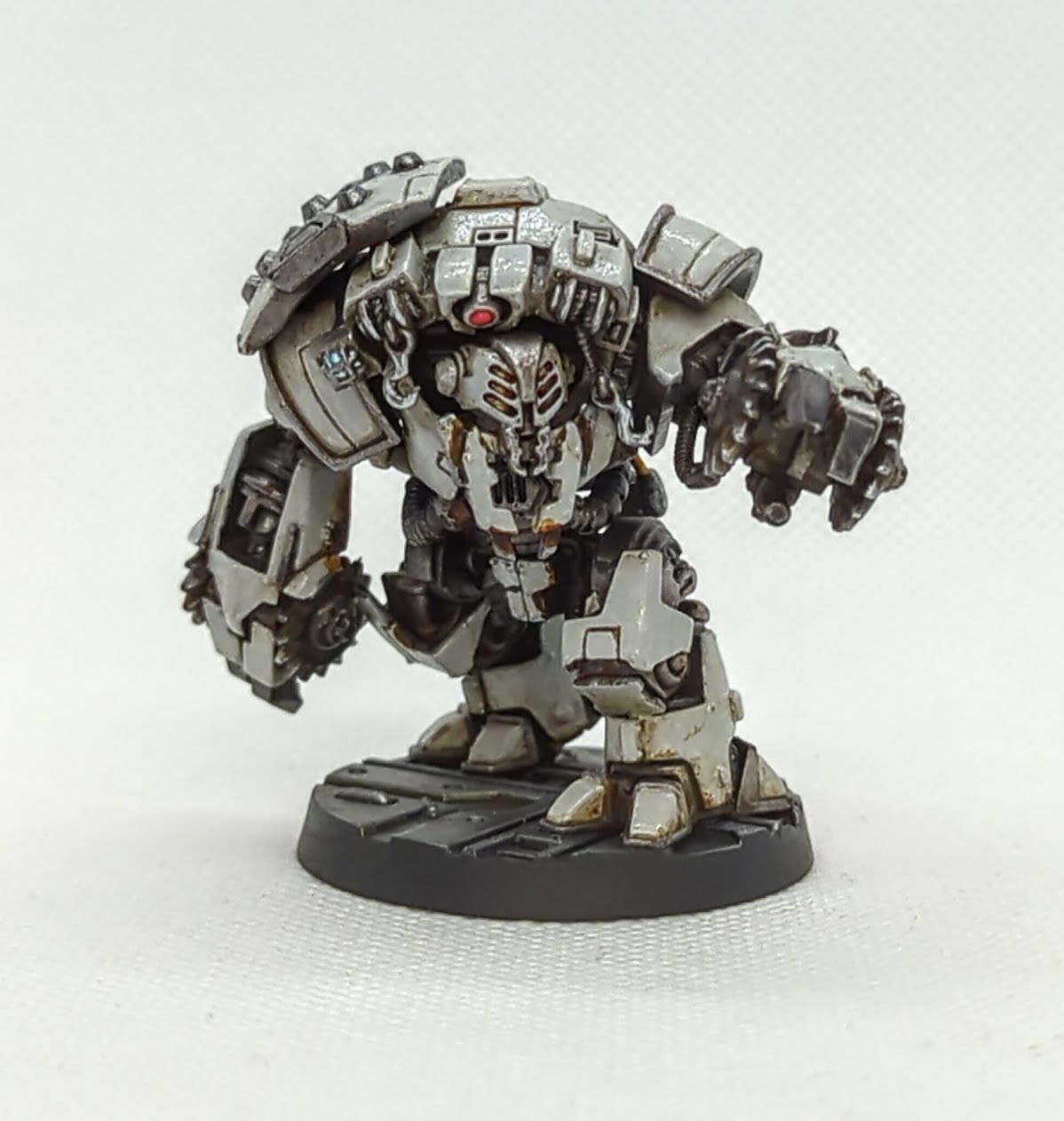 Like SRM, I decided to use my AmBot as an exercise in trying a new painting style. Calling it D1G-DUG, my original plan was to actually make something that replicated the look of the video game character. This idea quickly fell apart when I applied the grey base and thought it looked perfectly utilitarian. Starting with a Grey Seer base, I varnished and then applied Streaking Grime over the whole thing as a risk-free way of experimenting with a new painting style. A series of experiments with paint brushes, makeup applicators, and varying levels of mineral spirits resulted in the model above. I also found that Dirty Down Rust Effect makes an excellent dried blood effect when applied in multiple layers. That makes sense since blood contains a lot of oxygenated iron.
I have only played with it in a single campaign, but the ability of an AmBot to scare the daylights out of anyone is fantastic. While SRM is right that the 'correct' choice is probably Nerves of Steel, I gave my +1 BS so that the dual melta pistols could be terrifying even if it didn't get in combat.
DYLON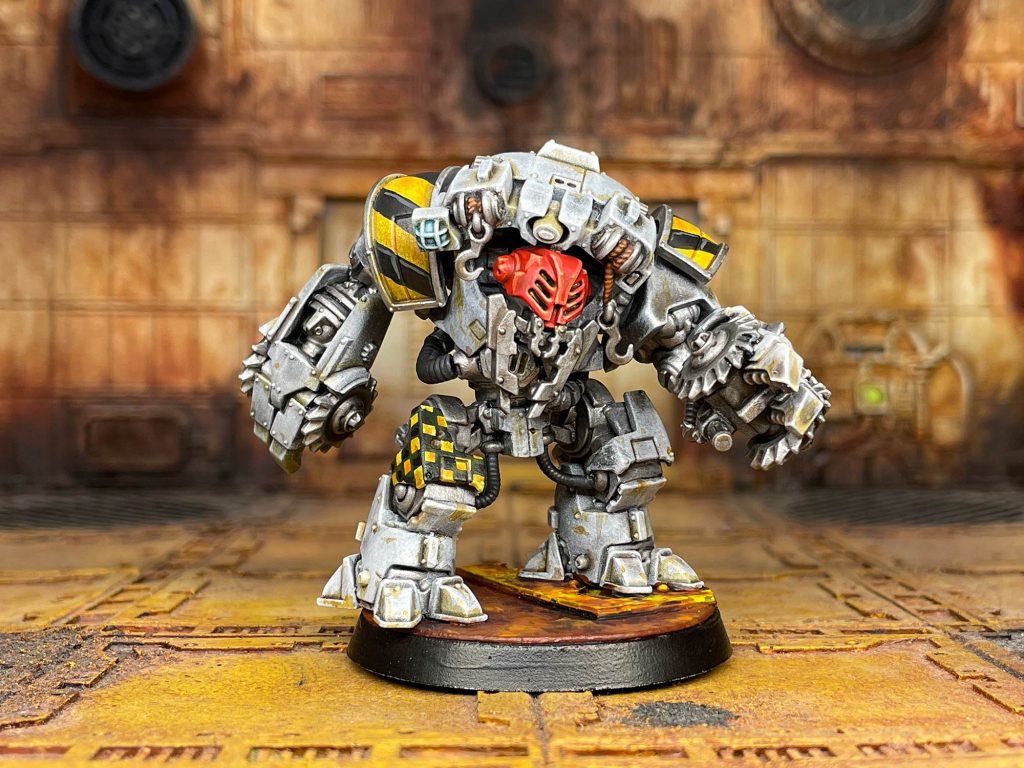 As SRM mentioned, we split a box of these at release. After priming, washing, and drubrushing this… it ended up sitting on my desk for a year while I decided how I wanted to paint it. I finally decided to keep that base coat and add checks and hazard stripes. I painted the head red to give it a good focus point. I weathered it with some pointed glazes. A note here on assembly. I combined the legs from two of the builds to get it to have a more planted, less dynamic pose. It's a big stumpy robot after all.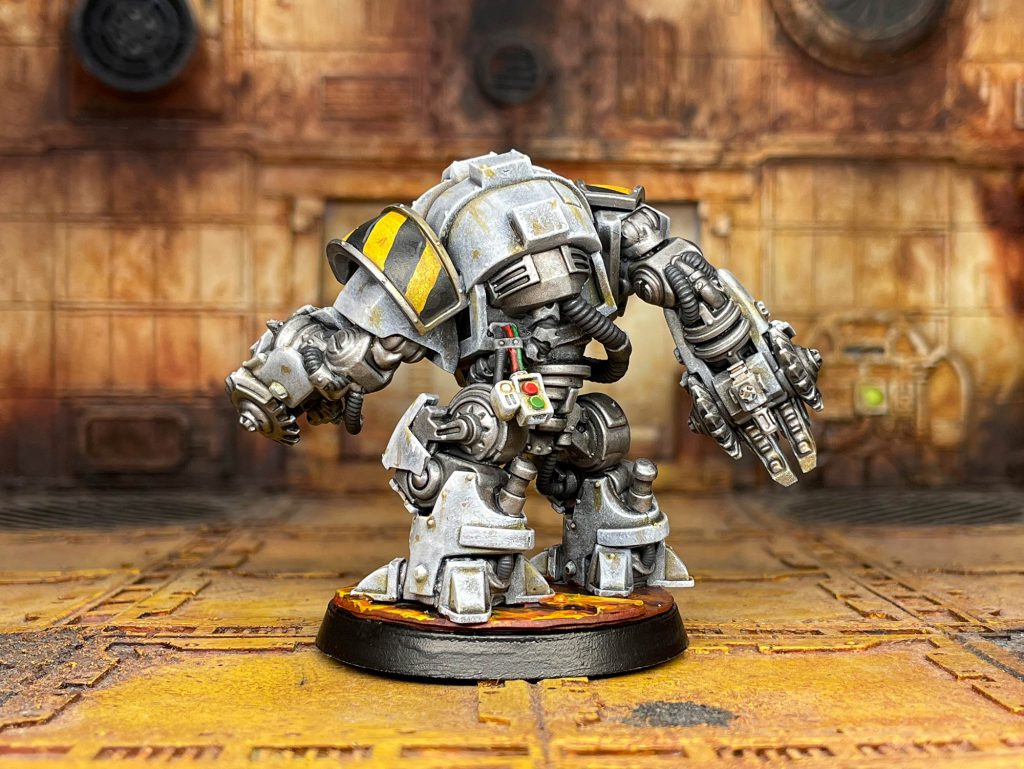 Fowler: Since we are celebrating Mechhammer week, I will take this opportunity to remind folks that Mr 40kHamslam reviewed the new Sanctioner-Pattern Automata kit!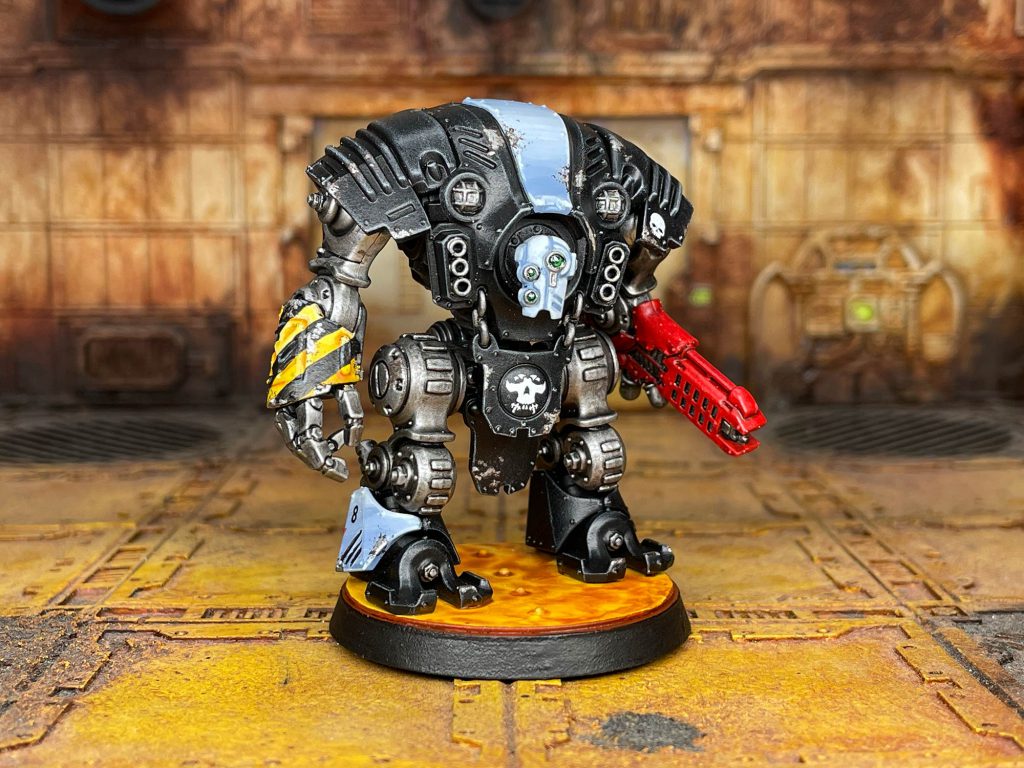 Fowler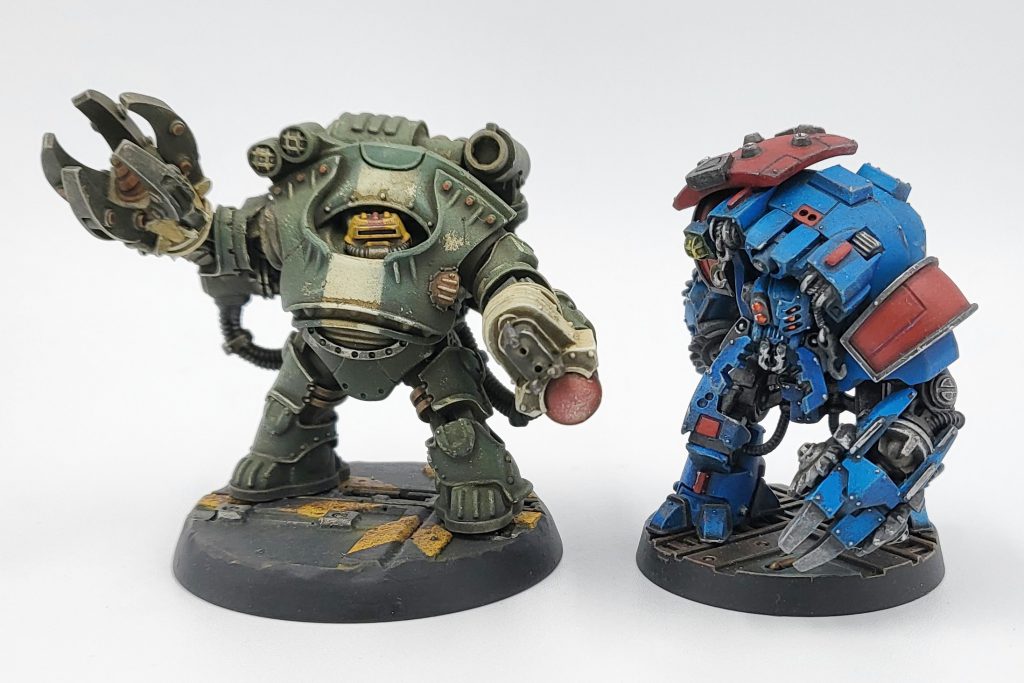 I am cheating here; going for a three-fer! First up is my Manwolfs Ambot. If memory serves, I laid down the main blue color by airbrushing Talassar Blue (or maybe Caledor Sky?) over a heavy zenithal. This was done a couple years ago, so the weathering and chipping is much more subdued than I would do now. The real magic here was performed by Tamiya Enamel Panel Liner (which I had just started using at the time).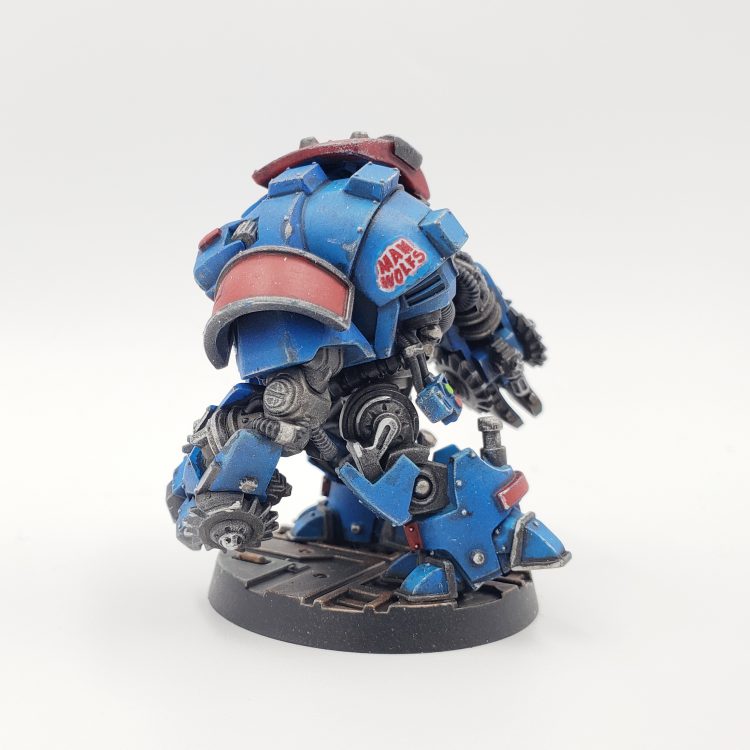 I kept it very simple with this paintjob – just the blue, red, gunmetal / silver, and one tiny bit of green for a button.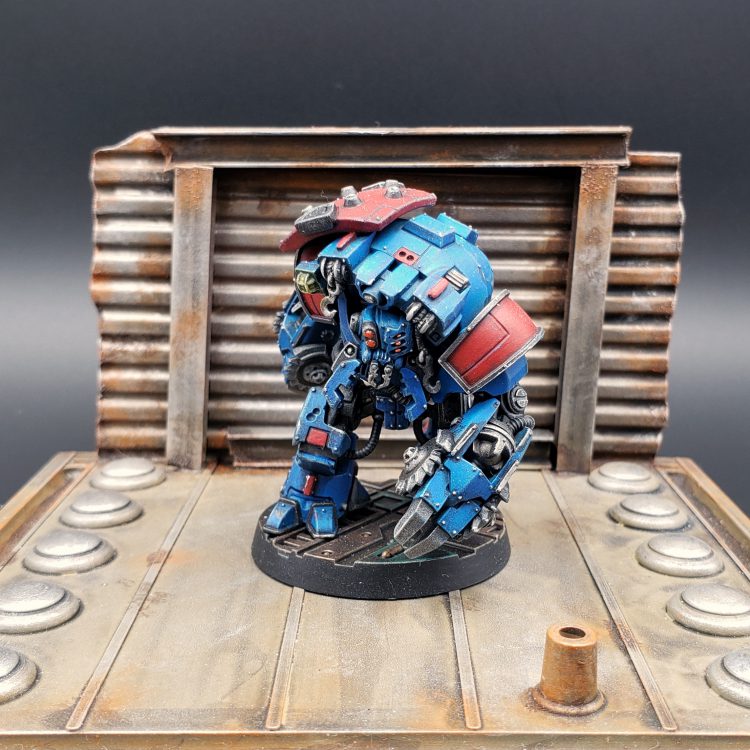 Next up is my Iron Automata / Man of Iron / UR-025. This time, I know it is Talassar Blue contrast over a zenithal prime. Again, panel liner took the wheel and added a ton for definition. Same additional paint colors as the Ambot.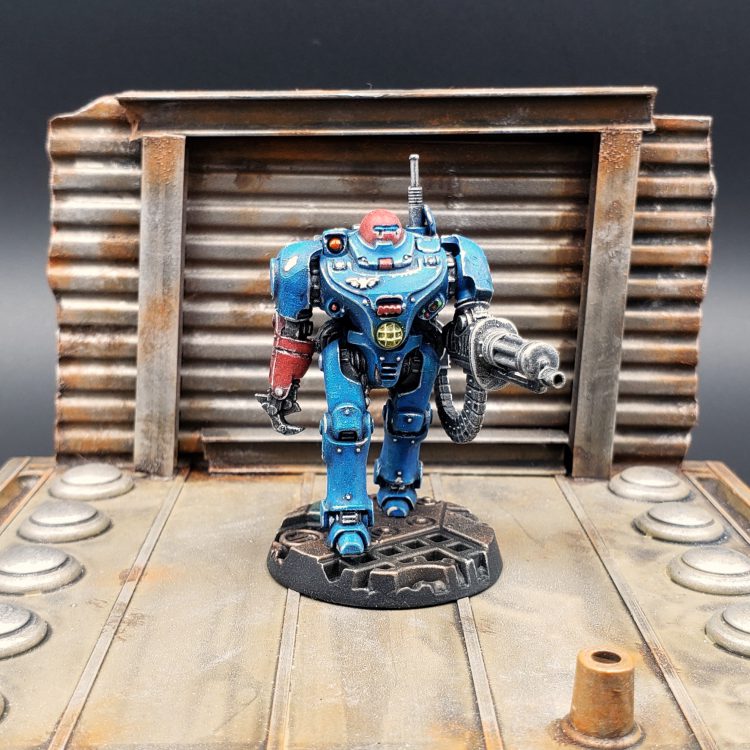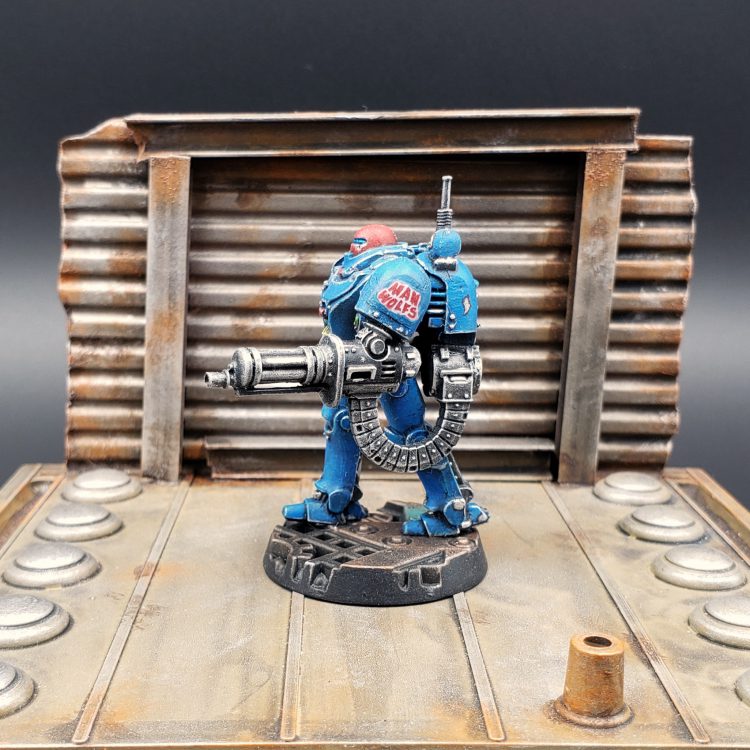 Lastly, there is the Squat brute – the Vartijan Exo-Driller. This guy was a beefy build, but it painted up very fast. Main color is GW Sons of Horus Green / Army Painter Exile Green. Helmets and other details are Badger Craven yellow. For this guy I doused it in Ammo by Mig Streaking Grime – just like I did with my squat gangers,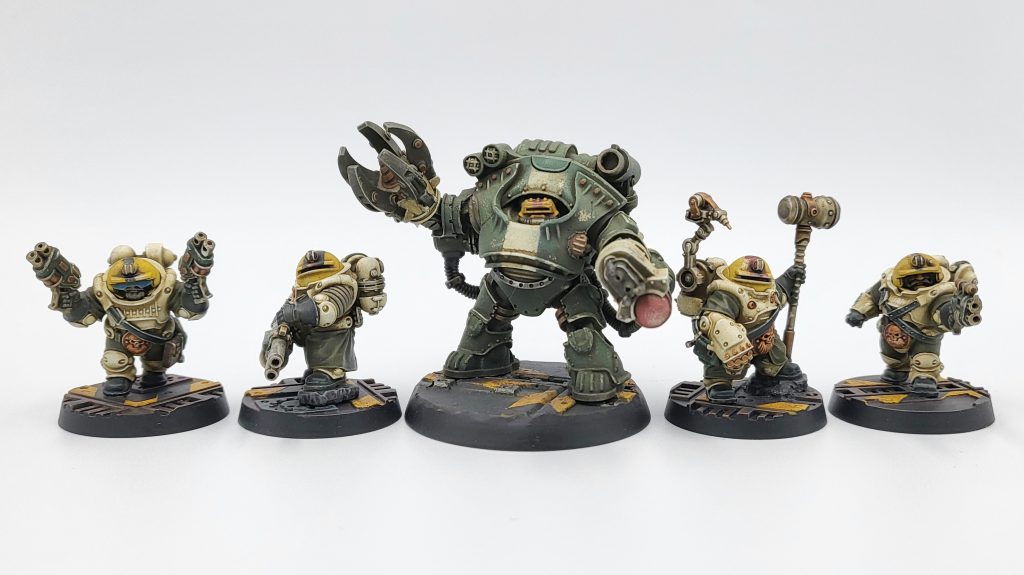 I also made a custom pressmold of a Zone Mortalis tile so I could make a matching 50mm base for him.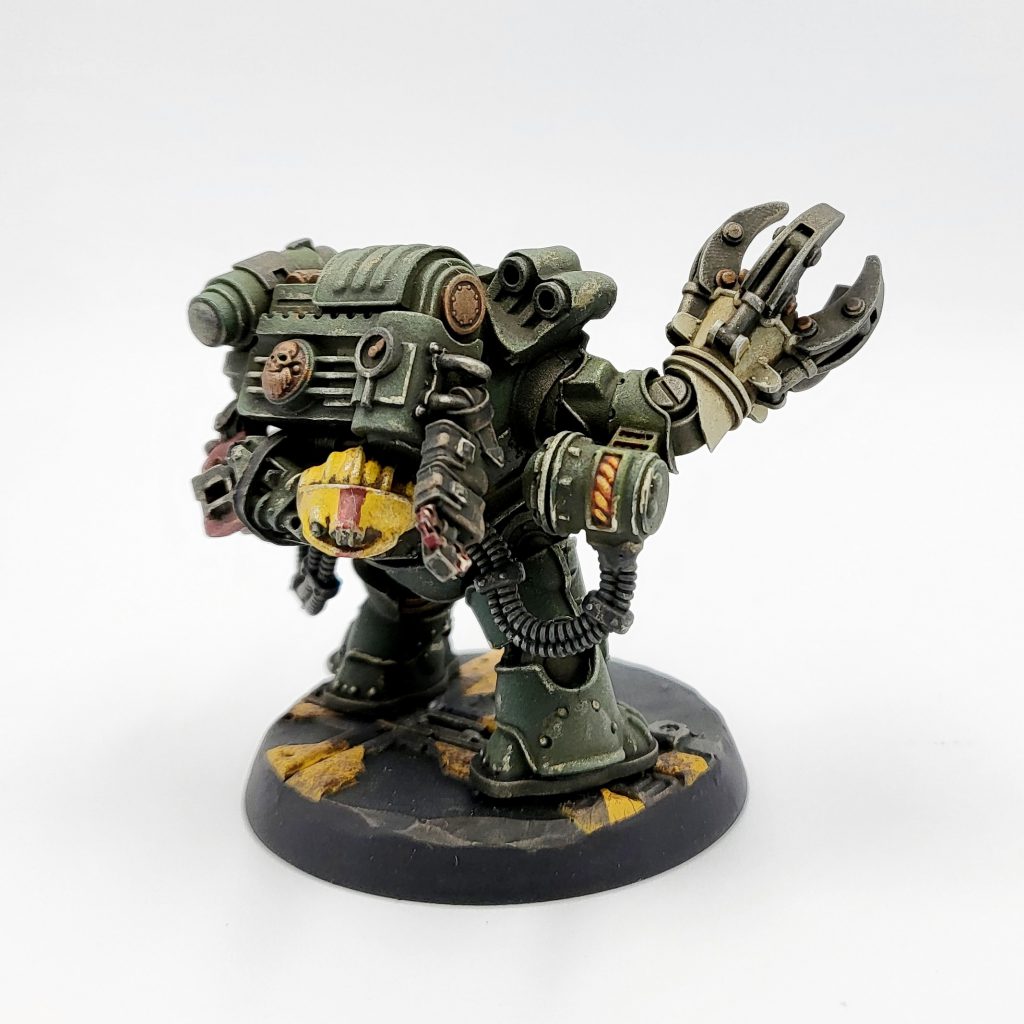 Let's keep the party going with a few entries from the Goonhammer image vault.
Dan Boyd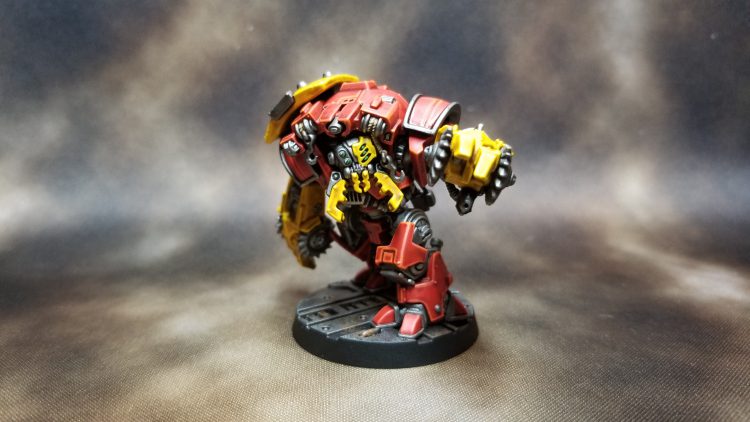 BuffaloChicken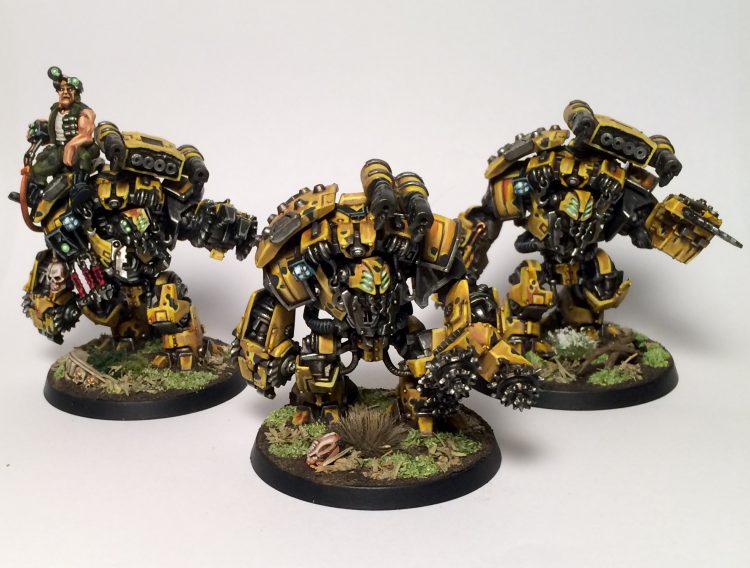 Soggy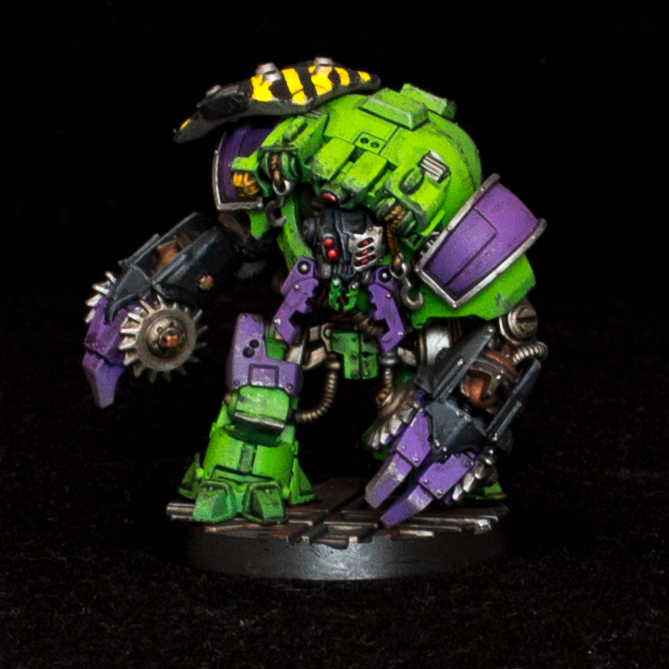 And that's it! We hope you've enjoyed our mechs of the Underhive. Do you have a cool Necromunda mech conversion to show off? Want to argue that the Man of Iron isn't actually a mech? Drop us a line at Necromunday@Goonhammer.com.