Welcome to my first guest article on Goonhammer, Mengel Miniatures: Painting Abroad! I've been a fan of Goonhammer for quite awhile now, so was very excited to get to contribute. I thought, what would make a good debut article? How about our scaly lizardy friends from the jungle, the Seraphon. A big thank you to Games Workshop for sending me these models for review. I've considered doing an army of them from all the way back in 8th edition Fantasy, and with the release of all of their shiny new models, it seemed like the perfect time! One thing that's great about the majority of the Seraphon range is that they're the perfect candidate for using Contrast Paint. They're just full of different organic textured surfaces. I've already done a contrast only guide for the Seraphon over on the Warhammer Community site, so I knew I had to take this one to a different level. We've also had all those new Contrast colors released since then, so there were plenty of opportunities. With all that in mind let's take a look at how to paint one of the new Saurus Warriors.
The Skin and Scales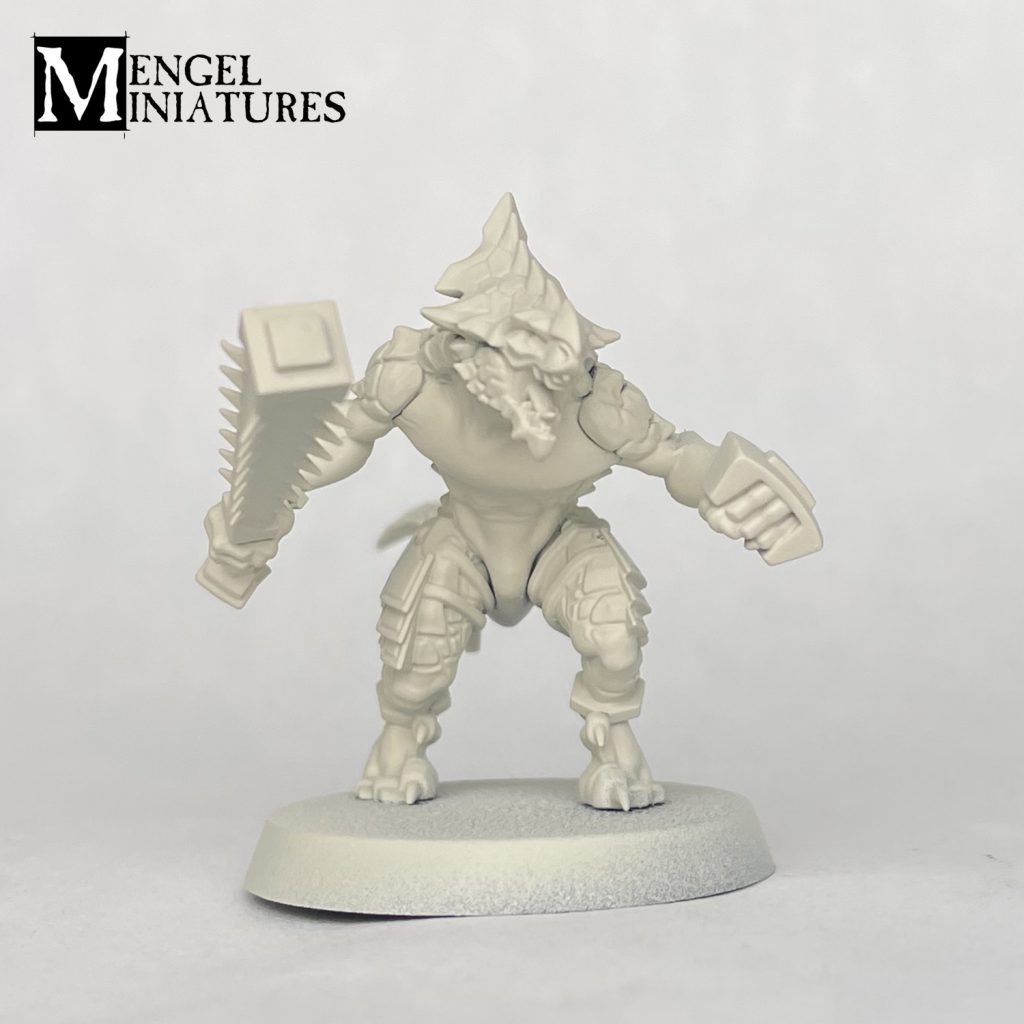 Step 1.
The model is primed with Wraithbone primer while the shield is kept separate and primed with Retributor Armor.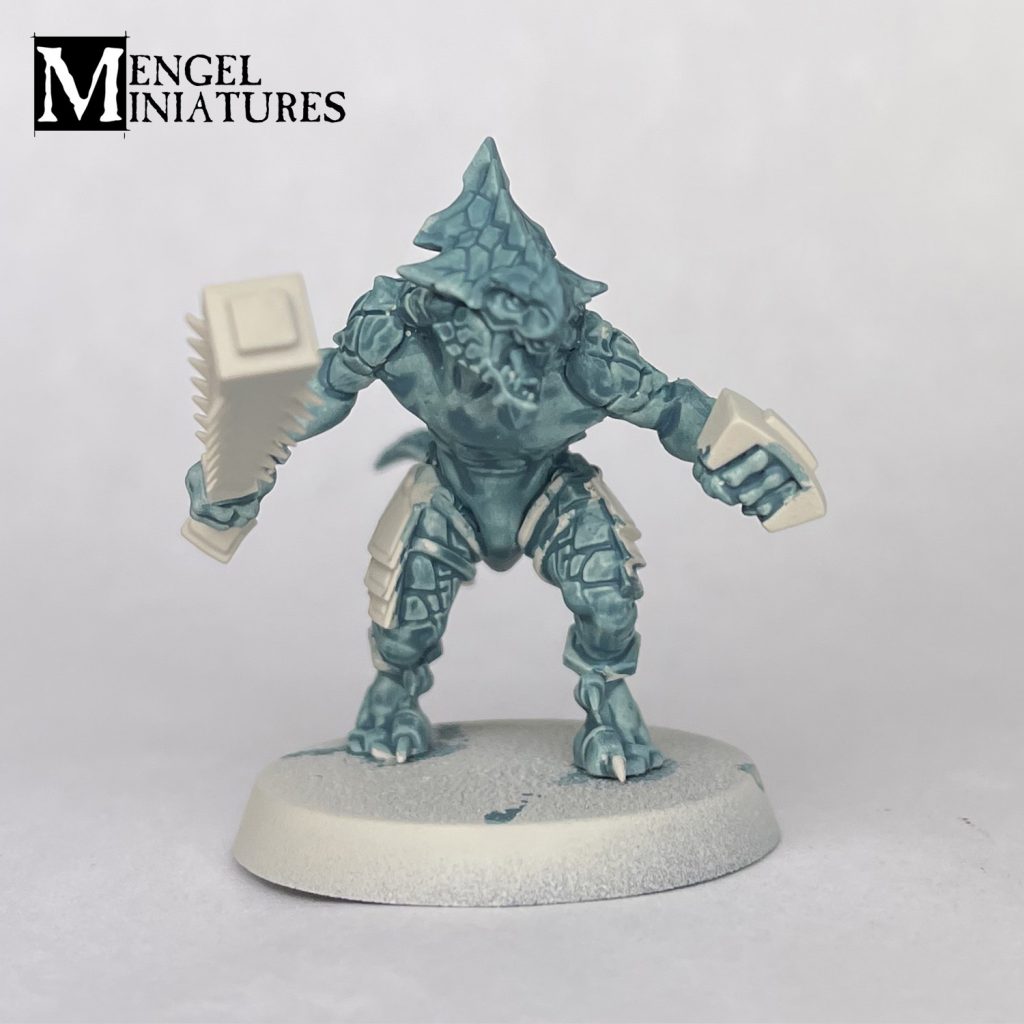 Step 2.
All of the areas on the model that are going to be skin or scales are given a solid coat of Nighthaunt Gloom. Watch out for pooling, as the cleaner you are here the less work you'll have later. I tended to do it one section at a time, starting with a leg, then doing another, then the torso, etc.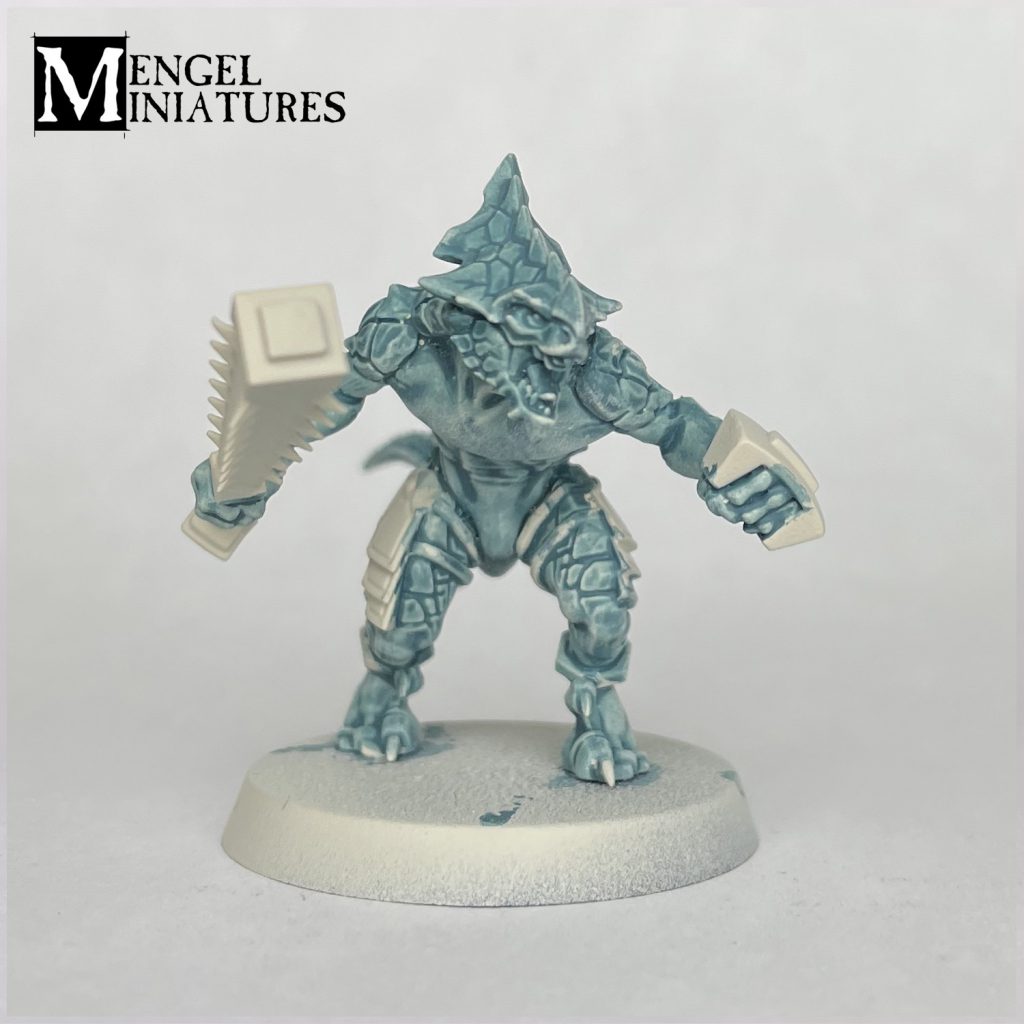 Step 3.
Once this is completely dry I gave all of these areas a drybrush of Deepkin Flesh. You don't want to go to heavy here, or too light.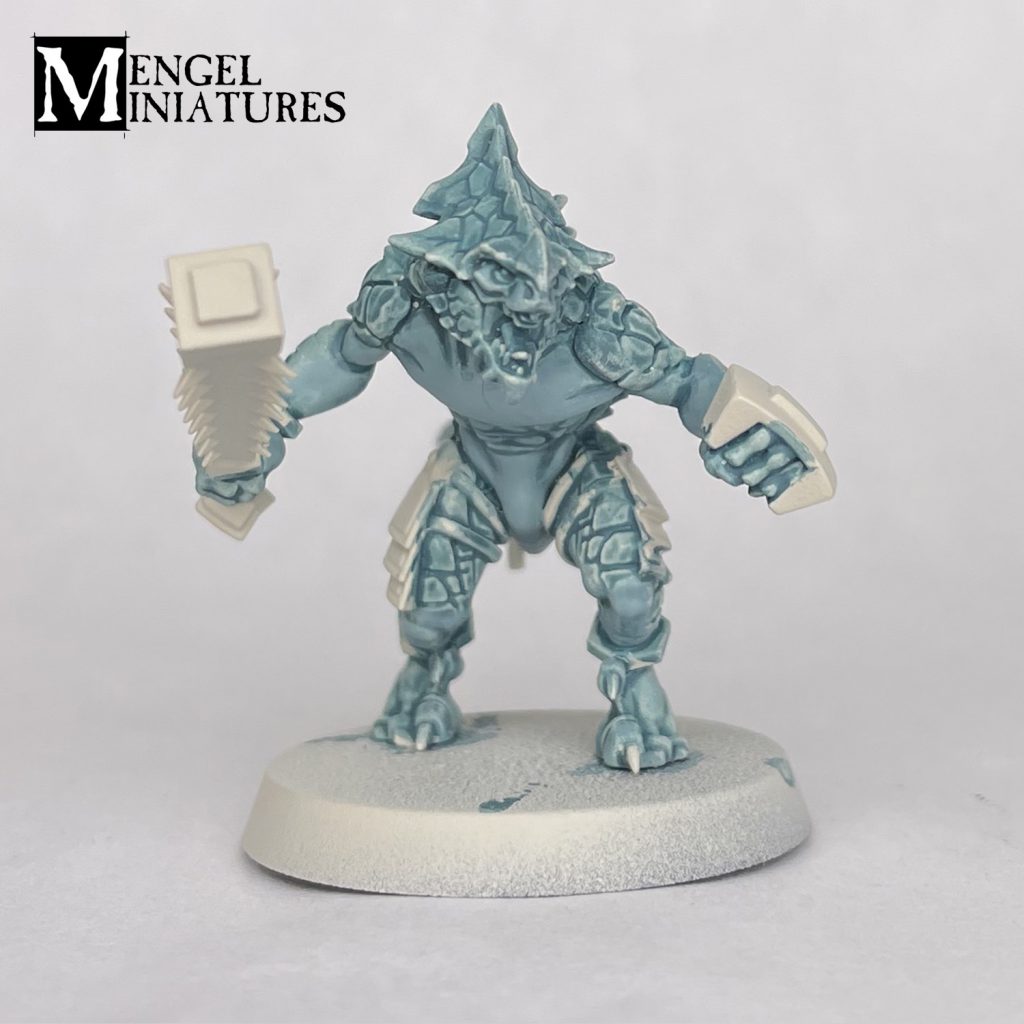 Step 4.
Next, I made a mix of Deepkin Flesh and Thunderhawk Blue, probably around 50/50. I used Thunderhawk Blue since it's super close in color to Nighthaunt Gloom. I then used this mix to clean up any areas that are prominent or ended up with weird tide marks from the Contrast Paint, or too chalky from the drybrush. Think areas like the chest, face, etc.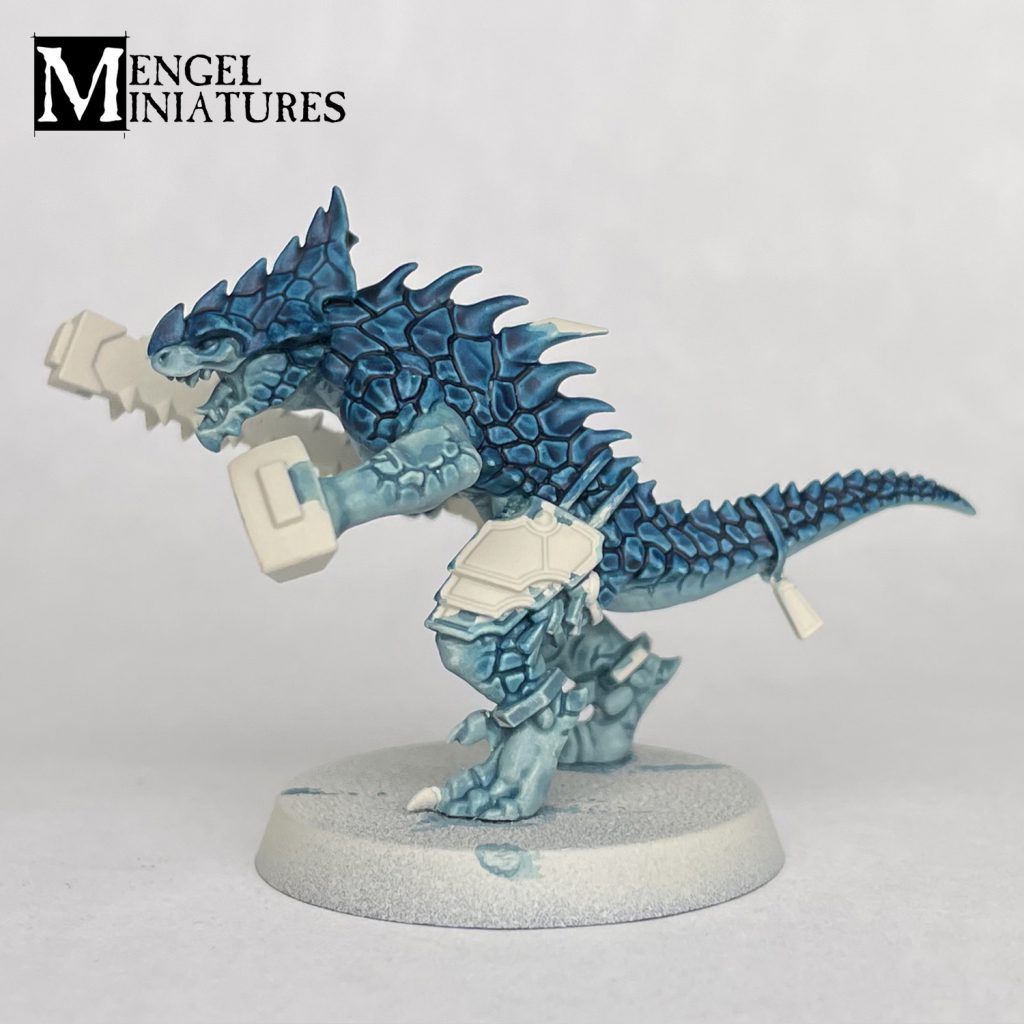 Step 5.
The scales were then painted with Stormfiend Grey thinned with Contrast Medium, about 40/60. I then thinned this down even more and hit some of the scaly areas further down the arms and legs, as well around the edges of the "main" scales where they meet the skin, to get a bit of a transition. I did a further coat on the center of the "main" scale areas (think back, head) so that it's a bit of a gradient, getting darker towards the center. You can also use this color to better define a few areas on the skin. I painted it into the crevices of the toes, fingers, and face for example.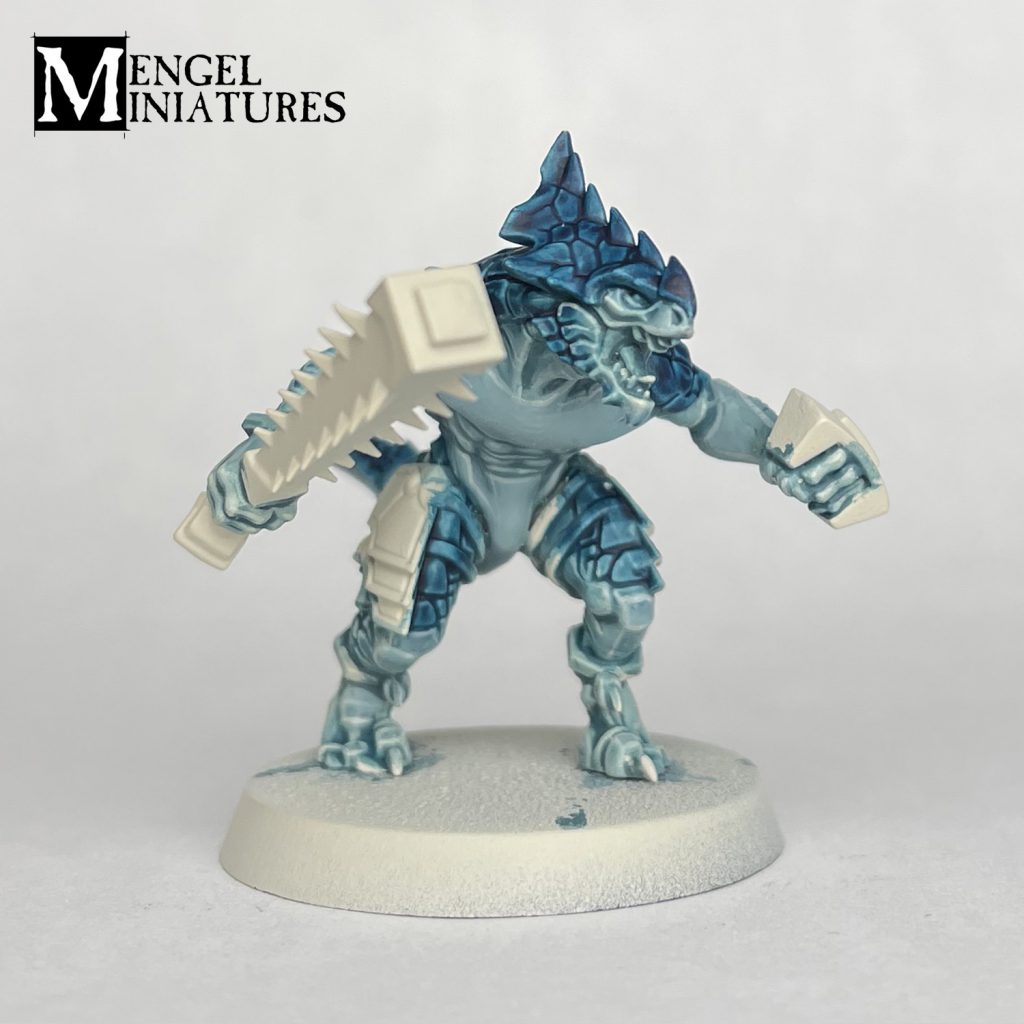 Step 6.
Tidy up anything on the skin as needed, but you can get away with a bit of sloppiness due to the organic nature of the model. I then highlighted the skin with pure Deepkin Flesh.
Step 7.
The scales were then highlighted with the mix from step 4, picking out the edges.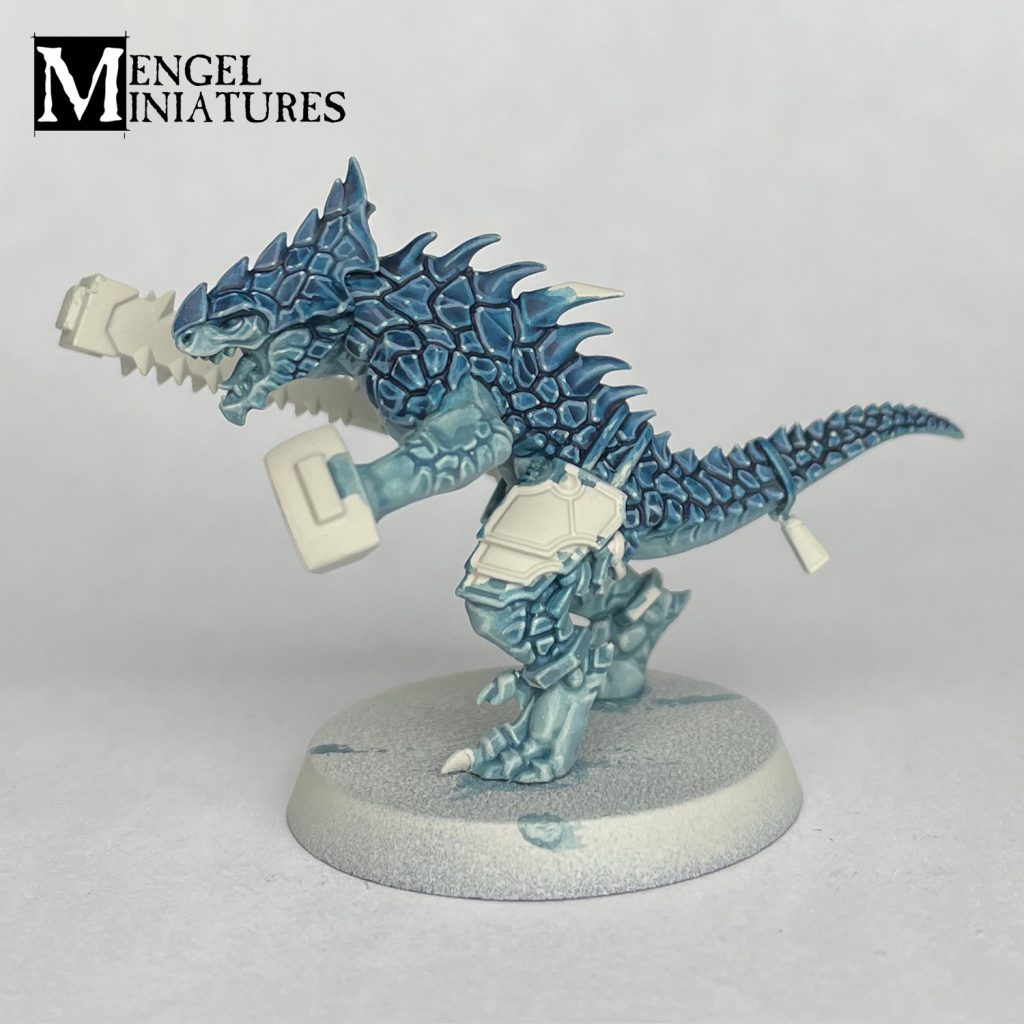 Step 8.
This was finished by mixing in more Deepkin Flesh, so that it's almost pure Deepkin, just tinted blue, and then picked out the corners of some of the scales with a dot highlight.
The Face and Claws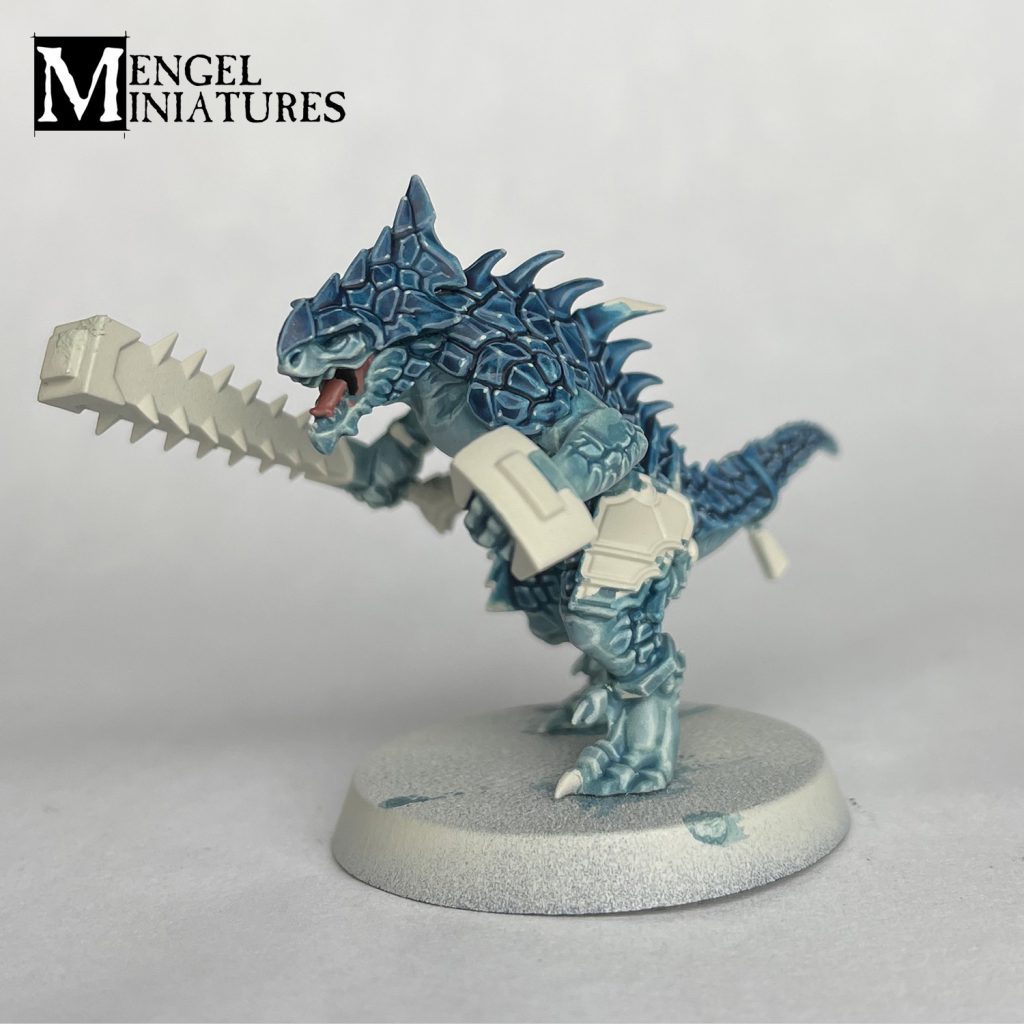 Step 1.
The gums and tongue of the face were base coated with Bugman's Glow.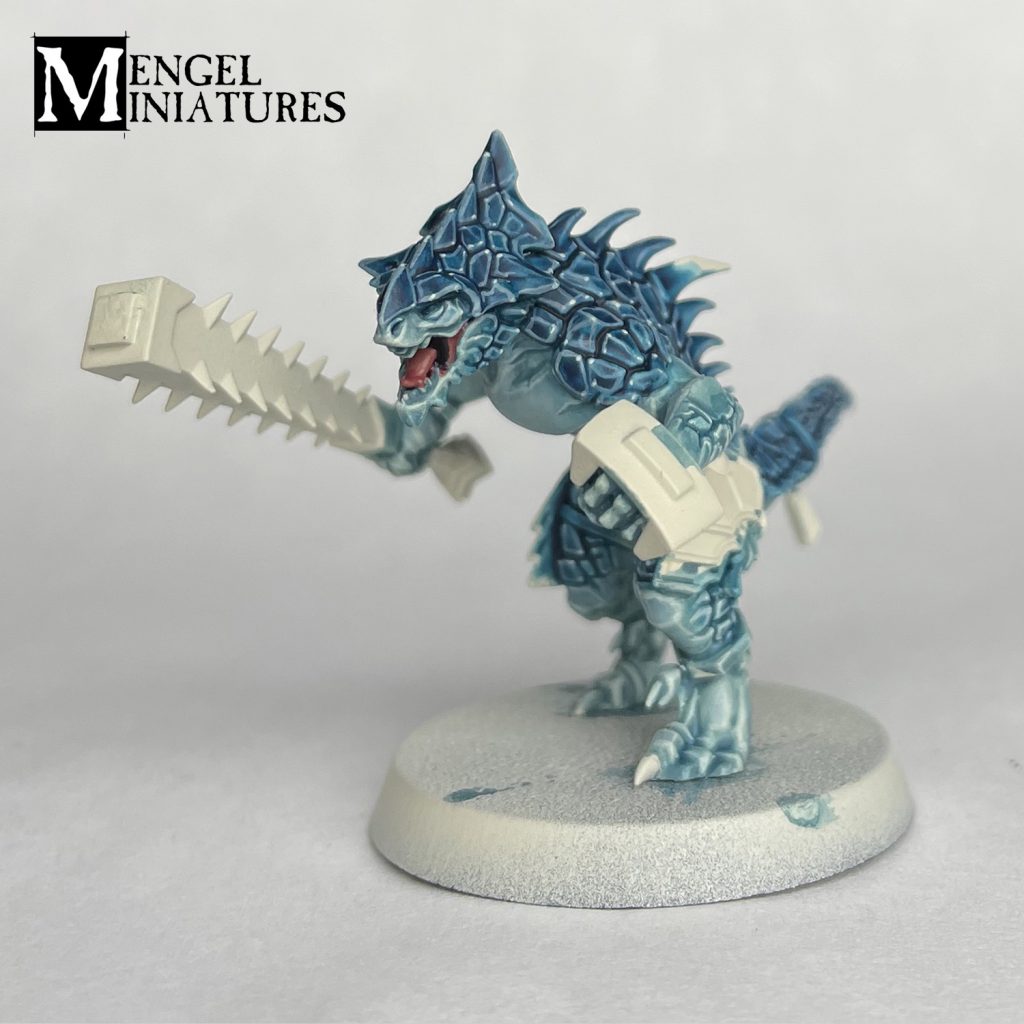 Step 2.
This was then shaded with Volupus Pink thinned with water.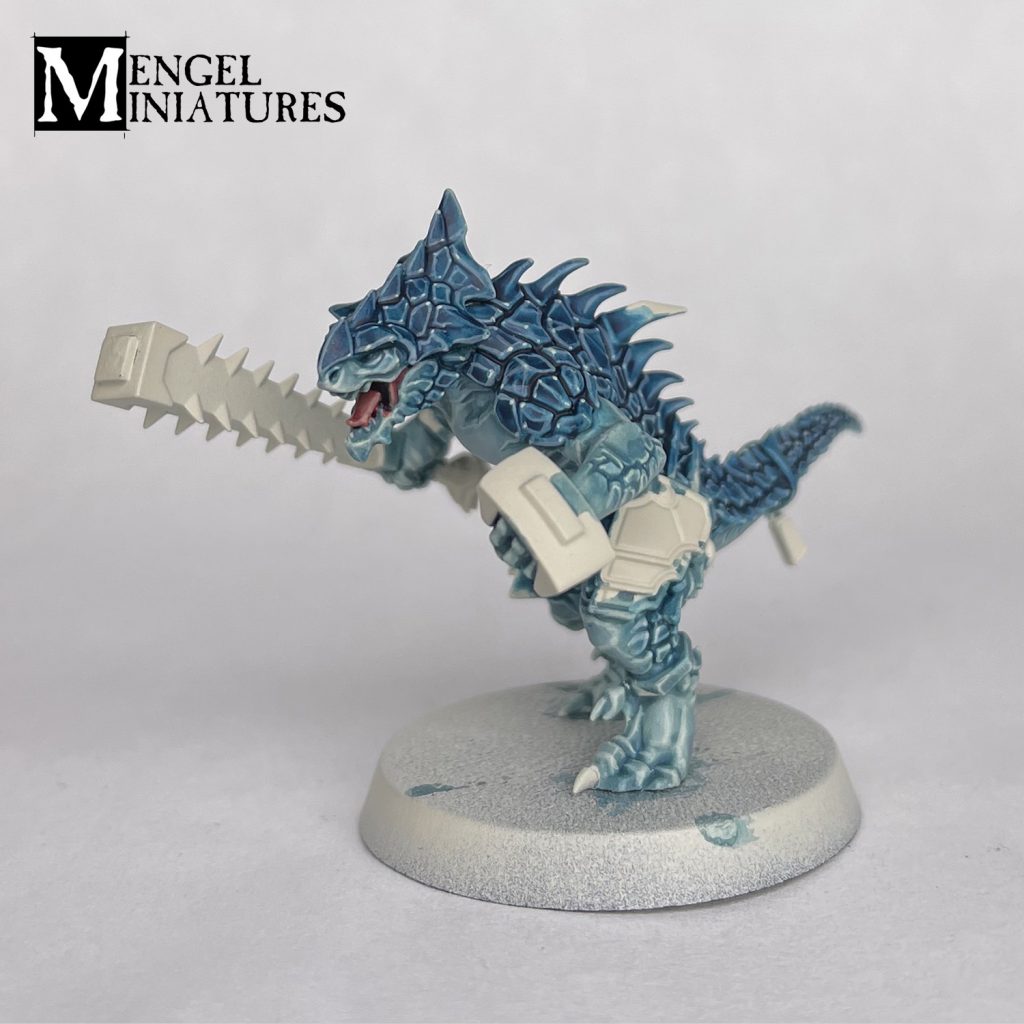 Step 3.
These were then highlighted with Cadian Fleshtone.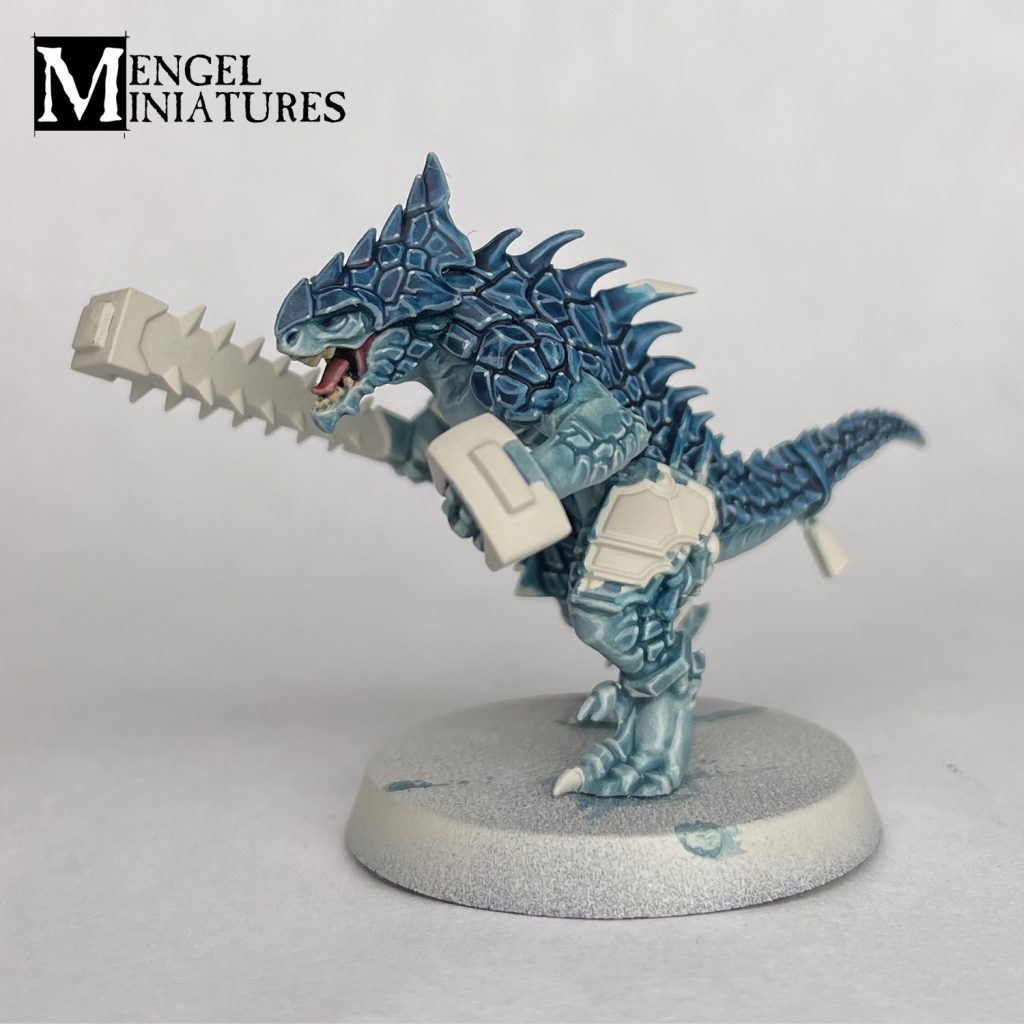 Step 4.
The teeth were picked out with Morghast Bone.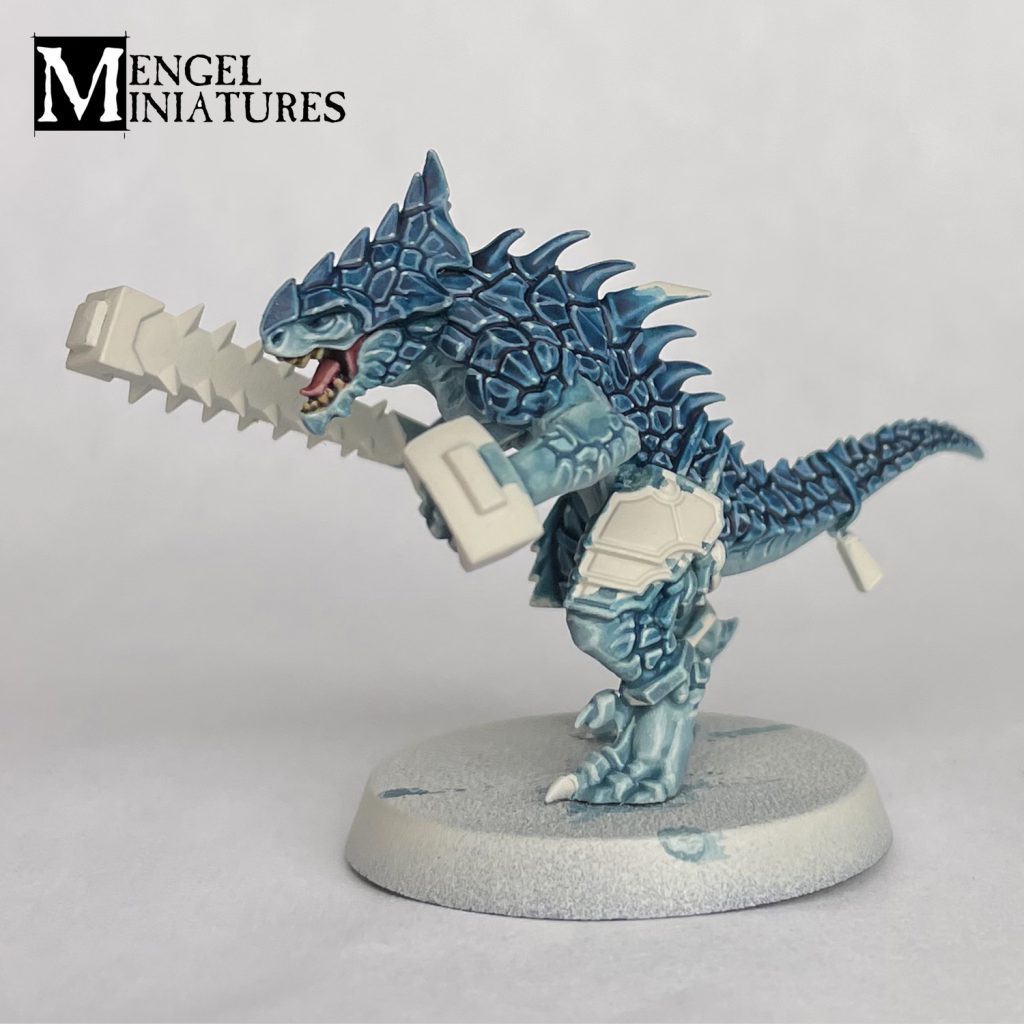 Step 5.
These were then shaded with Agrax Earthshade.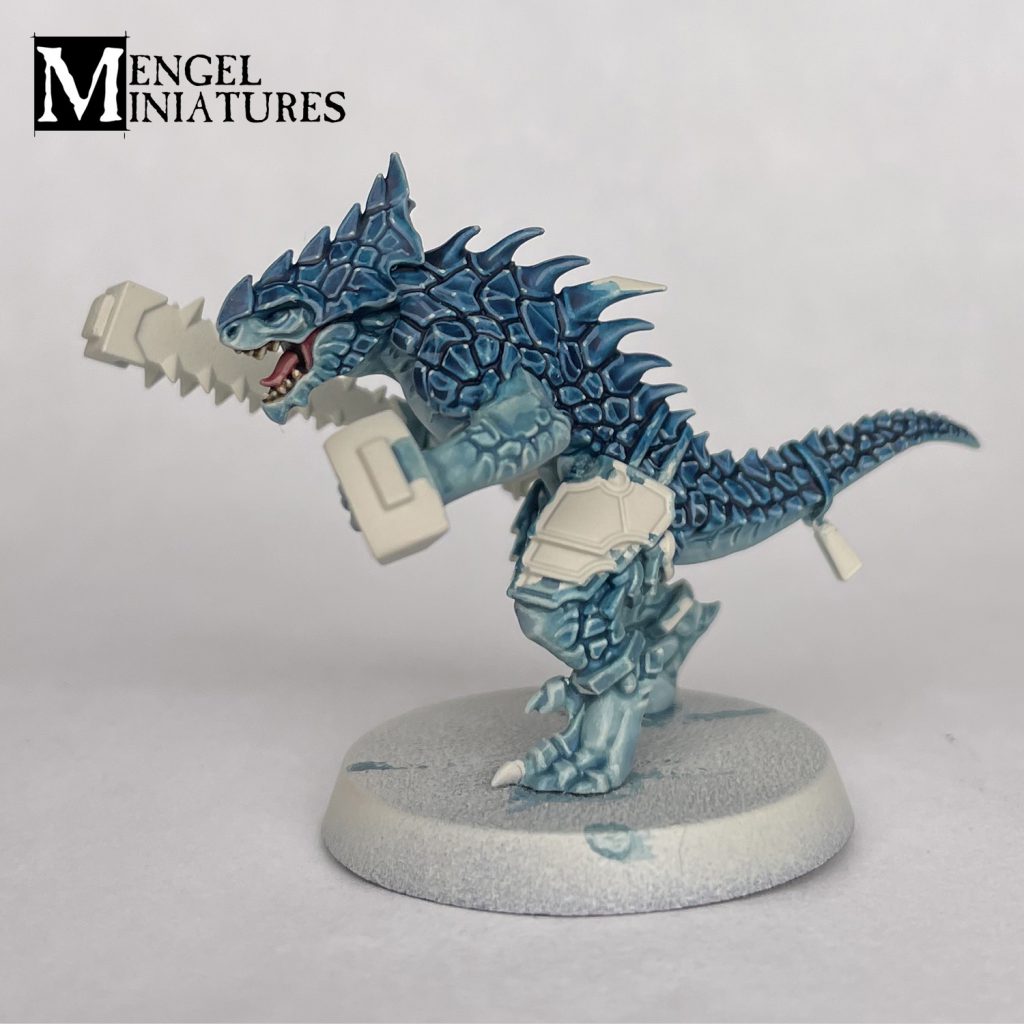 Step 6.
Lastly, the were highlighted with Screaming Skull.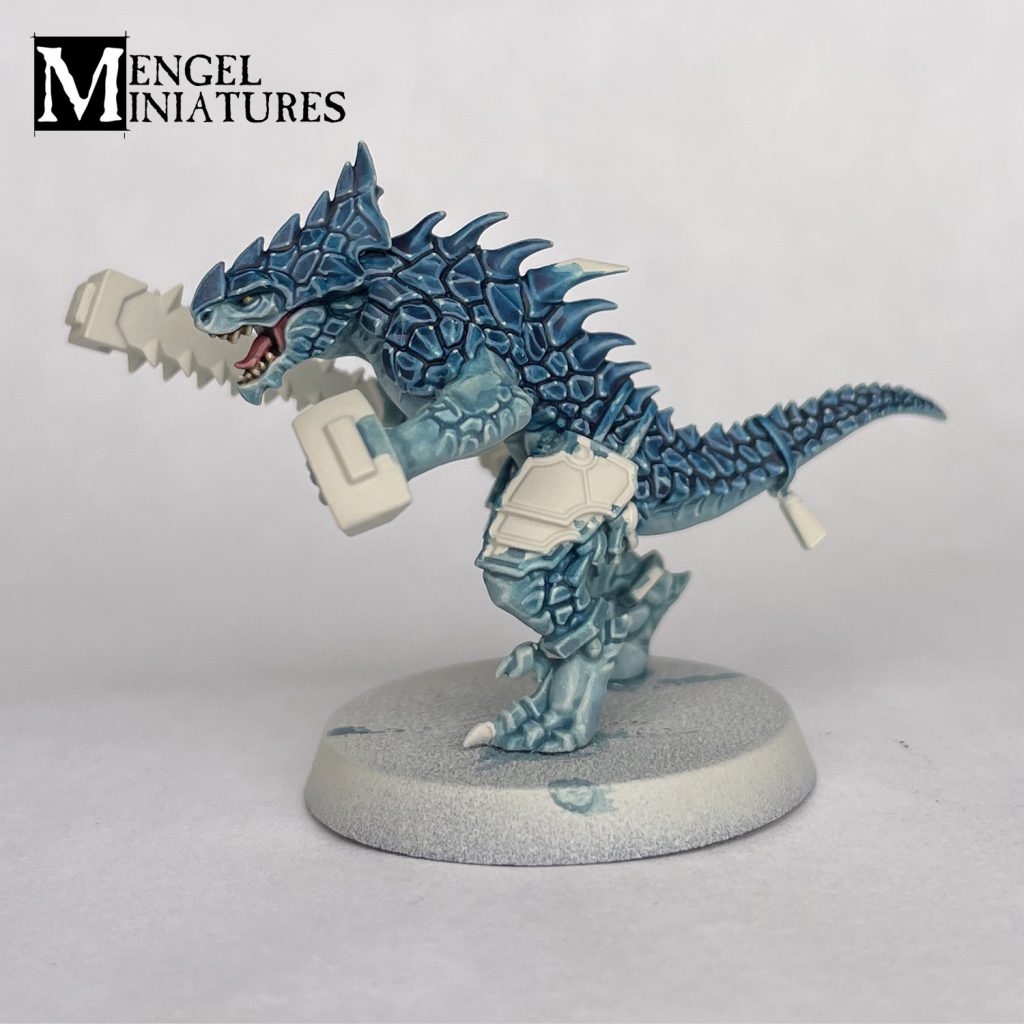 Step 7.
The eyes were painted with Darksun Yellow from Two Thin Coats (Averland Sunset GW).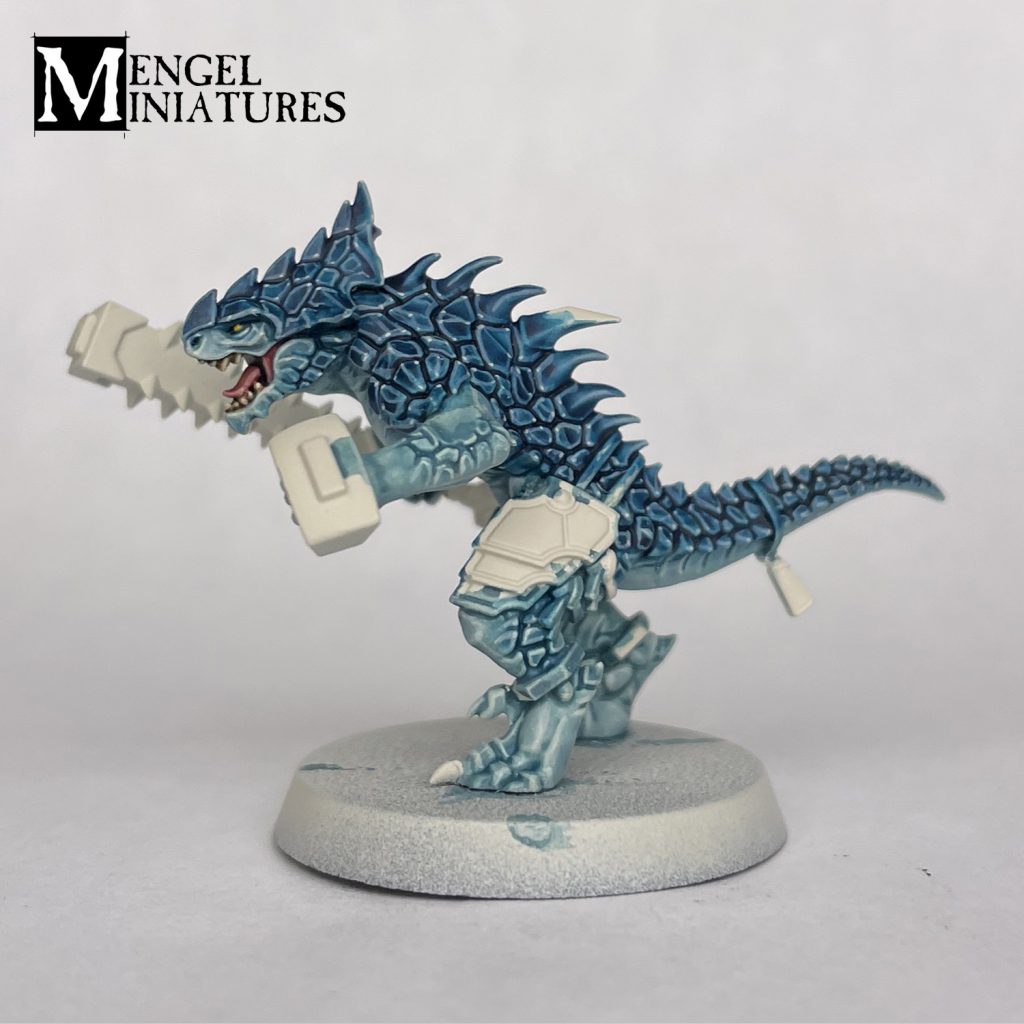 Step 8.
They were then highlighted with Skulker Yellow from Two Thin Coats (Yriel Yellow GW)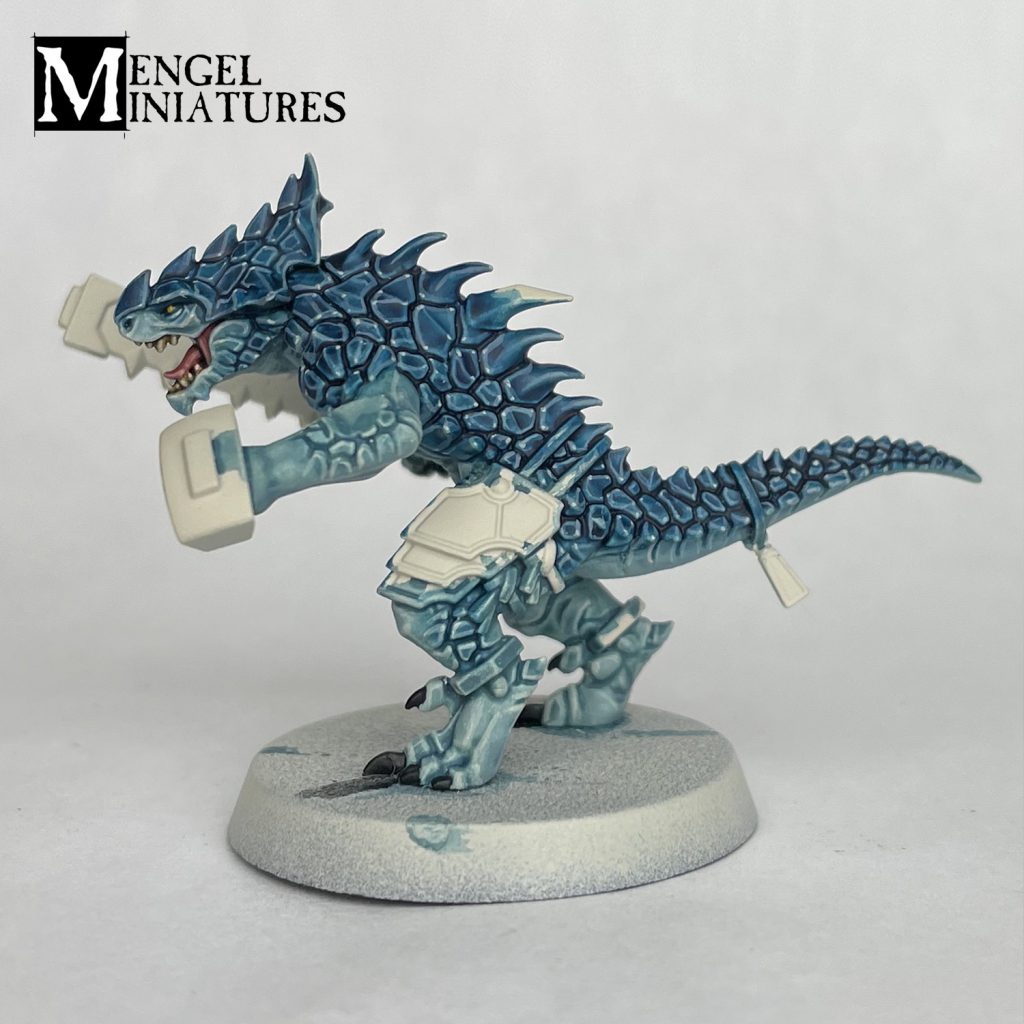 Step 9.
The claws on the hands and feet were painted with 2 coats of Black Templar.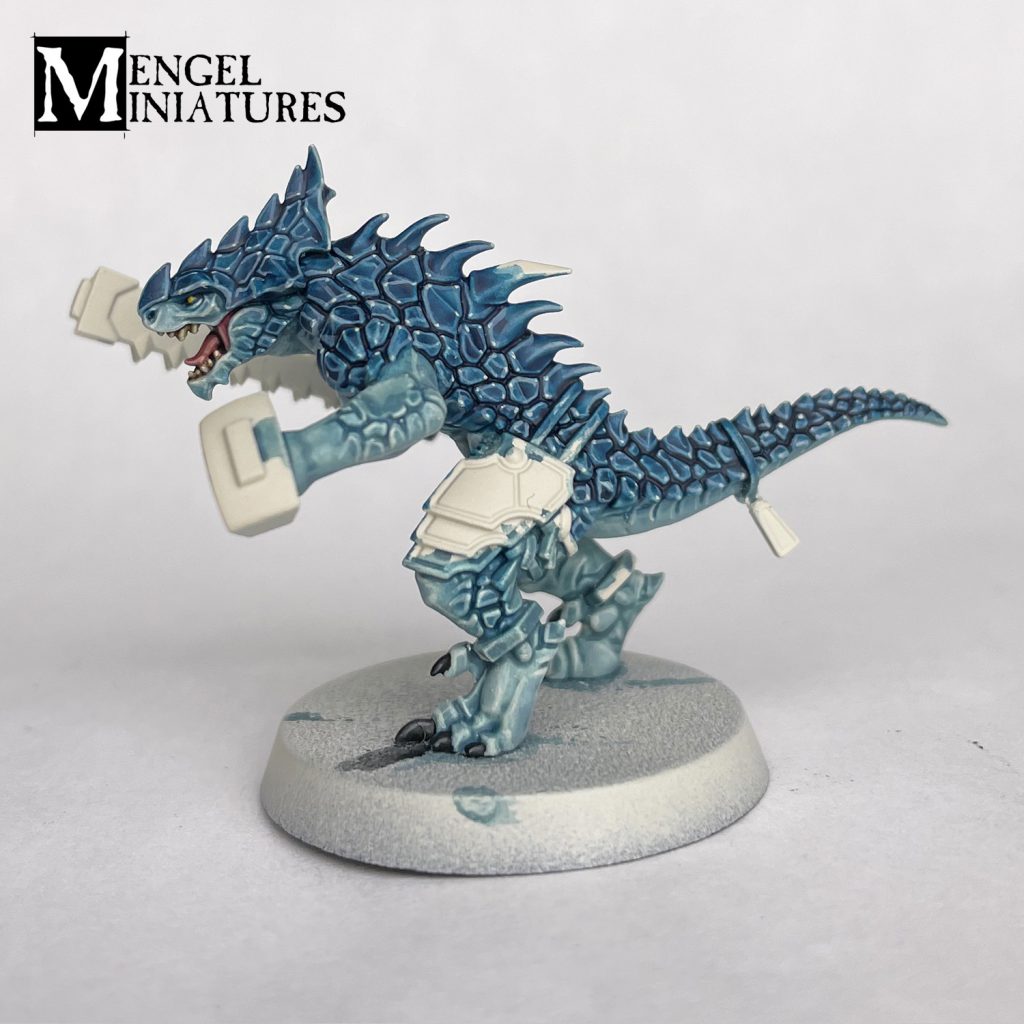 Step 10.
Next, they were highlighted with Dawnstone.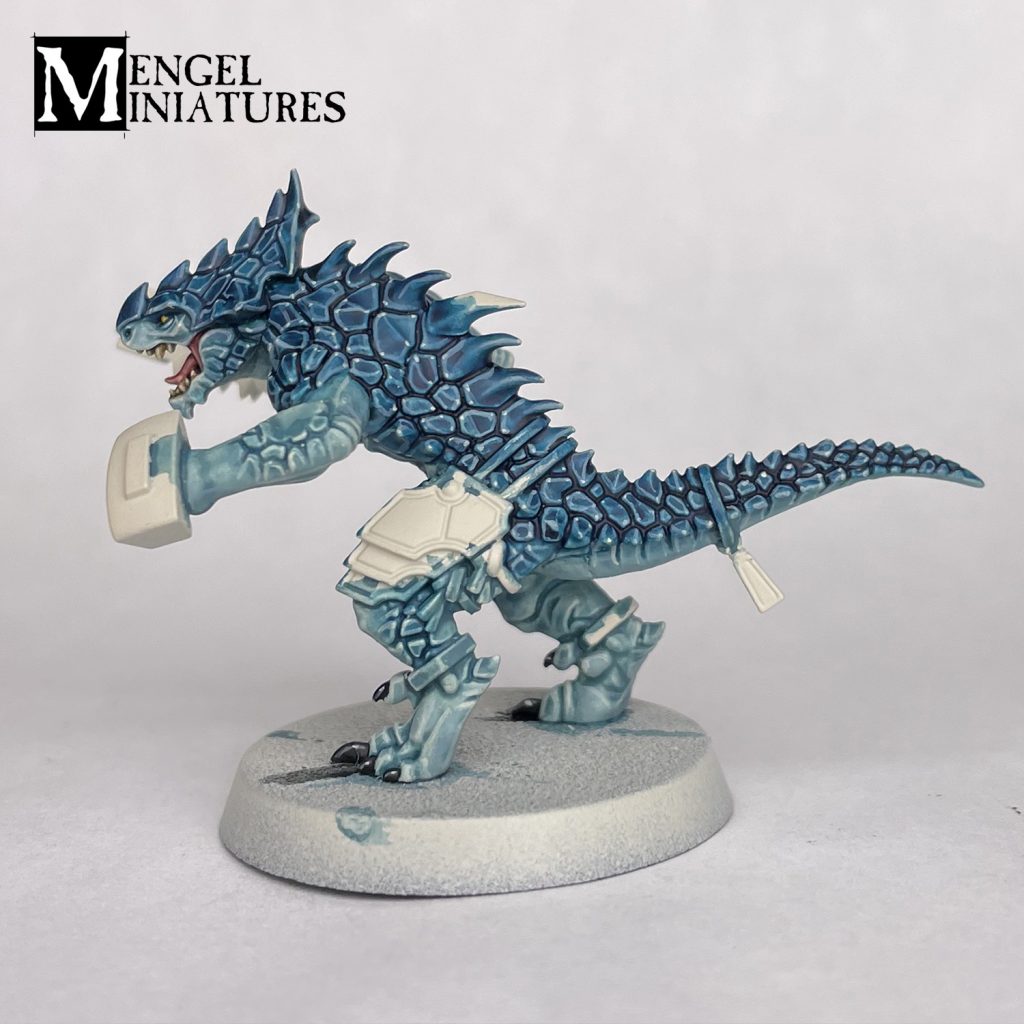 Step 11.
Finally, they were given a dot of Grey Seer.
The Stone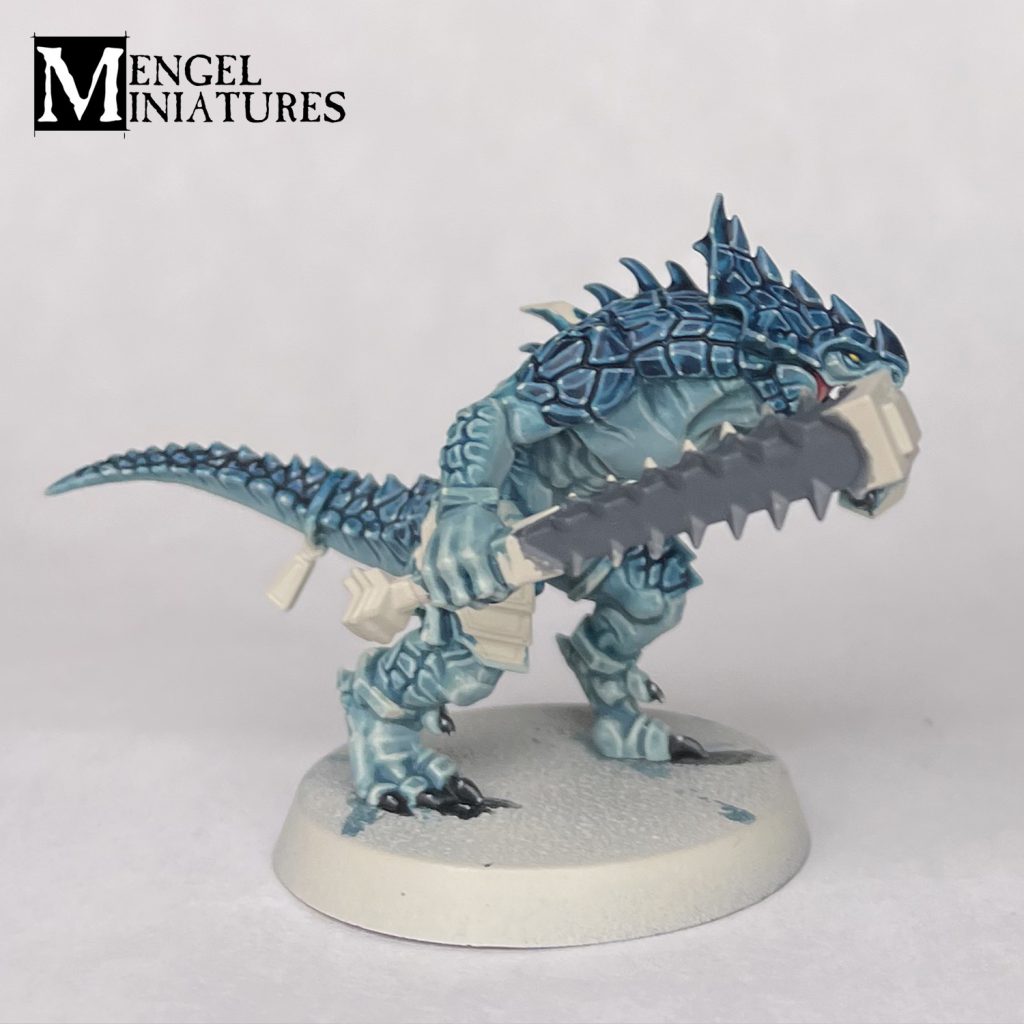 Step 1.
The stone on the club was base coated with Mechanicus Standard Grey.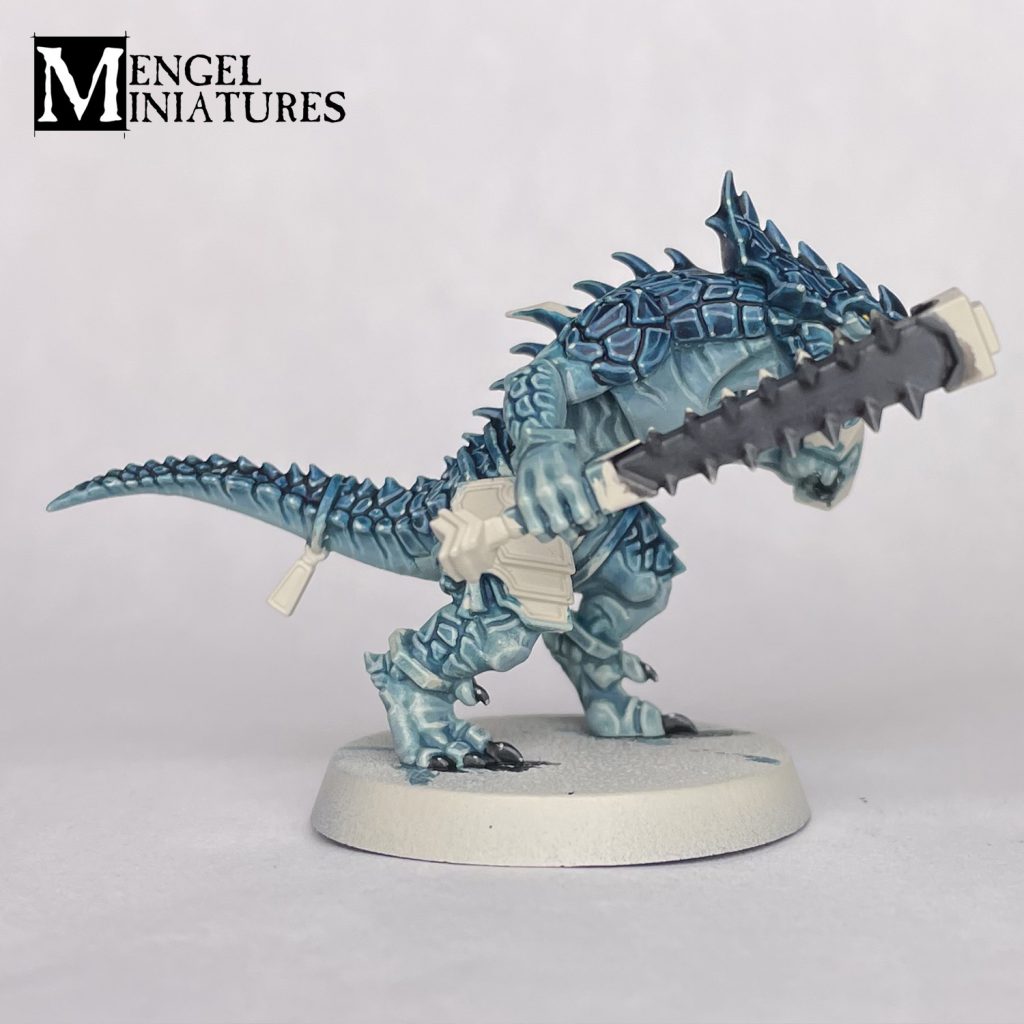 Step 2.
This was then shaded with a 50/50 mix of Basilicanum Grey and Contrast Medium.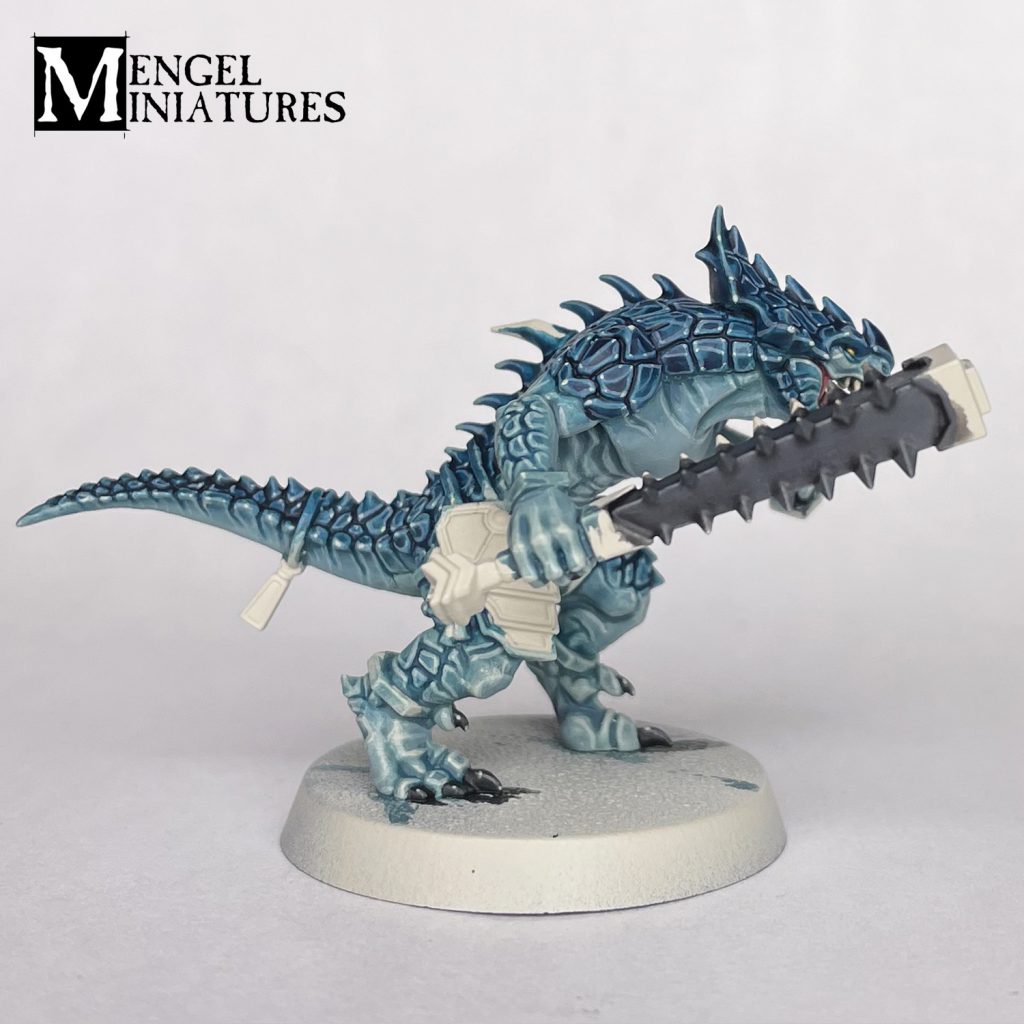 Step 3.
I then highlighted it with Dawnstone. On models with more detail on the stone, you can also pick out any corners with a dot of Grey Seer.
The Ropes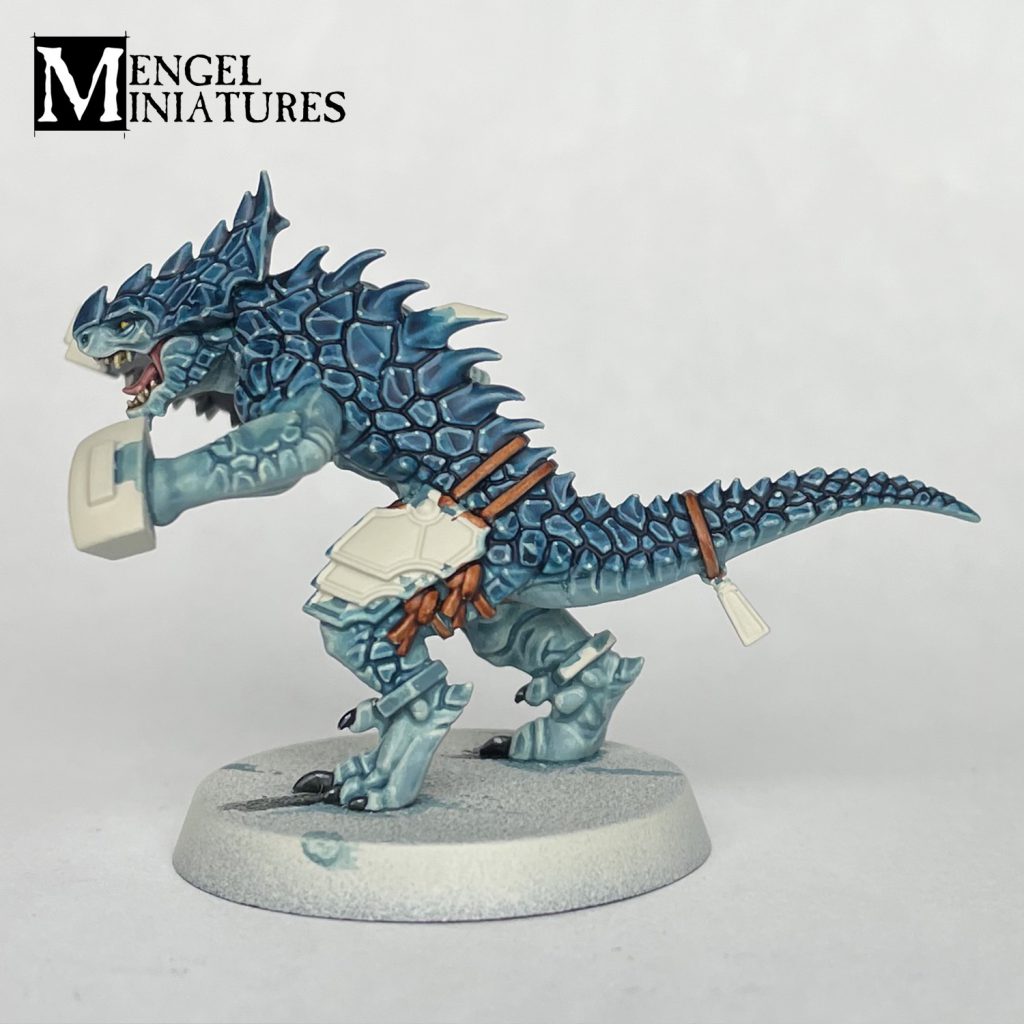 Step 1.
All of the ropes and leather straps on the model, including the grip on the weapon and shield, were tidied up with Wraithbone, before getting a coat of Gore-Grunta Fur.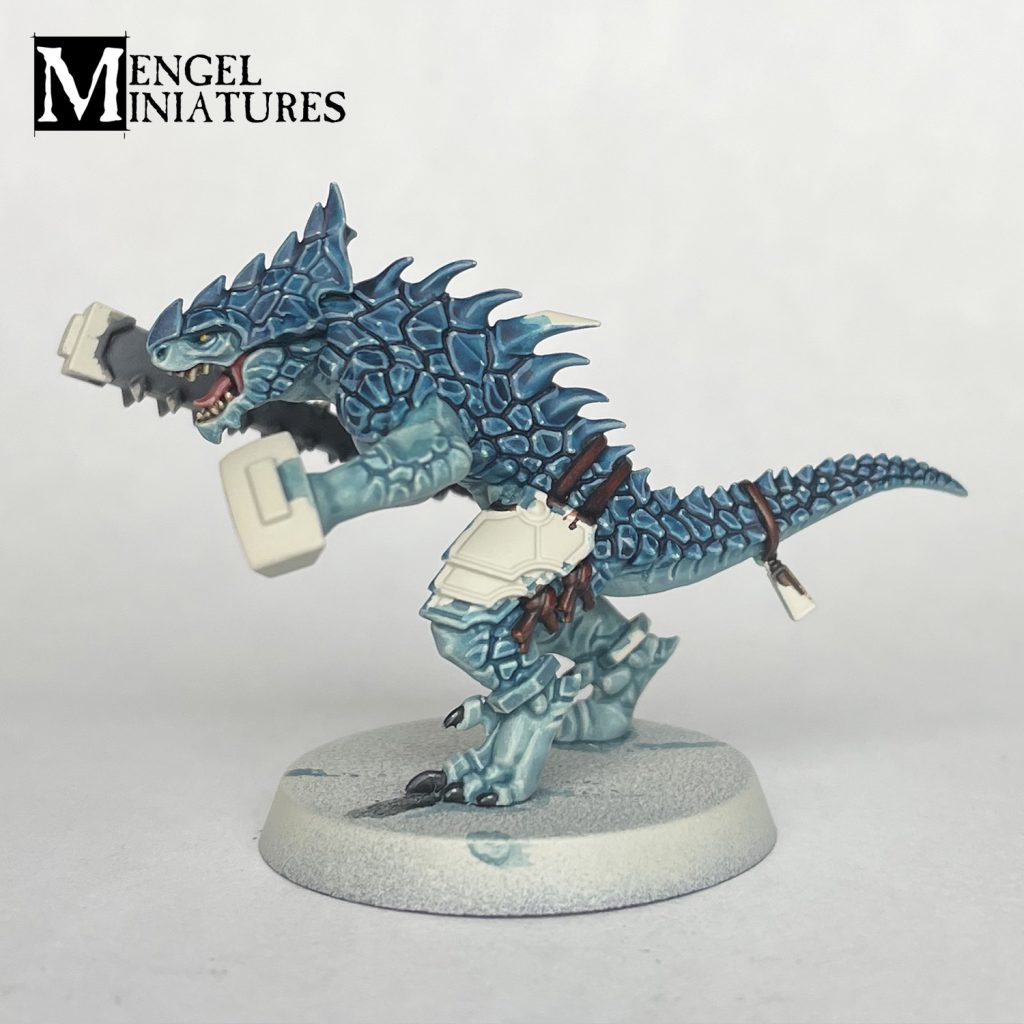 Step 2.
This was then given another coat with thinned down Cygor Brown.
Step 3.
I then highlighted with with Tuskgor Fur.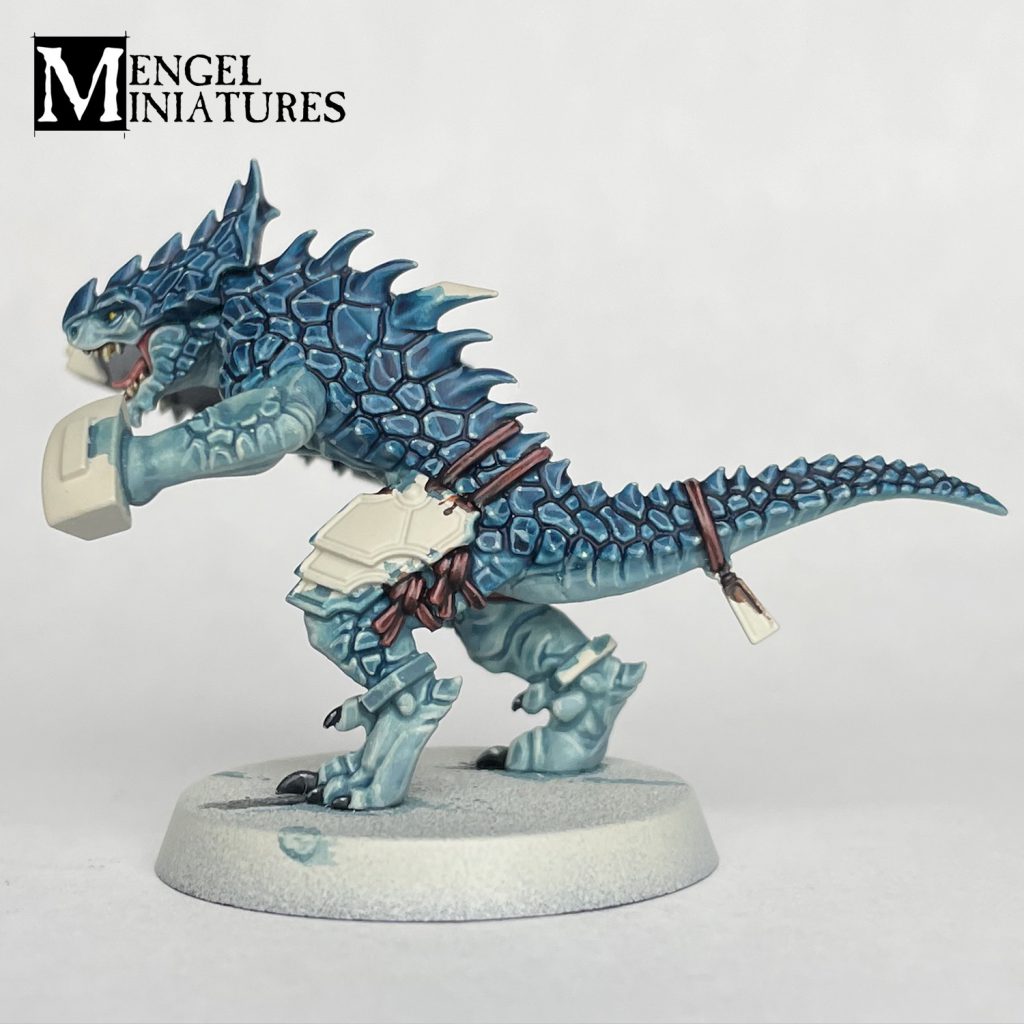 Step 4.
They were finished off with another highlight by mixing in Screaming Skull to the Tuskgor Fur.
The Gold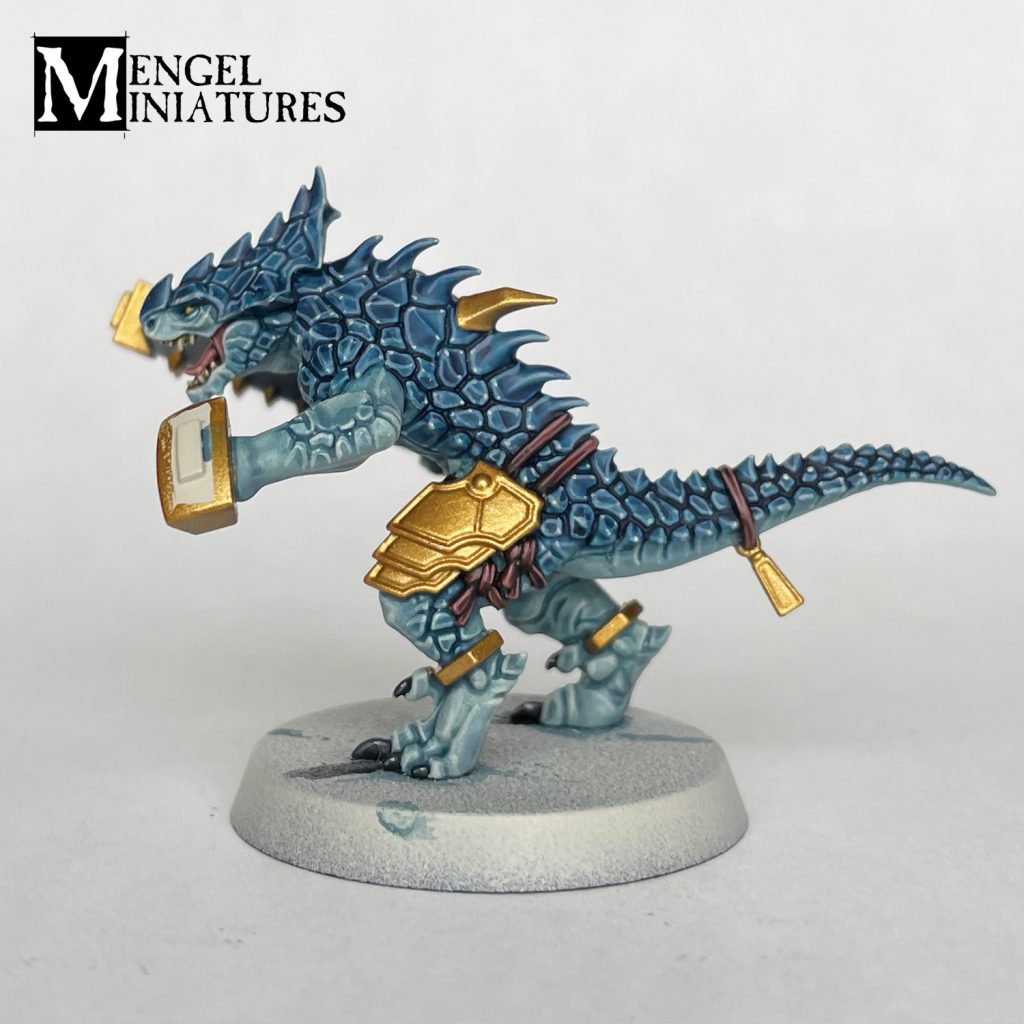 Step 1.
All of the gold areas were base coated with Dragon's Gold by Two Thin Coats (Retributor Armor GW), including the shields, even though they were primed with gold. This just makes sure everything is the same shade of gold.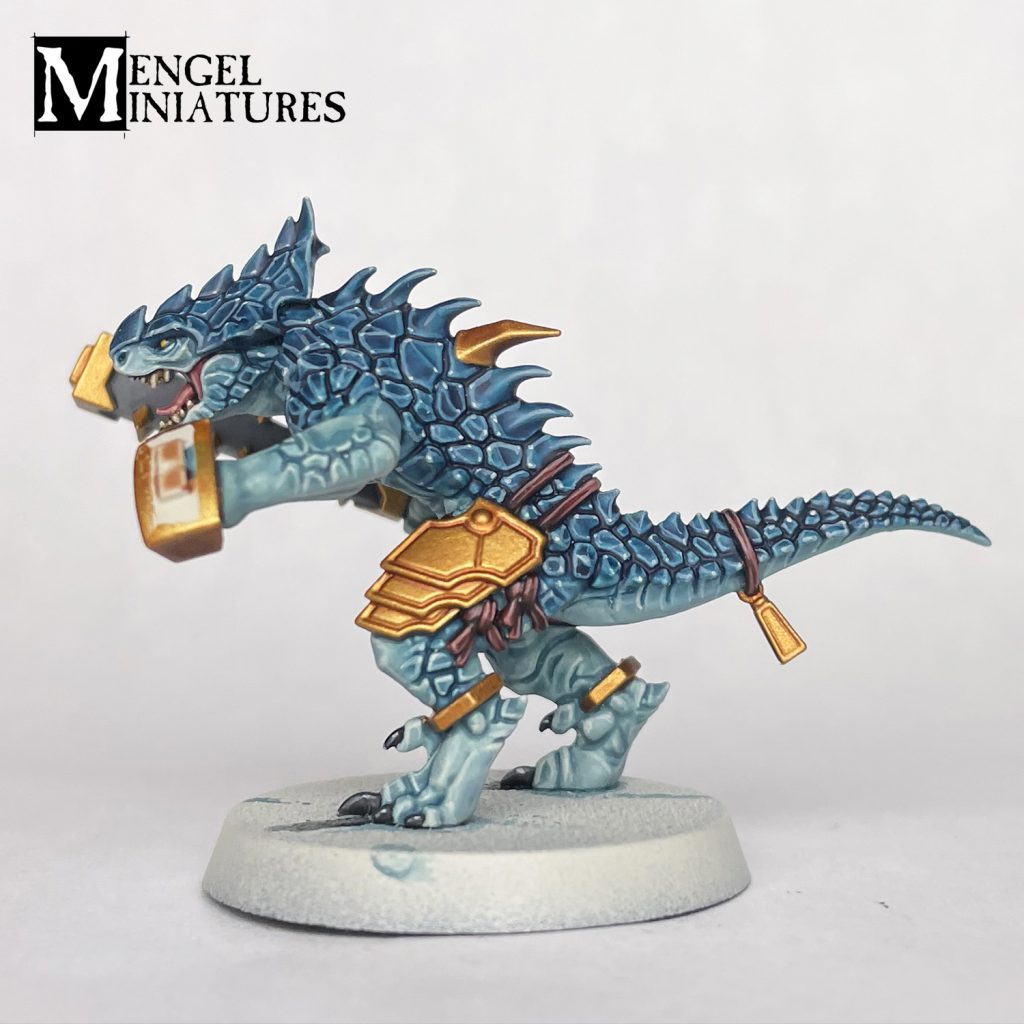 Step 2.
These were then shaded with Reikland Fleshshade. You want to make sure you're using the new formula from GW to get the same effect and result as mine.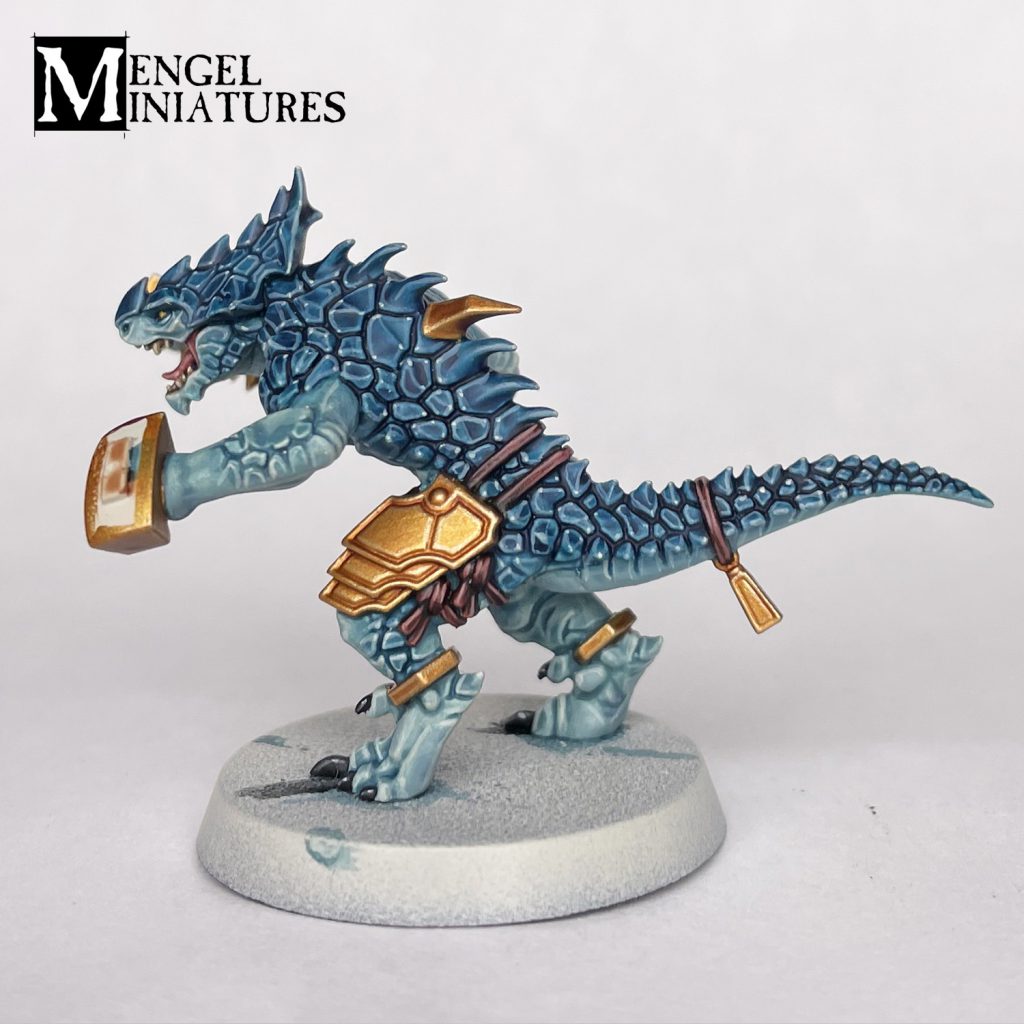 Step 3.
This was then edge highlighted with Glistening Gold by Two Thin Coats (Liberator Gold GW).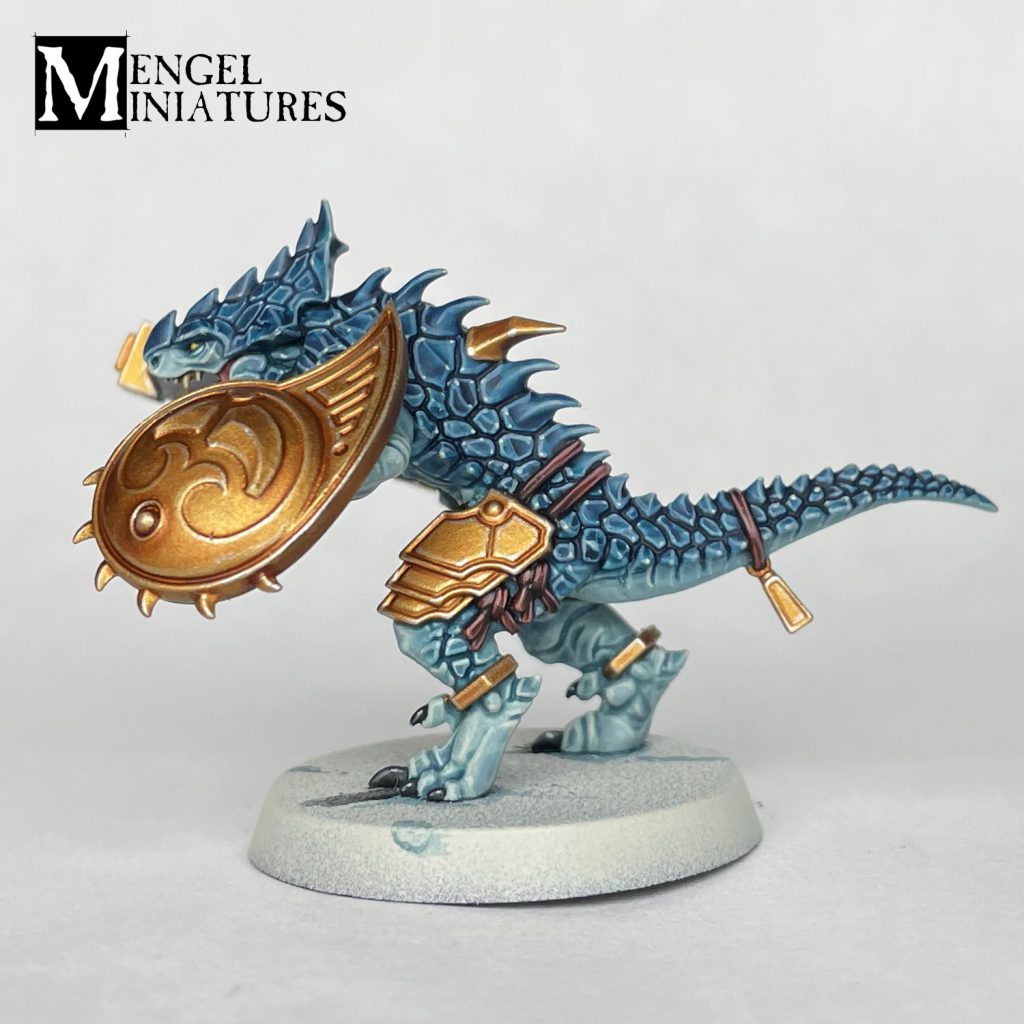 Step 4.
Lastly, I picked out the most prominent edges with Mythril Blade by Two Thin Coats (Stormhost Silver GW).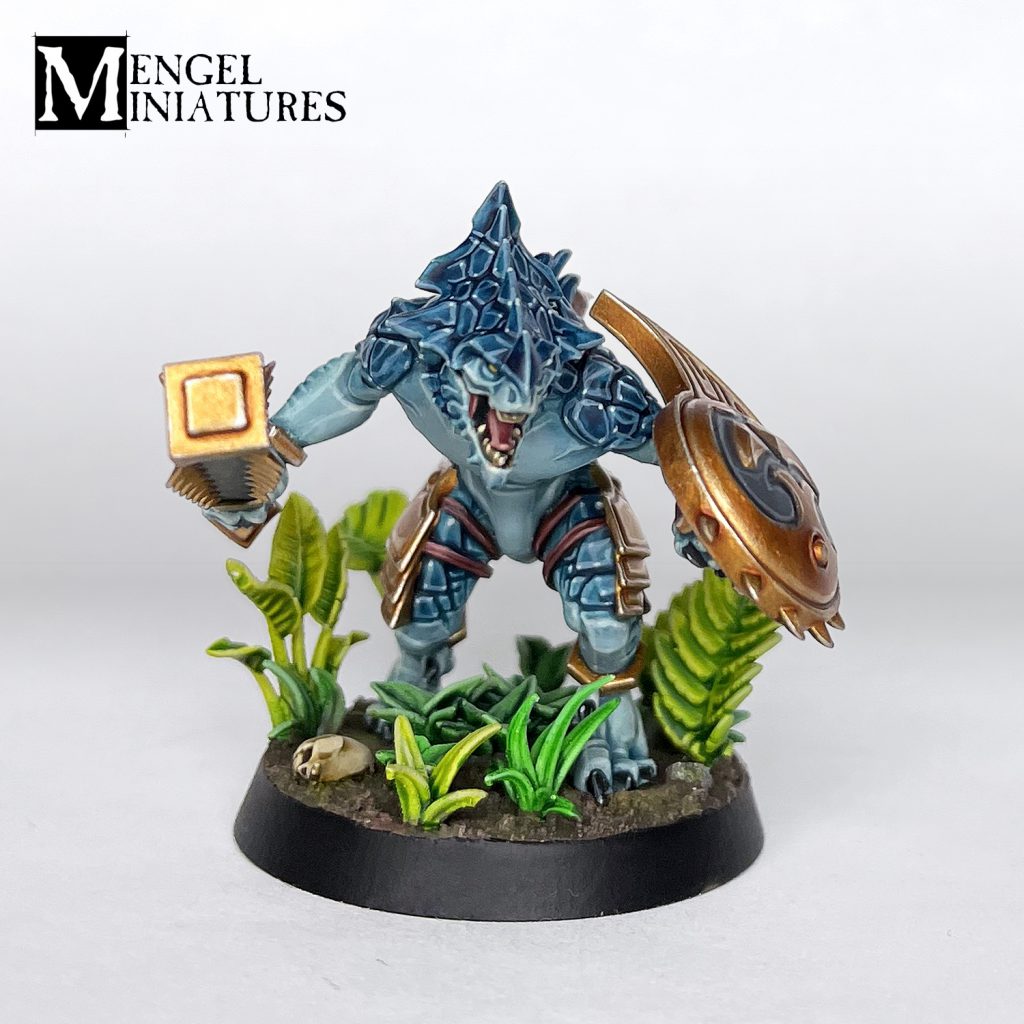 That's it, your Saurus is done! If your shield has areas that you want to make stone, like I did on mine, just follow the same steps from the stone weapon.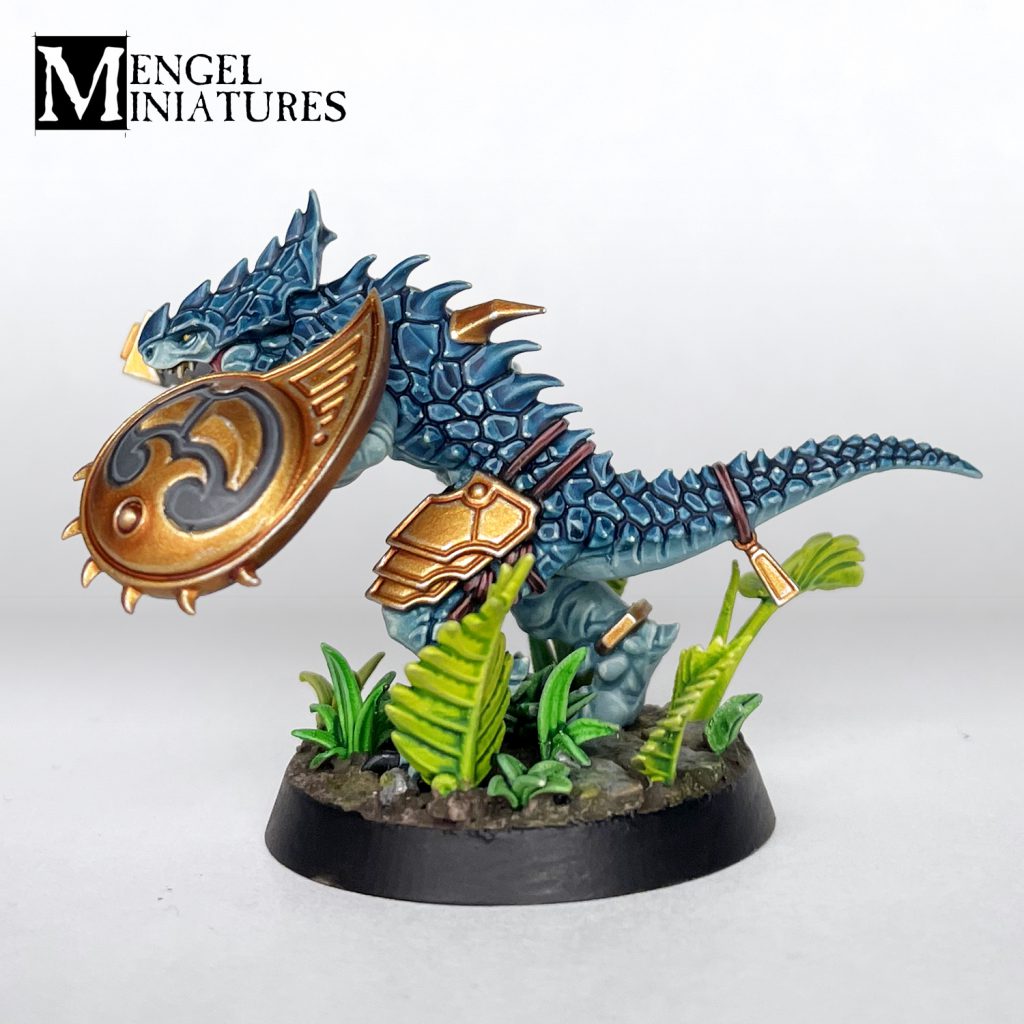 A lot of these same schemes and colors can be used across the rest of the Saurus and even the Skinks. I plan on doing a slightly lighter version of this for my own Skinks.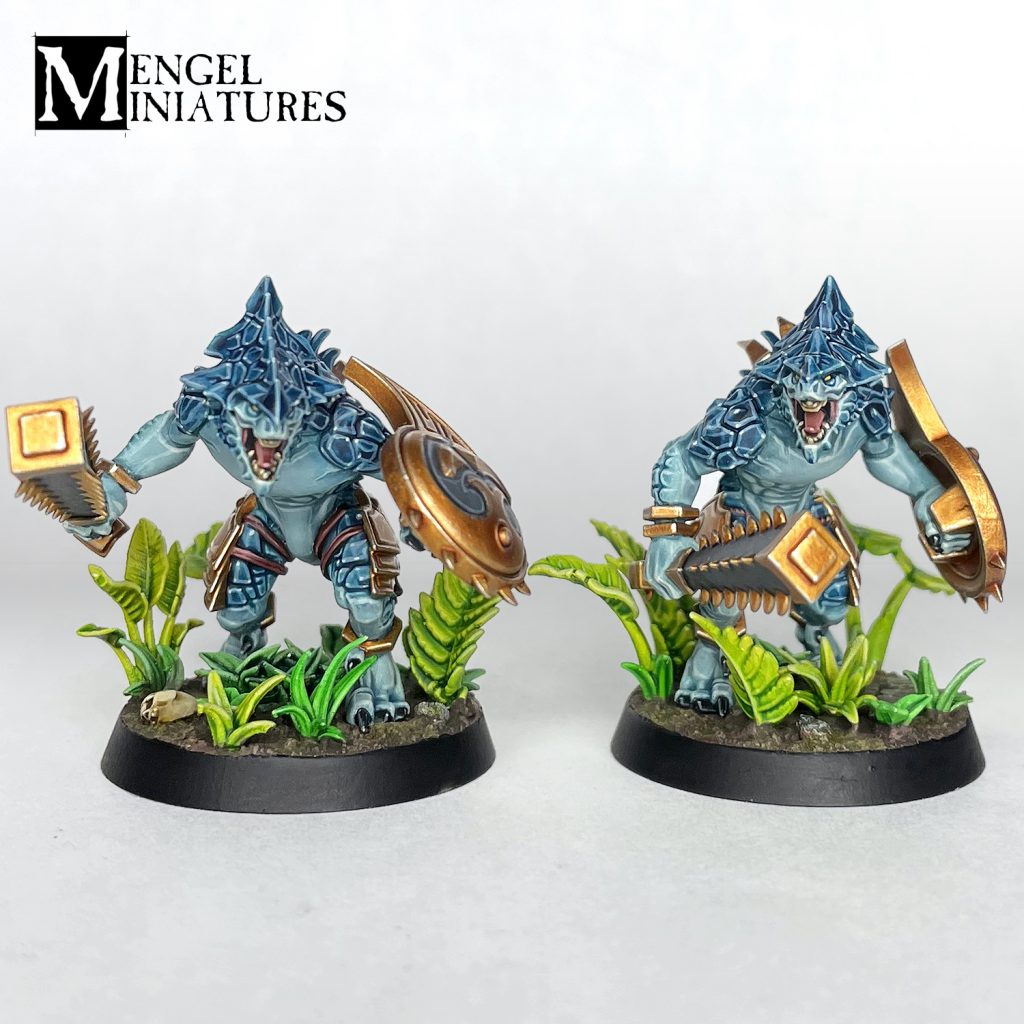 I've started painting these models in groups of two. I feel like this still lets me focus on each one without getting too worn out with a large group. You can base your model how you want. As you can see, I did a rather elaborate jungle base for mine, which I've covered over on Mengel Miniatures.

Paints Used for Saurus Warriors
| Primers | Contrast/Shade Paints | GW Layer/Base Paints | Two Thin Coats Paints |
| --- | --- | --- | --- |
| Wraithbone | Nighthaunt Gloom | Deepkin Flesh | Darksun Yellow |
| Retributor Armor | Stormfiend | Thunderhawk Blue | Skulker Yellow |
| | Volupus Pink | Bugman's Glow | Dragon's Gold |
| | Black Templar | Cadian Fleshtone | Glistening Gold |
| | Basilicanum Grey | Morghast Bone | Mythril Blade |
| | Gore-Grunta Fur | Screaming Skull | |
| | Cygor Brown | Dawnstone | |
| | Contrast Medium | Grey Seer | |
| | Agrax Earthshade | Mechanicus Standard Grey | |
| | Reikland Fleshshade | Tuskgor Fur | |
Until next time,
Tyler Mengel – Mengel Miniatures