In our Miniature Review series, we look at the wide world of tiny soldiers for cool stuff to share with all of you.This week, Mike is reviewing the Pendekar battlesuit from ZandrisIV.
Disclaimer: The miniatures in this review were provided to Goonhammer.com by ZandrisIV Miniatures.
ZandrisIV Miniatures produce a range for figures in both 28mm and 6mm scale. In 28mm, they provide traditional hand sculpted miniatures inspired by movies such as Appleseed and the work of Masamune Shirow. In this review, I'll be taking a closer look at the Pendekar Battlesuit pictured above, which costs £13 .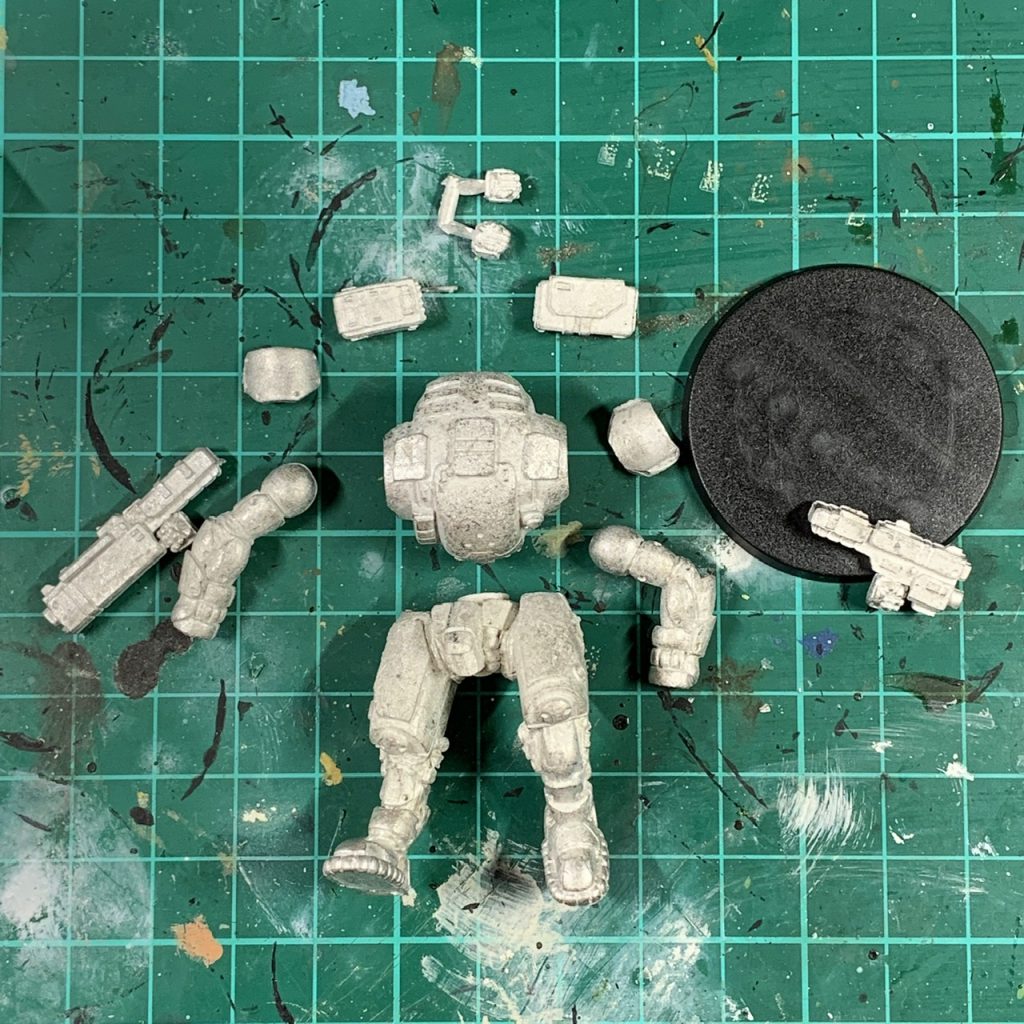 The model arrived in a small padded envelope, with the pieces contained inside a ziplock bag. Given the weight and sturdiness of this metal miniature, the packaging was appropriate.
After a quick scrub with a brass brush, there were very few mould lines apparent on the model. The overall finish of the metal was also nice, being very smooth across the large flat surfaces and this is a real credit to the caster used by ZandrisIV. The Pendekar has a number of configurations depending on which arms and legs you're sent. There are two arm options and two leg options, giving a total of four possible poses across the range. With a move towards more fixed poses the models themselves can be more dynamic. As with the previous kit you've given a number of weapons and additional options when building the model. Assembly instructions aren't included but the kit goes together in a very obvious way, so I don't think they're really needed here.

Working with metal miniatures, especially when you're used to plastic, can be a little daunting. Anyone familiar with them knows that heavy pieces should be pinned and joints reinforced with modelling putty. Modelling putty allows you to effectively dry fit joints before everything hardens and fine tune the pose you're after.
I love how dynamic this pose is, the Pendekar rushing in to battle, bringing its weapons to bear as it strides across the field. This is the real advantage of using fixed poses, making them dynamic is much easier. Again, in retrospect, I should've pinned both feet but didn't as one of them was raised in a running position. I'm sure it'll be fine with careful handling but I may go back and add a second pin later.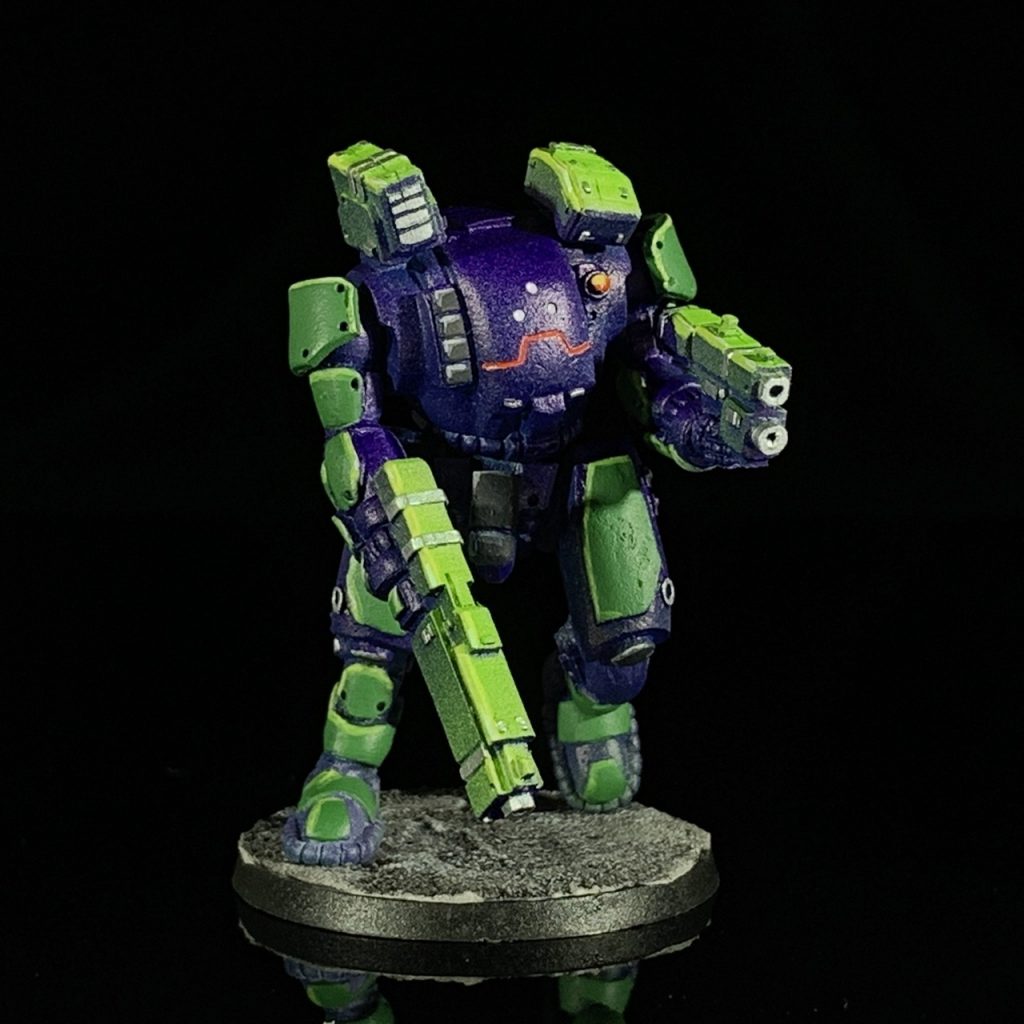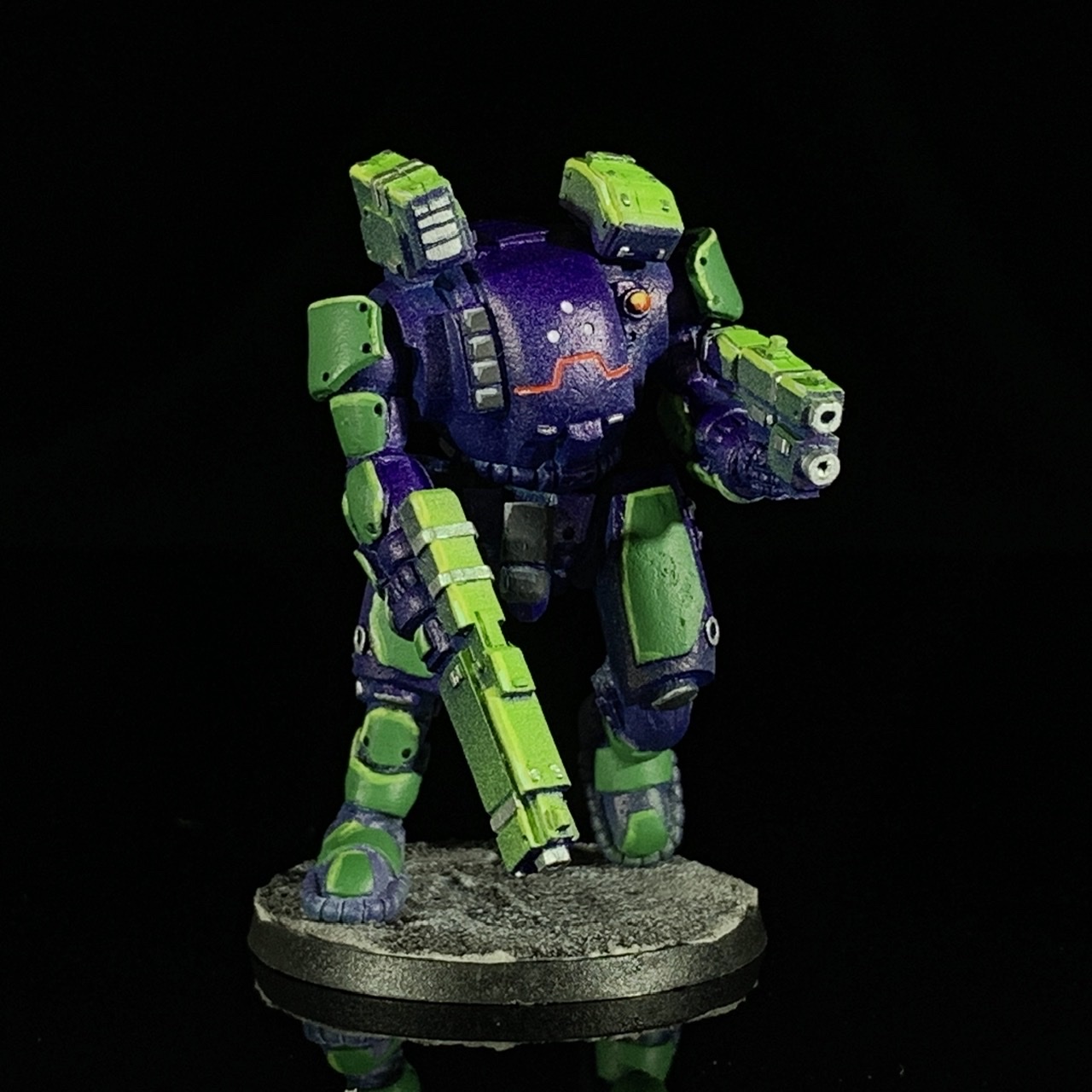 I really enjoyed painting this mini, and the opportunity to try something new with one offs like this. I relied on an airbrush for large parts of this model, base coating the whole thing in dark blue then adding a sharp zenithal layer of white ink. With this done I shaded the suit with purple ink and the weapons with lime green. Upon sharing the image with friends for some advice and inspiration one of them mentioned it looked like an awful like like EVA Unit 01 and I decided to lean in.
Overall I really enjoyed assembling and painting this kit. The contact surfaces when assembling are well sized and the model takes pinning well. The Pendekar would make a cool TAG for Infinity or a great Tau Commander, though you may want to add a hero rock to bring it up to height.
Pros:
Cool and characterful sci-fi aesthetic
Easy to clean and build
Dynamic pose
Cons:
Working with metal can be daunting
Overall this was a really fun kit to work with and a very satisfying model to paint. You can pick up your own Pendekar Battlesuit at Zandris Miniatures