Goonhammer Historicals is our weekly column taking a look at the varied world of historical wargaming. This week, Lupe reviews a new small-scale tank kit from Victrix.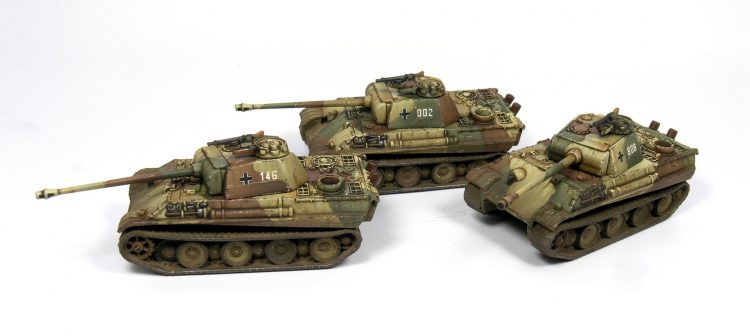 Victrix is a firm favourite for hard plastic historical miniatures at Goonhammer, and we were excited to seem them expand their range to include World War 2.
It was a surprise however to discover that instead of sticking to their standard 28mm scale they opted for a small scale range. These are 12mm scale, which initially seemed a strange choice – 10mm and 15mm are already popular choices. However, this makes them a true equivalent to 1/144 model scale and also N-gauge model railways. This actually means there is an enormous range of supporting terrain, kits and even train sets to enhance your boards and forces. It's difficult to justify a new scale, particularly if you have considerable forces at 15mm which will look out of proportion to these models. However, we're happy to say 10mm and 12mm scale minis are much trickier to distinguish, and you probably wouldn't worry too much seeing them together.
The range itself focuses to begin with on British and German forces in the last phase of the war. The initial release was all vehicles, but as of writing infantry company kits are due to be released in the near future. As these are all hard plastic sprues, this represents a significant investment, and we can expect to see ongoing support for the range to make sure it pays for itself.
The kit itself arrives in the standard minimalist Victrix packaging – a clear heavy duty resealable plastic bag with a colourful card label over the top. It has build instructions on the rear and though these are minimal, that's fine – the kits are as easy to build as they claim.
The whole product feels pretty barebones but of a decent quality, and in my eyes the greatest advantage is you can see the sprues right away. And that's really the selling point here anyway, so why bother with anything else?
Those sprues are the star for sure, and they're of excellent quality. Effectively you have six individual sprues each letting you build one tank, with an option for a closed top hatch or an open one with a tank commander sat at it. Each tank is only a few pieces – one for each track, a hull, toplate, backplate and the turret – so it's easy to put together. The pieces snap tight without any hard work, and using Tamiya the joins are almost imperceptible. They're all carefully lined up so they're well hidden anyway, so I can't see anyone struggling to put the main body of the tank together. My only quibble with construction is the coaxial gun, which is help on by a very narrow peg that I accidentally broke on the first tank I built, so take care there.
Mold lines are minimal, and the pieces were fast and easy to clean up. I am extremely impressed by the crisp detail and quality of the casts. Though these are smaller by some distance than their equivalents from Battlefront (15mm hard plastic) if pressed I'd have to say the detail is actually sharper and finer on the Victrix models. The sculpts are accurate and nicely executed.
I would have liked a few little additions on the sprues – some stowage would have been an excellent extra. But at this scale it's easy to see why it was decided not to include it – it would have been quite fiddly to apply.
The turret joins to the main hull with a simple peg. I do appreciate the magnet holes in the Battlefront minis, but given their size I'm not sure it matters too much. I'd intended to leave the turret unglued and just pegged into the tank in play, but during painting it became clear it was gonna be a pain, so I glued it down.
When it came to paint them, I was delighted to discover that each kit is accompanied by an extremely comprehensive and detailed painting guide. In practice I couldn't follow all the steps exactly as I don't have an airbrush, but I absolutely used the guide for this kit as inspiration.
Painting these was an absolute joy. The combination of the small size and the extremely crisp defined detail meant that it didn't take long to get great great results. You could likely get a good result just with a basecoat, wash and drybrush. I went a little more involved with my version, but it was still quick and easy to pull off.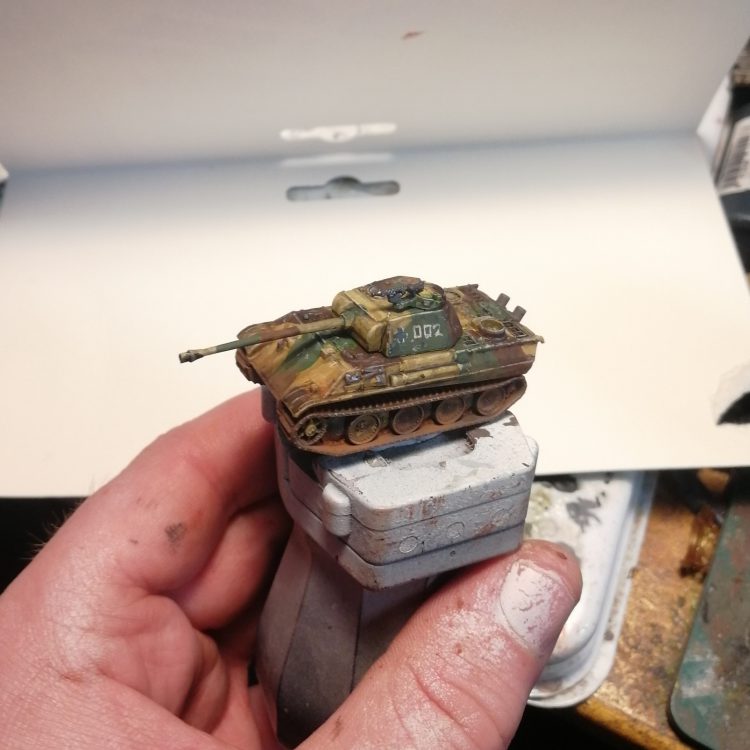 It's hard not to recommend this kit. There are definite oddities about the range (despite the scale model connection, 12mm is an odd size) but the kits themselves are probably the best small scale tanks on the market. It's hard to imagine a higher quality entry into this arena than has been executed here.
Positives:
hard plastic, easy to build models
excellent sculpts and crisp detail
compatible with 1/144 and n-gauge scales
Negatives
some delicate parts
lack of stowage options
12mm is an unusual scale
A fantastic start to what looks to be a comprehensive new range. If you're starting forces on the Eastern or Western Fronts in the late war, this could be perfect.