It's Monday again, and you know what that means here at Goonhammer: Necromunday! This week we're revisiting some old friends: Corpse Grinder Cults! We did an initial impressions article back when they first came out, and now we're back to take a more in-depth look at everyone's favorite blood-crazed loonies!
Corpse Grinder Cults haven't received their own "House of" update yet, but they don't really need one to grind you into a fine, edible paste. Since our initial take on Corpse Grinders, we've managed to put in quite a few games with and against them, so we're here to revise our takes that need revisions, and to update our readers with any changes we think they need to know. The fact that these cultists are included in one of Necromunda's starter sets makes them functionally extremely popular as many people tend to run them as a second gang. Enough people have asked us to give them the "houses of the Underhive" treatment, so here we are! If you want to see us feature something in a future article, feel free to drop us a line over at necromunday@goonhammer.com!
Strengths
Combat:

Unsurprisingly, the crazed cannibal cults of Khorne are

really good

at combat. With access to some of the meanest weapons in the underhive and the only native 2+ Weapon Skill (on their leader character, the Butcher) available at gang creation, enemy gangs will want to stay very far away from these brutal fighters. Not a single currently released gang can match them in combat prowess.

Blinding Speed:

Fortunately for Corpse Grinders, and unfortunately for everyone else, getting into combat is less of a problem for them than for any other gangs. With a cult-wide Movement of 5" and the available movement buff from the Corpse Grinder Cult Icon, they'll be able to get across the table at a blistering pace. Corpse Grinders Butchers can reliably make 18-24" charges and mulch an entire gang on their own.

Sneakiness:

What

is

a surprise regarding a Khornate cult is just how sneaky these cannibals can be! Every Initiate (the Juve analog) comes with the Infiltrate skill, allowing them to get in close quickly and help screen their heavy hitters as they make their way across the battlefield. Even when Initiates fail to do any significant damage, their mere presence is a distraction that will allow your main force to advance on the opponent.

Survivability:

There are a whole bunch of reasons that cause Corpse Grinders to be one of the more survivable gangs in the Underhive. Their masks do double duty: improving their saves, and making it harder for them to be attacked. Skinners get the Fearsome Ferocity skill, requiring an enemy fighter to pass a Cool check before charging them, and the Cutters and Butcher get Terrifying, which forces a Willpower check before they can be shot at or fought in combat (sorry, Goliaths!).

Fully Directed Advancement:

There are zero fighters in this gang who advance in the random way traditional gangers do. The Initiates all count as Juves and the Skinners all count as Specialists. This means that the player can guide their Corpse Grinder Cult through advancements with 100% agency, instead of having to roll randomly on the table.
Weaknesses
Garbage-Tier Shooting:

Initiates are the only fighters in the cult that can take ranged weapons, and their choices are sparse to say the least. Even if you invest in enough flame templates to make a Cawdor gang blush, do not expect to ever have ranged supremacy if you're playing a Corpse Grinder Cult.

Extremely Vulnerable to Pinning:

Grinders have no inbuilt way to mitigate being pinned by an enemy shooting attack. If they get hit, they take cover just like anyone else. But since they're so dependent on melee, it can be a deathblow, as a pinned fighter isn't charging the next time they activate unless they have help from Tactics Cards. Note: Grinders have access to Ferocity skills as a secondary skill-set, but if you've read our articles on

Skills

and

Advancements

, you'll know that that secondary access to a skill means very little.
Gang Composition
Butcher (Leader)
Primary Skills:

Brawn, Combat, Leadership

Weapon Restrictions:

Butchers may only be armed with Close Combat Weapons.
Butchers – and Cutters, see below – get the excellent Terrifying rule via their masks, as well as improved armour. This requires a Willpower check from your opponent before shooting or fighting against them. This won't always protect you, but given how many steps of failure there are in Necromunda when attacking someone, it's an incredibly strong boost to their survivability. It can also be very unfun for your opponents, especially if they are playing Goliaths or Slave Ogryns, who will really struggle to act directly against these models. Note that template and blast weapons, which don't target models directly, will ignore this check.
Given that powerful rule, their excellent armour and melee stats, and their improved charge movement, combined with the fact they can't even carry ranged weapons, Butchers are clearly just here to charge into close combat. Use them as cautiously as you would anyone else trying to get into charge range, you can't take Nerves of Steel or Spring Up, but that Terrifying rule is a great extra protection.
Recommended Equipment: All of the cleaver weapons, or the budget (but still great!) boning swords, will do the job here. With his 2+ WS and S4, the Butcher doesn't really need expensive kit to do well. Later in the campaign, as your opponents' fighters start getting tougher and better armoured, he's an excellent candidate for weapons with high Strength and Damage which don't have a to-hit bonus. Remember that you can take grenades! As the campaign goes on you should definitely take some, with the enhanced Strength they make good close range weapons if you happen to get pinned.
Cutter (Champion)
Primary Skills:

Brawn, Combat, Savagery

Weapon Restrictions:

Butchers may only be armed with Close Combat Weapons.
These guys are like Butchers, just a tiny bit less so. Their improved armour from the mask is actually better, as it stacks with their plate mail or any other armour you give them. Lacking the extra charge movement of a butcher, with good gang-specific weapons they should still guarantee that blender effect on a successful charge. Use them carefully in the same way.
Recommended Equipment: Here, rather than the Butcher, is where we'd advise putting the really good Cleaver type weapons. It gets them to that sweet 2+ WS. It is generally a good idea to have one Cutter take a Corpse Grinder Cult Icon to boost the movement of the fighters around him. It's a seriously ridiculous force multiplier.
Skinner (Ganger)
Primary Skills:

Combat, Savagery

Weapon Restrictions:

Skinners may only be armed with Close Combat Weapons.
Skinners are like Cutters, but much less so. Better close combat fighters than most Gangers, they aren't necessarily guaranteed to kill something on the charge unless you give them the Heavy Chain Cleaver(s). However their mask only gives the chance to stall close combat attacks against them, not shooting. Together with their weaker statline and the fact you're almost certainly taking 2 Cutters and a Butcher at gang creation, we don't think Skinners are as important to a successful cult as having plenty of Initiates to cover the big guys. You don't need to even include Skinners in your gang – the only rule about what the new House books call Gang Fighter (X) is that you need more Initiates than other models. Skinners are certainly good enough that you can add some more in over the course of the campaign. They will help give you that close combat dominance over other gangs when your champions can't be everywhere at once, or are in Recovery. But on paper, they aren't the big strength of the list.
Recommended Equipment: Similarly to their gore-soaked superiors, once they've been given a sweet cult-specific melee weapon, they will really benefit from grenades.
Initiative (Juve)
Primary Skills:

Combat

Weapon Restrictions:

None
It is hard to overstate just how good Initiates are. They cost 25 credits. That includes improved armour (5+ save, 4+ against blasts), a statline equal to most gangers, and the Infiltrate skill! As well as being a good solid tactical advantage for attacking the enemy, Infiltrate trivialises half the missions in the game. Infiltrate aside, the package Initiates get is extremely good. Although you may not start with long-range firepower in your gang, you can certainly compete on numbers, and it doesn't mean your fighters are trash, either.
Recommended Equipment: Initiates have no restrictions on the equipment they can carry. Corpse Grinder Cult can access the trading post. Let those facts sink in. Yes, thematically the from-the-box models are all carrying pistols. Yes, you could give them Hand Flamers and let them pin down and Blaze enemies in the first game round, ready for your champions to charge in and finish them. Yes, they absolutely can get mass smoke grenades and use their great Infiltrated positions to cover the combat monsters' advance. These are good options available from the House List weapons. But it's worth noting, if you're in the Trading Post, there are Webbers and Blasting (or Demo) Charges which would do even better. If you're not wedded to the idea of melee weapons, templates or pistols, and grenades, well – Plasma Guns, Grenade Launchers, Bolters, Shotguns . . . Initiates have the same 4+ BS as most gangs. They won't individually be shooting powerhouses, but when you're saving at least 30 credits on their base price, it makes for a good deal.
It's important to note that Initiates can get promoted to Cutters during the campaign. However, this will count against your 0-3 Cutters limit. In our estimation it's best to forego promotion and keep your Initiate doing what they do best: causing complete chaos for your opponents by sneaking up behind them!
Key Skills
Corpse Grinders are in a weird space with skills. They really don't need help causing damage in melee, so offensive melee skills are going to be less effective. Additionally, enemy fighters will quickly fold to attacks from Butchers and Cutters, so defensive melee skills aren't really necessary, either. Many skills in the Combat list are defensive in nature, mitigating damage and staving off reaction attacks, which are less useful when you're more likely to kill your opponent before he can strike back at all!
By our reckoning, mobility and support skills will be the most useful. Commanding Presence looks like the biggest winner for a Butcher, allowing for a crushing 4-fighter activation for that critically important charge turn, which will probably be turn 2 or 3. For Cutters, Slaughterborn will cause the most havoc as the Movement bonus continues to stack up, making the fighter a threat to anywhere on the board. If you're planning to bring a Rotary Flensing Saw, think about grabbing Rain of Blows as the Cutter or Butcher will be able to fight twice at 4" out, which is hilarious.
It might be counter-intuitive to think that the melee gang doesn't need melee skills, but when they're already so good at close-combat, stacking up melee skills and abilities grants diminishing returns. Think outside of combat with Grinder skills, and we think you'll be rewarded.

Weapons and Wargear
Basic Weapons
None! Corpse Grinders don't need your stinkin' autoguns and stupid Van Saar las shotguns! That being said, Initiates can still buy Basic Weapons from the Trading Post and Black Market.
Pistols
Autopistol (10):

The basic Autopistol gets a little bit of an upgrade with some new ammo types (previously Enforcer-only) in the Book of Ruin, but the Stub Gun is still your best bet for a cheap pistol.

Rating: C+
Hand Flamer (75):

Unlike other gangs, where the Hand Flamer is over-costed garbage, when every Initiate can Infiltrate and get into template range easily on round one, the Hand Flamer becomes a tool of abject terror! A couple of these will cover your heavy hitters nicely.

Rating: B
Stub Gun (5):

It's cheap, it's plentiful, and it's got a solid accuracy bonus. Don't sleep on it's utility, especially with Dum Dum rounds!

Rating: B+
Special Weapons
Flamer (140):

The true strength in flame weaponry is the auto-pinning from templates and the chance of triggering Blaze. Jumping from the S3 of the Hand Flamer to S4 in the full sized model is an improvement, but not one that's worth paying anywhere close to 65 extra credits to do so.

Rating: C-
Heavy Weapons
Heavy Flamer (195):

The Heavy Flamer is always a terrible, over-costed choice, but somehow even more so for the Grinders. It's an Unwieldy ranged weapon, in the armory of a gang that has no access to Suspensors apart from the Trading Post.

Rating: F-
Harpoon Launcher (110):

It's an interesting choice, as this is essentially the longest ranged option in the Corpse Grinder arsenal. A bit too expensive to run in numbers, a sneaky Initiate could get good mileage out of this weapon, dragging impaled targets off of high ledges, or into closer range of nearby Flamers or his other choppy friends.

Rating: C+
Close Combat Weapons
Boning Sword (20):

For 5 fewer credits than a Chainsword you still get Parry, and then an extra point of both AP and Damage. This is the go-to weapon for Initiates, who are probably the only members of a Corpse Grinder Cult who'll be engaged long enough for the opponent to strike back. A solid secondary weapon for any fighter, provided they've decided to resist the allure of paired cleavers.

A quick note: many non-CGC players scramble to buy these things from the Trading Post ASAP because they're so good. You

cannot

go wrong here.

Rating: A
Butcher's Chain Cleaver:

Good Strength, excellent AP and damage make this weapon an easy "yes". The only knock on it is that it's hard to justify buying only one, when the paired version gives bonus attacks and costs less together than buying two of the Chain Cleavers separately.

Rating: B+
Butcher's Cleaver (25):

A cheaper and lighter version of the Butcher's Chain Cleaver (we're getting really tired of all these cleavers), it delivers the same Strength but reduced AP and Damage. Still pretty good, though.

Rating: B
Chain Glaive (60):

With all of the melee options that Grinders have, the trusty Chain Glaive starts to fall short. It's -1 accuracy in base to base, and that makes it way worse for up-close work than a Heavy Chain Cleaver, which is only 10 credits more and not Unwieldy. And if Versatile is what you're after, the Rotary Flensing Saw is 5 credits cheaper for the same Strength and Damage and has twice the Versatile range: 4" instead of 2". There are better options for Grinders than the Chain Glaive.

Rating:  D
Fighting Knife (15):

It's fine in every gang, and fine here. Backstab won't likely come into play unless you're anticipating engagements where you can throw multiple knife-wielders at the same target to allow at least one of your Initiates to target their backside. In any other circumstances, knives serve the same purpose – a little bit of armor penetration and an extra close-combat attack out of a cheap fighter who already has a side-arm.

Rating: C+
Flensing Knife (15):

It's like the fighting knife, but it sacrifices Backstab for Rending. It's also fine. The Fighting Knife is probably better.

Rating: C
Heavy Chain Cleaver (70):

The heaviest-hitting one-hander in the game, the Heavy Chain Cleaver does

work

. It hits better and harder than the Butcher's Chain Cleaver, but we're not sure it's worth the price tag. However, there is

definitely

an argument for it. One of these things will turn a Cutter or Skinner into a true monster.

Rating: B
Heavy Rock Cutter (135):

This thing will completely murder anything it touches, but the price tag is

so dang high

for a single melee weapon. However, we can see it being extremely useful in a late-stage campaign where armor saves are trending towards ridiculous, or when you absolutely need to wound everything that isn't an Ambot on a 2+.

Rating: C
Paired Butcher's Chain Cleavers (80):

Probably the best of the Corpse Grinders' arsenal. They'll give any fighter the high strength and high volume of attacks that they need to succeed, all while staying under budget. Load your Cultists up with these, and you'll be Grinding Corpses in no time!

Rating: A
Paired Heavy Chain Cleavers (130):

These things will absolutely

mulch

any enemies, but are probably too expensive for a starting gang to have more than one set. However, a Cutter with a pair of these things has 6 S6 AP-2 Damage 2 attacks on the charge that all hit on 2s, which is just terrifying.

Rating: B
Rotary Flensing Saw* (55):

The thinking cultist's Versatile weapon, the flensing saw can reach out and touch enemies at 4" making it

almost

a ranged weapon. The -1 accuracy penalty at range is rough, but if you can get Knockback to trigger, you'll be able to catapult yourself into base to base with your opponent, Bionic Commando-style.

Rating: B+
Two-Handed Axe* (25):

It's cheap, but it sucks. Damage 3 is enticing, but -1 accuracy and zero AP means you'll rarely get to deal that big damage. A Butcher's Cleaver is the same amount of credits, and pushes far more reliable damage.

Rating: D
Grenades
Frag Grenades (30): T

hey'll explode and might pin a few enemies, but the 3" blast and S3 make them merely okay. Grenades can be thrown by any Corpse Grinder, not just Initiates, but more of the time you're likely better off using that second action to move forward or to find cover, rather than attempt to pin a nearby enemy or two.

Rating: C+
Incendiary Charges (40):

On the other hand, once you improve the blast radius and add in some Blaze to sweeten the pot, grenades suddenly start to seem a lot more viable. They're still not the sort of item you're investing in at founding, but mid-campaign these Charges can provide your Skinners and Cutters with something to do if they're caught out in the open, and they're a cheaper alternative to the Hand Flamer for the budget-conscious Initiate.

Rating: B
Krak Grenades (45):

A high Strength grenade with the Demolition trait does have use on certain scenarios, especially in the hands of an Infiltrating Initiate, but it's not as useful as a weapon compared to the other varieties. A lack of Blast means it doesn't scatter, and that's not great for a gang with a decidedly lackluster Ballistic Skill.

 Rating: D
Smoke Grenades (15):

Yes. Immediately. Have at least one character armed with smokes at gang creation, ideally an Initiate or two. Corpse Grinders rely on mitigating the enemy's shooting, so closing down firing lanes is a

must

.

Rating: A
Notable Wargear
Armored Undersuit (25):

While it's not particularly common, occasionally your enemy will live long enough to strike back in combat. Or, more frequently common, they'll shoot at you. Regardless of the scenario, adding +1 to your armor for an absurd 3+ save for your Skinners and Cutters will understandably boost your survivability.

Corpse Grinder Cult Icon (40):

An absolute must-have. The Grinder Icon gives its bearer the ability to make an

Enrage (simple)

action. This action allows friendlies that begin their turn within 6" to add d3" to their movement and Charges this turn,

and can be done

twice

.

Let's think about that for a second. Your icon bearer, Enrages twice, allowing your Butchers and Cutters nearby to add 2d3" to both movement and charges. This is

crazy

mobility. If you've managed to set up a gnarly group activation with your Commanding Presence Butcher, you can get your Butcher and 2 Cutters charging across the table with an eye-pooping 20" charge! This is wildly important for a gang that has to close with their enemies, and should be a top priority when creating your gang.

Stimm-slug Stash (30):

Drugs that supercharge a fighter's combat abilities are,

checks notes

…yeah they're super good for Corpse Grinders. Grab some for your heavy hitters and if they're within 6" of a Grinder Icon, watch them make 13"-22" charges all day!

Booby Traps (Varies):

Booby traps are placed after you've set up the board and chosen deployment, but before any fighters are deployed. While it seems counter-intuitive to invest in land mines as a gang that's going to be charging headlong across the field, it may be wise to place a few Frag or Melta Traps in higher overlooks to dissuade enemy snipers from setting up shop.
Brutes, Pets, and Exotic Beasts
Corpse Grinders don't have access to any Pets or Beasts outside of the Trading Post and Black Market. They don't need them, if we're going to be honest. Pets and Beasts are generally best for screening, and Grinders have initiates for that. Brutes, though, are always welcome. Grinders can choose between any of the non-house specific Brutes, and as a Chaos gang, get access to the terrifying Warp Horror from White Dwarf 458. The Warp Horror is obviously the best brute (maybe even in the whole game…), but you can't go wrong with an Ambot, Scrapcode-Corrupted or otherwise. In fact, the corrupted Ambot might even be better for Grinders as the inbuilt Nerves of Steel can give them a nicely survivable tank to distract from Butchers and Cutters.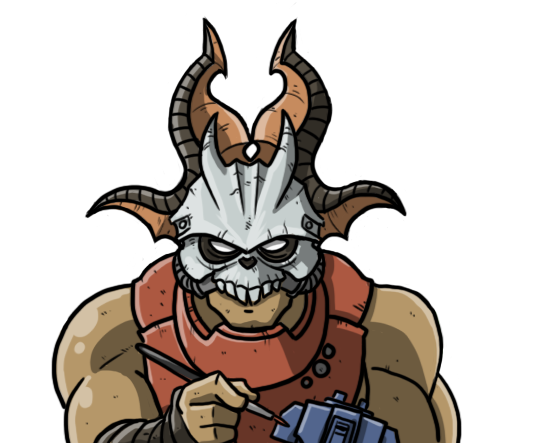 Example Gangs
Dan's Out-of-the-Box Gang
Out of the box with no conversions whatsoever, this gang will get you where you need to be with no frills or fanfare. It's not fully optimized, but it can and will do what it does best: completely pulverize the opposition.
Butcher

– 130

Paired Butcher's Chain Cleavers – 80

Commanding Presence

Cutter

– 90

Paired Butcher's Chain Cleavers – 80

Corpse Grinder Cult Icon – 40

Slaughterborn

Cutter

– 90

Rotary Flensing Saw – 55

Rain of Blows

Skinner

– 40

Paired Butcher's Chain Cleavers – 80

Skinner

– 40

Paired Butcher's Chain Cleavers – 80

Initiate

– 25

Stub gun – 5

Boning Sword – 20

Smoke Grenades – 15

Initiate

– 25

Stub gun – 5

Boning Sword – 20

Smoke Grenades – 15

Initiate

– 25

Stub gun – 5

Boning Sword – 20

Smoke Grenades – 15

TOTAL: 1000
Merton's Hand Flamer and Cleaver Party
There's folks that'll call me crazy for only bringing one smoke grenade, or more likely for only bringing one Skinner. In this build (which I've been running in skirmishes and have zero campaign experience with, mind you), I'm banking heavily on my Initiates to cause chaos in the back line. In theory, a pair of Flamers threatening the enemy deployment zone on round one tends to cause enough havoc that the four cannibals barreling down the front seem like the 'lesser threat' until it's far too late. I haven't had a game yet where even a win isn't accompanied by heavy casualties on the Grinder side so this may be a losing strategy for long-term play, but in a vacuum these guys are a blast!
Butcher

– 130

Paired Butcher's Chain Cleavers – 80

Stimm-Slug Stash – 30

Bull Charge

Cutter

– 90

Paired Butcher's Chain Cleavers – 80

Corpse Grinder Cult Icon – 40

Stimm-Slug Stash – 30

Slaughterborn

Cutter

– 90

Paired Butcher's Chain Cleavers – 80

Stimm-Slug Stash – 30

Slaughterborn

Skinner

– 40

Initiate

– 25

Flensing Knife – 15

Smoke Grenades – 15

Initiate

– 25

Initiate

– 25

TOTAL: 960
Dan's Friendship Destroyer 9000
Friends? Ha! Who needs them?! This list is built around exploiting Corpse Grinders' ridiculous movement shenanigans and is guaranteed to make your friends hate you. Let's be honest, they're just jealous of your bigass muscles and cleavers. You don't need them.
Butcher

– 130

Paired Butcher's Chain Cleavers – 80

Stimm-Slug Stash – 30

Commanding Presence

Cutter

– 90

Paired Butcher's Chain Cleavers – 80

Stimm-Slug Stash – 30

Corpse Grinder Cult Icon – 40

Slaughterborn

Cutter

– 90

Paired Butcher's Chain Cleavers – 80

Stimm-Slug Stash – 30

Slaughterborn

Initiate

– 25

Stub gun – 5

Boning Sword – 20

Smoke Grenades – 15

Initiate

– 25

Stub gun – 5

Boning Sword – 20

Smoke Grenades – 15

Initiate

– 25

Stub gun – 5

Boning Sword – 20

Smoke Grenades – 15

Initiate

– 25

TOTAL: 975
Final Thoughts
One of the big things we, and many other players, have discovered, is just how insanely supercharged these crazed cannibals can end up being. If you head over to the old article and read our final thoughts, we were hilariously somewhat skeptical about this gang. We can now say, with the utmost certainty, that Corpse Grinders are an absolute force to be reckoned with. They're strong, fast, and nearly unkillable without a ton of special consideration from your opponent. With their great models and ease of availability, they've become one of the most popular choices in the game, which is why we felt we had to put in the next part…
Keeping it Fun
To put it succinctly, Corpse Grinders are the new Van Saar. To an unprepared opponent, Corpse Grinders are an insurmountable obstacle to having fun. Just like how Van Saar dominate on "planet bowling ball", Corpse Grinders are complete nightmares on a small board. Many players can get chased out of the game with a bad experience, so we thought it is best to warn prospective cultists that their choice of gang might carry with it some stigma. But fear not, together we can work past it!
The first thing to do, is to direct players to our article where we detail the ways to stymie melee gangs. It's important to keep these strategies in mind when a player in your group decides to run Goliaths, Grinders, or Ogryns. If everyone in your group is armed with the knowledge to defeat melee gangs, then the games will be fair, fun, and bloody, just the way we like them!
The second thing to do is for Corpse Grinder players to use restraint when introducing a friend into the hobby. Listen, we all like to dunk on our friends. It's one of the greatest things in life, right up there with hearing the lamentations of the women. But if you're playing a friendly game, maybe leave the optimized grinding mechanics at home. Corpse Grinders, like Van Saar, are a heavily skewed gang, and if someone's not ready for their bullshit, it can be a very bad time.
So take it easy out there, Grinders. Give your friends a taste of your gang's capabilities, but don't fully unleash until it's late in the campaign and you need to make a statement. That statement will say something along the lines of "MEAT BONE KILL EAT" and everyone can go home happy.
Well, that's it, Scummers! Another Necromunday gone by! We hope you're happy and healthy out there. Have any questions or feedback? Have a topic you want us to cover? Shoot us an email at necromunday@goonhammer.com, and we'll see you next week!