Welcome to War Zone: Nephilim! There's never been a shake-up this large during an edition of 40k, and in June Games Workshop dropped a new missions pack with all-new secondaries, changed how CP works in games, published new, all-digital points for the first time ever, and published a new balance dataslate, dramatically shifting the power levels of some armies. 
With any big changes comes a new series of Faction Focus articles and we're doing the same for Nephilim as we did for Nachmund. In this article Scott Horras "Heresy" will talk about the Astra Militarum, covering how the faction changed, what it means for playing them, how they're likely to fare in the new meta, and offer a list with some thoughts on playing them.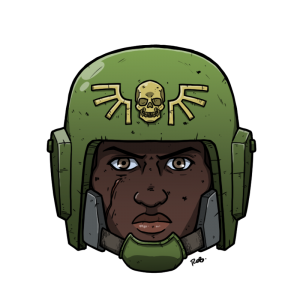 The Notable Changes
After two years living in the basement of competitive 40k, the Astra Militarum got some big boosts from Nephilim, following on the improvements in the December Dataslate. Let's look at some of the biggest changes in Nephilim and how they affect guard.
Decent Secondary Objectives.

The Guard received an entirely new set of Secondary objectives, and some of them are decent.

Boots on the Ground

 and

Inflexible Command

can both be solid secondary picks if you build your army around scoring them.

Command Point Implications for army construction.

In the pre-Nephilim era of Astra Militarum army construction, you would typically see 2 detachment lists. Because starting CP has been significantly slimmed down, that patrol full of Militarum Tempestus is going to be very difficult to fit into most lists.

Armor of Contempt on VEHICLES and 2+ saves on TITANIC.

Much like free equipment on Infantry Squads with the last Balance Dataslate, this plays as a flat improvement to a lot of the things you were already taking. At this point, Leman Russ chassis finally feel like they can really duke it out at range with anything that's not a Railgun, Baneblade chassis feel like massive piles of habblock-leveling adamantium, and everything else just feels a little more annoying to deal with.

Minor points adjustments.

Trot out your Lascannon Scout Sentinels that have been sitting on the shelf since you built them a decade ago! Dust off your off-meta-maxed Armored Sentinel build! Treat yourself to pintle-mounted storm bolters and hunter-killer missiles on your Baneblade – You deserve it. You have been blessed with free weapons and

Armor of Contempt

. Points 'drops' via free equipment (and a pretty critical drop to Bullgryns) have brought a little more firepower and a little more muscle to some underperforming units, bringing them into the Overton Window for Astra Militarum competitive list building.

Dedicated Transport deployment rules. Transports can no longer be deployed without a unit inside them.

This has largely killed the viability of using Taurox Primes as pure dakka platforms. In combination with the CP changes above, this hurts Astra Militarum list building. Paying for a squad of Scions or Commissar to ride around in these at the beginning of a game is largely a non-starter unless you're playing pure Scions.
Alone any of these changes wouldn't have been enough to move the Astra Militarum into the 'competitively viable' category of factions, and the jury is still out on whether or not this was enough to do it, but I'm optimistic that the Guard can finally put up some numbers given some good matchups and a skilled commander. Overall, I would say this is a positive change for Astra Militarum.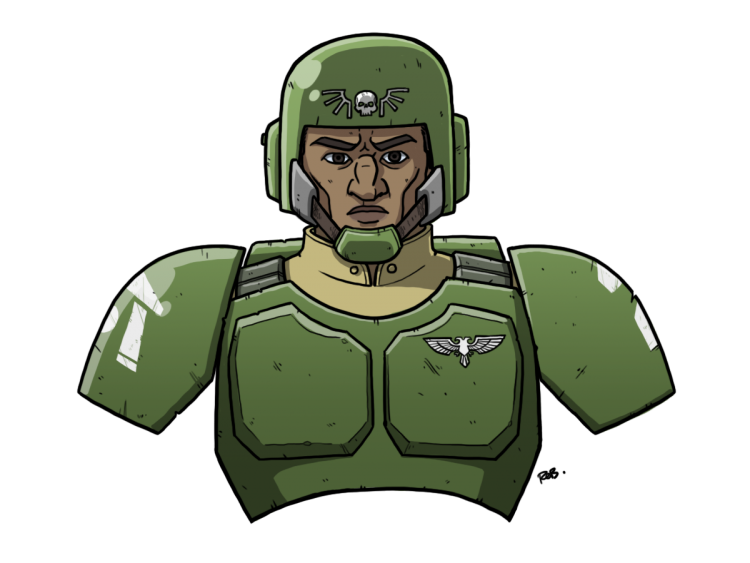 Playing Nephilim Missions
Big changes to army construction and secondaries certainly shake things up for the Astra Militarum. I mentioned above that the ubiquitous 'Scion Patrol' is probably going to be a thing of the past in Nephilim. You're more often than not going to have to squeeze into a single Battalion or expand out to a Brigade in order to conserve CP. While Sentinels certainly aren't a terrible choice, I find it difficult to want to spend points on them over other things. 
Playing Astra Militarum, I generally think you're going to be picking between one and two of the faction-specific secondaries and one from the generic options. I'll dive into more detail on that later though here's a quick breakdown of the faction secondary options:
By Lasgun and Bayonet (Purge the Enemy):

Kill stuff on objectives. Generally easy enough, but I've found it tends to yield fewer points than you really want, especially if you go first (something you won't know until after you pick secondaries). Typically this ends up being my third pickup if I can't swing

Assassination, Bring It Down,

or

No Prisoners

.

Inflexible Command (No Mercy, No Respite):

Keep the gang near your OFFICERs. Honestly, this is a pretty easy objective to max if you're dedicated to scoring it. The issues I have with it are that I've had a hard time trying to play this objective in concert with other board control-oriented secondaries and the primaries.

Boots on the Ground (Battlefield Supremacy):

An easier version of

Engage on All Fronts

. I love this one; it pairs beautifully with

Retrieve Nephilim Data

, and lets you get tons of value out of minimum Scion squads and Special Weapons Squads.

Special Orders (Shadow Operations):

Be within 12" of an OFFICER and take an action on objectives that you control in no man's land with INFANTRY. I've had a really hard time achieving this one in most games. If you're running 90+ MSU infantry, I think this might be a good pick on some missions, but I've just found it to be a harder version of

Retrieve Nephilim Data

.
I predict that there's going to be two schools of thought when it comes to playing Nephilim Missions as an Astra Militarum Commander: The Inflexible Command enthusiasts, and the Boots on the Ground appreciators. Both of these objectives are very good on paper and give Astra Militarum players an easy secondary objective to focus on. Unfortunately, they're both pretty difficult to play at the same time, so I generally see people skewing towards playing one objective or the other. 
Rob: Looking at 40kstats shows that currently Boots on the Ground is the more popular pick of the two, chose in 65% of Astra Militarum games and averaging 10 VP – that's very good. Boots sees play in 57% of games, and averages 11.5 VP, which is better, but we haven't dug into the dynamics between it and other secondaries much. By Lasgun and Bayonet only gets picked 22% of the time and averages 4.4 VP, marking it as a pretty weak option in most games.
Inflexible Command
Enthusiasts
I'll start with a bit for Inflexible Command enthusiasts. I'm going to be honest here, I'm less hot on Inflexible Command because of some ambiguities about the scoring of the secondary itself, difficulties picking other complimentary secondary missions, and difficulty playing the primary missions. All that being said, I can't outright say you won't be successful building an army intended to score this objective, I've just personally found it more difficult. If you do plan on playing around this objective, I generally think you're looking at a massed Infantry-style list with one or two Tank Commanders and good artillery support. Vox-caster-equipped Infantry Squads are going to be critical to easily scoring the first bullet point, and Tank Commanders supporting Manticores and Basilisk are probably the best way to score the second two bullet points. This might give you some decent play on Special Orders if the mission allows too.
The immediately difficult part about Inflexible Command is that taking any non-vox-caster equipped ASTRA MILITARUM INFANTRY makes scoring the first bullet point somewhat difficult. Characters like Astropaths, Primaris Psykers, and Ministorum Priests sometimes have a tendency to need to be farther than 6" away from OFFICERs, Bullgryn tend to outrun OFFICERs when they get a successful charge, and minimum squads of Scions often have to deep strike over 18" away from your OFFICERs as well. Scout Sentinels can cause a similar problem on the VEHICLE side of the house for the second bullet point. Lastly, ASTRA MILITARUM INFANTRY OFFICERs have a tendency to die from vehicle explosions and be killed by psychic powers or other non-traditional shooting mechanics. It's just difficult for me to hedge my bets on such fragile characters. 
As for the ambiguity of scoring… do units in Strategic Reserve prevent Inflexible Command from being scored? How about units in transports? What if you have no INFANTRY or VEHICLE units in your army or they've all been killed? Ultimately, this is going to be resolved by asking the TO, but the RAW answer to many of these is that any use of transports or reserves will prevent you from scoring this at all, which is a bit of a tough sell. 
Lastly, I've honestly just had a difficult time picking other secondaries with this one. Special Orders and Raise the Banners could nest well with this depending on the mission, but that leaves me without a game plan on many missions. By Lasgun and Bayonet remains a decent choice, but I've had issues playing Boots on the Ground or Engage on all Fronts when I've selected Inflexible Command because they're kind of at odds with each other.
This just might not be my style or I might not be skilled and handsome enough to figure this one out, but I welcome anyone figuring out how to play with this secondary.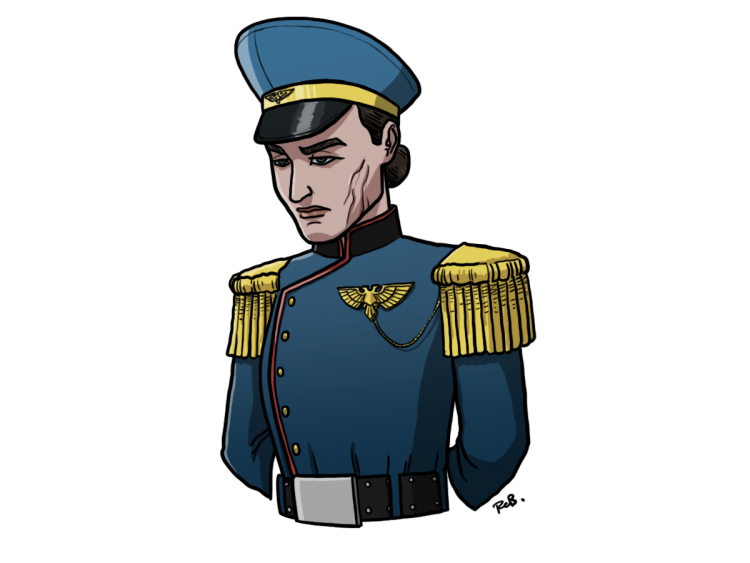 Boots on the Ground
Appreciators
Now let me introduce you to Boots on the Ground: It's Engage on all Fronts, only easier. Oh boy do I love playing into Boots on the Ground. Scoring a minimum of 3 points per turn on this is easy as cake with the lists I tend to play and it nests perfectly with Retrieve Nephilim Data. If you're taking Boots on the Ground and Retrive Nephilim Data, it leaves you open to pick By Lasgun and Bayonet, Assassination, Bring it Down, or No Prisoners depending on your matchup. It encourages you to toss your guys on objectives, and it lets you use reserves. I've been hot on throwing Infantry Squads, Special Weapons Squads, and Scions into reserve and just using them to score Boots and Nephilim all game. It seems like a steal to be able to score a pretty reliable 8 to 9 points per turn with a couple 45 points squads around the board.
The third secondary objective is always a bit tricky here, but with your Special Weapons and Scions running around taking care of your secondary objective for you, it really lets you focus your energy and firepower on winning the primary. 
Overall
In the age of Nephilim, the Astra Militarum are bringing some decent secondary objectives to the table. The Astra Militarum are still having issues with winning the primary mission because Infantry Squads are still extremely fragile and the only real brawler unit we've got is Bullgryn. They're certainly not bad at 30 points per model, but can still struggle to tangle with other armies' mid-field brawlers.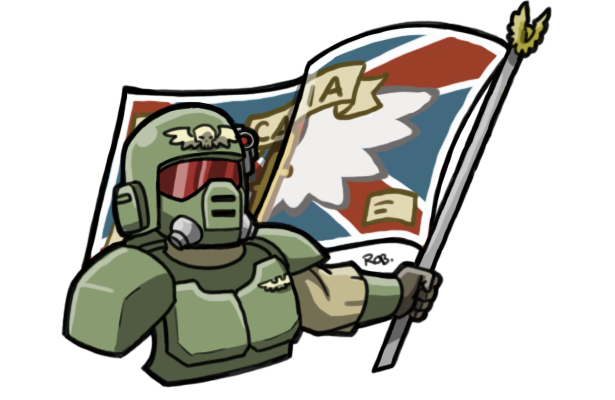 Squaring Up Against the Meta
Let's dig into the matchups and where the Guard can shine.
The Positive
We're finally off of playing exclusively generic secondaries. Astra Militarum have been pretty hampered by not having secondaries for most of the edition and now there's some really decent choices. All in all, these secondaries are scoring pretty well given the results we have so far; not quite top tier secondaries, but definitely A tier. In terms of actual factions the guard match up well against, well… let's say that at best there are some matchups where we're on close to even footing. 
Rob: Some early results suggest that the Astra Militarum likely have a positive matchup against the Adeptus Mechanicus, who have worse secondaries and struggle against AoC targets. They also may have even or positive matchups against Grey Knights and Genestealer Cults, though these particular factions aren't exactly making up the bulk of the competitive landscape right now.
Against Knights lists you'll get the benefit of free third secondary pick – Bring it Down – which can help smooth things out. You'll get some extra treats against Chaos Knights to make that matchup easier with Vengeance for Cadia, but overall your struggle will be to hold objectives against War Dogs and Armigers.
The Struggle
The struggle remains playing the primary objective and finding that ever-elusive third solid secondary mission choice. Bullgryn, Infantry Squads, and Conscripts remain as our board control pieces. Bullgryn are much more appetizing at 30ppm but still struggle against any other bully unit that has a good armor save or damage reduction (which ends up being pretty much every bully unit in the game), and Infantry Squads and Conscripts continue to struggle at holding ground because they're made of wet tissue paper. Finishing a game in 75 to 90 range is completely doable for the Astra Militarum, but I've found it difficult to keep the top contenders off of 100 points, especially if they're getting first turn. The Guard is still an army that needs to attrite you for about two turns before you can really get out there and start scoring your points.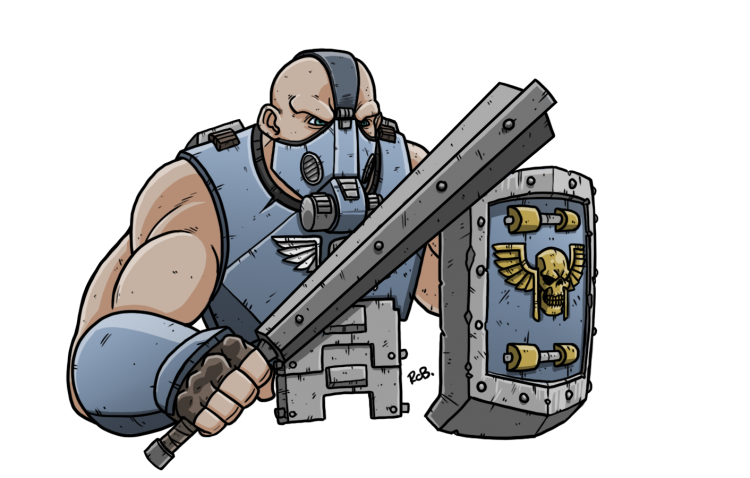 The Lists
We'll talk about how I've been enjoying playing Astra Militarum and we'll talk about a recent Top 4 placing. Since the Cadian Supplement dropped in Warzone: Octarius, many Astra Militarum players have been taking Cadian armies to take advantage of this supplement. I've preferred to stick with the tried and true Spotter Details/Gunnery Experts, but it's worth talking about a list that's found success with the Cadian setup.
Sven's Cadian Brigade
This list comes to us courtesy of Sven's performance at the Paris GT. Sven put up an undefeated performance with one round counted as a draw due to 20-0 scoring.  
+++ Cadian Brigade Detachment – 0CP +++
HQ
Tank Commander – Stormbolter, Heavy Bolter, Battle Cannon, 2xPlasma Cannon, Relic: Gatekeeper – 238pts, -1CP
Tank Commander – Stormbolter, Heavy Bolter, Demolisher Cannon, 2xMultimelta – 248pts
Knight Commander Pask – Hunter Killer Missile, Stormbolter, Heavy Bolter, Demolisher Cannon, 2xMultimelta – 278pts
Lord Castellan Creed – 60pts
Troops
Infantry Squad – Lascannon, Plasmagun, Vox-Caster, Plasma Pistol, Power Sword – 60pts
Infantry Squad – Lascannon, Plasmagun, Vox-Caster, Plasma Pistol, Power Sword – 60pts
Infantry Squad – Lascannon, Plasmagun, Vox-Caster, Plasma Pistol, Power Sword – 60pts
Infantry Squad – Lascannon, Plasmagun, Vox-Caster, Plasma Pistol, Power Sword – 60pts
Infantry Squad – Lascannon, Plasmagun, Vox-Caster, Plasma Pistol, Power Sword – 60pts
Infantry Squad – Lascannon, Plasmagun, Vox-Caster, Plasma Pistol, Power Sword – 60pts
Militarum Tempestus Scions – Vox-Caster, Plasma Pistol, Power Sword – 45pts
Militarum Tempestus Scions – Vox-Caster, Plasma Pistol, Power Sword – 45pts
Elites
Platoon Commander – Plasma Pistol, Power Sword, Relic: Relic of Lost Cadia, Warlord: Gifted Commander – 25pts, -2CP
Command Squad – Vox-caster, Regimental Standard, Medipack, Sniper Rifle – 25pts
Veterans – 3xMeltagun, Heavy Flamer, Vox-caster, Lascannon, Plasma Pistol, Power Sword – 100pts
Fast Attack
Scout Sentinel – Lascannon – 40pts
Scout Sentinel – Lascannon – 40pts
Scout Sentinel – Lascannon – 40pts
Heavy Support
Basilisk – 125pts
Basilisk – 125pts
Basilisk – 125pts
Dedicated Transport
Hades Breaching Drill – 80pts
+++ 1995pts, 3CP +++
There's no way for certain to say what secondaries Sven was playing during this event, but I assume he was often leaning into Boots on the Ground and Retrieve Nephilim Data due to his inclusion of utility units like the Veterans, Command Squad, and Scion Squads. I assume his third secondary was a situational pick between Bring it Down, No Prisoners, Assassination, and By Lasgun and Bayonet; as I described in my Boots on the Ground Appreciator section. 
This list packs a moderate amount of board control via its 60 Infantry Squad bodies and 3 Sentinels, while also fitting in indirect fire and some serious ranged threat in the form of his Tank Commanders. If you're looking to play Cadians, I think this list is the way to do it. 
This looks a lot like the Brigade style lists I've put together myself. If I were to run it, I would probably make some small adjustments. Personally, I find the Tank Commanders in this configuration a little too expensive for my liking, and I think I would miss my Full Payload Manticores. Obviously, Sven doesn't share my concerns because he's put up a good result. If it appeals to your sensibilities give it a try!
My Demolisher Tank Party
This is the latest iteration of my list. As you could guess, I'm a Boots on the Ground Appreciator.  
Spotter Details/Gunnery Experts Battalion Detachment – 0CP
Agents of the Imperium
Inquisitor Coteaz – Castigation, Smite – 95pts
HQ
Tank Commander – Stormbolter, Heavy Bolter, Demolisher Cannon – 198pts
Tank Commander – Stormbolter, Heavy Bolter, Demolisher Cannon – 198pts
Company Commander – Boltgun, Power Sword, Warlord: Full Payload (Manticore), Relic: Kurov's Aquila – 35pts, -2CP
Troops
Infantry Squad – Lascannon, Meltagun, Vox-Caster, Boltgun, Power Sword – 60pts
Infantry Squad – Lascannon, Meltagun, Vox-Caster, Boltgun, Power Sword – 60pts
Infantry Squad – Lascannon, Meltagun, Vox-Caster, Boltgun, Power Sword – 60pts
Infantry Squad – Lascannon, Meltagun, Vox-Caster, Boltgun, Power Sword – 60pts
Militarum Tempestus Scions – Vox-Caster, Plasma Pistol, Power Sword – 45pts
Militarum Tempestus Scions – Vox-Caster, Plasma Pistol, Power Sword – 45pts
Elites
Astropath – Psychic Barrier, Smite – 35pts
Command Squad – Vox-caster, Regimental Standard, Medipack, Sniper Rifle – 25pts
Special Weapons Squad – 3xMeltagun – 45pts
9xBullgryn – 4xSlab Shield, 5xBrute Shield – 270pts
Heavy Support
3xLeman Russ Demolisher – 3xStrombolter – 459pts
Manticore – Tank Ace: Full Payload – 155pts
Manticore – Tank Ace: Full Payload – 155pts -1CP
+++ 2000pts, 3CP +++
This list's primary feature is 5 Demolisher cannons spread across the Tank Commanders and Leman Russ. It's meant to bring an absolutely withering amount of firepower to the table, and apply pressure from anywhere on the board by doubling up on Full Payload Manticores. I use Bullgryns as a counter charge unit because the primary weakness of this list is the tanks getting tied up in combat. Between the Furious Charge stratagem, Coteaz's psychic powers, and the Astropaths' Psychic Barrier, the Bullgryns present a high volume of decent attacks with a splash of mortal wounds on a pretty resilient unit to help win the mid field fight. 
I've included a Special Weapons Squad and 2 Militarum Tempestus Scions Squads as I almost always play Boots on the Ground, and Retrieve Nephilim Data. At minimum I usually throw 2 Infantry Squads and the Special Weapons Squad in Strategic Reserve to help me with this. Conveniently, I can fit all of the infantry barring Coteaz, the Astropath and my Bullgryn in Strategic Reserves for 2CP if my deployment zone is tight. It's pretty similar to what I'll be bringing to NOVA, so hopefully I can put some results up finally! 
Wrapping Things Up
That concludes our look at Astra Militarum, but we'll have more over the next few weeks as we cover each of the game's factions and some of the subfactions. Until then, if you have any questions or feedback, drop us a note in the comments below or email us at contact@goonhammer.com.