With our inaugural event Goonhammer Open USA fast approaching, let's follow one man's mad scramble to clear out his backlog, build as much Adeptus Mechanicus as he can, and draw some truly dumb art.
---
Goonhammer Open USA is just a few shy months away, and I couldn't be more excited. Finally an opportunity to fly across the country, play some Warhammer, and hang out with the fine folks of the East Coast (though I will forever rep that West Coast is indeed Best Coast).
From the moment I heard "Narrative Crusade", it was obvious which faction I should bring. I had to follow my heart of hearts and bring my rusty boys, the Adeptus Mechanicus. They were the first faction that brought me into the hobby, and so it's only fitting that they be the first faction I bring to our first event.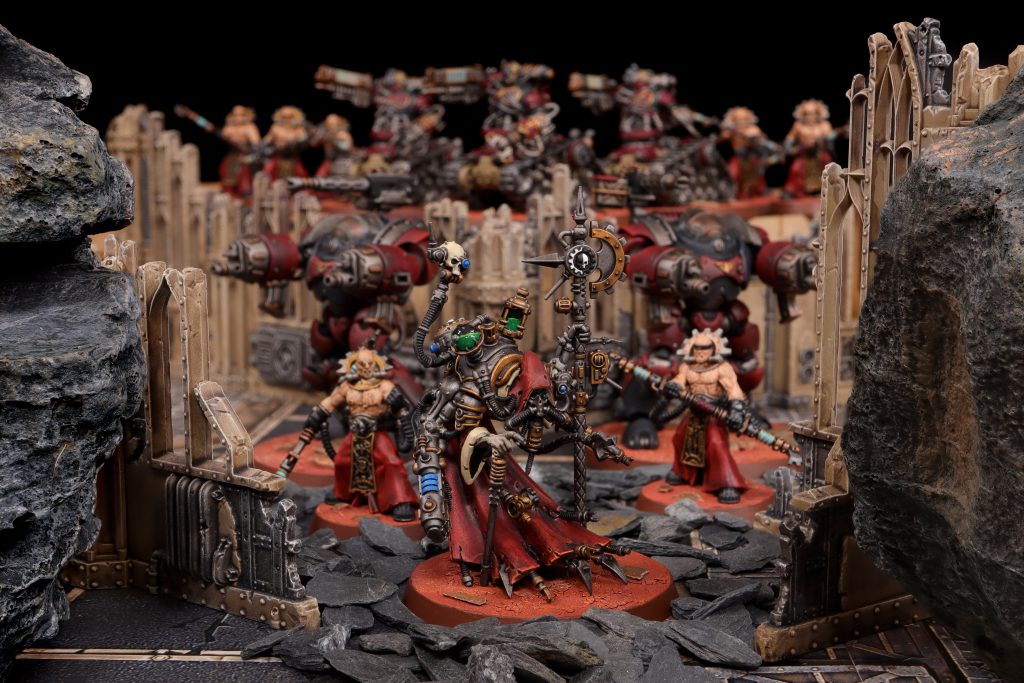 Given that it's a narrative campaign, I want to bring some fun models and just spend a couple days just casually chucking dice. Additionally, I want to spruce up my army with a couple new models. And given that Goonhammer Open USA is just over 50 days away, I'll need to hustle.
The Progress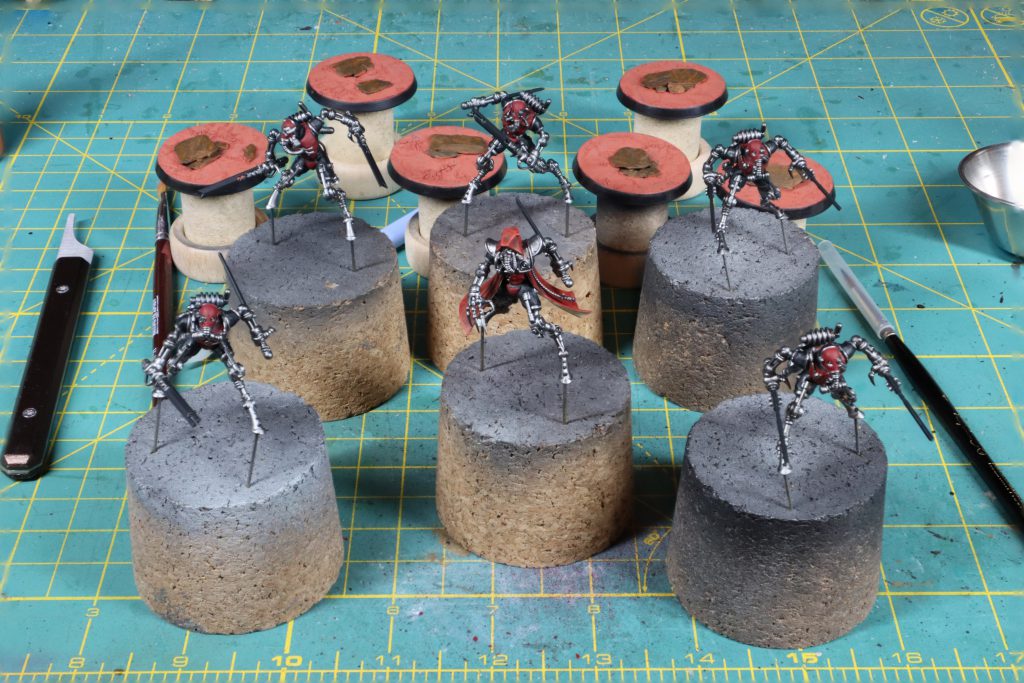 First up is a handful of Sicarian Ruststalkers to bolster the other five I just finished. You might notice that I'm building 6, and there are only 5 in a box. Well, don't worry. I went a little overboard and picked up two boxes of Sicarians. I'm sure there won't be a problem.
And don't worry, I have this under control. I've got my backlog sorted out nice and neat, and … actually, let me show you.
The Backlog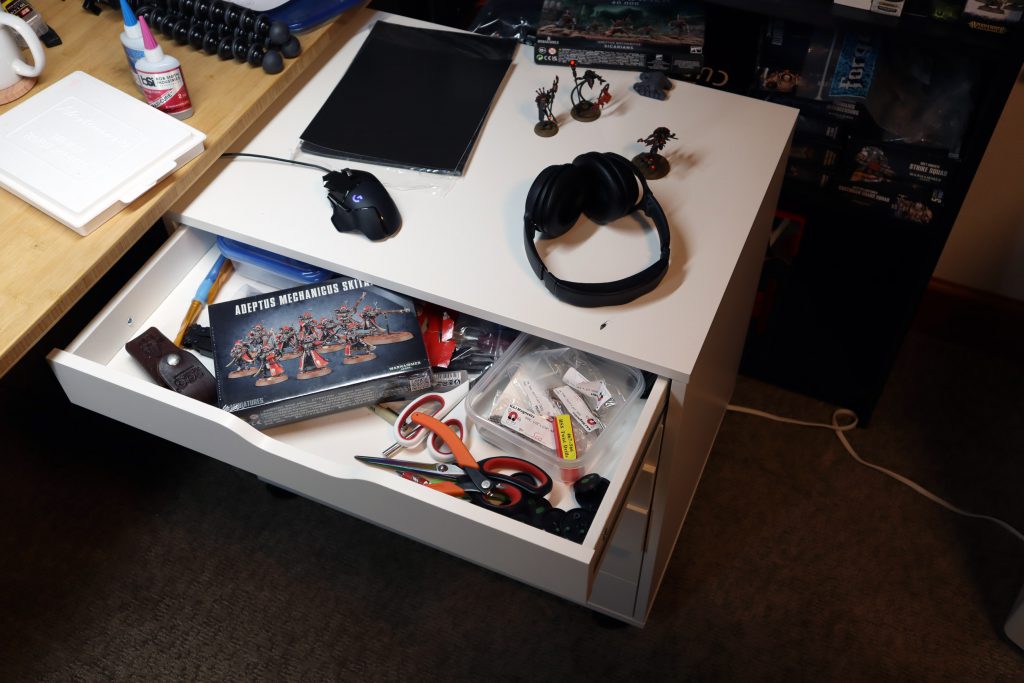 Here, The almost-full box of Sicarians is there in the background, and I've only got a single box of Skitarii waiting in queue –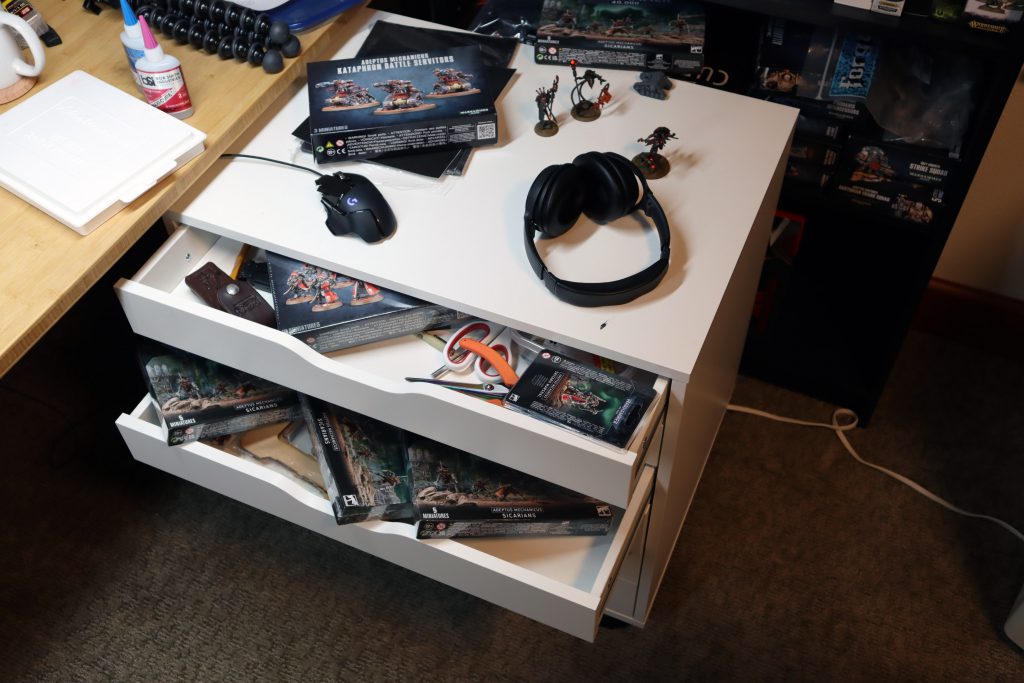 Okay, okay. So a couple boxes snuck into my backlog when I wasn't looking. While I don't think I can quite finish that many in under two months, I can certainly give it a college try –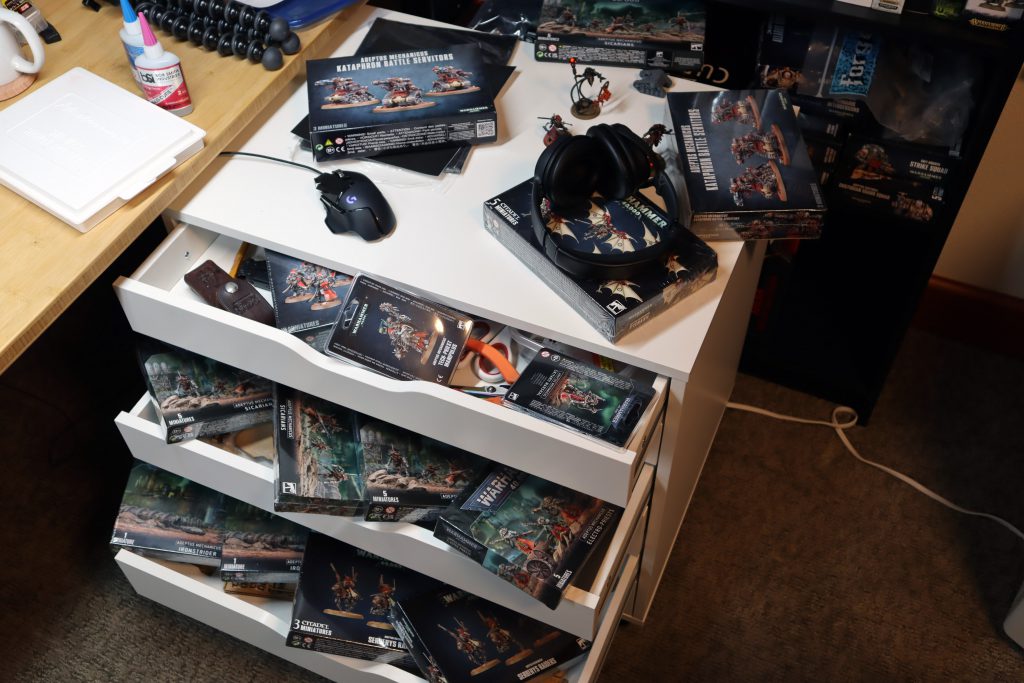 I … I'm not sure where this backlog is coming from. I'm trying to hold it back, but for every box I knock down, two more rise up. It's like an Admech Hydra …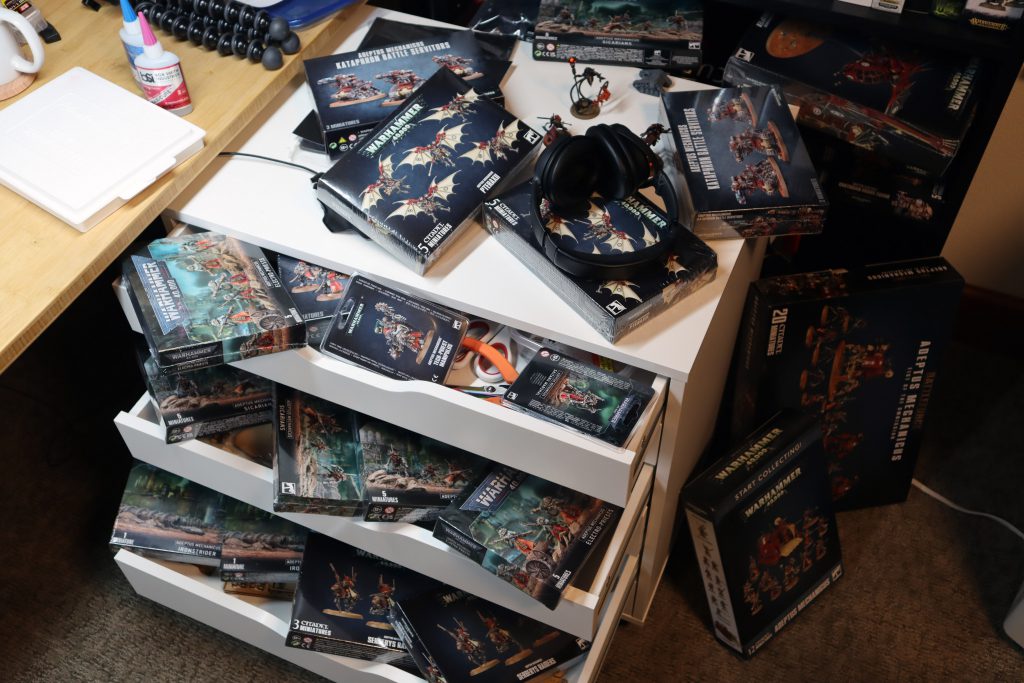 Alright. Fine. I need an actual game plan. While these Ruststalkers are definitely first on the chopping block, I have enough models here to keep me busy for a year. I'll need a list of which models I already have, what I want to bring, and I'll need to some deadlines for myself. In the spirit of Admech, it's time to crunch some numbers in a spreadsheet.
And isn't that the true spirit of the hobby? Not the competition or the glory. Not playing the game, painting models, or hanging out with good friends? No. It's really all about buying too much and frantically trying to make a tight deadline.
God bless us, every one!
---
WILL PENDULIN LEARN HIS LESSON AND STOP BUYING BOXES? WILL HE BUCKLE DOWN AND ACTUALLY MAKE A PLAN FOR THE NEXT TWO MONTHS?
FOR THE INEVITABLE BACKTRACKING, FRANTIC RUSH TO THE FINISH LINE, AND SOME MORE DUMB ART, JOIN US NEXT TIME ON PENDULIN'S ROAD TO GOONHAMMER OPEN!
Have any questions or feedback? Drop us a note in the comments below or email us at contact@goonhammer.com.