In these release-starved times us poor, beleaguered competitive players are starved for our regular diet of new rules, and the drip-feed of Psychic Awakening side-content in White Dwarf has been one of the few ways to get them, with two factions, Deathwatch and Harlequins getting their update via these. It's fair to say that last month's Deathwatch update had rather tempered expectations for how much impact these would have, but that didn't stop us rushing to devour the second set as soon as they appeared, even if we had only modest hopes for them.
Turns out we should have been much, much hyped because these rules are incredible.
With an appropriate array of dramatic flips and pirouettes, we think armies using these new rules are going to absolutely explode onto the competitive scene once events start up again, and despite only weighing in at five pages in a monthly magazine, this is one of the most powerful Psychic Awakening updates received by any faction, sitting in the upper echelons alongside Grey Knights, Tau and Chaos Space Marines. It's also packed full of rules that are exciting and open up new possibilities on the table, making it an absolute slam dunk in terms of quality.
It also presents a unique challenge to review, because there are two significantly different ways you can use Harlequins, and some of these rules change in power substantially depending on which you take. Harlequins can be played as a pure list (and definitely will be more after this) but they're also part of the Aeldari superfaction, and smaller detachments of them can be included alongside Craftworld or Drukhari options. In particular, a Vanguard consisting of one HQ (usually a Shadowseer up till now), two Death Jesters, and a Solitaire has been a reasonably common inclusion, sometimes dipping in further for some Skyweavers.
With two very different options for usage, we thought it was important to cover both – and luckily here at Goonhammer we've got writers hyped for both options.
Having decided that Dark Angels are too mainstream now, Gunum (the Hear Me Out King) has switched to pure Harlequins for the 2020 (looking like the 2021) season.
Meanwhile, myself (Wings) and Boon are both eagerly anticipating adding a bit of additional spice to our Aeldari lists.
What we're going to do, therefore, is go through the new rules and give some thoughts and ratings for the new options for each use case. Harlequins got three things in this update:
Pivotal Roles – new ability options for each of the four Harlequin CHARACTER datasheets.
Stratagems – nine new ways to spend your CP.
Relics – six spicy new toys to further enhance your characters.
Without further ado, let's get on with the show. Goonhammer reviews – accept no substitutes. Even from Sean. We all saw what you did Sean.
Pivotal Roles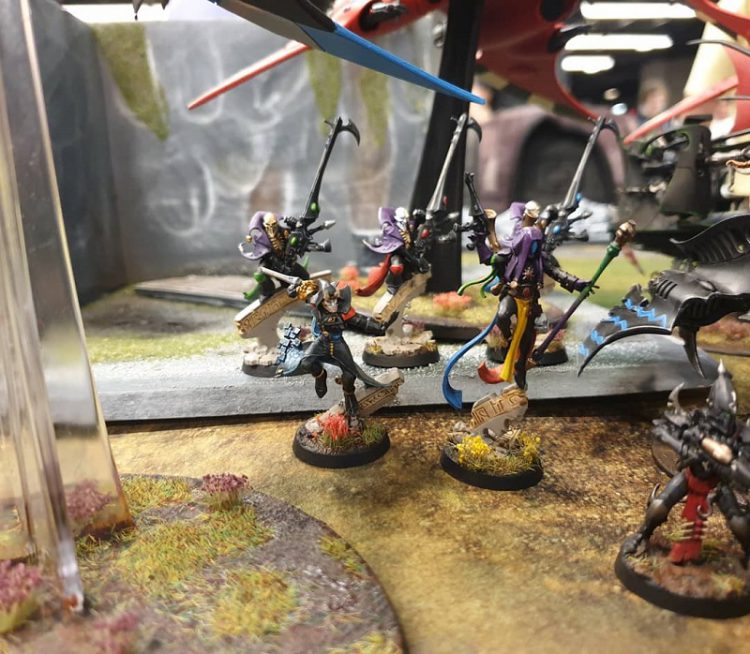 Pivotal Roles provide three new options that each type of character can take instead of one of their regular datasheet abilities. Each Pivotal Role can only be taken once per army. You can also spend 1 CP to add one of these in addition to the datasheet ability instead of replacing it using the Pivotal Role stratagem, similar to Craftworld Exarchs. From the way they're worded, Pivotal Roles taken instead of the normal ability need to be declared on your army list, while those added via the stratagem can be changed game to game.
We'll go through the options for each character, then discuss and rate them for each context.
Troupe Master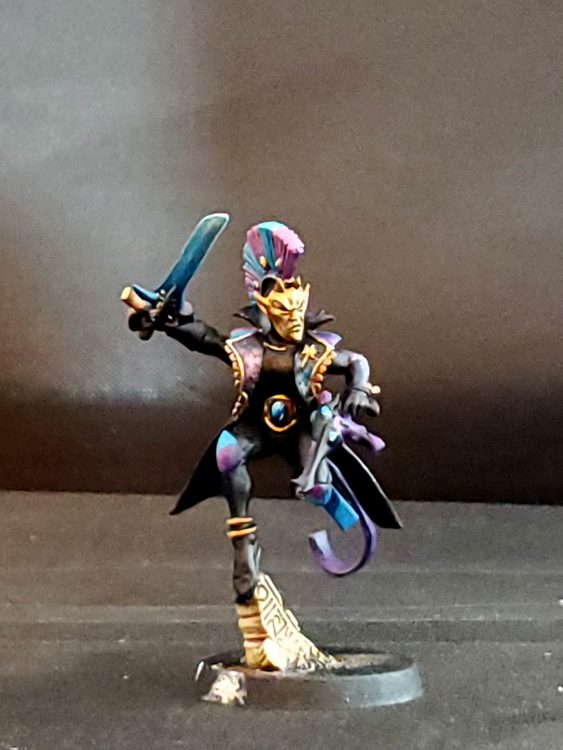 Troupe Masters can replace their Choreographer of War  ability (6″ re-roll wounds in the fight phase aura) with one of the following:
Prince of Light: 6″ bubble of re-roll charges for <MASQUE> units. If they could already re-roll, give them +1 to the roll instead.
Darkness' Bite: After this model fights, pick one unit it attacked and deal 2MW to them. Not hit. Not wounded. Just attacked. Nice.
Twilight's Grasp: The model always wounds on an unmodified 2+ against anything that isn't a MONSTER or a VEHICLE.
Pure Harlequins
Gunum: When we are looking at pure Harlequins there are pretty much three builds everyone can agree with. We have our Drive-by Soaring Spite melta-boats. We have massed foot players with haywire bike support Frozen Stars. Finally, we have shoot when you die bike focused Dreaming Shadow. In every one of these builds do you know what is -really- missing? Auras that effect everything from our Troupe Masters to our Skyweavers. Our buffs being purely infantry focused is a hard sell sometimes and that does get adjusted in this update.
Being able to give our Masters an option that really buffs a primary goal in all of these Clown lists is one of the biggest boons we can get. Getting our squad of six haywire bikes up into the face of anyone, then being able to give them a buff to almost guarantee that Frozen Stars charge bonus? That's really, really good. When we are looking at this from a pure Harlee perspective, Troupe Masters are a primary force multiplier that could be used as a pseudo-slam Captain, especially with things like Darkness' Bite. Their job is really to make our base clown forces better while at the same time not being no slouches themselves in close combat. With that being my primary perspective on this unit. when we are looking at just the Pivotal Roles, I think Prince of Light is amazing when stacked with Choreographer of War and makes our plans really fall together.
Now, of course, we have other options here but I think they play more towards what Wings and Boon are thinking about. If we are running 3 Troupe Masters, there's definitely a reason to take every one of these abilities when we are stacking them with some of the new Artifacts like The Twilight Fang mixed with Twilight's Grasp will really put the hurt on units that are trying to hold onto the middle, especially if there is a unit I want to try and bait out Transhuman on.  I'll be looking at making a Troupe Master who uses Darkness' Bite as a midfield threat to try and clear out little things like Infilitrators or Incursors from my juicy mid-board objectives.
Ratings
Prince of Light: A+ (Re-roll charges is good, who knew.)
Darkness' Bite: A when mixed with an artifact, B alone. The bonus damage output from a relic makes this guy frightening.
Twilight's Grasp: C- – There situations and matches where this will be -COOL- and there's some, like Tau, where it won't be.
Aeldari Soup
Wings: I'm expecting to test out two kinds of Harlequin soup going forward – a character Vanguard in my larger lists, and a full on 50/50 mix of Harlequins and and Craftworlds that I'll look at in the list section. For the Character Vanguard, I'm not expecting to stick any of these on my army list – I will now be using a Troupe Master over a Shadowseer, but that's in a huge part thanks to the presence of the Twilight's Fang relic sword, and at S5 with a bunch of attacks keeping re-roll wounds is the big play in my mind. The only place I might swerve on that is if I'm running a list which has a heavy need for relics elsewhere, at which point it's plausible that taking Darkness' Bite will be worthwhile – if you're running Midnight Sorrow for fight on death then you can guarantee tagging 4MWs onto something in an emergency with that or War Dancers, which is a very unusual capability and potentially deceptively powerful. While I haven't got any lists written up for it yet, I could definitely imagine running a Supreme Command of two Midnight Sorrow Troupe Masters and Yvraine, and in that I'd probably take Bite on one and keep Choreographer and take the sword on the other. An alternative would be to just take Twilight's Grasp and a Harlequin's Kiss, leaving you with a Troupe Master that's a reasonable threat to any character. Here though I wonder if it's ever really worth taking over the base ability, as not being able to punch up against stuff like Daemon Princes probably isn't worth the marginal gain
In my 50/50 list I will add Prince of Light on top of Choreographer of War with the Pivotal Role strat pretty much every time. I am pretty high on a Frozen Stars Troupe bomb as a new reactive threat for Aeldari, and those will want both re-roll wounds and boosted charges out of the webway.
Boon: First, I want to address a change in the ITC that has significantly shifted how I look at Harlequins in my lists. In the past, keeping a low drop count was always a priority for me as going first in many games often conferred a significant advantage – that only increased in importance late in the edition as the amount of rerolls and ignore modifiers proliferated. However, with the recent change to the ITC deployment rules the need to keep drop counts low(ish) no longer matters and going first or second has distinct opportunities. That means taking four drops just to bring in some bikes or kickass aelf ninjas is just pure upside, and with this update, the upside is BIG.
In the past, the Troupe Master suffered in bolt-ons from not really having a clear role. He's a generally cheap HQ that can do many things but doesn't particularly excel at any one thing. His most useful ability, Choreographer of War, doesn't really get big value in most bolt-on lists as you're often not taking Harlequins for troupes but rather bikes or characters. His most effective role is supporting assault units in combat where he can't be immediately picked off in the following opponent's turn and packs extra punch, but he's too slow to keep pace with assault units (realistically, Spears or Skyweavers) and as solitary hunter he's outshone by the aptly named Solitaire which is both faster, more deadly, and more survivable. In comparison to the HQ alternative, the Shadowseer brings increased resiliency by being more of a stand-off character and having the innate -1 to wound, provides more tailored support to other units (list dependent), and can sling a large array of targeted mortal wounds – at least when it wasn't miscasting and prismatically exploding. While the Storied Sword is a nice relic, there just isn't a great way to use it and there are other relics that better suit your needs in a Craftworld list. There just wasn't a good place for this guy.
As a bolt on, not much has changed here except one thing, Darkness' Bite. It gives a very clearly defined purpose to the Troupe Master as a character hunter, elite hunter, and in a pinch can deal guaranteed wounds on a high-value target. Bear in mind that it's based on a unit that is attacked. So in order to deal 2MW all you have to do is dedicated a single attack to a model/unit. This really provides you some flexibility. It provides real teeth, at no cost, to a character who now will almost always be trading up in a 1 v 1. There is no need, in my opinion, to spend CP to keep Choreographer of War as there are frankly other ways you'll want to spend that CP and better ways to overcome the lack of the wound reroll. Bare bones, this guy is 60 points – I want you to keep this in mind when we discuss the relics later on.
Prince of Light:

Wings – A: I think this helps enable a soup list that actually wants a Troupe, and it's very good in that.
Boon – C: This is a really nice boost for a support character – but generally speaking in a Craftworld list, he'll be too slow to keep up with Skyweavers and you aren't likely to bring Troupes.

Darkness' Bite:

Wings – B: I don't think this is my first choice often enough to get an A from me, but it is powerful and I'd expect it to be an auto-take in any list running a second Troupe Master – that just doesn't describe any of the lists I've written as of yet.
Boon – A: The Troupe Master is a jack (clown)-of-all-trades without a strong purpose – this trait gives him a very definite role as a counter-puncher and seeker missile.

Twilight's Grasp:

Wings – D: Ultimately too narrow. to win out in soup I think.
Boon – D+: This is a nice trait, but it's a very marginal improvement over Choreographer of War in common builds. However it is more limited by only affecting units that are not vehicles or monsters.The use here is most likely on a TM that wants to carry a Power Sword for when you're NOT replacing it with one of the two relic swords as it still makes him a very effective, but limited output puncher – even in this niche case, however, I'd prefer the reliability of guaranteed mortals from Darkness' Bite.
Shadowseer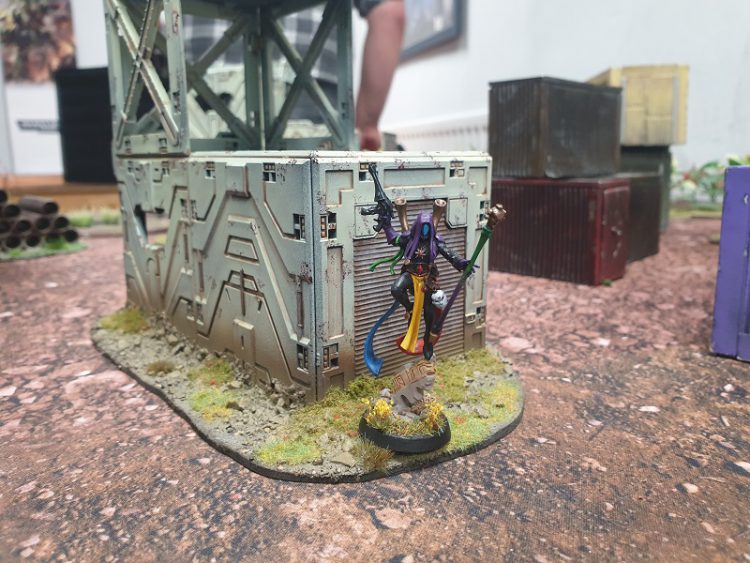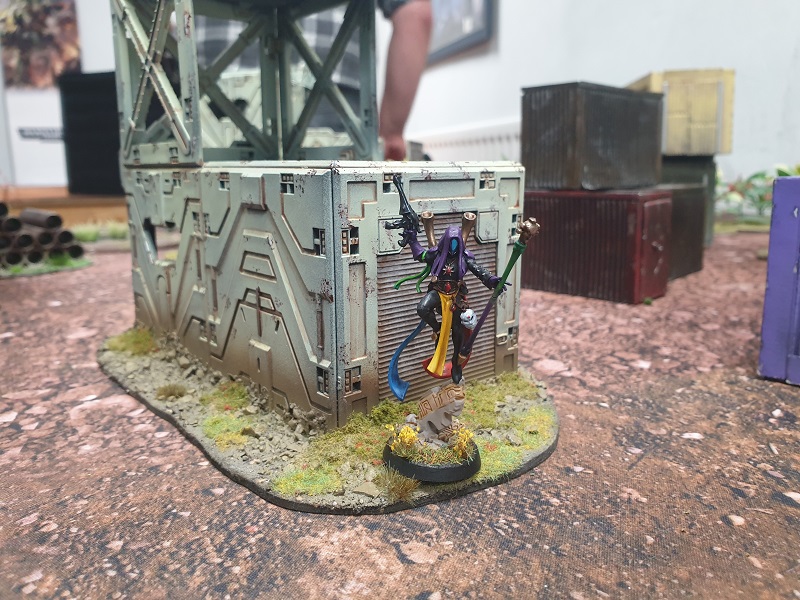 Shadowseers can replace their Shield from Harm ability (6″ bubble of -1 to wound against <MASQUE> INFANTRY) with one of the following:
Veil of Illusion: 6″ bubble that forces opponents shooting at <MASQUE> units within it to effectively subtract 6″ from their weapon's maximum range.
Gloomwake: 6″ bubble of cover for <MASQUE> units.
Agent of Bedlam: Enemy units within 6″ subtract 1 from their attack characteristic (to a minimum of 1).
Pure Harlequins
Gunum: Shadowseers are my bread and -butter- in Harlee lists. I think these are the major lynchpin to our survivability as well as great sources for disruption and mortal wounds (Looking at you Mirror of Minds (Wings Note: am I going to have to get the rolled up newspaper?)). Of the big three builds, Shadowseers really only fit in one of them as a true force multiplier as all of our abilities primarily only target infantry. Thanks to this MARVELOUS incoming update, we are finally looking at things that buff our whole army, insert Gloomwake and Veil of Illusion. The first thing I love here is that they affect -everything- we have which is a huge buff and helps eliminate one of the primary things I've always felt bad about in our army, the Infantry keyword focus.
Now, is Gloomwake awesome? No. It's not. It's fine. Is it worth giving our Shadowseer an artifact to increase the range of her bubble? Kinda. In two of the three builds above, there is something to Gloomwake. Bikes and vehicles have a 4+ armour save, so they can actually benefit from being in cover against AP0. Gloomwake can save us 2CP from having to do prepared positions against the long-range AP0 shooting of……. Okay.. wait…. there's an army that has this… Tyranids? uh….there's gotta be somebody… Sisters? Oh man…Okay so -maybe- this is bad. Most armies in the game have some sort of AP1 shooting and being in cover* with an army of 4++ saves, this just adds very little the current game state.
The other side of that coin though is the Veil of Illusion which I think is almost S tier. Gunum, you may ask, why is that? Well, Hear Me Out! dearest reader. This is 6″ to 9′" bubble that forces opponents shooting at your units within it to subtract 6″ from their weapon's maximum range. Think of how many games you've been in where people either don't move their 36″ range guns or move just within 24″ to be able to shoot at you. Look at things like Aggressors with their 18″ guns suddenly being moved down to 12″. How about the Harlee mirror match where their fusion pistols can't even shoot your rides? Think about your friends who would move their Lemon Tanks to the half range to double shoot you, but now have to move over half if they want to shoot you with their Heavy Bolters. Warhammer 40k has a BIG focus on moving and making our entire army harder to get too, is one of the most important things. Forcing our opponents to move CLOSER to us so we can grab them in a loving Caress, should not be understated. Putting this onto a Shadowseer who also has Shield from Harm and a +3″ aura artifact, I see being a staple in loads of Harlee lists.
Finally, Agent of Bedlam. It's… underwhelming. In two of our lists this -could- be useful, Bikes and Infantry. Our Shadowseers are going to be up and in the action with the boys so they could provide buffs, so that's, where I can see it being helpful, is for the counter charge after we murder whatever the Players touch. When it comes right down to it. I have a hard time trying to find when I would ever take this over Veil or just Shield from Harm. Maybe as standing in the back with some objective holders to steal away charge bonuses? Sadly, though I think there are more useful situations for this then Gloomwake, I think it's near the same tier.
Ratings
Veil of Illusion: A+ (An S in my heart)
Gloomwake: F
Agent of Bedlam: C-
Aeldari Soup
Boon: Nearly every clown list I've ever built, pure or otherwise, put the Shadowseer as the front-and-center HQ. It's a model with a lot of utility and can support multiple different builds. I have to be honest-  I'm not excited to use him. I actually think the Shadowseer lost out here by virtue of others having gained so much. There are two factors at play. First, Yvraine. She is frankly a better pure caster to have in your list – not as fast, but slightly better in combat and can more reliably dish out mortal wounds at a comparable cost. She can also ride in your transports for extra protection or just a free movement boost on disembark (gotta love that huge base) – if you want a support caster to dish MW – Yvraine is a better pick. Second, in a Craftworld list, the Shadowseer is an excellent complement to Skyweavers. But it's not clear to me that Craftworlds need Skyweavers. As a result I think the Shadowseer goes from an auto-take to… maybe not (I'm very high on the Troupe Master).
Wings: So I think I agree with Boon that in the immediate term I'm much less likely to take a Shadowseer in my Vanguards because of how much better Troupe Masters get. The biggest win here is Veil of Illusion, but that's clearly at its best in a pure army where you can go all-in on a buffed up Shadowseer that can provide alpha-strike protection to your whole force. It might be worth looking at in the mixed lists I'm planning, but the price of applying all the buffs you want gets pretty steep pretty quickly, and in the first instance I'm anticipating sticking with Shield from Harm and using Fires of the Mind to boost that rather than either maining this or taking it as well with Pivotal Role. I'm ready to be wrong on that one, or for it to be able to turn out to be good enough that it's worth stacking, and there are a few matchups where it's definitely worth adding (such as, ironically, against other Harlequin lists as Gunum pointed out).
Gloomwake is trash garbage and I don't understand why it exists. It smacks of the kind of rules writing that occasionally sneaks in where a bonus is handed out that doesn't actually have any relevant targets.
Agent of Bedlam is the one I'm willing to stake out a hot take on – if I do still put a Shadowseer into a Vanguard, I think this is now my first choice. I've had the beginnings of an Aeldari herohammer list kicking around for ages, and it seems like a decent ability to include in that context. It isn't setting the world on fire or anything, but I think it's going to be relevant a bit more often than the others think.
Veil of Illusion:

Boon – A- : I'm going to stake out a position here – this is a definite auto-take for supporting your Skyweavers and I give it an 'A' grade because it's clearly more impactful in such a list, especially in the early game. But here is why I'm going to caveat it – I think the protection it offers is going to be overstated in a lot of circumstances and some of the biggest benefits are situational – so I'm giving this a slight '-' degrade so that I can be different.
Wings – B: willing to be brought around, but currently I don't think this does quite enough most of the time when you aren't all-in. There are a few matchups where I'd add this with CP though – near-halving the shooting output Long Ranged Marksman flamer centurions appeals, and a few Tau lists bouncing around lean heavily on 18″ range weapons, so forcing them to come into the danger zone to engage could be good.

Gloomwake:

Boon – F- :There really is no use for this. Like, I get it. Weavers, etc. But I frankly don't even want to spend the words to tell you why that's a bad idea. The '-' represents my complete contempt here.
Wings: F – As the Master of Sanctity for the grading system it would be remiss of me to use silly made up grades like F- but this is real bad. Do not take it.

Agent of Bedlam:

Boon – C- : It's definitely a useful ability in supporting assaults but in a Craftworld list it still runs the same issues of the Shadowseer needing to keep pace with the Skyweavers. Again I'm assuming you're not running large sets of troupes. In terms of keeping your Shadowseer alive, it's a slight downgrade in my view due to it's impact in only one phase and so I personally find it less useful than the Shield from Harm ability.
Wings – B: I can imagine herohammer soup lists that still want the Shadowseer and I think you'll see this in them.
Death Jester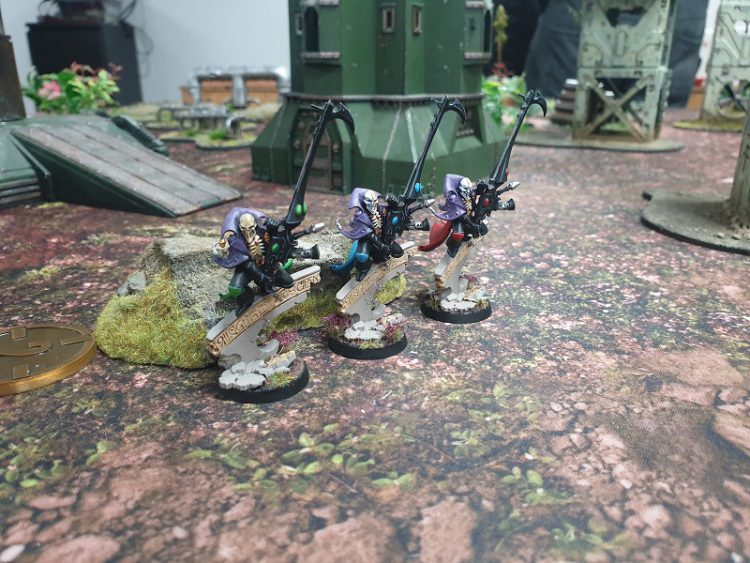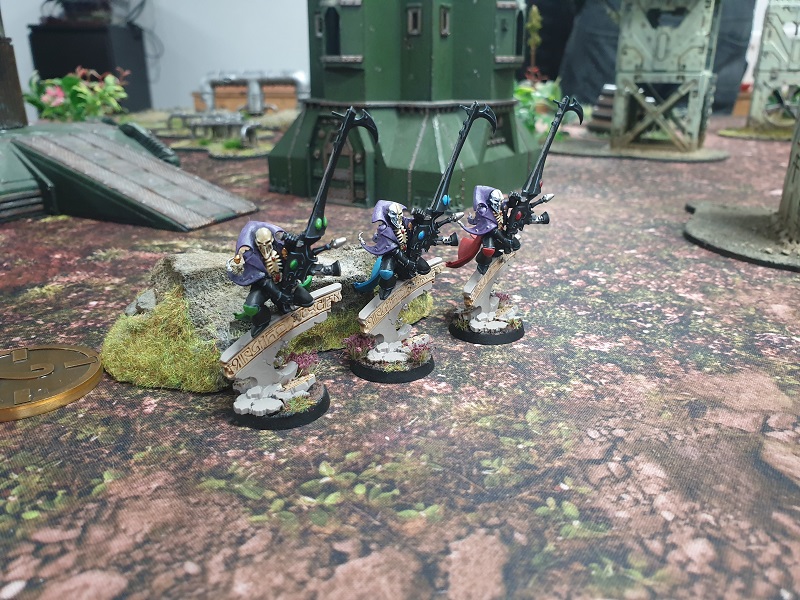 Death Jesters can replace their Death is Not Enough ability (select the first enemy model that flees from a unit they targeted) with one of the following:
Harvester of Torment: Triple this model's shooting hits when it targets units with 6+ models. Does not stack with An Example Made or any other ability that adds hits.
The Jest Inescapable: +12″ range, ignore cover, deal a MW on an unmodified 6 to wound.
Humbling Cruelty: When this model hits an enemy unit, that unit is pinned till the start of your next turn, subtracting 2″ from its movement and losing the ability to fire overwatch.
Pure Harlequins
Gunum: I'm ready to talk about the unit that I have always loved, but I felt that never fully made sense in the role it was supposed to be in. This is our sniper, our supposed char killer, but at the end of the day, his job is to mulch units and kill infantry. Thanks to these new roles, suddenly we can make this murder clown something that can do both. These guys plug into every kind of list we bring and are usually my go-to objective holders. which totally is worth their low cost. Looking at their new roles though? They might actually cross the middle of the table and start to reach out and kill somebody with The Jest Inescapable and Cegorach's Lament. When we are looking at DJ's now, we are really looking at sculpting each one to fulfill a certain role for our army. Do we want to lean into them being snipers? Or maybe we want to go with something like Harvester of Torment and maybe kill an entire unit of Guardsmen. Harvester plus their weapon's ability to do D3 mortals per model removed can be absolutely devastating to any infantry, who really don't enjoy seeing their friend's heads explode.
Last but not least we have Humbling Cruelty, the support option. Using something like, Heros Path, to get our DJ into a position where he can slow down a CC unit of say, Wolven, or turn of the overwatch of some Aggressors who are going to be first turn charged, is incredibly match up important. At the very minimum, stripping off two inches of movement from things that could be a long-range threat if they move, then combining that with our Shadowseers Veil of Illusion, could really start to add up to some board control. With our two very close combat heavy builds, this guy can really save our Players some head each by stripping away that early game overwatch, we can mess things up like Space Marine Eliminators who want to overwatch you and run away like cowards. Sorry, Tactically Reposition.
Ratings
Harvester of Torment: A (Kill all the units of 6 or more)
The Jest Inescapable: C+ (Those these guys are Snipers, their weapons rule set really says they are infantry killers, so I feel this takes away.)
Humbling Cruelty: A (Turning off Overwatch is good, but we have a lot of access to that. The -2 movement though? That adds just a little extra)
Aeldari Soup
Boon: Death Jesters have always been a staple in my lists, though at times a bit underwhelming. They either required a certain level of dedication to make them 'work' like taking Dreaming Shadow for Curtainfall access, which came with trade-offs. But they always serve an excellent post as a backfield objective sitter, light infantry/vehicle threat, and situationally, forcing morale and picking off of a unique special weapon or ability from a squad. As a character hunter there are better options, but they could reliably plunk a wound or two. I don't think the pivotal roles change this dynamic very much – what it DOES do is give them an all new role as a support character of assault and keeping an opponent at bay. Once we look at the relics however… this guy gets some real teeth.
Wings: Yikes.Death Jesters had the weakest baseline ability of any of the characters, and all of these are improvements over it, with two of them being outstanding. Realistically, from here on out pretty much any Harlequin-containing list I write is going to be aiming to feature two of these, one each with Harvester of Torment and Humbling Cruelty. Harvester makes these absurdly great horde clearers, near guaranteed to pay for themselves several times over in the course of a game. Against softer targets like guard infantry or Boyz just a baseline DJ will do a tonne of work plugging with Shrieker rounds, but thanks to Cegorach's Lament you can also punch them up to go after Intercessors if required. In a list with a Shadowseer, I think this guy also makes one of the best targets for Mythic Role, as you're going to have a lot riding on a single hit roll with him. Humbling Cruelty is even better though – I tend to find that in any list with Shining Spears I want access to overwatch suppression, but since the cowards took away my banshee mask Autarchs that's been harder to do, sometimes requiring you to commit a warlord trait. Now you can just…have it. Yeah. OK. Cool. I'll go ahead and do that then. The move suppression isn't totally irrelevant either, but as with all effects that just impact the move stat it'll be less good than you expect most of the time, as units that need to hustle tend to have advance and charge boosters. It remains real headache for a few things like Centurions.
The Jest Inescapable is still a very powerful ability, it just loses out thanks to the others most of the time. I could potentially see it popping up if are running a Dreaming Shadow Death Jester, as combining it with An Example Made makes them a real threat to characters, but one of the strengths of the new rules is that the presence of the Lament and Harvester means you don't have to faff around with trying to squeeze Dreaming Shadow in any more. I have found that Death Jesters sometimes end up as backline objective holders, so the range boost here is nice too, but I still don't quite see it out-competing the rest.
Ratings
Harvester of Torment:

Boon – B- : Craftworlds frankly could always use more anti-horde dakka – they excel at killing elites and but may run into trouble if you lose a key unit or two and suddenly cannot handle a lot of bodies or clear objectives quick enough. So why not add a bunch of Str 6 shots with the possibility or rending! This also adds a ton of flexibility when combined with the two relic cannons. However, you're going to run into a significant number of games where there is simply no or very little value-add here (Custodes, Tau, many forms of Space Marines, etc). For this reason, I think this is something that gets purchased at the table rather than something you retain on your roster.
Wings – A: I think there's almost no downside to taking this on your list on one of your Jesters, as Death is not Enough is blank text a lot of the time. When it's good it's incredible, and you can tune up to hunt Marines when needed with the relic.

The Jest Inescapable:

Boon – C- : Good but nothing to be excited for – extra range on your backfield objective sitter is always nice and the capability to splash a MW here or there is nice too. That said, there are a lot more utilitarian ways to use your DJs.
Wings – C+: A hard one to rate, because it's objectively decently powerful but in the context of the other two abilities falls behind, as most lists probably only run two of these. The C+ is an awkward fudge here – don't take it over the others, but definitely do take it over Death is Not Enough if you ever have three.

Humbling Cruelty: 

Boon – A+: This is the best new ability in my book. All Aeldari rely on speed and either keeping the opponent on the backfoot by positioning, or slowing their advance. Not only does this help slow down key units (potentially to a crawl) but it also throws in ignore OW to boot. Honestly, I'd have given this an A+ just or the ignore OW at range. The amount of things that I will want to unthinkingly launch some Shining Spears, Grotesques, or Talos into has just gone through the roof. There is no end to the utility of this ability-  it will always have a role.
Wings – A+: This ability is honestly kind of dumb – it's such a low barrier of entry to get access to an effect that Eldar desperately want. Love it.
Solitaire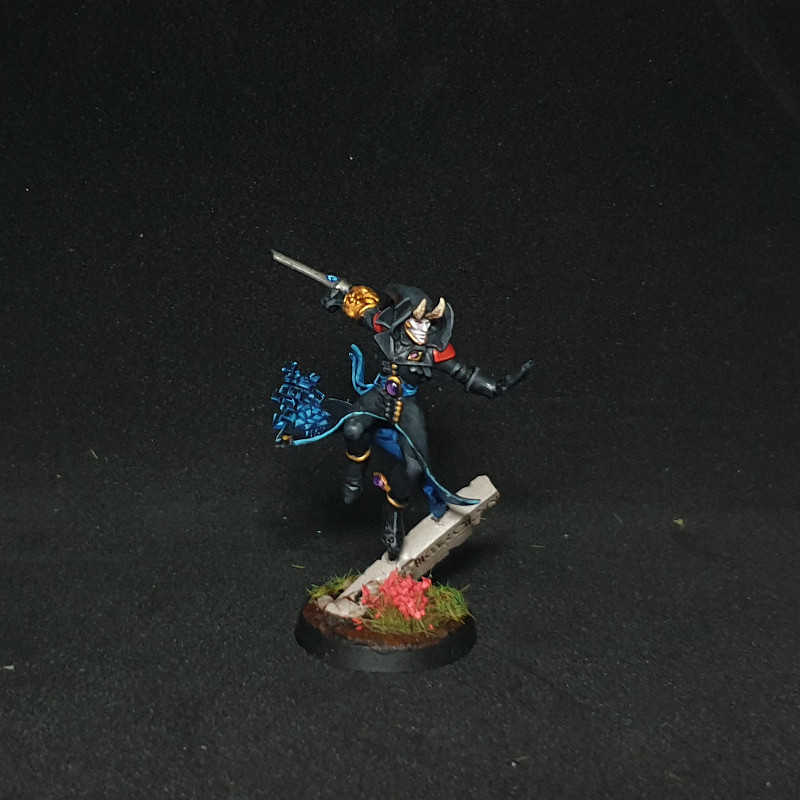 Solitaires can replace their Blitz ability (once per game move and attack boost) with one of the following:
Shocking Emergence: The Solitaire can deep strike, and rolls 3d6 discard the lowest for charges on the turn they arrive.
Chromatic Rush: The Solitaire auto-advances 6″, and can consolidate an extra 3″.
Unnatural Acrobatics: Attacks against the Solitaire are at -1 to hit.
Pure Harlequins
Gunum: The murder clown has gotten a bit of a buff here. Replacing Blitz I think is a really hard sell, as the extra attacks plus the intense sudden movement has been an amazing go too throughout its entire inception. I have used things like Heros Path to cheat my Solitare forward, to only come jumping out from behind a wall. These guys, in pure Harlequins, are our slam captain and really do their best to fill that role. Looking at these new abilities, I was a little underwhelmed at first but started thinking about applications. Chromatic Rush was the one that I thought was going to be the most useful, but after thinking about it I couldn't think of a ton of times I'd rather have this over Blitz. Using him as a rapid response backfield presence maybe? I just feel like this man's job is to go over there and this adds nothing really for that as he's already running out in the middle. Next Shocking Emergence felt okay as well, then and I realized it was just a free version of Heros Path, but I wouldn't be able to move my other chars around that I like to. Again, this is just fine. Getting that 3d6 charge is awesome, but people zone out the things you want to charge all the time, so I'd rather run this dude up the table then show up 9 away from some conscripts.
Unnatural Acrobatics + Blitz is where I think its at. Being -1 to hit for our Main Man is a huge deal to keep him out and about getting things done. MIx in Lighting Fast Reactions to get us to -2, then our Shadowseer spell of Veil of Tears to make him -3 to hit? Oh, and you're going to charge him into that Lord of Skulls that you just put Fog of Dreams on for a total of -4 to be hit? Wait, and you have The Suit of Hidden Knives on the Solitare to make every missed attack roll of a 1,  do a mortal wound on a 2+? (For those Dice heads out there, every attack would be rolled and any 5+ or lower would result in a Suit trigger). Being -1 to hit on one of our primary anti-character threats is a huge deal, and I think will be taken quite often. The Dodge-a-taire is born!
Ratings
Shocking Emergence: D 
Chromatic Rush: C-
Unnatural Acrobatics: A
Aeldari Soup
Wings: Shocking Emergence sounds tempting until you realise that Solitaires basically don't struggle to get where they need to be, and this will often make it easier for your opponent to screen them out. I think it'll occasionally still come up against stuff like Knight lists using a light anchoring force of backline infantry and characters, but strictly as something added pre-game as a better version of just deep striking them. Chromatic Rush…is OK? I'm a big fan of reliability and what this is essentially doing is replacing the extra attacks and 1″ of average movement from Blitz with absolute confidence in your threat range. It would also be a good pick if you were planning to put the Starmist Raiment on one, but now that Death Jesters can just turn off overwatch for free that matters less. Blitz also combos so well with The Curtain Falls that losing it is a hard sell. Unnatural Acrobatics opens up the prospect of making the Solitaire completely unhittable to combo with the Coat of Hidden Knives. I suspect that it will be turn out to be resource intensive enough not to be worth it, but I'm not going to totally write it off because Mental Onslaught proved that heavy setup combos can become worth it as you approach a 100% success rate once online. I don't see myself taking this that often otherwise – it's fine on rate, but doesn't meaningfully flick a switch that changes whether the Solitaire dies or not in enough circumstances to be worth one of my precious, precious CP. Solitaires are in the bucket with Shadowseers for not gaining that much from this part of their update in soup, but that's fine because they were already pretty decent.
Boon: Whether you're souping or not, the Solitaire only ever has one real role. Go murder something swiftly. Preferably many things. In fact, the more things the better and the swifter the better. He is exceptionally fast with or without Blitz and is such a good counter-puncher or objective clearer that it's hard to imagine you'd want to replace the capability to pop him out across a board with even more attacks. He is very flexible, very survivable, has a lot of strengths and not a ton of weaknesses for his price point. He does, however, fall under weight of attacks and to mortal wounds.
Ratings
Shocking Emergence:

Boon – D+: I just can't really think of a reason you would need this to the extent that you're going to replace Blitz. His assault range is so absurd that if you find yourself needing to keep this character off the board until Turn 2 to be in a risky charge position (something like a 70% success rate) then I don't think you're using this guy right.
Wings – C: I firmly believe that it will sometimes be correct to add this after seeing army lists.

Chromatic Rush:

Boon – C:  This… has some hilarious implications for some very CP- intensive combat shenanigans but they're gimmicky and I cannot recommend tailoring your list around such a so completely defined role as the Solitaire. On the balance, I think the movement is an advantage over the course of the game, but you sacrifice a couple of attacks in the turn you want it. It's an intriguing additional purchase at deployment, but I'm not sure the potential combat implications of the extra consolidation is worth the CP at game start.
Wings – C:  Again I see myself occasionally adding this, specifically against something like Tau where having multiple sources of overwatch suppression is worth it and I'm taking the Raiment.

Unnatural Acrobatics:

Boon – B+: If I look at the other items on this list – I don't see anything that either mitigates a weakness or advances a strength. Except this one – if weight of attacks is a killer for the Solitaire, then making those attacks harder to hit is a very enticing idea. If you're not buying this in addition to Blitz then it'll likely change how you use the Solitaire to be slightly more reserved – which I think is okay (more on this later). This also has some very interesting applications with the Suit of Hidden Knives and Lightning Reflexes in very select circumstances.
Wings – C+: I thing this will only see a lot of play if the combo actually proves worth it. I don't think you want to lose Blitz for it, and I would rather save my CP to keep the Solitaire alive with The Curtain Falls hit-and-runs than spend it on this.
Stratagems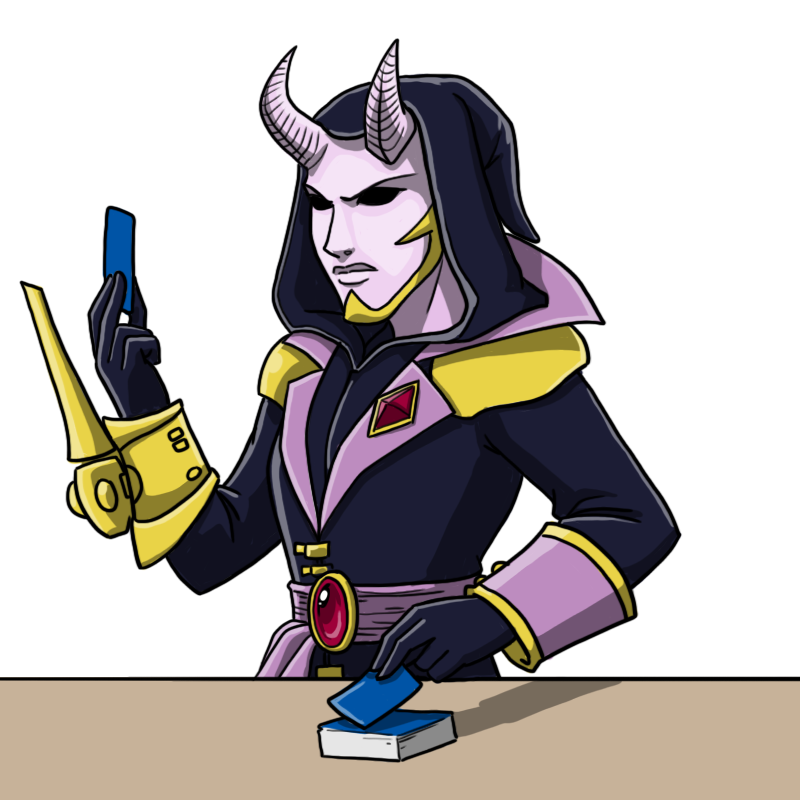 The following new stratagems are added:
Pivotal Role – 1CP: Use pre-battle to give a CHARACTER a Pivotal Role on top of their normal ability. You can still only have each role once per army.
Polychromatic Storm – 2CP: At the start of the first battle round, redeploy three HARLEQUINS units from your army. This explicitly allows you to use stratagems like Webway Assault on them.
Murderous Entrance – 2CP: Use the first time a HARLEQUINS unit from your army fights in a fight phase. If they charged, their weapons get +1 damage until the end of the phase.
The Curtain Falls – 2CP: Use when a HARLEQUINS unit would consolidate. Until the end of the phase, that unit can move, including falling back (but not advancing) instead of consolidating. Note that the same oddity that messes with the Yncarne's heroic interventions potentially stops this working on a unit that arrived from deep strike this turn. Check with your TOs!
Twilit Encore – 1CP: Use when an enemy within 1″ of a HARLEQUIN TROUPE falls back. After they move, the Troupe can consolidate up to 6″, ending up closer to either the unit that fell back or the closest enemy model. Edit Note: RAW there's some controversy over this at the moment, as since the move happens in the movement phase you technically can't end up within 1″ of the enemy. We think the intent is sufficiently clear that we aren't updating our evaluations for now, pending an FAQ.
The Foes of the Mind – 2CP: Use at the start of a shooting or fight phase. A Shadowseer's Shield from Harm ability applies to all <MASQUE> units in range for that phase, rather than just <MASQUE> INFANTRY.
Mythic Role – 1CP: Use pre-battle (and can only be used once). Select one AELDARI unit from your army. Each time it shoots or fights, you can reroll one hit or one wound.
Eye of Damnation – 1CP: Use when a Solitaire is slain by a melee attack. The unit that slew them takes d3 MWs on a 2+. It cannot be used at the same time as No Price Too Steep (Midnight Sorrow fight on death).
Virtuosos of the Webway – 1CP: At the end of your movement phase, remove a HARLEQUINS INFANTRY unit that isn't within 1″ of the enemy from the board. They deep strike at the end of your next movement phase.
Pure Harlequins
Gunum: There's a lot that was added here for us and as one the most CP hungry armies in the game, with only one way to get CP back, I think there's a lot to unpack here. I'll pull out a couple that is real standouts we should talk about that I think really stand out for a pure army. Twilit Encore and Virtuosos of the Webway. When we are looking at playing Harlequins, we are looking at being heavy in the melee side of the game and being very disruptive, which both of these can provide.
Twilit Encore really encapsulates both of these things for us. It gives us a continuance to our staying power in our opponents' deployment zone and could give us the opportunity to wrap things that we were just short of touching in the prior combat phase. Watching our opponent pull away their screening unit from combat to only have our players reach out and touch that tank or transport he wanted to shoot with, will just add to our pressure. Not only that, but them falling back could also give us free movement on their turn to maybe steal an objective! Movement in our opponent's turn can be used in so many ways and for 1cp, this is just awesome.
Next, the biggest deal for any close-combat unit is delivery.  If you can't get into charge range, you're dead. Virtuosos of the Webway only buffs that for us. Being able to safely deliver a unit of 12 Players with kisses right at our enemy's doorstep on turn 2 is pretty awesome. Not only that but since it could be any Infantry unit, we could teleport around Death Jesters or even a Shadowseer for investment in future turns. Finally, if we have some backfield Players that just got done clearing out some Drop Pod full of Marines, we can now use Virtusos to redeploy that unit anywhere on the table to put pressure on other locations.
Ratings
Pivotal Role: A+ – With Roles being a super important thing with this update, this is -required-
Polychromatic Storm: A – In ITC movement is incredibly important and creating a false front on a side of the board the moving those 36 players to the opposite side can be an amazing thing. Especially if you're going first, responding to your opponent's counter deployment is a huge deal.
Murderous Entrance: A- – This is a bit expensive, but +1 Damage can go a really long way with things like Kisses. Also, looking at a unit of Players with Caresses will make any Intercessor unit just start sweating. S5 -2, at 2D with 4 or 5 attacks a guy? Let's go.  (Not even to mention Skyweaver glaives going to 3D. Ooooof)
The Curtain Falls: A+ – THE awesome stratagem we have. Being able to crash into a unit, then fall away before being struck back? Just amazing for saving some Bikers who had just crashed into some Paladins. Again, expensive but the extra movement plus avoidance makes this just awesome.
Twilit Encore: A+ – Imagine you've got a brick of Players with Melta Pistols for some reason.  You shoot into some tanks alongside some Genestealer Cult screen or something, charge the screen, kill a ton then The Curtain Falls outa there, then spend 3cp to fight again. Then they fall back somehow still alive and now terrified,  you then spend 1cp for Cegorach's Jest to shoot the retreating unit again, then pile in six over into a diff unit who really doesn't want to be covered in murder clowns, maybe even tri-pointing them so your lads are now safe from counter fire. This is an incredibly useful strat for only 1cp that can be used in all kinds of manners.
The Foes of the Mind: A for Pure – This is a key strat for a lot of the lists I'm building, being able to increase the durability of all of our pure lists by a -ton-. Really great when stacked with +3″ relics and Veil of Illusion with our Shadowseers.
Mythic Role: B for Pure– One thing Harlees are missing is re-rolls, and this is pretty good for something like. Fusion Pistol Troupe Master, or if you are looking to buff up a Death Jester 1cp makes this pretty attractive for character buffing, not so much for a unit.
Eye of Damnation: D+ – It's not that I hate this. It -can- be useful if you just swung into a smash captain, but didn't kill him only to get hammered yourself. I'd rather use No Price Too Steep.
Virtuosos of the Webway: A+ – Movement is key. The delivery of melee units is key. Being able to go wherever you need for only 1 cp is a massive boon for our bois. Great start, in pure Harlee armies this will be used ALMOST every turn.
Cegorach. I don't have enough CP, please bless my Player of Twilight rolls.
Aeldari Soup
Boon: LOL CP. The very first thing I said upon reviewing what's in this was, "This army is far too CP intensive to work". Harlequins already used a lot of CP to pull some fun and interesting tricks – and that has only gotten more extreme. As a soup component – this could be extremely detrimental since Aeldari armies, generally, struggle to pull CP. For this reason I think a lot of these stratagems, as great as they are – get a lower grade for me.
Wings: God these are so good. Holy moly. Pour one out for Craftworlds and Drukhari not getting a stratagem page in Phoenix Rising. At least we can share these.
So first thing, these are absurdly CP intensive, and one add-on that I strongly suggest mostly-pure Harlequin lists should be at least testing is a Black Heart minimum battalion. 204pts gives you some backline objective holders, 5CP, and access to Vect, and that opens up realistic options for triple battalion lists that may actually provide the kind of CP backing these thirsty, thirsty clowns desire.
That's not my main angle here. In mixed armies, these are good enough that you want to be aiming to build a non-Harlequin half that requires as little CP as possible to power so you can spend, spend spend on these. I think some of this stuff is good enough that it opens up usages for units in these mixed lists you wouldn't otherwise have seen. Murderous Entrance, for example, makes a full Frozen Stars Troupe with 6-8 models armed with a caress one of the best general purpose counter-charge units available in the Eldar line, with the volume of S5 attacks needed to wipe out a mob of Boyz while also being able to switch to D2 to rip apart Intercessors, Possessed or Centurions. There's also some absolutely horrific stuff here in terms of screwing over an unsuspecting opponent. The Curtain Falls is great for its intended purpose of letting you hit and run, while also letting you take a reasonable stab at wiping out multiple units with that Troupe bomb, while Twilit Encore is going to completely ruin people who don't understand what it can do. There's a bunch of other spice here too, and while they're not going to quite be a GSC-level headache to play against, Harlequins can run rings around the unprepared now.
For this and the next section, it's also interesting to see how my and Boon's opinion splits, and I think it basically comes down to me thinking there's a real use case for trying to get Troupes into a Soup list now and Boon not being so sure. I guess bear that in mind as you check them out.
Ratings
Pivotal Role:

Boon – B: Similar to Exarch ability stratagems. This is situationally useful and provides yet more options for you at the table rather than in list construction (though you will need to plan for it's possiblity). Keep in your back pocket, in the course of the tournament you will use it at least once on a DJ or Solitaire.
Wings – A: I did make sure to cross check there are definitely situations I will use this in and the answer is yes – I expect to activate it every time on a Troupe Master in a mixed list, and sometimes add boosted Deep Strike to a Solitaire.

Polychromatic Storm:

Boon – B-: Upgraded Phantasm? Yes please. In soup lists I think this get expensive but you can use both this AND phantasm to completely upend your opponent. In Non-ITC this is incredible and in ITC as the Attacker you will eventually run into a situation, especially in Dawn of War deployment, where you'll be glad you have this. One word of caution, don't fall for the novelty here. If you need to redeploy but don't need to really redeploy more than one unit, remember that Hundred Swords of Vaul is also available.
Wings – B (A in non-ITC): An odd one – as of new ITC deployment the situations where you must use it have gone down a lot, and the army is so CP hungry that as the attacker you want to be trying to avoid needing to use it. Still, when you do want it it's fantastic to have.

Murderous Entrance:

Boon – B: Situationally useful, but expensive. This has some real nasty implications for use on high-attack characters with or without relics and Skyweavers with glaives.
Wings – A: Makes a full Troupe a unit I want to try and make work in a mixed list.

The Curtain Falls:

Boon – A: Still expensive but undeniably awesome and incredibly Harlequin. This single stratagem is going to lead to more judge calls and disbelieving rule book references than anything else in this update. The amount of shenigans that can be caused by this and War Dancers (pile in and fight again) and some of the options available to you with relics is going to cause someone to rage quit, possibly table flip. Alternatively, you can use it seek safety by before being attacked back – that'll probably be acceptable for your opponent.
Wings – A: Good grief. Make sure to prepare a handy powerpoint to whip out to explain to an opponent what's about to happen to them when you go Full Clown with this.

Twilit Encore:

Boon – C: This is frankly an excellent stratagem and gives a lot of options combined with things like Cegorach's Jest. However, I don't see it as particularly useful in soup lists as it's restricted to Troupes. Excellent in pure though to continue to lock combatants.
Wings – B: As above I want to try Troupes in a mixed list, but this gets the lower grade – Murderous Entrance is the tool powerful enough to make me want to use them when I didn't before, and this is a nice to have that makes them better in the case that they prove good enough.

The Foes of the Mind:

Boon – B+: The stacking of this on a unit(s) of Skyweavers with the other defensive buffs awarded by the Shadowseer is an excellent tool for keeping yourself in fighting shape in the first round or situationally beyond.
Wings: A – in a mixed list with Bikes and Starweavers I will activate this most of the time if I go second.

Mythic Role: 

Boon: D+ – I like the ability, but in a soup army it's just not really needed. A single reroll on a hit OR wound tends to benefit low volume, high impact attacks and I struggle to find a place in a soup Craftworld, Harlequin, Drukhari, or Ynnari army where I think this is going to be worth the CP.
Wings: C – I think that's a bit harsh. The key place I would see this working is on a Harvester Death Jester against something like Orks, where I'm reasonably confident that it would give a boost in efficiency over the course of the game to be worth it. The challenge in soup is that you actually need a Shadowseer to do that, which won't always be true any more. While it can go on any Aeldari unit there are surprisingly few that super want it – best other option I can immediately think of would be a Ynnari Wraithseer with a D-Cannon and the stupid robe. Surprisingly OK on the Avatar of Khaine as well, but not immediately convincing me that he's suddenly a good idea. I have had multiple people tell me I should use it on my precious Wraithknight as well, but to be brutally honest he's so CP hungry that I don't think he's the right choice to combo with the clowns.

Eye of Damnation: 

Boon: C- – Potentially useful to finish off a character or high-value model, but I wouldn't take a risk on this against anything with more than 2 W's remaining and I wouldn't save a CP for it either.
Wings: C – meh. One of the big gains out of this is that the new options for the Death Jester free me up to run pure Midnight Sorrow in my Vanguards,

Virtuosos of the Webway: 

Boon: D+ – Again, with soup armies it's unlikely you're bringing the types of units with which you want to use this stratagem or else it's just not really needed (characters).
Wings: B – I've been screwed over by this effect out of GSC before and it basically can't exist and be worth anything less than a B, because if you're going second the reach this gives you to tip a close game by stealing an objective or hiding a possible kill late game is very, very real.
Relics
The following new Relics have been added:
The Shadowstone: Increase the range of a Shadowseer's aura abilities and powers by 3″
Cegorach's Lament: Replace's a Death Jester's weapon and boosts both of the firing modes. Both are increased to 36″ range and AP-3. The single-shot mode (here called Wail) is damage three, and inflicts d3 MW plus -2 Ld each time it slays a model. The wording on this part is different than the default gun, implying that the Ld modifier stacks if you slay multiple models (which is possible via the Harvester of Torment pivotal role).
The Twilight Fang: Replace a Troupe Master's Harlequin Blade or Power Sword. S+2 D2 AP-3, and you get additional attacks equal to the current battle round number. Yikes.
The Veil of Tears: The first saving throw the bearer fails each turn is auto-passed instead.
Domino Shroud: Once per battle, the bearer can essentially teleport 12″ at the end of any phase, ending anywhere outside 1″ of the enemy. They cannot charge in a turn they do so, but can use it in a turn they already charged. Like The Curtain Falls, bear in mind that RAW as it stands you can't use this and then heroically intervene, as the rules for redeploying specifically prevent any movement other than charges, pile-ins or consolidates. However, as a reader has pointed out being able to use this after you've charged lets you do some truly baffling things by making a successful short charge then teleporting nearer to a long-bomb that you missed, or into the middle of the opponent's back-line to pile into stuff.
Destiny's Jest: Select one of the following effects during deployment, or roll randomly for two (re-rolling duplicates):

+1A
+1S
+1T
+1W
+3″ M
+1AP to all melee weapons
Pure Harlequins
Gunum: –Pfew- Okay GW, you can stop giving us so many good Artifacts. I have too many artifacts. Why can't I hold all of these Relics!  Seriously, we are just rolling in these things and when we are looking at a pure Harlequins army, I can't find a way we don't spend 3 cp to take the full compliment. (Please see my plea for more CP earlier.) Some of these seem to be duplicates of other Relics we have that are not Masque locked, which I think is a really good thing. It also allows us to do crazy stuff, like double up abilities by using items like The Shadowstone and Cegorach's Lament. Essentially, the standouts for pure Harlees here are things that buff our Army or make one or two guys real HUGE threats.
Ratings
The Shadowstone: A – A non-masque locked 3″ aura increase for Shadowseers is awesome. Also, don't sleep on the 3″ extra for spells as well! I think this is another auto-take from this list. (editor's note – by "non-masque locked" Gunum is comparing this to the previous option for aura boosts, The Scintillant Veil from Silent Shroud, not saying this stops the abilities being <MASQUE> specific where relevant. Delete that half-written comment. We'll wait). 
Cegorach's Lament: S+ (Ultra GOLD) – I don't know how you are able to avoid taking this weapon. Harvester of Torment + Cegorach's Lament means that the basic troop unit is probably really dead. And if they aren't dead, they will be -6 leadership and running away. At 3D, -3 this gun is just -awesome- and with the increased range, this guy will need to be dealt with. Elite units will tremble at this guy.
The Twilight Fang: A+ – Make your Troupe Masters into death blenders. What's not to like. Oh yeah, I CAN ONLY TAKE 3 ARTIFACTS! Def a big choice if you're pushing that foot presence or hide the guy in a ride, jump out and -take- things from people. (Like Objectives, or their pride.)
The Veil of Tears: A – Another really cool artifact that could be amazing on things like Dodge-ataires. (I just went there. You can thank me and my -3 to be hit Solitaires later) This really lends itself to the idea of keeping you important murder characters alive. The fact that our opponent always has one wound negated is a huge deal from Slam Captains all the way to Ragnar. (Not really though. Avoid Ragnar still.)
Domino Shroud: B- (A+ for Flavor) – This is one of the most Harlequin relics in the game. It just -feels- right. Just being able to "Nope" outa combat, any direction is a huge deal. Now, is it worth taking one of our plump Relic slots? Maybe. Probably not. BUT! Putting this on a Solitare that got caught out in the open, then just nopeing out of combat to be rechargeable on the top floor of a nearby ruin, or even pushing deeper into your opponent's lines to set up MORE disruption. This thing is awesome, I just don't have SPACE!
Destiny's Jest: F (maybe a C) – I don't need combat drugs. I'm already high on life and the thrill of my dad jokes.  (Again, when would you take this with all these other options + the options in the book, THERES TOO MUCH STOP)
Aeldari Soup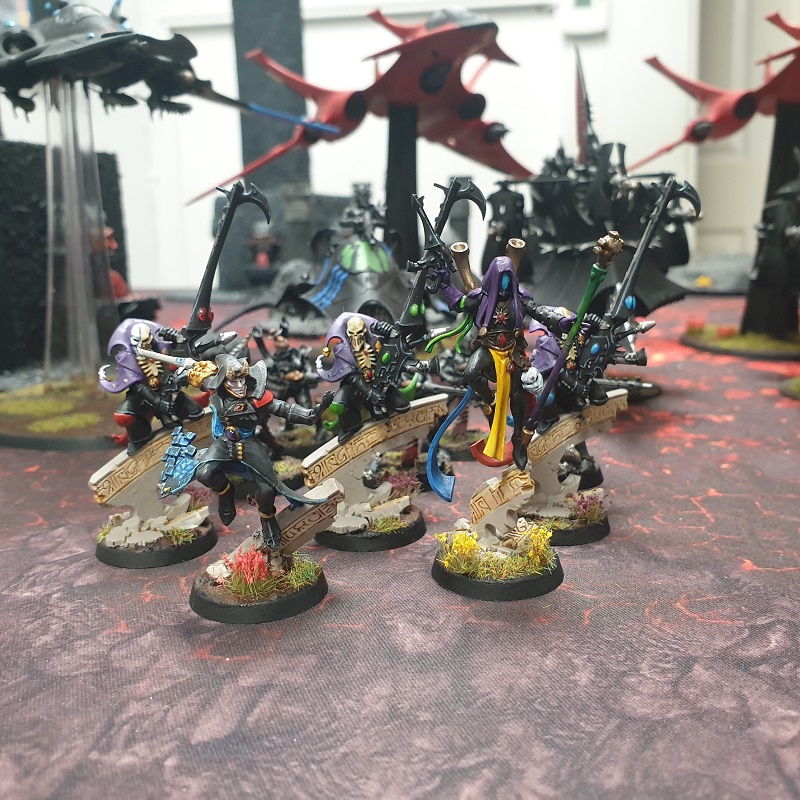 Wings: We have Too Damn Many options and I think we have to be quick and brutal here – there's some great stuff in this list, but it's competing with some already great options from the main book and for your limited CP supply. Two of these leap and bound over that hurdle and will see play in most soup lists (Cegorach's Lament and Twilight's Fang) and the rest, bluntly, won't. How tragic that we only get two new fantastic relics. I weep. (note: my ratings here are assuming the kind of soup that is at most 50%-ish Harlequins. If you're adding a Drukhari min-battalion for CP, use Gunum's ratings)
Boon: Man, if CP was an issue before, just wait until you get a load of these relics. It's embarrassing, really, just how stacked the Harlequin armory is with incredibly useful items that forces you to make some real challenging decisions. If my first thought was how intensive the CP was for Harlequins, my second was, "Are you guys seeing these relics?" followed by frantically theory crafting elaborately killy combinations. This is where this update goes from good to amazing in my eyes. The bottom line is utility and flexibility.
Ratings
The Shadowstone: 

Boon – B: Think the aforementioned Skyweaver defensive buffing and psychic increases (21″ Smite/Shards of Light) as well as giving you more flexibility around Twilight Pathways. Solidly good but list dependent.
Wings – D: Even in my 50/50 list I am not taking this  – instead the goal is to make sure my deployment footprint is still small enough that I can get all units tagged in to Shield From Harm without it.

Cegorach's Lament: 

Boon – A: Debatable, but this is a straight upgrade over Curtainfall (as Wings convinced me) which was already good.  A big benefit here is that you aren't locked to a Dreaming Shadow detachment to take it which was often a big trade-off. If you're running multiple Death Jesters, however, I suspect it won't be uncommon to see both of these relics on the table. As Chase mentions, the ability to just annihilate infantry units is stunning with the Pivotal Roles factored in.
Wings – A: Eyup. Not being masque-specific is super helpful for list construction, and letting you level up your Harvester DJ to go after multi-wound models is great. The only reason I don't think this gets an A+ is that I think it's probably a trap choice in some matchups – it doesn't massively change your ability to murder Boyz with the shrieker profile, for example. Even then it'll sometimes be worth it thanks to the range. What a great relic.

The Twilight Fang: 

Boon – A+: I honestly could not wait to talk about this item. I cannot gush about it enough. Recall that I asked you to remember that a bare bones Troupe Master weighs in at a modest 60 points. This item takes that Troupe Master from a modest infantry killer that can deal a couple of guaranteed MW and makes him into a serious threat against anything on the table and which will always trade up. I'll discuss my plans for this guy when I preview a draft list, but this relic defines Harlequins to me – the ultimate in flexibility and swift killyness.
Wings – A+: What Boon said. Seriously so good that I'm now looking at some lists and thinking "ugh do I have to take a Solitaire, Troupe Master just does it better".

The Veil of Tears: 

Boon – B- : I really like this item, I do. But I also struggle to think that I'd take this over some more offensive items on the list or, more likely, the Suit of Hidden Knives on a -1 to hit Solitaire.
Wings – D: Doesn't ever beat out the others and honestly I think this is a trap effect anyway – Harlequins characters die to rate of fire or mortals, and auto-passing a single save when you can't even control the timing won't make the difference enough of the time.

Domino Shroud: 

Boon – C: If it allowed for Heroic Intervention it could be an interesting gimmick, but as it stands I feel the same way about this as I do about the Veil of Tears. In all likelihood, I'd use this as a safety valve to keep a Solitaire who found himself in the open an move it out of sight following an opponent's movement phase. It's an option but one I can't see myself using with the other options in the armory.
Wings – D: This is aimed at a murder character, but the problem is that for them to be good enough for you to want to invest in this they'd need another relic.

Destiny's Jest: 

Boon – F: I can't comprehend how anyone can care about this in the face of everything above and in the actual codex. I guess you can forge a narrative or something.
Wings – F: if the Shadowstone didn't exist maybe there would be a use on a Shadowseer for the move boost, but it sure does exist, so this sure is largely worthless – there's no meaningful change to the capabilities of a unit you can make with this that isn't done better by another relic.
Army Lists
Gunum's Pure Harlequins
Okay, so when you're reading through this the first thing you'll notice is that I didn't mix up my masques. Normally there is a lot to be said for taking masques like Frozen Stars as a set of Battalion and having different options. Since I am writing about a Pure Harlequins list, I wanted to go with a pure Masque build as well. I went with Dreaming Shadow due to their ability to be almost useful in every phase of the game. Kill one of my clowns in CC? Get shot in the face by a melta pistol. Want to go hard on bikers? They shoot up your impulsers who had gotten a little too aggressive. I went with two Battalions for the -needed- CP and a vanguard to host my elites for another CP. Gets me to 1 cp short of a Brigade without having to take the taxes of our Heavy slot. Also, I spend 7CP before the game even starts, so that's a fun thing to do. There's so much we can do before the game even begins, against showing how CP hungry our faction is. Relic selection I think was also really hard here, once again due to just how many options we have. I decided to really lean into the things that I felt would buff my army the most, along with throwing my Pivotal Roles on my Warlord Shadowseer, my close combat Troupe Master, and on my Dodge-a-taire. I went with the Shadowstone, Cegorach's Lament, and The Suit of Hidden Knives. Using my warlord trait of Warden of the Dead with the +3″ to my Shadowseers aura is going to really protect my army if I go second, plus increase the threat range of my army as I push up the table. Being able to maximize Veil of Illusion and The Fires of the Mind to keep my army as safe as possible is a -must-. I also put the most protective spells on that same Shadowseer as the extra 3″ for Veil of Tiers and Fog of Dreams will help buff/debuff my army to make my little combos really pay off.
HEAR ME OUT GOONHAMMER: PA Murder Clowns - Click to Expand

2000 Points

CP Spending – 14cp > 11cp Extra Relics > 8cp Pivotal Role x3 > 7cp Mythic Role

Battalion Detachment –

Masque Form: The Dreaming Shadow: Sombre Sentinels

Enigmas of the Black Library (2 Extra Relics)

HQ:

Shadowseer: Dreaming Shadow: Warlord: Warden of the Dead, Fog of Dreams, Veil of Tears, Shuriken Pistol, Pivotal Role: Veil of Illusion, Free Relic: The Shadowstone
Shadowseer: Role: Regular Neuro Disruptor, Mirror of Minds, Twilight Pathways.

Troops:

3×10 Troupe w/ Harlequin's Kiss, 2 Fusion Pistol per squad.

Battalion Detachment

The Dreaming Shadow: Sombre Sentinels

HQ:

Troupe Master w/ Fusion Pistol, Harlequin's Kiss Pivotal Role: Darkness' Bite
Troupe Master w/ Fusion Pistol, Harlequin's Blade Role: Prince of Light

Troops:

3x Troupe w/ Fusion Pistol, Harlequin's Blade

Fast Attack:

6x Skyweavers w/ Haywire Cannon, Zephyrglaives

Dedicated Transport:

3x Starweaver

Vanguard Detachment

The Dreaming Shadow: Sombre Sentinels

–HQ:

Troupe Master – Role: Regular w/Fusion Pistol, Harlequin's Caress

Elites:

Death Jester – Role: Harvester of Torment – Extra Relic: Cegorach's Lament, Mythic Role
Death Jester – Role: The Jest Inescapable
Death Jester – Role: Humbling Cruelty

Solitaire- (Dodge-a-taire.) Pivotal Role: Unnatural Acrobatics, Extra Relic: The Suit of Hidden Knives
Okay, so now that you've had a chance to read through this, I'm sure there are some questions! First off being my Starweaver metal boats. I've found having some rides with hidden melta being able to drive around and be a spooky presence almost works as distraction Carnifex for my 10x Troupe units. As I will be pushing them up the board with Twlight Pathways and Virtuosos of the Webway, presenting my opponent with bad choices to shot at instead of my murder squads I think is very important. Also as Dreaming Shadows, if we can get those guys get blown outa their rides, they are still a threat that needs to be dealt with right away due to the big melta threat. And even if they charge us and kill us in CC? Time to eat some pistols to the -face-. The counter punishment provided by this Masques trait makes it something that is always going to be doing -something- which I think is incredibly important. Next is my Mythic Role target. Again, one of the biggest issues for Harlequins is our lack of rerolls, and having guy who only gets one shot that hits on a 2+, with no reroll makes rolling a one feel real bad. (I'm looking at you Drukari Arcons.) So doing the best we can to mitigate that on what I consider, one of our best offensive tools, incredibly important. On top of that, we can put our Death Jester in a ride to make sure he always is on the hunt for those units of 6+ and always has the best chance to get his three hits in there to maximize damage.
Next, two of our Troupe masters will be in the rides as well, also melta-pistoling things, followed by getting out to go fight. Due to their very cheap cost, they are able to easily trade up for their points. Not only that, thanks. to Dreaming Shadow, once those Smash Captains run into him and most likely murder him, he has a shot to introduce him to his melta gun Lucy and take the guy out as well. I'd go into my Dodge-a-taire but I've already sung his praises enough, just picture tossing this guy into a Space Wolf intercessor squad at -4 to be hit, and seeing that unit kill itself because it has too many attacks. These are the dreams I want to live.
Finally, let's just talk about how this list stacks up in ITC. The things people are going to pick against this without a doubt, and I think most Harlee lists, is Head Hunter, maybe Gangbusters and finally Butchers Bill for killy secondaries. I don't think there is much we can do on a defensive end to avoid Gangbusters or  The Butchers Bill, but if people pick Head Hunter we can play very defensively without chars and maybe hold on to losing much more then one of these by the end of the game. Things I'll be looking to pick for sure are Recon, The Butchers Bill, Postman, and -maybe- King of the Hill. We can utilize the Shadow Seer and all of the melta pistol troop to hold the center and get close to 2 points on Recon AND King of the HIll using different units with all of our Chars. I think the offense with the Haywire Bikes mixed with the Troupes being able to make massive use of Murderous Entrance as well as the defense provided by our 4++ and -1 to be wounded from Sheild from Harm makes our lads an incredible threat that can hit anywhere on the table, almost at all times. Long as we have the CP to get us there. Building lists that can be successful with or without CP I think will show if this army will be able to live or die near top tables.
Wings' Half-and-Half Soup
Obviously my initial plan for this update is just to try some of my existing lists modified to splash the character Vanguard, but Boon will be covering that base. The other angle I think this update opens up, and what I'll be showing here, is a more mixed list. Post the CA point changes I did look at whether a Harlequin Battalion could be a worthwhile addition to a Craftworlds force but eventually concluded that it wasn't – it didn't feel like it was adding quite enough to what I had going on, and opened up some relatively soft targets. I'm reasonably convinced that that has now changed. Everything in the book has gotten better, but I particularly honed in on Fires of the Mind and Murderous Entrance. The former means that some Skyweavers and Starweavers are no longer automaticallysuper soft targets, and in the right matchup you can add Veil of Illusion to further reduce the ability to alpha strike them. Murderous Entrance, meanwhile, makes a Frozen Stars troupe bring an incredibly flexible counter-charge unit to the table. While Shining Spears can do a lot of the same stuff, they need a lot of psychic babysitting, are tricky to hide, and aren't nearly as good as this bomb at taking out some targets. Specifically, Spears are great against high-quality targets, but rely on their shooting to take out hordes, so can't easily deal with wraps by big blobs or stuff with good invulns. The Troupe, on the other hand (buffed by Choreographer of War) will blend the heck out of anything that tries this, and thanks to the absurd nonsense you can pull off with strat combos genuinely threatens to put 60 Boyz into the bin in a single fight phase if an opponent over-extends. Finally, fusion-loaded Starweavers and Haywire starweavers provided a nice anti-vehicle threat plus a lot of speed.
The challenge with this army is that it's extremely CP thirsty. Harlequins perform well as the "hammer" for an army, and what you really want to go with them is an anvil that requires as little CP as possible to operate. With that in mind, I've come up with the following concoction:
Note: An earlier version of this list was illegal because I forgot the weirdo stipulations on bringing Yvraine into a detachment. She's gone now. RIP.
Army List - Click to Expand

Battalion Detachment – Frozen Stars – 1099pts

HQ:

Troupe Master, Fusion Pistol, Harlequin's Blade, Pivotal Role strat to add Prince of Light, Twilight's Fang free relic – 67
Shadowseer, Twilight Pathways, Shards of Light – 110

Troops:

12 players, 8 caresses – 188
5 players, 5 fusion pistols, 2 kiss – 104
5 players, 5 fusion pistols, 2 kiss – 104

Elites:

Death Jester, Warlord (Player of Twilight), Harvester of Torment, adds Cegorach's Lament in most games – 45
Death Jester, Humbling Cruelty – 45

Fast Attack:

6 Skyweavers, Haywire, Zephyrglaives – 276

Dedicated Transport:

Starweaver – 80
Starweaver – 80

Battalion Detachment – Ulthwe – 899pts

HQ:

Eldrad – 145
Spiritseer – 55

Troops:

10 Guardian Defenders w/shuriken platform – 95
10 Guardian Defenders w/shuriken platform – 95
10 Guardian Defenders w/scatter platform – 92

Dedicated Transport:

Wave Serpent w/cannons and catapults – 139
Wave Serpent w/cannons and catapults – 139
Wave Serpent w/cannons and catapults – 139
Anchoring the board with Ulthwe Wave Serpents has worked pretty effectively for me in other lists, and I think it provides a good combo for the Harlequins here – some good solid board control while they're off doing their fancy flippity nonsense and murdering everyone. It also meets the goal of not needing much CP to function – you don't need any relics, you don't need to deep strike any of it and the strats you might use are situational 1CP ones.
Harlequin wise, Frozen Stars are my new best friend (at least if I'm bringing Troupes or bikes, Midnight Sorrow is my pick for character-only Vanguards) and I want to see what they can do. I'm sure "no Solitaire" will be extremely controversial, and I guess I will say that the first "variant" on this I'd try would be trying to find the points to squeeze one in, likely pushing some of the Guardian units down to either Storm Guardians or Dire Avengers and shaving a few points elsewhere.
The only real concern I have with this is whether it's too light on ranged threats. I think the various flying clown options give me enough reach, and the Death Jesters can pick off screening units with ease, but if I had to guess reasons why this might go back to the drawing board, that would be it. In the meantime, I'm very hyped to try it out.
Boon's Splash of Color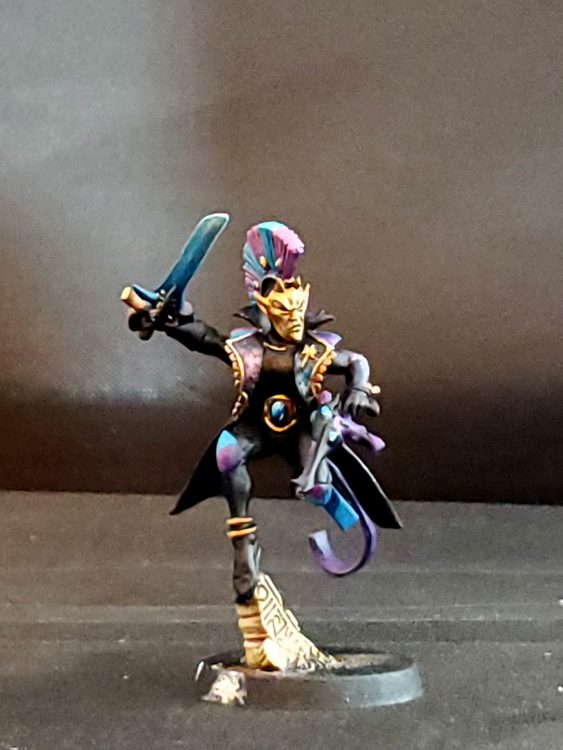 Harlequin Hero Fun Time Big Adventure Yeah - Click to Expand

Battalion Detachment – Craftworlds – 919pts

Craftworld Attribute: Expert Crafters, Masterful Shots

HQ

Spiritseer:

Warlock Skyrunner
Focus Will
Quicken/Restrain
Troops

5x Dire Avengers
Dire Avenger Exarch: Two Avenger Shuriken Catapults
Exarch Power: Avenging Strikes
5x Dire Avengers
Dire Avenger Exarch: Avenger Shuriken Catapult
Exarch Power: Avenging Strikes
5x Dire Avengers
Dire Avenger Exarch: Avenger Shuriken Catapult
Exarch Power: Avenging Strikes
Fast Attack

7x Shining Spears
Shining Spear Exarch: Star Lance
Exarch Power: Skilled Rider
7x Shining Spears
Shining Spear Exarch: Star Lance
Exarch Power: Skilled Rider
Heavy Support

3x Vibro Cannons

3x Vibro Cannons

Spearhead Detachment – Craftworlds – 833 Points

Craftworld Attribute: Expert Crafters, Masterful Shots

HQ

Farseer Skyrunner

Heavy Support

Falcon
Crystal Targeting Matrix
Starcannon
Falcon
Crystal Targeting Matrix
Starcannon
Falcon
Crystal Targeting Matrix
Starcannon
Night Spinner

Night Spinner

Night Spinner

Vanguard Detachment – Harlequins – 248pts

Masque Form: The Frozen Stars: Hysterical Fury

HQ

Troupe Master
Harlequin's Blade/Shuriken Pistol
Pivotal Role: Darkness' Bite
Free Relic: Twilight Fang
Elites

Death Jester
Pivotal Role: Humbling Cruelty
Death Jester
Warlord: Player of the Twilight
Death Is Not Enough
Solitaire

Total: 10CP, 2,000pts
I essentially took my last GT list and bolted on a little clown posse. Swapping out the 1x Hornet 1x Shining Spear, and Yvraine for the Troupe Master, 2x Death Jesters, and a Solitaire. I also swapped in a Nightspinner in place of the second Hornet (I like them in pairs, but a single Hornet I'm less keen on). The army starts with 10 CP but the truth is that Craftworld portion is not a CP hungry army. I swapped my Warlord over to the Harlequin det thought I'm not totally keen on it. I prefer to keep Seer of the Shifing Vector on the Spiritseer and give him the Faolchu's Talon for the mobility boost and the extra insurance on Protect/Jinx but until I get games in (who knows when that'll happen again) I won't really know what is more valuable – saving the possible 3 CP I'd otherwise spend or giving extra insurance on protecting the Spears.
So what to do with these four characters and ALL these relics? Counter punching and horde clearance is the biggest weakness of the list. In the event that the Spears are lost, the list loses a lot of punch in both assault and horde clearance – the wonderful thing about these Harlies is that they can provide BOTH cheaply.
Death Jester #2 – Horde Clearance – Cegorach's Lament

and/or

Pivotal Role (1 CP): Harvester of Torment (game dependent)
Solitaire – Horde Clearance / Character Targeting – Cegorach's Rose

or

Suit of Hidden Knives (game dependent)
The basic concept here is that if I do absolutely nothing, the Troupe Master is the only real purpose-less model. Each of the other three character models still have real value (objective sitting, light infantry clearance, overwatch denial, and objective clearing/character hunting). All of which is valuable in this list which has PLENTY of firepower and durability to handle a shoot out but not much in the way of objective sitting/durability. Untargetable characters really helps there and frees up the Farseer/Warlock to be where they want to be, rather than tied to an objective.
The secondary considerations are around the DJ and the Solitaire – both are for upping my capacity at horde clearance or character targeting (Solitaire) but they interestingly enough focus on two distinct forms of horde clearance. The Death Jester is useful in games where the opponent is bringing multiple units of >5 models without a 3++. Prime targets include:
Guardsmen
Daemons
Boyz
Kataphron Breachers/Destroyers
Basically any Necron non-vehicle unit
large Drone squads, etc.
The Solitaire on the other hand is more concerned with hordes that are bringing a high number of attacks or high value per swing. When people say [unit] bomb – they're usually referring to lobbing a hard unit at an enemy out of deepstrike. But in reality the truest bomb in the world is the now well known gimmick of a kitted up Solitaire with a lot of – modifiers and the Suit of Hidden Knives. Previously it required a lot of dedicated resources to make it happen to the extent that was meaningful – Shadowseer dedicated powers and Lightning Reflexes. But the addition of Unnatural Acrobatics is huge and makes this much more of a reliably impactful and viable tactic without requiring additional support.  That means that with complete confidence you can put a -2 on this guy that results in 50% of all against him just immolating the attacker – that's a 49% increase over the past version. Prime targets include:
Possessed
Paladins
Grotesques
Daemons
Harlequins
Even many characters, especially those carrying a weapon with a native -1 run significant risk in engaging this guy. They key here is that you're expecting to sacrifice – you just want it to take out as much value as possible. Everything else is a bonus.
Finally, I want to close by talking about this Troupe Master. My god is he an absolute blender. Kitted with the Twilight Fang as Frozen Stars he is walking onto the board with 7 attacks base, increasing to 12 by the end of the game. By the time he makes combat (realistically rounds 2 or 3 to reach combat) he's carrying 8/9 attacks – comparable to the Solitaire. Without a fusion pistol, he's advancing every turn, which means he can be also buffed with Prismatic Blur giving him the same 3++ as the Solitaire. At this point, he's a beast of a character/elite hunter hitting on 2's, at Str5 Ap -3, and 2D and then generating an additonal 2MW after everything else. But it's the additional options he has that make him such a utility tool – he can be buffed for +1 to wound (can now reliably threaten anything on the board), +1 damage, and/or can fight again or bounce out and fight somewhere else. Yes, these are extremely CP intensive, but in selected situations this 60 point model can absolutely gut your opponent making it worth every valuable CP spent. And in the times where he isn't using CP he's still an extremely valuable and deadly piece – and he only gets deadlier as the game goes on.
Why I like him so much is that he provides a 'second wave' or push back opportunity in my list. If the Spears go down, I have essentially two Solitaires, both exceedingly deadly, that can still stave off threats or absolutely murder squads of guys. It's all about the flexibility and the utility, and this quartet of heroes brings it in spades.
Wrap Up
So that's it – and what a slam dunk these new rules are. Pretty much every Aeldari player on the Goonhammer team is currently working out just how many chequered diamonds they're going to end up painting in the next few months, and we hope any readers with a Harlequin army are hyped as well. If you think we've missed anything, give us a shout at contact@goonhammer.com, and don't forget to also check out today's Hammer of Math, where Kevin is going deep on some of the new options here.