The Northern Front Open series finished up on Sunday with Myself taking Maximum Effort and going 3-0 on day 1, and taking a meme list for the day 2 RTT and finishing 2-1 for 3rd place. Day 2 saw Logan Antonation win with a Farsight Enclaves crisis list after telling everyone who would listen that T'au are "in a terrible place," and I suppose he sure proved his point. So I'll be talking about those experiences.
Then in part 2 of this report, other noted Space Wolves player and sometimes-contributor Robbie Triplett will be discussing his  experiences at a recent 9th edition win a box RTT event and how Wulfen do in-fact NOT suck, contrary to my opinion.
The List
Space Wolves Battalion Detachment
HQ: Ragnar
HQ: Arjac
HQ: Wolf priest with Jump Pack + Power Fist
Troops: Infiltrators
Troops: Infiltrators
Troops: Infiltrators
Troops: Infiltrators
EL: Judiciar
EL: Blade Guard Veterans
EL: Blade Guard Veterans
EL: Blade Guard Veterans
EL: Wolf Guard Terminators – 6 w/combi-melta + Storm Shield, 2 w/Chainfist + storm bolter + 1w/Thunder hammer + Storm Bolter
FA: Outriders
DT: Impulsor
DT: Impulsor
1,997 points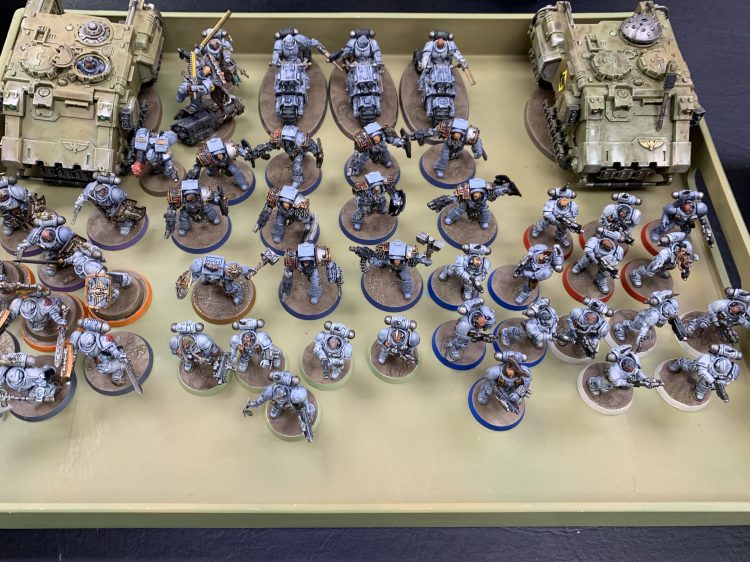 How the list played
I am pleased to report that the list functioned exactly as I had hoped it would when i constructed it, it has devastating pressure if it goes first and it gives you a shot if you go second.  It was very difficult to pick secondaries into and fairly easy to choose secondaries for.  The all-stars of the list should be no surprise, they were the Infiltrators, they basically did everything for me and gave up very little.  The unit that I was least impressed by was the Outrider bike squad, this unit requires CP to properly function and has a rather large footprint making them tough to hide, terrain rules really do not care about bikers so all in all, I would just choose to not take them next time around.
The Games
Game 1 – Mission: The scouring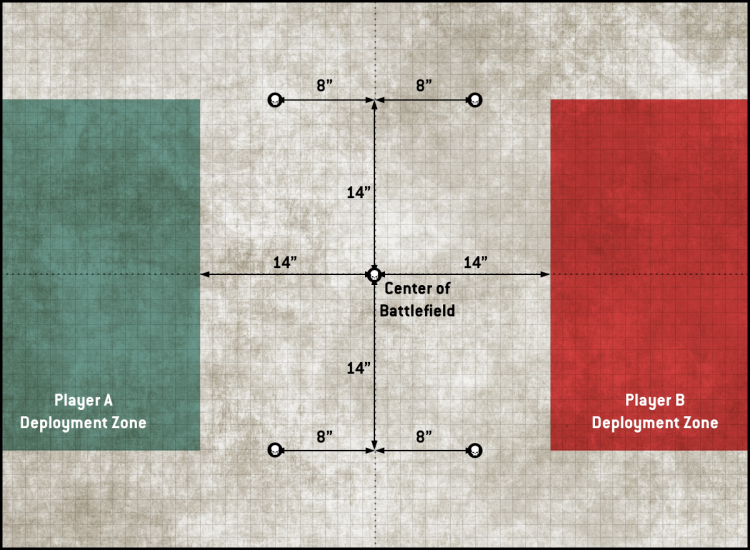 Michael Gimli's Khorne Daemons
Khorne Daemons Patrol detachment
HQ: Bloodthirster – Warlord – Exalted: Blood-blessed
HQ: Bloodthirster – Exalted: Arch-murderer
TR: Bloodletters x26
HS: Skull cannon
Khorne Daemons Patrol detachment
HQ: Daemon prince w/ wings & skullreaver
HQ: Daemon prince w/ wings & talons
TR: Bloodletters x10
EL: Bloodcrushers x10
HS: Skull Cannon
HS: Skull Cannon
We set-up to play The Scouring, which is a unique mission set/deployment to 9th edition. There are no objectives in your deployment zones and 5 objectives across the middle of the table, with primaries requiring players to hold 2/3/more for scoring. As we went to choose secondaries it was clear that so long as i protected my infiltrators i would be able to take his bloodcrushers out of the game since he chose to outflank them by placing them in Strategic Reserves. The Blood-Blessed Bloodthirster was for-sure going to be my biggest problem as i didn't have a reliable way of doing 8 damage to it in the Shooting or Psychic phases to combine it with the Fight phase for a one-turn kill. I decided to choose Bring it Down, Strategic Scan (the mission objective), and Engage on All Fronts as my Secondary Objectives. Engage on all fronts was most likely a poor decision vs. the pressure his list could generate.
Michael won the roll to go first and decided to take it. Turn 1 saw him advance up the table and i pushed my infiltrators up both sides of the table into ruins making sure that they'd be denying the Bloodcrushers any ability to come in anywhere useful on turn 2 and deny him the ability to score either of those objectives on his Command phase. On turn 3 his Bloodthirster crashed my lines and began destroying everything it touched while my terminators came in and removed a skull cannon and a daemon prince while charging into his Bloodthirster to attempt to kill it again. Spoiler: it lived. Meanwhile, Ragnar and a unit of BGV picked up all the Bloodletters. On turn 4 he finally brought his rhino riders in and charged a unit of blade guard that were up the table in his deployment zone, all but ensuring his unit would not have any further impact on the game. I lost more terminators and characters to his Bloodthirster until finally on turn 5 Ragnar was free to come over and John Wick his ass off the table.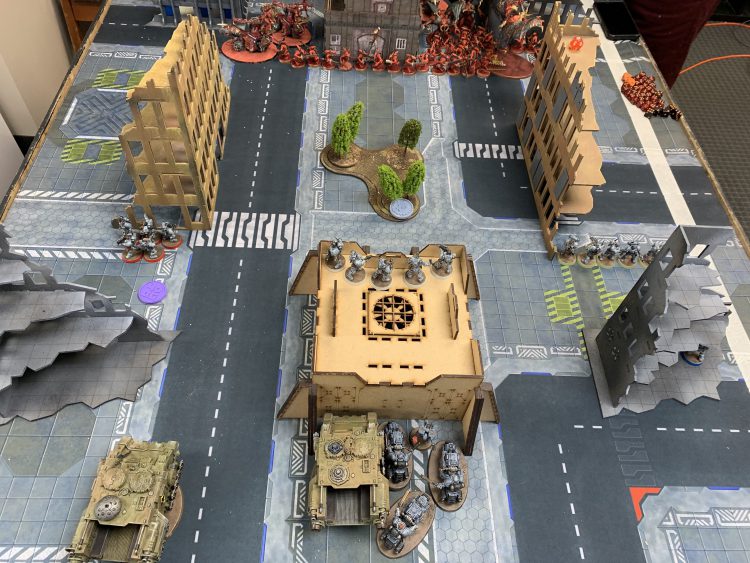 Infiltrators allowed me to dictate the pace of this game despite going second and gave me options on the secondaries I could reliably choose in this match-up.  I maxed out the mission specific and bring it down while managing to max out my primary to take the win.
Result: Win, 85-19
Game 2 – Mission: Priority Target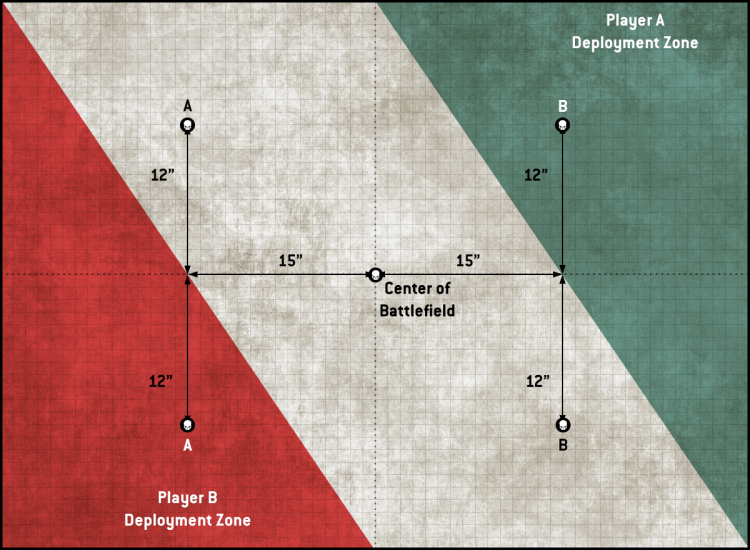 Brenden Chrustie's Imperial Guard gunline
Astra Militarum Battalion Detachment
Tank Ace
Regimental Doctrines: Gunnery experts, Jury-rigged repairs
HQ: Tank commander w/Executioner, lascannon, plasma cannons
HQ: Tank commander w/Executioner, lascannon, plasma cannons
HQ: Tank commander w/Demolisher, heavy bolter, plasma cannons
TR: 10x guardsmen w/ plasma gun
TR: 10x guardsmen w/ plasma gun
TR: 10x guardsmen w/ plasma gun
TR: 10x guardsmen w/ autocannon
TR: 10x guardsmen w/ autocannon
TR: 10x guardsmen w/ autocannon
EL: Platoon commander
EL: Platoon commander
FA: Hellhound
FA: Hellhound
FA: Hellhound
HS: Manticore
HS: Manticore
DT: Chimera w/ heavy flamer/multi-laser/lasgun array
DT: Chimera w/ heavy flamer/multi-laser/lasgun array
DT: Chimera w/ heavy flamer/multi-laser/lasgun array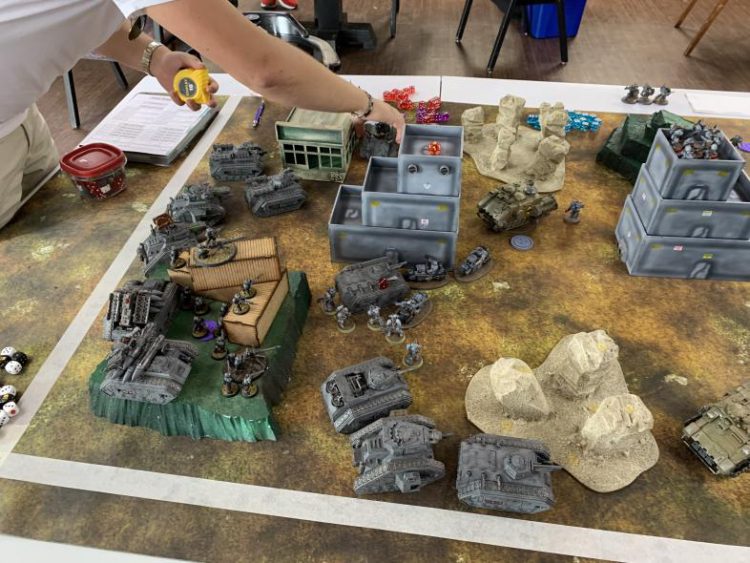 This is by far the most worrying list and player for me at this event. Brenden has won several GTs and is currently sitting at #1 for Astra Militarum in the ITC Rankings (for what it is even worth these days). Gunlines are definitely the most difficult match-ups coming out of 8th and transitioning into 9th; what really worried me is the hellhounds and chimeras as his list has the same idea as mine – get out on objectives and force you to kill several things before you can flip it. I can not wrap his vehicles as they can all just flame me off the planet or break-out; the manticore using full payload was a particular nightmare for me as he can also direct fire it at me for +1 to hit and flat 3 damage – Those will burn through Impulsors very quickly.
This was my first real mistake of the event as I was debating taking Domination, Bring it down or Assassinate and the mission-specific Secondary Objective, Priority Target. What I did instead was I took both Bring it Down AND Assassinate to go with Engage on all fronts (accidentally taking two from the same category). It was not something we caught until the start of round 3 unfortunately.
I deployed my Impulsors behind an obscuring ruin and hid my bikes on the line behind an enclosed ruin. My infiltrators deployed in the corners of the table near objectives and in a ruin mid to contest that objective. I won the roll to go first and managed to charge one of his tanks turn one with my infiltrators and bikes, which allowed me to pile into one of his hellhounds in an attempt to force it to move back or stay stuck in. I needed to buy my army time, create space for turn 2 and constantly hold more, which meant I needed to get out early and rack up as many primary points as possible. Brenden's turn 1 shooting was devastating, taking down an impulsor, the Judiciar, the bikes, a squad of infiltrators and knocking another 2 squads down to 3.  This forced my hand turn 2: I had to push my entire army forward and drop the terminators into the space I had created mid-board. I got my Canticle of hate off in the Command phase and was set-up for success. Then the terminators came down and cleared out a chimera and a squad of guard before charging his hellhound with a squad of Bladeguard Veterans to bait out the Overwatch to open up the free charge with the terminators. The terminators made their charge along with Ragnar and the priest and all of a sudden we were playing my game. After fighting twice with the terms I managed to touch his demolisher tank and manticore.
At this point my characters were well screened and I was clearly in the driver's seat. Brenden moved away and fired everything he had left into my terminators and 2 Bladeguard Veteran squads, dropping the terminators to 5 and killing one of the two Bladeguard Veterans. Turns 4 and 5 were pretty uneventful as I hid on his Priority objective and killed his last manticore while attempting to not get tabled. There was not a lot Brenden could do from turn 2 onwards besides constantly being forced to shoot at the things annoyingly trying to touch his tanks. As the game came to a close it, ended up being pretty close.
I maxed out Bring it Down and Priority Target (the mission-specific secondary), and only would have scored 9 on Assassinate (which is not legal). Brenden managed to score well on Engage all Fronts picking up points late game, plus he picked up 3 out of my 4 characters with Assassinate but wasn't able to score the mission-specific and being denied a ton of primary points early on. The final score, discounting the 9 illegal Assassinate points, made things an incredibly close 78-72 victory.
Result: Win, 78-72
Game 3 – Mission: Sweep and Clear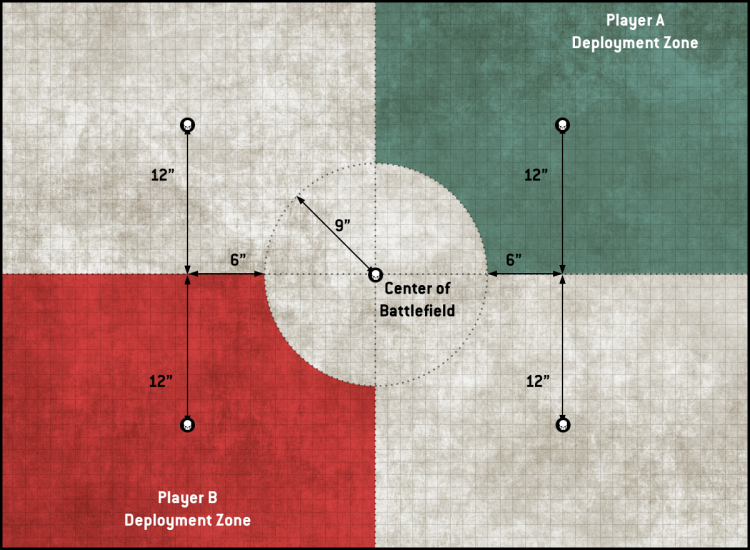 Ryan Mandryk's Death guard
Death Guard Battalion Detachment
Plague Company: The Ferrymen
HQ:Chaos Lord w/Powerfist, Relic: Wormspitter
HQ:Daemon Prince of Nurgle w/Wings, Hellforged sword, plague spewer
TR: 10x Cultists
TR: 10x Cultists
TR: 10x Cultists
EL: 10 x Blightlord terminators  8 w/Bubotic Axe + Combi-plasma, 2 w/Flail of Corruption
EL: Foul Blightspawn
EL: Foul Blightspawn
Death Guard Spearhead Deatchment
Plague Company: The Poxmongers

HQ: Malignant Plaguecaster: Warlord: Arch-contaminator, Relic: Iron clot furnace
EL: Hellforged Scorpius
HS: Plague Burst Crawler w/2x Plaguespitters, Heavy Slugger
HS: Plague Burst Crawler w/2x Plaguespitters, Heavy Slugger
HS: Plague Burst Crawler w/2x Plaguespitters, Heavy Slugger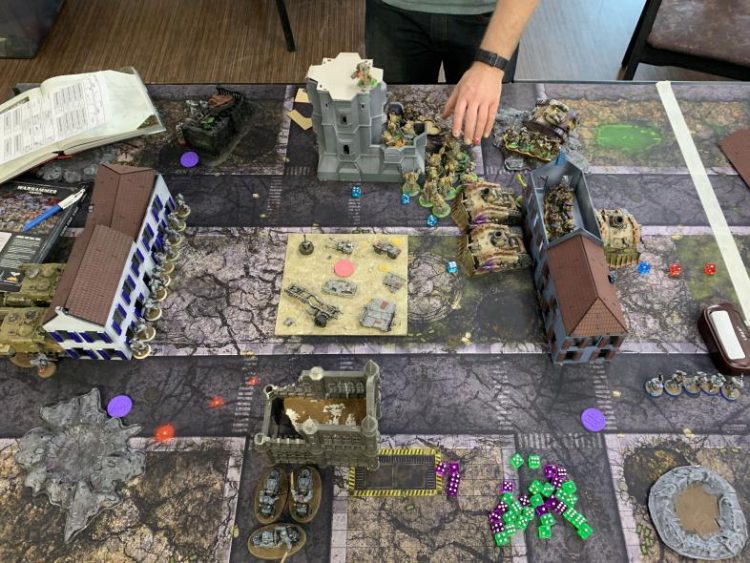 Round 3 puts me at the top table vs. my teammate Ryan, who has won every event in the prairies that Brenden has not won or Cyle "Naramyth" Thompson didn't feel like showing up to. This was a match-up I was looking forward to as Ryan designed a list that is similar to mine in its archetype and wants to play the mission the same way. The units that would pose the biggest issue to me are clearly the Foul Blightspawn and the Blightlord terminators as they are basically just as durable if not moreso than my wolf guard. We both took the mission-specific Secondary Objective, Direct Assault (hold the middle objective for 3 VP, hold your opponent's deployment zone objective for 5 VP) and Assassinate. My final secondary was Line-breaker as I knew I needed to push into this list and get on the terminators and tanks if I had any chance to win. We are both playing aggressive mid-board lists so this was going to be a tactical, slow-paced game until it opened up mid game.
I deployed my infiltrators inside an obscuring ruin along my side of the table within range of 2 objectives and 9 inches from his deployment zone using another large ruin to obscure most of his army except for one Plagueburst Crawler. The rest of the army was hidden behind two ruins as I needed to respect the firepower his terminators can put out. If I got second turn I'd be in a good spot boardwise, only giving up a couple infiltrators and some chip damage on impulsors and if I got first turn I have the potential to tag a bunch of tanks and control the middle of the board all game, denying Ryan his mission-specific points.
Well, I won the roll off and advanced my army forward onto mid-table. My infiltrators moved up and charged his cultists in a ruin and tagged 2 tanks using the fight twice stratagem. On Ryan's turn he tried to get Blades of Putrefaction up on his terminators but I denied it using the Stratagem Talismanic Shield, which we both knew was a big deal. As a result, he had to retreat with his Blightlords instead of moving forward and engaging. Turn 2 saw my terminators come down and kill his daemon prince with some melta shots, plus they got very lucky, scoring 2 kills with a storm bolter on his blightlords. Everything was in charge range and set up for success at this point, so I charged with Ragnar, the judiciar, an impulsor, and my terminators.
"Yay, I have made it into combat," I think to myself, at which point I am reminded what the Foul Blightspawn do, which is force nearby enemy units to fight last. This is very bad for me as I have touched his Blightlords with Ragnar and a Judiciar. He manages to kill Ragnar and the Judicar but the terminators remain at full strength and begin tearing through his characters and attempting to drop his blightlords. After fighting on death with Ragnar, the blightlords were left at 2 models, who fled in the Morale phase. From that point onward Ryan moved backwards and attempted to kill everything he could on the table, and nearly wiped me out. Unfortunately for Ryan, me going first meant I was out to a very big lead early on and had maxed most of my important secondaries, and he wasn't able to do the same.
Result: Win, 94-69
Day 1 Final Standings:
Jon Kilcullen 266 3-0
Brenden Chrustie 245 2-1
Ryan Mandryk 233 2-1
Final Thoughts 
I was very happy with how this list preformed against very good competition. The list functioned exactly as planned and having played dozens of games now with it, I am confident in saying that if I go first there's almost no list I that I'm overly worried about. This list gives you a shot to win the game going first or second and can feel very suffocating to play against. The one thing I am looking to change is the unit of outriders; they really did not live up to their role. The space marine ATVs that have been shown off recently will most likely do a better job in this role for me going forward.
As for 9th edition, I really love the terrain rules, they are interactive and dynamic. The missions are hit and miss but as players learn them you watch the games slow down and become much more tactical now that kill/kill more is not a thing. I still do not understand why we have to score primary objectives in the Command phase; this still really skews the importance of the roll-off to go first. The mission changes are nice but more needs to be done. I am excited for what is to come; the salt I had in the beginning of 9th is definitely gone as I have learned the game. Combat is extremely powerful but also very difficult, which is really a solid state for the game to be in as the new edition kicks off. The secondaries unfortunately are still a little unbalanced, especially Warpcraft. Warpcraft secondaries are for the most part pretty useless with the exception of Abhor the Witch, which if you do not have psykers and run into armies such as Grey Knights or Tyranids, then Abhor the Witch is basically a free 15 points. IN this edition, with how hard secondaries are, that's an issue. This single secondary choice forces many people to either not take psykers or only take 2.  I worry about its effect on the meta and the game as a whole.
The Encore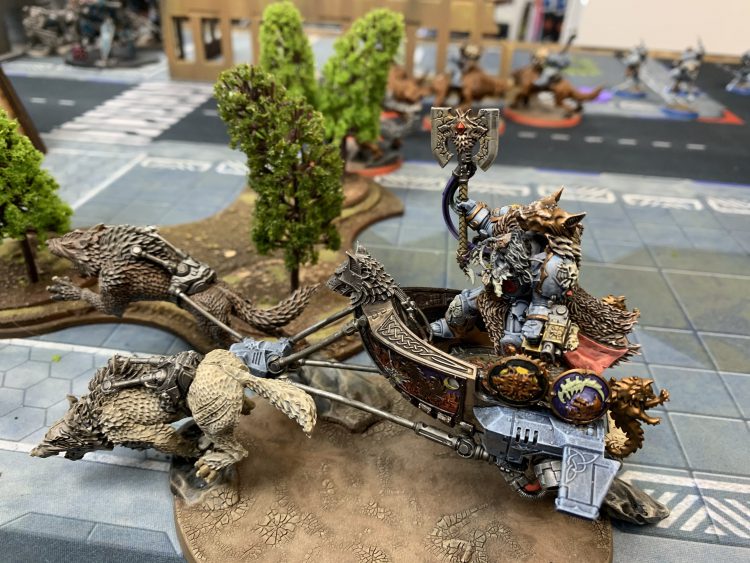 You know I could not leave you without discussing the day 2 Santa adventures, the quick and dirty of it is as follows:
The List
HQ: Logan Grimnar on sled
HQ: Ragnar
HQ: Wolf Priest w/Jump Pack, Power Fist
TR: Infiltrators
TR: Infiltrators
TR: Infiltrators
EL: Bladeguard Veterans x3
EL: Bladeguard Veterans x3
EL: Invictor Tactical Warsuit w/Incendium Cannon
EL: Invictor Tactical Warsuit w/Incendium Cannon
FA: 5x Tunderwolf Cavalry – 2 w/Power Fist + Storm Shield, 1 w/Lightning claws, 1 w/Chainsword + Storm Shield, 1 w/Thunder hammer + Storm shield
DT: Impulsor
DT: Impulsor
Quick Summary:
Round 1 was against Brenden again which meant I would need to go first with this list,.I went second and he basically blew me off the table on turns 1 and 2.
Rounds 2 and 3 saw me run into Chaos knights and Chaos Space Marines. Both were max point wins for me as I was able to really bully these types of lists and survive the early fire power.
If this list does not take a heavy hit on turn 1 and makes it into turn 2 mostly unharmed it's an absolute nightmare to play against but against quality shooting with reliable damage it'll have a very tough day. The Thunderwolf cavalry were really nothing but a liability unfortunately: None of the terrain rules really help them and their recent point increases make these guys basically unplayable. You might as well go with Wulfen if you are looking for a unit to do similar things.
A couple of notes on the event in general:
New Necrons look and feel strong – going first they are incredibly oppressive, they play the mission hard and are no longer worried about a kill/kill more primary.  I like what I am seeing from that faction, exciting times.
T'au despite winning here, seem in a pretty tough spot as again almost none of the terrain rules benefit them and they struggle to really get out and contest the board.  I heard this line from Logan endlessly on day 1 and he was dead set on proving it on day 2.  You sure showed us Logan <slow clap> 
Final Standings:
Logan Antonation 3-0 216 Farsight Enclaves
Corey Trumbley 2-1 224 Necrons
Jon Kilcullen 2-1 213 Space Wolves
Robbie Triplett's Adventures
Now we move onto what you have all been waiting for: Robbie attempting to prove me wrong about all my thoughts on Wulfen. Let's get right into this with Robbie's list.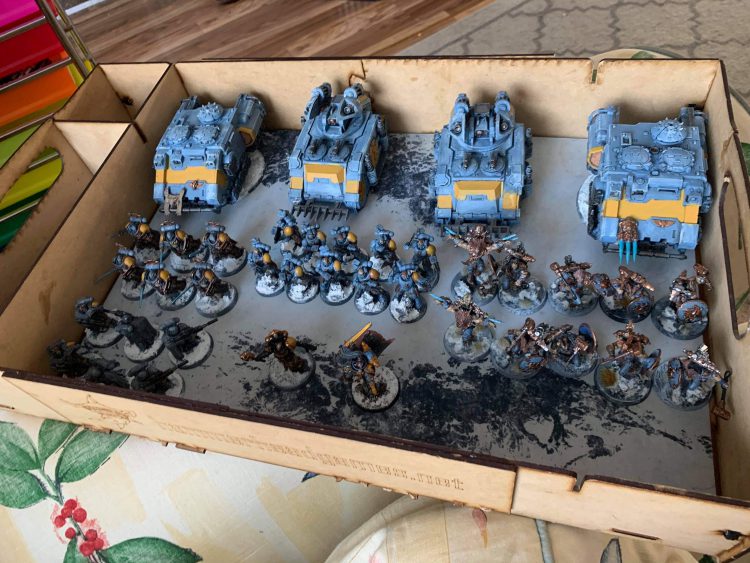 Rob Triplett's 9th Edition Space Wolves List
Space Wolves Patrol Detachment ( -2 CP)
HQ: Ragnar   (Hero of the Chapter: saga of Warrior Born -1 CP)
TR: Incursors
EL: Wulfen (Pack leader w/ frost claws, 4x TH/SS) 226
EL: Wulfen (Pack leader w/ frost claws, 4x TH/SS) 226
HS: Eliminators w/ bolt sniper rifles
HS: Relic Whirlwind Scorpius w/ Scorpius multi-launcher, Storm Bolter
DT: impulsor w/ shield dome, 2x storm bolters
Space wolves Patrol Detachment (Free)
HQ: Primaris Wolf Priest (warlord:saga of majesty, relic:armor of Russ)canticle of hate
TR: Incursors
EL:  Bladeguard Veterans
EL:  Bladeguard Veterans
HS: Eliminators w/ bolt sniper rifles
HS: Relic Whirlwind Scorpius w/ Scorpius multi-launcher, Storm Bolter
TR: impulsor w/ shield dome, 2x storm bolters
Editor's Note: As we mentioned in One_Wing's report yesterday, thanks to a quirk of the FAQs, Space Wolves currently benefit from army-wide Objective Secured. While this didn't matter as much for Robbie's Wulfen, during the event, it does make Space Wolves in general more of a nightmare to deal with.
Win-a-Box RTT Battle Report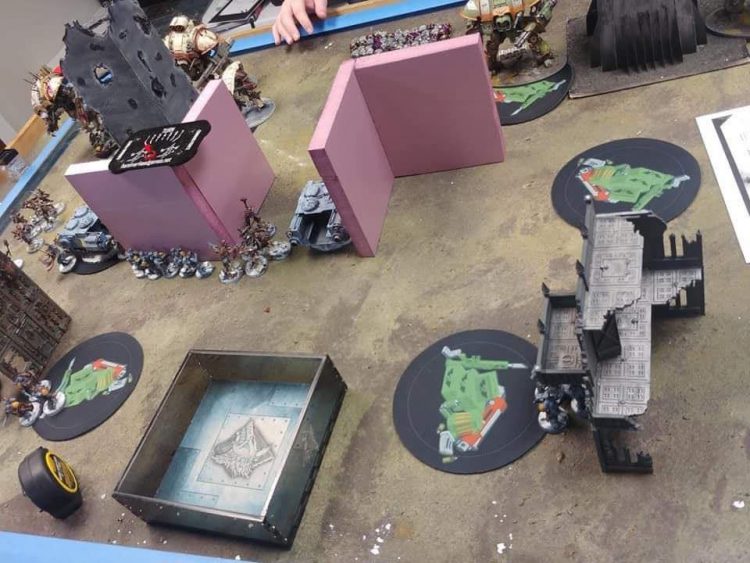 Round one: Chaos Knights
Mission: Scorched Earth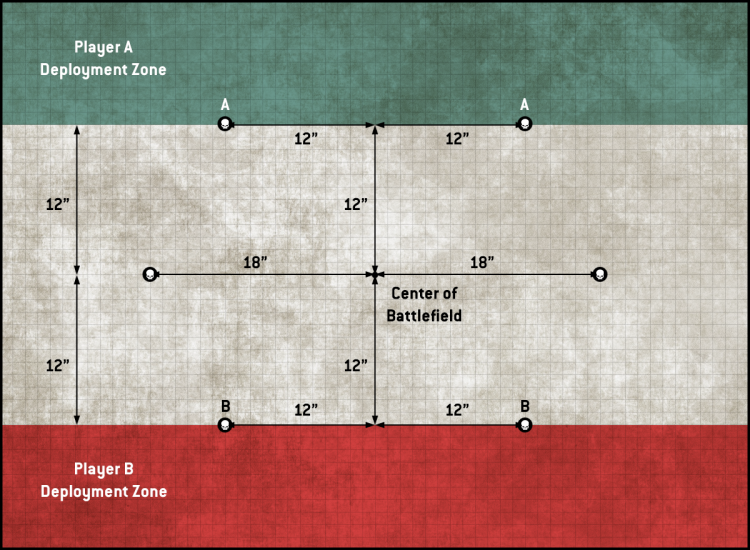 Secondaries: Raise the Banners, Titanslayer, Engage on All Fronts
Wolves had the first turn
Wulfen were insanely good in this matchup, getting off the turn one charge and basically deleting a knight every turn of the game, with my other units holding tight on objectives, raising banners and scoring secondaries. Relic whirlwinds came in clutch killing off the last knight. Going first with this style list puts immense pressure on your opponent and forces them to deploy conservatively or face some brutal consequences when they fail to get first turn.
Result: Win, 92-47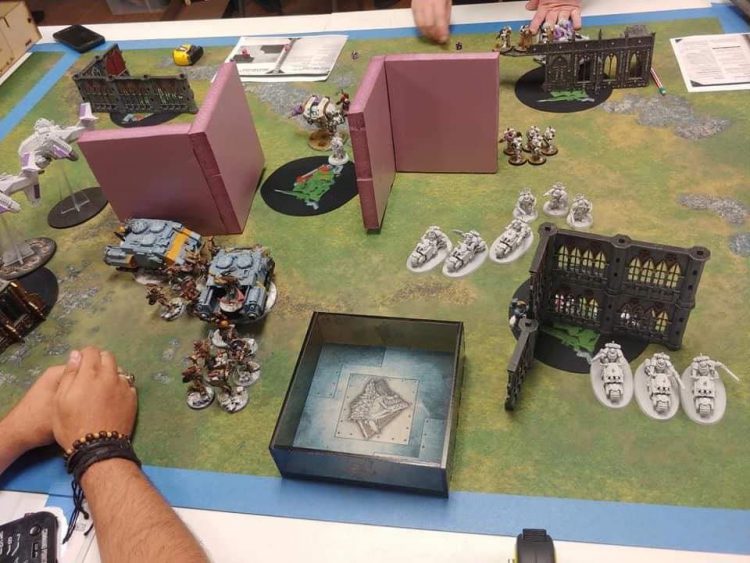 Round two: Imperial Fists successors/red scorpions
Mission: sweep and clear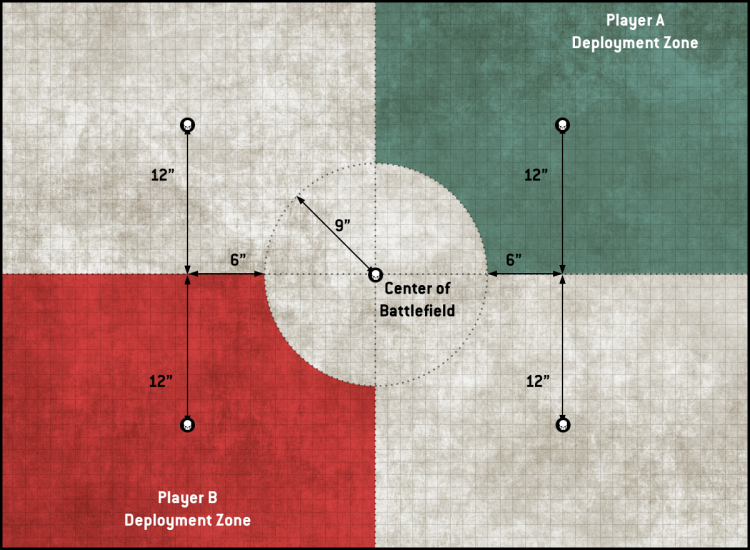 Secondaries: Raise the Banner, Engage on All Fronts, Bring it Down
Fists won the roll and took first turn.
Setting up for the counter charge and positioning were key in this match-up, and that's just what I did. Wulfen made the counter-charge on Carab Culln the Risen while Bladeguard Veterans and Ragnar went after the Imperial Fists Outriders. An impulsor charging two Stormhawk Interceptors so they couldn't shoot at anything else was also pretty spicy (Editor's Note: This doesn't actually work – AIRCRAFT can just Normal Move out of combat), and I was able to down them on the following turn with my Scorpius tanks. Once the Wulfen got into combat with the enemy Scorpius, the game was over.
Result: Win, 94-44
Round three: Blood Angels
Mission: Battle Lines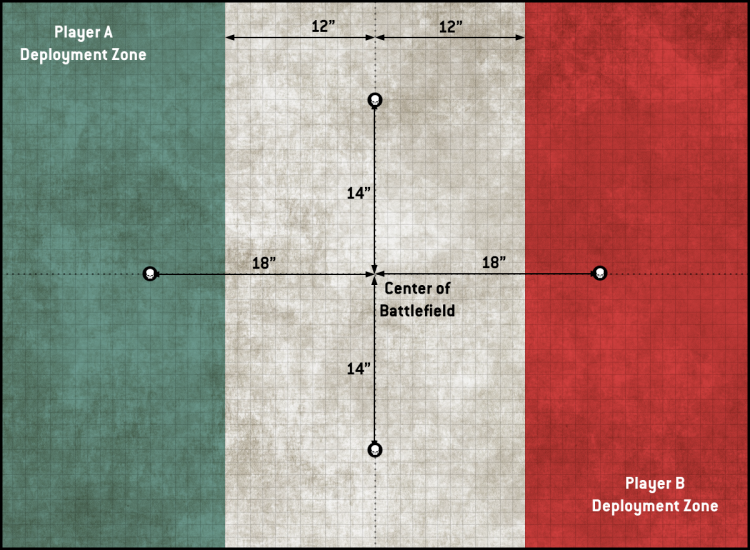 Secondaries: Raise the Banner, Engage on All Fronts, Assassinate
Wolves went first.
I deployed in a conservative manner to prevent any serious damage if I lost the roll off, with the Scorpius tanks setting up in the back corner with the wolf priest and Wulfen screening out the tanks and setting up the counter charge. The impulsors held blade guard and Ragnar in position to score midtable objectives while the Incursors would hold outer objectives. The Scorpius tanks held sanguinary guard blobs in check for this match-up and the entire game was a blood bath for the center of the battlefield. The Eliminators proved to be extremely valuable in this game, picking off key characters and opening the game up for the wolves. Yet another game of Space Wolves vs Blood Angels and once again another mark for the wolves in the "win" column, further proving this match-up is slanted towards the Space Wolves.
Result: Win, 91-83
Final results:
Ken Knox 281 3-0 Iron Hands
Rob Triplett 277 3-0 SW
Dallas Rapoport 224 3-0 Hive mind
Outlook
The outlook for wolves appears to be very bright; this army has an extremely devastating turn 2/3 punch and can feel extremely frustrating and suffocating to face. The fact that both myself and Rob ran completely different lists and both had great success in very hard fields bodes very well for the army. I might not be on the Wulfen ObSec train but it very clearly has legs as Rob took down Anthony Birdsong on his way to 3-0. Space Wolves players should rejoice as their favorite unit is now completely viable, if still a bit over-priced. The game shifting towards board pressure is a very big boon to the Wolves because now armies are forced into making a decision between moving forward and contesting objectives or sitting in their deployment zone and hoping to shoot you off the table. Which is very hard to do in this edition.
Until next time, thanks for reading and keep seeking that saga.
Have any questions or feedback? Drop us a note in the comments below or email us at contact@goonhammer.com.