Hello again internet, I am taking a break from filling Competitive innovations with salt as Wing's stand-in and instead am here to discuss an experience many of us will have to deal with in the coming months: Showing up to events for the first time since COVID. I really thought this would be a massive relief to finally see my province at the point where we have great vaccination rates with very low new case numbers, so that I could get back into stores and play in person again. What I am actually finding is that instead of relief I am filled with anxiety, stress, and self-doubt. The first event I attended was a simple three-round, 14 person RTT but living in Canada we have treated COVID (rightly) very seriously and have not even been able to have more than one person in our households, never mind been able meet others at a store and roll dice.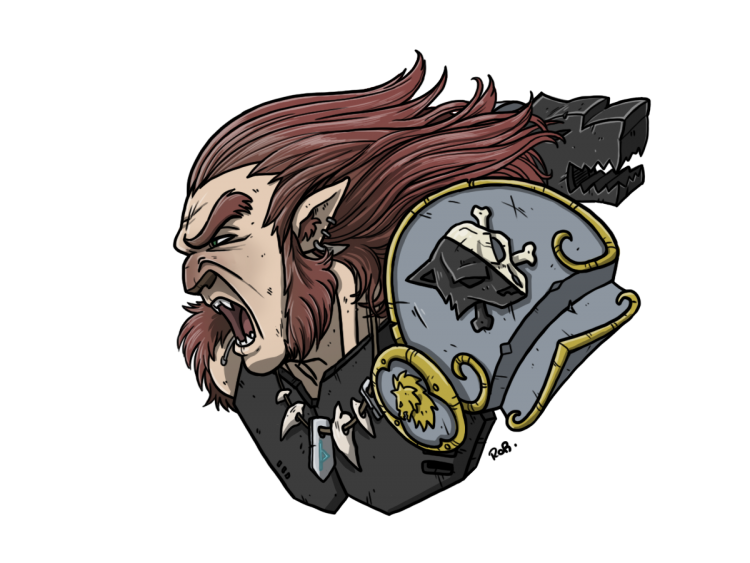 As someone who enjoyed the team aspect of 40k events I found it hard to be in lockdown for over a year; not being able to coach, interact and compete with the people I talk to every day on Discord was rough, but an odd feeling came over me when I finally committed to actually attending this RTT.  Despite being fully vaccinated and knowing the other attendees at the event being vaccinated I still had worries but also I suspected it would just be a jarring experience to be in person at a table again. I think most of us are dealing with this situation in one way or another. I am finally seeing the light at the end of the lockdown tunnel and am letting myself have some hope again when it comes to this hobby of ours.
So after convincing myself that this was worth it and that I need to start somewhere again, I did what we all must do – walk to the nerd shelf and stare at my 2019 meta armies that have now built up a layer of dust and wonder to myself "how on earth I am going to create a list out of this stuff and compete?" Coming from online play where I was able to experiment with anything I wanted, this was a major departure. In the real world I'm staring at my models and worrying about what I can do about the pile I've got. On top of that I've missed practice time and I'm not exactly flush with the money to buy a whole new army. We went in and out of lockdowns at my work and I personally lost months of pay due to constantly being exposed to selfish idiots showing up to work with COVID. I was far better off than a lot of people but it still means I do not have funds to just buy the new models to update my army at this moment.  Several members of my team are also dealing with this new reality and it turns out we are all struggling with the same problems.  Having said all of this, my entire region is dealing with the same reality, which means that the armies and lists that show up are going to be really wild for the first couple events.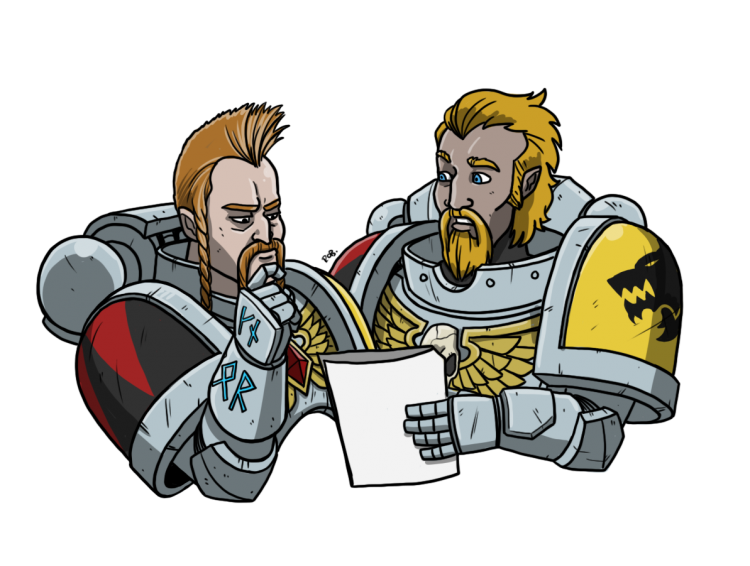 After a couple of days of hard thought on how to buy new models to get an army together I decided to stop and go back to the shelf and take inventory of what I actually own so I could start theory crafting possible lists to compete with.  As stated above, the last time I bought models was 2019.  At the time Impulsors were on the way to helping me make a name for myself, Intercessors were all the rage and entering into 9th edition thunder wolf cavalry was amazing.  Times have changed greatly since then, these days if you would like to know what a "meta" wolves list looks like you just have to type in Jamie Paris or Robbie Triplett's names into Best coast pairings and you will see what is working for them.  For a quick idea what I am referring to check out Competitive Innovations.  A lot of the models you need to run these lists just aren't in my collection but more than that I'm just not interested in playing their lists – it's just not a good fit for my style of play. The style of play I enjoy and that I can make work is what you might describe as "passive-aggressive" and mostly geared towards mission play and not going out on the board trying to kill someone. So I'm back to square one again. In today's totally balanced world of Admech and Druhkari, it's difficult to even come up with a concept that can last 2 turns; durability and a combination of reliable shooting and strong combat are all necessary to win games consistently. You can't just run melee options and hope to compete with Druhkari, you must be able to pop open the transports and then have the combat in place to kill the contents.  You need durability that will allow you to live long enough to get there as well.
After bouncing ideas around in my team chat the list I ended up settling on is as follows:
title - click to expand
+++ Return (Warhammer 40,000 9th Edition) [110 PL, 8CP, 1,997pts] +++
++ Battalion Detachment 0CP (Imperium – Adeptus Astartes – Space Wolves) [110 PL, 1,997pts, 8CP] ++
+ Configuration +
**Chapter Selector**: Born Heroes , Custom Chapter, Space Wolves Successor, Whirlwind of Rage
Battle Size [12CP]: 3. Strike Force (101-200 Total PL / 1001-2000 Points)
Detachment Command Cost
+ Stratagems +
A Trophy Bestowed [-1CP]
Relics of the Chapter [-1CP]: Number of Extra Relics
+ HQ +
Chapter Master [8 PL, 155pts, -1CP]: Chapter Command:  Chapter Master, Frost Weapon, Hunter, Jump Pack, Lightning Claw (Pair), Stratagem: Warrior of Legend, The Imperium's Sword, Warlord
Librarian [6 PL, 115pts, -1CP]: 4. Murderous Hurricane, 5. Storm Caller, Force sword, Jump Pack, Rites of War, Stratagem: Hero of the Chapter, The Armour of Russ
+ Troops +
Blood Claws [6 PL, 90pts]
. 4x Blood Claw: 4x Astartes Chainsword, 4x Bolt pistol, 4x Frag & Krak grenades
. Blood Claw Pack Leader: Astartes Chainsword
Incursor Squad [5 PL, 105pts]
. 4x Incursor: 4x Bolt pistol, 4x Frag & Krak grenades, 4x Occulus bolt carbine, 4x Paired combat blades
. Incursor Sergeant
Incursor Squad [5 PL, 105pts]
. 4x Incursor: 4x Bolt pistol, 4x Frag & Krak grenades, 4x Occulus bolt carbine, 4x Paired combat blades
. Incursor Sergeant
+ Elites +
Bladeguard Veteran Squad [10 PL, 140pts]
. 3x Bladeguard Veteran: 3x Frag & Krak grenades, 3x Heavy Bolt Pistol, 3x Master-crafted power sword, 3x Storm Shield
. Bladeguard Veteran Sergeant: Heavy Bolt Pistol
Bladeguard Veteran Squad [10 PL, 140pts]
. 3x Bladeguard Veteran: 3x Frag & Krak grenades, 3x Heavy Bolt Pistol, 3x Master-crafted power sword, 3x Storm Shield
. Bladeguard Veteran Sergeant: Heavy Bolt Pistol
Bladeguard Veteran Squad [10 PL, 140pts]
. 3x Bladeguard Veteran: 3x Frag & Krak grenades, 3x Heavy Bolt Pistol, 3x Master-crafted power sword, 3x Storm Shield
. Bladeguard Veteran Sergeant: Heavy Bolt Pistol
Wolf Guard [7 PL, 185pts]: Jump Pack
. Wolf Guard: Storm shield, Thunder hammer
. Wolf Guard: Storm shield, Thunder hammer
. Wolf Guard: Storm shield, Thunder hammer
. Wolf Guard: Storm shield, Thunder hammer
. Wolf Guard Pack Leader: Storm shield, Thunder hammer
Wolf Guard [7 PL, 149pts]: Jump Pack
. Wolf Guard: Lightning Claw, Storm shield
. Wolf Guard: Lightning Claw, Storm shield
. Wolf Guard: Lightning Claw, Storm shield
. Wolf Guard: Lightning Claw, Storm shield
. Wolf Guard Pack Leader: Storm shield, Thunder hammer
+ Fast Attack +
Cyberwolves [1 PL, 15pts]: Cyberwolf
Cyberwolves [1 PL, 15pts]: Cyberwolf
+ Heavy Support +
Long Fangs [9 PL, 198pts]: Armorium Cherub
. Long Fang: Multi-melta
. Long Fang: Multi-melta
. Long Fang: Multi-melta
. Long Fang: Multi-melta
. Long Fang Pack Leader: Astartes Chainsword
. . Boltgun and Bolt Pistol
. Wolf Guard Pack Leader: Boltgun, Storm shield
+ Dedicated Transport +
Drop Pod [4 PL, 70pts]: Storm bolter
Impulsor [7 PL, 125pts]: 2x Frag storm Grenade Launchers, Shield Dome
Impulsor [7 PL, 125pts]: 2x Frag storm Grenade Launchers, Shield Dome
Impulsor [7 PL, 125pts]: 2x Frag storm Grenade Launchers, Shield Dome
This list concept speaks to me and checks all the boxes I believe are needed to be checked in order to compete the way I want to compete.  It has a core of 3 impulsors carrying 12 blade guard veterans that is supported by a Librarian and a Captain that carry around several warlord traits and critical buffs such as stormcaller and Rites of war.  The captain is an idea I first came across from Robbie who would not shut-up about this idea several months ago, he is an extremely threatening counter charge threat with a massive threat range and the all important chapter master rerolls.  The list is backed up by a unit of Long Fangs with Multi-Melta's that can put out just enough damage to matter while having several other very important roles they can fill such a line of sight blocking (using the drop pod), move blocking dangerous threats that can not fly and tying up vehicles with the unreliable 9 inch charge.  The units that allow my troops and cyberwolves to play the mission hard are the 2 units of wolf guard that constantly project threat where I feel it is needed.  On paper and in discussion with my teammates this idea seemed sound, all that was left to do was put it in the army bag and get myself ready for my first event.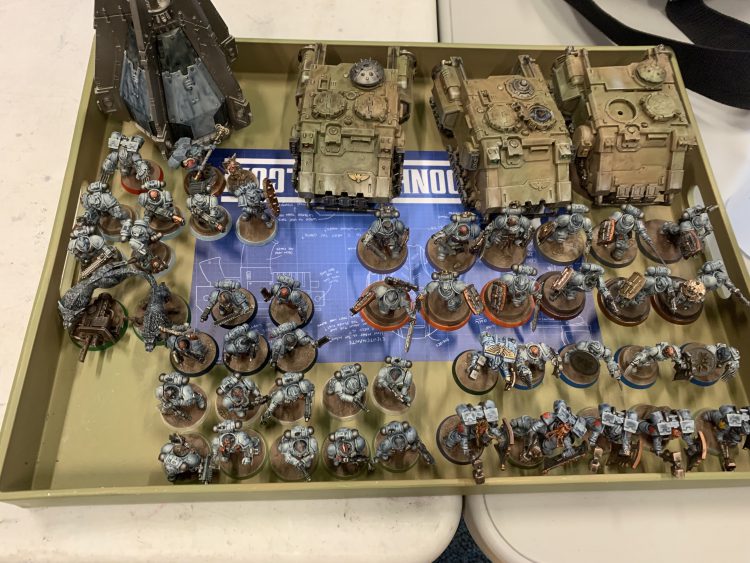 Once on the road I was immediately reminded of how much I missed the trips to events whether they are GT's or RTT's.  Being a team captain for Northern Front I was finally able to be around my team and talk through strategy in person.  Arriving and setting up my models with the team and friends I have not seen in over a year immediately rejuvenated my love for this Game.  The Year of isolation faded away as I brought my dice out and started to get ready for my first matchup.  Online play has kept me sharp and up to date with the meta but it is in no way close to the real thing as I was about to learn.
Pairings are live 
Round 1 Wolves vs GSC: Battle lines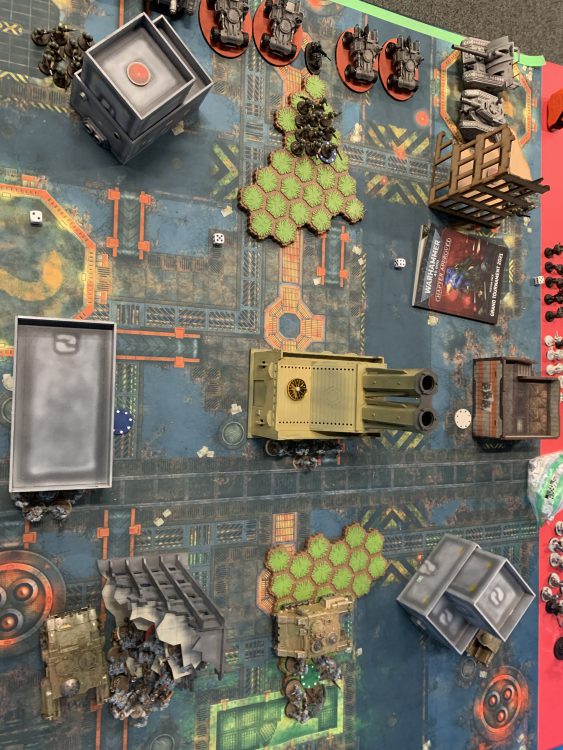 My opponent, Richard had brought a fairly dangerous shooting list with not a lot in the way of combat.  I felt very confident in how my list would play into this.  I can dominate the mid objectives (they are extremely hard to hold as every objective was basically wide open: an immediate reminder of why online play is easier), and survive long enough to hit his lines without worry of counter combat removing me.  I took Mission specific, Oaths of the moment, and ROD.  I always try to take secondaries that do not require me to kill anything but be in places and hold things.  I feel as though this requires my opponents to come to me to stop me from scoring 35-40 secondary points.  I lost the roll and Richard proceeded to fire 2 tank commanders and do max damage with both of them, it was a very worrying start as 1 of my impulsors exploded and did max damage to my captain.  He did however make the mistake of ordering his brood brother infantry up both sides of the table to get onto both of the objectives.  This was now my way into the game, he has given my list a springboard.
I made it into combat turn 1 with the majority of my flanks allowing my captain to complete his Saga and activate the aura that now allows core units around him to advance and charge.  This was a big mistake as my threat range now touches the back of the table.  There was basically no recovering from this and I had tabled him by turn 3.  Richard was new to 9th edition so we hung around and talked about different things he could do and why,  I am truly in my element when I am able to meet new players showing up to their first events.  I have said this in several articles but these people are the most important players in the 40k tournament scene.  Very exciting to see a new player out just after covid is winding down here, I hope to see him again soon.
Final score: 97-27 Wolves
Round 2 Wolves vs Chaos soup: Priority targets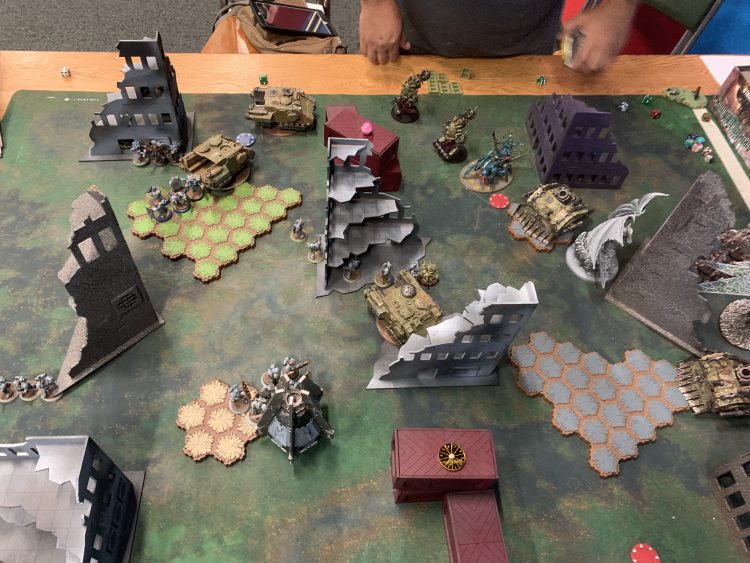 Round 2 saw me paired into Homer, a local from the brandon area that is always in the 4-1/5-2 range at events in the province.  A very sound player that is a life long chaos player.  Other than pairing into my teammate Logan who brought a very similar list to mine, Homer was the other person I was would have preferred to dodge until the top table, however events in Manitoba are now using a different pairing metric (wins/path to victory/random) to basically eliminate the ability to tailor your wins to dodging hard matchups in the next round.  I am a big fan of this as it makes everyone play hard every single game.  I could write an entire article on this subject alone.  Back to the game at hand, I was tempted to take Bring it down however I ended up taking Mission specific, Oaths of the moment and ROD again.  This meant I could play a lot more passively, throw units away to move block his big stuff and dictate where and when we fight.
Homer was running an assortment of deathguard units, accompanied by Iron warriors and Be'lakor.  Everything was incredibly difficult to remove and only got more durable as the game went on.  Be'lakor was a nightmare as I failed to do even a single wound to him all game (he's terrifying).  I managed to out-skill homer and win the roll to go first.  I had deployed incursors to move block his units to keep my important stuff save but now going first this allows me to get up the table and box Homer in.  My turn 1 saw me kill 5 of 6 nurglings and do 0 wounds to belkator with my Long fangs, very worrying turn 1.  Homer was not able to get Be'lakor into combat turn 1 failing a 7 inch charge after rerolling a charge from his discolord.  This really let me take control, turn 2 saw me kill all of his Lawnmowers and his disco-lord while making use of the saga of the hunter I had activated turn 1.
The game was very back and forth for the first 3 turns, It ended up being decided when I managed to lure homer into chasing a unit of blade guard vets with Be'lakor to his back side objective.  The hope was he would have to commit the big guy to this and that it would buy me a full turn to clear the rest of his units and stay alive on the middle objective.  The plan ended up working out as my bladeguard withstood 2 rounds of combat with the Be'lakor.  I believe if Homer had ignored them and commit him mid, I probably lose the game 85-75.
Final score: 81-62 Wolves
Round 3 Wolves vs Imperium: Scorched earth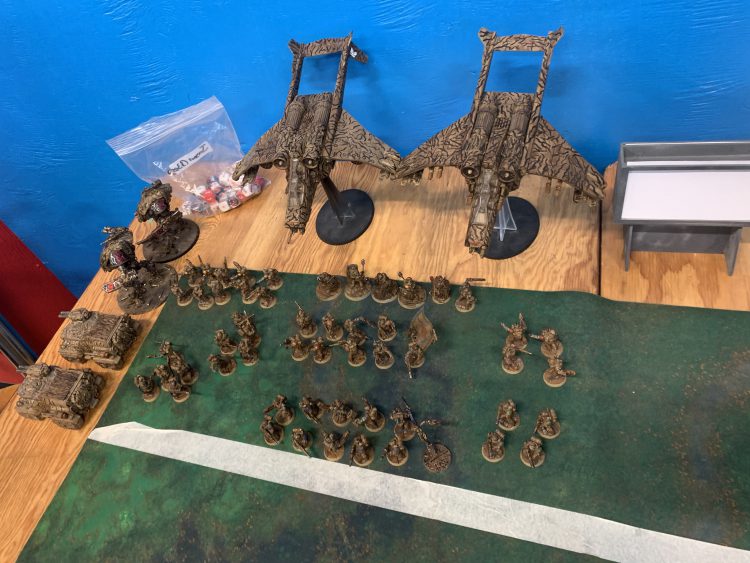 The final round I matched up against Another Brandon area local who runs one of the teams in town, Jason Wells.  He is always a RTT top table player and usually somewhere in the hunt for top 5 of the GT/Majors we have around here.  Jason was playing a mixed imperium list with 3 warglaives and a battalion of Lambion Lion Scions.  The mission was, in my opinion pretty favourable for me as I would be able to bully 1 side of the table fairly easily if I just focus on my turn 1 target priority and remove the bullgryn/ move block the knights.  I once again took Oaths, ROD and then banners this time.  During deployment I was trying to get Jason to not deploy his knights in the center of his deployment and instead on one side or the other so my first 4 drops went corner to corner alternating, while also forward deploying my incursors onto both side objectives.  by doing this I was hoping to force him to put 1 or 2 of his knights on one of those sides in an attempt to guarantee he removes the incursors.  I was able to get what I wanted which meant I had now bought myself several turns of freedom on the other side of the table that I wanted to dominate anyways.
I won the roll and was able to drop my long fangs inside increased damage range of his vendetta, and a tuarox.  Jason had made 2 mistakes in deployment, 1 was his armigers but the other was that his warlord that gives a 5++ save to all his vehicles was misplaced and not in range of these 2 vehicles I was about to shoot at.  The fangs deleted the plane and failed to put any wounds on the tank, I managed to make a 9 inch charge with the fangs and get into combat with 2 of his Taurox and a unit of scions which bottled him up for the rest of the game in that corner.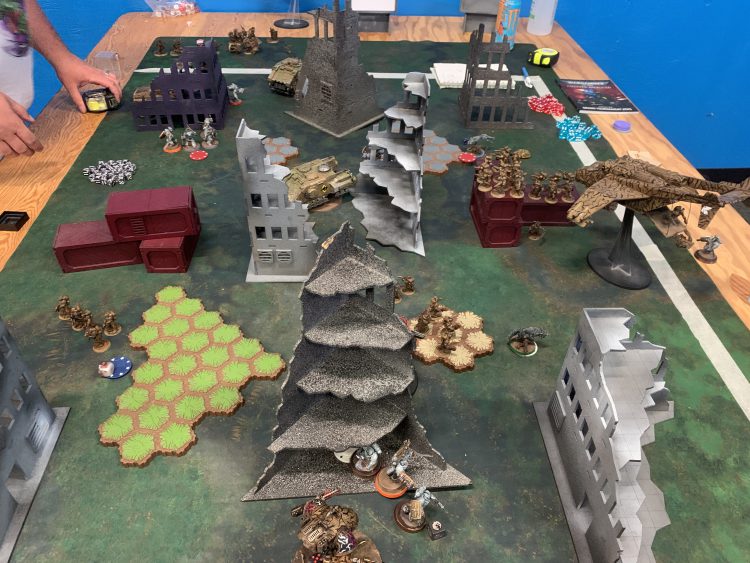 A very strong turn 1 for me, if not a little lucky.  Jason was really feeling the pressure at this point and took advantage of a mistake I had also made which was deploying my incursors touching the ruin wall allowing his warglaives to fight me through it.  Turn 1 he was unable to kill my long fangs in combat with his bullgryn meaning he was stuck there for another turn if that corner lived that long.  The next turn saw me destroy everything that was in the top left corner (2 tuarox, 15 scions, 4 bullgryn, and his warlord) and then get into combat with one of his knights and kill that as well.  Tough turn for Jason but he dropped everything he had and did what he could which was kill all my vanguard vets and an impulsor.  I believe if he had played slightly more patient this would have been an extremely close game, this scions can do some serious work to marine bodies.  Turns 3-5 saw us switching table sides and mostly just me hiding and running away from him while he chased me off objectives.  I knew I had a strong lead and there was no need to go make any risky plays.
Final score 85-61 wolves
Final Thoughts
When the dust settled my list concept held up for its first strong test run; I was satisfied with how it felt on the table and the way it functioned playing the mission.  It is still early but my teammate Logan ran a similar list and he was also impressed with it, the fact that I am able to come out of covid and find a list that works with my outdated junk was the real win for me here.  The scores and standings aside, it just felt so good to be back in person playing again after such a long time off.  Getting to see these local players again and hear their stories, talking with my teammates between rounds and during games, and discussing peoples list concepts was worth the 2.5 hour drive.  Online play misses these aspects, while I am a big advocate for slamming as many games as you can online, now that parts of the world are safely opening up again we all need to relearn the social aspect again.  I found it really testing to get my secondaries properly thought out and my first 2 turns lined up while reading my opponents list before the round.  This is something all of us (who put the work in) just take for granted that you will be able to have tons of time to do.  In reality though, if your games go to time you have next to no time to recover and plan the next game.  It feels like a different game if I am being honest, a much harder game.
While this was only a small RTT, it was the first step in the road for all of us Manitobans to getting back to our new normal, I left the event filled with hope and encouraged about what the future of 40k looks like in my region.  I look forward to finally being able to compete, coach and grow my region again.  The next stop for us here is a 40 person GT on August 21/22nd.  To catch up with me and share your experiences with returning to 40k play I can be found on the Goonhammer discord and on reddit (seekingasaga).
Have any questions or feedback? Drop us a note in the comments below or email us at contact@goonhammer.com.