In this review I'm going to be taking a look at a couple of offerings from the Fallout: Wasteland Warefare – Print at Home range. These files were purchased for review, and you can find the Ruined Red Rocket and Corvega on the Modiphius store page. There's a huge range of scenery offered via the Print at Home range, so whether you're looking for add a centre piece to your board or just fleshing out your post apocalyptic table, they provide some great options.
">

[gallery type="square" size="medium" columns="2" ids="134260,134259,134258,134256"]
Print Settings
Before I get in to the files themselves, I'd like to give a quick overview of my own set up for this review. All of the files were printed using an Elegoo Mars 3 with LiquidResin Black (similar to Elegoo ABS-like but slightly stiffer). I use the Elegoo plans for a pre-heated chamber and tend to run this for around 30 minutes before printing. I find that heating the resin before a print allows for much more consistent results and it also makes diagnosing any print failures easier. My layer height for this review was 50um with a 3.2s exposure time. All of the prints are then cleaned using a two stage process followed by curing for five minutes.
Contents and First impressions
The Red Rocket pack represents pretty good value, especially for the level of detail. With a little creativity you could certainly use it to create additional buildings beyond the one pictured on the store front. You get a large piece of flooring plus the building itself, ruined signage, the aforementioned rocket ,and the beam it used to rest on. All of this really helps to capture the environmental storytelling that makes the Fallout franchise great. The pack value is good but it's disappointing they weren't pre-supported. Pre-supported files feel like a fairly standard offering now and it's an added bonus if those files are also provided in the Lychee Slicer format; which allows you to edit and tune the supported models to your preference. In the description Modiphius Modiphius mention using a Formlabs 2 as a consumer printer, but unless you're also a resident of Tenpenny Towers you're much more likely to be printing on something like a Elegoo Mars or Anycubic Photon. The intent might have always been to have these files printed in resin, but if that's the case why not provide them pre-supported? Ultimately I came away wondering if perhaps that the original files were actually designed for FDM.
Thankfully the Corvega comes pre-supported with multiple options for splitting out the shells and individual pieces depending on how you'd like to approach printing it, and this was a really straight forward file to use compared to the much larger Ruined Red Rocket.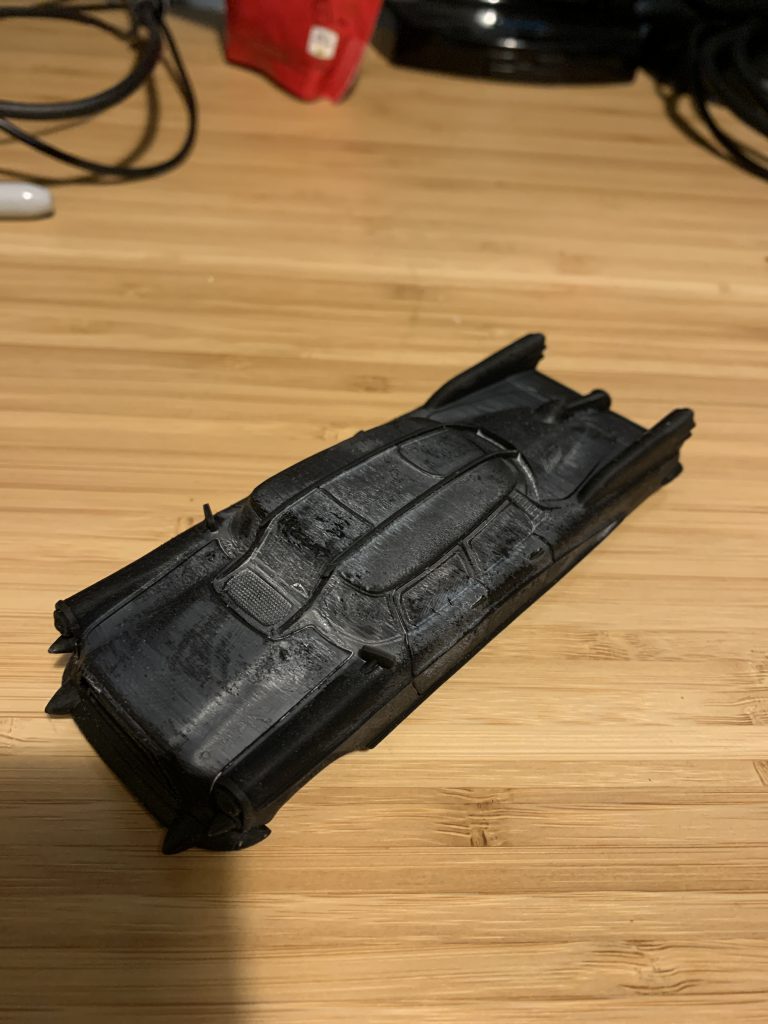 Printing
Putting aside the lack of pre-supports for the Red Rocket, once you have the files prepared to your liking they're fantastic. They have a wonderful level of detail and the slotted construction allows for everything to be set up and taken down quickly. This is a pretty substantial printing project, and I went through almost a litre of resin printing everything I needed for the review. This would make for a fantastic centrepiece as part of a large table with some simpler structures as filler. Printing an entire table of terrain at this level of detail in resin might be time consuming and end up costing as much as some plastic kits but the variety of models available more than makes up for this.
Extra contents
This is where things get tricky, and they do mention in the description that some extra experience and expertise in editing 3D models is useful. Unless you have an incredibly large format 3D printer, you're going to struggle with a couple of the files and I had to go back and remind myself of the work flow for plane cuts and adding registration pins using Meshmixer. I ended up using this guide as a refresher, and it's a very well put together tutorial on exactly what you'll need to do. I've also included screenshots of my Lychee slicer work area to give you an idea of where I chose to make my cuts for the prints. They weren't perfect in the end but a little bit of your favourite filler is all you'll need.
Final thoughts
For the price this kit represents pretty good value for money, even with the additional work required to support the walls and slice some of the larger pieces. If Modiphius update the files to include a pre-supported option and add some two part alternatives for the larger pieces I'd be happy recommending this to anyone who wants to build a Fallout table, or any post apocalypse inspired board. You can find the on the Ruined Red Rocket, Corvega V8 Sedan and anything else you might want to decorate your Wasteland wandering on the Modiphius store page. If you have any questions or suggestions for us, you can drop a line at Contact@Goonhammer.com.