2022. It's been a long year. I went to a lot of big 40k events, a lot of concerts, and picked up an old hobby. It's been a long year. I really dove head first into the hobby in this one. Since starting my hobby journey during the pandemic I've painted two whole armies, but this may be my current hobby record. I painted 105 models and 95% of that count was Space Marines alone.
Let's talk about that first.
Warhammer
Necromunda
I did A LOT with warhammer this year. I painted a Necromunda gang and several weirdos. I played a lot of Necomunda too. The game rules and more people should play it. Have you seen the models?? They are consistently some of the best models I see Games Workshop produce and I am always excited to paint them. It gave me a home for my Cultists of the Abyss models, I don't own Blackstone Fortress and I was never going to run them on the tabletop. I also took the liberty of using Tempestus Scions as gangers because I think those models are awesome. I'm not including a picture, because I could do a lot better on the Scions and the Water Guild and they will probably be repainted next year. I am happy I painted them this year.
Blood Bowl
Another great decision I made was getting into Blood Bowl. Fellow writer Joey "Custode", Crab-stuffed Mushrooms, turned me on to the game after I heard about it for hours on end listening to the 40k badcast. I went and got myself the season 2 starter box immediately afterwards. I tried to con some of my local friends into playing but they aren't as into board games as me so we only got to play a learning game. Then NOVA Open 2022 came rearing it's wonderful head. I had no painted team and I was planning on playing in the Rookie Rumble (7's) and Slaughterday (11's) tournaments. So I came up with a pretty quick scheme for my Black Orks and slapped them together the week before the event.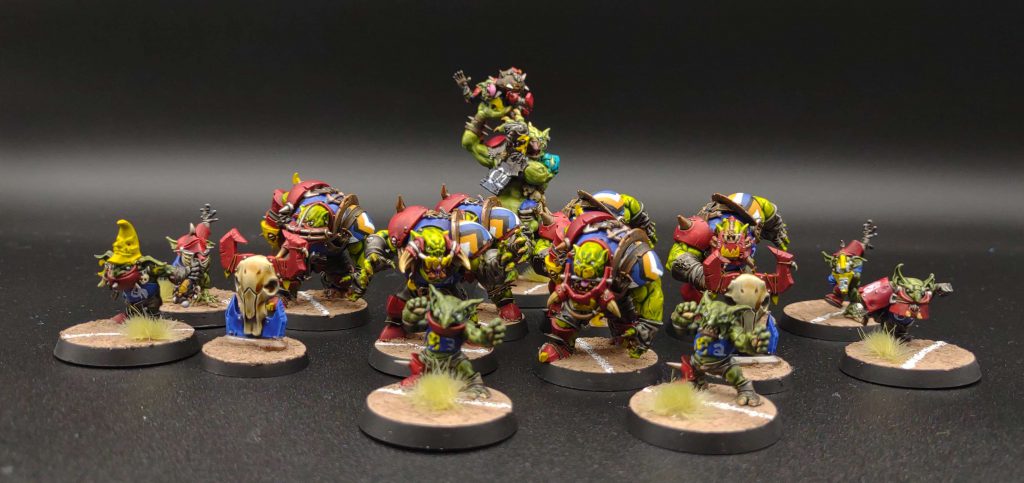 The trained troll is Mash. the rest of them are da Blockaz. I had a lot of fun with these guys and they tempted me to paint more Orks. This desire would be sated 3 months later with the Goff Rocker who was coincidentally the last model I painted this year.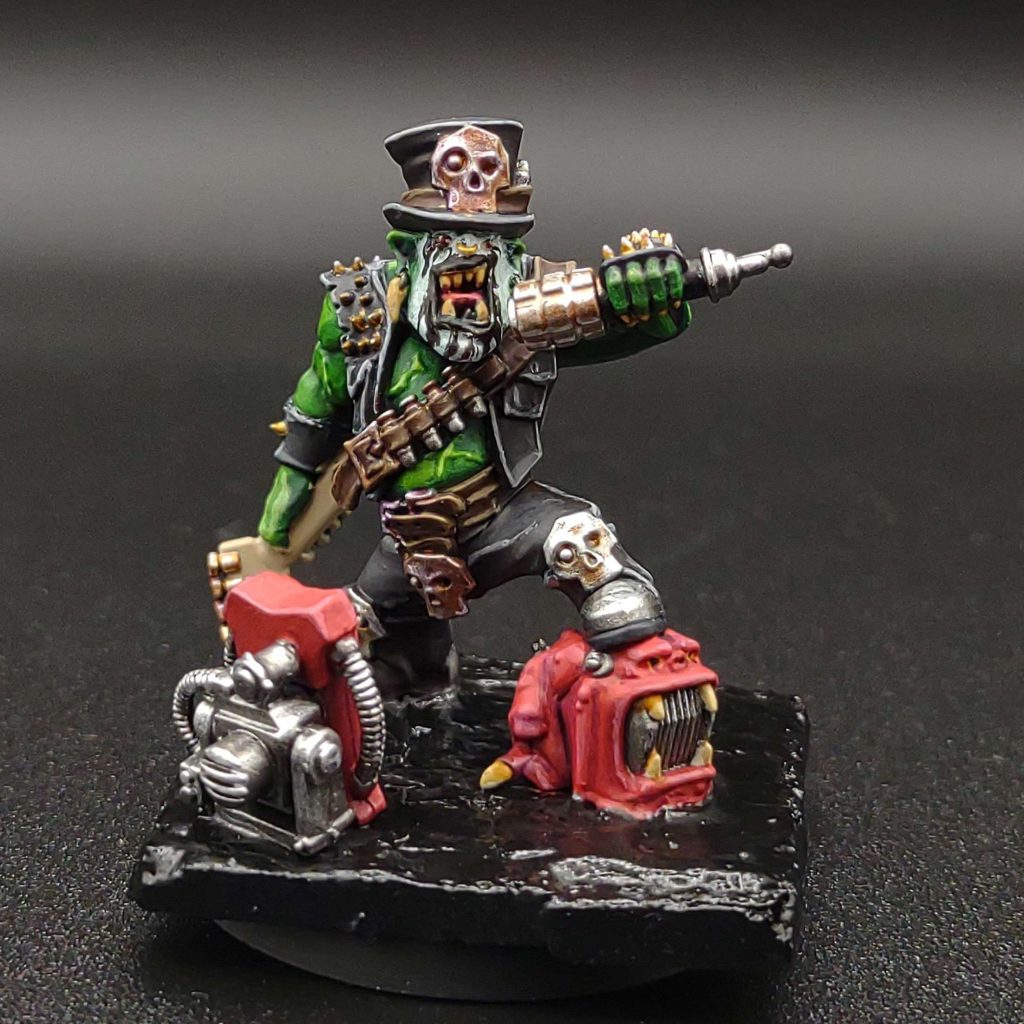 This guy was an absolute blast and I absolutely need more goofy one-off Ork models to paint in the future. I decided to give him black and white face paint, known as corpse paint, and styled the guitar on his back after my own.
Aeronautica Imperialis
I talked about it in Road To articles for the Grand Narrative in New Mexico (can be found here and here), but when GW announced that there would be side games of Kill Team and Aeronautica for actual faction progress in the narrative I jumped at the chance to paint up some tiny planes. What I really love about these models is that they are all the detail of their full size Forge World resin brothers, but smaller and in plastic and much more affordable! I managed to paint up this squadron in time, but didn't get a chance to actually play a practice game. So I learned the rules at a brewery that week. The game rules. Please go out and buy some tiny planes of your choosing and get your friends to play too!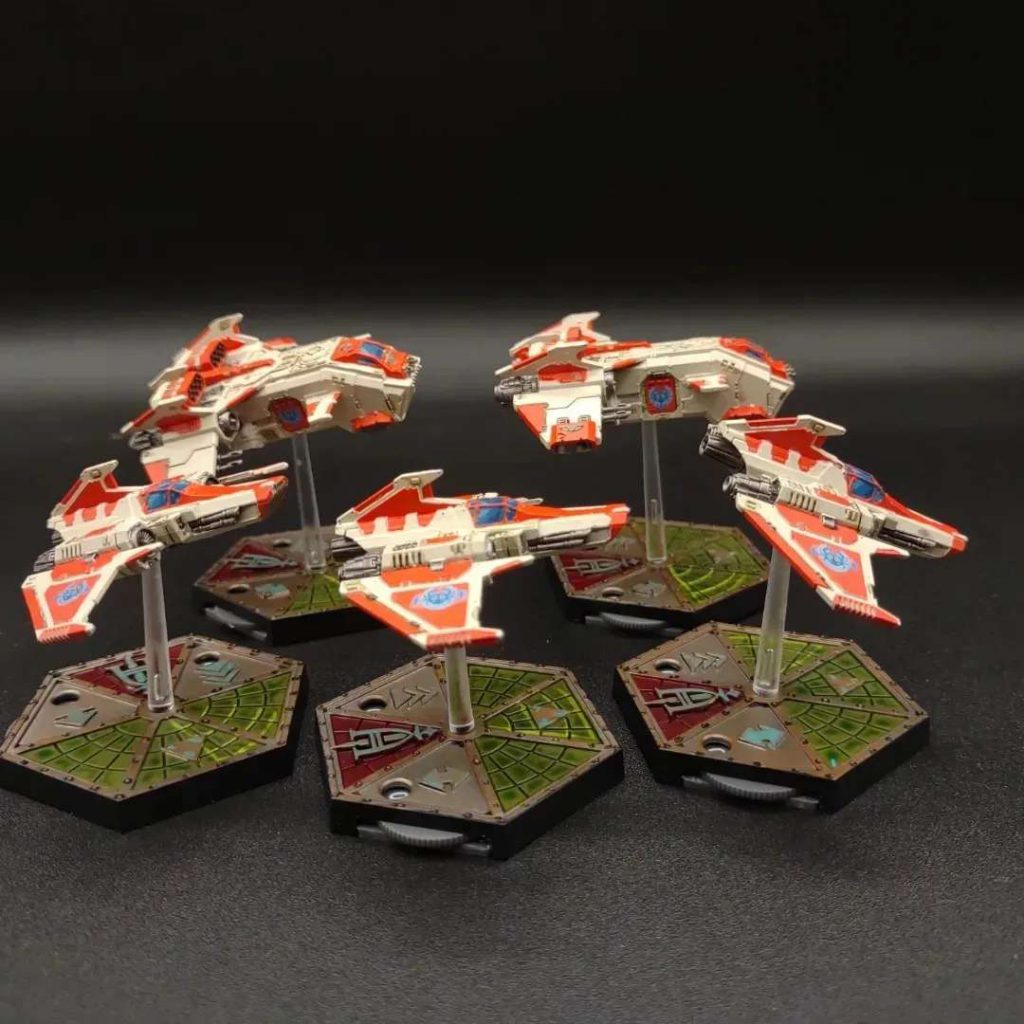 Warhammer 40k
As I said before, 95% of my painting this year was space marines. I purchased an Astraeus at the NOVA Open 2022 and painted in time for me to bring it to the Grand Narrative Finale. I painted 20 Vanguard Veterans, 5 Bladeguard Veterans, 6 Eradicators, 10 Assault Intercessors, 5 Infiltrators, 2 Redemptor Dreadnoughts, a realized version of the chapter master I wanted to kitbash, a Primaris Techmarine, a Relic Shield Primaris Lieutenant, and 3 Outriders in the months leading up the Goonhammer Open 2022 in Maryland. I also painted a custom Ancient in Terminator Armor, the Primaris Champion commemorative model, a Phobos Librarian, and 5 Tartaros Terminators. This is a lot to post in on section of an article so I'll just post the army photo I was able to grab at the Grand Narrative. I plan on doing an army showcase in the future.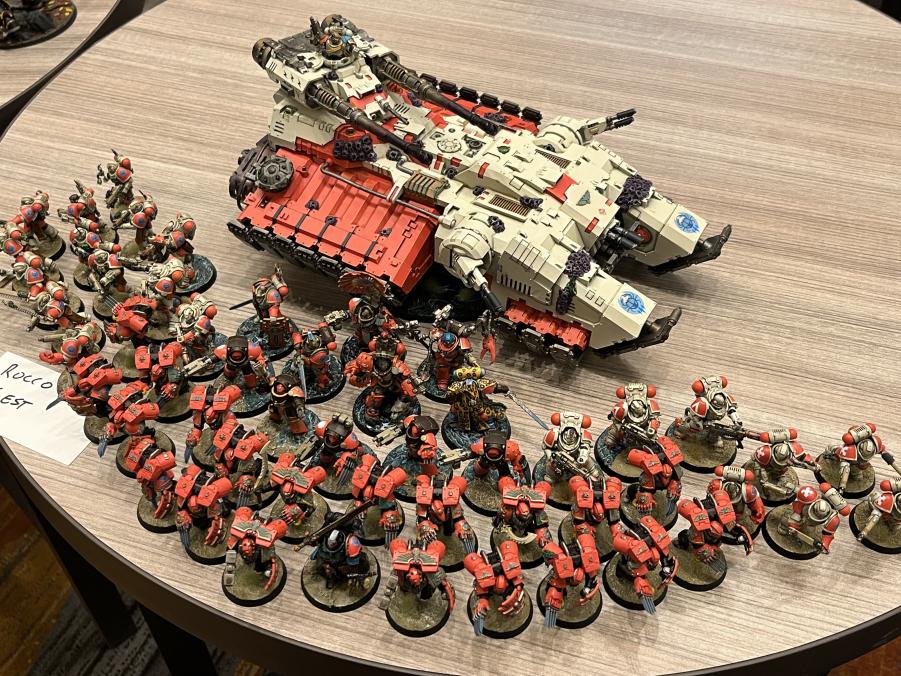 You can read about my journey creating their background and lore here.
Events
I talked about my experience at the GHO in a previous article that you can read here.
I did not, however, talk about my experience at the NOVA Open 2022. It was the first time I've ever been to the event and I was excited to go to Warhammer summer camp with the good friends I've made/cursed with my presence since starting the hobby. I toyed with the idea of doing the narrative, but seeing as there were so many other options and after the joy of losing a lot of Warhammer at the GHO I decided to not spend all of my vacation playing Warhammer and instead only spent some of my time playing Blood Bowl and Necromunda.
In my first ever Blood Bowl tournament I came in DEAD LAST in the 7's tournament (the Rookie Rumble). I was graced with this beautiful trophy to commemorate my horrible showing.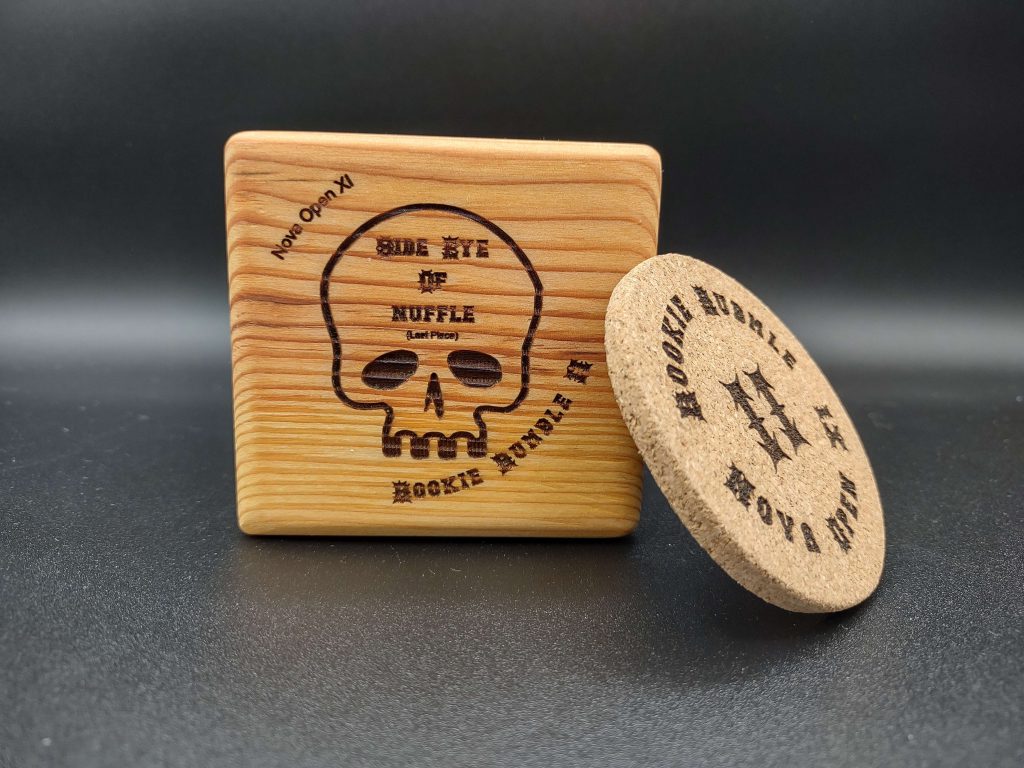 In Slaughterday, the next day I wasn't nearly as impressive. I had a lot of fun using my Trained Troll to throw goblins down the pitch, but I was possibly too good at it. I came very close to dead last again, but I didn't perform poorly enough.
On the last day I played Necromunda. I had a lot of fun throwing my Water Guild Outcast Gang (The Gang Green with such inspired names as Jim Gevitis, Tim Burculosis, Bob Tulism, and MRSA the Subnautican), then in the final round I was paired into the Necromunda kingpin Dan Boyd and his Orlock gang. We had a lot of fun in this game and the stakes kept getting raised as the event organizer brought over the prizes we were competing for. We had no idea there were prizes in the first place. What started as an extremely goofy game of Necromunda with zany custom rules for the map became extremely cutthroat and the closest thing to competitive Necromunda anyone could imagine.
The last noteworthy part of NOVA was playing Street Fighter: The Miniatures Game. I had just picked it up from one of the vendors at the event and managed to con 5 other Goonhammer contributors/members into playing. Campbell talked about it in his article covering the event here. I had a blast playing this game and was very satisfied with the gameplay. When I got home I immediately bought every expansion available.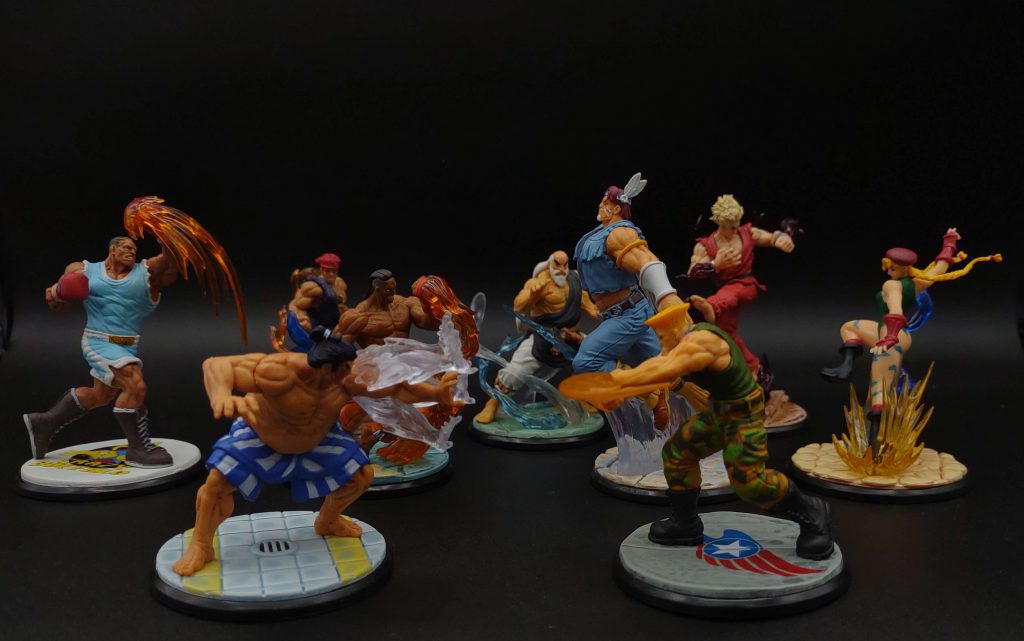 That's all the Warhammer and Warhammer adjacent stuff I did this year. Now for unrelated hobby stuff.
Other Hobbies
Concerts
Yes I consider concerts a hobby. I'm a huge metal head and I love concerts. I just want to write a short blurb here about my two favorite concerts of the year.
I saw Meshuggah in September, and by god they may have put on the best show I've seen in my life thus far. The energy was electric and almost primal as they played. I had seen them once before the pandemic, but I had mezzanine seats. This time I was in GA and I was able to experience them in the pit as intended. They played all the songs I was dying to hear and some great ones off of their recently released Immutable.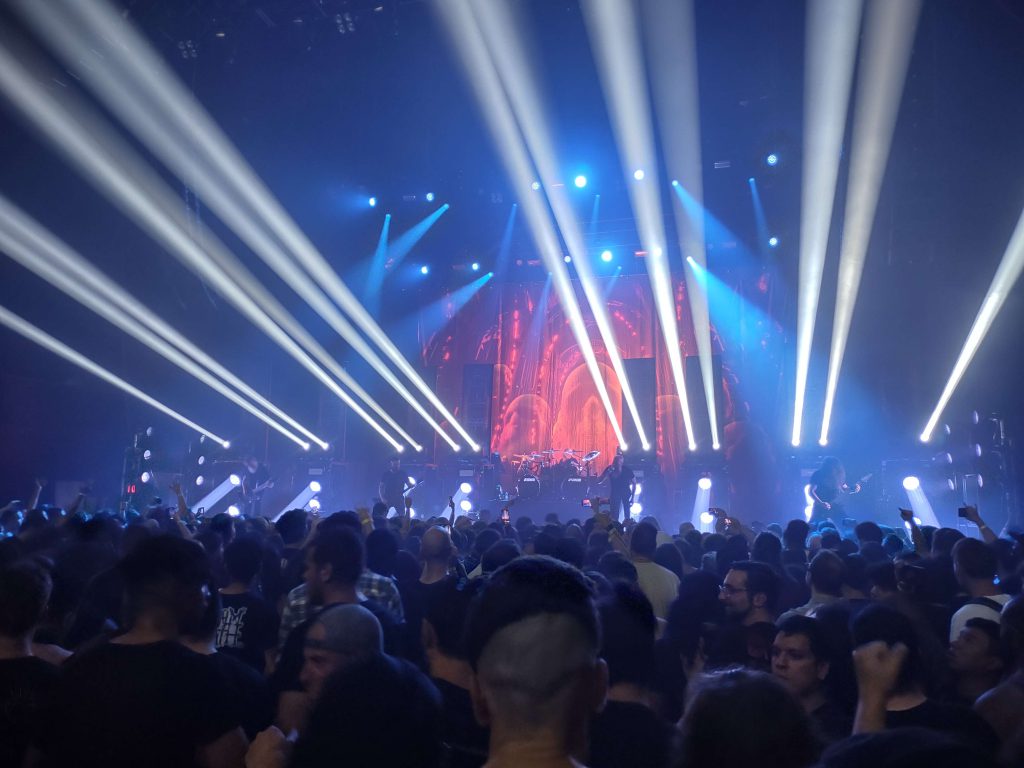 The other concert I really loved was Trivum in October. One of my favorite Metalcore/Prog Metal bands and my absolute favorite band, Between the Buried and Me, opened for them. Between the Buried and me played a 45-minute set consisting of 5 songs. I adore that band. Trivium played an amazing set, the best set I've seen them play, including my favorite song by them, Shogun.
Video Games
I like video games a lot, but realistically I played 3 video games this year: Elden Ring, Vampire Survivors, and Pokemon: Scarlet.
Elden Ring had me hooked from the jump. It helps that I was already a huge From Software fan beforehand, and was majorly awaiting the release. My initial run was Dex/Int build hacking and slashing my way through the game with the Moonveil. Game rules. I love it. I already put 171 hours in and I can't wait to put in more.
Even though Elden Ring was the best game of 2022 and won Game of the Year at The Game Awards, Vampire Survivors was my true game of the year. I played it for about half as much time as Elden Ring, but it feels like I've played it for a century. It's an amazing time waster and just an absolute nightmare of a viewing experience.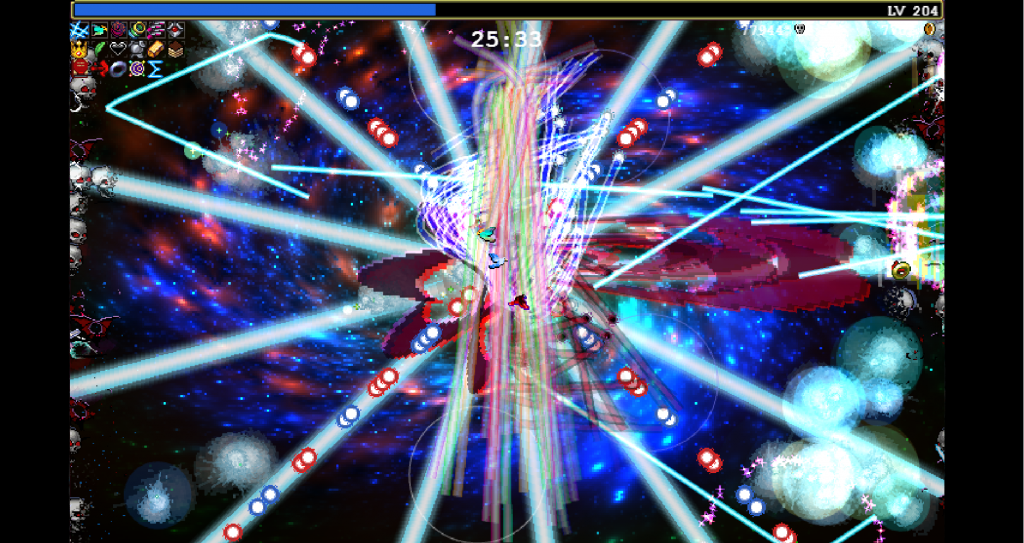 Finally there was Pokemon: Scarlet. This was a newer addition to my games played for this year, but I loved it all the same. The release was sub-par, but patches have been good. This is the best that Pokemon in the game have ever looked. Ever since Pokemon moved to 3D they've all just looked like someone sculpted them out of Play-Doh. This time Game Freak got smart and actually game the Pokemon textured skin! I am also a big fan of the VGC circuit, that's Pokemon's competitive circuit, and will be doing my best to participate this coming year.
Yu-Gi-Oh!
I still have some room left in this article to type, so now you're all cursed with reading about Yu-Gi-Oh!. I was always a big fan of this card game. I was playing semi-competitively from 2016 up until early 2019. I dropped the game entirely because I had a couple of bad experiences at a relatively sweaty local environment. I had no plan to pick the game back up. Until Master Duel came. Master Duel was good. Too good. I thought I could play it and have my need for Yu-Gi-Oh! gameplay sated. I was wrong. I started buying staples, and starting buying decks. I was back in and it felt good. I'm still in now. I've written 3 articles so far and there are going to be more on the way (if they let me write them). You can read about getting into Yu-Gi-Oh! here, read about getting started with Master Duel and the other digital formats here, and read about the ever growing Goat Format here.
Which brings me to my goals for 2023.
Goals in 2023
I need to beat Death Guard one time with my Space Marines. For all of 9th I have played against Death Guard and every game has been like smashing my face in against a brick wall. I don't claim to be an amazing, or even good 40k player. Death Guard have my number. They are the antithesis to the way my stupid caveman brain plays this game. Apart from the hobby goals, which I will go into, I have to defeat this stinky, pox-infested army once.
As far as hobby goals are concerned, I think I want to build a display board this year. I have a cool idea in my head that will use some liquid resin, sand, and Necormunda tiles to create a spacecraft submerged on a beach that my marines are scavenging. I also have a huge backlog of gray plastic, so my next army goal is going to be a Legio Oberon force for Adeptus Titanicus. I love that stupid big robot game. There is also a lot of 40k, Necromuna, Blood Bowl, and Star Wars: Legion in my backlog. We'll see which of those I get to first.
Thanks for reading! I told you it was a long year and I hope 2023 is as fulfilling if not more so! Until next time.
Have any questions or feedback? Drop us a note in the comments below or email us at contact@goonhammer.com.