Depending on who you ask, 3D printing is either ushering in a new revolution to wargaming, or spelling its impending demise. For my part, I'm mainly just interested in printing out enough models that I can be buried with an impressive horde to serve me in the afterlife, like my own personal Terracotta army. Here is a round-up and review of the various historical 3D printing models available in the Spring of 2023. Wherever possible I've completed test prints to share how the finished product comes out. My test prints use presupports when they're available. I've also grouped them by category so you can skip straight to the section you're interested in!
Medieval
Medbury Miniatures

[Patreon] [MMF]

Medbury Miniatures offers an impressive collection of Medieval era models, primarily focusing on Western Europe. They have recently completed their Medieval run (for now) and have switched to an earlier time period, focusing on the 5th-7th centuries. 

The March Patreon/Tribes release comes with a dozen Medieval miniatures, mostly mounted Sergeants.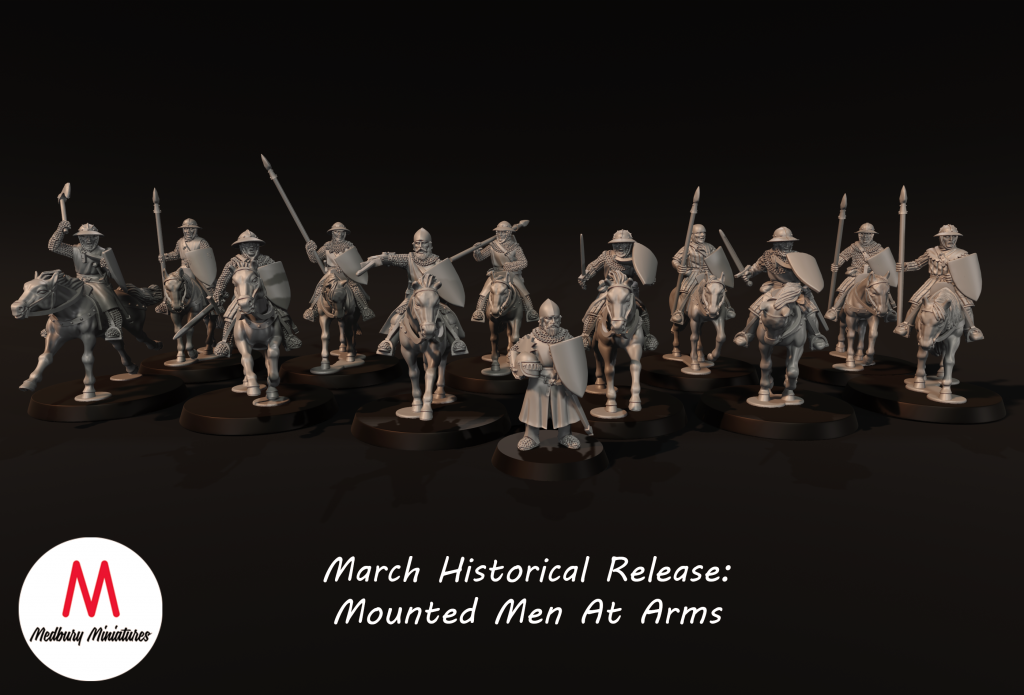 The April Patreon/Tribes release gives a dozen pre-Viking age Scandinavian/Saxon warriors armed with a variety of weapons. 
Print Test: I printed the warlord drawing his sword. One of the supports evidently failed but it didn't impact the model in any way. The final print is very clean and looks sharp.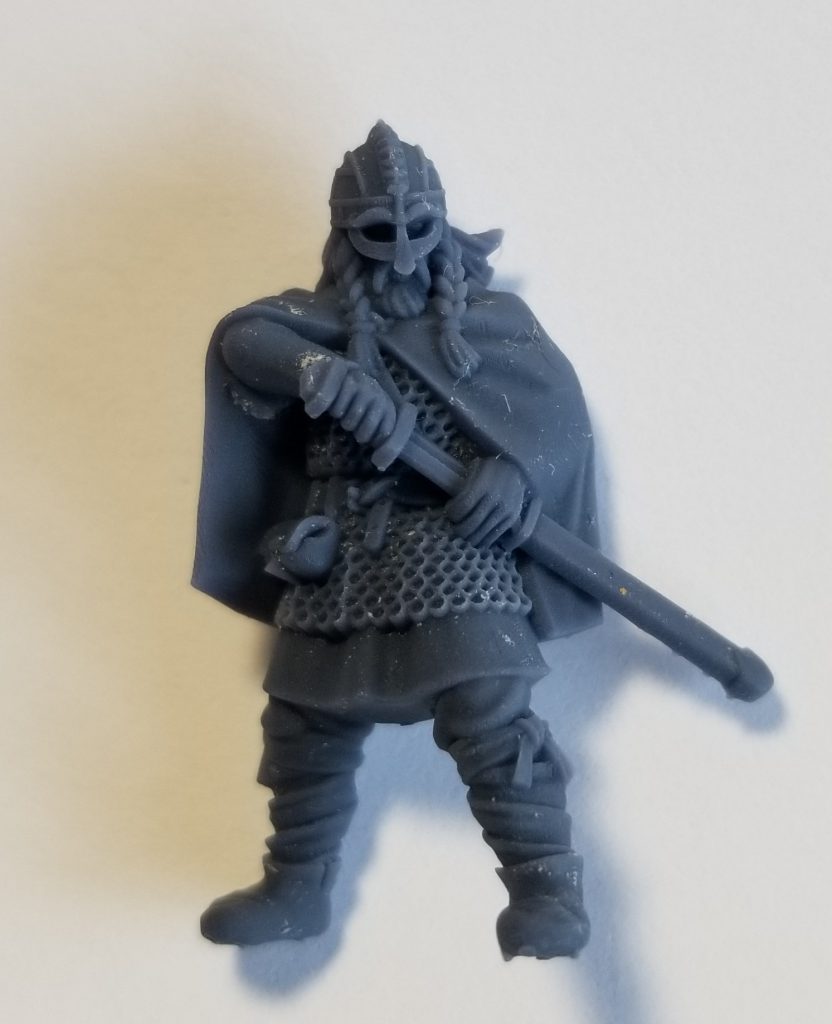 Conclusion: Medbury Miniatures are nicely sculpted, and the comprehensive approach is well-suited for army building – with all the models you could want for this particular time period on offer.
Reconquer Designs [Patreon] [MMF]
Reconquer Designs (Previously Caballero) is specifically focused on the Reconquista period in Medieval Iberia. Each month patreons receive about a dozen models scaled for 15mm and 28mm. The miniatures themselves are extremely well sculpted, with their best feature being how dynamically sculpted they are. No stiff or awkward poses here – each model appears paused mid-action. 
March's Patreon release comes with the following:
Spanish Levy armed with bows, spears, and javelins

Fleeing villagers

Two Knights preparing for battle

April comes with the following:
A Mounted Slavic Mercenary Commander

Moorish Heavy Infantry with Slavic Mercenaries

A Stable

Print Test: For my print test I decided to print a fleeing villager holding her child from the March release. The model came out excellently, with very fine details.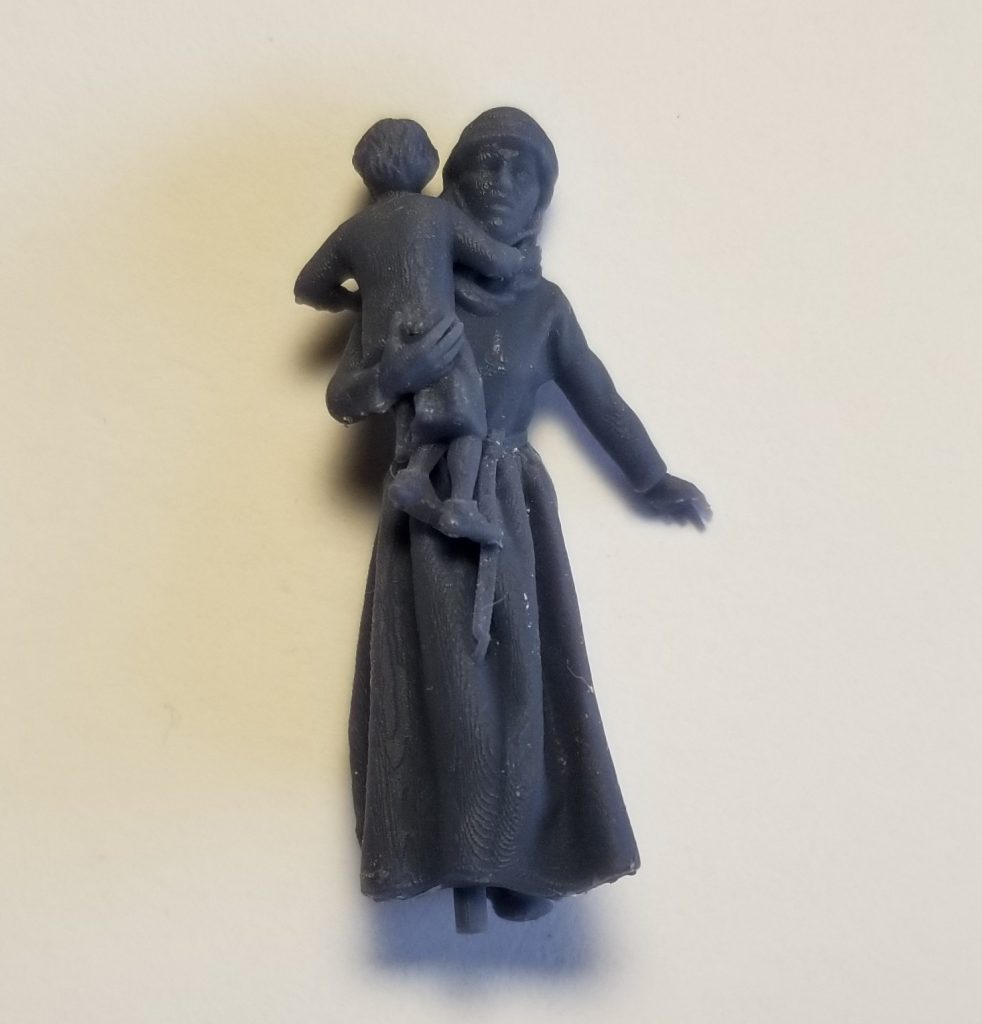 Conclusion: Reconquer's models are perhaps the best Medieval wargaming minis on the market. If this period of history interests you, then I highly recommend checking them out.
Wargames Atlantic [MMF]
Wargames Atlantic has recently moved into the 3D printing game to complement their plastic ranges. This puts them in the unique position to be able to release 3D printable pieces meant to complement their plastic figures. For example, they've released heads to convert their plastic WW1 Germans to WW1 Ottomans. Each month focuses on a different theme.
For March the theme was "Women" and includes the following historical models:
Dahomey Agojie (inspired by the Woman King)

Viking Shieldmaidens

Onna-Bushi 

Russian Women's Battalion of Death (WWI)

WWII British and Polish Female Soldiers

Zenobia, Queen of Palmyra

Ukrainian Female Soldiers

Napoleonic Female soldiers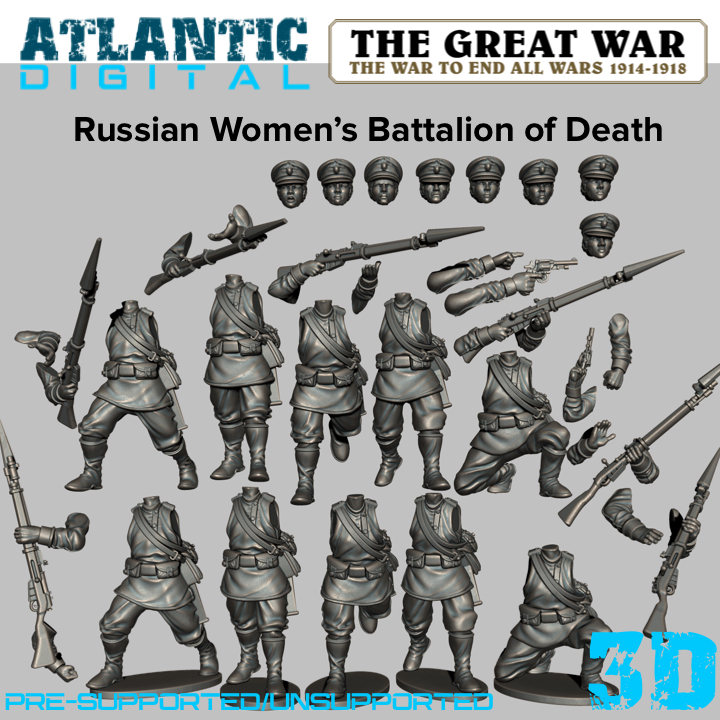 The April theme is "Fornlorn Hope" and has only been partially announced. Wargames Atlantic has indicated it'll include models for the Battle of Stamford Bridge and WWI Trench Raiders.
Print Test: I printed two models, a Maori warrior and a Dohomey Agojie warrior. Both came out well, although the presupports were set up to print little tiny supports under the chin and other areas that are a pain in the ass to find and remove.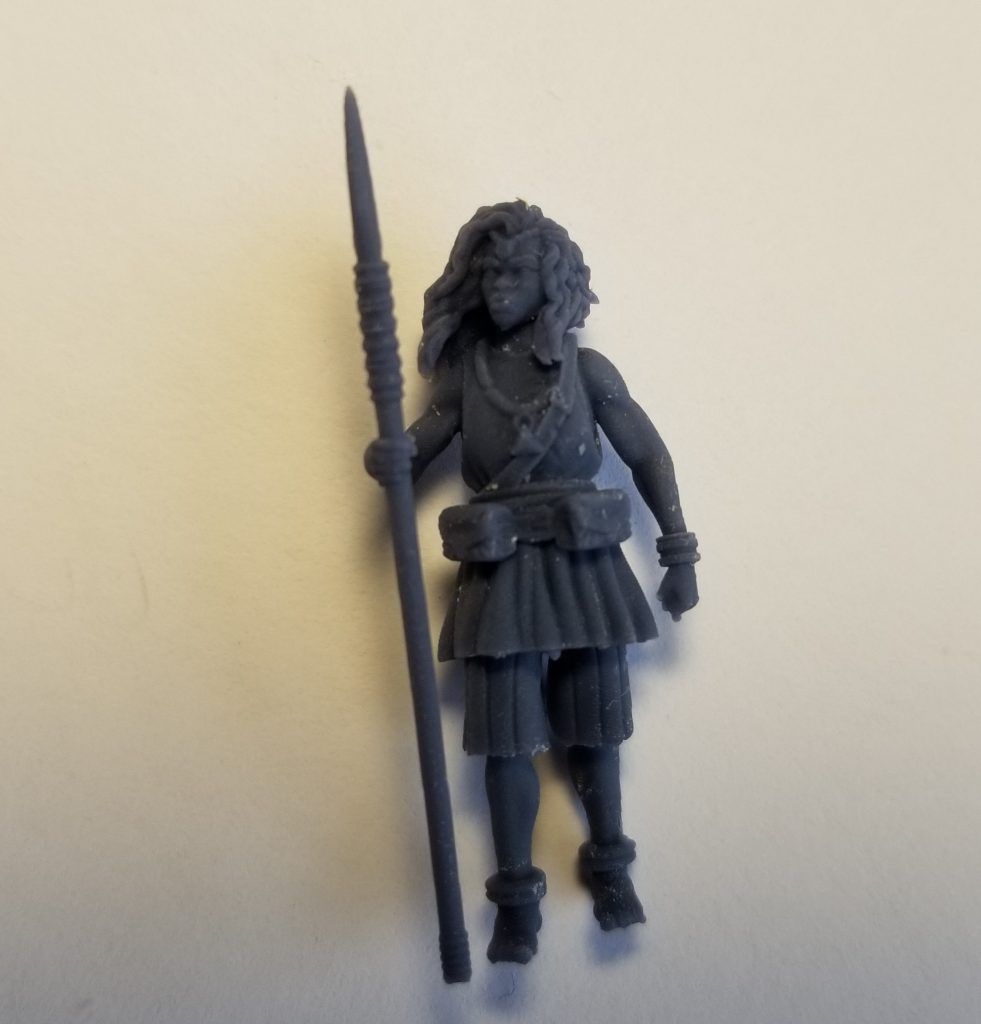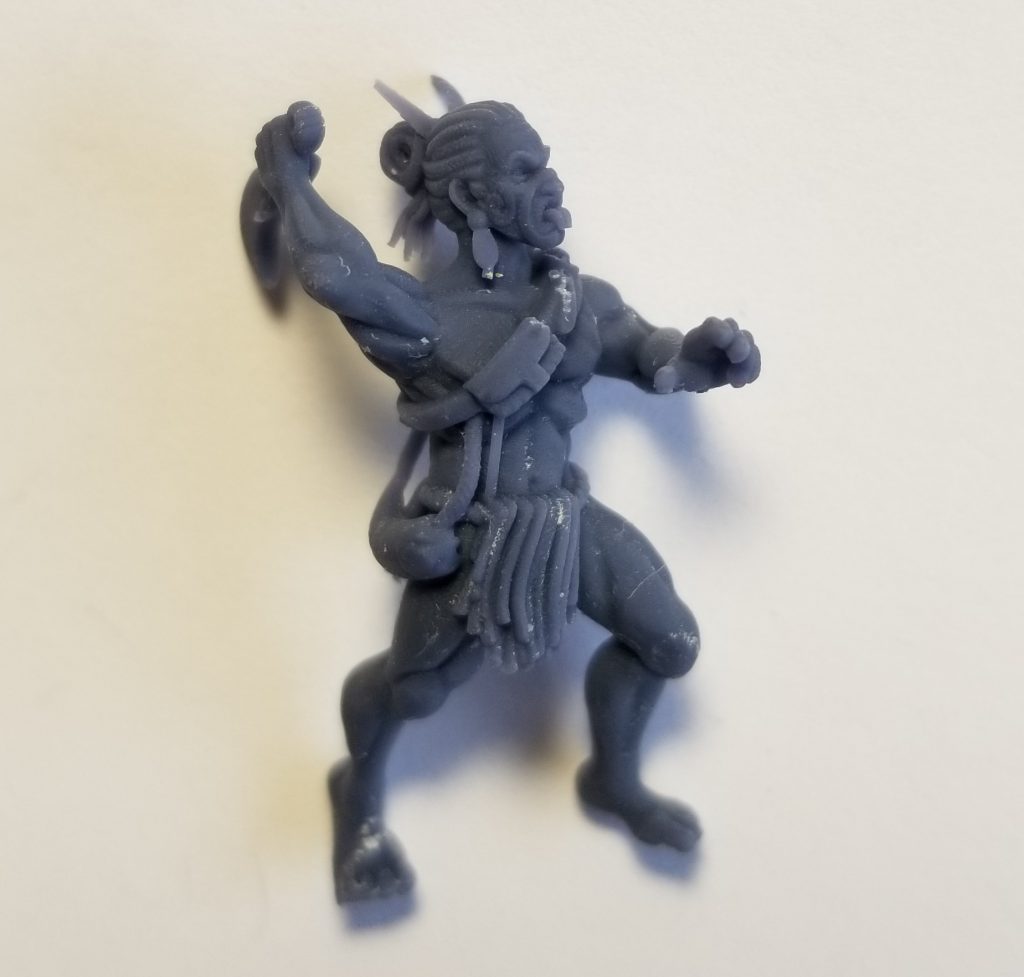 Conclusion: One thing to note: Wargames Atlantic releases something for all 11(!) of their ranges each month, some of which are fantasy or sci-fi. Still, for historical gamers, there is a cornucopia of models here if you're ok with a shotgun blast of random models each month. Personally, I love getting models I would never knew I wanted until they arrive in my inbox each month (like Maori warriors – hell yeah!). If you like Wargames Atlantic's models and collect a variety of different periods, this subscription is a no-brainer. For $12/month you get an incredible amount of models. 
20th Century
3D Breed continues their March to Hell series, with their Vietnam kickstarter having just ended. As usual, the kickstarter includes a laundry list of unlocked stretch goals.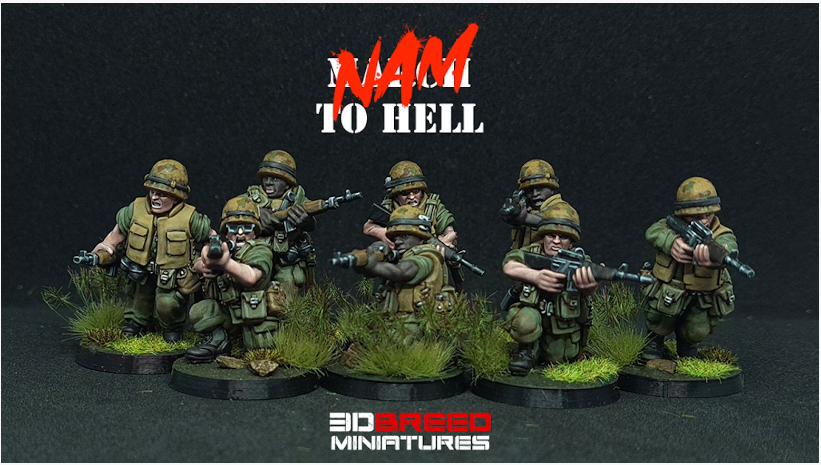 Conclusion: 3D Breed is known for their extremely squat model proportions. The Vietnam kickstarter seems to have turned this up to 11. I would probably only consider printing these at 15mm rather than 28mm where their dimensions are just too chunky for my taste. I will say one thing, however, their kickstarters are a great value for what you get!
Eskice Miniatures [Patreon] [MMF]
Eskice Miniatures by French sculptor Aron offers 28mm historical models from a variety of different eras. His models are stylized, and definitely scaled heroically. The large heads and hands are perhaps even beyond Warlord Games' exaggerated proportions. This can be a turnoff for some, but for ease of printing and painting can be advantageous. 
His March Patreon/Tribes release comes with the following:
US WWII jeeps

Vietcong with RPGs and LMGs

T-34 tank with different turret options

Stuart tank

Roman Republican Hastati

Italian Bersaglieri Support Group (Medic, Flamethrower, Machine Gun, Mortar)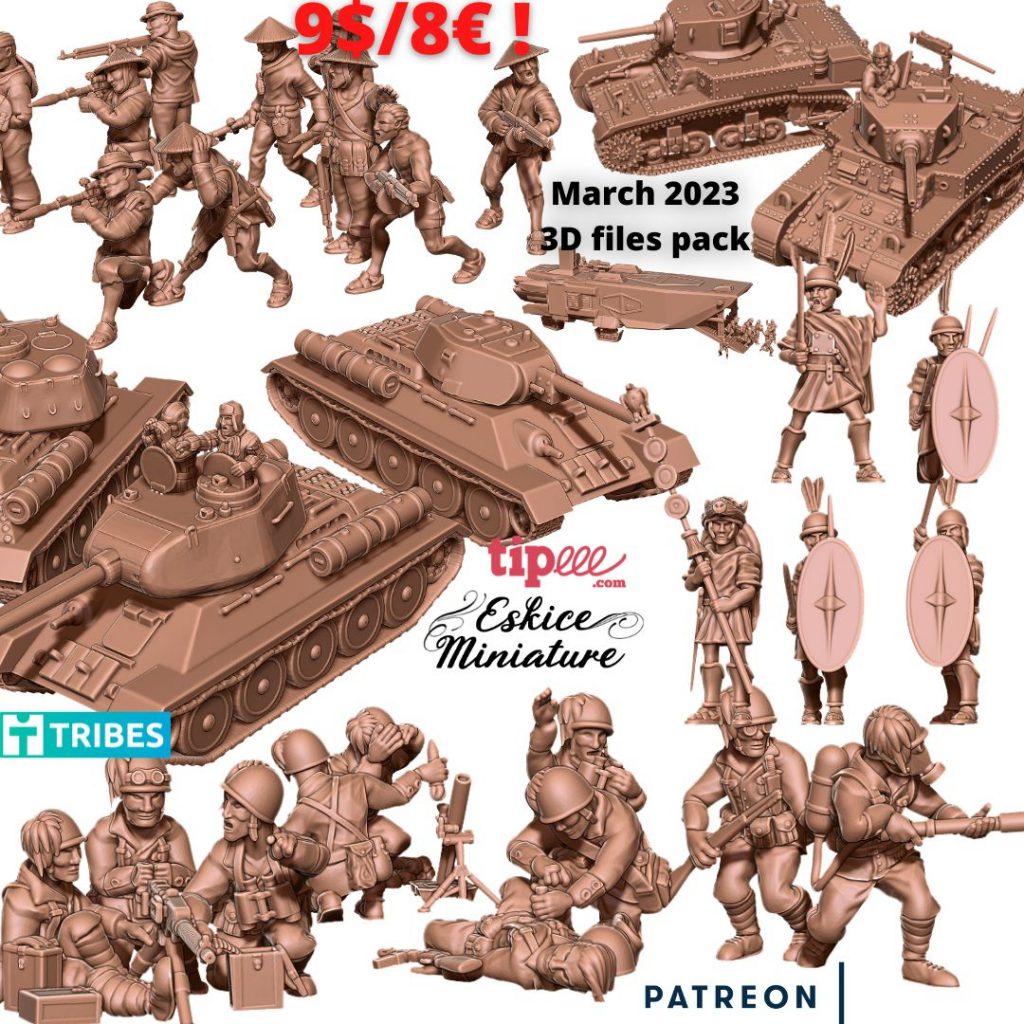 April's release has:
Soviet assault engineers

M113 troop transport w/crew

FCM36 French tank

Elefantino gun with tractor & crew

Numidian cavalry

ACW running infantry 

Pacific Houses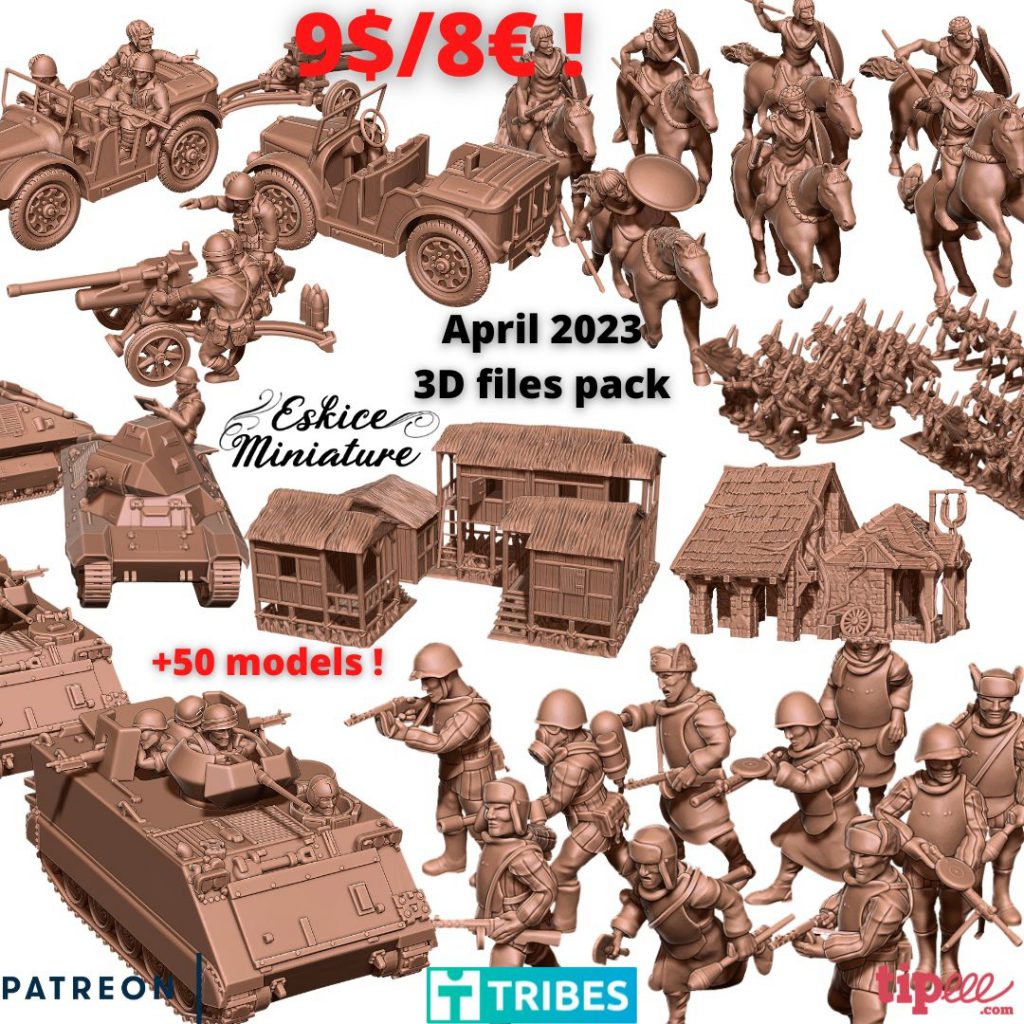 Print Test: I printed a Soviet assault engineer. Size-wise I think these models need to be upscaled slightly to fit in with Bolt Action models. I also had a failed support that damaged the drum magazine he was holding.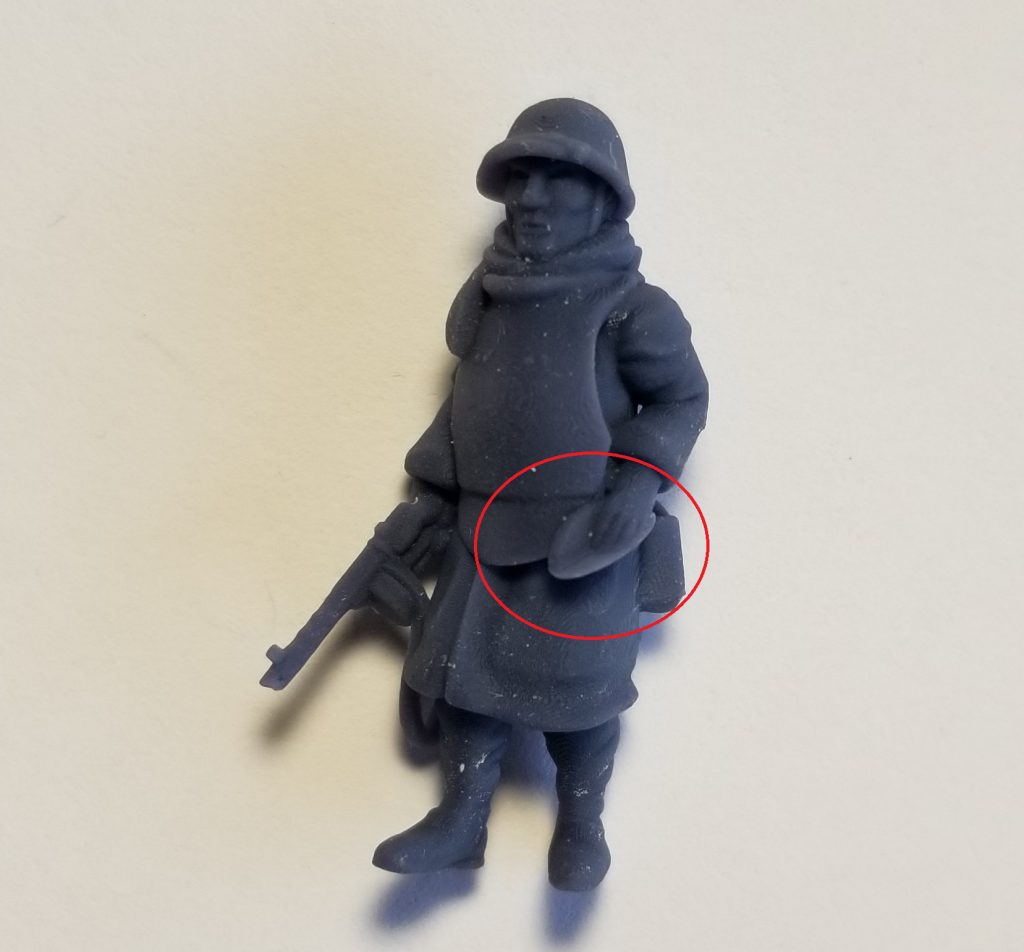 Conclusion: If you like the proportions of the models, Eskice is great value for your money, particularly for WW2 enthusiasts – with $10 getting you multiple packs of models each month.
Scouts Out is a newly-released WWI skirmish game focused on raids and recon missions. In support of their rulebook, Scouts Out has released a number of German, French, British, and Austro-Hungarian STL files for 3D printing. The game focuses on individual soldiers, and befitting this, each 3D model is entirely unique and dynamically sculpted. 
Their recent releases include a British Sapper, a German saboteur, and a five-man Austro-Hungarian Patrol pack.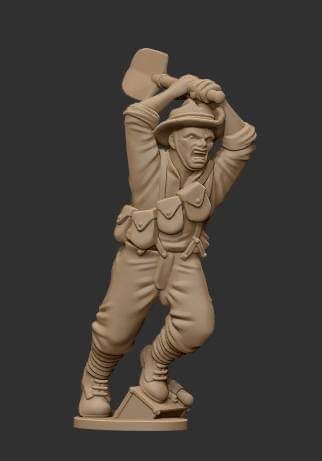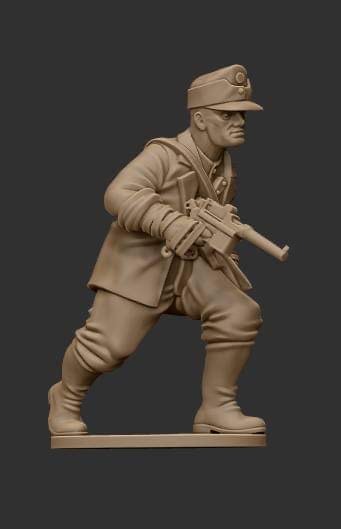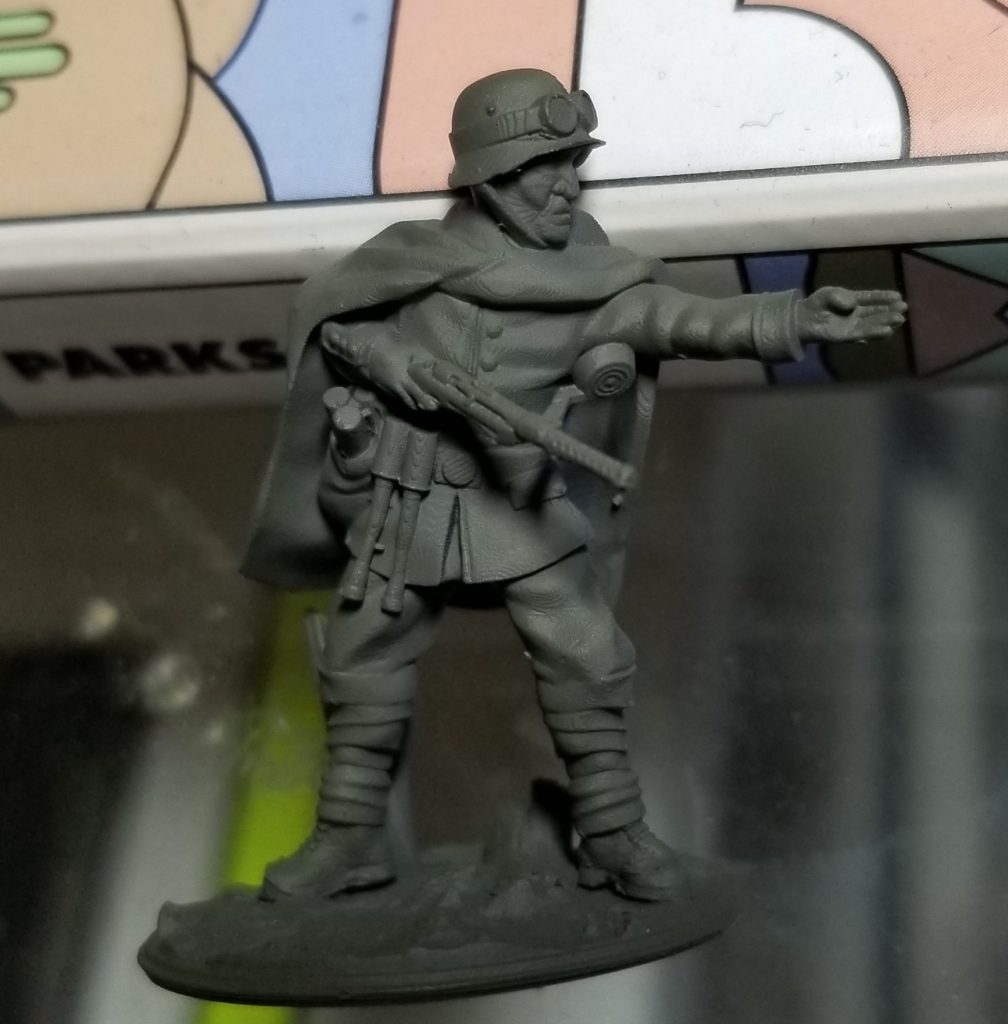 Print Test: For my test I printed the German Raiding Patrol. Although ostensibly 28mm, I found the models to be closer to 32mm. They're noticeably larger when placed next to 28mm WWI models from other companies. The models look incredible once printed, but certain details are so fine (such as helmet brims and gun barrels) that they can be difficult to get cleaned up without causing damage. It also makes downscaling them tricky, as it would make these bits even more fine and susceptible to breakage. The German Raiding Patrol is one of their early model packs, so it is possible that these issues have been addressed in subsequent releases.
Conclusion: If you plan to play Scouts Out or build a small raiding squad made exclusively out of these miniatures, I think you'll be quite happy. If you plan to mix them in with other manufacturers, however, there are definitely some challenges to making that work out.
Studio Historia has produced a string of highly successful and comprehensive kickstarters lately. Two for the American Civil War, and one for the WWII Imperial Japanese Army which recently concluded with a staggering amount of unlocked stretch goals.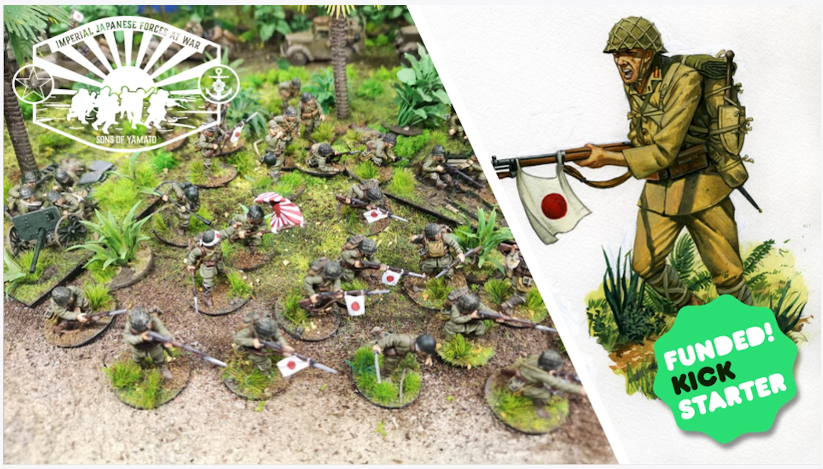 Print Test: I have purchased from Studio Historia before they began offering STLs. They printed one of their in-house designed Greek WWII armies and shipped it to me. The sculpt and print quality were great, with my only complaint being the brims of helmets being a little thin and fragile. For a print test of their STL I printed a Japanese Engineer. The model itself came out great, however the supports left tons of little nubs all over the front of the model and the very thin rifle strap broke during cleanup. I think going forward I would support these myself.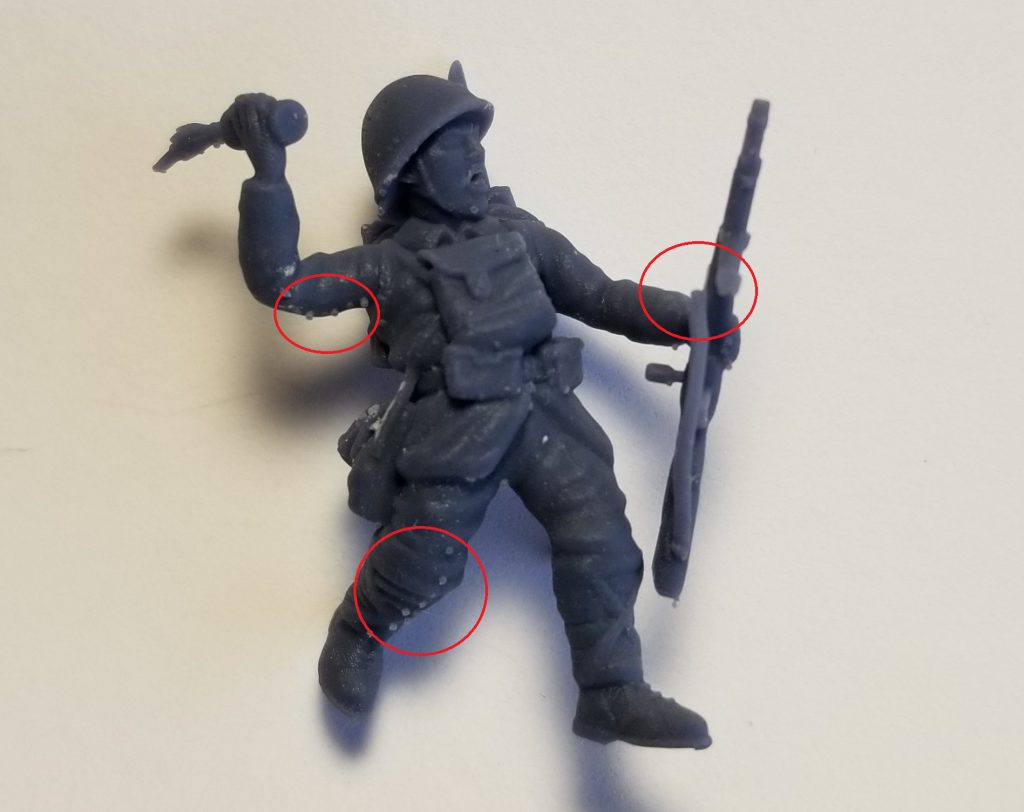 Conclusion: Excellent models, but the presupports could be improved.
Tiger Ace is well-known on Thingiverse for releasing free easy-to-print WWII vehicles. His patreon is a way to support him as he continues releasing free vehicles. Subscribers get access to releases earlier, get more printing options, and limbers for artillery. 
Recently Tiger Ace has been focusing on Italian tanks, with several early releases now available through the patreon.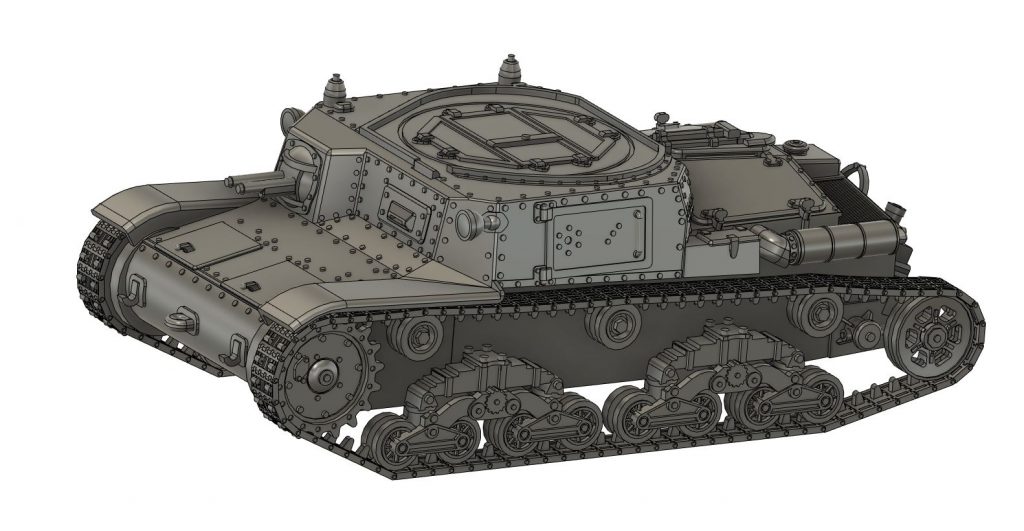 Print Test: I've printed a number of Tiger Ace models in the past and they're quite good. They're natively scaled to 15mm, but upscale to 28mm just fine. 
Conclusion: Tiger Ace is great for free models, and if you want to throw him a couple bucks to get some extras it is worth your money.
Fighting Vehicles [Patreon]
Fighting Vehicles also focuses on WWII vehicles, often on obscure or unusual entries. The patreon appears to be releasing about 2-3 models a month. 
March saw two German vehicles: the 8.8cm flak auf sonderfahrgestell (pz.sfl.ivc),Kleiner Panzerbefehlswagen (Kl.Pz.Bf.Wg.),  and the infamous MAUS. 
For April the only model announced so far is the A 2 SERIE Kl Pz Bef Wg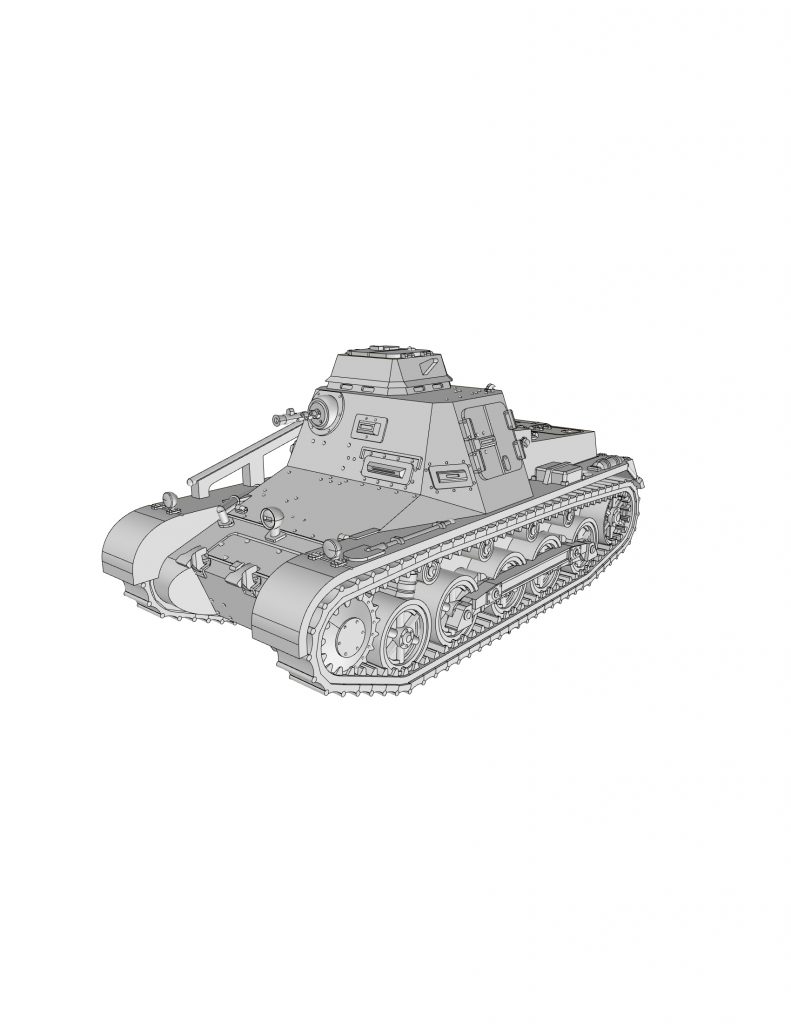 Conclusion: For those looking for particularly weird tank options, fighting vehicles may be for you. The quality of their prints is hard to determine without a test model, however, as only renders are provided on the patreon. 
Modern
Black Hills Games is a relatively new modeler who offers extremely detailed modern warfare models. 
The March patreon release offers private military contractors.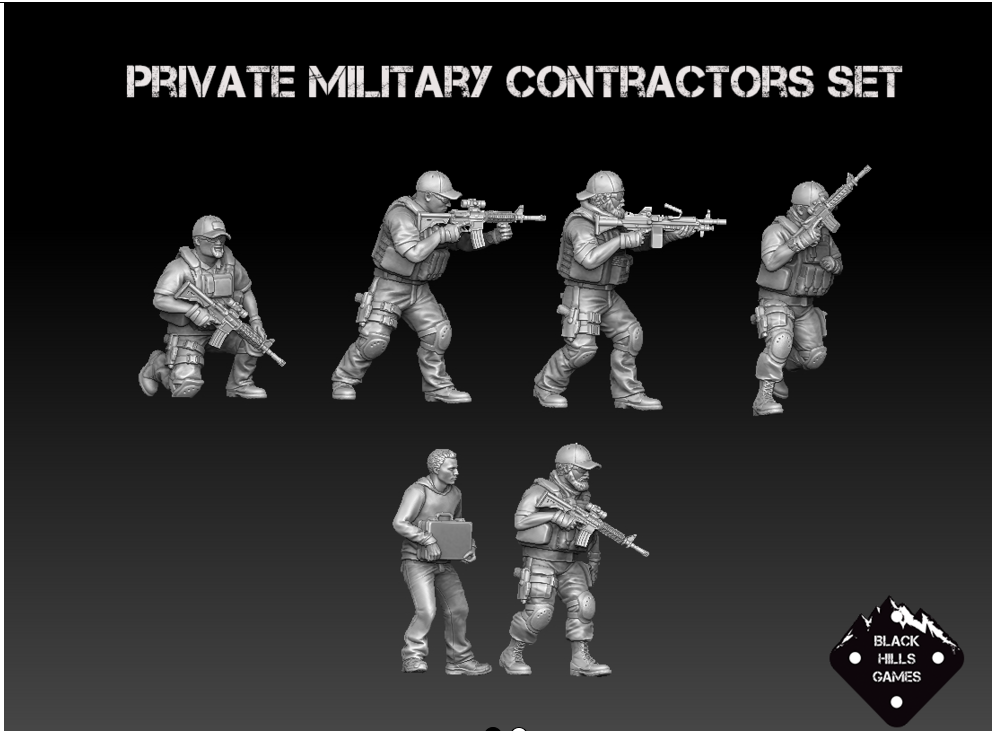 April promises insurgents.
Print Test: For my test print I printed a Middle Eastern civilian. The model came out well, and appears to be modeled for true scale.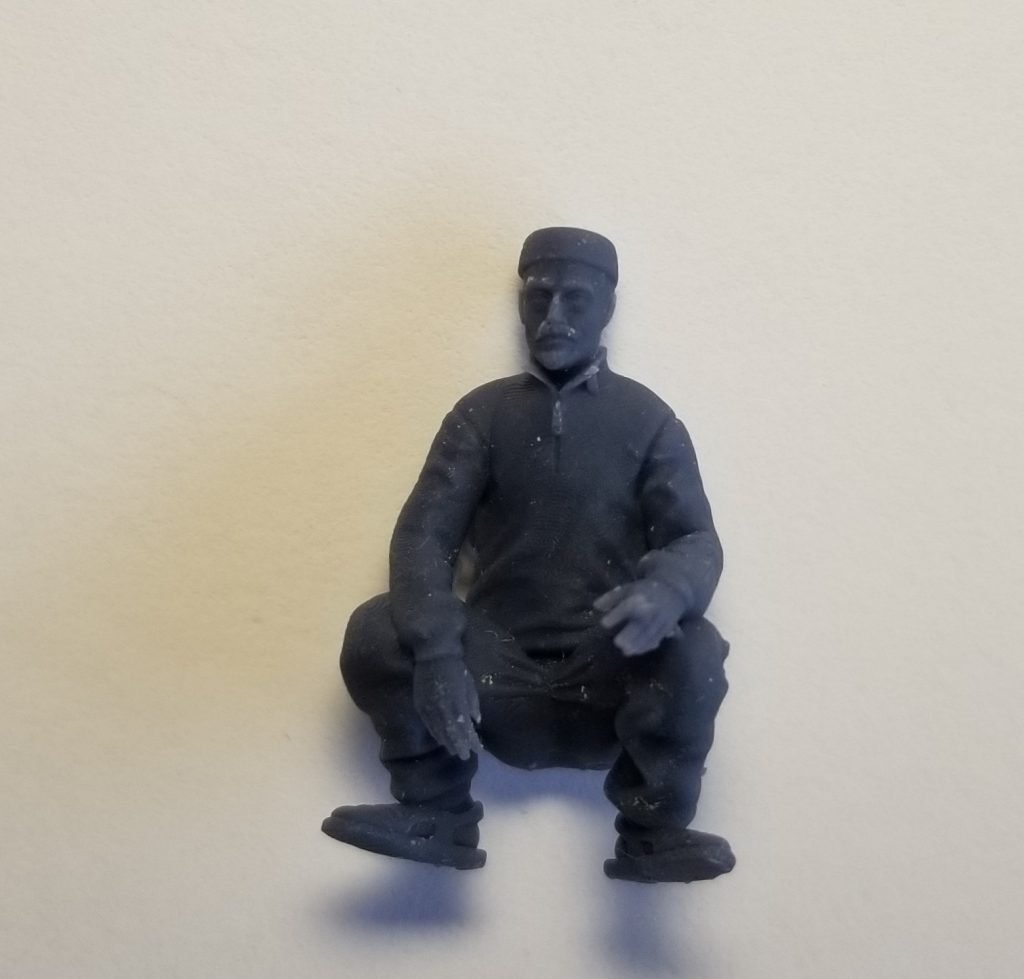 Conclusion: The models are detailed and clean, but may be better printed slightly upscaled to beef up their fine details and allow them to fit in better with other ranges.
TurnBase Miniatures focuses on ultra modern models, in particular Special Forces models, with occasional forays into fictional modern miniatures.  
The March patreon release is DEVGRU special forces (whatever that is). The April preview appears to offer Payday-looking clown bank robbers.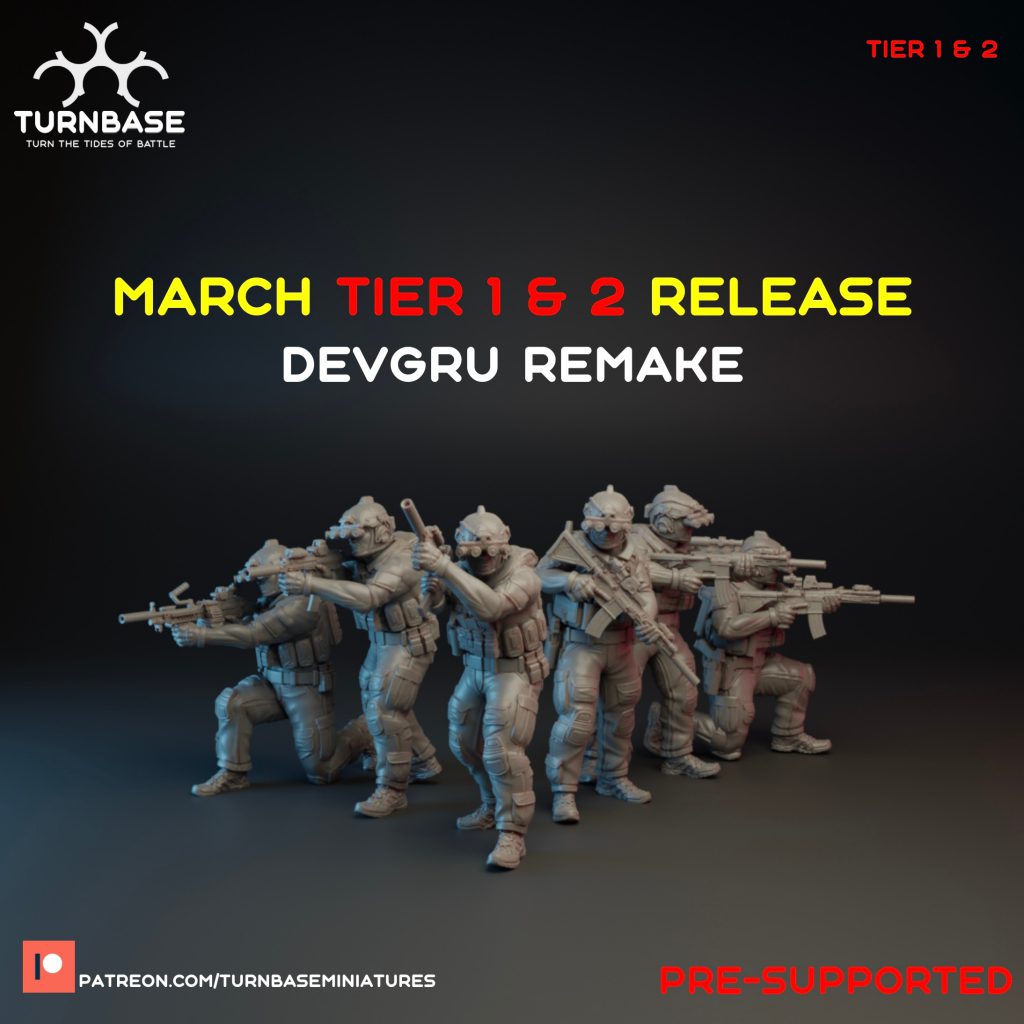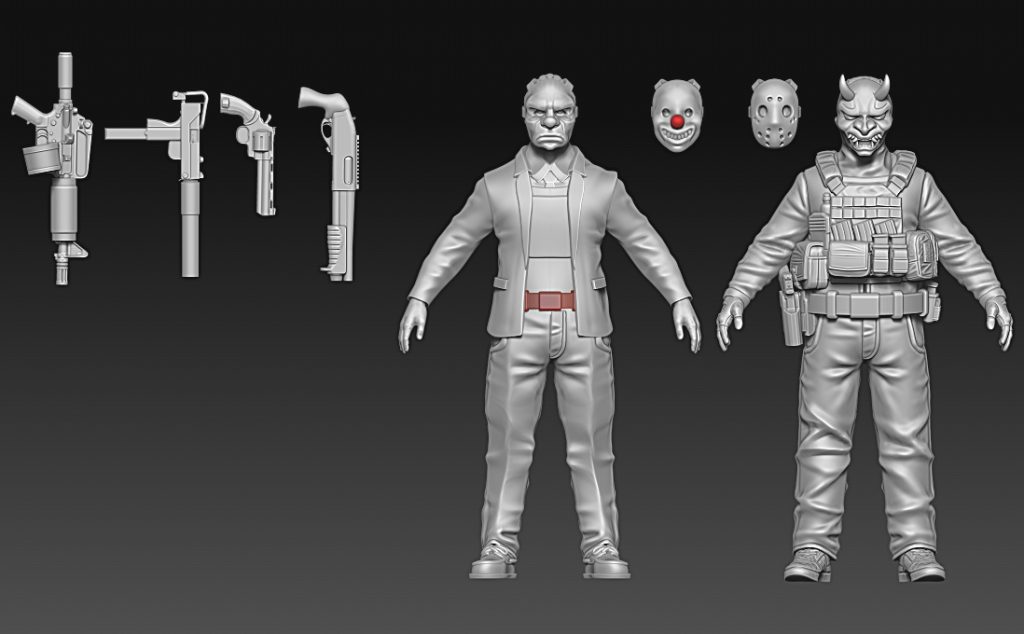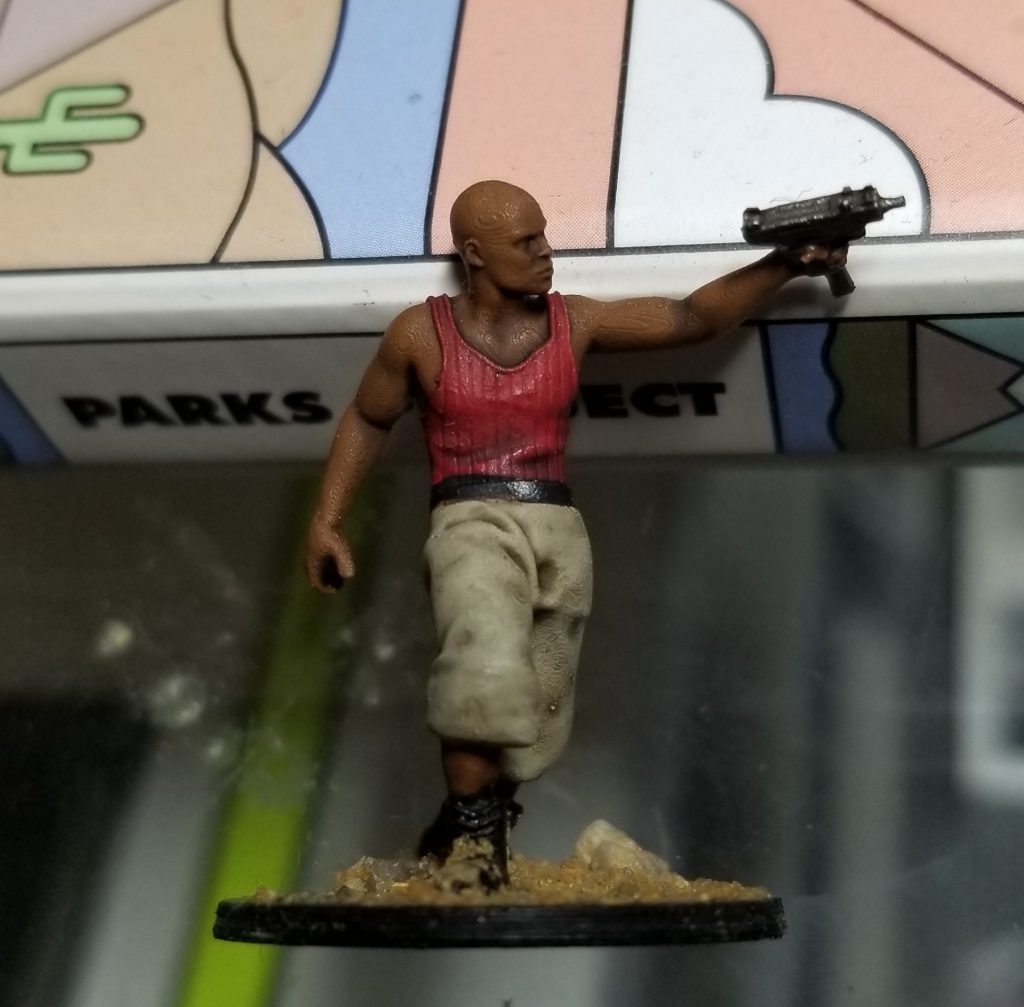 Print Test: I've printed several sets of TurnBase's minis: their Cartel gang-members, and Post-Apoc models. Everything turned out nice and crisp.
Conclusion: If you're looking for ultra modern models, TurnBase is a solid choice.
Henry Turner of Turner Miniatures specializes in two things: ships, and 6-10mm wargaming models. His small-scale projects range from Medieval all the way to the Cold War.
Most recently he has released 6mm NATO Cold War models.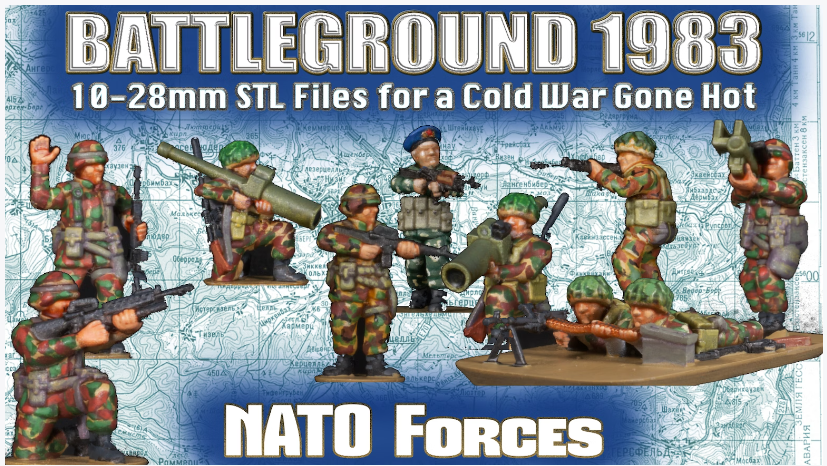 Conclusion: At a glance it is difficult to tell which models are offered on patreon vs. which will appear in one of his frequent kickstarters, but if Age-of-Sail ships or tiny little mans are your jam, then check out Turner Miniatures.
Miller Bros. Sculpting & Design [Kickstarter] [Gumroad]
Jason Miller has recently stormed Kickstarter with three back-to-back modern wargaming projects. The first offered an incredible 300+ miniatures for the absurdly low price of $25. This was followed up by a terrain and modern Chinese army kickerstarters that also offered tremendous value – all of which are now available on his gumroad.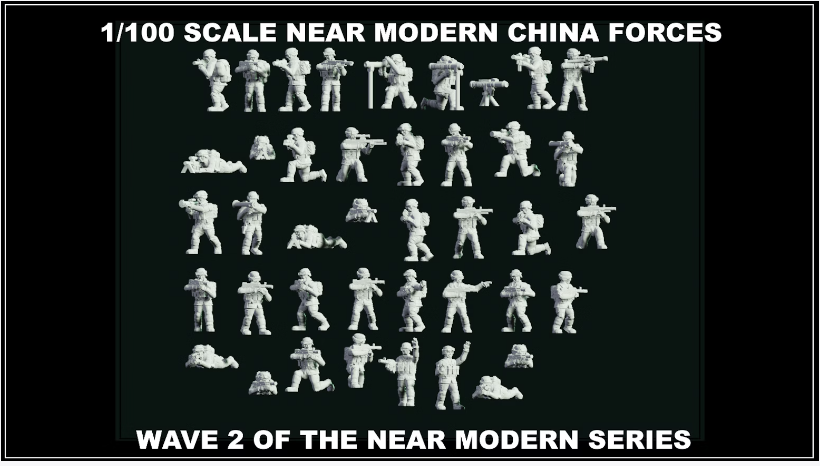 Print Test: For this test I printed a US modern M60 gunner. These are natively scaled at 15mm, but I decided to try upscaling it to 28mm to see what would happen. Oddly, there were no unsupported models in the kickstarter pledge I downloaded (unless I missed them). However, the supports looked solid enough when I upscaled it to try printing it anyway. The resulting 28mm print looked suprisingly good for something designed for 15mm. The supports were a little tricky to detach, but the model came out great, with no clean up required.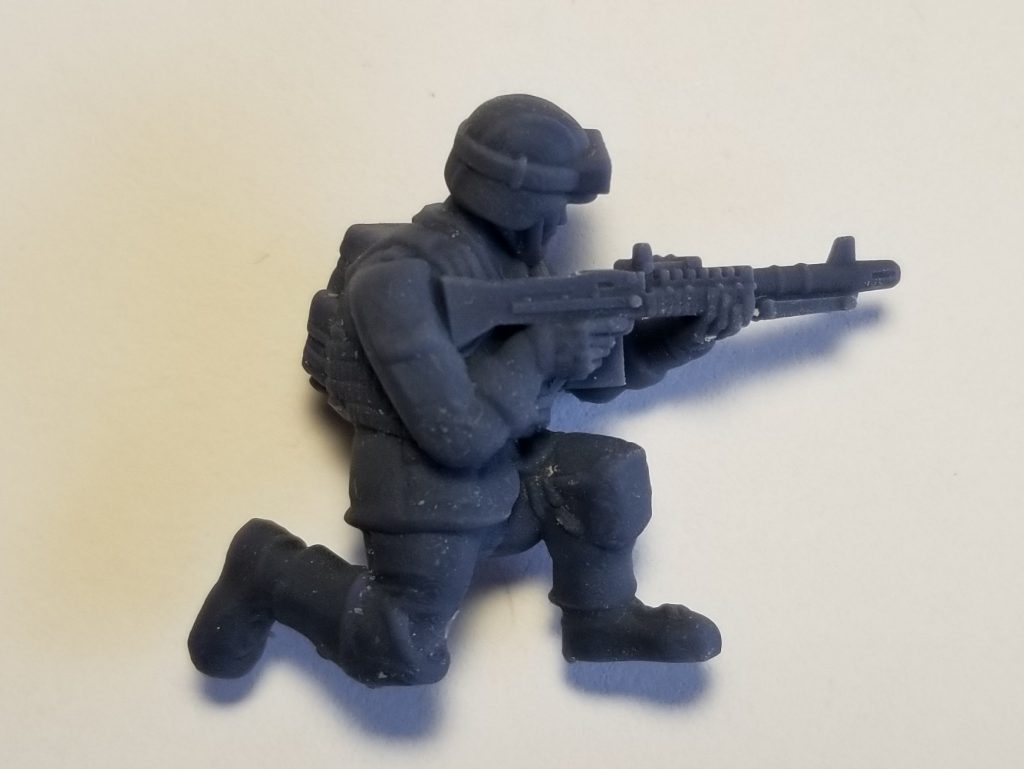 Conclusion: Certainly worth looking into if you play 15mm, and perhaps even 20mm and 28mm as well. A great value for your money!
This creator has recently switched from focusing on terrain to vehicles, launching two back-to-back kickstarters. Their first kickstarter, for modular Humvees was very successful and they've followed it up with a modular SUV kickstarter which is live until May 7th 2023 and includes the Humvee kickstarter and other offerings as optional add-ons.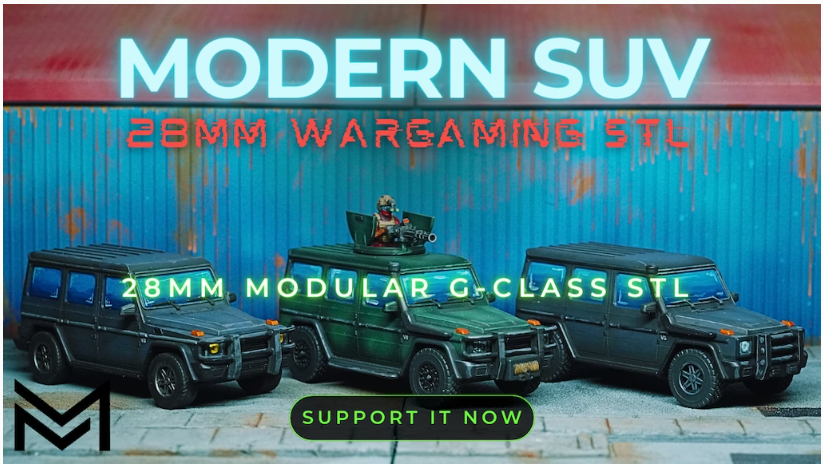 Conclusion: Definitely a sculptor to keep an eye on for modern vehicles.
Horse & Musket
Rafal has recently launched his fourth kickstarter campaign, focusing on Napoleonic era Austrian cavalry. The project runs until May 10th and comes with a truly dizzying array of different cavalry types. This comes with a steep price tag of nearly $100 for the set.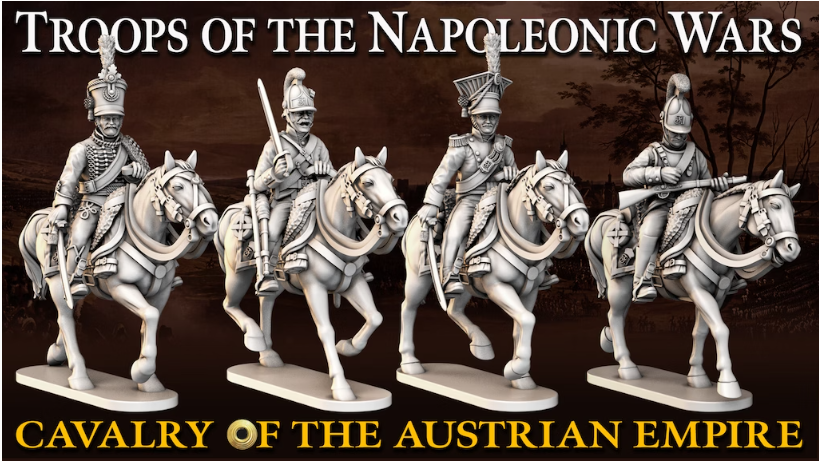 Conclusion: If you are a Napoleonic fiend and plan to print a ton of models to complete your 1:1 scale recreate of the Austrian army, this is for you. I can attest to the quality of this producer's models, having invested in his previous Duchy of Warsaw kickstarter.
This studio has two product lines – a Horse & Musket line focusing on the AWI, French & Indian War/7-Years War/War of Spanish Succession and a relatively new WWII line. You can subscribe to one or both tiers, each of which delivers about 30 models a month. 
The March release on Patreon includes: 
Japanese infantry, comes with multiple head options as well as bodies with and without camouflage. They come armed with MGs and rifles and bayonets.

Japanese support weapons come with knee mortars, MMG and AAT rifles.

AWI Mounted Queen Rangers, come with swords and muskets, skirmishing and command squad.

WSS British Dragoons, come mounted and dismounted, and command squad is included.

SYW Austrian High command depicting from left to right on the render Baron Maximilian Browne, Count Leopold Daun, Count_Kajetan_Franz_Kolowrat-Krakowsky, Prince Charles Alexander of Lorraine and Christian Moritz Graf Königsegg und Rothenfels
The April patreon comes with: 
SYW British High Command including Charles Spencer, 3rd Duke of Marlborough, Duke of Cumberland, John Manners, Marquess of Granby, Lord George Sackville.

AWI French infantry

WSS French Infantry

German paratroopers Early and late war

German medium mortar, Anti tank rifle teams and panzerschreck teams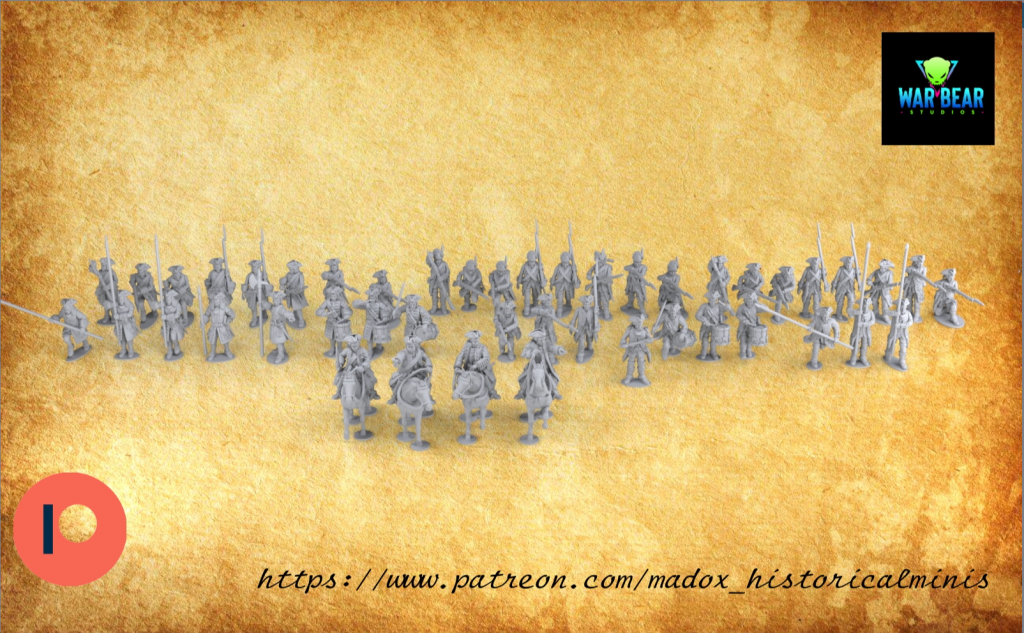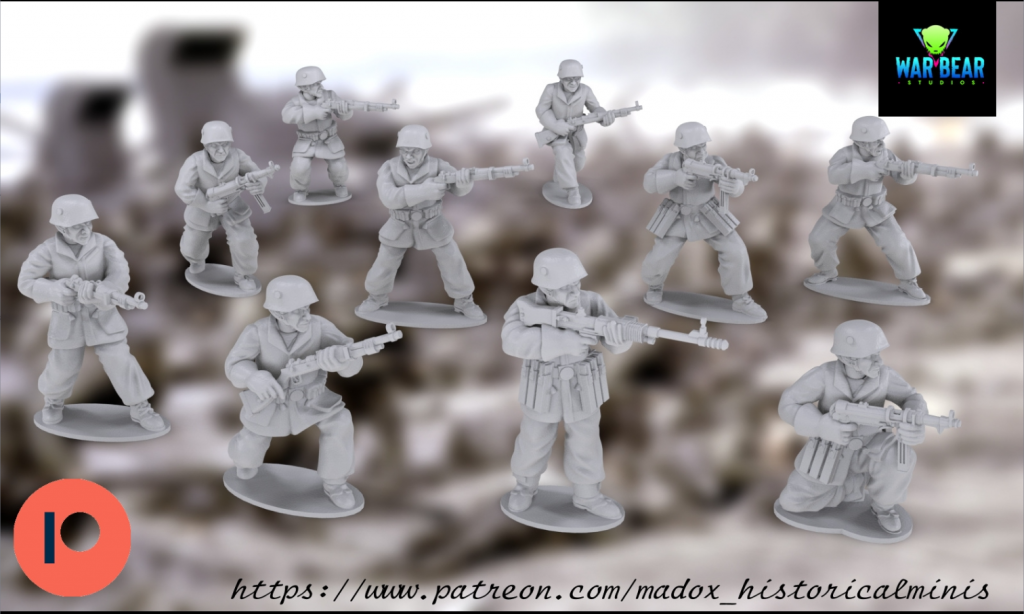 Print Test: I printed an American flamethrower model from a previous release. The body printed well, although was quite large (almost as tall headless as a full Bolt Action model), however the head failed to print. The body at least came out very cleanly, with little-to-no clean up required.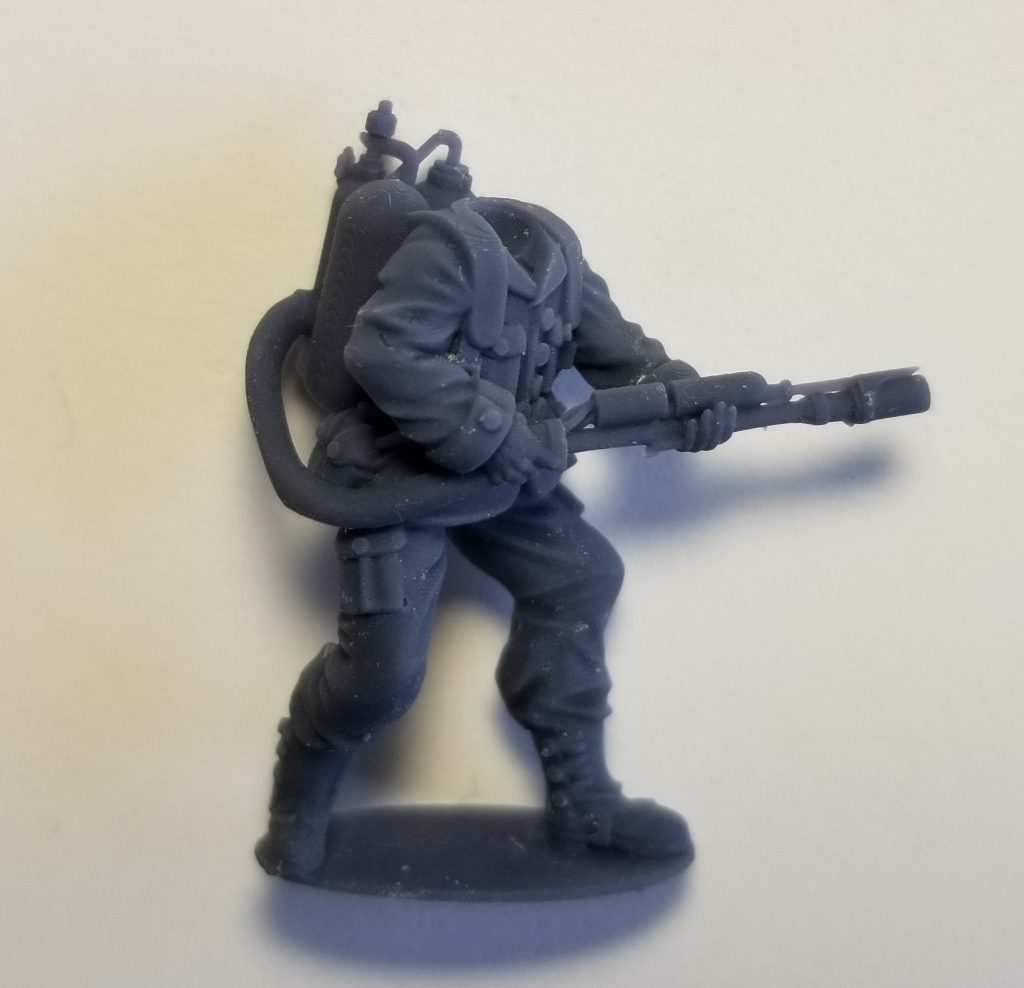 Conclusion: The sculpting style is definitely stylized and somewhat heroic. The poses are a little stiff, which I think isn't as much of an issue for the Horse & Musket models, but looks a bit odd on the WWII troops. I'm also not sure I'm a fan of the helmets for the WWII models. As for bang for your buck, War Bear/Madox is a great deal for the amount of models you receive. 
TERRAIN
As I'm writing this, their second kickstarter is coming to a successful close, offering about a dozen different types of WW2 British bunkers in both intact and damaged versions.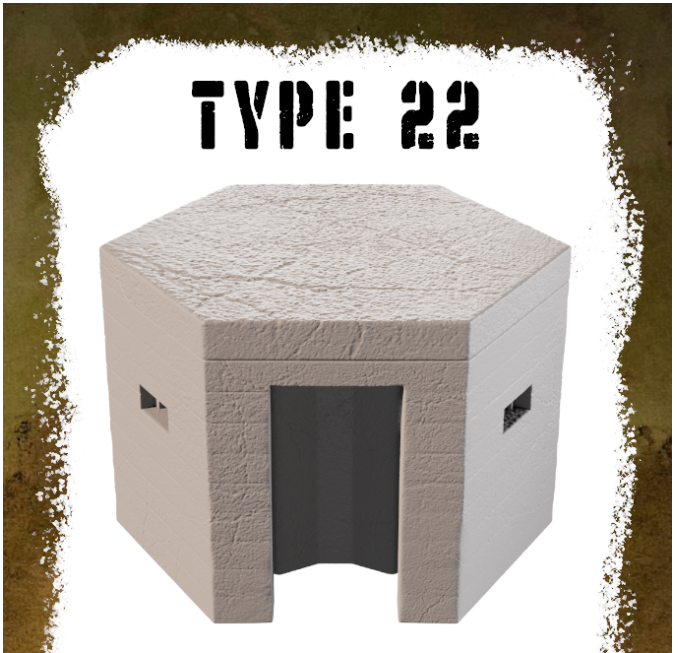 Conclusion: Tabletop Printables are a newcomer to historical terrain on kickstarter, but worth following as the expand their offerings.
Key Capas is a prolific creator on Kickstarter releasing regular projects, such as Roman, Celtic, Viking, and Japanese villages with terrain and miniatures.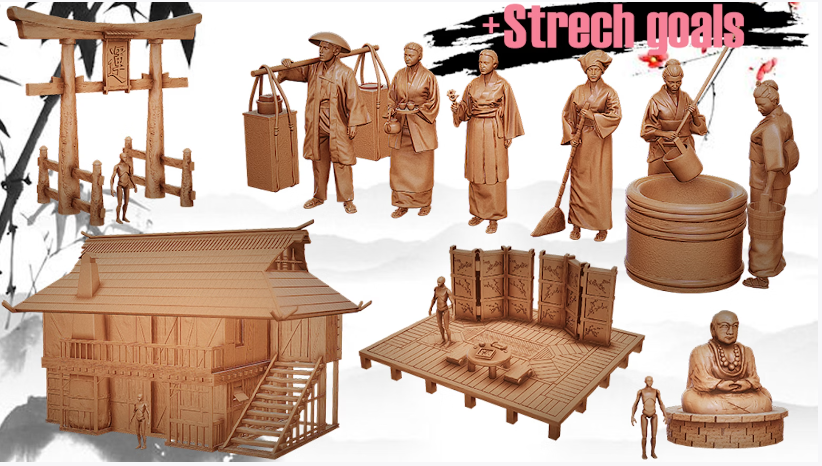 Print Test: For this print test I chose a Japanese villager from a recent kickstarter. He seemed to be natively scaled to 20mm and did not come with supports. I upscaled him to 28mm and added supports. My test model printed perfectly, with no clean up required.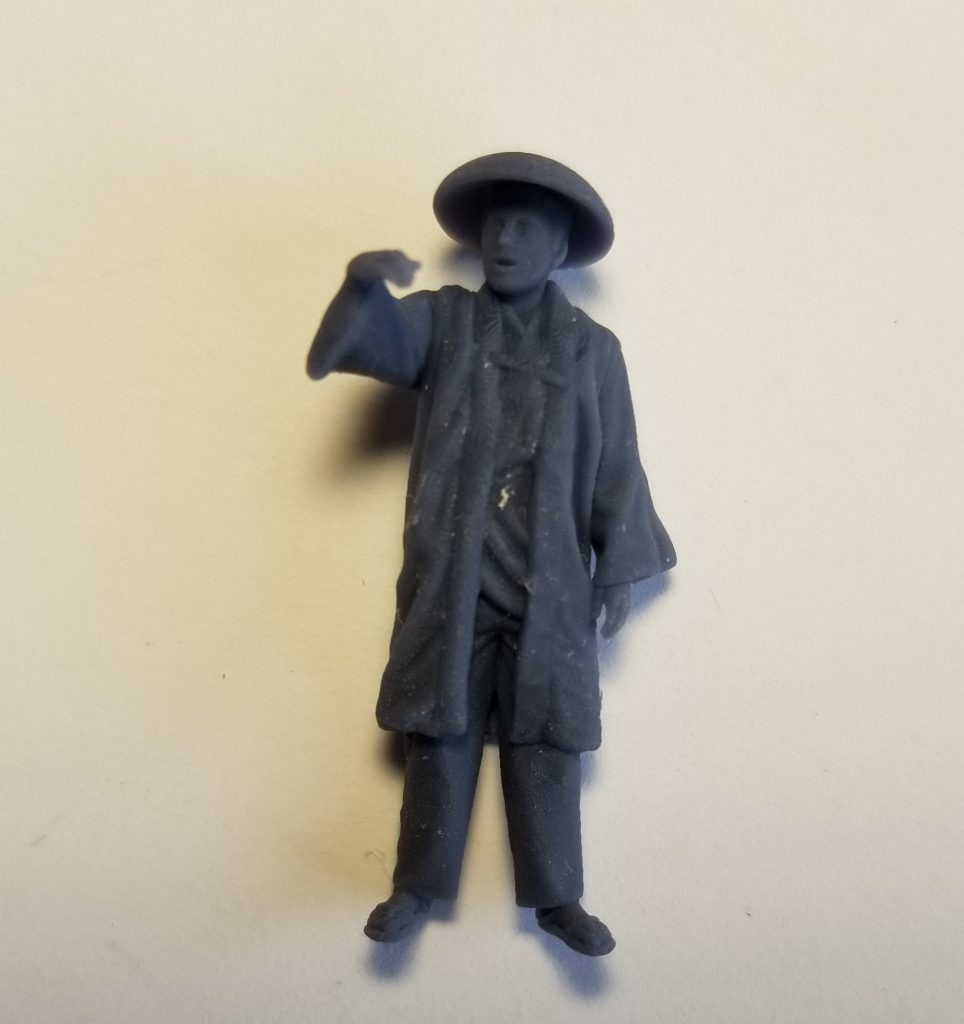 Conclusion: Key Capas has a proven reputation for delivering quality kickstarters that contain both historical terrain and models.
MiniatureLand

[Patreon]

For a fantasy gamer, MiniatureLand is a no-brainer to subscribe to. The operator puts out a, frankly, astonishing amount of terrain pieces each month. For a historical wargamer, however, his materials can be hit or miss. Some months there is a bounty of terrain that can be used in historical wargaming. Other months it is nothing but skull islands and magic towers. As the models are voted on by the community throughout the month, it is really impossible to know what any given month will offer. 

The March patreon offers the following historical terrain pieces:
A Man-O'-War ship

A large modular castle

A Medieval Cog

A Desert community building

Several tudor style buildings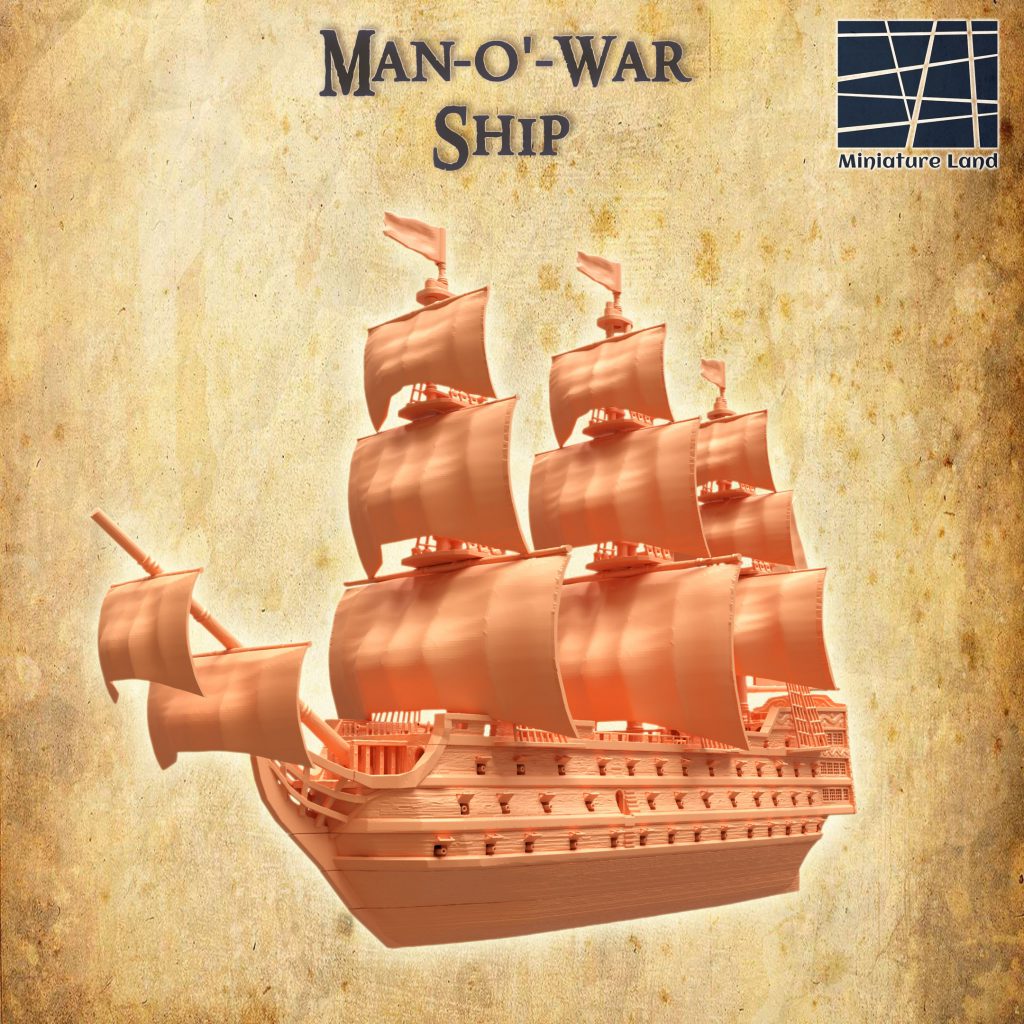 April is still being decided upon.
Conclusion: I find this patreon to be one I frequently subscribe and unsubscribe to, depending on which models are on offer. Unfortunately the proprietor uses Google Drive links to deliver the models the month after you subscribe, making keeping track of the files a pain in the ass.
Patrick Miniatures focuses primarily on producing 28mm WW2 buildings and terrain. One thing I appreciate about this sculptor is that everything appears to be print tested before release, which is something a lot of terrain sculptors skip over, but is vital, in my opinion for ensuring print viability.
Their March patreon release contained five destroyed Normandy buildings.
April appears to promise more Normandy releases, although no preview pictures are available yet. 
Print Test: For my test I printed several of his Arab Urban Houses. The result was highly satisfactory. They required no fiddling on my part, printed easily, and fit nicely together.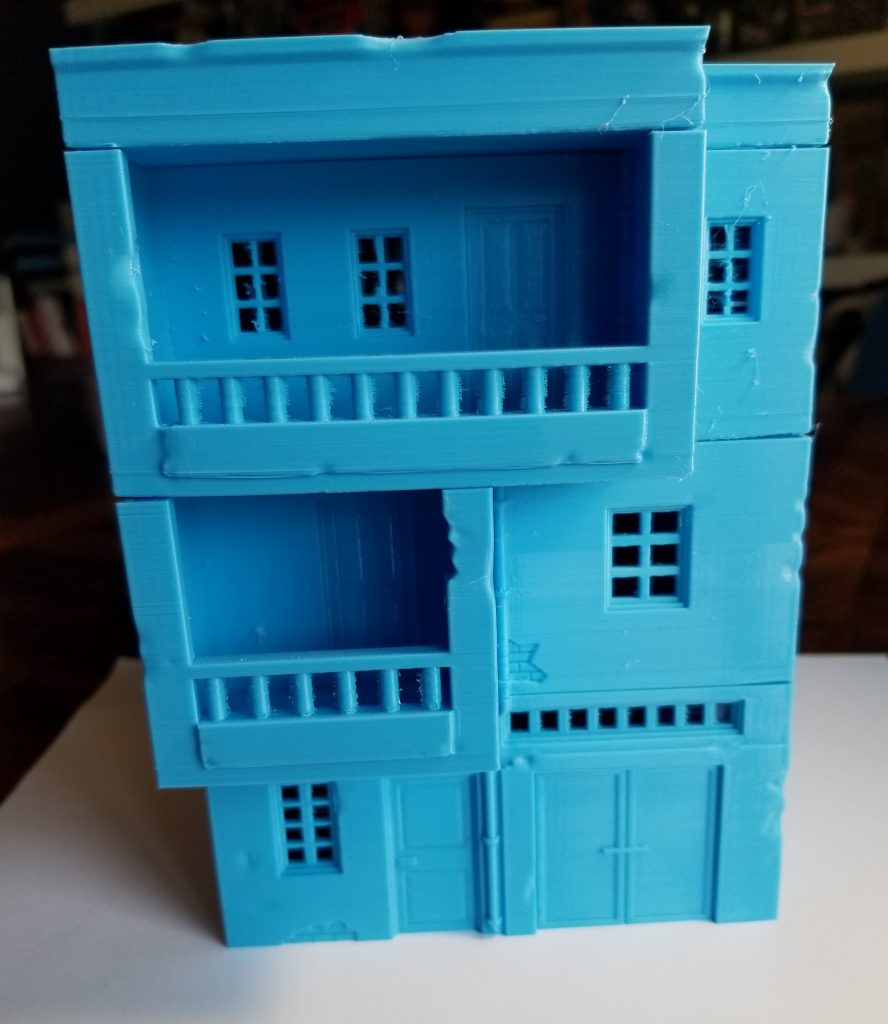 Conclusion: While perhaps not the most detailed terrain available, the relative simplicity of Patrick Miniatures models lends them to a clean and easy printing experience which can be a breath of fresh air when so many sculptors choose aesthetics over printability. I would also note that the updates on his patreon page seem to come somewhat sporadically, so it's unclear if his releases are keeping apace with the monthly cycle of patreon, but his models can also be obtained a la carte inexpensively on his webshop.
Urban Scatter Gaming

[Gumroad]

Urban Scatter is a newcomer to the 3D terrain field. As their name promises, they primarily offer scatter terrain for urban environments. They are active on Facebook where they can be seen canvassing ideas, so if you have some urban scatter terrain you've been craving, perhaps consider getting in touch with them!

Their most recent releases are a set of warehouse assets and concrete barriers.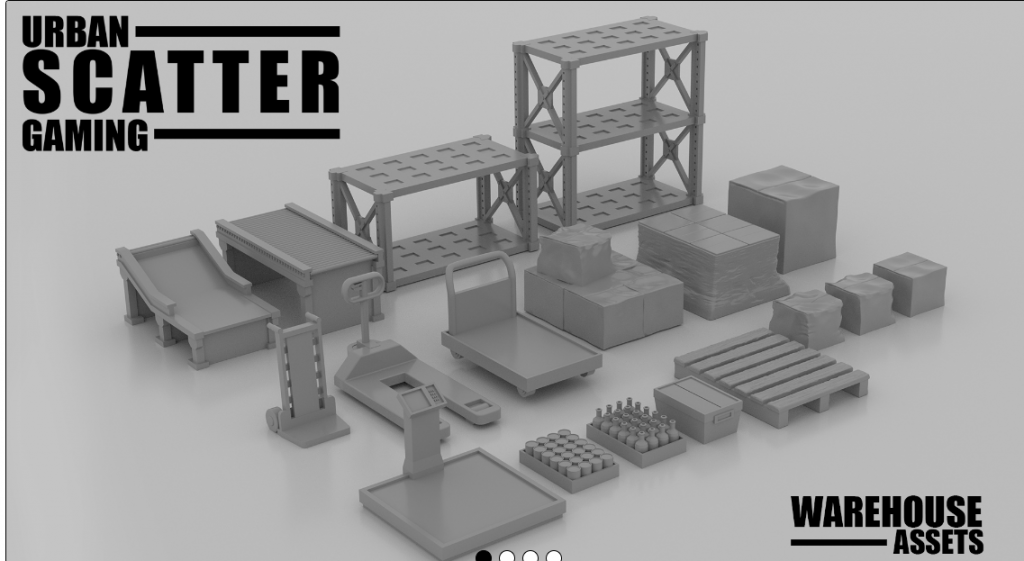 Conclusion: While models of various equipment, construction materials, and urban scatter are not the most exciting models, they are something very useful for those of us that like to add little touches to our boards. Urban Scatter provides the little touches at an affordable price.
And that's all folks! If you know any historical 3D printing options I missed let me know down in the comments so I can check them out for next time!