It's been a while since we talked about Tabletop Battles but rest assured we've been hard at work on the latest release for your favorite gaming aid. This update brings smart scoring entry for all factions and missions, some quality of life improvements, and a few overdue bug fixes. The update is still running through the app store approval process gauntlet, but it will be available within the next couple days.
If you haven't tried the Tabletop Battles beta yet, you can download it now for free on the App Store and Google Play Store:
Reminder: If you already have an Administratum account, that login will also be your Tabletop Battles login – just use the same account you've already made. If you are creating a new account, you can use that account for Administratum later!
Score smarter, not harder
In an effort to make your life easier and mine much harder, a whopping 274 smart score entry elements have been added in this update. This includes every faction secondary, mission primary, and mission secondary for Nephilim, Eternal War, and Tempest of War. Rather than manually entering the points you've earned, you can simply read the options and select the ones that apply to gain points.
A big part of adding the smart score entry was a series of behind-the-scenes changes to how game data is created and stored. We moved from a partially data-driven approach to a fully data-driven approach (including the math behind these smart scoring widgets). This not only means that we can make changes to mission packs faster, but it will also open up some possibilities like custom mission packs that we can explore in the future.

PROTIP: In the case that you do need to enter a score manually for some reason (definitely not because of any bugs in the app, we all know software bugs aren't real), you can do that by selecting the "Enter score manually" option in the dropdown menu.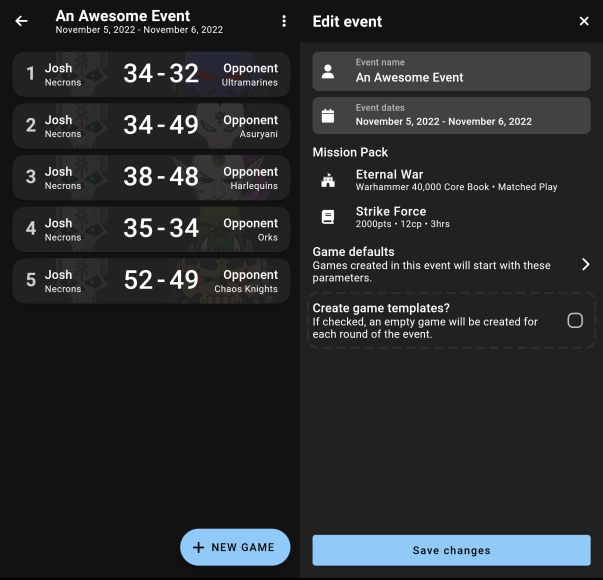 Edit events in style
A few changes were made to the event page to make editing an event easier. The old event name and date fields have been removed in favor of an "Edit event" option in the menu. This will allow you to retroactively set the event mission pack or defaults. You can even create game templates in the edit screen after an event has been created.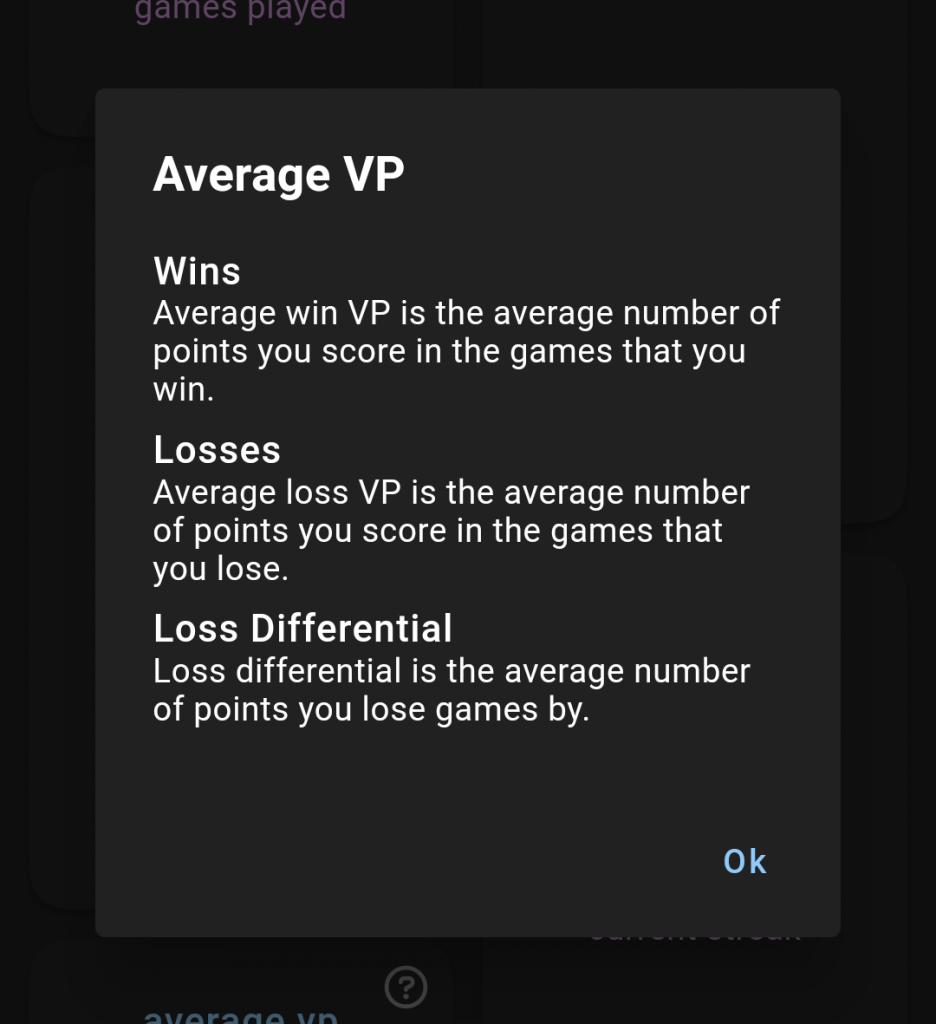 Stats are hard…
Some tooltips have been added to the stats page to explain what certain stats are and how they are calculated. No longer will you wonder what those cryptic titles like "games played" or "wins" mean! Keep an eye out for future updates with more improvements to stats and be sure to let us know what you want to see by emailing contact@goonhammer.com or hopping in our Discord to chat about it.
What's next?
We've been working on a bunch of other cool features that will be coming soon. At the front of the pack is cloud backup and sync and support for importing games from ITC Battles App, which will be available in the coming weeks. We've also been exploring improvements to the game entry screens, stats, and sharing games between two players (validated games).
If you provided feedback on the app or a bug report – thanks! Your help has been invaluable. If you have something else you want to report, or you just want to provide feedback, shoot us an email at contact@goonhammer.com. Be sure to send us a screenshot if you can, and note whether you're on iOS or Android.
Patch notes – v0.1.0
Added
Added smart scoring entry for faction secondaries, eternal war primaries and secondaries, and nephilim primaries, generic secondaries, and faction-specific secondaries
Added an option to enter manual scores for a secondary
Added some explanation tooltips to the stats widgets
Changed
Smart scoring entry is now data-driven, which will make future development much faster
Replaced the name/date entry fields on the event page with a full edit screen under the dropdown menu
Removed
Removed Nachmund mission pack
Fixed
Fixed an issue where new games could use global defaults rather than event defaults
Fixed an issue that prevented the back button on Android from working properly in the score entry screens
Fixed an issue that prevented some scoring screens from being closed on tablets
Fixed wrong deployment map for Nephilim Ascension mission
Have any questions or feedback? Drop us a note in the comments below or email us at contact@goonhammer.com.