So, Age of Sigmar 3rd edition happened and you bought Dominion. Or you split Dominion. Or you bought half of it off some site somewhere. However you got it, you now have a collection that's not quite an army and want to bulk it out to 2,000 points for matched play games, but don't want to break the bank and want to use most, if not all, the models from your half of the box. In this mini-series aimed at newer players we'll be covering what units pair well with the contents of Dominion for the two armies and give some sample lists of what you could field. 
The Orruks half of the box focuses on the new Kruleboyz faction of the Orruk Warclans. A newer breed of Orruks that fight with brains over straight up brawn. Not as tough or as killy in the same way as Bonesplitterz or Ironjawz but with a breadth of tricks to employ instead to put the hurt on where it matters most. 
This half of the box works out as significantly fewer points compared to the Stormcast side, which only makes sense since the units are also a good deal weaker and in a straight up fight against each other weighs heavily in the Stormcast's favour despite outnumbering them almost 2 to 1. What you get works out to 940 points leaving you with plenty of room to add more units. 
Dominion's Kruleboyz
Leaders:
Killaboss on Great Gnashtooth
Killaboss with Stab-grot
Murknob with Belcha-banna
Swampcalla Shaman with Pot-grot
Battleline:
10 Gutrippaz
Other:
3 Man-skewer Boltboyz
20 Hobgrot Slitaz
The first thing you'll notice is that this is very hero heavy and only gives you 1 unit of Battleline (unless you play the Big Yellers sub faction which makes the Boltboyz battleline as well). Hobgrot Slittaz are very cheap at 80 points per 10 but taking 20 isn't necessarily something you want to be doing all of the time. 

Expanding the Army
When expanding an army from a starting point like Dominion, you have to consider a few things when deciding what to grab next:
Theme – Do you want your army to follow a particular theme? You can lean into a particular playstyle, such as going all-out on Boltboyz and Killbows or outnumber your enemy with multiple units of Hobgrots and Gutrippaz. While you should never let this hamper your army's ability to get things done it can be beneficial to have one thing you do really well and just really lean into it.
Gaps – Are there any threats that your army is not able to deal with? Can it reasonably take on monsters as well as hordes? Is it able to hold objectives while doing so? This may not be apparent at first and will take some practice, but is good to keep in mind. 
Models – Possibly the most Important factor from a practicality standpoint: do you want to spend your time and money on these models? Will you actually want to sit down and complete them, or are you just getting them because some dorks on the internet said they were good? This is something that often stops me from taking the most "optimised" lists because, no, I do not want to sit and paint the same unit 20 times over. 
Is it Legal – The majority of pick-up games seem to be Matched Play, using the General's Handbook so you need to prepare with that in mind. The rules being easily accessible while giving a sense of balance is what draws people to this game mode, but does mean you need to follow strict army building rules too. At 2,000 points you need to field 3 battleline units, can only field up to 6 Leaders and are limited on Behemoth and Artillery as well. You can ignore these if you're only in it for Path to Glory but that does have its own rules to consider.

Units to Consider
Kruleboyz have only a few other units to choose from to add more punch to the army or to buff the rest of your units. 
When building a list you can stick to pure Kruleboyz or diversify with other types of Orruks. A more cosmopolitan is its own subfaction called "Big Waaagh!" and it grants you flexibility in your army but changes its allegiance abilitities. More on in our Orruk Warclans Review.
So, what add is going to largely depend if you want to stick to pure Kruleboyz units or add other types of Orruks from the book.

Kruleboyz 
Kruleboyz have 2 Monsters to choose from, both of which are heroes. The Sludgeraker Beast is a popular choice because it's everything you want all in one. With 14 wounds and a 4+ save it won't go down easily and has a combat profile that will chew through whatever it hits. Its venom gives off an aura for units wholly within 12" to add 1 to the number of mortal wounds caused by Venom-Encrusted Weapons on hit rolls of 6, including itself. The Corpse-rippa Vulcha comes in 2 flavours: either as a generic Killaboss or as Gobsprakk, a unique wizard hero that deals mortal wounds back to enemy wizards after unbinding a spell. Either of these adds a fast-moving monster that can put on the hurt where needed but also supports other units in your army. When Gobsprakk issues Redeploy the D6″ can be re-rolled and when issuing Unleash Hell the unit doesn't subtract 1 from hit rolls, making both of these more effective than normal. The Killaboss version instead allows you to issue the same order more than once per phase, so long as the Killaboss is one one of the units issuing it. Being able to put 2 units on All Out Defence or using Unleash Hell twice adds more defense to an otherwise fragile army. 
Then there's the Breaka-Boss on Mirebrute Troggoth which isn't a monster but is an absolute beatstick and is always fun to take. For support, having a Marshcrawla Sloggoth is incredibly useful too, giving off a wide aura of +1 to hit to friendly units, including allies!
While Boltboyz add some great ranged support Kruleboyz also have the Beast-skewer Killbow. These are better at taking down large monsters rather than hordes. With only 1 shot at 24" range (or 12" if it moved) it's a good thing it hits on a 2+ and wounds on a 3+. It doesn't have a damage characteristic, instead using its own rule to roll as many dice as the target's wounds characteristic with each 5+ result adding the damage amount caused +2 maxing out at 12 total. So, if you successfully connect with a Mega-Gargant then you roll 35 dice, the average of those being 5+ is just under 12 so with some luck you'll be doing the maximum 12 damage! Knocking just over ⅓ of the wounds off a Mega-Gargant per shot is incredibly strong, when it happens, but with only 1 shot can be very swingy.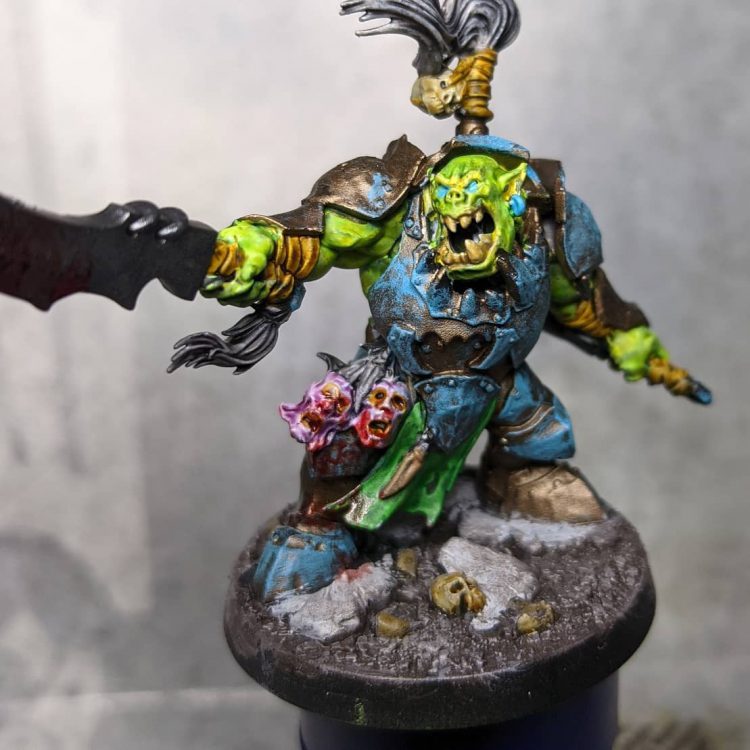 Big Waaagh! Ironjawz and Bonesplitterz
Branching out into a Big Waaagh! army allows you to take heavier infantry, hard-hitting cavalry, and different Heroes to buff your units as well as access to other spells and artefacts. When creating a Big Waaagh! army you'll want to get as many Waaagh! points as early as possible as they grant your army different cumulative bonuses such as +1 to run rolls, +1 to hit, +1 to casting/unbinding/dispelling, and then finally when you've reached the maximum 24 points to unleash a WAAAGH! giving all of your units +1 attack with melee weapons for that turn. 
The fastest way to gain these points is to have your general alive on the field, a Warchanter, a Bonesplitterz Wizard, and to have as many of your units charging and in combat as possible. With any number of Ironjawz units in your army you'll want to have a Warchanter as well anyways so that's pretty simple. Adding in a Bonesplitterz Wizard such as the very cheap Wardokk (80 points) even without any other Bonesplitterz in your army gives access to a fantastic spell Gorkamorka's War Cry; cast on an enemy unit within 12" making that unit fight at the end of the phase, after every one of your units has had a chance to smack it! 
As far as units go though, a unit or two of Brutes will always be a good choice. Decent armour, great damage output, and an ability that makes nearby enemy units with 1 wound not contest objectives. For something a bit quicker, Gore-Gruntas are one of the best cavalry units in the game, a little slower than average but more than make up for it once they've charged in.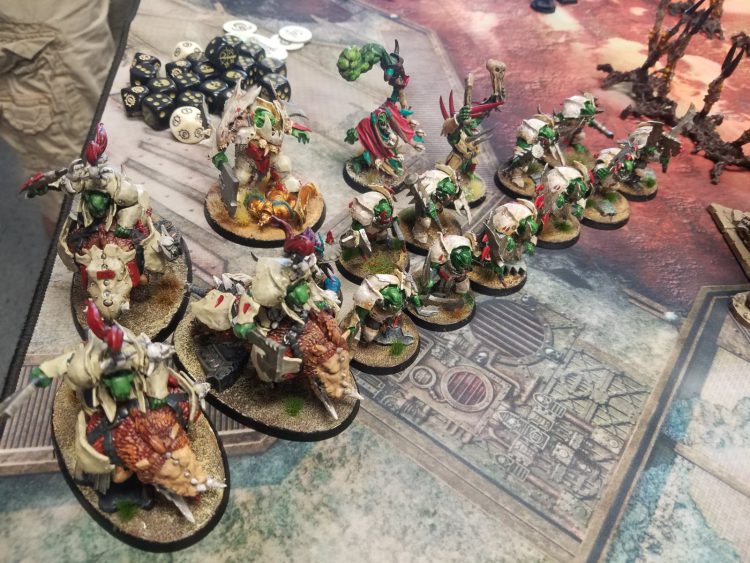 Sample Lists
First let's look at what you can add in to your army, using what you got in Dominion first for a fully-Kruleboyz army lead by Gobsprakk there's plenty of wiggle room here if you'd rather have a Killaboss on Vulcha or a Suldgeraker instead! The list uses the Big Yellerz sub-faction to get those Boltboyz for battleline as well as making them and the Kill-bow more reliable in the first turn with extended range and some re-rolls to hit. 
With Supa Sneaky as your command trait any unit can be set up more than 9" away from enemy units before the game starts, creating a roadblock with some Gutrippaz or if you're going first then getting your Mirebrute Troggoth in combat much much quicker. Forming the army into 2 Battle Regiments minimises the number of drops you have, letting your pick who goes first more often! Because there are 3 heroes with 10+ wounds there has to be one not in a Battle Regiment, and you can change which one this is but I like Gobsprakk on his own so you can deploy him last after seeing where some enemy threats have dropped first. 
Dominion to 2k: Big Yellerz Kruleboyz
Allegiance: Kruleboyz
– Warclan: Big Yellers
– Grand Strategy: Waaagh!
– Triumphs:Bloodthirsty
Leaders
Gobsprakk, The Mouth of Mork (300)
– Lore of the Swamp: Nasty Hex
Killaboss on Great Gnashtoof (170)*
Killaboss with Stab-grot (110)*
Murknob with Belcha-banna (95)*
Breaka-Boss on Mirebrute Troggoth (180)**
– General
– Command Trait: Supa Sneaky
– Artefact: Amulet of Destiny (Universal Artefact)
– Mount Trait: Fast 'Un
Swampcalla Shaman with Pot-grot (105)**
– Lore of the Swamp: Choking Mist
Battleline
6 x Man-skewer Boltboyz (240)*
– Reinforced x 1
10 x Gutrippaz (180)*
10 x Gutrippaz (180)*
Units
1 x Marshcrawla Sloggoth (150)*
10 x Hobgrot Slittaz (80)**
10 x Hobgrot Slittaz (80)**
Artillery
Beast-skewer Killbow (130)*
Core Battalions
*Battle Regiment
**Battle Regiment
Total: 2000 / 2000
Reinforced Units: 1 / 4
Allies: 0 / 400
Wounds: 143
Drops: 3
Alternatively, this is a Big Waaagh! army. Using a combination of units mentioned earlier from the book to give you the tools to be able to deal with just about anything you might come up against instead of leaning into 1 particular playstyle. Focusing the enhancements around keeping your General alive as long as possible he'll be a very tough monster to bring down. It's also very easy to pick up, the Ironjawz portion being just a Start Collecting box! There's a lot of little tricks and buffs to keep going so will take some practice to use.
Dominion to 2k: Big Waaagh!
Allegiance: Big Waaagh!
– Grand Strategy: Waaagh!
– Triumphs: Inspired
Leaders
Snatchaboss on Sludgeraker Beast (315)*
– General
– Command Trait: Supa Sneaky
– Artefact: Amulet of Destiny (Universal Artefact)
– Mount Trait: Smelly 'Un
Swampcalla Shaman with Pot-grot (105)*
– Lore of the Swamp: Nasty Hex
Orruk Megaboss (140)**
Orruk Warchanter (115)**
Wardokk (80)**
– Lore of the Savage Beast: Gorkamorka's War Cry
Battleline
10 x Gutrippaz (180)*
10 x Gutrippaz (180)*
5 x Orruk Brutes (160)**
– Jagged Gore-hackas
– 1x Gore Choppas
10 x Orruk Ardboys (170)**
– 1x Gorkamorka Glyph Bearers
– Reinforced x 1
Units
6 x Man-skewer Boltboyz (240)*
– Reinforced x 1
1 x Marshcrawla Sloggoth (150)*
3 x Orruk Gore-gruntas (150)**
– Jagged Gore-hackas
Core Battalions
*Battle Regiment
**Battle RegimentTotal: 1985 / 2000
Reinforced Units: 2 / 4
Allies: 0 / 400
Wounds: 152
Drops: 2
What models did you take to expand your Dominion box? Let us know below or send us an email to contact@goonhammer.com.