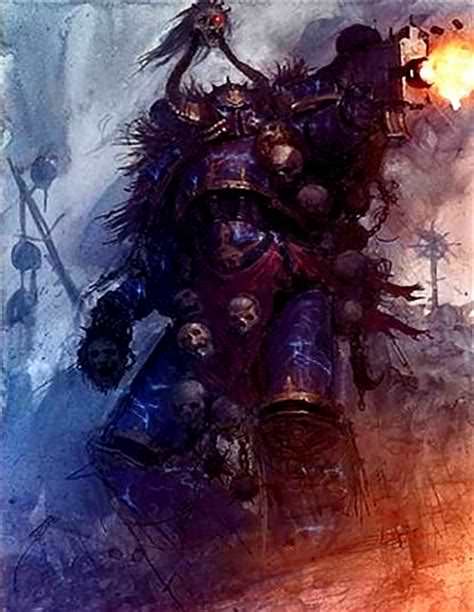 Why am I doing this?:
Ave dominus nox fellow kids.
I've been putting off starting this army for like 6 years as you can see in the picture above.
Night Lords are my fave CSM legion by a considerable margin. No other legion can match their level 'I'm right and totally didn't owned hard during the heresy' vibe and weapons grade sass/sarcasm.
At first I wanted to do a 1:1 copy of ADB's excellent Night Lord trilogy chaps. I dismissed that idea pretty quickly it as it be way too constraining for list building/modelling choices. Instead I'll be making own warband for max  bad fanfiction PERSONAL LORE points.
Inspiration:
I'll be cribbing a lot of inspro form ADB's work (seriously go read that trilogy right now), Simon Spurrier's NL book and the HH black books.
To sum it up, I'll be making a warband of self-serving, righteous, sarcastic cowards that roam the galaxy looking for easy targets to resupply from. I will be doubling down on the coward angle pretty hard as I'm doing a warband of 'almost' loyalists.
What I'm doing:
Warband of Lazarus 'Laz' Briscoeous
"I admit it. I took part in the ritu.." Laz cut him off quickly. It was hard to convey shock terminator armour, but Laz somehow managed it. He pointed a lighting claw at Lewut and shouted,
"YOUR HONOUR I AM SHOCKED, SHOCKED I TELL YOU THAT THIS GOVERNOR ADMITS HE HAS FALLEN TO THE FOUL TREPIDATIONS OF CHAOS BY TAKING PART IN RITUALS AND I URGE A MOTION FOR HIS IMMEDIATE EXECUTION!" Lazarus 'Laz' Briscoeous during the 'trial' of Governor Dundar Lewut M42
Laz was a terran born Night Lords captain of moderate standing on the outbreak of the heresy. Laz's company 'missed' the call to the muster point of Isstvan V, instead electing to continue on their current campaign.
Upon hearing of the result of Horus's overwhelming victory during the drop site massacre he elected to join the traitors, opening broadcasting his new loyalties as he purged his ships of 'loyalist scum'.
Moments later his seer Odafin informed him of a dire vision of Horus losing and dying at the Emperor's hand.
It was at that point that Laz and his warband quickly changed sides again, pledging allegiance to the Imperium. His company continued to wear Night Lords colours and attempted to stay out of the war at large, raiding traitor legion supply lies and bringing the "Emperor's judgement" to worlds that pledged themselves to Horus.
Laz's 'plan' was simple. At the end of the war, he would plea for mercy at the Emperor's feet, sight the long list of 'deeds' (actually atrocities and war crimes to anyone with a conscience) that he had committed in his name and swear to hunt down the 'traitorous' members of his legion. His trusted lieutenant Jaxz Coyz cautioned Laz that the plan was 'stupid' and 'poorly thought out'. This led to the first of many fights between the pair with overly jovial Oadfin as always playing the diplomat.
The plan obviously backfired.
Unfortunately for Laz, the Imperium had become aware of his first broadcast pledging allegiance to Horus. The remains of the traitor legions clearly remembered Laz's raids on their supply lines. This left him in quite a pickle.
It was Oadfin and Jaxz that came up with the idea to run to the Maelstrom rather than the Eye of Terror. With this stroke of genius/luck the warband fled the imperium to safety.
As of M41 the warband has continued to raid chaos and imperium forces alike and are frequent raiders of planets near the Imperial Davionic Republics on the galaxy east. While Oadfin is 'only a little bit' pledged to Nurgle, the rest of the warband remains fairly uncorrupted by traitor legion standards.The warband still claims to be loyal to the Emperor and has at times toppled imperial governments that they have judged to have fallen to 'Horus's lackies and/or ideals'.
During these raids they will round up 'the traitorous ring leaders' and prosecute them according to Laz's interpterion of the M31 edition of the Lex Imperialis. During these 'court' proceedings Laz acts as prosecution, Oadfin the Judge and Jaxz the defendants council.
These 'investigations' are blatant supply and slave raids (which are broadcasted to the population at large) and 'court proceedings' (Laz also broadcasts these to the general population) have accidentally uncovered vast chaos conspiracies or general rampant corruption on a number of occasions. After the Night Lords have dealt out 'justice' or if an imperial force comes to rescue the planet, the Night Lords will appoint a new government and swiftly leave with a tithe of supplies and population (court fees and asset forfeiture).
Month One Plans:
I'm planning to model up Jaxz and his squad of CSM. I might be able to fit out a rhino as well depending on my workload.