It's been a while since I last wrote one of these posts – nearly 18 months in fact, the entire second half of 9th edition.
I wasn't not playing 40k, but I also wasn't playing that much. After the FactoruM GT in that post, I only played 47 more games of 9th, almost all of which were at tournaments and with varying success – I picked up another GT win with Drukhari at the June edition of the FactoruM event, but otherwise muddled around between 3-2 and 2-3, assuming I played at all.
Partly this was because I was just tired with 9th, and tired with Drukhari, but not really in a position to do anything about it – none of my other armies were quite in a state where I felt like I could run a decent list with them, and throughout 2022 I really struggled for painting time and focus. Towards the end I did finally knuckle down and push through with my Aeldari, and played them at Warhammer Fest – which was great fun, and allowed me to get my Avatar out and on the table.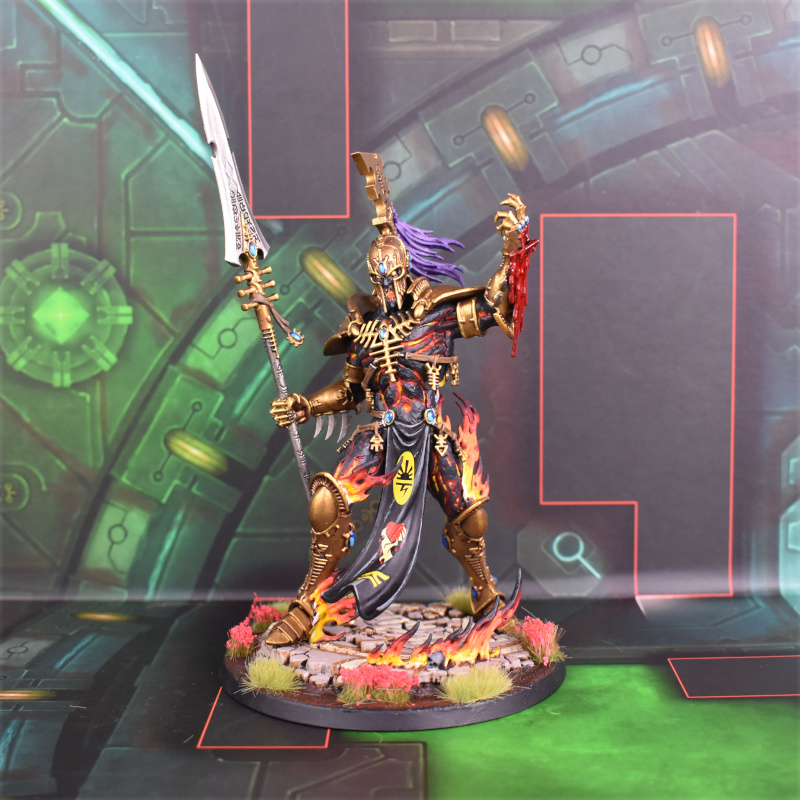 He performed fantastically all weekend, which was gratifying. Less gratifying was playing 4 out of 6 games against Knights – one Chaos, and three Freeblade Lances. I'd basically avoided them all edition, and now here they all came at once, in a field with hundreds of players. Oh well.
That was the end of 9th for me; I was ready for 10th. Luckily, I got the chance to try it out nice and early at Warhammer Fest, throwing some Aeldari at Rob's borrowed Chaos Space Marines. This means pre-nerf Strands of Fate, which I used to make the Avatar basically immortal, to my joy and Rob's (justified) displeasure.
When our review copies arrived, more games followed, with my Marines taking on James/Wings' Necrons. After Fest James was exultant about the Necrons index, and so it proved in our practice games, with him comfortably beating both my vanilla Marines and Blood Angels. That latter game was an early warning sign of some of the issues with 10th; I ran a melee-heavy army with big blocks of Death Company and Sanguinary Guard and they kind of just didn't achieve anything. They weren't terrible, but it was noticeable with the Sanguinary Guard in particular that they didn't do as much for their points as they ought to have.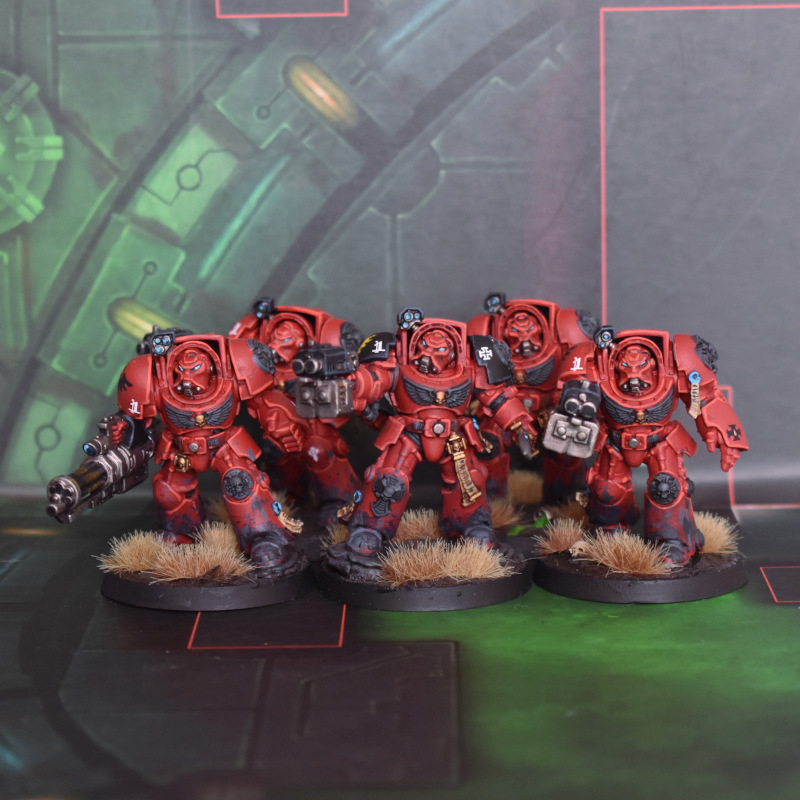 With my first tournament of 10th looming in the form of the US Open Tacoma, I tried the Blood Angels out a few more times with some practice games at the Bristol GT open play event, but they weren't getting there. Every time I thought about the list I took out more of the melee units and added more shooting, and I reached the conclusion that if I was going to do that I may as well run my Crimson Fists where I have a much more extensive collection of units to pick from – whereas my Blood Angels are quite biased towards, well, Blood Angels datasheets. I hastily wrote a new Marines list, played one practice game, and then packed it up and flew off to the US.
Liam's List for Tacoma - Click to Expand

Marines for Tacoma (2000 points)
Space Marines
Ultramarines
Strike Force (2000 points)
Gladius Task Force

CHARACTER

Captain in Gravis Armour (120 points)
• 1x Master-crafted heavy bolt rifle
1x Master-crafted power weapon
• Enhancement: Bolter Discipline

Roboute Guilliman (355 points)
• Warlord
• 1x Emperor's Sword
1x Hand of Dominion

OTHER DATASHEETS

Aggressor Squad (220 points)
• 1x Aggressor Sergeant
• 1x Auto boltstorm gauntlets
1x Fragstorm grenade launcher
1x Power fist
• 5x Aggressor
• 5x Auto boltstorm gauntlets
5x Fragstorm grenade launcher
5x Power fist

Desolation Squad (170 points)
• 1x Desolation Sergeant
• 1x Bolt pistol
1x Castellan launcher
1x Close combat weapon
1x Vengor launcher
• 4x Desolation Marine
• 4x Bolt pistol
4x Castellan launcher
4x Close combat weapon
4x Superkrak rocket launcher

Devastator Squad (120 points)
• 1x Devastator Sergeant
• 1x Close combat weapon
1x Combi-weapon
1x Power fist
• 4x Devastator
• 4x Bolt pistol
4x Close combat weapon
4x Grav-cannon

Devastator Squad (120 points)
• 1x Devastator Sergeant
• 1x Close combat weapon
1x Combi-weapon
1x Power fist
• 4x Devastator
• 4x Bolt pistol
4x Close combat weapon
4x Grav-cannon

Drop Pod (70 points)
• 1x Deathwind launcher

Eradicator Squad (95 points)
• 1x Eradicator Sergeant
• 1x Bolt pistol
1x Close combat weapon
1x Melta rifle
• 2x Eradicator
• 2x Bolt pistol
2x Close combat weapon
1x Melta rifle
1x Multi-melta

Gladiator Lancer (145 points)
• 1x Armoured hull
1x Icarus rocket pod
1x Ironhail heavy stubber
1x Lancer laser destroyer
2x Storm bolter

Inceptor Squad (115 points)
• 1x Inceptor Sergeant
• 1x Assault bolters
1x Close combat weapon
• 2x Inceptor
• 2x Assault bolters
2x Close combat weapon

Incursor Squad (90 points)
• 1x Incursor Sergeant
• 1x Bolt pistol
1x Occulus bolt carbine
1x Paired combat blades
• 4x Incursor
• 4x Bolt pistol
1x Haywire Mine
4x Occulus bolt carbine
4x Paired combat blades

Whirlwind (150 points)
• 1x Armoured tracks
1x Hunter-killer missile
1x Storm bolter
1x Whirlwind vengeance launcher

Whirlwind (150 points)
• 1x Armoured tracks
1x Hunter-killer missile
1x Storm bolter
1x Whirlwind vengeance launcher

ALLIED UNITS

Vindicare Assassin (80 points)
• 1x Exitus pistol
1x Exitus rifle
1x Vindicare combat knife
The basic plan is for the Whirlwinds and Desolation Squad to sit in the backfield (duh) while the Drop Pod drops grav-cannon Devastators into enemy armour. The Eradicators and Gladiator do some fire support, the Incursors do objective play and tag things with their +1 to hit buff (which is huge for the Whirlwinds in particular), and Guilliman throws Oath of Moment at things and runs around punching. The real secret sauce is the Aggressor brick, which can do some absolutely heinous damage with Bolter Discipline and Storm of Fire.
I didn't take a single photo of the event itself, so I won't do exhaustive battle reports this time around. My event looked like this:
Game 1 – Nick – Grey Knights: 95-23 win
Game 2 – Hunter – T'au Empire: 85-90 loss
Game 3 – Ben – T'au Empire: 86-66 win
Game 4 – Mike – Adeptus Custodes: 27-70 loss
Game 5 – Alex – Orks: 85-41 win
Game 6 – Max – Necrons: 79-74 win
Game 7 – James – Space Marines: 83-61 win
Game 8 – Paul – Chaos Daemons: 83-85 loss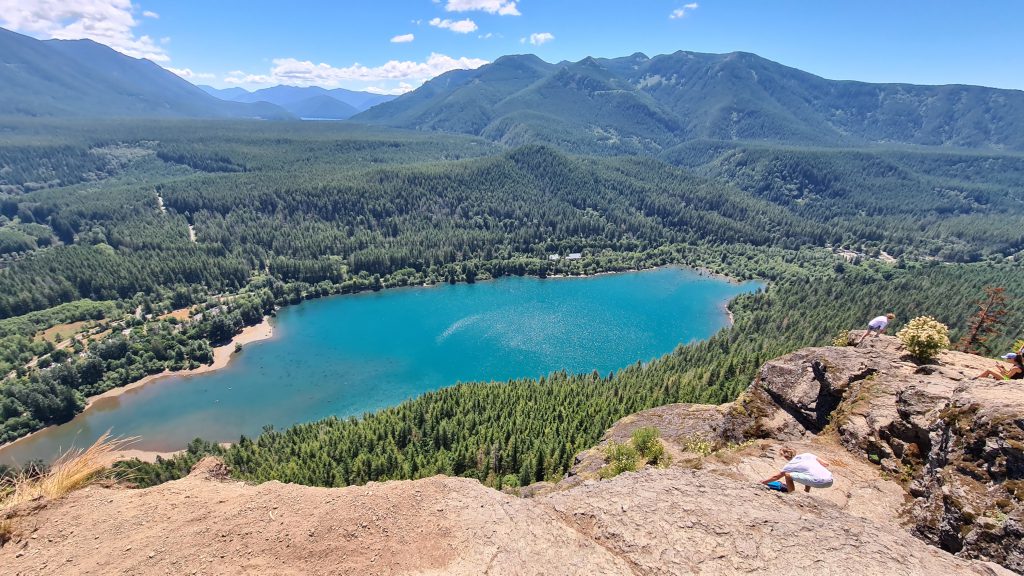 Instead of focusing on the minutiae of games, let's talk about how the list functioned and lessons learned.
Overall, the plan basically worked. The indirect reliably killed off whatever I pointed it at, and the Aggressors were immense in most games – they opened up my first shooting phase of game 1 by killing 8 Paladins in one volley. They aren't great in the T'au match-up, though; T'au are just never going to let you engage anything that matters with them, and they're vulnerable to the kind of shooting that the cowmen do well.
Double Oaths was great, and Guilliman was a beast whenever he hit combat – though he only got up like twice out of six times he died, which sucked. The grav Devs were also consistent performers, and very flexible, even if their AP kind of sucks. 3 damage is just a great profile.
The Lancer did less well than I expected, though that was partly due to the density of the terrain on GW's boards. When I finally had the idea to strat reserve it, it started doing a lot more, since it could get sight lines to targets instead of being trapped in my deployment zone. I'll definitely keep that in mind for the future. The Vindicare was even worse, rarely getting a shot and doing very little even when he did. I started using him to do anything other than sniping – infiltrating around for mission stuff, blocking space for deep strikes, etc. The more I looked at what he was actually good for vs. what I intended to do with him, the more I thought I should have taken the Eversor instead of the Vindicare. He moves faster and he can Advance and shoot (which means Advance and action), and is just generally a little dickhead piece that you can use to do mission stuff while also posing enough melee threat to wipe a small squad of something on an objective.
Speaking of objective play, I haven't mentioned the Inceptors yet; they were consistently great, able to do funky objective and mission stuff with their 3″ deep strike, with decent shooting output too. I like the bolters a lot, but I'm going to try plasma out and see if it achieves more; either way I'd have them in the list just for what they offer in terms of scoring.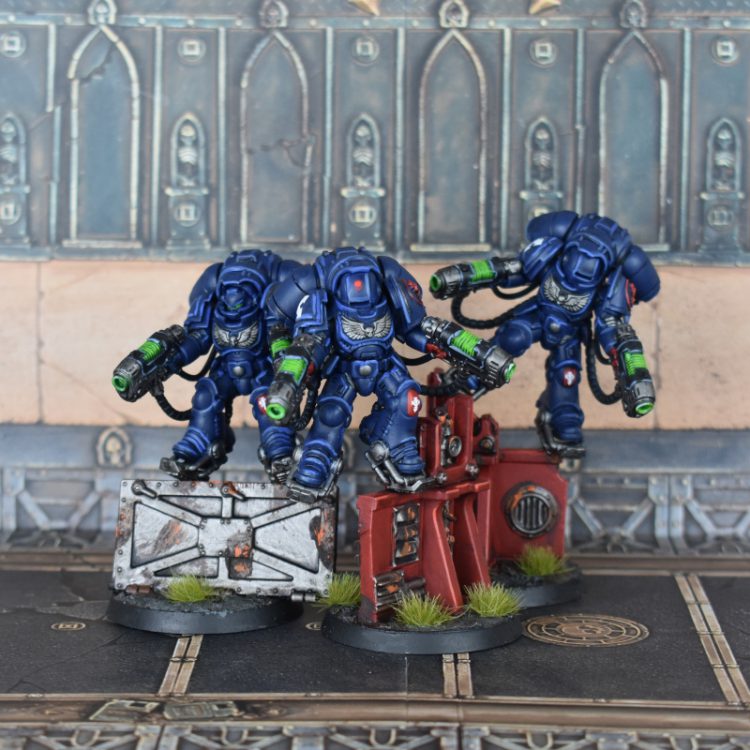 One irony is that I was very mindful of the need to be able to kill Knights, and then didn't play against any – probably a result of going 2-2 initially and ending up in that bracket. It seems unlikely that I'll get through 10th without playing them like I nearly did in 9th, however, so I'll need to keep that in mind.
I've talked about ability to play missions as a strength for a number of units, and the ability to flexibly play Tactical Missions feels like it's really key in 10th. I took that early loss to Tau partly as a result of playing poorly (I could have put the Devs somewhere safe with a good pay-off; I put them somewhere dangerous with a possible higher pay-off and fucked it up), but also because I picked Fixed and capped myself out on secondaries. My opponent had enough Bring It Down and Assassination targets, but not an excessive number, and Fixed was a mistake.
There wasn't a ton I could have done about the Custodes match-up – we played Supply Drop and literally everything went Mike's way, and he played well to take advantage of it. I'm not convinced Supply Drop is much of a mission, and reflecting with James afterwards we're taking it out of the GHO pack because it seems to lend itself to an aggressive potential skew to one player if the Alpha and Omega objectives fall the right way. For my other loss against Chaos Daemons, there's an element where I got diced real hard – Paul was a pleasure to play, and was getting embarrassed by the number of 4+ invulnerables he'd made by the end of the game – and I think my fundamental plan of trying to pick off two Keepers to bring him down to 3 big monsters was a good one, which would have limited his ability to play the mission if only I had actually managed to kill any – which on the odds I should have done. I did make one key mistake, however; when he got into contact with my Aggressor brick I was very focused on using Rites of Battle to pull off a Counter-offensive, but Shalaxi was able to kill the Captain before that could happen – the better plan would have been to accept the Aggressors were probably dying anyway and use Only in Death Does Duty End so that I could at least try and take one of the Greater Daemons with me. Considering the game came down to a 2pt differential at the end, that would probably have been enough to snatch the win – especially because I would have scored Assassination a turn earlier, and then been able to draw and score Extend Battle Lines, instead of drawing it a turn later when Paul had overrun the midfield objectives. A good lesson for the future.
Beyond just getting to play more than I did in 9th, the other thing I really want out of 10th is to use more of my armies. As mentioned earlier, I played a lot of Drukhari in 9th, and not much of anything else. I have a bunch of stuff which has never seen the table, or hasn't gotten there since 8th ed – Aeldari, Knights, Custodes, Guard, Sisters, plus the Blood Angels which are technically just Marines but which I consider separate since they're largely much better painted than my Fists. In 10th I really want to close down a bunch of the outstanding painting for all these different armies – there's no reason I should have the same 5 Scions unpainted from January 2018 to now – and also get all of them to at least one tournament so they can get some real play time. It would be nice to pick up something new, too; I've never yet successfully gotten a Chaos army past the "half a dozen painted models" stage, so doing something like World Eaters or Daemons would be fun, and I keep looking at Genestealer Cults too. Whether this will all happen in 10th I don't know, and I suspect trying to play that many different armies might be a bridge too far, but it's a nice thought to have a more varied edition this time around.