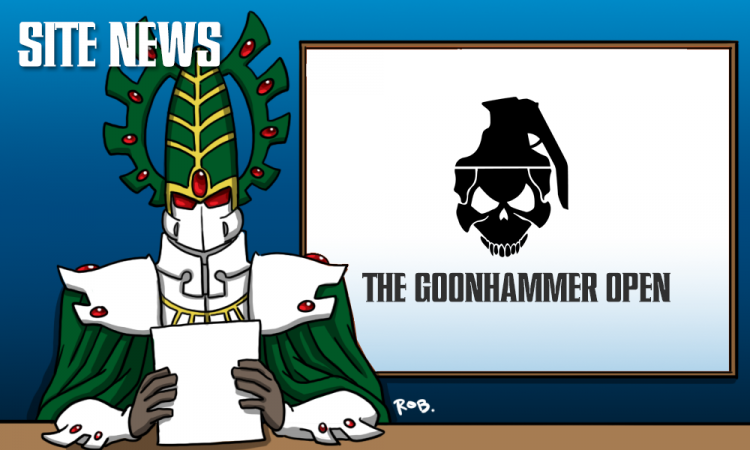 The Goonhammer Open is Goonhammer's own tournament brand, coming to a city near you!
We have a number of different events planned, so keep checking back to find out about new ones as they're launched. We'll also post links to results for each event here as well as galleries from the weekend showing off the games, Best Armies, and the prize winners.
Additionally, many of you have asked questions about rulings for the event. Our updated FAQs and rulings for this event will be posted shortly.
Upcoming Events
The Goonhammer Open Canada 2022 GT – Winnipeg, MB
When: October 1st and 2nd
Where: Viscount Gort Hotel – 1670 Portage Ave, Winnipeg, MB R3J 0C9, Canada
Players: 50
Points: 2,000
Rounds: 6
How to Buy: Tickets available on Eventbrite (onsale May 17th @ Noon Central for Patrons, May 20th at 5pm for everyone else)
Rulespack: Coming Soon
Terrain maps: Coming Soon
FAQ: Coming Soon
The inaugural Goonhammer Open Canada GT is taking place in Winnipeg, MB on October 1st and 2nd. You can expect 6 games over two days to crown a winner – all played on Vanguard Tactics terrain and mats provided by Tablewar, with games on top tables to be streamed. We'll have a great variety of prizes on offer, more details available soon!
Additionally, the winner of the Grand Tournament will receive the Goonhammer Canada Open GT Title Belt, a custom belt made by Undisputed Belts.
You can find the event link for the US Goonhammer Open GT in Best Coast Pairings.
Refunds policy: Refunds are available for individuals unable to attend until 1 month prior to the event. After this date no refunds will be issued (though ticket transfers are still allowed if a replacement player can be found). Refunds will be issued net of the non-refundable Eventbrite fee.