To put it lightly: It's bad all over.
Entire economies are shutting down across the world due to the spread of COVID-19; if that needs an introduction, you should probably start watching the news and washing your hands. It feels almost insulting to write about how this interacts with our hobby, but, that's what this site is about — and this hobby depends on a wide, thin distribution of small businesses to sustain both its profit and its engagement model. This is a modern day plague, and it has exposed and then undermined many of our economic assumptions, especially about entertainment — from the professional sports we watch on TV to the concerts we attend to the movies we see in theaters to, yes, the hobbyist games on which we spend so much time and money. It's important to note that when this article goes up, anglosphere countries still won't have hit peak infection — Italy and Spain might have entered the Thunderdome already, but we haven't. (Thankfully the latest news has day-over-day deaths in those countries decreasing, so perhaps they're over the infection's peak.) It's quite likely you'll have bigger problems on your hands in two weeks than what's covered in this article, but that just makes writing about it now more important — this is a matter of economic survival for many if not most of the small businesses that keep the tabletop gaming sector up and moving, and they deserve their moment. 
As COVID-19 graduated from epidemiological concern to global pandemic, the United States, United Kingdom, Australia, and other countries began asking citizens to practice social distancing and closed non-essential businesses. Among the stores hardest hit by this are the local brick-and-mortar retailers that players rely on not just for hobby releases but also for meeting up and playing games with other enthusiasts.
To learn more about this impact, Goonhammer contributors conducted a series of interviews with the proprietors of local hobby shops and other specialty merchants affected by stay-at-home and quarantine orders issued across the English-speaking world (you can find out more about these stores at the end of the article).
Some of the necessary changes to the hobbyist business model were obvious and immediate. "Retail is what's known as a 'high touch' environment, [so] this was of particular concern," said Ben Rubery, owner of Too Many Metal Men in Birmingham, England. "Prior to the UK lockdown, we took the decision to close the brick and mortar store because it was clear that keeping the store open would put our customers, my wife, and I at risk, and it was the responsible thing to do. Since the lockdown, we've continued to do online orders and moved some stock to our home so that we could fill orders without visiting the store."
This has been a common, and common-sense, response to governmental guidance (or the lack thereof) among stores we surveyed: closing the storefront but remaining available to move product through mail or curbside service. Compleat Strategist in Manhattan, New York, is still sending a manager in to handle orders and do shipping as of last contact; their other locations are at least attempting to do the same. As per their Facebook posting, The Last Stand in Brisbane, Australia has moved to mail and, if necessary, hand delivery by the owner. Bad Moon Games in London — a combination shop and food service location whose business model relies on players coming into the location and enjoying premium coffee drinks and wood-fired pizza while they game at one of the cafe's 15 tables — has had to transition entirely to online store operations following the stay-in-place restrictions handed down. "As we rely on people coming into our cafe and having fun, government advice last week to stay away from cafes, restaurants, bars and pubs almost entirely obliterated our cash flow," said Paul Hannah, manager and co-owner of The Bad Moon Cafe. "We've been on damage limitation mode ever since."
While transitioning fully to selling existing stock online is the smart way to mitigate loss of business in the short-term, it's a strategy that comes with an expiration date. Games Workshop has announced a shutdown of all operations for the foreseeable future, and that includes shipping commercial orders out to stores. Everywhere from Alpha Omega Hobby in Quincy, Massachusetts to The Last Stand in Brisbane to Bristol Independent Gaming (BIG) in, well, Bristol, England, has reported that they're now selling out of their existing inventory, with no resupply coming in — and while that will keep them making some money for some time, being unable to order new stock is a death knell to retail business. April into May is going to be the real proving time for whether a number of these locations can stay on their feet; are they going to get the support they need from their local and national governments, or are they going to be written off as casualties in a confused, laconic, and scattershot response?
Most hobbyist proprietors would agree that they're much farther down the list of those who need relief than doctors, nurses, sanitation workers, and others that will keep our societies functioning in a year of plague. But the United States, United Kingdom, and Australia are so rich that this isn't actually a hard choice that the people who govern us have to make. We can help the hospitals, we can help the homeless, and we can help literally everyone in between — including small business hobbyists. The good news for at least US locations is that recent legislation will permit small businesses access to a relief fund, with certain terms and conditions — the UK and Australia have similar programs, too. We will see the degree to which those programs are able to allocate relief promptly and properly, but hopefully the local gaming stores will be made whole and we can proceed to making sure the more precarious members of our society are kept safe.
The biggest question, of course, is when everything will get back to normal. The answer is frustratingly unavailable: we don't know yet whether COVID-19 will be defeated by a conventional vaccine or whether it will become a seasonal concern that requires the equivalent of a flu shot. If it peaks and falls off in the summer and that's it, as the best-case scenarios hope for, then we could be looking at a return to normal tabletop gaming in the fall. But if it comes roaring back as the weather changes later in the year…well, we could be social distancing for quite awhile. And every month of quarantine means more events cancelled, more sales lost, and more shops closed — to say nothing of the far more important human cost.
"At this point the best thing local gamers can do is stay safe and keep their families safe," said Rubery from Too Many Metal Men. "If our customers haven't kept themselves safe there'll be no one to sell toy soldiers to, chat about gaming with and play with all the miniatures we've painted during lockdown." It's simple advice, delivered with some fatalistic wit, but it's correct. It's impossible to out-clever a pandemic; you can only outlast it, and the only way to outlast it is by staying strong, sticking together, not panicking, and being generous to each other, even if it is from six feet away.
We will get through this. And until then, well, you've got a lot of time to paint.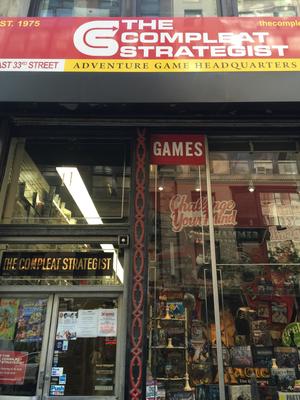 A Quick Note on the Stores We Love
We spoke to stores from around the world while we were putting this together, and we'd like to take a moment to shout out to those stores who participated and our favorite local stores. If you're near one of these and able, show them some love.
Too Many Metal Men – Birmingham, UK
https://toomanymetalmen.selz.com/
Too Many Metal Men has been in business for a little over a year in a single location, in a little subdivision inside a supermarket in Birmingham's Chinese Quarter. They sell GW, with an emphasis on specialist games, stocking the direct item specialist stuff wherever possible Warlord; some Asmodee; and other smaller UK manufacturers, though generally as special orders.
On How You Can Help:
I essentially want to give the same message LGSs have always given – if you want to have an LGS then you have to support them. If they are still operating online and have things you want, place an order. If they don't have something you want, or aren't doing online orders, leave a nice message on their facebook. Isolation is just that, isolating, and someone taking a moment to have a nice interaction with you is a kind gesture that almost everyone would welcome. 
I would say if you have the choice, get stuff from a smaller LGS, because that is where your currency of choice will make the most difference. If you want somewhere you can walk into, rather than a faceless delivery from a morally ambiguous virtual monopoly, then support your LGSs where you can. 
Alpha Omega Hobby, MA USA
https://www.alphaomegahobby.com/
The mission of Alpha Omega Hobby is to create an inclusive and diverse gaming community, and a unique space to play games and have fun. 
On How You Can Help:
Honestly the best thing they can do to help us is just keep talking to each other on our community pages. Just so we know how everyone is doing. That and if I may be more forthright just keep buying stuff, anything really. Cause then we won't have to worry as much about our overhead costs while this is going on. We actually had some really cool dudes come forward and buy gift cards for themselves or others.
Guild Hall Games – Bomaderry, AU
https://www.guildhallgames.com.au/
Guild Hall Games primarily sells Games Workshop products and trading cards. They have been in business for seven years, with one small shop in regional Australia.
On How You Can Help:
Each store will have it's own way you can best help them, but try and buy off them where you can. Also, try and keep your community active through things like social media groups so that the smaller stores don't need to rebuild it from scratch later.
The Compleat Strategist – New York, NY
https://www.thecompleatstrategist.com/
NYC's local game HQ for than 45 years, the Strategist is located in downtown Manhattan and sells tabletop wargames, RPGs, board games, and trading card games, and offers space for players to meet up and play. They also have locations in King of Prussia, PA, and Falls Church, VA. The NYC location is currently closed but is accepting and shipping online orders.
The Last Stand, Brisbane Corinda, AU
The Last Stand is owned by Paul Skuse, and runs in conjunction with a Newsagency and Post Office that he owns and run at Corinda in Brisbane's western suburbs. The Last Stand specializes in models, miniatures, and tabletop wargaming and hobby supplies. They are continuing to trade online and because of their co location with the post office, have been deemed an essential business, so the store location is still open, though they request that customers follow social distancing guidelines 
Bad Moon Cafe – London, UK
https://www.badmooncafe.co.uk/
Bad Moon Cafe is an independent tabletop and board gaming cafe and retail store, based in the centre of London, UK. They specialize in Games Workshop related products and games, and have 15 bespoke gaming tables ideal for Warhammer of all kinds. Normally, they offer barista coffee and proper wood-fired pizza while playing. They're currently working on launching an online store.
On How You Can Help:
Stay with us – our community is precious! We have had a heartwarming outpouring of support from regulars, one-time visitors and people that have never even been to see us! We are maintaining communication with our community via our social media channels, and even playing games (online), hanging out and chatting or having a (remote) drink via our discord server! Please – come in and say hello, ask questions, chat and play with us, here: https://discord.gg/u8r9Bdv
If you would like to support us while we support our staff, we are most grateful! We currently have vouchers for use in-store on our website and our online store is just around the corner. 
Third Eye Comics, Games & Hobbies – Annapolis, MD
Third Eye has locations in Annapolis, Richmond, and Lexington and sells comics, collectibles, models, board games, tabletop games (including warhammer), and collectible card games. They're currently taking online orders and offering a delivery service with free delivery within 10 miles or within 40 miles for orders over $75.
Bristol Independent Gaming – Bristol, UK
https://www.bristolindependentgaming.co.uk/
Bristol Independent Gaming is the largest table top gaming venue in the South West of England, boasting a huge 4,000 square feet of gaming space. They're currently closed to the public, but will still be filling orders and offering curbside pick-up.
Corrode: A store regular has also set up a GoFundMe to keep BIG afloat through the lockdown period. If you're in the area, or just want to help keep a great store going, you can find it here.
Turn 4 HobbyTown in West Boylston Massachusetts
Turn 4 opened the current west Boylston store location after a fire closed down the previous hobby shop in town. Their store is currently closed per state order but they are doing free next day delivery within 10 miles and free shipping, and curbside drop.
Support Your Local Game Store
…unless they suck. Don't feel like you have to support any store that doesn't create a welcoming, inclusive environment, or doesn't treat its employees well. But those that do, support the crap out of those.
As always, if you have any questions or feedback, or have a local store you want to talk about supporting, drop us a note in the comments below. Or email us at contact@goonhammer.com. Also, a special thanks to all of our contributors who spoke to stores and helped gather information for this article.