When Kill Team 2.0 was initially announced I was incredibly excited for it. I had been a big fan of 1.0 and was eagerly looking forward to an improved version of it. Unfortunately this eagerness turned to disappointment as I bought the Compendium and played my initial matches. While I had many complaints a lot of it boiled down to hoping for a game closer to Necromunda than what we got. Of these complaints, my biggest was just how generic the Compendium Teams felt. Nearly a year has passed since this rough start, and Kill Team has become one of my favorite games, however over half the available teams still haven't received an update. With this in mind I figured it would be good to revisit these teams, and do a deeper dive on what they bring to the table, and give advice on how to best employ them in a competitive environment. 
Although the Genestealer Cults received a big upgrade to their kill team prospects through the White Dwarf update for Wyrmblade Kill Teams, their Compendium team – the Broodcoven – weren't actually replaced. Indeed, players can still run Broodcoven teams if they want to give up many of the benefits of the newer team in favor of stronger melee prowess.
Broodcoven Kill Teams
Following the Wyrmblade update, Broodcoven are now the team for people who want to play with Genestealer Hybrids and can pack a nasty melee punch – but it is worth mentioning right off the bat that they're a major downgrade from the new team. If you want to play with Neophytes, use the new rules. If you're interested in reading more about Wyrmblade Kill Teams, you can find our Tactics article on them here.
Team Structure
A Brood Coven kill team consists of two fire teams, picked from the following list:
Neophyte Hybrid
Acolyte Hybrid
Hybrid Metamorph
A Neophyte team will give you seven bodies, while you'll get five each for the Acolyte and Metamorph fire teams. You can also replace one operative on one of the Fire Teams with a LEADER operative, and there's one each for the teams. Acolyte Teams can add up to two gunners and/or fighters in any combination, and they can also include an Icon Bearer. Neophytes can have up to two Gunners and up to one Heavy Gunner operative.
Because Neophytes are just a better option in Wyrmblade, we'll focus primary on the Acolyte and Metamorph options, and with this configuration you're limited to the Seek and Destroy and Infiltration Tac Ops. 
Strengths
Melee – Acolytes and Metamorphs have some very nasty melee attacks they can dish out, and they get easy access to weapon keywords to drive their point home.
Versatile – Even if you limit yourself to Acolytes and Metamorphs, you have a variety of options you can consider and while it skews melee-heavy you've still got multiple options to consider.
Weaknesses
Durability – Genestealer Cultists aren't particularly durable, though Acolytes and Metamorphs get an extra wound to help stave off death.
Obsolescence – The Wyrmblade Kill Team from White Dwarf really does give a lot of better options for Genestealer Cults players. If you're looking for a bit less of a challenge and something more competitively balanced, it'd be worth looking at the Wyrmblade team instead.
Abilities 
Both hybrid variants have identical statlines, with the usual +1 hit/wound and +1 wound for leaders. To represent their alien nature they come in with a slightly modified human profile of +3 to hit/wound in melee, +1  Attakk, and 8 wounds, but they're otherwise identical to your standard guardsman or neophyte. 
Operatives
Broodcoven kill teams don't have the fancy character operatives of Wyrmblade kill teams, but they do have more melee options when it comes to their operatives.
Acolyte Hybrids
Step back a generation of development from the Neophytes and you have the Acolytes, who are a little bit tougher (+1 wound) Than their Neophyte brethren. They're similar in purpose to Metamorphs, though Acolytes have a slightly weaker standard melee profile with 4/5 dmg, 4 atks, Balance, and Rending. The big advantage of Acolytes over Metamorphs is that they get access to heavy mining weapons on their Fighters. These are the only weapons on the team that can do 7 damage on a critical hit, an important damage threshold in kill team. The rest of your Acolytes come equipped with autopistols and melee weapons, while gunners get hand flamers. Having a backup ranged option is very important for 2 APL operatives, especially when up against Stun.
Acolyte Hybrid (Icon Bearer)
Acolytes have access to an Icon that's an upgrade on a Trooper with the ability to give another operative a single attack re-roll but spending APL on it over charging your opponents will be a losing proposition most of the time.
Acolyte Hybrid (Fighter)
An Acolyte Fire Team only gets one Fighter operative, who give you your only source of heavy melee weapons on the team. The choice here is between a Rock Cutter and a Rock Saw for the loadout. The Rock Cutter is the less accurate of the two, but makes up for it with higher base damage (5) and Lethal 5+, giving you more opportunities to score crits. While the Rock Saw hits on a 3+ and has the Brutal rule, making it harder to parry. Mathematically, the Rock Saw is slightly better here, averaging out to one more point of damage per set of attacks, though it'll have lower variance.
Acolyte Hybrid (Leader)
Acolyte leaders have a few melee options, with the bonesword and claw being the most damaging (though sadly falling short of that 7-damage threshold). The alternative here is the lash whip, which reduces the attacks characteristics of nearby enemy operatives, but ultimately killing them is a better defense and so the sword + claw are a better option.
Metamorph Hybrids
Metamorph Hybrids are pretty similar to Acolytes, though they get +1 damage on critical hits and gain Brutal. Similar to Acolytes, the Gunners here get hand flamers which are again useful on 2 APL operatives. The Metamorph leader also gives you a sword option, which is again worth taking if you're taking a Metamorph Leader. The only advantage to the Metamorph Leader over the Acolyte is the Rending keyword and so it's probably better to avoid taking him unless you're playing a double Metamorphs kill team, since you'll get more raw melee damage output having an operative with that profile replace an Acolyte.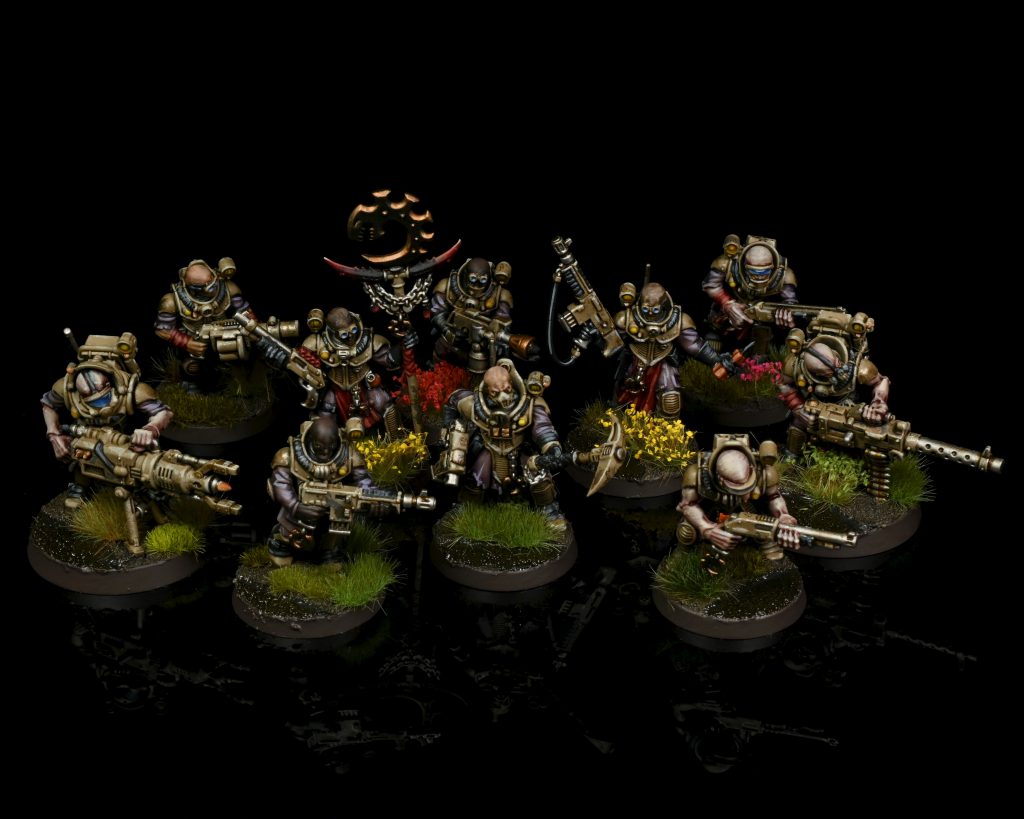 Neophytes
If you're particularly adverse to running a White Dwarf team, you can opt to make the majority of your team, including your leader, Genestealer Cult Neophytes. These guys have the standard human profile of 7 wounds, 2 APL, and a 5+ save.
Neophyte Hybrid (Trooper)
These are your standard generic operatives armed with a gun butt and either a shotgun or autogun with no special rules of their own. They perform the role of objective holder and action performer. If you're taking Neophytes you'll typically find yourself with four on your team, and in my personal opinion the shotgun is almost always the better pick. These guys need to be in the central area of the board, and any advantage the autogun may provide in terms of versatility is inferior to the added accuracy and damage of the shotgun. These are the only operatives in your team that have GA 2, meaning that they can really dish out some damage if activated at the proper moment. Lastly, they're also the obvious choice for equipment such as Frag Grenades since you will want your specialist operatives to employ their equipped weapons.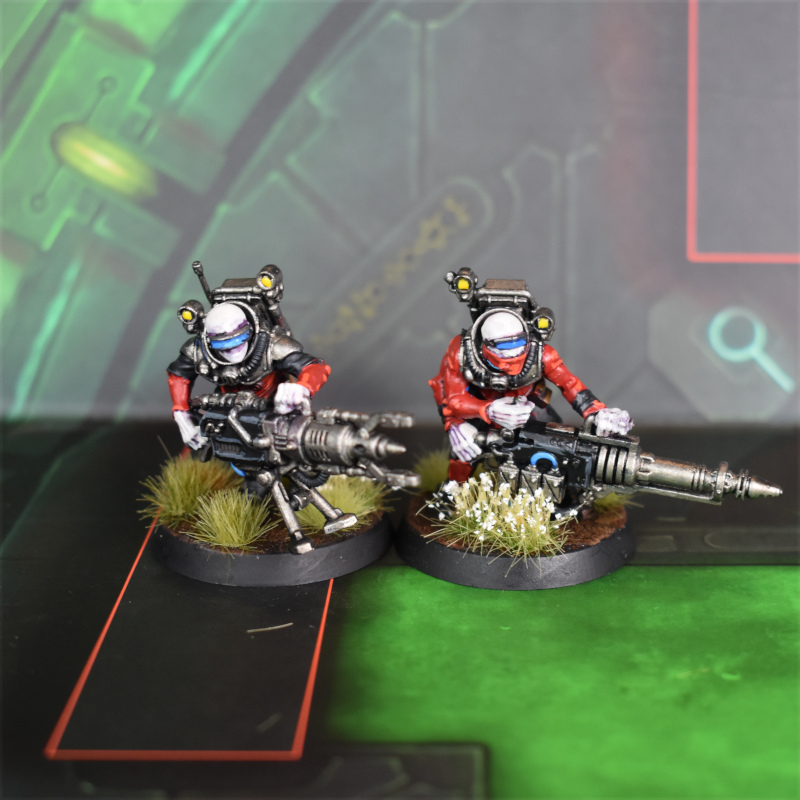 Neophyte Gunners and Heavy Gunners
Neophyte Fire Teams can include up to two Gunners and one Heavy Gunner, giving them even less ranged firepower than the Wyrmblade kill team when it comes to the weapon choices. There are three gunner options and and three heavy gunner options, but those categories each give us auto-pick options. Specifically, the Mining Laser and the Grenade Launcher. The Grenade Launcher gives you a highly versatile source of single target AP via Krak or as crowd control with its Frag, while the Mining Laser is the single highest damaging weapon available to the team. The Mining Laser has a staggering 5 atk, 5/6 damage, and AP 1 profile meaning it can easily kill the hardest targets in the game, especially combined with Cult Ambush and certain tactical ploys. After that you'll have to pick between a Flamer and a Webber, and that'll come down to whether you want to trade accuracy for the ability to stun. The flamer is the more straightforward of the two and will typically be the best choice thanks to its increased versatility and accuracy. That covers most cases, but there may be situations where the Seismic Cannon or Heavy Stubber are worthwhile, and you may take them if you're doing two teams of Neophytes (but again, you should really be playing Wyrmblade if you're going all Neophytes).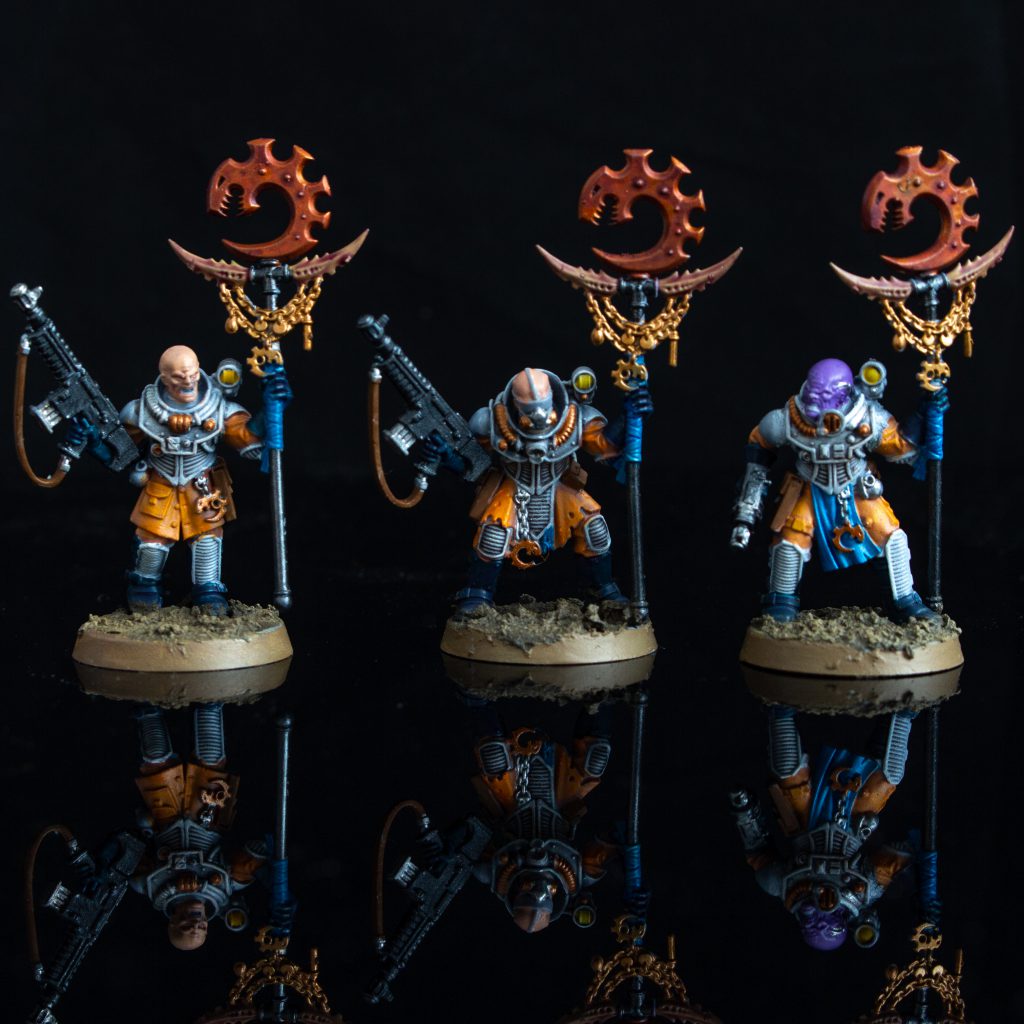 Neophyte Icon-Bearer
The team's buffing specialist. Their Icon gives them the Cult Icon (1 AP) Unique action, which allows them to inspire a friendly operative within 3″ to re-roll a single attack dice when it makes a combat or shooting attack until the end of the Turning Point. This is no Signal the Strike and while it's an OK bonus it only affects one model visible to the icon and it'll often just be better to shoot instead with your Icon over giving a single operative a re-roll.
Additionally, the Icon-Bearer counts as 3 APL for holding objectives, which can be a nice little surprise for opponents who think they can control an objective only for your Icon-Bearer to run up on the final activation of a Turning Point to either contest or control a marker that the opponent held.
Neophyte Leader
Our final operative, and the operative chosen to lead your insurgent force. Comes with your standard +1 Wound and +1 WS/BS over the other Neophytes, along with an array of pistol and melee weapon combinations. None of these choices are an automatic pick over the other, although Bolt Pistol and Powerpick have the highest potential damage. I would personally consider the Power Maul to be the weakest pick from amongst the melee options, Stun not being very useful as the Leader is likely to either kill their target during a FIGHT action or be killed in turn.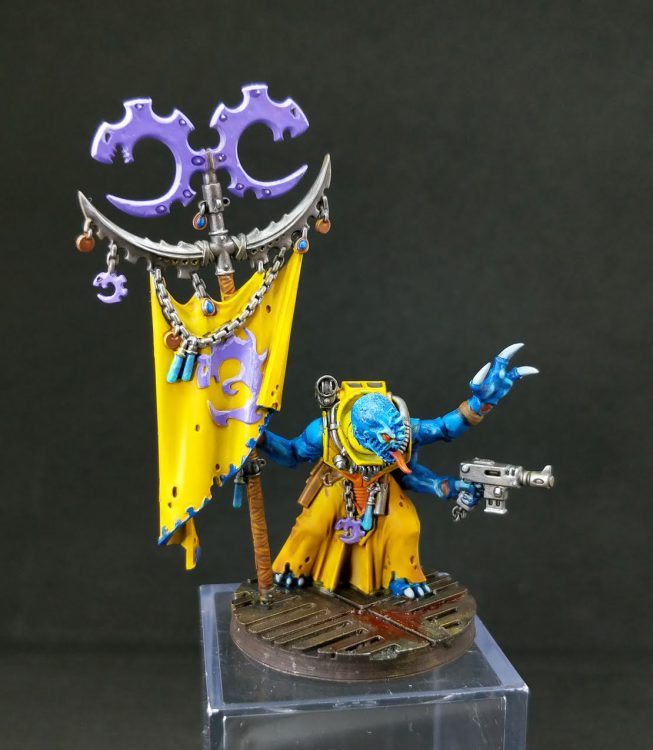 Ploys
Strategic Ploys
Broodcoven teams have two strategic ploys, and they more or less replicate abilities that the Wyrmblad teams now get for free, with some minor tweaks.
Cult Ambush (1 CP)
Use in the first turning point. Until the end of the Turning Point, whenever one of your operatives is activated, you can change its order.
This is basically what the new Wyrmblade can do for free. This is technically a once-per-game Ploy since the first Turning Point is the only time it applies. Technically a very good ploy considering it doesn't use operative AP, and is a rarely seen ability in the game. Unfortunately metamorphs and acolytes have no weapons available to them that shoot beyond 6 inches, and their ranged weapons aren't very deadly so it isn't like you really need this ploy if you're going heavy on them; odds are your operatives will be spending most of TP 1 in concealment. C
Lurk in the Shadows (1 CP)
Until the end of the turning point, if operatives have the Conceal order or are ready, and in Cover, they may retain two dice as saves instead of one against shooting attacks. Alternatively, they can retain a single die as a critical save. Another ability the Wyrmblade gain for free, but only their Cult Agents. This is a very good ploy, especially on a delicate team like this. B
Tactical Ploys
Underground (1 CP)
Used in the Set Up Operatives step of the mission sequence. You can pick one of your operatives and set them up with the Conceal order anywhere on the kill zone within 1″ of heavy terrain and more than 6″ from enemy operatives or their drop zone.
It's basically  the original version of the Wyrmblade Hiding tactical ploy. This allows you to set up an operative anywhere on the board within 1 inch of heavy terrain and more than 6 inches from enemy operatives or kill zone. This means that if your opponent deploys an operative at the forward edge of their deployment area you could immediately charge them, however as this all happens before the Scouting Phase, you risk going second and just losing the operative immediately. C 
Into the Shadows (1 CP)
Used at the end of a friendly activation to put an operative under the Engage order back into Conceal after its activation. A near direct copy of what the Wyrmblade now except that it can be done to the same operative more than once throughout the course of the game, unfortunately on a very close range oriented team it isn't nearly as useful. Still being able to charge and kill an isolated enemy, and then drop back into Conceal is useful no matter how you look at it. C
Crossfire (1 CP)
Use this ploy after an operative completes a shooting attack against an enemy operative. For the remainder of the turning point anytime a friend operative makes a shooting attack against that enemy you may re-roll a single shooting attack die. Not as good as the version the Wyrmblade ended up with, but not terrible as far as Compendium ploys go. Unfortunately if you're running a bunch of Acolytes and Metamorphs this is significantly less useful, as you won't be making doing much shooting. and can't really take advantage – you can save your command points. C+
Lying in Wait (1 CP)
Used when you activate an operative that has the Conceal order and is more than 3″ away from enemy operatives. You can activate an additional friendly operative within 3 inches, and also under the Conceal order. Basically this gives you GA2 on your hybrids, anything that allows out-of-order activation is extremely powerful in Kill Team. There are quite a few restrictions on this ploy, but it is still very useful given what else is available to this team. B
Equipment
Brood Coven kill teams have a modest amount of equipment, and most of their options are either situational and kind of bad, or benefit Neophytes that you aren't likely to be running.
Blasting Charges [2 EP] 
Basically Frag Grenades, always useful. C+
Demolition Charge [4 EP]
At first glance an Indirect weapon that hits with the power a Mining Laser, but unfortunately is rendered near useless by the Unwieldy trait. F
Heavy Weapon Bipod [2 EP]
Hold still to re-roll a single hit die with that has the Heavy Trait. This only has value on Neophytes, and if you're playing a Broodcoven kill team you're hopefully just going melee heavy instead. Either way the benefit here still isn't worth it. D
Flash Visors [1 EP]
Ignore APL modifiers. Cheap enough to equip the entire team, vital if you are up against lots of Stun, but otherwise it's worthless. C
Mining Tool Rig [3 EP]
Grants the Heavy Rock Cutter, Saw, or Drill the Relentless Trait. This is probably the best Equipment item available, that allows acolyte Fighters to reliably kill 7-wound operatives in one hit, especially with the Rock Cutter thanks to its Lethal 5+ ability. B
Structural Surveyor [3 EP]* One per Kill Team
Grants the operative the Structural Surveyor (1 AP) action, which makes a piece of terrain within 6 inches of the operative not count as Obscuring or automatically retain cover die for any shooting attacks made by another operative within 3 inches. This one is very situational and also has no value if you don't have any Neophyte gunners or heavy gunners on your team. Even then, your ranged choices will be relatively limited if you only have one Neophyte team and it'll be useless if you're going all Acolytes and Metamorphs. D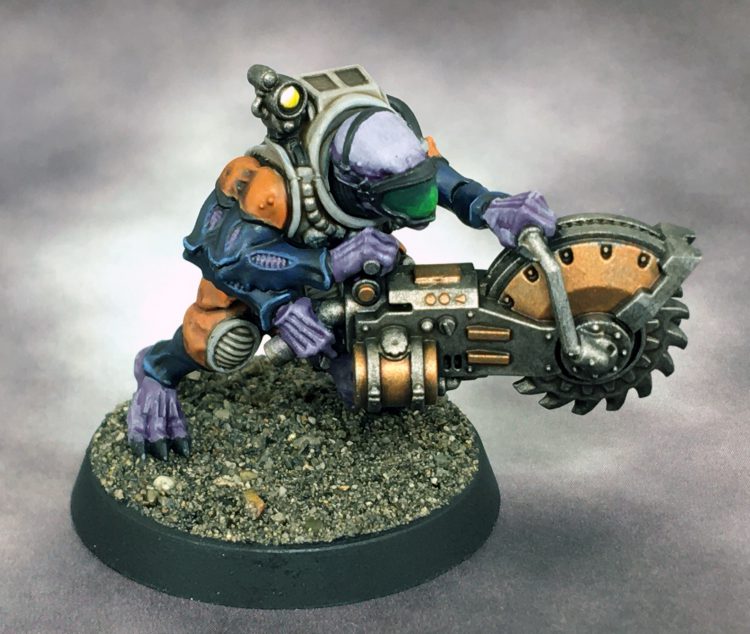 Tac Ops
Brood Coven kill teams have access to Infilration and Seek and Destroy when they're taking Acolytes and Metamorph Hybrids. In this case I'd rate Infiltration the more doable of the two categories, especially since it can be especially hard to perform certain Seek & Destroy Tac Ops with the very limited ranged capabilities of this team. 
What do you take? 
Well unfortunately this team is very weak no matter how you slice it. Melee-focused teams, especially those with only 2 APL, are at an inherent disadvantage in Kill Team. One way to look at this team is ask what Harlequins would be like if they had one less APL, no invulnerable save, and did not have FLY. That said, the Brood Coven do however have a few tricks, such as Lying in Wait and Lurk in the Shadows, that can help them get one over on their opponents. If you're determined to play this team I suggest the following:
One Acolyte team equipped with a Heavy Rock Cutter and Drill each with a Mining Tool Rig

One Metamorph team equipped with two Hand Flamers and two Blasting Charges.
This gives you the most balanced combination of melee and ranged weapons without trying to make something that's just going to remind you that Wyrmblade teams exist.
Painting and Modeling Genestealer Cults
We've covered painting Genestealer Cults pretty extensively, including multiple unit types and vehicles. Check out How to Paint Everything: Genestealer Cults for more info there.
Final Thoughts
If you're really dedicated to playing GSC on hard mode, or you're really enamored of the paint jobs you put on your Acolyte and Metamorph models, you can make a functioning (but bad) kill team using the Compendium rules. You're still better off playing Wyrmblade but careful use of the team's tricks should help you get the drop on opponents who underestimate your ability to tear things up in melee. Hopefully at some point the GSC get a second kill team option for the more mutated teams, with something that lets them supplement acolytes and metamorphs with Aberrants and we can replace this article with a write-up of that team.
As always, if you have any questions or feedback, drop us a note in the comments below or email us at contact@goonhammer.com.