Testing the List
In the first part of my road to LVO I brainstormed a new list and tested in just a single game. This week I'm continuing as I played an RTT over the weekend hosted by Flying Phoenix Games in Oshkosh, Wisconsin. The local organizers Tyler Rowe and Bret Killeen have worked hard to help build a considerable competitive interest in the area and it's paying off with great event turnouts. Hopefully more to come!
To recap, here's the list:
Boon's LVO List

Eldar Battallion: Expert Crafters, Masterful Shots

Farseer Skyrunner

Spiritseer

1×5 Dire Avengers – Exarch with dual Shuriken Catapults, Avenging Strikes

3×5 Dire Avengers – Exarch with Avenging Strikes

1×8 Shining Spears – Exarch with Star Lance, Skilled Rider

2x Falcon Grav-Tanks – Starcannon

1x Wave Serpent

Eldar Spearhead: Expert Crafters, Masterful Shots

Yvraine

3x Fire Prisms

1x Night Spinner

Eldar Spearhead: Expert Crafters, Masterful Shots

Warlock

2×3 Support Weapons – Vibro Cannons

1×2 Support Weapons – Vibro Cannons
Last week I mentioned that I'd like to test my list against a tough match going second and also against a horde. Turns out it was a good weekend to test as I faced Iron Hands (going second), an infantry heavy Imperial Guard list, and Orks. I owe special "thank yous" to Kevin Leonard, Jacob Hopfensperger, and Jacob Koepsell for the great games. You were all fun and gracious opponents!
Game One: Kevin Leonard – Iron Hands – ITC Mission 1 – Frontline Assault
My first game was against the ideal tough opponent test – Kevin Leonard and the Iron Hands. Kevin was running a brutal triple Repulsor Executioner, twin Thunderfire Cannon, and twin Redemptor Dreadnought list backed by Eliminators and Intercessors. Going second against this is basically the worst scenario for me on a Frontline Assault deployment. I deployed defensively and Cloudstruck my Prisms while he deployed central on his board edge – on his turn he fanned out a bit for objectives and LoS then gunned down a few of the Vibro Cannons as well as a Falcon but all-in-all the Turn 1 damage was surprisingly pretty limited. On the return I slung my Protected/Fortuned Shining Spears forward around his right flank. The combined shooting from the five remaining Vibro Cannons, remaining Falcon, and Shining Spears destroyed one of the Repulsors and left a Redemptor with 4 wounds remaining which I promptly assaulted planning to tie up and consolidate to trap – tried to limit attacks but I did JUST enough dmg to finish it off and although he rolled a FNP to keep it around, he CP re-rolled the FNP which left me out in the open. A good move.
With both Protect and Fortune, and my Exarch sporting a 2++ re-rollable I still felt good but turn 2 ended in disaster. He cleaned up another set of Vibro Cannons, the remaining Falcon. On top of that my Exarch failed a series of 2++ rolls and a reroll and died swiftly before the rest of the squad melted to Repulsor "light" shooting and a Chaplain assault. From here it was all downhill – I'd go on to clear the other dreadnought and a Thunderfire Cannon but the two remaining Repulsors picked up two tanks a turn or more and by 5 I was tabled. At is safe to say that Kevin wrecked my face in this game.
Key Takeaways:
I'm not sure that Cloudstriking the Fire Prisms was actually the right move – I figured they were my best anti-armor punch and I wanted to preserve them for a first strike. However, the loss of the second shot really limited their potential – and, surprisingly, the Falcon and Shining Spears put out a lot more damage to his list than I expected. The correct play may have actually been to keep everything on the board and threat overload his Repulsors through turns 1 and 2. It likely results in a second dropped Repulsor on 2 which may have gimped him enough to keep me in the game.
The Shining Spears are still a goddamn hammer and if you can roll 2+, or a 5+++, a serious thorn in the enemy's side. Fortunately for Kevin I cannot.
I struggled with the Vibros in this game. I tried to limit sight arcs to them but it often meant I couldn't target what I needed to. It also did not help that I rolled an average of 1.2 shots per gun.
Game Two: Jacob Hopfensperger – Imperial Guard – ITC Mission 2 – Frontline Assault
Game two was against Jacob Hopfensperger commanding a very nicely painted Imperial Guard Cadian brigade featuring a large number of plasma Scions, a fist of Russes, Manticores, Bullgryns, and a slough of Guardsmen, Lascannon Sentinels, and support characters. As it was Mission 2 he deployed first and went first – the Russes deployed centrally with Manticores and Sentinels on the wings and a slough of infantry spread across the front line and Scions in deepstrike. There was a lot of LoS blocking terrain to take advantage of in this game and I deployed defensively into the corners minimizing sight lines and then awaited to go second.
The Bullgryns pushed forward towards the center objective with a third of the infantry blocks while the Russes had difficulty in drawing LoS to anything with their relatively low profile and I thus avoided the worst of the Imperial firepower on turn 1 – the Manticores failed to kill the Night Spinner and with nothing able to finish it off I managed to escape without losing anything. In my turn I attempted to skirt the edges maintaining LoS block on the Russes and attempting to target out the Manticores and Sentinels. The Spears and Wave Serpent flung forward up the left flank, unleashing shuriken shots on the nearest Guardsmen squad, and then the Spears assaulted into the left-most Manticore and Guardsmen while the Vibro Cannons, Falcons, and Fire Prisms worked on the other Manticore, the Hellhound bearing down on my right flank, and any Guardsmen I could catch out. With a limited number of objectives to sit on I wanted to bring the number of troops down to a minimum before the 30 Scions came in and they become a problem to deal with.
On his turn, the Bullgryns continued to squat in the central ruin on the objective while the Scions came crashing in taking out a series of Vibro Cannons and damaging one of my Prisms but the impact was otherwise light. The mass of T7 proved troublesome for him, and even worse, my Protected and Fortuned Shining Spears largely held up to the combined fire of Leman Russes and Guardsmen and who were now in an unenviable position of being swept up. At this point the game turned, my tanks and remaining Vibros cleaned up Scions while the Spears swept the flank and started rolling up the center. My Wave Serpent dropped Avengers onto his objective while on the other flank I finished off the Manticore. By the end of Turn 2 he was caught in a vice with rapidly depleting squads and only a few Leman Russes and Bullgryns to combat essentially the whole mass of Eldar armor. In the ensuing turns his Leman Russes would be assaulted by a couple of remaining Spears and the Wave Serpent, tied up, and then taken out after being forced to Fall Back.
Key Takeaways:
Once again I struggled to draw sight lines with the Vibros in this game. While it didn't much matter later in the game, it's beginning to concern me that their relative lack of mobility may be hindering me here – I may also be very bad at deploying them which is entirely possible.
Shining Spears once again wrecked a flank and drew all the attention, except this time they survived the return and continued to menace my opponent all game – shutting down tanks with a bad touch, clearing masses of infantry, and sniping out support characters
The lone Night Spinner performed very well in this game targeting out the Manticore and digging out infantry squads – so much so that it's clear I need a second one in the list and maybe a third (don't tell Corrode)
Game Three: Jacob Koepsell – Orks – ITC Mission 5 – Frontline Assault
Jake is one of my oldest and best friends and I'm always excited to get in a game with him. Which is good because every time we play in a tournament together it's inevitable that we meet on the table. He was running a trukk-heavy mounted Ork list because in his own words, "moving that many models all day sucks." I agree.
We had a good game and the amount of armor I was bringing to the board proved to be a little too much for his green mans to handle but the most memorable part of this game is more about what happened outside of it. As it turns out I forgot the tickets to the Packers vs Bears game that my girlfriend, our dads, and I were headed to the next morning. At my home. In Minneapolis. Five hours away.
After some frantic calls and a sense of growing shame, our dads and my girlfriend decided that Oshkosh was out of the way to try and drop off my car for me to go get the tickets by myself and just executive decision-ed their way into a 10-hour round trip. They got back at 3 AM in high spirits, tickets in hand, and a whole bunch of bonding behind them. Dinner was on me the next day though.
Key Takeaways: Don't forget the fucking tickets.
New List Options 
I'm not committed to switching up the list just yet, but the weekend gave me a lot of pause when it comes to the Vibro Cannons. So I've been considering two options that I might trot out instead:
Option One: Mech Asuryani
Eldar Battallion: Expert Crafters, Masterful Shots
Farseer Skyrunner
Spiritseer
3×5 Dire Avengers – Exarch with Dual Cats and Avenging Strikes
2×8 Shining Spears – Exarch with Star Lance, Skilled Rider
2x Falcon Grav-Tanks – Starcannon
Eldar Spearhead: Expert Crafters, Masterful Shots
Yvraine
3x Fire Prisms
Eldar Spearhead: Expert Crafters, Masterful Shots
Warlock
1x Falcon
2x Nightspinner
Option Two: Mech Aeldari
Eldar Battallion: Expert Crafters, Masterful Shots
Farseer Skyrunner
Spiritseer
3×5 Dire Avengers – Exarch with Avenging Strikes
1×9 Shining Spears – Exarch with Star Lance, Skilled Rider
3x Fire Prisms
Eldar Spearhead: Expert Crafters, Masterful Shots
Warlock
3x Falcon with Starcannons
2x Nightspinners
Ynnari Supreme Command
Yvraine
2x Wraithseer
Frankly I love the the Wraithseers, but I'm also partial to a mono-faction Asuryani list for purely illogical reasons. I've included an additional Nightspinner because Corrode was ultimately correct that I didn't have enough non-LOS options (seriously, don't tell him). Aaron Thompson also recently pointed this out in a follow-up comment to may last article (I appreciate your reading and response!) I may consider swapping a Falcon in both lists for a third Nightspinner but I want to run them in a few more games before making that decision. The trade-offs between the two are essentially a doubling down on Shining Spears, which are great, or a swap for Wraithseers, which are unbelievably difficult to shift as Ynnari and bring a bit of an anchor to the backfield or a plodding presence to hold the middle. I'd like to try both but I'm not sure I'll have the time to get the games in.
So, indecision and 5 weeks left. Vibro cannons still not off the table either…
The Paint Plan
Faithless is he that says farewell when the road darkens
All is black… plastic. I've begun in earnest this week to push through the pile of models but I need a plan to keep myself on track and to measure my ongoing failures to stay on top of this. I'm starting with the items I'm pretty sure I will be taking and saving the more variable items for last. Still, that's a lot of goddamn tanks.
December 15th – 21st:
2x Fire Prism Turrets
Falcon Turret
Falcon Chassis
December 22nd – 28th:
Fire Prism Chassis
Falcon Chassis
Falcon Turret
December 29th – January 4th:
Fire Prism Chassis
Nightspinner Turret
Nightspinner Chassis
January 5th – 11th:
Option 1:

Falcon Chassis
3x Shining Spears

Option 2:

Nightspinner Turret
Falcon Turret
Nightspinner Chassis
January 12th – 18th:
Inevitably I'll get drunk way too much over the next couple of weeks and fail to paint half of this which means my list will probably be chosen by what's easier. If that's the case, I got eyes only for you option two – the Ghostly Bois are the cool and sexy pick anyway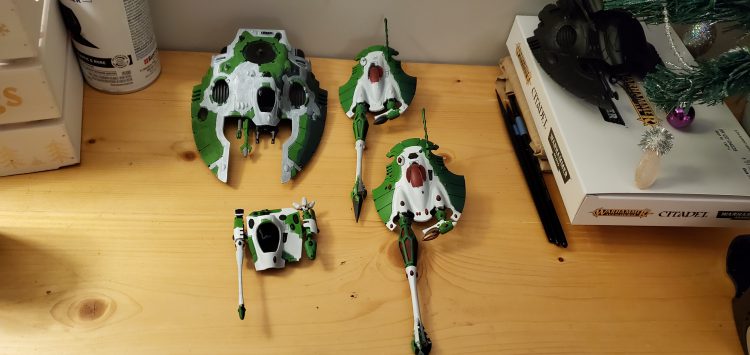 The Next Steps
Christmas cheer and hopefully a Christmas miracle! I'd like to get a game in before the next update testing one of the two options. I'm planning to lock it up by early January and finalize the list in a January 11th RTT here in frozen Minneapolis.
Until next time!