Welcome back, Dear Reader, to my ongoing journey through competitive Warhammer 40,000 in the year of our lord 2023. Last time around I spoke about my experiences at Warzone Houston running Death Guard and playing some very cool opponents. Now I'm taking what I learned on the road and going to the GW US Open in Tampa. I didn't have a ton of time to play in-between – I've mostly been doing Dad Shit and furiously painting single models for our revamp of the How to Paint Everything series – check out the new Dark Angels and Thousand Sons HTPEs I worked on for a look at the new format – but I had time to sit down and get some stuff done this past weekend.
But first:
Picking an Army for Tampa
"Whoa now," I can already hear you asking, "What the fuck is this? Picking an army? I thought you were a Death Guard guy, Rob?" Yeah well I'm more a Chaos guy, much as I love my Death Guard, and while I do love my Death Guard, they aren't really "Best Painted" material. Both because a lot of them were painted 3-4 years ago and because paint judges don't really respect Death Guard models. They have very few opportunities for freehand (limited open space) and OSL (only plasma guns, really).
On top of that, GW is one of the few events going with the wrong interpretation of "ignore modifiers" rules, stating that damage reduction and armor-of-contempt style abilities still work against Mortarion's "ignore modifiers" aura. This makes the army worse (though not unplayable) in certain matchups, and is a bit of a pain.
So I was once again considering Thousand Sons as an alternative. The Thousand Sons have had some notable event showings recently, and there are some lists worth considering with them, including one running ten Scarabs. They're my second-best painted army (behind my Black Legion) and I'm pretty comfortable playing them.
I decided to run a couple of test games this past weekend to give them a shot. My usual sparring partner, Erik Nelson, swung by with his Aeldari to help me get in some practice.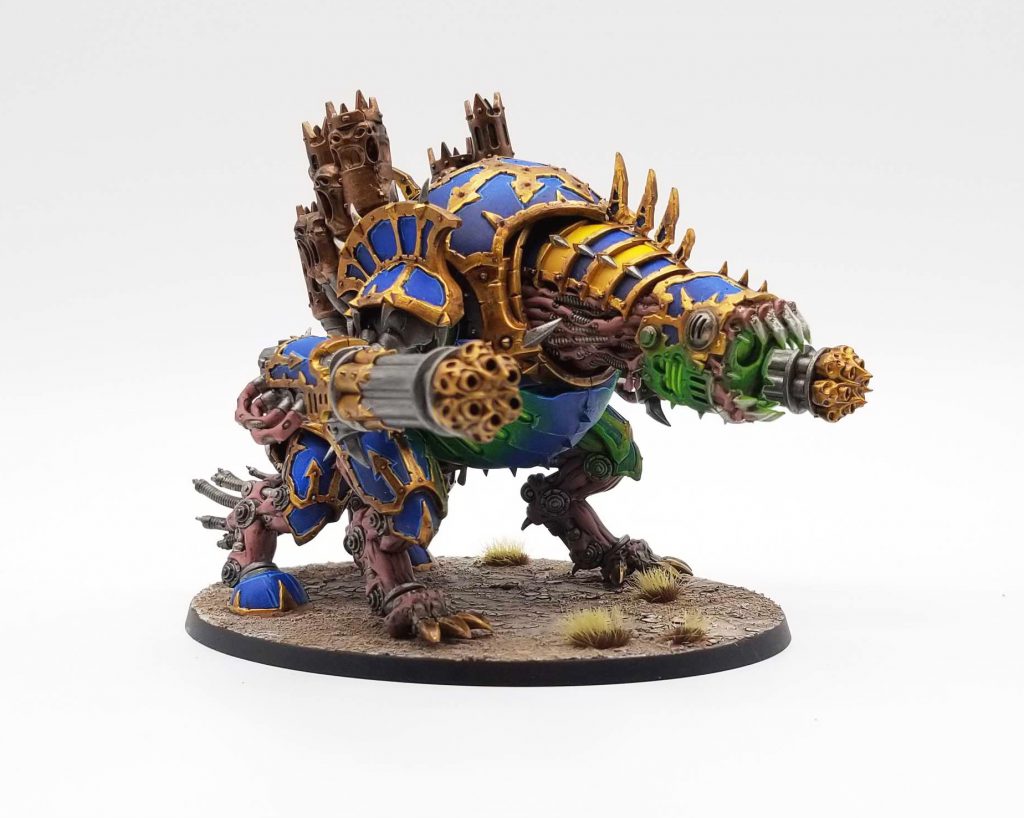 Game 1: Thousand Sons vs. Aeldari
I wanted to test out a more elite list than I had in a while, so I ran with two Forgefiends, a 10x terminator brick, and 3×5 Rubrics, plus Magnus and the characters, plus the Changeling. Immediately as I deployed, I regretted it. It didn't feel like it had good coverage, the rubrics felt too flimsy without a Rhino, and the whole thing felt off. If I wanted to run this army, I'd need a lot more rubrics and some Tzaangor Enlightened – which I didn't have.
We started the first turn, I lost the roll-off, and Erik spiked his rolls to kill Ahriman's Rubrics, leading to the Yncarne showing up in my backfield and wiping out Ahriman and another squad of Rubrics. As far as I was concerned that was game, and I didn't want to stick around playing the rest. There might be a Thousand Sons list that has play, but it isn't one I have and I just didn't really like how the army felt as I was deploying it. Not enough stuff, and the stuff I had didn't feel solid enough.
We did a second game, this time against my Death Guard.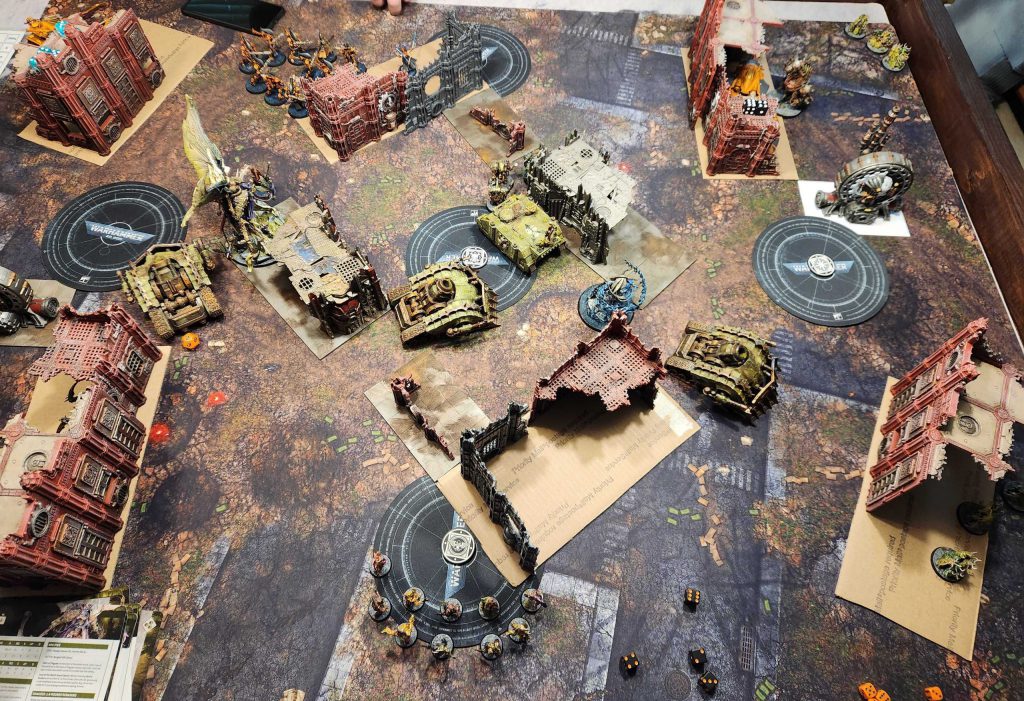 Game 2: Death Guard vs. Aeldari
We re-rack and play a second game, same mission – Dawn of War, Chilling Rain, Scorched Earth. This time around I bring my Death Guard list from Warzone Houston and pick the -1 WS/BS contagion, Skullsquirm Blight. This game immediately feels better on deployment – I spread the bloat-drones out wide to stop Erik from hitting my DZ (he's on Homers and BEL, so keeping him out matters), and both threats are serious enough that he doesn't actually want to charge them turn 1, unlike the forgefiends. I put the Deathshrouds and Nurglings into deep strike reserve.
I win the roll-off and jet up the table, popping out my plague marines. They're not amazing but their ANTI-INFANTRY guns that auto-hit in overwatch are enough to make Erik think twice about risking his Wraithguard so he commits a big mistake and backs off with them, keeping them away from the unit while he uses his Night Spinners to pick it off. The Yncarne bounces around a bunch but quickly finds it's harder to kill a PBC than it would like when it's on 3+ to hit (the usual play is that it scores 3-4 wounds, I save 1-2, and the PBC lives with a bit of health. Not ideal but Morty helps mitigate the modifier), and leaving PBCs alive isn't a good deal for him. I wipe out the units Erik puts in my back corner using Typhus and his Deathshroud, and proceed to clear the middle of the table while locking up Erik's Nightspinner with Nurglings and the Flehsmower.
By the end of 3 Erik's mostly down on Primary and while he'll keep scoring 8s for Secondary (I can't really reach his swooping hawks in the corner), he won't max out on it – he'll cap at 35. Meanwhile I've held him to 5 primary on three turns and I'm about to start burning objectives. We have to call it but we both agree this is a game I'm pretty likely to win at this point.
This was a pretty solid game and felt good to play. It could have gone much worse if the Wraithguard just walked out and tested the plague marines, and I'd have been hard-pressed to deal with them immediately but I think I would have managed. The Death Guard just feel fun as hell to play right now. That said, I think there are some changes I want to make to the army.
Making Adjustments
After a few games, I think it's time to swap some things out. The Tallyman just isn't doing it for me at this point – he doesn't create CP reliably enough with only one roll per turn and he doesn't have enough value as a solo model to justify. Plus, even when I do get CP from him, it may be on turns where I've discarded a secondary, making the whole enterprise pointless. On the other hand, the Biologus Putrifier offers a hell of a lot, with a free once-per-game grenade and both ASSAULT and PISTOL weapons. That means he can advance and action and action while in melee, two very solid traits.
He costs 5 points more than the Tallyman, so taking him means I lose the Enhancement on the Lord of Virulence but whatever, that was only something I took with extra points and it rarely mattered. The other cut I can potentially make here is the Heavy Blight Launcher drone – I like his speed but his six shots are a bit underwhelming, especially if I'm not going with Rattlejoint Ague (worsen saves by 1). I contemplate trading him and the poxwalkers for a rhino and ten marines before eventually settling on taking seven plague marines, an option I forgot existed until Norman pointed it out. This is the perfect number for putting me at 2,000 points and gives me a second unit of solid brawlers and objective holders, albeit one that can advance and act and lob two grenades in a turn if need be. It's a solid sidegrade for the drone, even if it does make me a little slower.
Here's the list I end up settling on:
My Tampa List - Click to expand
gw us open tampa (2000 points)
Death Guard
Strike Force (2000 points)
Plague Company
CHARACTERS
Biologus Putrifier (50 points)
• 1x Hyper blight grenades
1x Injector pistol
1x Plague knives
Death Guard Chaos Lord (65 points)
• 1x Plague fist
1x Plague-encrusted exalted weapon
Foul Blightspawn (50 points)
• 1x Close combat weapon
1x Plague sprayer
Lord of Virulence (100 points)
• 1x Heavy plague fist
1x Twin plague spewer
Mortarion (325 points)
• Warlord
• 1x Rotwind
1x Silence
1x The Lantern
Typhus (100 points)
• 1x Master-crafted manreaper
BATTLELINE
Plague Marines (160 points)
• 1x Plague Champion
• 1x Heavy plague weapon
1x Plasma pistol
• 9x Plague Marine
• 2x Blight launcher
3x Heavy plague weapon
2x Plague belcher
9x Plague knives
2x Plague spewer
Plague Marines (110 points)
• 1x Plague Champion
• 1x Heavy plague weapon
1x Plasma pistol
• 6x Plague Marine
• 1x Blight launcher
1x Bubotic weapons
2x Heavy plague weapon
1x Meltagun
6x Plague knives
1x Plague spewer
DEDICATED TRANSPORTS
Death Guard Rhino (75 points)
• 1x Armoured tracks
1x Combi-weapon
1x Havoc launcher
1x Plague combi-bolter
OTHER DATASHEETS
Deathshroud Terminators (125 points)
• 1x Deathshroud Champion
• 1x Manreaper
1x Plaguespurt gauntlet
1x Plaguespurt gauntlet
• 2x Deathshroud Terminator
• 2x Manreaper
2x Plaguespurt gauntlet
Deathshroud Terminators (125 points)
• 1x Deathshroud Champion
• 1x Manreaper
1x Plaguespurt gauntlet
1x Plaguespurt gauntlet
• 2x Deathshroud Terminator
• 2x Manreaper
2x Plaguespurt gauntlet
Foetid Bloat-Drone (100 points)
• 1x Fleshmower
1x Plague probe
Plagueburst Crawler (165 points)
• 1x Armoured tracks
2x Entropy cannon
1x Plagueburst mortar
1x Rothail volley gun
Plagueburst Crawler (165 points)
• 1x Armoured tracks
2x Entropy cannon
1x Plagueburst mortar
1x Rothail volley gun
Plagueburst Crawler (165 points)
• 1x Armoured tracks
2x Entropy cannon
1x Plagueburst mortar
1x Rothail volley gun
Poxwalkers (50 points)
• 10x Poxwalker
• 10x Improvised weapon
ALLIED UNITS
Nurglings (35 points)
• 3x Nurgling Swarm
• 3x Diseased claws and teeth
Nurglings (35 points)
• 3x Nurgling Swarm
• 3x Diseased claws and teeth
I really like this version and it's not so big a departure from the previous list that I'm uncomfortable playing it. I'll likely have to feel out the squad a bit more – they can't pursue like a Bloat-drone can, but the HBL drone wasn't really doing what the Fleshmower was anyways – it was mostly getting killed T1. This unit gives me a better objective holder and a solid second backfield action-doer. That lets me double up better on the Nurglings at midfield or in the corners, and against a list like Erik's I can deal with deep strikers using the plague marine unit rather than a more valuable unit of Deathshroud.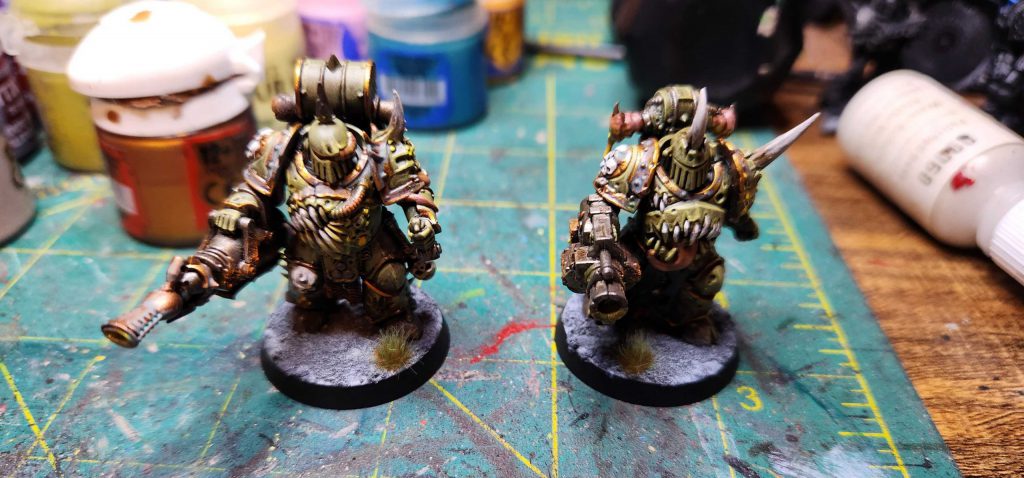 Hobby Progress
The only catch here is that I need to paint two models for this list – a Plague Marine with a plague spewer and a Plague Marine with a Blight Launcher. That's fine – they paint up fast enough. I also do some touch-up work on my Biologus – he was pretty rough and clearly not even what I'd normally consider "done" as a model, so I did some work finishing off a lot of his vials and adding detail and color so he wouldn't be as much of a liability in paint judging. I also touched up some spots on Morty and added some OSL and touched up the Fleshmower a bit, adding some edge highlighting that'll help it stand out. Little stuff like this on the big models goes a long way, and my goal is still "Best Overall" at the event. So I don't need the best painted army, I just need to play well enough that the army I've got gets me over the top. I *think* it's just good enough for showcase, but it's hard to tell and will depend a lot on the quality of other armies at the event. It's certainly a much better-looking army than the Death Guard I took to New Orleans two years ago.
If I don't make showcase, well, I probably won't stand a chance at best overall, but I'd rather play Death Guard than Thousand Sons right now.
Next Time: Tampa Recap
That's it for this episode. By the time you read this I'll be starting round 1 in Tampa. As I mentioned, while my ultimate goal at these is typically "Best Overall," I'd be very happy with just getting my first 4-0 start at one of these eight-round events, hitting the top pod. It's something I narrowly missed at Warhammer Fest, when I started 4-0 with Death Guard, but the event used 5 rounds for pods. I have basically no chance to actually win the event, both because I'm just not that good a player and even if I was, this is going to be right in the Art of War's backyard – the entire AoW crew are attending. That said, that can work in my favor – if I finish 5th behind four AoW guys who already have tickets, I'll be in the World Championships, Baby!
…as soon as I wrote that it popped into my consideration that the World Championships will have a number of players who finish like, 1-7 and I think I'd rather play in the Narrative than lose 8 rounds in a row against the world's best players. Much to consider.
See you on the other side.
Have any questions or feedback? Drop us a note in the comments below or email us at contact@goonhammer.com.