Two weeks ago we announced the formation of the Unified Tournament Circuit, a new regional circuit for Warhammer 40k and Age of Sigmar which covers the area between Virginia and Newfoundland. In case you missed our announcement, you can find it here. We've been expanding our calendar of events, and this weekend the UTC sees its first GT – a 40k event run by Fabricator's Forge. You can find the full calendar here. It's updated multiple times per week.
This Weekend
This weekend sees our first two events for the the UTC, and here's what you need to know about each: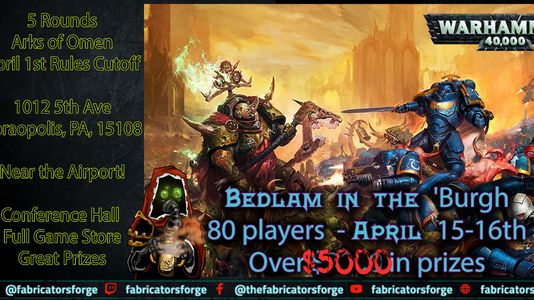 Bedlam in the 'Burgh 2023 (40k)
This 80-person, 5-round event hosted at Fabricator's Forge is the first official GT of the UTC season. It sports a new and larger hall from prior years and will see players compete for over $5000 in prizes across two days.
Powerfists and Psykers April RTT (40k)
This 30-player event runs 5 rounds in Ottawa, Ontario.
Huzzah Hobbies April RTT (40k)
Huzzah kicks off their first UTC event with a 3-round, 32-player RTT. Prizes will be awarded for 1st, 2nd, and 3rd place, plus Best Painted and middle of the pack.
Warhammer 40,000 Tag Team Tournament
This 3-round event in Albany, NY sees players facing off as teams in 2v2 games. The top two teams will receive prizes along with the Best Painted team.
On the Horizon
While it's not too late to sign up for this weekend's events, you might want to keep an eye on these other events, coming up.
April 21, 2023
April 22, 2023
April 29, 2023
We're also regularly updating our calendar with more events, so be sure to check in regularly for more updates and events to attend!
Have any questions or feedback? Are you a TO interested in joining the circuit? Drop us an email at contact@goonhammer.com.