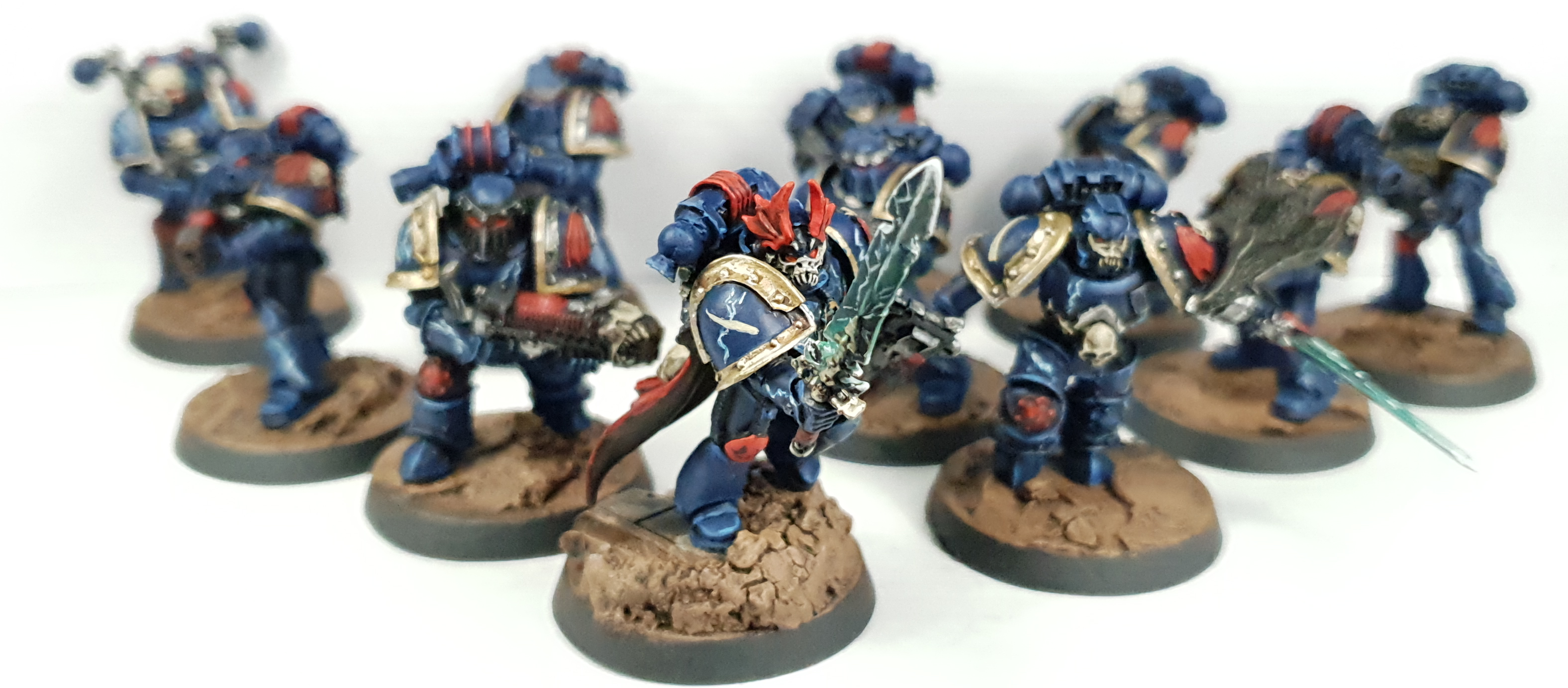 Month 1 is done and dusted. Unfortunately I didn't manage to get to the rhino due to time constraints, rest assured it's on the way and will be done as part of next months contingent.
So onto the lads. Let's start with Jax, second in command of Laz's Lawbringers.
Jax is an exalted champion in game armed with a trusty bolt pistol and the "Sword Of Swift, Righteous Judgement" (aka a murder sword that Laz has 'helpfully' named for him). Hopefully this combination produces strong results against nasty characters!
Background:
Jax hates Laz. Jax hates his warband. Jax hates that they betrayed, then turned loyalist again, then double crossed and then tripled crossed the imperium. But most importantly, like any good Night Lord, Jax loathes himself and the path he walks. 
Like Laz, Jax hails from terra making him one of the frist Night Lords and quite noble in comparison to the rest of the legion. In fact it is this nobility that all that stops him from truly falling to chaos in the M42. While he would never admit it, he is in the same predicament of the vast majority of his legion, clinging to ideal of a dead, long forgotten age like a starving rat on piece of driftwood. This has been his way since the Hersey, trying to stay alive and reist whispers from the warp that haunt his kind.
However, when Laz's warband started to raid in the Imperial Davonic Republics in late M41, Jax saw a faint shadow of the Imperium that reminded him of a time that could have and should have been.
He wondered. He remembered. His hearts sank.
Then the eye of terror spilled out of it's containment, cutting the galaxy in twain. 
This became his tipping point, the heavens literally spilling into reality providing him with a sign. He no longer will tolerate and take part in Laz's lunatic raids, butchery and false courts that are broadcasted to the sector at large, perverting justice in the name of his narcissism. He will not allow Odafin's deranged 'scrying' and worship of the corpse emperor, a thinly veiled Nurgle cult to continue to pervert the warbands ranks. 
He will save his squadmates.
He will save his warband.
He will save these cut off  "Imperial Davonic Republics" by doing what their weak, thin blooded Astartes cannot and will not.
He will save his Legion.
He will save his Imperium. 
And himself…..
As for the model, I used a bunch of wolf pelts and a cloak to invoke a nobel but still wild roman~greco warrior king bearing in him, while also trying to channel/imitate the forgeworld Loken model. Characters linked to Jax will continue with this theme in the warband. Later I will introduce Nurgle's very own unwitting pawn Odafin's Undying Emperor Cult who are denoted by use human skin, skulls and the like and Laz himself, which is a perverse mix of Odafin/Jax's motifs.
Ok, so onto some of the line legionaries. When I was reading TheChirugeon's way cooler than mine
TOTGG concept post
, I spotted the 2nd ed John Blanche and had a brainwave for the colour scheme.
I decided to lean into older 'red' era 2nd ed style painting, couple this with a build of the plastic MKIV kit along with Night Lord upgrade parts, MKV, II and IV forgeworld kits, a quick jaunt to my bitz box and a paint job later and boom. I had marines that look like they harken back to a lost age in both equipment and painting style. META! 
I also googled 
Nostraman Runic Alphabet
which let me badly freehand LAZ on the extremely red knee pads, claw number markings also used Nostraman and where placed on the RH shoulder pad. As with the test model I kept on trying to push myself to edge highlight, force myself to do the dreaded lightning and generally improve my skills, while keeping time per model down to a reasonable level. I can definitely see why GW really pushes for extreme highlights for studio model in order to make it show up in photos now!
With a bit of luck and forthinking, hopefully this will also be the core of a PERFECT GAME army as well as a 40k force. As per the test model used these as a guide: 
Armour
, 
Lightning
. I swapped out the black wash for drakenhof as I wanted the blue to be deep as hell. I've also added an additional step of Alaitoc Blue for the lightning as per a friend's suggestion (Hi Creepy!).
Anyway, onwards and upwards to month two. Which will probably be 5 or 10 chaos space marines and 2nd claw's rhino.