October's Golden Demon held in the UK was special for two reasons: it was the first held in the country for a few years due to the pandemic and marked the 35th anniversary of the competition. 
Soggy and Bair were on the ground and are here with a series of articles and interviews showing different aspects and perspectives of the event. For a bit of history or context, click here.
We were honoured to sit down and talk with painting legend David Soper at UK Golden Demon 2022. David has won the best in show award, the Slayer Sword, five times – going back to 1990. His passion, talent and vision come across in his entries and left us both wanting to go home and pick up a brush.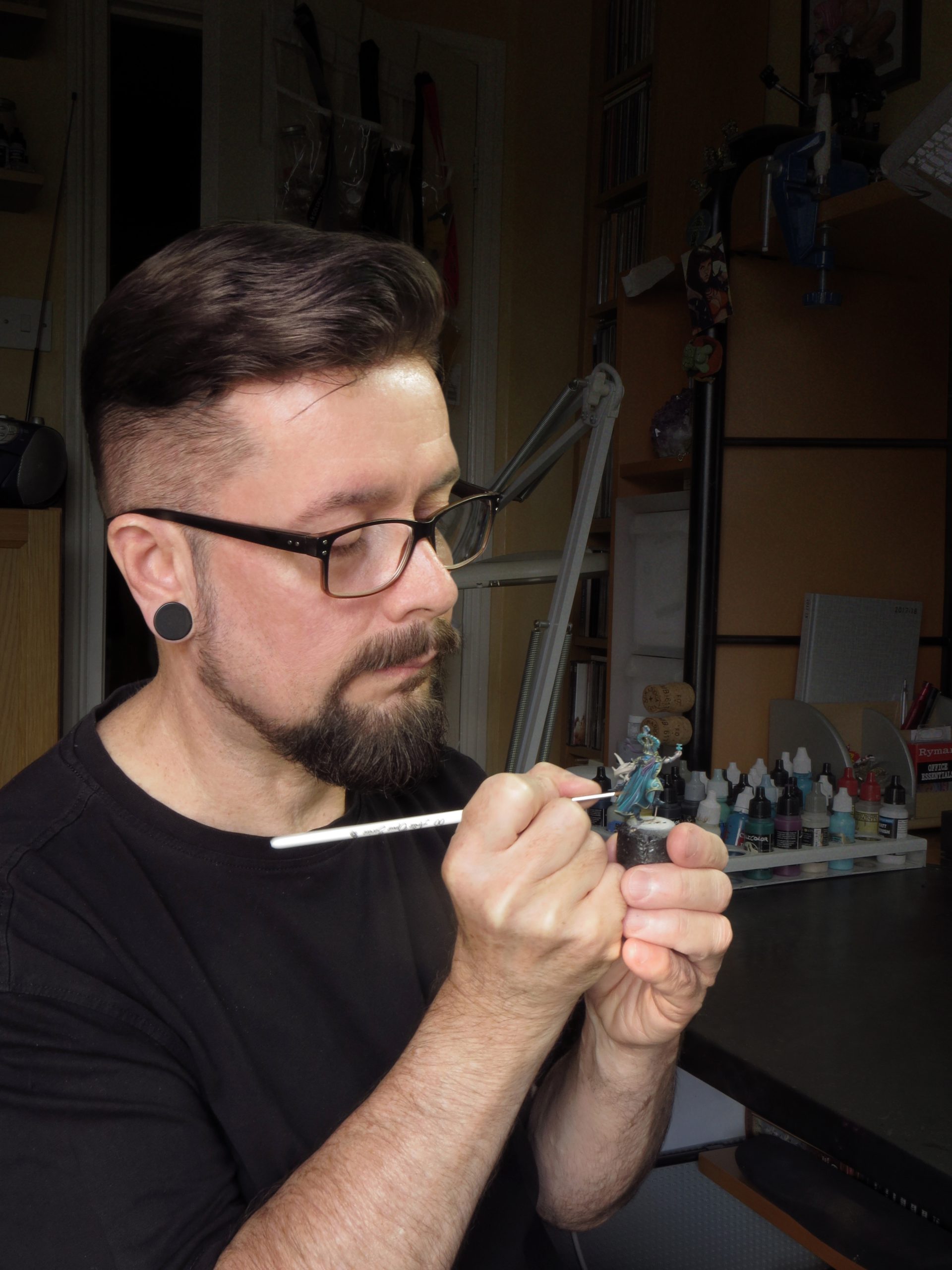 GH: So first off, thank you so much for speaking to us. For people who aren't familiar with the painting community, could I get you to introduce yourself and tell us about what brings you to Golden Demon today?
DS: I go way back. I've been painting on and off for nearly 40 years now, since I was a teenager. I entered the very first Golden Demon in 1987 but didn't get past the regional heats. Then, in 1988, I got through and won two Golds, which was a mind-blowing experience. Realising that I was capable of such a thing was a moment of self-discovery. From then on Golden Demon has been a big part of my hobby. I'm very much a hobby painter and not a pro-painter because I only paint for myself. Golden Demon brings structure to my painting year as it gives me a target to work to and it's also a way of testing myself.
I did well in 1989 winning two more Golds. There was a fairly small group of painters who were winning the Golds and I was in that circle. In 1990, I had a feeling that if I worked really hard I might be just able to win the Slayer Sword. I thought, "I need to push myself, I've achieved a certain level but let's see if I can up my game and do it". It was a ridiculously hard target to set myself but I pulled it off and that's the year I won my first Slayer Sword.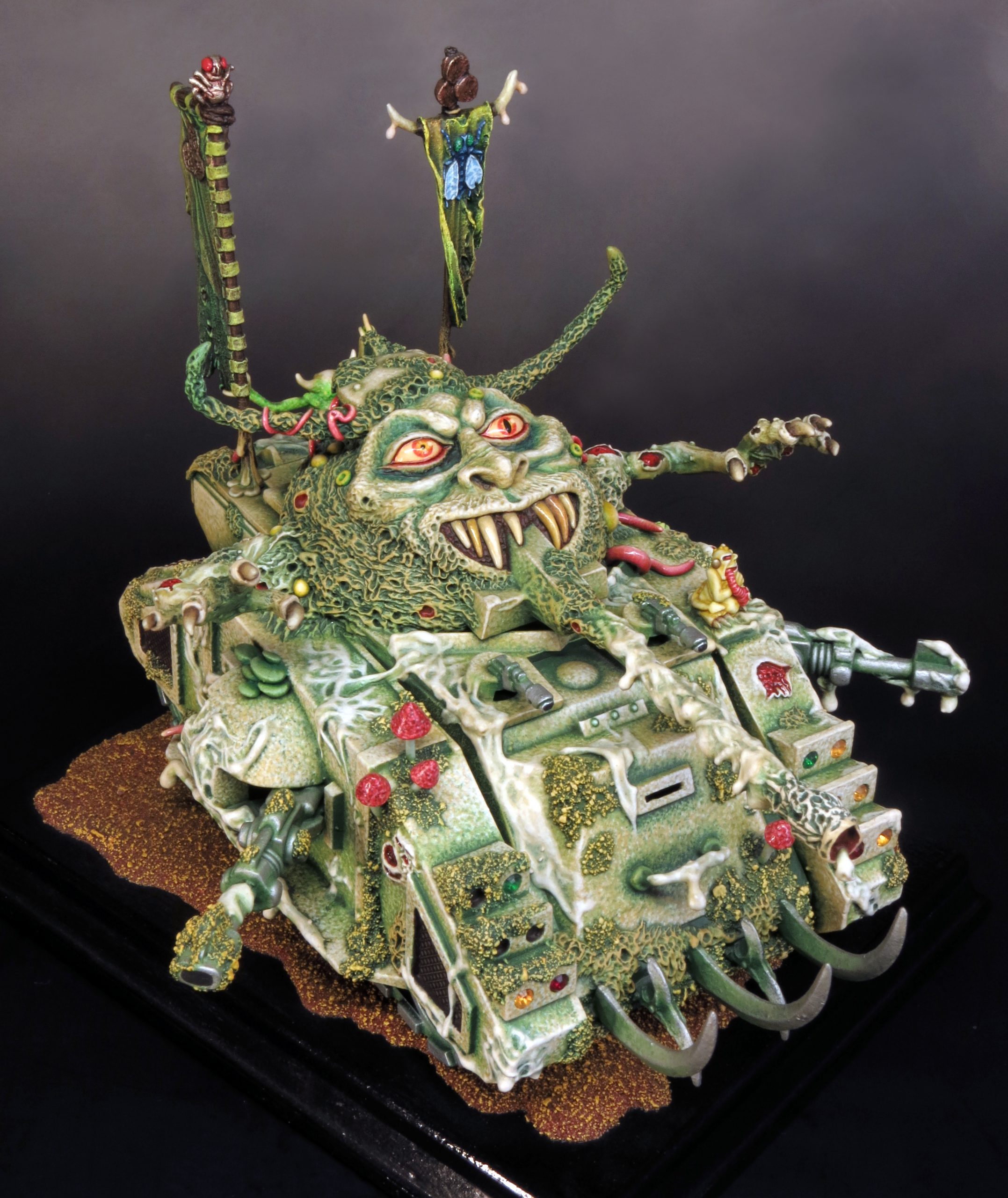 Deliberately trying to win the Slayer Sword was an intense process. After I'd won it, I was a little burnt out. I just wanted to chill and not be competitive. I'm now wary of getting too competitive. It can take over as your reason for painting and you can become driven to chase after trophies. For me this is the dark side of the hobby. You do have to be self aware, I think, as it can kill the joy. It's great to compete and it's great to win things. But I paint because I love to paint. This is my hobby and I like to remind myself that's why I'm doing this. The fact that I can then take the results of my hobby and enter a competition with them is an extra thing on top.
So after 1990 I stepped away from Golden Demon. I actually thought "I'll never win another Slayer Sword. Now I've won one that's it because no one will ever win more than one Slayer Sword". Looking back I think that's probably the biggest joke of my life!
However I was doing plenty of creative things. I worked as graphic designer and I was still painting miniatures. I focused on refining my painting style and technique. Back then I had a very smooth, clean, crisp style of painting and, through the early '90s, I pushed that as far as I could. I absolutely strove to perfect that style of painting, which very much became my signature. I think it's still a part of who I am as a painter. Nowadays, I try to do other things too because miniature painting has become so much more sophisticated. But I think that crisp clean style is in my DNA. My 'old school' origins, as a painter from the '80s, are not far below the surface.
So for 23 years I didn't enter Golden Demon but I kept half an eye on the hobby. Around about 2009/2010 I became more aware of the hobby online. I'd always read White Dwarf but I started seeing things like Cool Mini and I started looking at some of the non-Games Workshop stuff. I realized that, as I said earlier, painting had become so much more sophisticated. It was taking influences from much further afield. It used to be quite self-referential. It existed very much in the tradition of fantasy arts, certainly in those earlier years. It harkened back to a lot of 1970s fantasy art. There was a very whimsical feel to a lot of it.
But 20 years later, miniature painters were taking inspiration from a wide range of other disciplines, like fine art and historical modeling. The techniques had improved, the materials had improved and I thought, "I want a piece of that. I used to be able to do that, but I'm not sure I can do what those painters are doing now." It was a whole new challenge. I thought, " Now I've got something to prove. Can I still do this and can I still do this in line with the modern hobby?" I went through a process of getting back up to speed. As an illustrator and a designer, I still had a grasp of the basics like colour and composition. But as for actually holding a brush and a model in my hands and painting a miniature, well it took me a few attempts to get that feeling back.
My next challenge was to get back to the standard I was at when I stopped painting, which took me about a year. I painted several models, and it gradually came back to me. I signed up to Cool Mini and I started posting my work on the forums. People said, "that's such a cool old school mini." I'm like, "Fair enough," because I was this painter from the 1990s who'd been isolated for years and then dropped back into the modern hobby. But I thought, "Well, that's great, but actually I want to be more than that. I don't want to be somebody living off past glories."
I felt a bit of a fraud because a lot of people remembered my Slayer Sword winning Nurgle Tank from 1990. There is a lot of love for that old model. I felt like I was just living off that 30-year-old glory. I wanted to prove that I could be a part of, and relevant to, the modern hobby.
I worked on getting my painting up-to-date and the on-line forums were a fantastic place for me. They were so supportive and nurturing. There were all these other pairs of eyes to look at your work and see the things you didn't see and it really helped me to grow. I carried on working like this for a year or two and then, while I was working on a piece featuring some Dark Eldar Scourges, people asked, "Are you going to enter that in Golden Demon?" And I thought, "I think it's time to have a go, so why don't I?"
This was back in 2012 and I have never been so nervous. I was literally being sick with nerves the night before the competition. I felt I had so much to prove and I get far too invested in my own work. I really get wrapped up in it, which I love doing. But there is a price to pay for that.
I entered three pieces into Golden Demon. I had a Hellion, the initial piece for the same project as the Scourges. I'd painted the Hellion in my old style brought up to date. Then I had a complete change in approach of how I work with colour. I suddenly had this brainstorm about muted colour palettes and doing something softer and subtler. Everything I did for that project was in a completely different palette from that point on. So the Hellion became an entry in it's own right. I also had a Skink. That year was the 'year of the Skink' in the Age of Sigmar single mini category.
I won two Golds and a Silver with my entries and it was a case of, "Oh, blimey, I've still got it." Then, I won the Slayer Sword with my Scourges, and you could have knocked me over with a feather. I'd thought about winning the Sword because I'd done it once so I knew it was theoretically possible. But I thought it would take me years to build up to it, if at all. It was amazing to come back after a 23-year gap and win another Sword. It blew my mind, to be honest.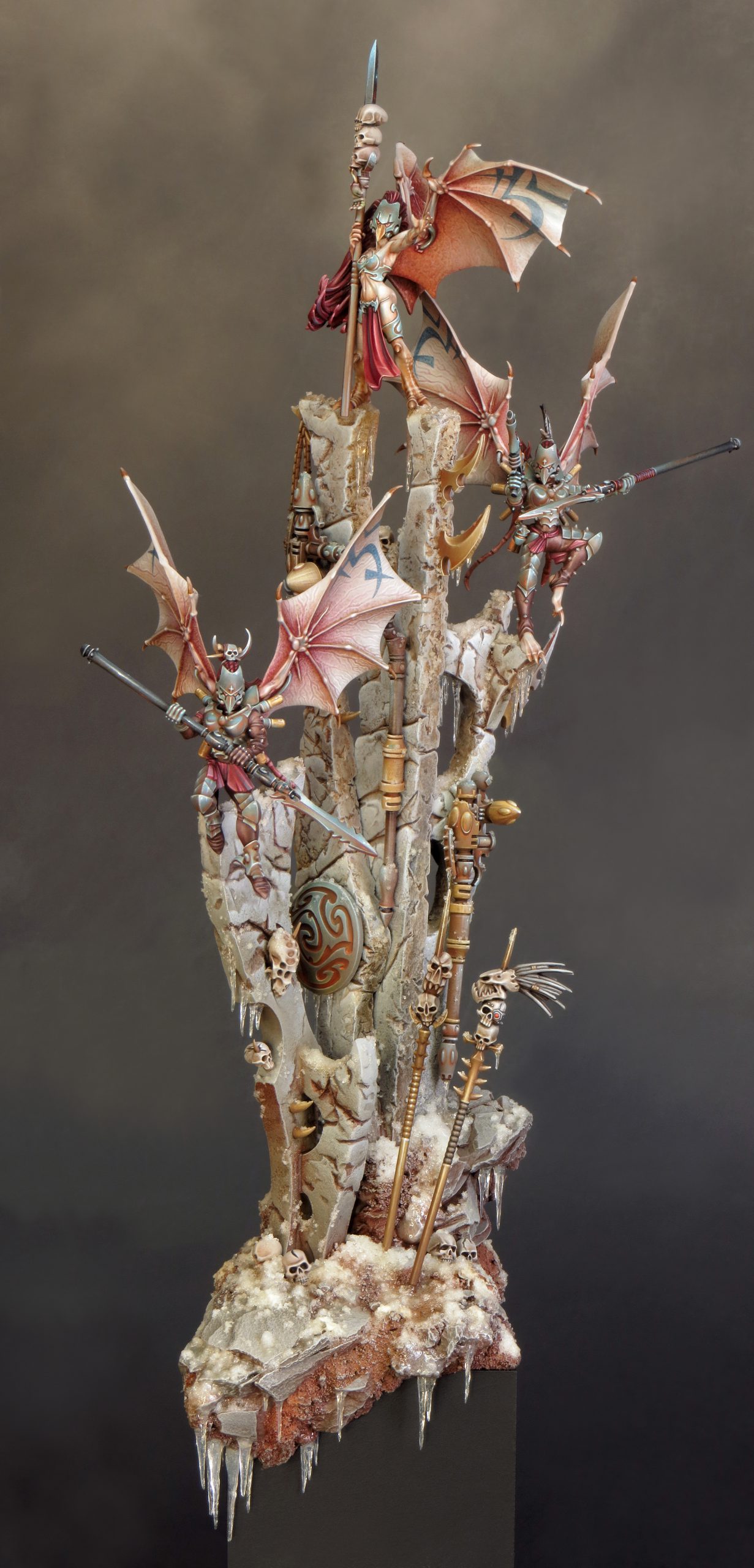 And since then I've loved having Golden Demon as a regular fixture. I've loved the fact that I'm meeting other painters, mixing with them, socializing and sharing ideas. Coming to these events is just wonderful because back in the olden days I was painting in splendid isolation. Me on the bedroom floor, painting away, with the pages of White Dwarf providing the only contact, or exposure, I had.
That's a big part of Golden Demon for me, coming and being a part of a community of painters and meeting up with my mates. I enjoy the competitive side of it and I like winning, who doesn't? I've been able to keep the success going but that's a strange beast that one, because there's a certain pressure that comes with it. As long as I don't let it take over, I think it's a good pressure because it keeps me on my toes.
But at the same time the main thing has to be that I've had a good experience painting my models. If I walk away without winning anything, I've got a model that I did the best I could with and I had a great time doing it. That's a result. That's a good result because you can't win in everything. There's a balancing act with Golden Demon. It mustn't become my reason for painting models.
GH: Of course. How does it feel being back after the break?
DS: It feels just brilliant, it really does. It's been a long pandemic break and it's been a horrible isolating time. Because of everyone being shut away, I think a lot of people have really upped their game. I think ironically it's been a time when many painters have been growing and learning. And there's been a buzz online about that for a while. Everyone's put so much time and effort into improving their painting. Also so many people have just come out of the woodwork for this event; it's fantastic, really. I think there's a different energy for this Golden Demon. It feels more celebratory. It feels happier.
Golden Demon can get a bit intense sometimes so I think it's good that it's been spread over several days. I came in yesterday and put my model in, no queues, nice and relaxed. Having this middle day is so much more chilled. I've been able to look at everyone's work and take it all in. There has been a lot of time for catching up with everyone and sharing the Golden Demon experience. There's a nice buzz in the air. It's really been quite joyful.
GH: That's awesome. I apologize for a very stereotypical question, but how did you get into the Hobby back in the day what drew you to the first Golden Demon?
DS: Well, initially, it was Dungeons and Dragons. We were all playing Dungeons and Dragons in our lunchtimes at school and I quite liked that, but I'm not really a gamer. Then some of my mates went up to London one weekend, came back with these little metal figures and I was hooked. I've always been artistic. Art was always my favourite subject. Even when I was quite little and people asked, "What do you want to be, David?" I'd say, "I want to be an artist." I've always known that was going to be the thing I was going to pursue because that was always the thing I was best at.
I loved tight, tiny, precise, detail. That was always an issue with my drawing and painting. My art teacher would say, "That's very good David, but you've overworked it, it's a little bit too fussy."
Suddenly, here was a hobby where I could put all of that love of detail and precision. That also freed me up as I pursued my art education. I could become a lot more experimental and explore bolder, looser styles of working. All those instincts to be precise, finicky and obsessive about detail were going into my models, which was a very good place to put them.
My mom reminded me of something recently. She said when I was about four or five, I used to get little bits of tin foil and make tiny little toys and figures with them and play with them. I think there's something about me and tiny little figures that's just meant to be.
GH: Small metal men
DS: Yes. It really clicked. I mean, as soon as I saw them it was like, "I want to do that. I'm going to paint those." And the moment I picked them up and started doing it, I was in a happy place.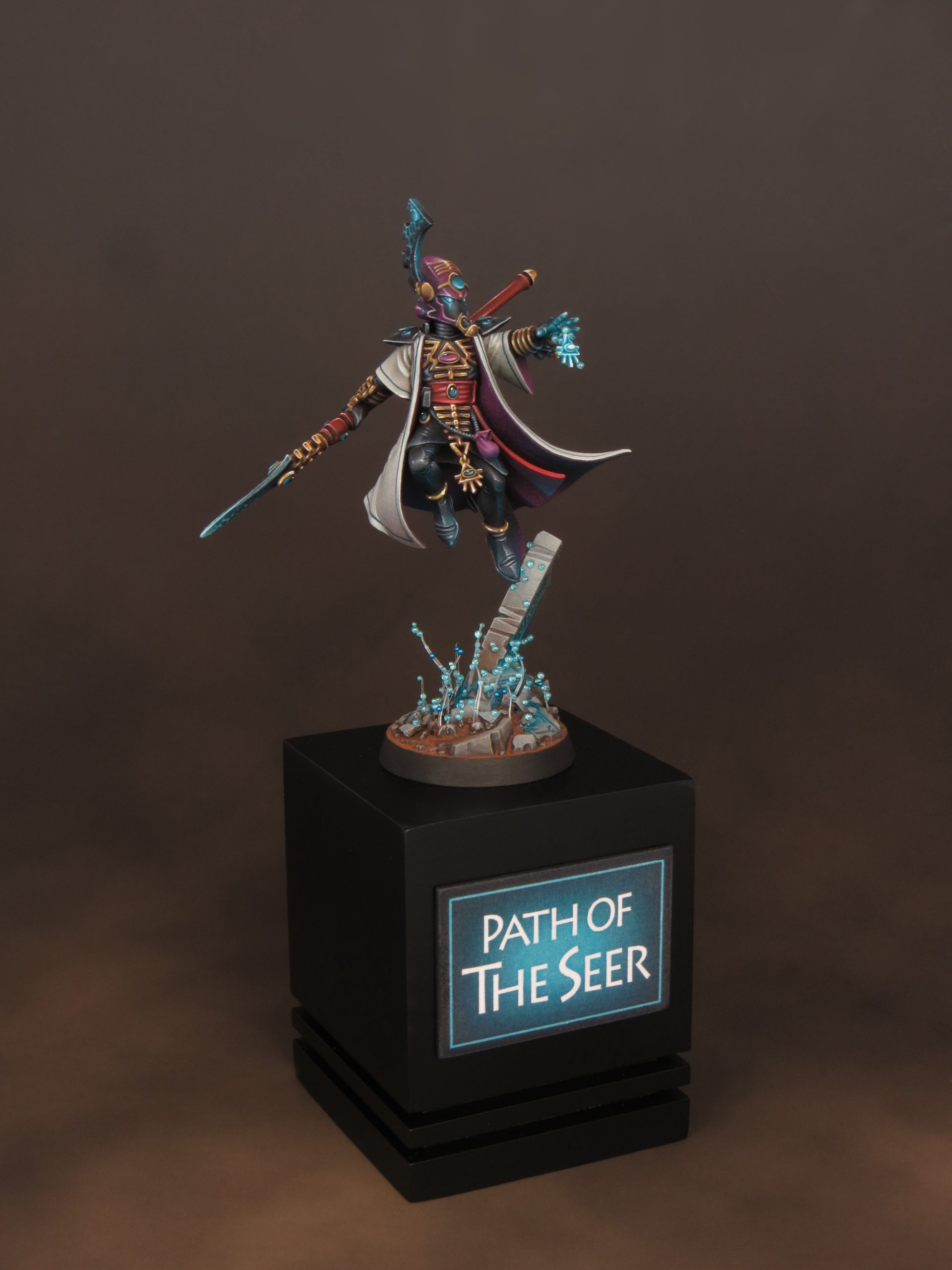 GH: That's awesome. How do you come back next year and up your game after each Slayer Sword win?
DS: I think a big win is very similar to a big loss, because I've had that as well. The experiences are remarkably similar. It's overwhelming. It's like the biggest thing in the world, and for a few days I'm either very high or very low and totally obsessed with it and self-obsessed, to be honest. And then there's a moment when I think, "Okay, get over yourself. What are you going to do next?" Am I going to keep the standard or am I going to up my game. I just love painting so that's what I'm going to do. Even here today I'm already thinking about my next project.
I like to take time to reflect. I mean, what lessons are there to be learned from a competition and is there any feedback? I'm not brilliant with feedback. When I worked as a Graphic Designer I had constant feedback and it didn't matter if it was good or bad, I had to incorporate it all into my designs. With my miniature painting I have total creative freedom and I prefer to stand or fall by my own decisions. That way, if I get egg on my face, I've no one to blame but myself. But I do listen to feedback and let it sink in slowly before I make any decisions.
I find it really helpful to compare my models to other models in the cabinets. I'll often learn useful things from those comparisons. It might be a not to do something. Not because something was bad, but I might feel, "I love that, but it's not a direction I'm going to go in," or I might see something someone's done and think, "I want to try that, but obviously I'm going to have to find my own way of doing it."
And I always like to set myself a target or goal for a project. That's how I learn and develop. It's not just about doing better next time but rather giving myself specific challenges. For example, it might be to concentrate on highlighting black. I'm always going to do the best job I can on everything, but the black is the thing I'm really going to try and improve. Yellow is another example. I suddenly realized I hadn't painted yellow on a model for years, for good reason. And I thought, "You know what? I'm avoiding it." So I painted several models where I used yellow on them. I like working this way it gives me something specific to focus my efforts on.
I think we all need to see progress in our painting but you may not see it between one model and the next. I think that's very rare. For me it's a much more gradual process. Every now and again I'll look back and think, "Oh, actually, if I look back over my last three or four models I can see some improvement. No matter what you do, no matter what level you're at, you can always do better. Nothing's perfect, there's always going to be room for improvement. Or if you do feel you've nailed something, then maybe it's time to move on and do something else that you're not so good at.
GH: That's really interesting. With the long-running focus on painting in your hobby, are there any armies or systems that you still currently play much?
DS: No. I haven't gamed since I was at school. I am a painter.
GH: What were you playing last out of interest?
DS: It would've been Warhammer Fantasy – way, way back, probably in the late '80s. I had a few games with my brother, but that was about it, really. We had a big ruined city we'd built out of our Lego and we had two tribes of orcs that we battled with on that.
GH: Sounds awesome. In terms of being at Golden Demon, could I get you to talk us through your entries, what you put in this weekend?
DS: Yeah, sure. I've got two entries, both of which have been painted through lockdown. The first one is a Kastelan Robot in the large 40K category. I painted it back in the first part of 2020. Initially, it was done for a weathering and texture workshop that got cancelled due to the pandemic. It was also as practice for my other entry. I really wanted to experiment with weathering, texturing and corrosion and I was trying out some colour schemes. I went with true metallics on it, which I don't do all the time, but every now and again I like to get the metallics out just to switch things up.
I read in the background material that these robots are really, really old, so I thought, "Right. He's been knocking around for ages and maybe some bits are older than others." I did all this corrosion and damage on one side of him and the arm on that side is a different colour, as if the whole arm has been replaced. I think the background material is really important, especially for Golden Demon, because your models have to fit within the world of Warhammer. Take your clues from the background material.
My second entry is the biggie. It's a recreation of my 1990 Nurgle Predator. About seven years ago, I was here at Warhammer World for one of the Golden Demon winner's days. We brought along our winning models but I also brought my old Predator. I thought, "No one's seen this model for 30 years". It's been in my cabinet all that time. I thought it would be fun to bring it along to show what won a Slayer Sword in 1990. Things have changed and it wouldn't win a trophy now. I mean, it's a totally different style of painting. And I was saying this to my mate Lee who challenged me to put my money where my mouth was. He suggested that I create a new version, but bring it up-to-date with what I've learned over the years and using modern kits.
I pooh-poohed the idea but it wouldn't go away. It was in my head, and I kept on thinking about it. I agonized over this, because I do feel it's a very self-referential and self-celebratory idea for a project. "I'm going to recreate my great success," and I think that's a dangerous place to go. But I thought, "Actually, there's a hell of a challenge there as well." And I love painting Nurgle. I think the opportunities for a painter with a Nurgle subject are vast because you can do so much with it. For a few years the idea bubbled away and eventually I thought, "I am going to try this." But it has to become a worthwhile project in its own right and it has to be enjoyable for itself. Not because I'm trying to recreate my first great success.
I mean, the problem is that I'm trying to recreate a model that won a Slayer Sword. That's hanging over me. That's the elephant in the room. And yeah, I want to win a Slayer Sword with it, of course I do. That's fair enough but what am I going to do if I don't? How am I going to feel? I've always struggled with that, but what's happened over time is that I've just fallen in love with the project, which is what I hoped would happen.
About four years ago I started getting the bits together. I had a brilliant afternoon at Games Workshop in Salisbury with the manager Alex who was a massive help. He got all these models out for me because we were talking about what I wanted, the kind of pieces I'd like to use. Anything I wanted to see, he actually had in his collection of painted models. He just got them out one by one and I was able to look at the model and think, "I could use that bit of that one and this bit of this one." And finally, in my head, I had a pretty good idea of what I was going to use. There are eight models that have gone into the kit-bashing element of this project. I also had to do some sculpting because for my original model I'd sculpted the head with my very basic sculpting skills.
I'm not really a sculptor. I can do a little bit of sculpting, I can get by. I thought, "I'm at least going to have to sculpt the face on this new model." Then, for about a year, it was on my desk. Trying bits of kits in different configurations held together with blu-tak. I'd leave it there for a week or two, then photograph it, try something else, photograph it, and for a whole year that went on until I decided what I was going to do.
I'd always had a sense of what I wanted. I thought it had to be bigger and bolder than the old model. The old one's very static so the new one had to have more movement. But how do you put that into a tank? I needed to get some variation into the Demon's pose. The arms had to be doing something with a purpose and the head, neck and torso needed a more dynamic twist. These were all things I had to keep in mind when I finally put the model together.
Then about three years ago I started to build the model. Sticking together the bits of kits, there was a lot of gap filling to make it all work. Then it was time for the sculpting. I hadn't done any sculpting for quite some time. It was a challenge and it really kept me on my toes. I wasn't comfortable doing it, that was something else I'd wanted from this project. I felt I'd become too comfortable in my painting. I was doing what I always did and I was doing it okay, but I wasn't moving forward. In 2019, I got Silver in Age of Sigmar single miniature, which was great. But when I saw the model that got Gold, I thought, "That's gone so much further, I've just done what I'm comfortable with, and that's why I've got a Silver." I mean the Gold winning model was fantastic, it was levels above what I'd done.
So I thought, "I need to push myself. I need to do something I'm not comfortable with, I need to do some sculpting and customizing and push my painting." That's another aim of this project. The actual painting started about two and a half years ago. I've never painted anything so big and I will never paint anything so big again. It was a huge physical challenge to me to paint something that size. When I paint, I hold my models very close to my face. That's the area I can focus on.
And I have a very, very controlled, very braced way of painting. I sit on a box so that my eye line is just above the top of the table and my wrists are braced on the edge of the table. It's a very stable posture because I need stability to get the kind of precision and detail I like to paint. I've developed that particular set-up over the years and I can't break myself from it. But, with the size of this model, I had to have a bigger distance between my hands and my eyes, or I was going to take an eye out with the model. That meant I had to change the height at which I sat and adjust my posture. That profoundly altered the feeling of the model and brush in my hand. I almost had to learn to paint again on this model. There was this one-day when I just got this wonderful sort of reminiscence of the early years of when I was first learning to paint.
GH: That's amazing.
DS: It was an amazing feeling. I liked that. It gave me a buzz. I learned to paint years and years ago and I'm in such a different place now but, suddenly, I was taken right back to my teenage years, which was a really nice feeling. I thought, "Yeah, I'm getting so much from this model, and yes I'm finally doing it and it's going to happen eventually." The painting went on for a long time. The sculpting had already gone on for a year at least. Painting, it's probably, I'd say two to two and a half years, but it's all a bit fuzzy now.
I took a small break in the middle of the project last summer. I just had a little bit of burnout, and then got distracted by Lego. However, taking a few months out and then coming back to it was very good for me because I looked at it with fresh eyes. I realized that I'd done much more than I thought and the project was more advanced than I had imagined. I'd spent many years just thinking about this model and because of that I had too many ideas for one project. I have a notebook full of single word jottings, colour tests, notes, all written down so nothing gets forgotten. So the big challenge of this project has been editing down my ideas. That could be quite a challenging process as it meant that I had to commit to one idea at the same time as I rejected others. I'd become a little overwhelmed by that process to the point of not recognizing the progress I'd made.
There was a lovely point at the beginning of this year when I really got back into painting at a regular rate. My choices became much easier because I'd already made the crucial decisions about the overall direction and character of the project. The process became much more organic and less laboured. It was almost like the model was now painting itself.
You've got to trust your gut instincts. You really have. Knowing all the theory and techniques is good but it's too easy to over think your painting. Once I relaxed into the painting process the earlier stages of the project informed my later choices. For example, I was going to do a lot of patterning on the skin. I was going to base this on the stripes on pumpkins at one point. I thought, "He's, a big model he can take it." However, I ended up doing a subtle mottled skin texture because I'd put that into some of my sculpting. I'd sort of hammered the green stuff with a ball ended sculpting tool. Stippling comes very naturally to me so I ended up stippling my textures in the sculpt. They're quite subtle but they're in there. As I painted the skin these textures began to come out and, I thought, "I'm going to emphasize this," and it's now become a major motif on the model.
Again, in the later stages of the project, I was trying to decide how to transition between flesh and metal on the tank, because that's a big element of the project. I'd always imagined there would be some sort of smooth graduated effect. But then I thought, "I'm going graduate the texture. I'm going to use that mottled texture on the skin and paint it onto my non-metallic metal colours". That decision was very easy because of the earlier choices I'd made. The painting has really come together this year. It felt very organic this year.
It took a long time to actually have a sense of where this project was going to end up. But finally, after all my earlier agonising, I knew what it was going to be and what it was going to look like. I had a clear vision in my head. I also had a feeling that I was going to finish it this year. I thought I would finish it just before Christmas. When Games Workshop announced that there would be a UK Golden Demon this year I thought, "Right, can I do it in time?" And had to be honest with myself because I'm never going to rush and maybe botch something for a deadline. I've come too close to doing that in the past so I'm not playing that game. I'll finish it when I finish it and then I'll enter it in the next available competition. But I thought, "Well, is this a deadline I can work to." It gave me a real adrenaline buzz when they announced Golden Demon and I wanted to be there. I had my Kastelan finished, so I had an entry. But could I get the tank done for it? I thought I could, if I really went for it and pushed myself.
I don't usually like painting to deadlines especially after 30 years working to deadlines as a Graphic Designer. But every now and again a deadline can be a good thing. It gives you extra motivation. From the moment they announced Golden Demon up until last Monday, I've just been in a… well frenzy's not the right word, but I've had an energy to my painting. I've been thinking, "I'm going, it's going to happen, and I'm going to do it ". I was fully committed and everything came together.
One of the biggest things I had to deal with was the basing. I had a rough idea what I was going to do but the trick was making it work. I've botched up enough bases in the past to know that I can't rush them. I have to be very careful because I overdo bases so easily. I've built a base for a project and it's ended up in the cabinet unused. That's often the process I go through. This time I thought, "I'm not making that mistake again."
I wanted a more elaborate base than the one on my old tank. I wanted it raised up like a little rocky promontory. I'd found some wonderful rotten, worm-eaten wood walking home from work one day. I'd kept it for years because I thought, "That's a Nurgle project if ever there was". I managed to piece it all together into the shape I wanted and then sculpt the missing bits so it looked like one piece. Then I added the bony horns off the Glottkin model and it just came together.
About three or four weeks ago, I knew (I was acting a bit coy online), but I knew it was going to be ready in time for Golden Demon. It all came together beautifully. I'm very, very proud of it. I feel it's a model that's pushed me into new areas. I need to reflect on it but I think somehow I've uped my game on this one. I'm not sure how yet it's just a gut feeling. But, I feel with some of the contrast, the lighting and the colour, I've gone a bit further. And I'm proud of the sculpting and the fact that it's eight models chopped up and put together. Hopefully it doesn't look like eight models chopped up and put together! But I feel I've been able to up my game and, thank God, I have, because everyone's upped their game this year. You can't ever sit back and think, "I won a Sword before so I'll just do what I did again and I'll win another Sword." That's not how it works. Yeah, I'm really very happy with my new model. I think whatever happens, I've got that. I had a great time doing it and I can't do any better, so whatever happens, I've got that."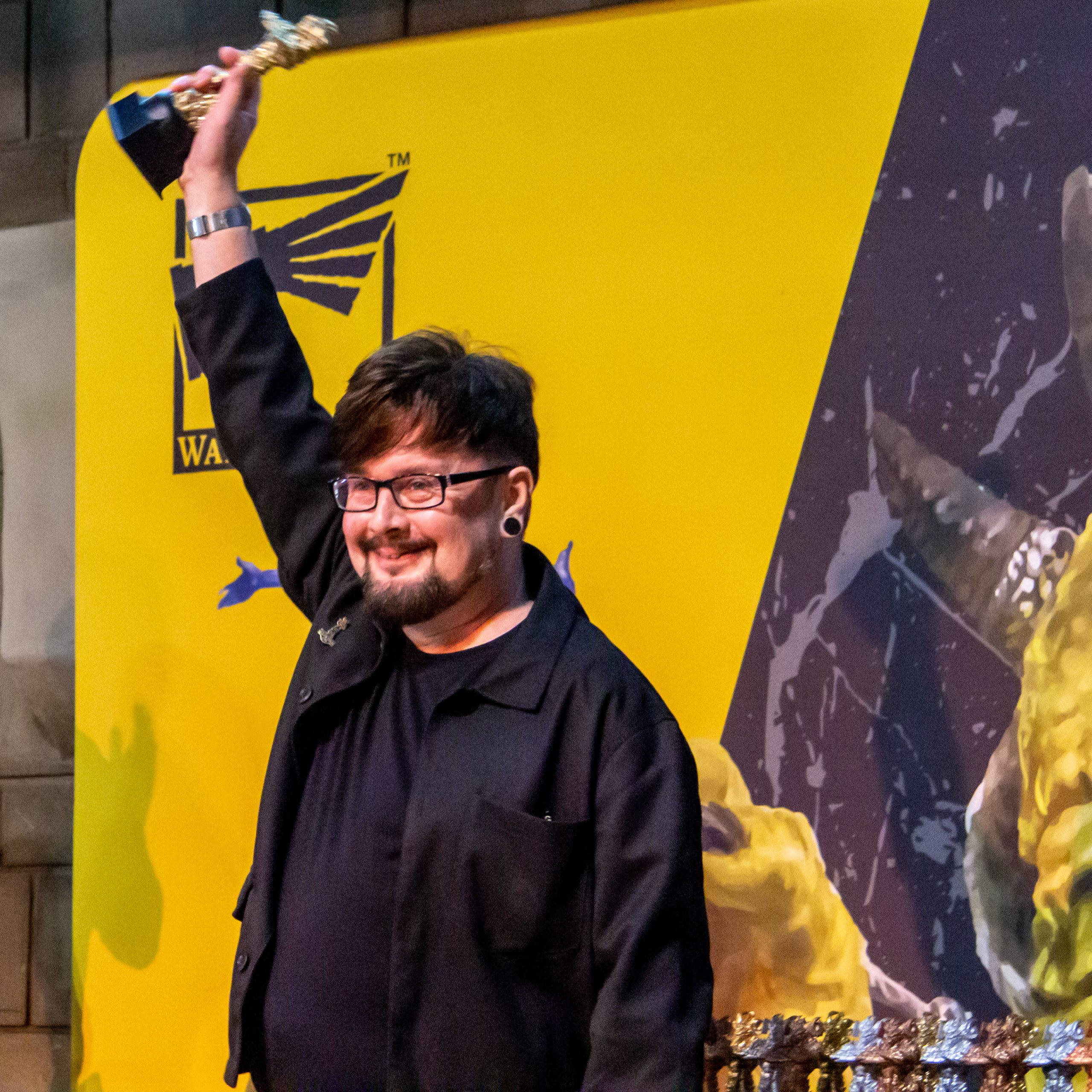 GH: It's completely stunning. But I guess when you've got such a long running project like that, how would you know when to stop?
DS: Good question, because it is difficult. I started to over work this one. I was procrastinating. I knew it was finished but, because I'd had it on the go for so long, it was hard to put it down. I started painting extra Nurglings and thinking about adding other extra bits. I was painting these Nurglings and I thought, "You know what? That Nurgling's okay, he's fine, but I'm not putting him up against the model and going, "Wow, that Nurgling is the crowning glory. It's not brought anything more or anything extra. And I just had to say to myself, "Stop. You know it's done."
Again, it's a gut feeling. It's easy to overwork things. I often do it three of four times in the process of painting. I'll have something right and then go, "I could just sharpen that up a bit more," or, "I could tweak that colour," and I'll do it and it'll be, "Oh no, why did I do that? I've now got to spend more time undoing what I've just done."
That's always a struggle and that's something I learned at Art College. The lecturers always said the hardest things are starting and stopping. Experience counts for a lot and, lets face it, I've got a lot of experience. I have to trust myself, trust my experience and my instincts. I'll look at a model and it will feel complete, I'll usually know deep down.
I don't like to finish too close to a deadline. I like to put my model in the cabinet and not look at it for a week or two, or even a month. Then get it out and look at it again with fresh eyes. That's the point when I decide if it's really done or if anything needs a tweak. I didn't get that so much with my new tank. I was pretty confident about him and the tank was sort of done before I worked on the base. So that gave me a little bit of putting the model to one side time.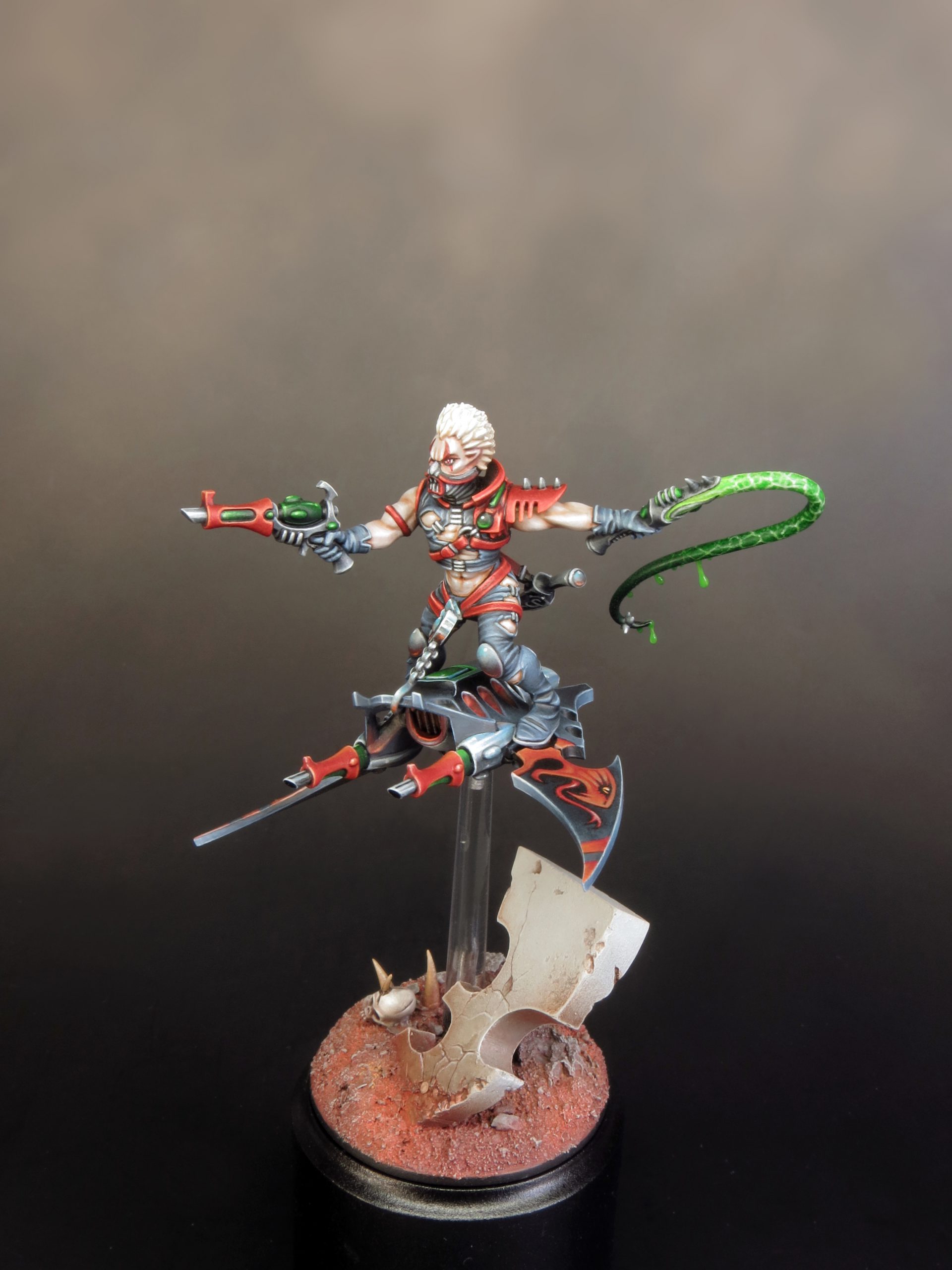 GH: Cool. You alluded to it before, but how do you deal with hobby burnout when you're working on such a large project?
DS: Sometimes I will try and discipline myself to work through it. I always say, try and paint every day. Even if you just do an hour or even 10 minutes. But it doesn't really work out like that because there are some days when you just won't paint. But that's the ideal, that's what I aim for, just to keep things ticking along. Just do it, pick it up, and say, "I'm going to paint that shoulder pad today. I'm going to do that arm," or I'm going to do a bit of something. And usually once I've got going, I will get into it and I'll do a couple of hours. But there are other times when you've got to put it down. Sometimes I will maybe take a few days off, and come back to it later.
I spend a lot more time looking at my models than I do painting them. I like to have my current project on my desk. I'll look at it in different light. That's really important. Different artificial light and different natural light both from different angles. Look at it, think about it, and see how you're going. And often ideas will come over time. I approach things quite slowly in that way. I like my ideas to bubble away for a while and then I'll make a decision. But if I'm really having trouble with something or a particular area, I will stop and work on another part of the model.
If I'm really stuck or burning out on a project, then I might stop and do another smaller project for a change. The first project will go into the cabinet, out of sight; it won't be on my desk. I will only have one active project on my desk at any one time. The project I'm struggling with will go in the cabinet, out of sight and out of mind, until I return to it. I've done that a few times.
My Dark Eldar Scourge model took me about two years to complete. I got a lot of burnout because I had to paint two models in an identical scheme. I'd never done that before. Once I've done something, I want to move on and do something different. I painted the armour, I was really happy with it, but then I had to do it all again and it had to match. That was a new challenge for me, so I did another project in between the two figures. I painted a Tomb King and then got back to my Scourges. Then it was a new challenge again because then I had to remember what I had done. I had to look at my own blog to get the colours right. So yeah, I use different tactics. Push through sometimes. Other times step aside and take a break. I play it by ear, pretty much.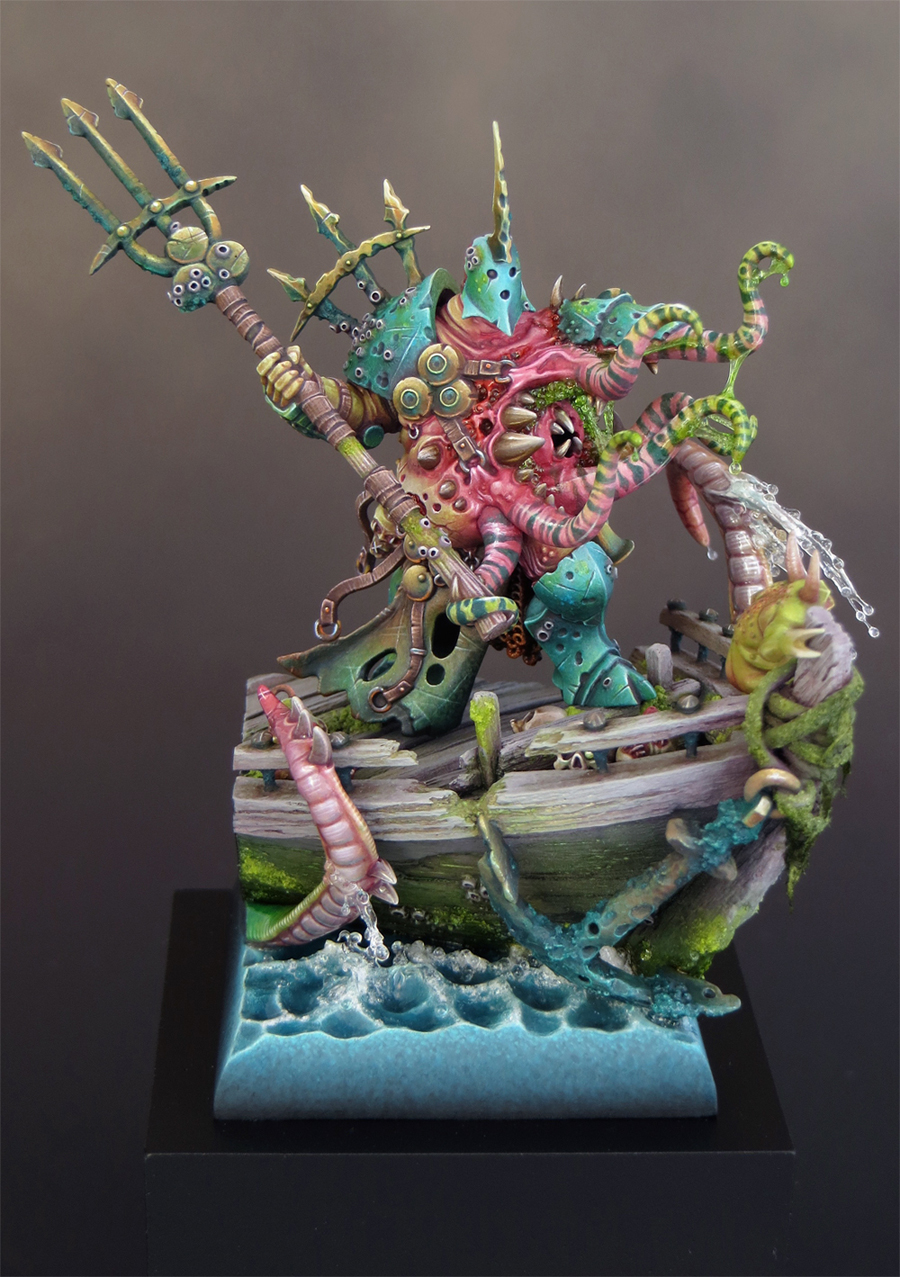 GH: In terms of advice to people considering getting into competitive painting or Golden Demon, do you feel that there's any technique or approach that people tend to over fixate on?
DS: Yeah. Sometimes, there are trends in our hobby and very often painters will see what won last time and try and do that. I always say, don't follow a perceived trend, do what you like doing. I don't think the judges are looking for a technique or trend. They're looking for a well-painted model. That's my understanding of what is the first and biggest criteria in Golden Demon, a well-painted model. Specific techniques are not the answer.
I think it's good to show a variety of techniques. I saw a model a couple years ago that was one of the most gorgeous things I've ever seen. It was all perfect, beautiful, smooth blending. I thought it might have been air brushed but it wasn't. It was all painted with a brush and it was flawless. But that sort of killed the impact of it because it was all the same technique. If there'd been a little bit of texture in there it would have provided some contrast. The smooth areas would've actually looked even smoother because they were next to something that wasn't smooth and vice versa. The texture would've been more interesting because it was next to something smooth. That would've given more life to the piece. It would've shown more versatility and even more skill.
So I think that the trick is to show variety, really. But there's not any specific technique and I don't feel you've got to do whatever won last time. That doesn't work. I advise you to paint a model that you like, that you really want to paint, because you've got to enjoy painting it. Don't cut any corners and don't rush it. Just do the absolute best you can on all aspects of the paint job. I think that's the trick for Golden Demon and try and reflect the world of Warhammer.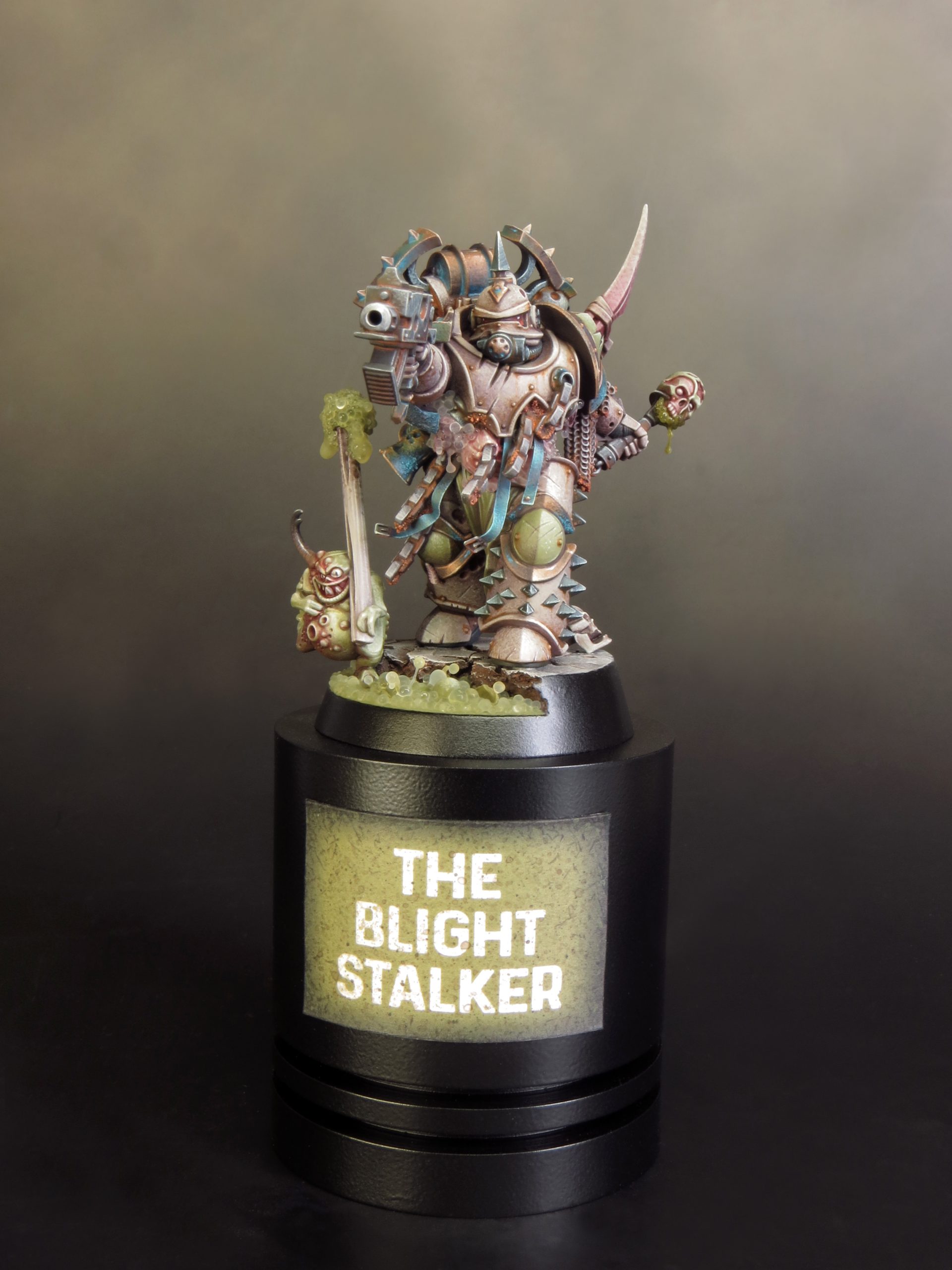 GH: Yeah. With all the expectations on yourself, do you feel anxious or have any-
DS: Oh God, yes.
GH: … imposter syndrome? What have you got to say on that? What would you say to people thinking about entering for the first time and on how to address their own?
DS: As I said earlier, I always get too invested in my projects. For a long time the elephant in the room has been, "Am I going to win another Slayer Sword with a recreation of my first Slayer Sword winning model?" I kept wondering why am I doing this to myself? Why am I setting myself up for failure like this?" The original plan was to enter it on the 30th anniversary. Now luckily that didn't happen because the idea of entering a re-creation of a model on the anniversary of the original model winning the Slayer Sword is just ridiculous.
In 2012 I was throwing up before Golden Demon, I was so nervous. I don't do that anymore, thank God. But tomorrow the tension is going to build; the nerves are going to build. I still don't like it; it's a horrible feeling. However, that's part of what you've got to be ready for. You've also got to be ready to come away without winning anything. Nobody wants to see you crying because you didn't win a trophy. Whatever happens, you have to deal with it in good grace and that includes winning. Yeah, there's a lot going on. It's a big day.
For someone entering Golden Demon for the first time enjoy it. Paint something you like. Look at your model in the cabinet next to the other models. I've always found that such a useful process in a competition. Talk with other painters. Don't set yourself silly targets or expectations. What will happen will happen. If you've done the absolute best you can, then you can walk away feeling proud regardless. If you haven't, you won't.
Never be afraid to fail. I know its a bit of a cliché, but it's really true that you're going to learn much more from a project you struggle with, and make mistakes on, than you will on a project that you breeze through. And you will have failures, because everybody does. There's no such thing as a super painter who picks up a model and it's perfect from the first brush stroke to the last. It doesn't happen that way. Every model I've ever painted has been a really hard slog at some point. There have been moments while painting when I've gone, "I can't do it anymore. I've lost it. This isn't working." And that always happens. It's facing those challenges overcoming them and working through them that is going to make the difference. And it will show in the final result because your model will be better for it.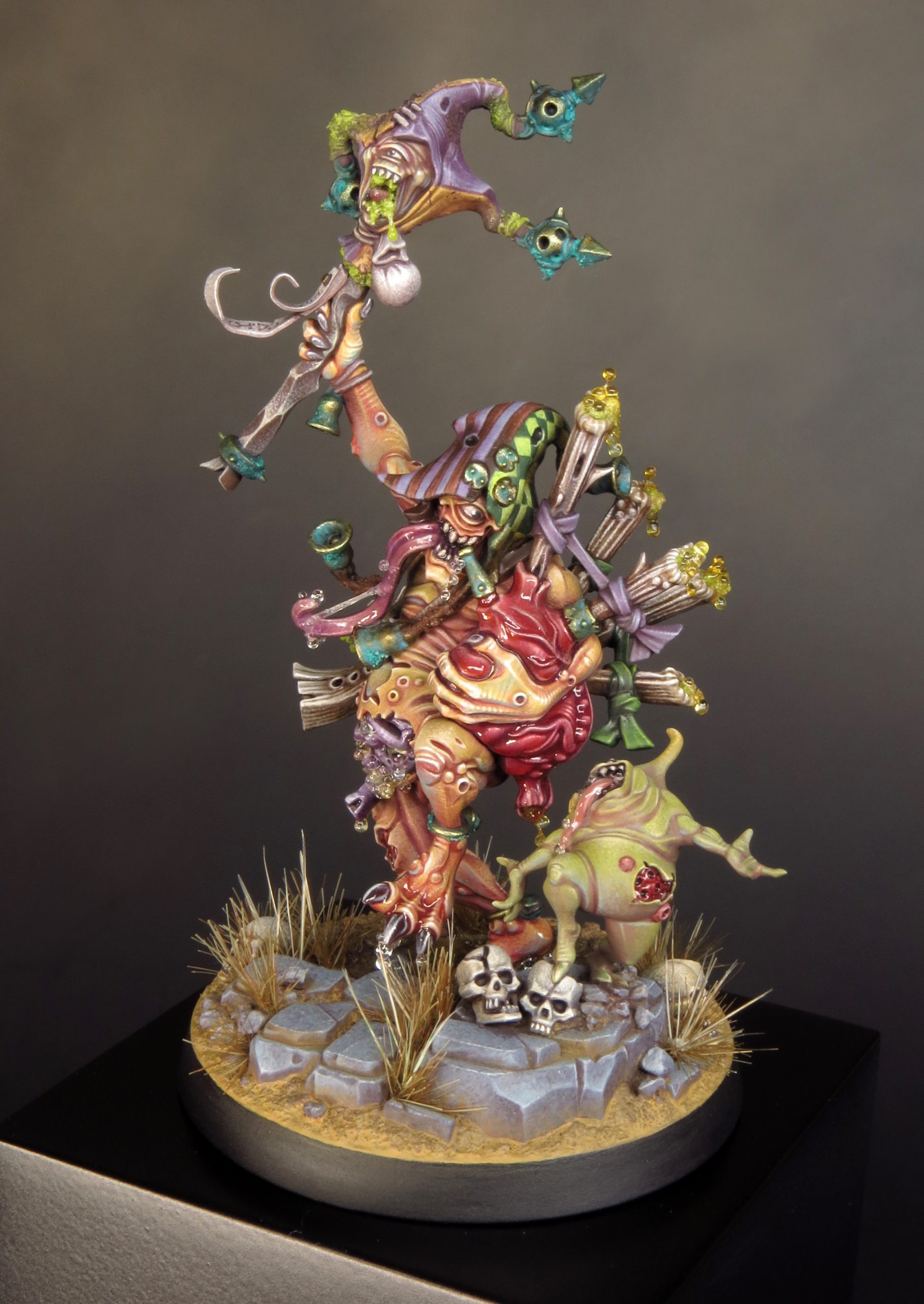 GH: That's really good advice. Is there anywhere particular that people are best to find you online to find more about your pieces, your work, yourself?
DS: Yeah, just two places really. I'm not a great influencer. Sproket's Small World is my blog – https://sproketsmallworld.blogspot.com . It's an ongoing record of my painting projects. I've always tried to record my processes and show when things don't go well, when I've had a struggle. I think it's really important to show that happening, and share how I've resolved it. I've shared lots of work-in-progress photos and colour palettes. You can follow my progress from 10 years back, from my return to the hobby, to the present. There is also @davidr.soper on Instagram where I'll post notifications of blog updates and regular teasers of what I'm painting.
We'd like to thank David again for taking the time to share this with us all.