October's Golden Demon held in the UK was special for two reasons: it was the first held in the country for a few years due to the pandemic and marked the 35th anniversary of the competition. 
Soggy and Bair were on the ground and are here with a series of articles and interviews showing different aspects and perspectives of the event. For a bit of history or context, click here.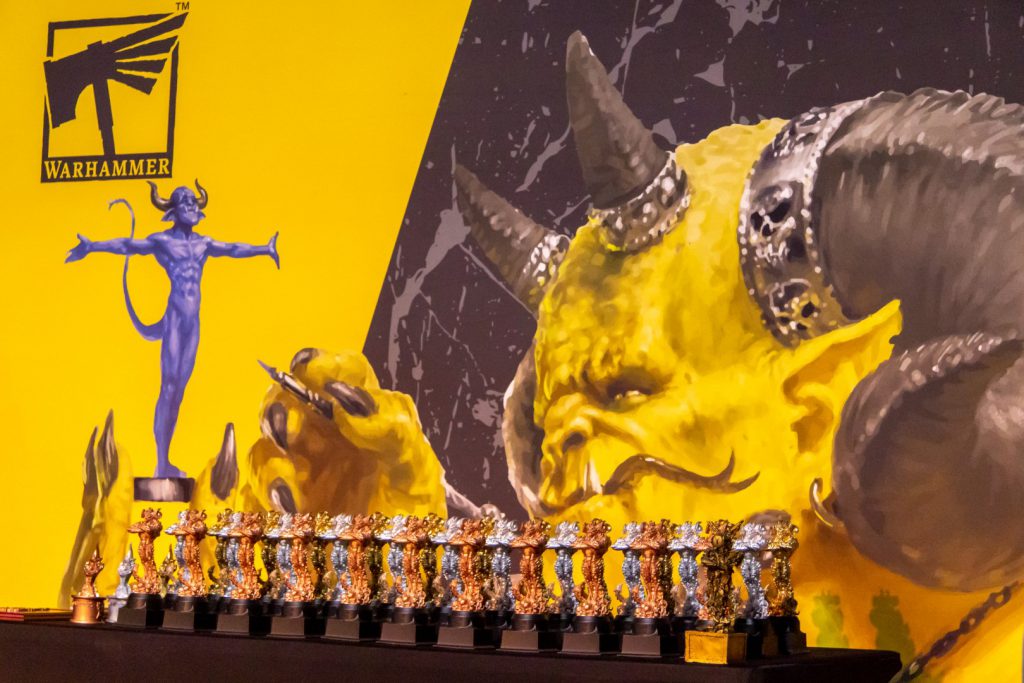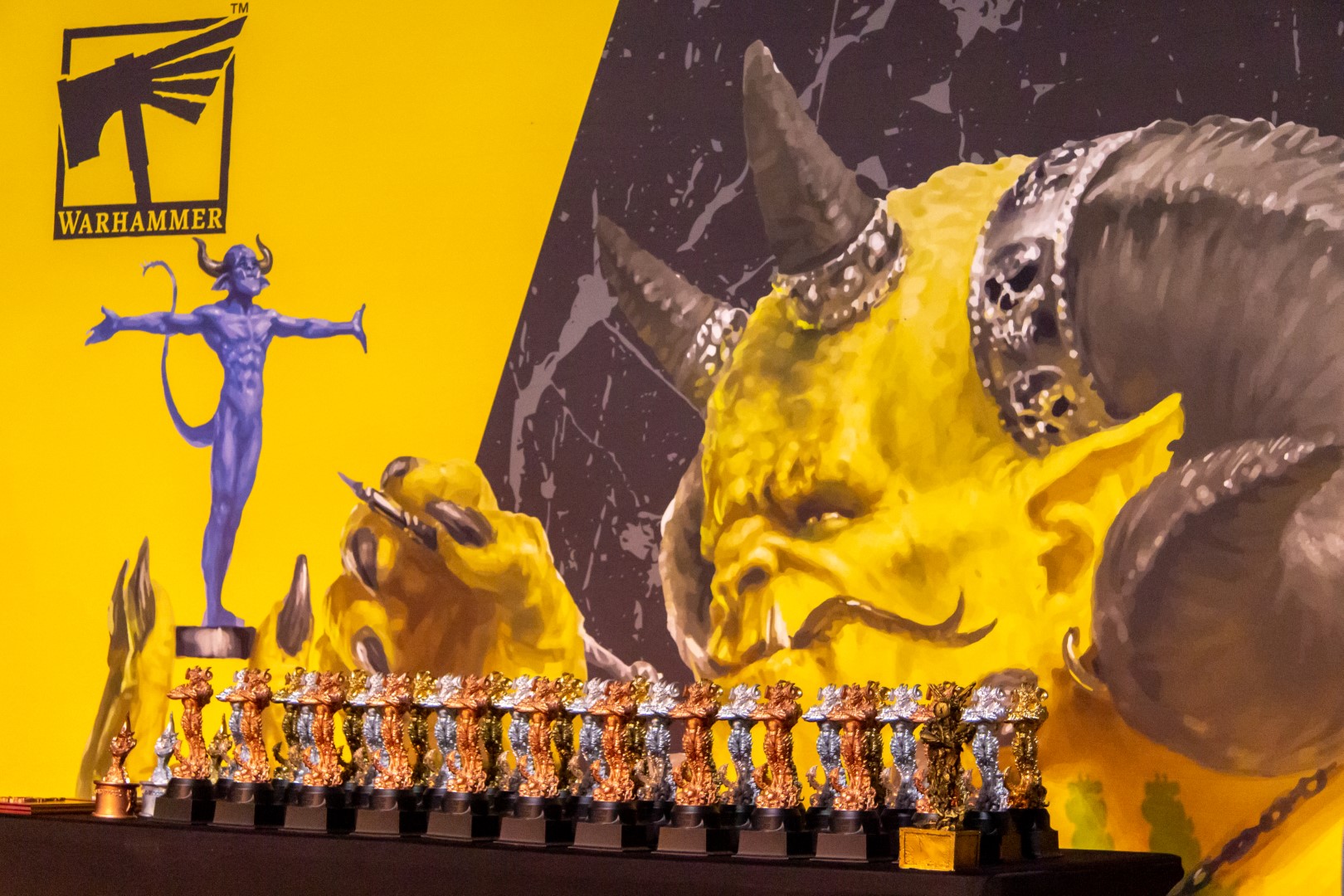 Unlike previous Golden Demons, held as part of a larger event like Games Day or Warhammer Fest, this weekend saw Warhammer World dedicated to it and the celebration of the hobby. The change in format did mean that there were initially some concerns with availability of tickets, however by all accounts this settled down and the people that needed to be there were.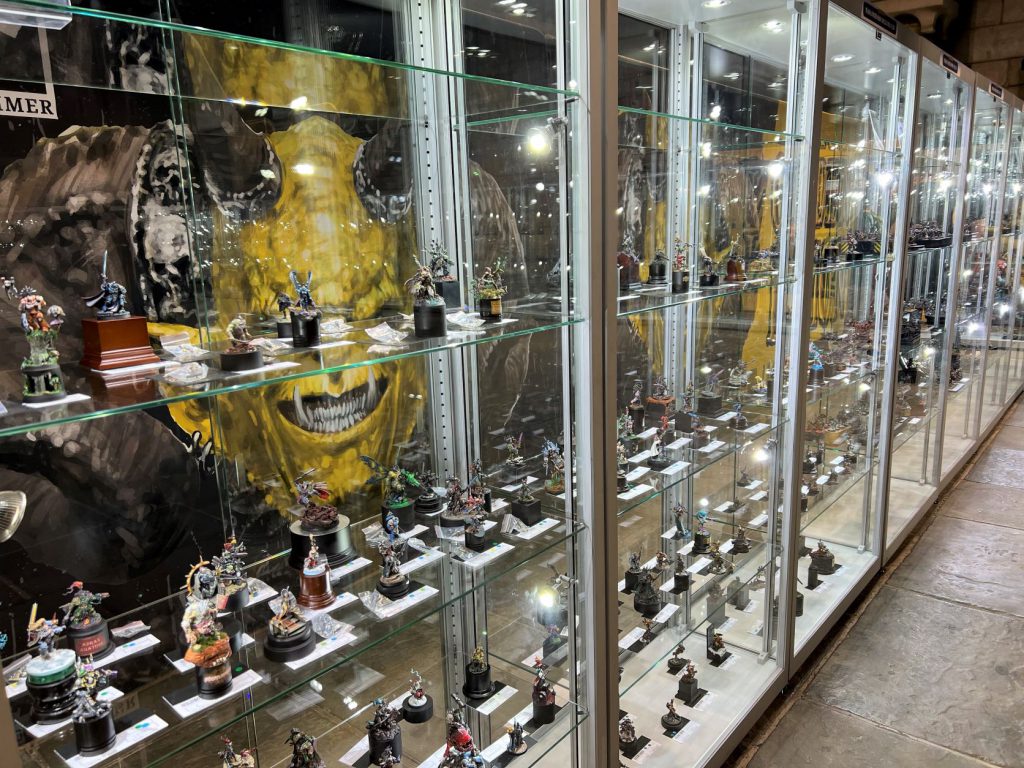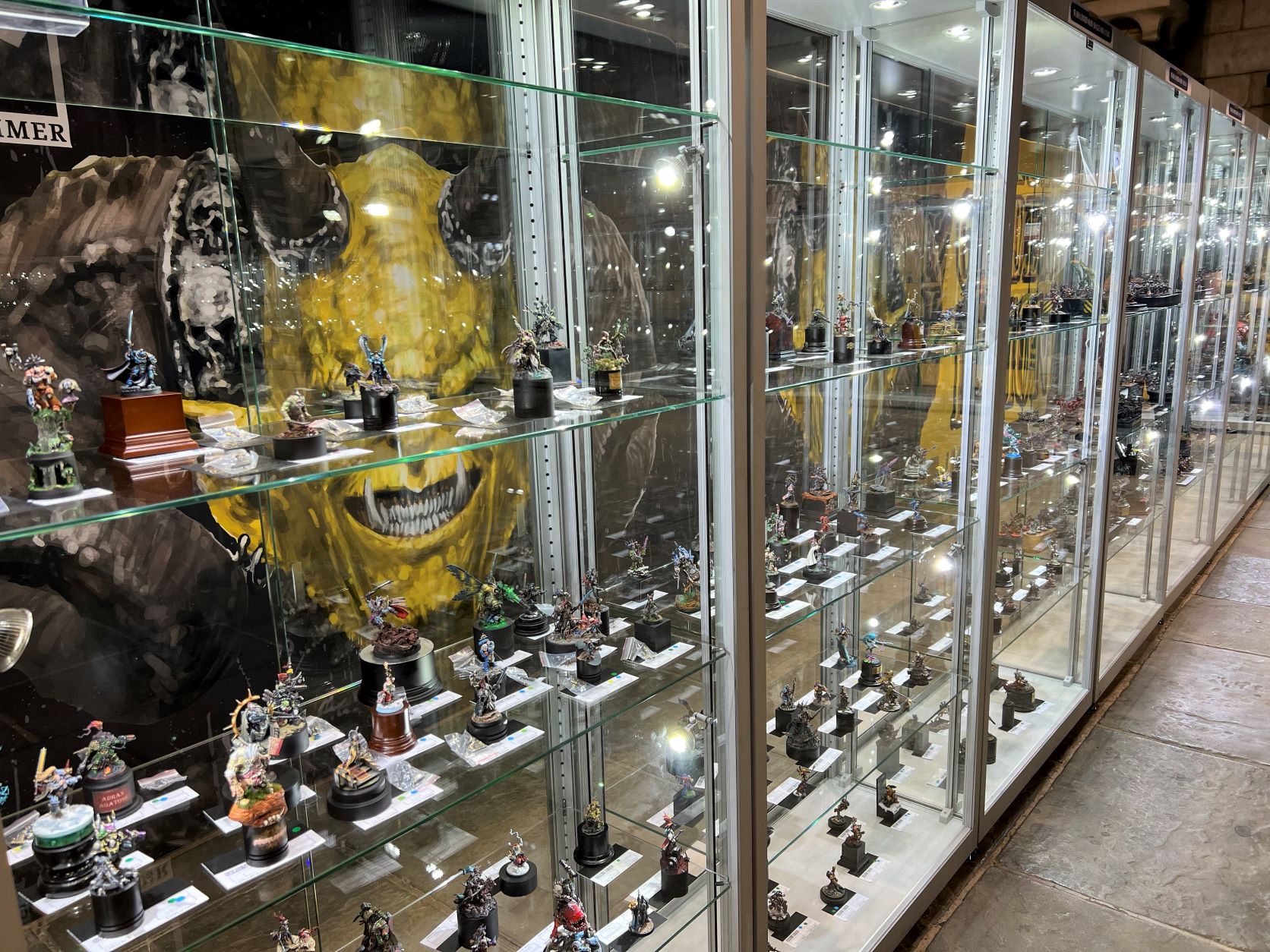 With the pandemic meaning the last Golden Demon in the UK was three years ago, the anticipation was palpable. The break also meant that many had more time to work on their entries or elevate their skills. As a result, the field for each category was absolutely bonkers and packed to the brim with stunning entries that words or photos will fail to do justice.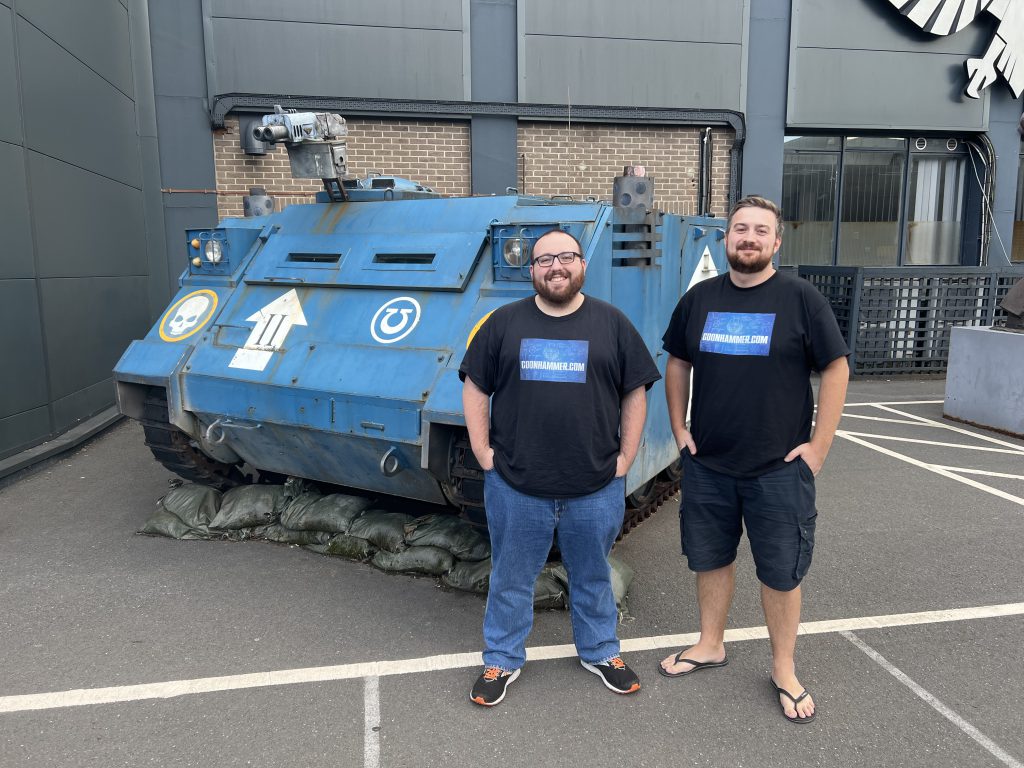 We were fortunate enough to be included in the various channels like the Cult of Paint that Games Workshop invited along to provide some coverage. We spoke to several first-time entrants, Golden Demon Veterans/Legends and the winner themselves.
The full event itself ran over four days, from Thursday to Sunday with entry cutoff on Saturday afternoon. Being spread out compared to previous events meant that there was plenty of time to appreciate the entries as they came in and feel the excitement grow in the air.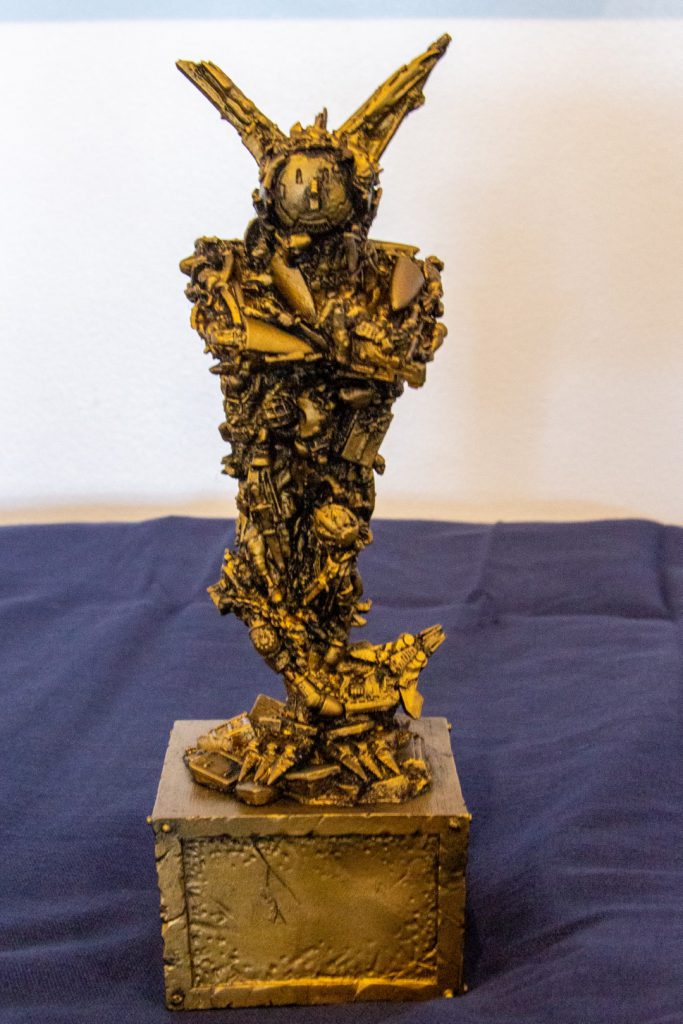 Hobby Pass
Games Workshop also ran the Hobby Pass, previously known as the Scrap Demon in parallel with the event. This one day challenge sees contestants assembling and converting a given model to the best of their ability in that time – along with hopefully getting some paint on it!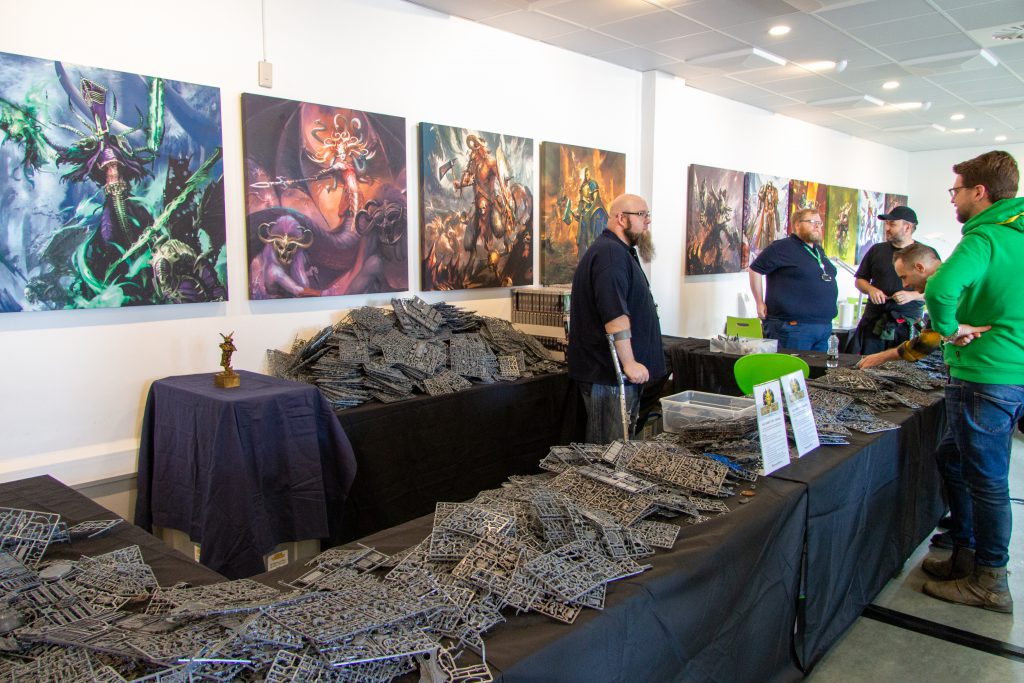 This year's models had you choose between two event exclusive models: a Primaris Champion or Kruelboy Shaman. However, you didn't have just the one model to make use of, attendees had mountains of sprues to rummage through to take whatever they pleased to convert their model, make a diorama/duel, etc. with a winner being chosen at the end of each day.
There were some insane sprues in the pile too, such as half of a Belakor, terrain of all kinds (Age of Sigmar, 40k, and even Titanicus), Sisters of Battle, Grey Knights or Daemons. A real converter's dream to be able to take from without having to break the bank!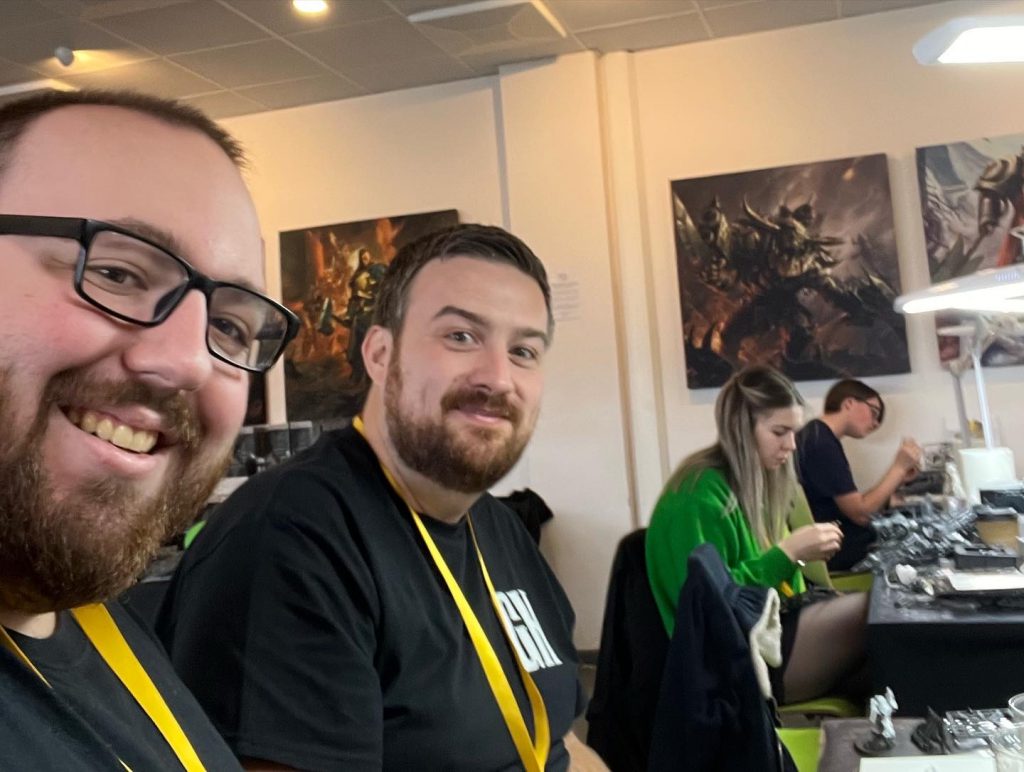 We sat at tables of 6 and were given cutters, a mould line remover, glue and a variety of paints to use. The staff sprayed our models any colour we wanted from the Citadel spray range and off we went using either a medium drybrush (which was handed out later on) or a small layer brush. It was great to sit down and just do some simple hobby and fun to see how different people approached this challenge too without their normal tools and comforts of hobby at home! 
Bair
This is a real dream event for me. I don't use an airbrush, I use predominantly GW paints and I just crank out "tabletop" quality minis; if I don't finish something within a day then I'm either waiting for an oil to dry or I get annoyed. This weekend has actually made me want to switch that up a bit and actually try a little more on some models but that's wholly separate from this. So, I felt pretty well equipped and ready for this.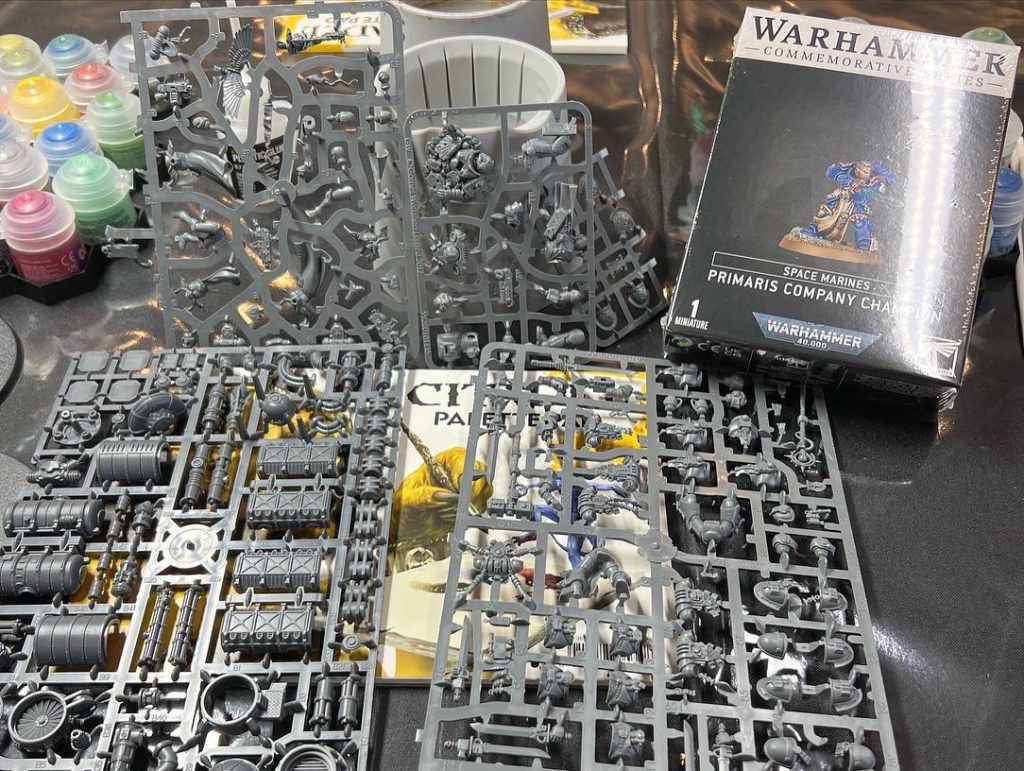 For mine I chose the Primaris Champion because I thought it would be easier to make a conversion off of and paint in time. I wanted to keep the scheme simple so I could finish it in a couple hours while giving a narrative. Sifting through the mountains of sprue I found a sprue of Plaguebearers and some Grey Knight bits; the duel became obvious. With a bit of cutting for simple arm swaps, a head swap and an interceptor backpack thrown on it was looking suitably Grey Knighty; I had put a Custode half-cape on it for a few min but that would take more painting time, so that came off.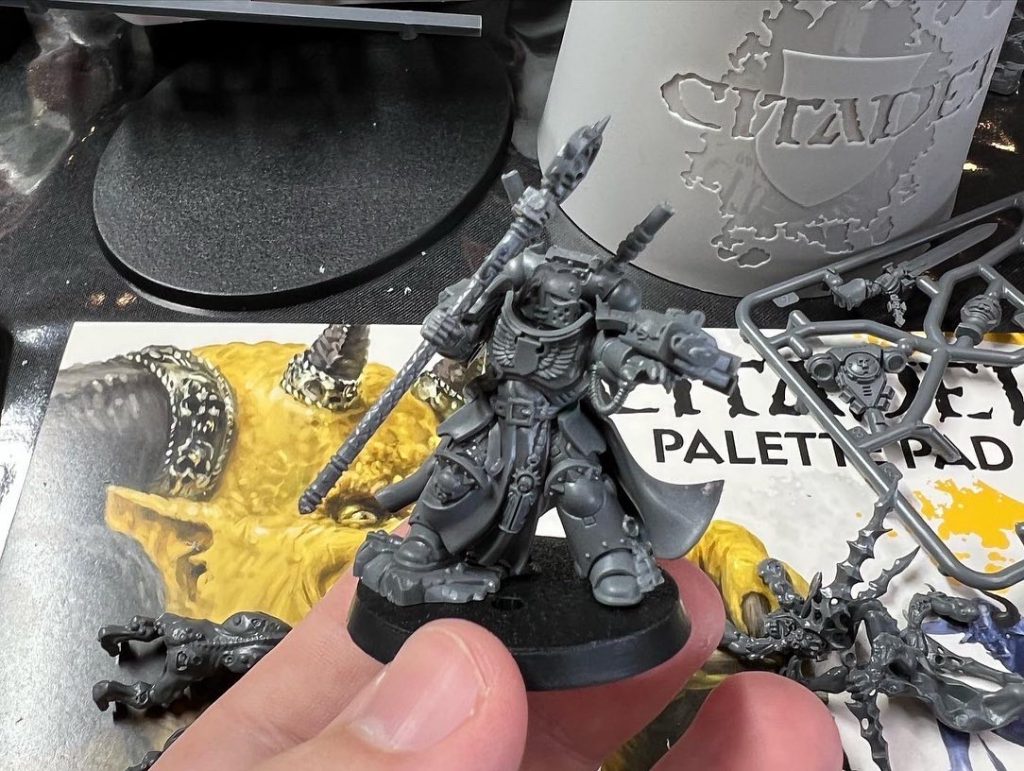 I had the Grey Knight and trench piece primed in Leadbelcher and the plaguebearer in wraithbone so I could use some green washes on it for a quick scheme. While I waited for that to come back I scavenged around the other tables for paints that I'd need to use and was happy to find just about everything I wanted from Grey Knight Steel to different reds and shades. One of the shades on our table was Targor Rageshade, one of the newer shades which is like a purple-brown so I wanted to try it, using it on the plaguebearer after a green shade first and it's actually a really cool tone. 
Drybrushing the base, shading down the silvers and details on the Grey Knight and covering the trench in agrax all I had to do was wait for it to dry and I was done – about 3 hours from start to finish! With the extra time after I got the chance to look at the cabinets in the same room which held dozens of previous Golden Daemon winners all the way back to some of the first which was a real joy to see in person.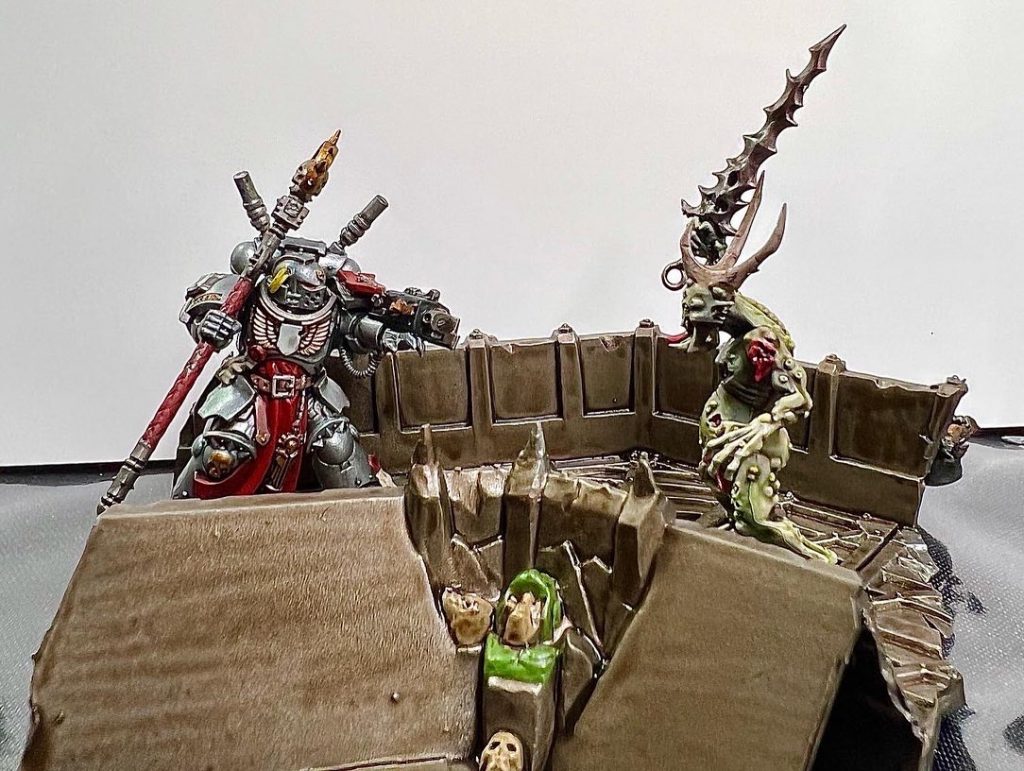 All in all it was a great time, I had a lot of fun and shared a lot of laughs as everyone rushed and tried to figure out what they were doing! If you get the chance to take part in one of these definitely do. 
Soggy
As it turns out, I made a hat trick of mistakes – please, avoid my folly.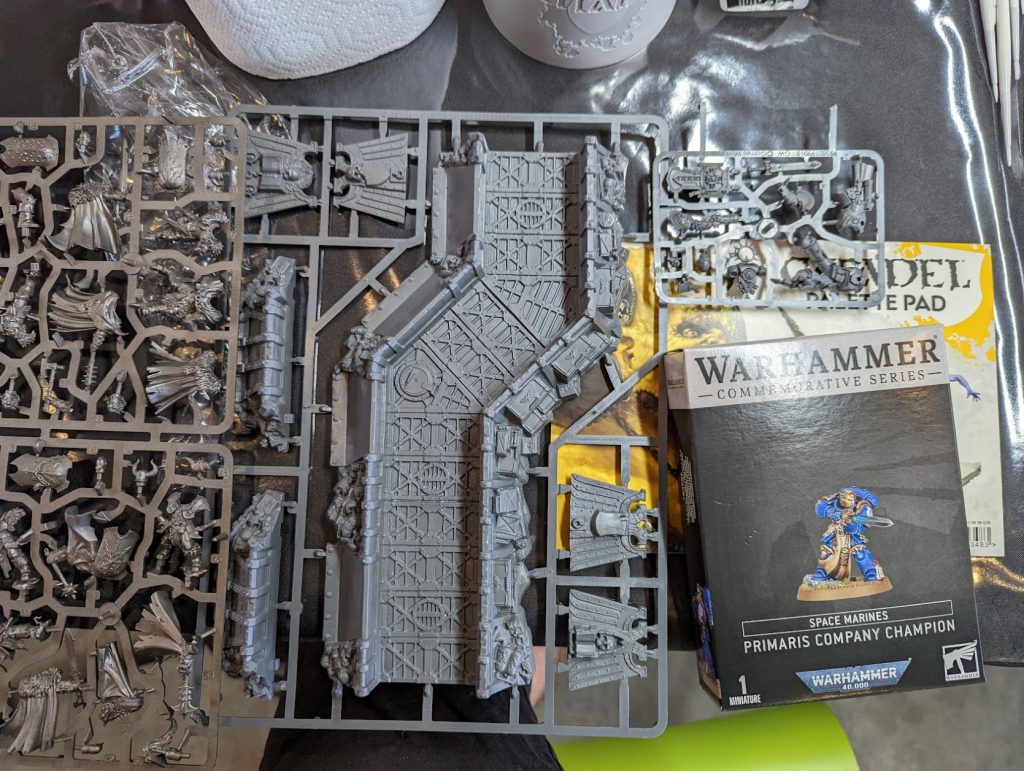 I also opted for the Primaris Champion and wanted to do a duel piece with him taking something on – meaning I wouldn't have to focus as much on the conversions itself. Rummaging through the piles, the only thing that I found suitable was a Thousand Sons sorcerer. My first mistake, as this has *far* too much trim to paint in such a short time. Others would find poxwalkers which take very well to contrasts and washing to face off with their champion.
Rushing ahead, I turned out to be the first person to get a model primed (this should have set off alarm bells at this point). It was here I made mistake number two – I should have opted for coloured primers rather than using black or white given. I completely blanked that they existed and went into my usual workflow at home, at which point I would normally pull out my airbrush.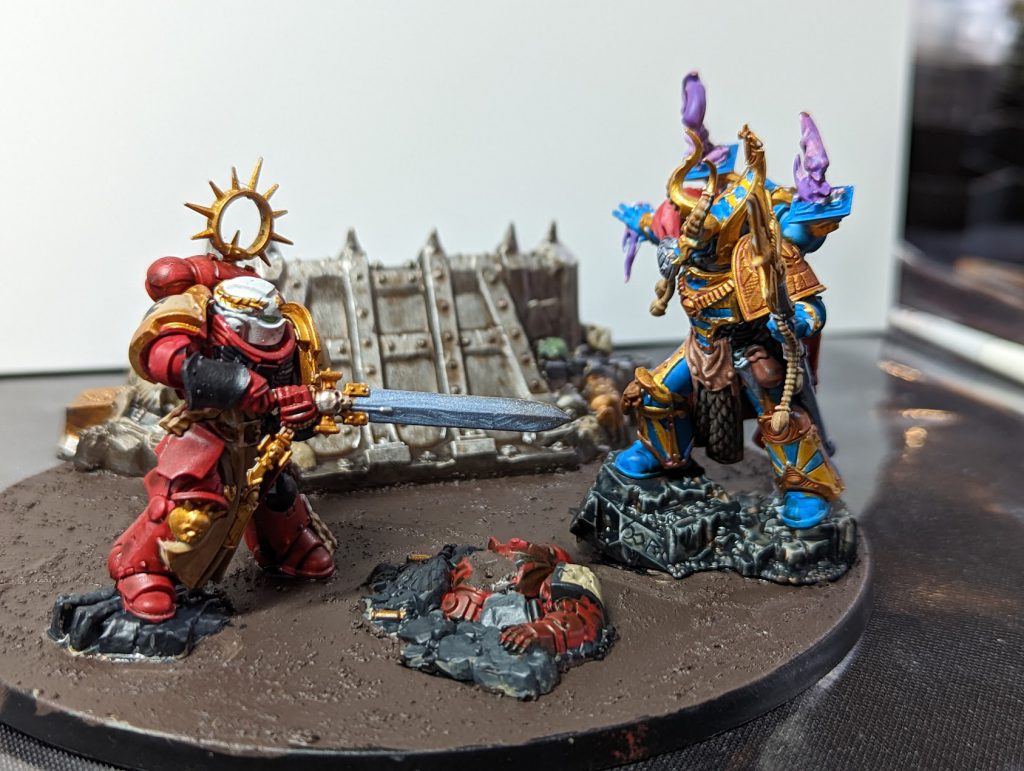 The third mistake was partially my own, which was that I used far too small a brush. On the table we were initially provided with Medium Layer brushes, which I ended up using for the day. Later some larger drybrushes became available – having those at the start would have made things a bunch easier for base coating.
All that moaning aside (all self-inflicted) it was a good time to just hang out and hobby – which is something that many people haven't been able to do for quite some time. Given the chance to do this again, I would do so and keep these mistakes in mind.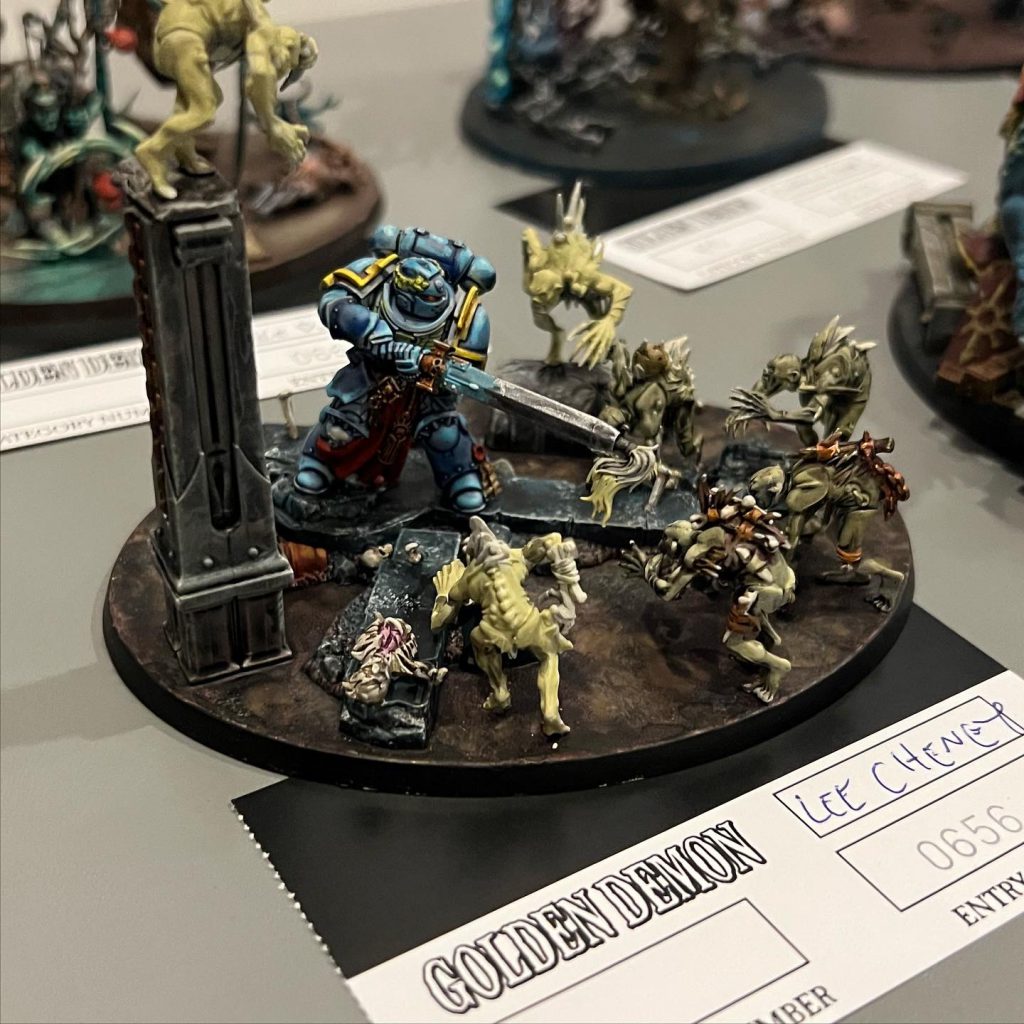 The finale
After deliberating into the small hours of the night, the judges place Finalist Pins on the strongest entries in each category and Commendation Cards on the cream of the crop – marking out the could-be winners for a bronze, silver, or gold trophy.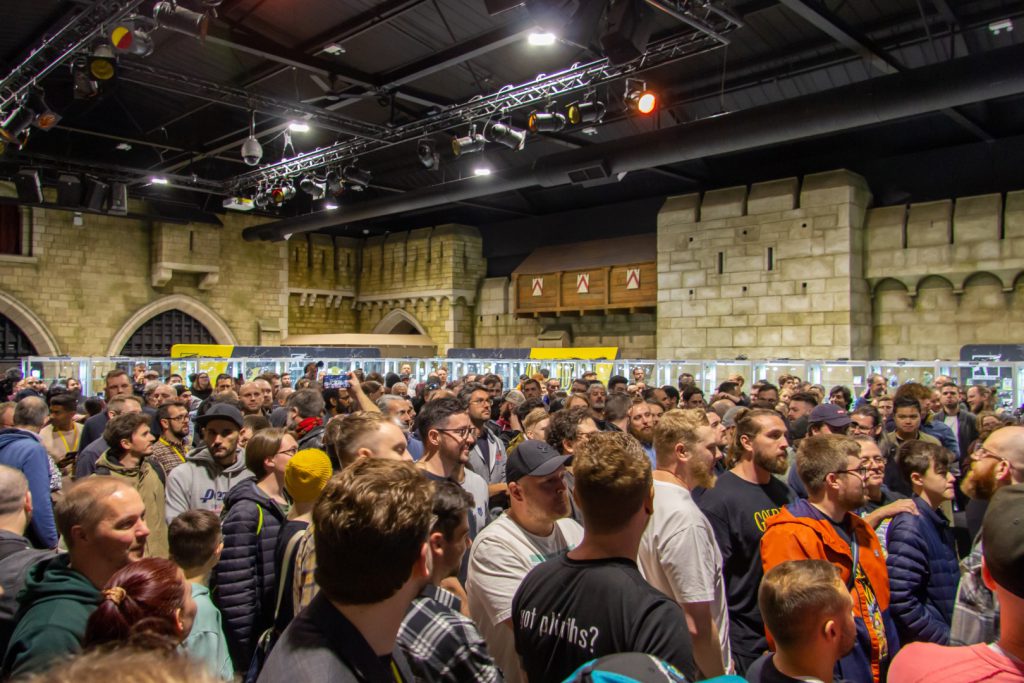 When it did come time for the awards to be issued, the crowd was buzzing with anticipation. The cheers and applause for each winner felt out of place for a group of people who are often stereotyped as quiet and introverted. The enthusiasm was intoxicating.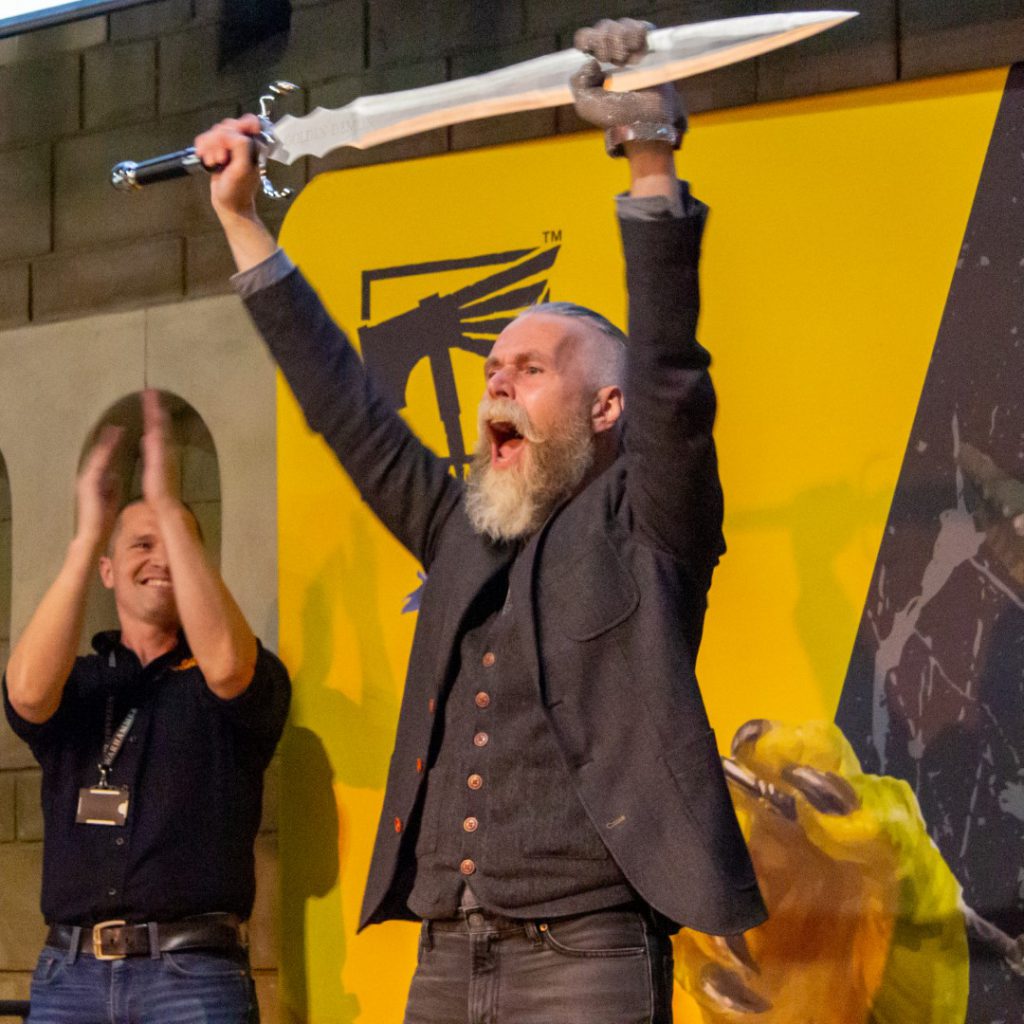 This all culminated with the best in show award, the slayer sword being won by Chris Clayton with his Kraken-Eater Giant duel. We'll be back later this week for our chat with him about this amazing piece.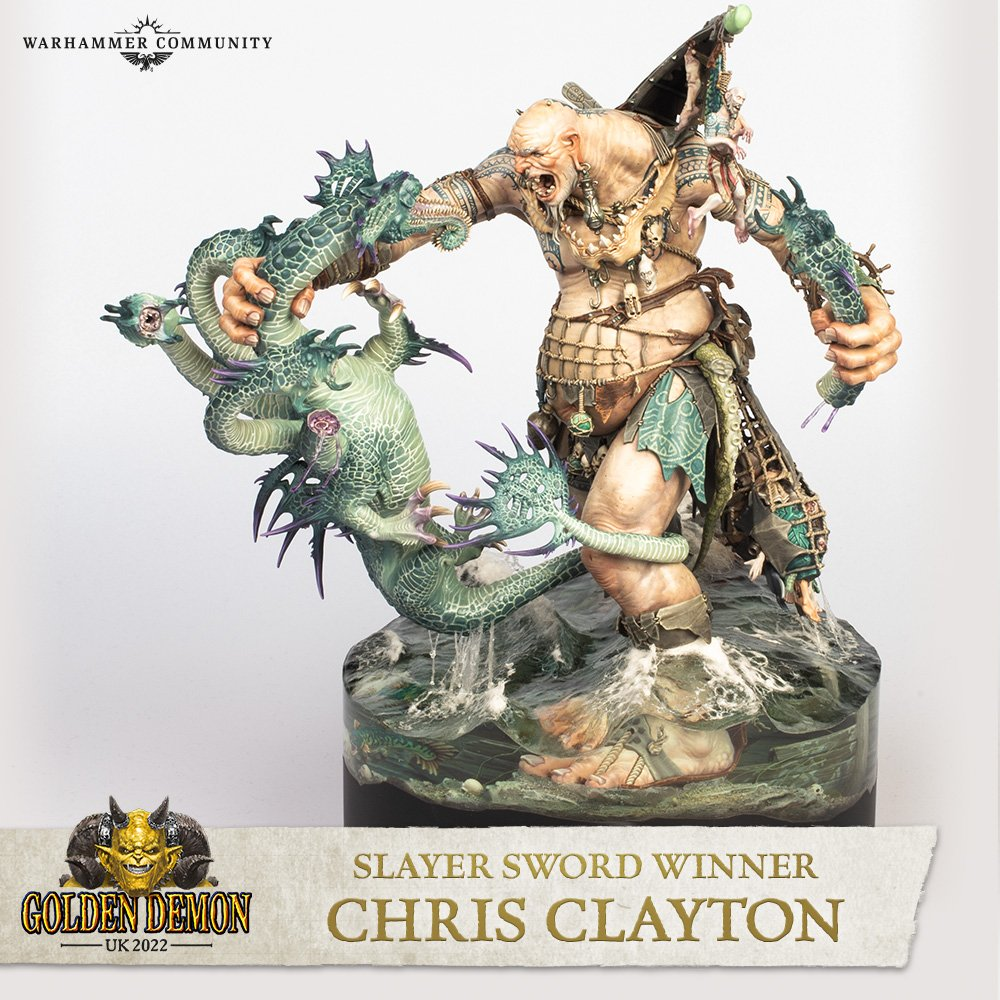 Until next time
Even as a mere observer, we're very glad that we were able to make it to this year's Golden Demon. As mentioned earlier, photos cannot convey the detail or different aspects of the entries and there are so many amazing entries that you would not get to see otherwise.
Soggy: If I had to pick a single word to describe the event, it would be inspiring. Not only for the amazing pieces, but for the general hobby positivity and approachability of anyone there. Even the biggest names out there had a moment for anyone to share in the hobby we all love.
Bair: If we're doing cheesy one word closers I pick positive. It's so easy in the era of internet hobby to see and get bogged down by the incredible toxicity and negativity of what's hopefully a minority so to be surrounded by such endless hobby positivity for a few days was just incredible.