Hi, my name is Kerry, and I go by the name K.Legss online. I recently attended Golden Demon 2022, which is where I had the pleasure of meeting the lovely guys from Goonhammer. As always, when you meet people, there is often a tiny snippet about what you do or like mentioned as you get to know one another. So when it came to my turn, I was eager to share my experiences within the 40k community, more specifically, my experiences within the 40k tournament scene, as it has been a massive part of my journey and something I have openly documented over on my Instagram account (@k.legss) and YouTube channel.
Competitive Warhammer 40k Tournaments
The tournament scene is absolutely thriving at the moment, with small RTT events, large Super Majors, and mid-sized GT events appearing left-right and centre, which is excellent! But are these events really the shark tank competitive events people are often discouraged from attending? Or can you play one without being the most competitive player and still have fun? In this article I aim to shine a light on this. So if you are curious and want to know more, keep reading!
Over the past seven months, I've gone from being an absolute novice player to making my way through the ranks, have started playing for the Vanguard Tactics team, and have been finding out exactly what the 40k tournament scene is like, and hope to shine a light on some of the positive experiences I have had throughout my tournament journey.
It's not been doom and gloom – in fact, it's been the opposite! Before I give away all of my 40k tournament secrets, let me give you a little context as to how I ended up playing Warhammer 40k competitively.
Are you ready for competitive gameplay?
Rewind to 2019, before the world changed and events were canceled or postponed. I'd picked up a Daemonette and started painting one. Being the curious person I am, I decided to find out exactly what this fierce model could do. So I walked into my local Warhammer store, met some local hobbyists, and took a four-week how-to-play Warhammer 40k beginners' course to understand the basics. From there, I learned from word of mouth about local tournaments and being me, I dived right in.
See the pattern here? I'm someone who loves to progress, and well, entering a tournament seemed to be the right leap to take. But was it?
In all honesty, at the time, no… CP wasn't even on my radar at this point, but I learned as much as possible before playing in an event, and to my surprise, I finished around 50th out of 68 people. Not bad for someone who had only been playing for 2months and only spent CP on rerolls.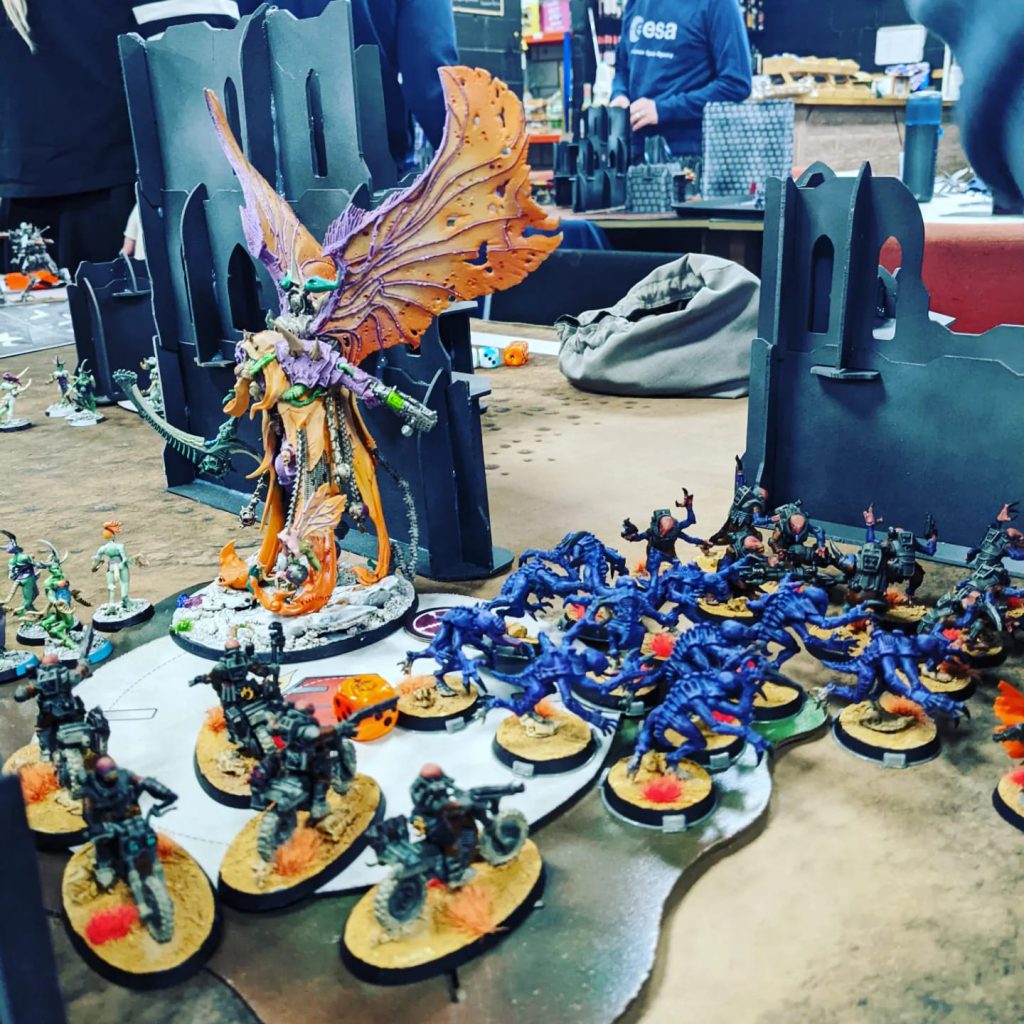 Finding your local gaming community
In an odd and unexpected way, life changed. I had A LOT of time to learn my rules, including army synergies and strategies. Better prepared, more confident, and ready to play – I was back but this time entering into small RTT events at my local games club, Battle Bunker.
The venue was much smaller than my first event. However, I recognised some familiar faces that smiled back as I nervously made my way to my first table. I can't begin to explain how a small smile in someone's direction can help make someone's day go from an anxious/nervous one to a good one.
I looked around and saw I was one of 3 women at a 30-player event. Statistics-wise, this doesn't sound like a lot, but over the past year, I've grown accustomed to being one of the few. And does it matter? Am I made to feel alienated? Absolutely not! In fact, everyone has been so welcoming, kind, and encouraging.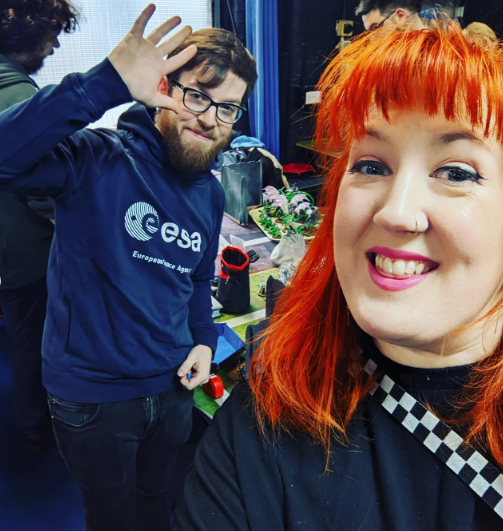 What does 'fun' gaming look like to you?
Fast forward to today, I had played in both large and small events and quickly learned that there was a vast range of abilities in painting and gaming.
One of the things people often say to me when I talk about playing at tournaments is that they feel they aren't good enough players to be playing in a tournament. So, let's talk about competitive players for a second. Of course, there will always be players who enjoy playing competitive army lists (often called meta lists or meta chasing). To many, that may be what they find exciting, but that's another complex story for another time, as I fear I may end up diving into a wormhole on that topic. And trust me, it would be a very long article indeed!
For me, it's the social aspect of tournaments that I enjoy the most, for others, it could be playing a list you wouldn't expect to see at a tournament. However, in my experience, there's always a broad range of abilities. So, whether you are a beginner or a veteran 40k player, I'd strongly suggest not letting the thought of playing someone who is playing well put you off, as it's a fantastic opportunity to learn how other armies are played and have fun.
After a couple of months of playing tournaments, I got excited to play games of 40k and see those familiar faces who I'd played against or had great conversations with. People who, if it had not been for gaming, I wouldn't have had the opportunity to have met and even called my friends.
Personal growth in gaming.

From here, my drive to progress grew from playing in a tournament to setting new goals. I was always looking for something new to achieve. In the beginning, my goal to win one game became a goal to win two games, and then I focused on my painting with the hopes of winning the best painted one day. I found that having these small goals to focus on, combined with social activities with friends, had an extremely positive impact on my mental health. I finally found somewhere I could indeed be myself without judgment or worry. I could truly enjoy a wholesome day of gaming surrounded by like-minded, encouraging hobbyists who respected me as an opponent no matter what my gender may be. However, as time passed, the thought of winning a game was desirable, but it wasn't a must. I found that the excitement of the social and meeting new people, respecting my opponent, and having fun made each tournament enjoyable.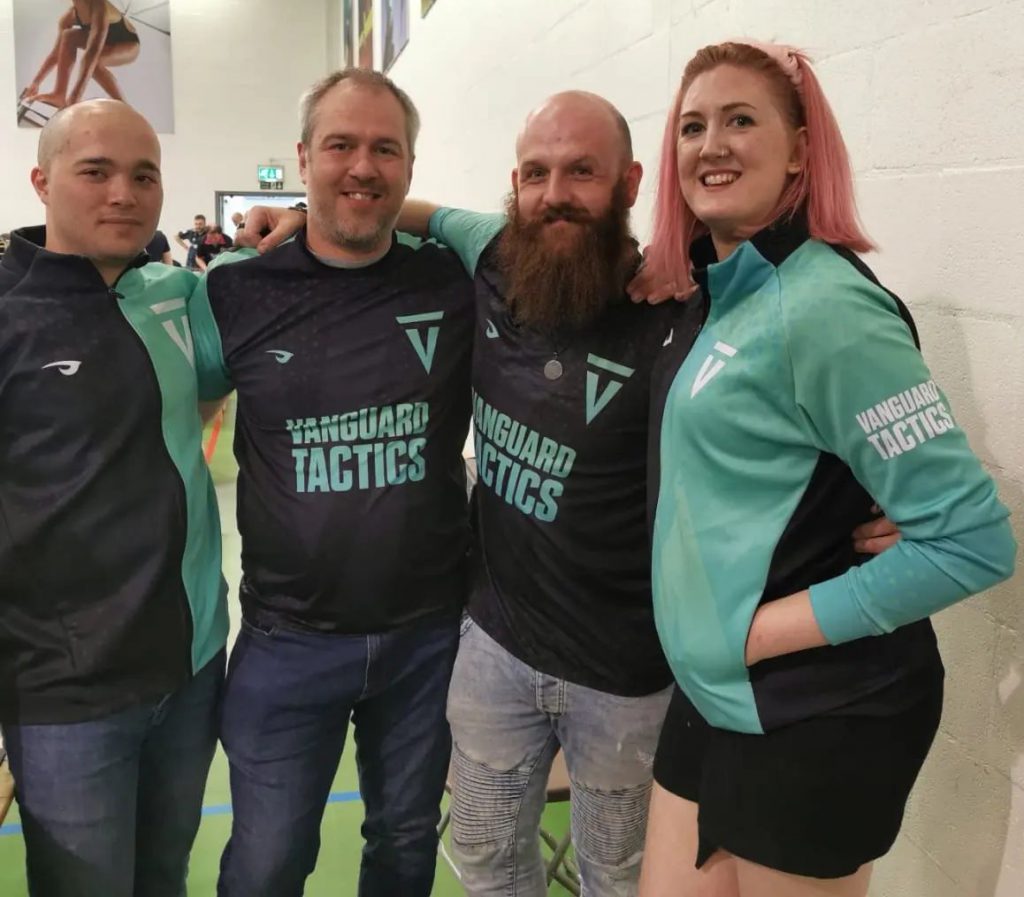 I understand that everyone's experience may differ, and there will always be many variables; such as location, opponents, TOs, Armies, etc. However, for me playing at 40k events has been one of the best decisions I made. The positives outweigh any negatives, and I highly recommend checking out an event near you. You might end up with new friends, playing armies you've not played against, and seeing phenomenal paint jobs too! And remember, you don't need to win every game; enjoy the experience and have fun.
We'd like to extend a heartfelt thanks to Kerry for sharing her experiences getting started with Competitive 40k. As stated above, you can find her on Instagram (@k.legss) and YouTube. If you have any questions for her (or Goonhammer at large) drop us a line at Contact@Goonhammer.com!