Last month we announced the formation of the Unified Tournament Circuit, a new regional circuit for Warhammer 40k and Age of Sigmar which covers the area between Virginia and Newfoundland. In case you missed our announcement, you can find it here.
You can find the full calendar of UTC events here.
This past weekend was Memorial Day in the US and you'll have to excuse people for having the audacity to enjoy beautiful weather and spend it outdoors instead of inside playing Warhammer. This weekend saw three UTC events – two 40k GTs at Ironweld in Wakefield and a 40k RTT in Brooklyn.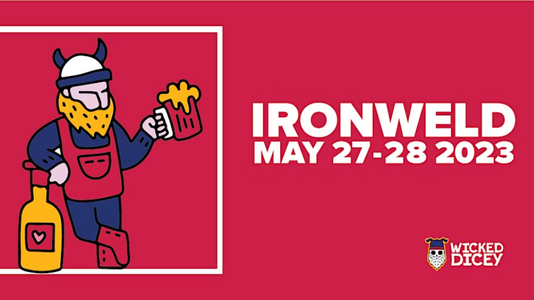 Ironweld
(Wakefield MA) – Ironweld is one of the biggest events in the New England Circuit, with 64-player GTs for Age of Sigmar and Warhammer 40k.
Age of Sigmar
This 5-round, 57-player event has already been covered in detail over in this week's Competitive Innovations in the Mortal Realms, where Anthony Lawrence's Pretenders Host army beat out Samuel Gould's Allherd to claim the top prize.
1st – Anthony Lawrence (Wicked Dicey) – Pretenders Host
2nd – Derrek Perham (Chromatic Dragon) – Legion of Blood (4-0-1): Double Ethereal big things with 10 Blood Knights, 50 Skeletons and a Corpse Cart as it's core
3rd – Nate Trentanelli (Tough Crowd) – Nighthaunt: A mad emerald host list that's running 20 Craventhrone Guard and 30 Hexwraiths to just focus damage output against a few units at a time
4th – Corey Begley (Wicked Dicey) – Nighthaunt: Another emerald host list that instead wants to teleport 50 Grimghast Reapers around with Awlrach to apply pressure
Warhammer 40k
Likewise, this 32-player, 5-round Grand Tournament was covered in today's Competitive Innovations in 9th column – you can read more about that here. William York took first place with Astra Militarum, running a list packed with two Rogal Dorn Battle Tanks.
1st – William York (AP Zero Tactics) – Astra Militarum: Two Dorns and deep striking Scions.
2nd (Team Battle Brothers) – Pat McAneeny – Space Wolves Successors: Upgrades, Wulfen and Desolation Marines.
3rd – Casey Glynn (Rsvmc) – Necrons: Angry Novokh with lots of Skorpekh and a Monolith.
4th – Jaime Paris (ProTabletop) – Space Wolves Successors: Upgrades, Wulfen and Desolation Marines, also some scouts for that faintest hint of variety.
Warhammer 40k Grand Slam! RTT
This 14-player RTT was won by David Adelman of the Carcosa Club, who piloted Ynnari to a 3-0 finish and a points win over 2nd place finisher Ronny Moon.
David Adelman (Carcosa Club) – Ynnari
Ronny Moon (Brooklyn Strategist) – Adeptus Custodes
Jeff Villacres – Chaos Daemons
Tables And Towers May AoS RTT
This 18-player RTT was won by Jeremy Hauck of Team Big Chungus, piloting Sons of Behemat to a 3-0 victory. There were two other 3-0 players.
Jeremy Hauck (Team Big Chungus) – Sons of Behemat
Jacob Brandon – Ossiarch Bonereapers
Joe Shoemaker (Bottom Table Bullies) – Pretenders Host
Upcoming Events
Let's take a look at the events coming up this weekend and next in the UTC.
June 3, 2023
June 10, 2023
The Northern – 40k (The Pas, MB) – On the Western edge of the UTC territory is this 2nd annual GT running in Manitoba, spanning 5 rounds over two days.
Goonhammer Open: Fal-Con –Fal-Con is Warhammer 40k Event being held in Moncton, NB, Canada June 10th-11th in conjunction with the East Coast Comic Expo. It hosts GT events for both 40k and Age of Sigmar.
Fabricator's Forge June RTT – 40k (Corapolis, PA) – 30-player, 3-round RTT.
Alternate Universes June RTT – 40k (East Norriton, PA) – 24-player, 3-round RTT
Grinning Daemon Prime – 40k (Sudbury, ON) – The Grinning Daemon Teams Tournament is a 2-day event consisting of 24 teams of 5 players competing over 5 rounds.
June of Might and Magic – Age of Sigmar (Brooklyn, NY) – 3-round Age of Sigmar RTT
Games N Friends June GT (Springfield, MA) – 42-player GT for 40k run over 2 days and 5 rounds using Swiss pairings.
TJ Cafe and Games June Open War Tournament (Milford, MA) – 36-player tournament run over 3 rounds using the Open War deck.
June 11, 2023
Have any questions or feedback? Are you a TO interested in joining the circuit? Drop us an email at contact@goonhammer.com.