The Unified Tournament Circuit is a regional circuit for Warhammer 40k and Age of Sigmar which covers the area between Virginia and Newfoundland. In case you missed our announcement, you can find it here.
You can find the full calendar of UTC events here.
We're in the final days of Warhammer 40,000's 9th edition but there's still plenty of competition going on because 9th edition events count the same as 10th edition ones when it comes to UTC and ITC scoring. Plus, there's still tons of Age of Sigmar play to be had by people who are looking forward to the new General's Handbook. So let's dive into this past weekend's events, because there's a lot to cover.
The Northern (Warhammer 40k)
On the Western edge of the UTC territory was this 2nd annual GT running in Manitoba, spanning 5 rounds over two days. 31 players showed up to compete for top honors, with the top spot going to Garret Olson of team Northern Front, who won with a Jormungandr list going very hard on Carnifexes and other big bugs – the list ran a total of 6 Carnifexes (with 3 Screamer-Killers), plus a Tyrannofex and two Hive Tyrants. That's a lot to take down and a nightmare if you're a marines player who sees "Tyranids" and assumes he'll be able to kill lots of small- and medium-sized bugs with Desolators.
Garret Olson (Northern Front) – Tyranids
Brody Ruston (Prairie Fire Wargaming) – Adeptus Custodes
Lawrence Hill (GUT!) – Asuryani
Nathan Sgrazzutti (Prairie Fire Wargaming) – Black Legion
Goonhammer Open: Fal-Con
Moncton, NB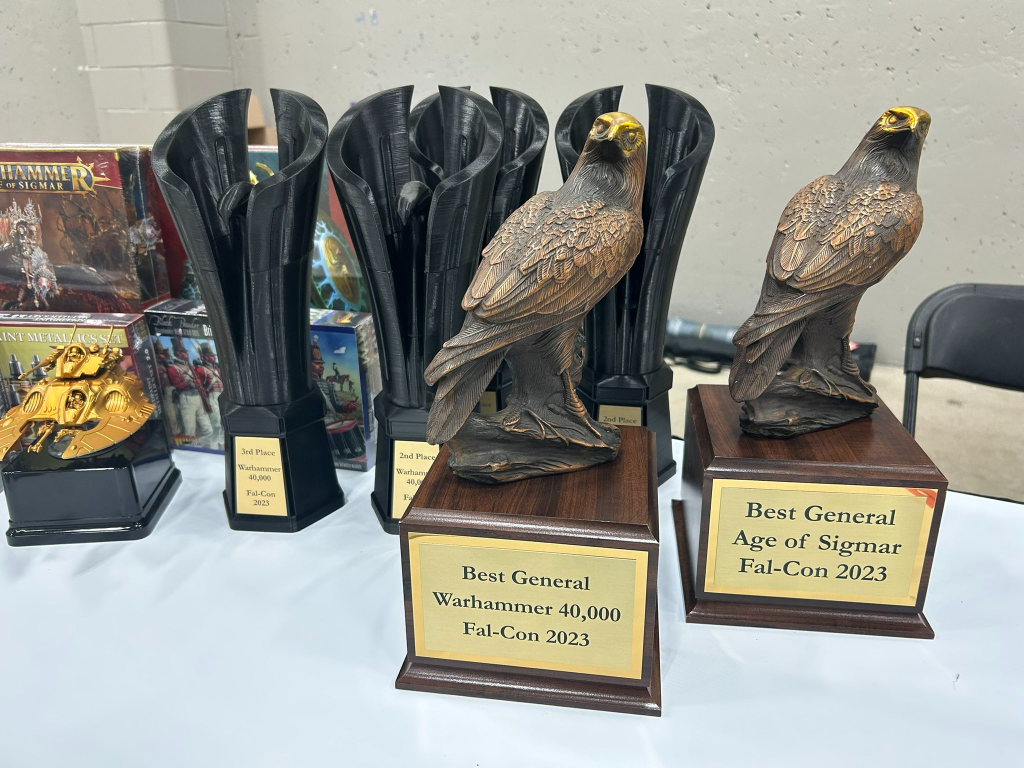 Falcon: Fal-Con was a 15 player 5 round AoS and 33 player 5 round Warhammer 40k event that took place this last weekend at the Moncton Coliseum as part of the East Coast Comic Book Expo. It was a fantastic time with a truly incredible group of players. In the finals of our 40k event, Jonathan Betteridge came out on top with his 'Alpha Hands' brutalizing his opponents straight through to his final opponent, Christopher Burgart, and his Chaos Knights. Our Age of Sigmar event was a lively one that ended in a nail-biter as J.C Vallee's undefeated Ossiarch Bonereapers were toppled by Frederic Bigras-Burrogano's Flesh-Eater Courts in the final round, giving the event to Frederic on the back of his powerful Opponent Game Win %.
The whole crowd was electric the entire weekend and the sportsmanship on display would bring a tear to your eye. More than 2 thousand dollars in prizes were given out, including the coveted Bronze Falcon awards for best general which will be brought back again next year when we host what we hope will be an even bigger show.
Warhammer 40k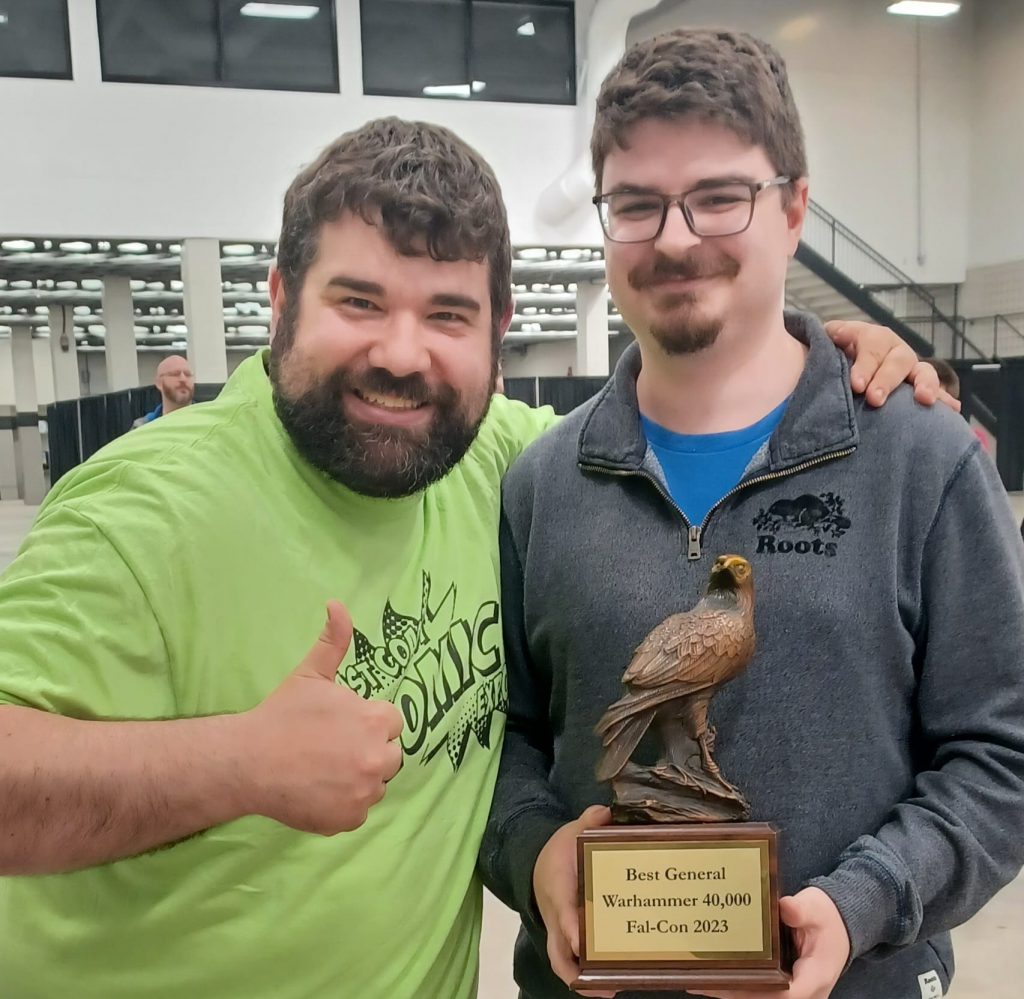 We've covered the results of the Fal-Con 40k event in this week's Competitive Innovations in 9th edition – you can check that out here. Jonathon Betteridge of the Halifax Privateers took the top spot with a decisive victory over Christopher Burgart's Chaos Knights in the final round.
Age of Sigmar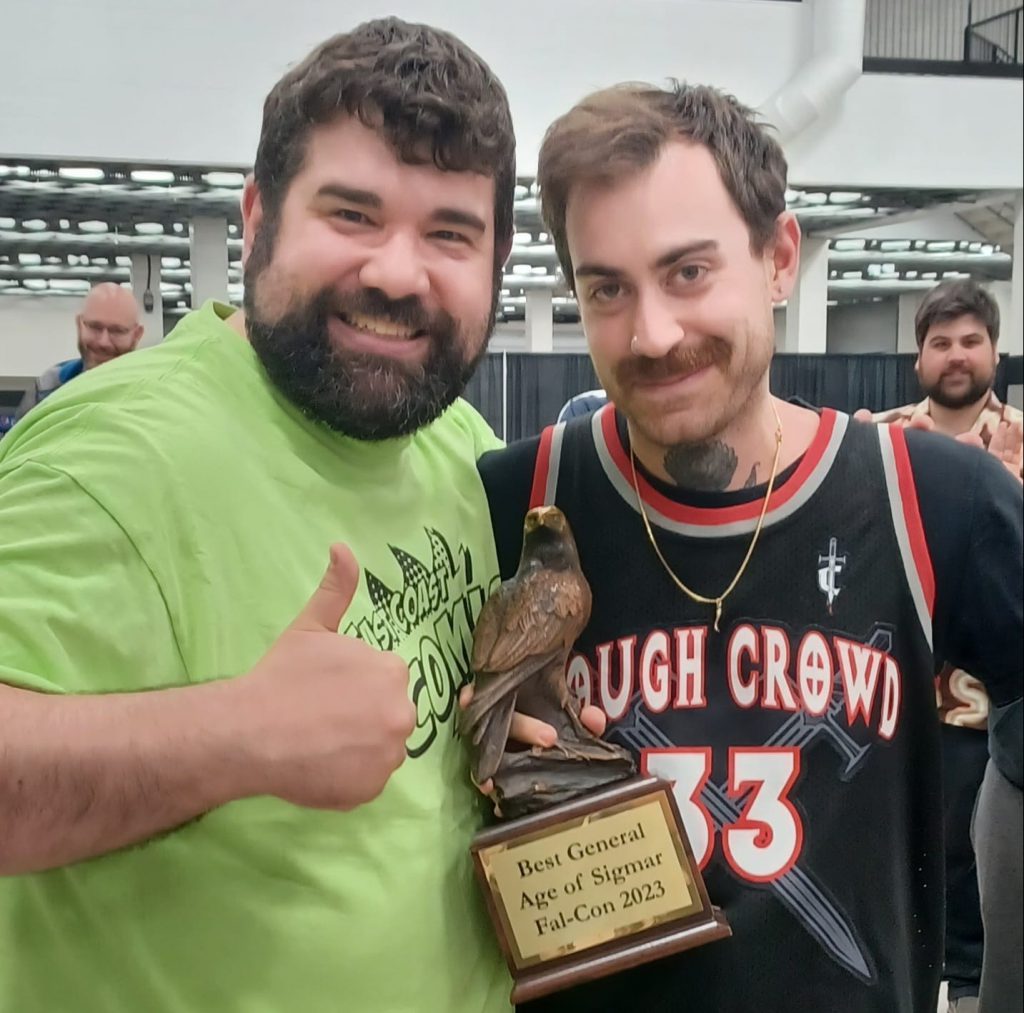 Competition was just as fierce at the Age of Sigmar event as Frederic Bigras-Burrogano piloted his Flesh-eater Courts to a 4-1 first-place finish with a final round victory over JC
Jean-Christophe Vallée's Ossiarch Bonereapers.
Frederic Bigras-Burrogano (Tough Crowd) – Flesh-eater Courts

Jean-Christophe Vallée – Ossiarch Bonereapers

Tristan Gray (Tough Crowd) – Ossiarch Bonereapers
Alternate Universes June RTT – 40k
Craig: The Alternate Universes Warhammer 40k Tournament had 18 players participate in the store's last event of the 9th edition 40k. The top three placings were all taken by the home team Cuddle Buddies this month. In First Place was Derek Apshe, with his Night Lords army anchored by a Black Rune empowered unit of Rubric Marines and supported by Slaanesh Daemons and a Noctilith Crown. In second place was Brian Zhu, whose White Scars featured an anvil of three Assault Terminator units and a hammer of Desolators. And finishing third was Matthew DeFranza with his Children of the Open Skies / Vengeful Aeldari and a Bahharoth-Karandras team-up.
Grinning Daemon Prime (40k Teams)
The Grinning Daemon Teams Tournament was a 2-day event consisting of 22 teams of 5 players competing over 5 rounds. 111 players showed up to duke it out in the teams format on WTC-style terrain and when it was all said and done First Placeholders walked away with the lone undefeated record and first place.
First Placeholders
Christian Vavaroutsos (Genestealer Cults)
Jean Masson (Chaos Daemons)
Mark Wang (Adeptus Custodes)
Sam Procopio (Blood Angels)
Thomas Liddy (Orks
They were followed in the standings by Canhammer and Vengeful Spirits; each team had a single round loss.
Farewell to 9th Edition Tournament
This three-round RTT had 10 players, with Michael Lee grabbing the top spot with his Bad Moons army.
Michael Lee – Bad Moons
Dan Sedman – Chaos Knights
Connor Cipp – Grey Knights
Upcoming Events
We'll see a quieter weekend or two coming up but then expect big things as we start to kick off our first 10th edition events, starting with this weekend's Fabricator Forge event.
June 17, 2023
June 24, 2023
July 1, 2023
Have any questions or feedback? Are you a TO interested in joining the circuit? Drop us an email at contact@goonhammer.com.