We recently announced the formation of the Unified Tournament Circuit, a new regional circuit for Warhammer 40k and Age of Sigmar which covers the area between Virginia and Newfoundland. In case you missed our announcement, you can find it here.
This week was the biggest week yet for the UTC, giving us our first Age of Sigmar events with two GTs. This week we'll be covering the following events:
Le Grand Clash (40k and Age of Sigmar)
Warpstone Wars '23
Alternate Universes April RTT
Fallout Gaming April RTT
North Bay Games and Hobbies RTT
Sector CVille's 40k Tempest of War Tournament
Le Grand Clash
Trois-Rivières, QC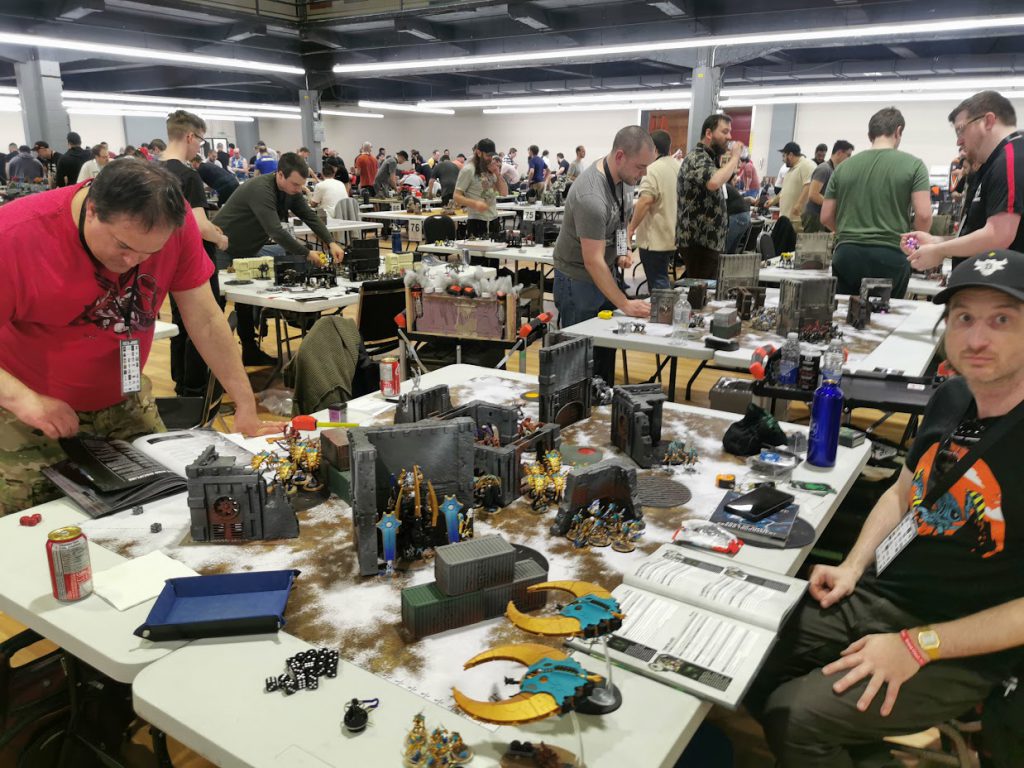 This massive event included multiple tournaments, most notably a 146-player Major for Age of Sigmar and a 47-person GT for Warhammer 40k. We'll be looking at the results for each in this week's Competitive Innovations, where we'll dive into the top lists and final showdowns from each event.
Age of Sigmar
First place at the event went to Alexis Boucher, piloting Gnarlroot Sylvaneths to a 5-0 finish and the highest total battle point score, but four other players finished with undefeated records:
Alexis Boucher (Bourrins Pingouins) – Sylvaneth
Levan Sichinava (BeautyHammer) – Gloomspite Gitz
Thomas Ling (Tough Crowd) – Soulblight Gravelords
Olivier Gandouet (Les Bonhommes) – Disciples of Tzeentch
Daniel Fortin (Les Bonnes Femmes) – Ossiarch Bonereapers
You can read more about these lists in today's Competitive Innovations in the Mortal Realms.
Warhammer 40k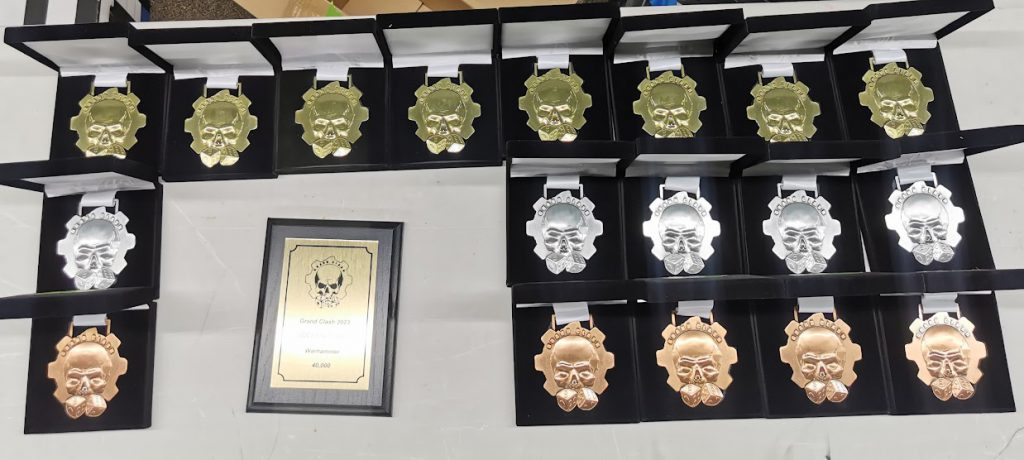 The 40k event on the other hand was dominated by team Stat Check, who took the top two spots at the event after both teammates tied in round 5 (10-10 in 20-0 scoring) and won their respective final games to finish on 5-0-1 records.
François Lalonde (Stat Check) – Iron Hands
Jeremy Atkinson (Stat Check) – Dark Angels
John Winter Russell (Imperial-Lys) – Astra Militarum
Éric Marcoux (Death or Glory) – Imperial Knights
you can read more about these lists in Friday's Competitive Innovations, Part 2.
The event was a great success with great competition and some stellar entries for hobby scoring and a ton of prizes handed out – lots of players who never go home with anything got a cool memento.
Warpstone Wars '23
Coraopolis, PA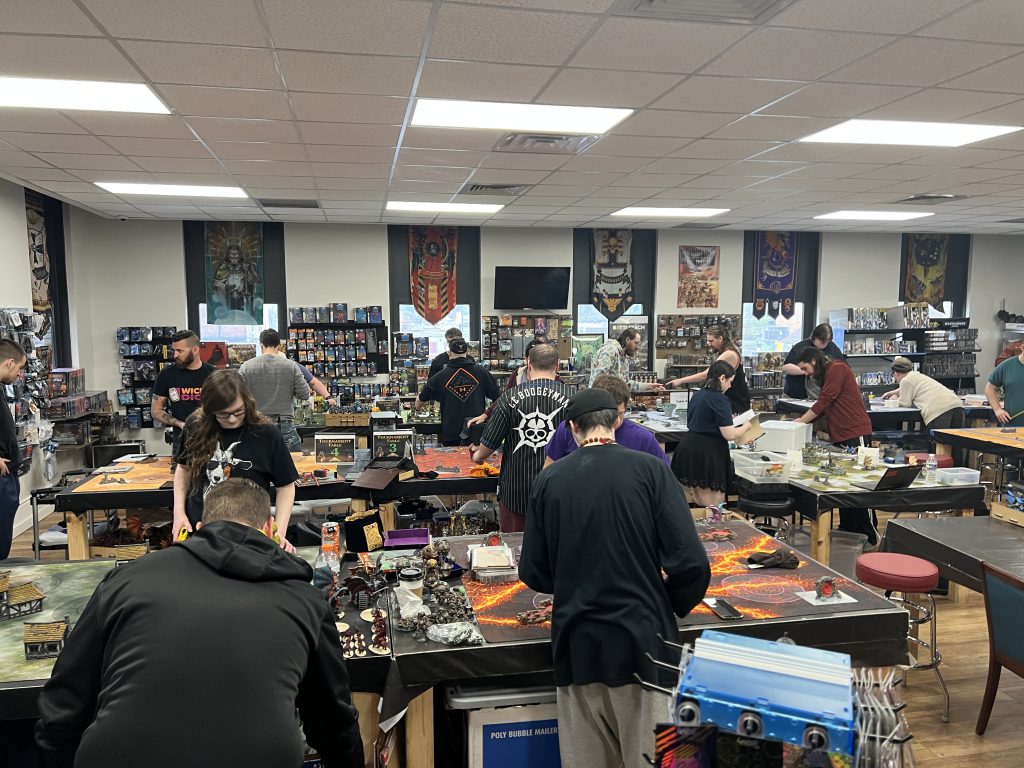 Not to be outdone and not above running back-to-back GTs, Fabricator's Forge hosted its own Age of Sigmar event this weekend, a 5-round event with 28 players. Don't let the smaller event size fool you – this was a tough field, with several big names in attendance, including Bill Souza. Top honors went to Jeremy Veysseire of Team Corsairs, who absolutely tore it up with Blades of Khorne. You can read more about these lists in this week's Competitive Innovations as well.
Jeremy Veysseire (Corsairs) – Blades of Khorne
Rob Mulshine (Kobra Kai Gaming Dojo) – Big Waaagh
Ben Klos (Wicked Dicey) – Blades of Khorne
Jiwan Noah Singh (Tough Crowd) – Blades of Khorne
The event also had a stellar group of selections for the hobby side of things, with Hunter Hoeper's Ossiarch Bone Reapers taking the gold, beating Ryan Tambellini (2nd, Kharadron Overlords) and Wyatt Dymerski (3rd, Gloomspite Gitz).
Alternate Universes April 40k RTT
East Norriton, PA
The first of our week's RTTs, this was a 13-player, 3-round event run just northwest of Philadelphia. Brian Zhu of Team Cuddle Buddies took home the top honors with Broadside and Crisis-Heavy T'au, though Cory White also went undefeated with a Daemons list running Disciples of Be'lakor and a trio of Skull Cannons.
Brian Zhu (Cuddle Buddies) – T'au Empire
Cory White – Chaos Daemons
Bryant Nelson (Iron Inquisitors) – Tyranids
Fallout Gaming April RTT
Erie, PA
This 14-player RTT in Eerie, PA ran 3 rounds and was won by Travis King, though James Kuhn also went undefeated. Lists were not submitted to BCP for the event.
Travis King
James Kuhn (Fallout)
Tyler Wilson (Fallout)
Nort Bay Games and Hobbies April RTT
North Bay, ON
This 14-player RTT in North Bay, Ontario had only a single undefeated player – Michael McEachern of Team Death or Glory, whose T'au Empire list made full use of the fact that Broadsides now have CORE in a Bork'an Sept list designed to put out an eye-watering amount of long- and short-range firepower.
Michael McEachern (Death or Glory) – T'au Empire
Albert Stephens (Team Heartbreak) – World Eaters
Corey Sanfelice (Salty Astartes) – World Eaters
Sector CVille's 40k Tempest of War Tournament
Charlottesville, VA
This 3-round event in Charlottesville, VA featured 13 players and is notable for using Tempest of War format. If you've never played Tempest, I encourage giving it a try – it's an underrated way to play competitively and encourages completely different lists and strategies. First place at the event went to Neil E Powell, running a World Eaters list with War Dog Executioners as a way to provide a bit more backfield objective holding. Despite losing one of the game's best secondaries, World Eaters are a very mobile army that can do well in Tempest by being able to move around the board very quickly.
Neil E Powell (Sector Cville) – World Eaters
Daniel McNally (40k Hut) – Drukhari
Ben Vandyne (Sector Cville) – Astra Militarum
Final Thoughts
That wraps up this week's results but stay tuned for a deep dive into the winners of Le Grand Clash 40k on Friday, and to get a preview for the weekend's events. And stay tuned for next week when we expect the page for Age of Sigmar UTC standings to go live. Until then, if you have any questions or feedback, drop us a note in the comments below or email us at contact@goonhammer.com.