A few weeks ago we announced the formation of the Unified Tournament Circuit, a new regional circuit for Warhammer 40k and Age of Sigmar which covers the area between Virginia and Newfoundland. In case you missed our announcement, you can find it here.
You can find the full calendar of UTC events here.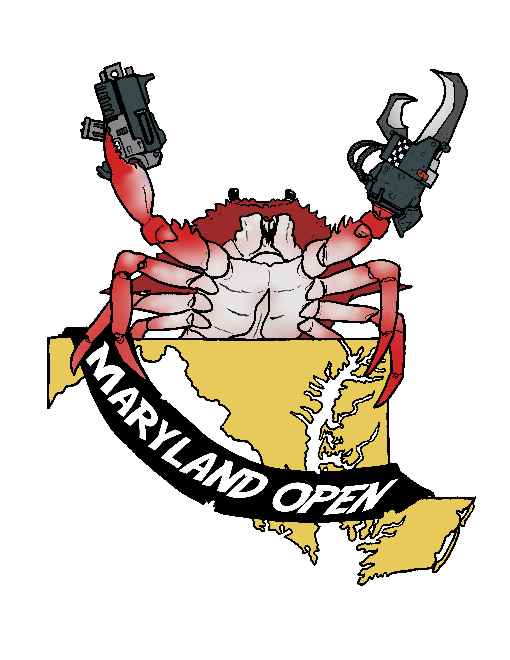 The 2023 Maryland Open (Warhammer 40k)
The largest UTC event of the weekend was the 150-player, 6-round Warhammer 40k Maryland Open. The was the marquee event of the year for Tables and Towers and featured the store's famous Primarch trophies. You can read more about the event results in our standard coverage in this week's Competitive Innovations in 9th. Congrats to TJ Lanigan for winning the event with his Chaos Daemons army.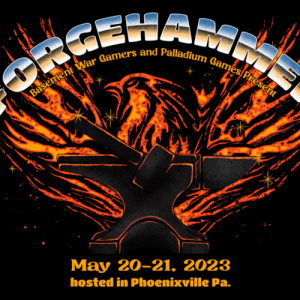 Forgehammer GT (Warhammer 40k)
ForgeHammer was a 20 person 5 round event at Palladium Games in Phoenixville, PA. The event was won by Derek Apsche of Cuddle Buddies and 40K Dirt Bags fame using his Black Legion Noctilith Crown list. Coming in hot on his heels was Dumpster Fire's own Nolan Haley with World Eaters. Third place was Nolan's Dumpster Rire teammate, Mark Van Horn using his Necrons with a Monolith.
– Sean Feather
Warhammer 40,000 Strike Force Tournament
This 3-round RTT was held at Fortress of Gaming and saw 10 players compete for top honors. Dan Schwencke won first place with a Ymyr Conglomerate Leagues of Votann list.
Dan Schwencke – Leagues of Votann
Bryan Shyne – Chaos Knights
Perry Spilman (Warhounds) – Death Guard
Webway Games May RTT (40k)
This 3-round RTT had 25 players. Yuri Efremov was one of two undefeated players at the event, running Deathwatch. Yuri narrowly edged out Cary Gould running a World Eaters list with Angron and an allied detachment of Khorne Daemons.
Yuri Efremov – Deathwatch
Cary Gould (US Army Esports) – World Eaters
Shawn M Allen (Coastal WarGaming) – Thousand Sons
Pre-Fal-Con Prep RTT
11 Players convened to test their lists out at this 3-round RTT, and Willow Weeks of the Tabletop Titans took the top spot with a World Eaters list running Invocatus and Eightbound plus an allied Detachment of Vextrix War Dog Brigands.
Willow Weeks (Tabletop Titans) – World Eaters
Matthew Reeson (Halifax Privateers) – Necrons
Jaslon Gallant – Astra Militarum
Sector Cville May Arks of Omen RTT
Results: 
1st – Neil Powell (World Eaters)
2nd – Chris Shriner (Chaos Knights)
3rd – Ben Sattler (Chaos Knights) 
Scion of Sector Cville (player voted best sport) – Branden Gross
Best Painted – Erik Aliff (Grey Knights) 
Chaos reigned supreme in Charlottesville, VA at Sector Cville's Farewell to 9th May RTT. With 12 players in attendance, faction representation was varied and the lists included everything from the best World Eaters have to offer to fond salutes to some of our favorite models and rules from 9th. Missions 32, 31, and 33 were played, in that order. Terrain was a mix between GW-style layouts and some great pop-up terrain from Tabletop Titans and Upzone. 
Neil Powell took home top honors with his World Eaters, featuring a Lord Invocatus in the lead with backup from two War Dogs. Khorne was pleased by the collection of skulls from Iron Hands, Chaos Knights, and Aeldari that were taken along the way. Chris Shriner was also undefeated, placing a close second with his Chaos Knight War Dog list. Ben Sattler continued the Chaos Knight trend placing third with his Desecrator and War Dog combo. The fields of Charlottesville belong to Chaos as we look towards 10th! 
Branden Gross brought home the player-voted Scion of Sector Cville sportsmanship award, having a great time with his opponents as he sent it with all the big bugs he could muster, including a Barbed Hierodule! Erik Aliff received best painted honors for his gorgeous blue-washed Grey Knights that featured the style picks of a Vindicare Assassin and Inquisitor Karamazov. A special shoutout to Ben and Seth, whose birthdays were celebrated with pizza, cupcakes, and cookies for the whole crew! This final tournament before the new edition was a great send-off for 9th, during which Sector Cville was born. 
– Truman Brody-Boyd
Final Thoughts
That wraps up this week's results but stay tuned for our preview for the weekend's events on Friday. Until then, if you have any questions or feedback, drop us a note in the comments below or email us at contact@goonhammer.com.