Welcome back to Goonhammer's series for aspiring Titan Principes. We here at Goonhammer's own Collegia Titanica know that Adeptus Titanicus can seem intimidating to players unfamiliar with its particular quirks, but this series aims to equip you with everything you'll need to play out epic clashes on the battlefields of the far future with your very own Titan Battlegroup. In this series, we'll be taking a more in-depth look at the various Legios of the Collegia Titanica – exploring their origins and how to use them on the tabletop, from maniple selection and their loadouts, through to how to command them on the field of battle to secure ultimate victory.
You may not have noticed this yet, but we here at Warlord Wednesdays consider ourselves pretty ardent fans of Adeptus Titanicus. We love this game, and a big part of why we started this series was because we wanted to help share our enthusiasm with the wider hobby, and the response we've gotten has been really gratifying.
This week, we're doing something a little different from usual: we're responding to a reader question that came in over the weekend. It was a really interesting thought exercise, and not only did we enjoy puzzling over the question presented, it was great to see what one of our readers is up to, especially when they're taking the time to share the game with others.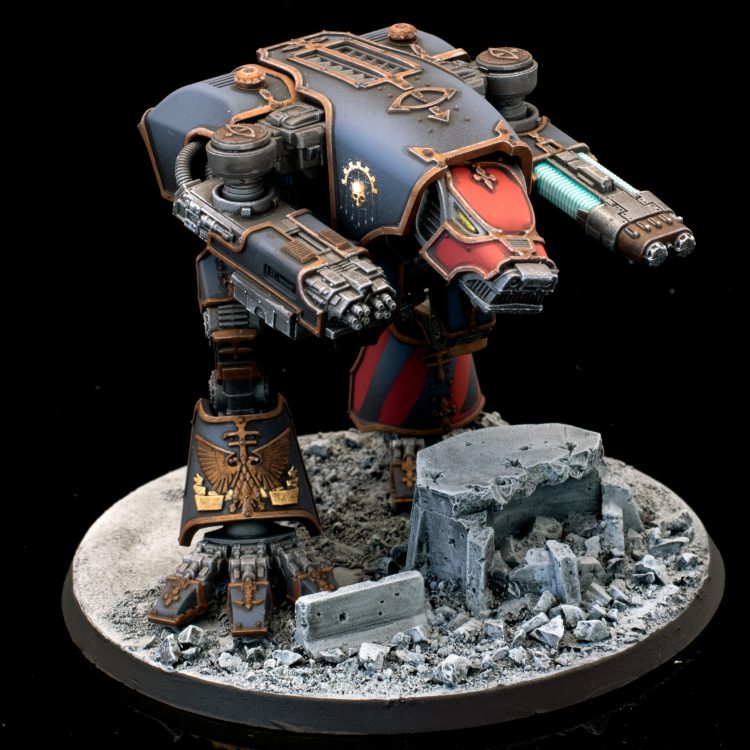 The Challenge
Good Evening from [REDACTED],

I've got a little AT puzzle for you lovely folks. I'm a teacher who's done a little bit of tinkering into Titanicus, but I'm far from expert. I've got a small school sponsored gaming club, and some kids have been asking me about the big stompy robots.

The kids have decided to pool their resources together, and they've decided to Ignatum and Mortis. The Ignatum kids are new to wargaming, and as I'm new to AT, I was hoping for some help. Could you help us design a few maniples to get started? Here's what they'll have for build material.

Two Warlords, two Warbringer Nemesis, five Reavers, five Warhounds.

Extra design stuff: probably one punchy titan minimum per maniple (students pretty in awe of the silliness if melee and chain explosions) , and we have or can get pretty much any weapons.

I really appreciate any guidance you can provide.

Thank you again! -Ned
First off, we cannot say how awesome it is that you're getting your students into AT, and must admit that we often turn into kids ourselves when the chain reactions start to kick off.
Before we jump right into the deep end on this one, there are a few resources on Goonhammer that might be of interest:
With that out of the way, let's first take a look at the Legios that the kids of chosen – Mortis and Ignatum is a fantastic choice: two of the Triad Ferrum Morgulus facing off and settling the score from the Schism of Mars. It's positively oozing with narrative potential, if that's what your students are into (or you, yourself).
From a model selection, that's a great mix of titans you've got there and it's good that you've mentioned not to worry about weapons – we'll assume you can kitbash or proxy to fill in the blanks.
When we've done intro games of Adeptus Titanicus, it's normally been with a minimum Axiom or a Ferrox maniple facing off one another. This gives the player a good feel the differences between titans – agility, durability, reactor and firepower in addition to important concepts like activation order and using the right weapons in order which we touched on recently about ranged combat.
It could be worth running a few games like this to make sure that people are comfortable with the basics before we spice things up and allocate titans to each faction.
Soggy: I'm not sure how you are going to structure the game, but I have run intro games for people where people take a titan or two each – in either a normal game or a free-for-all deathmatch.
Bair: When I demo'd the game for Soggy right near the beginning, it was Warlord, Reaver, and 2 Warhounds per side and was great stupid fun with stuff blowing up all over. No Legio traits, no stratagems, but keep the Reactor Dice going for pushing and not just the advance 1 that's recommended in the basic rules. 
Condit:
Sharing your toys
The safe option is to go down the middle and give an equal complement of Titans to each side.
This has two problems:
It's boring
See above. For real though, dividing up equally takes away some maniple selections and leaves you prone to mirror matches (which are fine but not as interesting)
So with this in mind, what are aspects of each side we want to focus on and what other factors do we need to consider to create asymmetric yet balanced forces?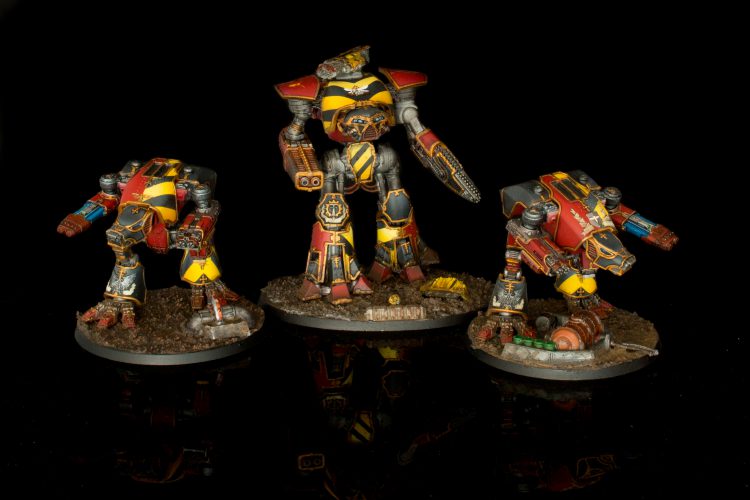 Legio Ignatum
It's fortunate that the newer players have opted for Legio Ignatum, as they are easier to get more mileage out of thanks to We Loyal Few. Your gameplan is to get up in their grill and make the most of those rerolls to hit of 1 within 12″. This trait pairs nicely with two maniples which are great for new players – the Venator and the Ferrox maniple. Both of these leverage the same smaller and more forgiving engines, making it a natural fit. This also means that Ignatum will get the bulk of the Warhounds…but more below about that.
Legio Mortis
Legio Mortis have two traits we're going to focus on. First up, Reaper's Tally gives the engine which kills a titan a reroll ability for the rest of game. This works best when you've got larger engines on your side of the table, as they can bring more powerful weaponry to stack up the re-roll and stand a better chance of surviving long enough to use it. By stacking the other side with more of the smaller engines, we should be able to get as much mileage out of this ability as possible.
The other trick here is March of the Dead, their Legio-specific stratagem. It lets you jump out across the table with a pregame move, which works best for melee and brawler loadouts. One of the more underrated but seriously fun maniples is the Ruptura, which involves a pair of melee Reavers closing on the enemy supported by two Warbringers – I realise this breaks the guideline of one punchy Titan per maniple but in this case it is absolutely rude not to! Legio Ignatum love it when their targets get close anyway, so this works for both sides.
A Ruptura maniple with 2 Reavers and 2 Warbringers with wargear can easily reach 1500 points, which just so happens to be right about how much two minimum-sized Ferrox or Venator maniples are…
Taking stock
So, taking a step back, what are the two "core" lists we would give to each side, which are completely different but on par with one another? And what do we have left?
Legio Ignatum Battlegroup – 1495 pts
Ferrox Light Maniple – 755 pts
Reaver Titan – 315 pts
Vulcan Megabolter
Chainfist
Melta Cannon
Warhound Titan – 220 pts
Vulcan Megabolter
Plasma Blastgun
Warhound Titan – 220 pts
Vulcan Megabolter
Plasma Blastgun
Venator Light Maniple – 740 pts
Reaver Titan – 300 pts
Apocalypse Missile Launcher
Gatling Blaster
Volcano Cannon
Warhound Titan – 220 pts
Vulcan Megabolter
Plasma Blastgun
Warhound Titan – 220 pts
Vulcan Megabolter
Plasma Blastgun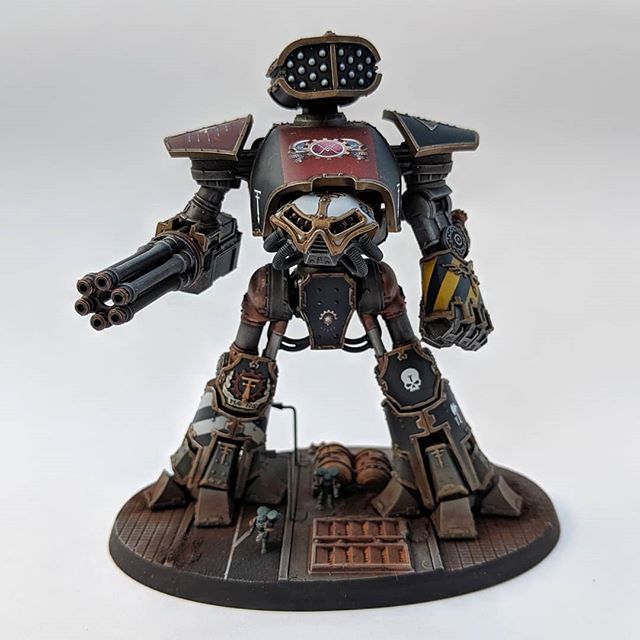 Legio Mortis Battlegroup – 1500 pts
Ruptura Battleline Maniple – 1500 pts
Reaver Titan – 345 pts
Vulcan Megabolter
Chainfist
Melta Cannon
Titan Upgrade: Bastion Shielding
Reaver Titan – 345 pts
Vulcan Megabolter
Chainfist
Melta Cannon
Titan Upgrade: Bastion Shielding
Warbringer Titan – 405 pts
Mori Quake Cannon
Laser Blaster
Volcano Cannon
Titan Upgrade: Bastion Shielding
Warbringer Titan – 405 pts
Mori Quake Cannon
Laser Blaster
Volcano Cannon
Titan Upgrade: Bastion Shielding
Both of these lists are great fun and will play rather differently.
Bair: Do keep in mind that while these might seem like boring copy/paste loadouts, this is just to keep things simple at first. I've magnetised all of my Warhounds super easily with 5×1 N52 magnets and highly recommend doing so since you get so many weapons in the box anyways. Have some fun playing around with different loadouts like flamers, lasers, and mixing weapons!
Legio Ignatum can choose to run double Ferrox to make things simple, however having one of the maniples as a Venator is nice as this will encourage one Reaver to hold back to make the most of it's Opportunistic Fire maniple trait. The trick here will be keeping track of which Warhounds belong to which maniple, but you can accomplish this pretty easily with some different basing or heraldry on the model.
The Mortis battlegroup is a force to be reckoned with, particularly when paired with March of the Dead to get into position and use of other Stratagems like Warp Displacement (although you may want to hold off a few games before introducing all the stratagems, mind you)
This allocation leaves both Warlords, a Warhound and a Reaver. By giving each side a Warlord, both lists can go immediately to 2000 points or unlock some new maniple selections such as the Axiom for Ignatum, which is another great maniple for new players.
In the interests of keeping list building options open, the Reaver and Warhound should go to Mortis – this will unlock the ability to take a Corsair Maniple which is incredibly fun and versatile, and pairs well with a support Warlord or Warbringer. This doesn't leave the forces at a points parity, but it does give both forces ample choices to vary and mix things up all the while avoiding mirror matches.

Titanicus: The Next Generation
We could seriously keep rambling about different options available, but we hope that provides some ideas along on asymmetric but balanced force compositions for each side. Again, you rule for fostering this next generation of Princeps on their way to Princeps Seniores and we would love to hear back from you on how this go!
Soggy: I think the process/journey would make for a great article, if you're up for it – let us know.
We love it when we hear from readers, so please do get @ us. Thanks again for reaching out, your support and hope you have a blast with Titanicus.
Cheers,
The Warlord Wednesday Team.