Anyone who's played Titanicus for any length of time will know that the matched play missions in Titanicus aren't great. The objectives are lopsided such that rolling a 1-2 on the objectives table makes it much easier to score large numbers of points, and several of the objectives can be a lot harder to accomplish depending on your list. On top of that, the fact that the two players will often wind up with different primary objectives makes this a balancing nightmare, and often winds up giving you a game whose outcome feels pre-ordained from the second you reveal your objective choice.
Enter the Open Engine War Card Pack, which provides 49 cards that you can use to randomly generate battlefields for you and your friends to wage war over. Some of the rules here will be familiar to experienced Princeps, while others are completely new. But are they worth your money? Read on to find out.
What's in the Box?
The Basics
The Open Engine War Card Pack contains 49 cards in five different categories that you and your opponent can use to randomly generate missions to keep things interesting and inject some much-needed variety into your games. First up, there are nine separate Deployment Maps for you to try out. A few of these, like Line of Battle and Strengthened Flank, are similar to maps in the core rules, while maps like Chance Engagement and Staggered Front are unlike anything in the matched play book to date. With how crucial early moves are, changing up deployment zones can really have a huge effect on the game, and this set of maps offers some new twists for you to puzzle out.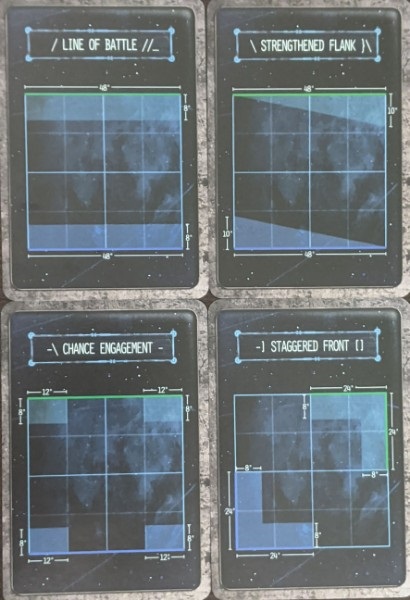 Next up are the six Primary Objectives, which govern the main way you'll be scoring points in the game. Unlike the matched play missions in the core rules, both players score off of the same Primary, which makes things feel a little fairer – gone are the days of praying to the higher power of your choice for a roll of 1-2 on the objectives table during setup. As a bonus, four of the six Primaries on offer here involve Objective markers, so congratulations to all those Lysanda players out there who see their Frontier Guard stratagem go from something utterly pointless to a potentially game-swinging trick.
These objectives are nicely varied, offer 25-30 points, and most can be reasonably scored by both players in the same game. One example of these objectives is Chokepoint, which sees both sides fighting over a single objective in the center of the board and getting bonuses during the game for controlling it, and Wrath and Ruin, which has both players set up three objectives in their own deployment zone, then score points for running over and stomping on their opponent's markers. The different objectives all feel reasonable and will create vastly different experiences from game to game while keeping things more or less balanced by having both players fighting over the same thing. The one thing we're a bit disappointed in here is that none of the Primaries have progressive scoring, so everything hinges on how you set yourself up in that last, decisive round. But given the variety on offer here and the fact that both players are gunning for the same thing, we're broadly happy with how they've shaken out.
In addition to the Primaries, you'll also find twelve Secondary Objectives. At the beginning of the game, each player will draw two, then keep the one they want to play for that game, with both players revealing their choice at the same time. Crucially, since both players draw their two options from the same deck at the same time, it's not possible for both you and your opponent to be chasing the same Secondary. Drawing 2 of these and getting to choose between them also helps to mitigate any massive issues in scoring between your Maniple that you've brought, and the mission you're trying to achieve. They also include rules for Knight Households as well below the Secondary in case that's what you and/or your opponent are playing, as this can change how it's scored.
Secondaries are extremely varied, ranging from more objective-focused play as in Plant the Standard, which requires you to place and defend an objective marker in your opponent's deployment zone, to combat-focused play like Pride in Precision, which gives you points for destroying enemies with Targeted Attacks, to weird ones like Virulent Messenger, which sees you nominating a Titan to carry a viral payload to your opponent's deployment zone and gives you points when that Titan is destroyed based on where it was when it went down. A lot of these Secondaries involve secretly choosing one or more Titans to interact with the objective, which can create some interesting moments, like trying to guess which of your opponent's Titans is carrying their standard to force them to drop it and deny them a few victory points. At 9-10 points each, your Secondary Objective probably won't win you the game outright if you don't play the Primary, but managing it will often be the difference between victory and defeat.
Spicing Things Up
Between those three options, you've got everything you need to put together an incredible game. But what if you want something a little more unique? That's where the last two types of cards come in. Planetary Effects represent the impact of the world you're fighting over on the battle at hand. Whether you're braving incoming artillery fire on a War World, fending off dangerous megafauna on a Death World, or just trying to keep solid ground under your Titans' feet on a Shattered World, the planet you're deployed to will have a huge effect on how your game plays out.
While the overarching planet-wide conditions will impact the battle, there are more factors at play. The Battlefield Effects specific to the patch of earth you're currently engaged in destroying also play a huge role. A battlefield might be shrouded in Mist, which imposes a penalty to hit against far away targets, or your God-Engines may be duelling in the midst of a Lightning Storm, reducing the effectiveness of their voids and potentially overloading critical systems once shields collapse.
Between 10 Planetary Effects and 12 Battlefield Effects, there are plenty of combinations to keep things interesting and it's extremely unlikely that you'll find yourself playing the exact same battle twice any time in the near future. And while these effects are impactful and can have a tremendous impact on the game, they do so in a more or less predictable manner that allows players to meaningfully plan around them. That doesn't mean you don't have to worry about things going wrong at the most inopportune moment – we are talking about Titanicus, after all – but it does mean that evaluating how risky a particular course of action is in light of battlefield conditions is something that can reasonably be done on the fly.
All in all, these cards do an excellent job of injecting a little chaos and confusion into your game plan while still leaving you solidly in control of your battlegroup's destiny. While there will certainly be times when a bad dice roll or some unlucky positioning will combine with the effect on the board to cause you some real heartburn, if you're keeping an eye on the battlefield and adapting your play appropriately, you'll be able to make your way through more or less OK.
The Downsides
Despite how much we love these cards, it's important to recognize that they're not perfect. First, it's not clear how deployment works with them – while the maps for the deployment zones are great, the Core Rules don't have a "default" deployment method, so it's not clear whether you should deploy alternating units or do the "half and half" deployment from Stand-off in the Core Rules. However, since more missions (including the "training mode" Titanic Clash) mission use fully alternating deployment, that's what we did.
Also, while the cards' effects are generally interesting, some of them are less impactful than others – as you'll see in the battle reports below, the Arctic World card has a much more game-defining impact than the Death World card. In addition, there are a few cards that are just completely out there – Shattered World is the prime example, though there are likely a few combinations that could be nearly as nasty. As a result, if you're just drawing a single card and playing it, you could pretty easily wind up with a mission that might be a pain to play. As with anything from Games Workshop that has a narrative element like this, you'll want to do a quick check over the final mission to make sure it makes sense and seems fun. There are some ways to get around that, though, as we'll explain next.
How to Use the Cards:
So now that we know what's in the box, how exactly are these cards used to create a game? Well, there's a reference card included in the box that will tell you how to use them. First, divide them into separate decks, separating by their type (Deployment, Planetary Effects, etc) and then draw a Deployment Zone, a Primary Objective, a Planetary Effect, and a Battlefield Effect. Then each player draws two Secondary Objectives each and secretly chooses one, revealing at the same time before deployment. 
However, a quick glance through the decks and it can be very obvious that by just drawing one out of each can quickly become a very one-sided game depending on what you've brought to the table. So here at Goonhammer we like to play it a little differently, and suggest that you give it a shot on your table (thanks to @joe_paints_stuff for the idea). 
Instead of drawing 1 card at a time, draw 3 cards and have each of the 2 players remove one that they don't want. Roll a D10 each to see who discards one first, starting with Deployments, then alternate between the players for each deck drawn from so that you're left with only 1 of each card from each deck. For the Secondaries, each player will draw 2 cards each and choose one to play as usual. This process helps make sure you don't get caught out and have a bad time due to a bad draw, while still forcing you to adapt to what hits the table.
You could also change how you deal cards in order to create a different experience. A game with more Battlefield Effects might be right up your alley if you're looking for something more chaotic and less controlled, while adding another Secondary Objective per player would open up the scoring and give more opportunities for a player to play around a poor showing on the Primary. The only limit here is what you and your opponent agree to, so feel free to go wild with them!
The Cards in Practice:
We've managed to play a few games with the cards, and they've worked out pretty well. But to give you a sense of how your games might go, we've pulled together a couple of short battle reports to talk you through a few games with these new rules.
Bair vs Deviltree –
Dark Fire vs Imperial Hunters
Bair: Since the moment I saw these go on pre order I knew I needed the cards for games. The matched play missions got boring and the fluffier missions in the books don't suit the pick and play style of gaming that I like as much. Deviltree, one of our patrons, agreed to play a game with me trying out the cards (thanks again man) and it was great fun! Wanted to try something different with Vulcanum and we ended up both bringing a Mandatum, but playing them very differently. 
The Cards

Bair's Secondary- Preserve the Past (chose Warlord to keep from death and damage)

Deviltree's Secondary- Plant the Flag (Warlord carrying banner) 
Bair's Vulcanum Mandatum Battleline Maniple and support – 1500 pts
Warlord Titan – 510 pts 
Princeps Seniores – Swift Killer

Paired Gatling Blasters

Macro Gatling Blaster

Sunfury Plasma Annihilator

Twinned Machine Spirit (with support Reaver)
Warhound Titan – 220 pts 
Vulcan Megabolter

Plasma Blastgun
Warhound Titan – 220 pts 
Vulcan Megabolter

Plasma Blastgun
Warhound Titan – 220 pts 
Vulcan Megabolter

Plasma Blastgun
Support Titan – 330 pts
Reaver Titan – 330 pts 
Princeps Seniores – Dominant Strategist

Vulcan Megabolter

Gatling Blaster

Melta Cannon

Twinned Machine Spirit (with Warlord in maniple)
Stratagems chosen:
Overcharged Cannon

Bloodthirst

War Lust
Bair: I took my Traitor Legio Vulcanum out in the form of a Mandatum maniple with a support Reaver, a list I have wanted to try for a while, since the support Titan for Vulcaum is able to be the second princeps seniores and can pair with a Titan within an maniple via the upgrade Twinned Machine Spirits, it can make for some very interesting options and isn't necessarily worse to have a support Titan as it may seem to be with some other Legios where the support Engine won't benefit from many or any rules. This list plays with 2 Activations, the 3 Warhounds squadron together and the Warlord and Reaver squadron together thanks to Twinned Machine Spirits, potentially causing some downsides late game if one dies. Keeping the Warlord closer to the action is preferable to be able to benefit from the Mandatum's ability so the short ranged weapons work well here, also meaning it will match weapon ranges for the Reaver, which will also stick close by for shield sharing, for some extremely deadly The idea is to give the Warlord's Sunfury the Overcharged Cannon upgrade for 2 Strategy Points, and when using coordinate strikes with the Reaver hits at effectively S13, meaning Critical damage against the toughest hardpoint of a Warlord on a 4+ and even lower for smaller engines. The 3 Warhounds act as a counter to anything that tries to swing around the flanks of the larger engines, easily being able to run to the other side of them to melt whatever is coming in close with plasma and mega bolter fire. 
Deviltree's
Solaria Mandatum Battleline Maniple and Knight banner – 1500 pts
Warlord Titan – 470 pts 
Princeps Seniores – Devoted Servant of the Machine

Apocalypse Missile Launchers

Arioch Titan Power Claw

Sunfury Plasma Annihilator
Warhound Titan – 220 pts 
Vulcan Megabolter

Plasma Blastgun
Warhound Titan – 220 pts 
Vulcan Megabolter

Plasma Blastgun
Warhound Titan – 210 pts 
Vulcan Megabolter

Turbo Laser Destructor
Warhound Titan – 210 pts 
Vulcan Megabolter

Turbo Laser Destructor
Cerastus Knight Banner –170 pts
Stratagems chosen:
Deviltree: The list I put together was going to be my attempt at running a battlegroup featuring a much smaller number of activations that I normally run. I picked Solaria, which gives you a shortcut into this by letting you group up to 4 warhounds into a massive death star.  I also had everything in a Mandatum Maniple so I could stack some pretty ridiculous hti bonuses on things (+1 to hit when in massive 12" of my warlord) as well as the coordinated strike from the squadron.  It also didn't hurt that squadron orders would be a 2+ on a D10 for the group due to the number of titans in it.  The warlord was loaded out with a power fist, a sun fury, apocalypse missile launchers, and burning desire to take overcharged cannons as stratagem.  I also took a banner of Cerastus Knight-Lancers, because even with the points increase, being able to charge 12" in any direction and unload 5 or 6 rending attacks into a Warlord might end up being your best attack of the day.  My grand plan for the list was to push the warlord into the center of the table while sweeping with the warhounds and sending the lancers at his princeps like two spider monkeys.
Of course all of this right out the window when we chose the cards for the open war mission.  We wound up with a really strange deployment zone and I chose to plant the flags as my secondary objective. While the main object for the mission was to simply kill each other, I had a rather daring plan to give my warlord the flag, try some fancy stuff with my deployment, and let the warlord outflank an inch from my opponent's deployment zone, planting the flag while getting personal congratulations from the Emperor himself. 
As the rest of the article demonstrates, do not do this. Concentrate your fire, limit your exposure, and play the primaries first.  I should have chosen to keep my warhounds together, as I was just giving away a free legio trait by not utilizing mine, and double the irony, a squadron of 3 warhounds smote my warlord off the table without having to break a sweat.  However the Cerastus Lancers are worth their weight in gold, they will be featured in upcoming lists.  
The Game:
Bair: Legio Vulcanum met Legio Solaria in the ruins of a dense city block, mist surrounding the area and eerily thick, obscuring the view of the enemy maniple. Solaria was ready, their Warhounds having scouted the area and ready to hunt with their Seniores ready to outflank the Traitor engines where they would least expect it, carrying a vital beacon for the Loyalist forces which needed to be set up in the enemy lines, untampered. Dark Fire had already faced heavy losses and could not afford to lose another venerable Warlord Titan this battle, needing to keep it protected at all costs while also requiring its destructive armament in battle against the Imperial Hunters forces, however it seemed to be an easy battle with less than a handful of enemy Warhounds on long ranging auspex and a small banner of Cerastus Knights. Vulcanum arrived at battle first, deploying 3 Warhounds hard on one flank, all together for maximum shield sharing; the Warlord and the Reaver, taking the other flank hoping for the best. The enemy Warhounds took to the centre alongside the banner of Lancers, trying to hold cover, but feeling brave in the misty battlefield knowing that they were at least partially safer than normal circumstances. 
In the first round, Dark Fire took the Initiative  when long-ranging auspexes provided new information: an enemy Warlord Titan emerging through the mist to join the fight nearest the Dark Fire Warhounds who would need to intercept, far away from the Vulcanum Princeps Seniores'. With War Lust played this gave the trio of Warhounds exceptional movement to meet the coming Warlord. Vulcanum Warhounds moved as one to engage with the enemy scout Titans and Lancers, ready to pummel them with plasma fire and rain mega bolter shells. Two of the enemy Warhounds hooked around the far side away from the Vulcanum Warhounds in an attempt to flank the Reaver and Warlord with minimum resistance, with enough cover in the way for one to be obscured from the two towering Engines even if they turned to deal with the threat, however the other pushed its reactor for locomotors, resulting in overheating and shutting off its own shields with only enough speed to soon be stood directly in front of a Sunfury-toting Warlord. The Dark Fire Warlord and Reaver did turn to face the threat head on, knowing that a flank attack would spell death for them. Solaria Hounds moved to meet the Vulcanum ones, whilst sticking to some cover and allowing the mist to hide them still, the Lancers followed suit in an attempt to move closer for a swift and effective charge in the ensuing turns. However, during the Combat Phase the Dark Fire Engines were able to pull through some luck and hit the Lancers with just enough Plasma fire to kill one of the Knights and heavily damage the other with Vulcan Mega Bolter fire bouncing off of it's enhanced ion shields, too weak to take out the second Knight. The Traitor Warlord opened up fire into the Warhound with no shields and the Sunfury alone left it standing with nothing more than a pair of legs, the first Engine Kill of the game, and a sign of things to come for the Imperial Hunters. 
Round two and the Imperial Hunters stole the Initiative away from the Traitor forces, with a Warlord newly emerging through the mist, the Princeps Seniores setting up against the Dark Fire Warhounds. With this newly arrived Warlord on the flank, the Dark Fire Warhounds pushed their reactors to be able to engage this newfound threat, with one's reactor overheating and causing a shield collapse, thankfully still able to share with another Warhound in base contact. Lone Knight Lancer was able to pull off a long charge against the enemy Warlord, inflicting surprising damage to the body with a total of 5 attacks, however not enough to cause a plasma leak. With half of the threat from the flank dealt with, the Dark Fire Reaver set out to take down the lone Loyalist Warhound while the Warlord turned to start the slow walk towards the Solaria Warlord, wanting the Engine Kill for himself after so easily wiping out a scout titan. The trio of Dark Fire Warhounds wouldn't allow him the chance for glory though, striking hard and fast into the Warlord, easily stripping it's shields with massed mega bolter fire and a few plasma shots, however only dealing moderate damage to its legs and body from the cursed mist's presence. The Warlord turned to answer, however was not close enough to use her mighty power claw yet, only hitting some shields off of the trio of Warhounds. The Dark Fire Warlord smashed its way through the Knight in its way, easily kicking it aside so it could claim its real target. The Solaria Engines attempted to strike back, but the mist that they thought would be an ally in this fight caused them more misses than hits with any weapons this round. 
Round Three truly belonged to Legio Vulcanum. The trio of Warhounds still stood strong and attempted a First Fire order, which failed so traditional combat would be required. The enemy Warlord was not near enough for a charge order and knew it was doomed to death so attempted an Emergency Repair in a last ditch effort to ignite voids before dying, however the tech priests were unable to ignite the shields, leaving it in the open. The Vulcanum Warlord, seeing that the Imperial Hunter Warlord was doomed, decided to turn and face the other squadron of enemy Warhounds, which had been snaking around the ruined buildings towards him, and whilst they were able to drop its shields, there was simply not enough fire power between them to deal any more damage, having used all their firepower to strip shields. Returning fire, the Warlord stripped the shields off of the pair of Warhounds attempting to survive longer by merging them, however it wasn't enough and one of the Warhounds met its demise soon after, the second Engine Kill for Legio Vulcanum. The Reaver saw to the the lone Solaria Warhound, with carapace mega bolter shredding its shields, the melta hitting home nearly blowing its legs clean off, leaving it crippled, the gatling cannon following up but not being able to hit from the thick mist, and nearly losing its own shields from the return fire. The Solaria Warlord saw the Vulcanum Warlord shieldless through thick ruins and mist, ignoring the Warhounds, needing to attempt to do some damage before it died, but was unable to hit once, the crowding cover too much for a clean shot. The three Dark Fire Warhounds swiftly saw to the destruction of the Imperial Hunters Warlord, the third Engine Kill, revealing a beacon being carried by the enemy. 
Round Four went back to the Imperial Hunters however their circumstances looked grim, knowing they would not be able to retrieve the beacon in time and wanting to seek revenge for their fallen sisters in battle. However it was not to be so for the surviving Solaria Engines. They attempted to converge on the venerable Dark Fire Warlord which had personally seen to the deaths of two of their own, however when they saw that it's shields reignited and the first Warhound's attacks simply bounced off them there was no hope left while the Warlord returned fire, claiming it's own third Engine kill, tallying four in total for Vulcanum, and the Vulcanum Warhounds punishing the last remaining Warhound with overwhelming bolter and plasma fire that nothing could have survived, detonating the core of the Titan but being too far from any other Titans for its death to be meaningful. 
Final Score: Vulcanum 40- Solaria 5
Vulcanum walked away, largely unscathed, removing the Solaria threat from this sector of battle, keeping the Warlord Titan alive. However the beacon was left unharmed, to be potentially retrieved for later use by the Loyalist Forces. 
Final Thoughts
Overall the cards had a surprisingly large impact on the game, considering they were actually pretty minor effects overall. The Mist being a 15" range to cause -1 to hit was actually the perfect range to cause that -1 to hit to occur while still being a large enough buffer to not want to stray too close to enemy titans but worrying about getting too close to start being within Short range of other weapons. Plasma Blastguns needing 5's to hit over 15"  before even considering blocking terrain (so usually requiring 6's) meant a lot of scattering plasma shots from both sides. I don't think there was actually a single shot in the game aside from the Knights' charge that wasn't at a negative modifier to hit, and I think that's a great thing. It shouldn't be easy to kill Titans. Unfortunately, the Death World effect only came up once the entire game, as unlike some people (cough cough Condit) we were able to consistently roll 3+ on D10's. The only time it came up was on my own Warlord while it still had shields, only took 1 hit, and the shield saved it. This card was kind of underwhelming; it rarely comes up anyway at a 20% chance, and something called a Death World should be scary.
Condit vs. Bair-
Dark Fire & Red Ice
Condit: I've been itching to play since the moment I got my hands on these cards, and Bair was kind enough to oblige. Going into it, I was a bit worried – the Primary we drew, Acquisition, could honestly have gone either way, and my Secondary Choices presented a tough decision. Ultimately, I went with Make Them Suffer over Martial Pride, since Bair was running a Vulcanum Extergimus and I figured that more than one casualty was probably out of reach.

Condit's Legio Vulpa Ruptura Maniple – 1495 pts
Reaver Battle Titan – 335 pts
Laser Blaster

Reaver Titan Chainfist

Vulcan Megabolter

Disruption Emitters
Reaver Battle Titan – 335 pts
Gatling Blaster

Reaver Titan Chainfist

Turbo Laser Destructor

Disruption Emitters
Warbringer-Nemesis Battle Titan – 395 pts
Princeps Seniores – Dominant Strategist

Laser Blaster

Volcano Cannon

Mori Quake Cannon
Warbringer-Nemesis Battle Titan – 430 pts
Gatling Blaster

Melta Cannon

Belicosa Volcano Cannon
Bair's Legio Vulcanum Extergimus Maniple – 1495 pts
Warlord Battle Titan – 510 pts
Princeps Seniores: Swift Killer

Macro-Gatling Blaster

Sunfury Plasma Annihilator

Paired Gatling Blaster

Twinned Machine Spirit
Warlord Battle Titan – 515 pts
Princeps Seniores: Swift Killer

Macro-Gatling Blaster

Sunfury Plasma Annihilator

Paired Turbo-Laser Destructors

Twinned Machine Spirit
Warlord Battle Titan – 470 pts
Mori Quake Cannon

Macro-Gatling Blaster

Apocalypse Missile Launcher
How It Went
Condit: Our chosen battlefield was an urban area on an Arctic World currently having some seismic problems leading to Geysers erupting in the middle of the battlefield and cutting down our accuracy. We deployed using the Confrontation deployment zone, with me winning the roll-off and opting to deploy second. We each dropped an objective relatively close to our own respective deployment zones next to a building, then set up to take advantage. I put my two Warbringers in the middle and a Reaver on each flank, planning to move rapidly up each side of the board with the Reavers, lay down some covering fire with the Warbringers, and then snap the trap shut in round 3 or 4 and hope to deal some serious damage. Bair deployed all his forces facing toward the middle and I quickly found him staring down one of my Warbringers.
Round 1 started out simply, with me giving both Reavers Profane Blessing and slapping Experimental Locomotors on the one with the laser blaster, followed by Bair giving one of his Warlords an Overcharged Cannon so he could push his Sunfury to a staggering 15 (this would terrify me the entire game). He then played Quake Shells, because of course he did. Thankfully, other than forcing a few void saves, nothing really happened.
I then tried to issue Full Stride orders to one of my Reavers and failed. Great.
Both of us moved forward, with Bair picking up his objective and me opting to unload all my firepower instead. I did some decent work against his voids, but wasn't able to kill anything yet. In return, he plinked a point or two off of one of my Warbringers and collapsed the voids on my gatling Reaver. The geysers we'd placed did a decent job of protecting our Titans, giving us room to breathe.
In Round 2, I dropped a Concealment Barrage in the middle of one of Bair's main firing lanes, further reducing the amount of damage he'd be able to do to my Titans. I then issued Full Stride to both of my Reavers and ran them up the board. My non-princeps Warbringer picked up the objective and opened up with its main guns, but ultimately ended up stopping short of popping anyone's voids and wound up being crippled in return – it turns out a pair of Warlords with Sunfuries making a Coordinated Strike hurts like hell. Thankfully, my Princeps rolled hot and was able to do some decent damage to Bair's voids, putting them in danger of collapsing. And in the "Thank Horus for small miracles" category, one of Bair's twinned Princeps managed to lose control of their machine spirit, causing both Titans to run forwards and pulling them out of base to base.
Thanks to some smart positioning and the fact that I had reactor to spare on my Reavers due to the Ruptura trait and Experimental Locomotors, I was able to get both Reavers 18" across the board and into cover, with both threatening charges into Bair's Warlords. At the top of round 3, I found myself with one easy charge and one that wasn't quite there, and agonized over whether I should blow Bloodthirst to try to secure a kill on one of the Warlords. In the end, I elected not to, which wound up being prescient as I immediately rolled a 1 for my first attempted order of the phase. Instead, I just walked the laser blaster Reaver into within 1" of his Warlord and started revving the chainfist, dealing a solid amount of damage despite the geyser currently erupting under my Reaver's feet. Apparently Titans have some seriously good windshield wipers.
As my other Reaver looped around behind the opposite flank and popped his head out from behind a building, Bair continued to close in. The Princeps I'd engaged with stood and shot at my Warbringer while its twin moved in to set up a charge into the side arc of my Reaver. His final Warlord was able to destroy my Warbringer, leaving me down a Titan and in a bit of a rough spot.
In Round 4, I figured it was now or never, and given that Bair appeared to be setting up for a charge figured that his final stratagem likely wasn't Vox Blackout, and so declared Bloodthirst. Bair responded by confirming my suspicion and playing a Bloodthirst of his own. Both my Reavers got Charge orders, as did one of his Warlords. The fire-support Warlord and the one I'd injured both set up to fire at my remaining Warbringer in an effort to bring it down. I continued to place my geyser where I'd set it up all game: right in front of my Princeps in an effort to keep it alive as long as possible in case I needed Dominant Strategist. Meanwhile, Bair dropped his overlapping his wounded Warlord and my Reaver, no doubt hoping that it'd buy him one more turn.
It's here that I threw Bair a bit of a curveball. At a quick glance, there were basically two options here:
Charge the fire-support Warlord with my gatling Reaver.

This was the "obvious" choice, as I thought I was likely 9"-10" away and could pop

Unbridled Hatred

to get a frankly unreasonable number of attacks on the charge, giving me the chance to pick up a one-weapon engine kill and set me up to run in on the wounded Titan. However, if I did this, I'd be leaving my other Reaver exposed to a 6" charge from his Warlord into my side arc, which would all but guarantee a critical hit on any attacks that got through, and with him having

Bloodlust

active he'd be hitting called shots on 3+s. This means I'd probably lose my laser Reaver and be left with my Gatling Reaver caught between two Warlords. Giving up board position like that could be disastrous. 

Resolve the laser Reaver's charge against the wounded Warlord.

This one was less desirable. The wounded Warlord was already on its last legs, and I'd almost certainly be able to take it out even in spite of the still-erupting geyser we had apparently decided to hang out in thanks to the chainfist's +2 accuracy. However, if I did that I'd

still

be open to the counter-charge from the twinned Warlord, and the fire-support Warlord would move away, almost certainly putting it out of range of a charge. The upside here was that when one of the Princeps dies, the other one has a chance to just flat not activate when its turn comes around. This risk was too high as well.
I agonized over this for a few minutes, honestly, and eventually realized that if I was going to win this game, I'd have to make the difficult but smart play.
I'd have to choose Option Three.
3. Charge the wounded Warlord's twin with the laser Reaver. I'd left myself just enough room to make a small turn before moving, and was right around 6" away from the other Warlord. If I made the charge, I could get out of the geyser, pick up two extra dice on my chainfist, and, with any luck at all, pick up the kill at the top of the Combat phase. As a bonus, this Titan was holding Bair's objective and was right next to a building I could hide behind. If he wanted to line me up with his wounded Warlord, he'd have to move out of arc, making it harder for him to draw a good firing solution, and his fire-support Warlord wouldn't be able to draw line of sight due to the intervening building. This meant that the fire-support Warlord would get away, but my Reavers were faster and still had another turn of movement to try to run it down.
The plan went off without a hitch. My Reaver made contact and put Bair's Warlord on the brink of death with a single swipe of its Chainfist. He moved his fire-support Warlord to avoid the second charge and I responded by unloading with my first-firing Warbringer. The rest of the round was somewhat ineffectual. His (first) wounded engine backed up in a desperate effort to take out my Reaver before the Combat phase, and was barely able to get me in arc. Meanwhile, my other Reaver moved to get close enough to hit the fire-support Warlord with its chainfist on the charge.
The Combat phase went nearly perfectly. The first Warlord went down, and my Reaver and Warbringer knocked down voids on another. Unfortunately, his fire-support Warlord managed to get a quake cannon shell through my Warbringer's voids, slowing it down and really throwing a wrench in my plan. I originally intended to Full Stride it back to the second objective as insurance against my Reaver dying behind enemy lines, but was concerned I wouldn't be able to do it at half speed.
Round 5 was, as most final rounds are in Titanicus, fairly perfunctory. My gatling Reaver charged Bair's fire-support Warlord and promptly cut it in two with a respectable 7 Vulpa chainfist attacks. His Warlord charged my Reaver, but with his Bloodlust having worn out the 5+ WS wasn't enough to make anything happen. My Reaver responded by moving most of the way behind the nearby building and picking up the objective, and the rest of the Combat phase wound up being a wet fart.
The Result: Vulpa Wins 15-0
Unfortunately, my Warbringer wound up just outside 6" of the objective on my side of the board, so I was left with 15 points rather than 22. Neither of us scored any secondary points – Bair failed to kill my Princeps or his oath target, and I "accidentally" murdered the two Warlords I was supposed to be leaving structurally compromised. "Whoops."
One thing that's hard to describe in a written batrep like this is just how impactful the Planetary and Battlefield effects wound up being. Venting heat on a 3+ meant that Bair could dump heat into his Extergimus trait with near impunity, and the geysers helped keep my Titans alive long enough to allow me to close and carve up his Titans. And while we didn't do that great of a job playing the secondaries, the Primary objective forced us both to move in and fight in a way that many players are often reluctant to do when they're staring down a Vulpa battleforce.
But perhaps most importantly, the mission felt fundamentally fair. Unlike games in the core rules which often feel a bit unbalanced, sharing the primary objective not only meant that we were trying to do the same thing, it meant that we were contesting the same areas and making plays to dislodge one another from certain spots. And once we got there, it was a slugfest. The combination of reactors running cool and only repairing critical damage on a 6+ meant that any time a Titan's voids collapsed it was in serious trouble. I felt like I was riding the razor's edge all the way through the game, sprinting from behind a building to the cover of an erupting geyser, then ducking back behind something less ephemeral before the next round left me exposed. All in all, it was a great game and I can't wait to break these cards out again.
Start Your Engine( War)s
All in all, we're huge fans of the Open Engine War cards. They fix what is honestly one of the few really glaring problems that Titanicus has suffered from to date by providing excellent replacements for the matched play missions, and offer some great customization that will keep things fresh and interesting for you for years to come. If you can get your hands on these cards, snap them up ASAP.