First awarded in 1979, the Spiel des Jahres (German for "Game of the Year") is an annual prize awarded to "analogue tabletop games in German-speaking countries," chosen based on their concept, rules, design, and presentation. It's the boardgame equivalent of an Academy Award. If you've ever wondered why or how Germany became an epicenter for modern board games, the Spiel des Jahres is one of the major reasons – even a nomination can immediately put a game on the map, and winning the award will typically catapult a game to millions of sales. If you fancy yourself a board games player it's almost a certainty you've played at least one Spiel des Jahres winner and you've likely heard of several more. Your next favorite game may be one of this year's or last year's nominees.
So in that spirit — and in the spirit of March Madness, the annual NCAA Division I Men's basketball tournament — we've put together a seeded "competitive" bracket of 40 Spiel des Jahres winners since the award's inception and are prepared to spend the next week arguing about them until we arrive at a hypothetical winner. Or at least talk about every game on the list.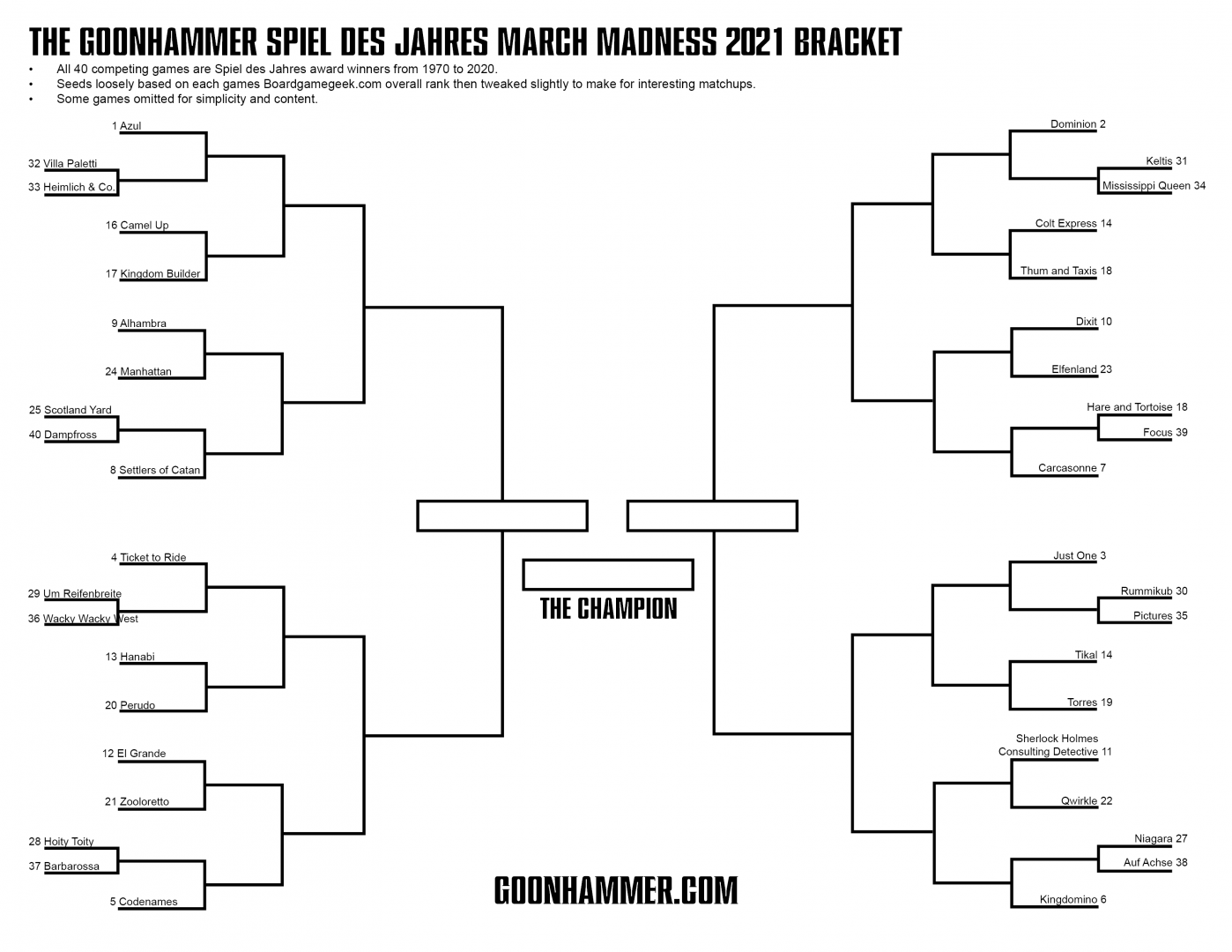 What Makes a Spiel des Jahres Winner?
From their website, the jury cites their admittedly subjective criteria as "those games that seem best suited to promote the cultural asset of board games in society."
Based on the list of winners, there are certain things the award favors; first, winners are primarily family-friendly games, and they tend to be on the simpler side. The committee started awarding complex games their own dedicated award in 2011—known as the Kennerspiel des Jahres. The Kennerspiel des Jahres (or "Connoisseur/Expert Game of the Year" in English) is less family-focused and rewards games that are focused on creating more of a challenge. These tend to be "gamer's games" such as 7 Wonders or Wingspan. 
There's also a bit of a preference for lighter games that focus less on direct conflict and are more approachable (which is probably better for families who don't hate each other, we must admit). Also, there's a good chance they're also modeling some period in European history. Spiel des Jahres judges love games where the concept is something like "you're a cobbler trying to source leather to make saddles for armies fighting in the Hundred Years' War."
So join us over the next week as we walk through these 40 Spiel des Jahres winners and talk about what makes each of them so special and why they might deserve the nod as the best Spiel des Jahres winner of all time. Feel free to download our bracket and follow along, or pick your own winners. We thought about doing voting for each round but while there's a good chance you've played at least one of the winners, you probably haven't played half of them and so a large-scale voting competition would just lead to the most popular game in America winning and several of our Turn Order writers would be livid if Catan won.
Next up:
The play-in brackets
Join us tomorrow when we start to cover the play-in brackets in our Northwestern conference (the upper left bracket) and talk about which of those games deserves to make it into the real tournament bracket. Then check back every day as we talk about the four games in the tournament and what makes them great.
Have any questions or feedback? Drop us a note in the comments below or email us at contact@goonhammer.com.