It's a whole new year, and your army is likely to see some changes. Goonhammer is here to help, with an unbiased preview of every army, how it plays, and what to expect. We'll be covering each codex with the deep detail you've come to expect from our worst writers, based entirely on whether we play it or not, or how stupid the army is conceptually. We'll do Xenos and Chaos later, but first off, because it's all any of you play, we have the Imperium. Also, we've roped James "One_Wing" Grover into this endeavor to ensure that it's moderately informative as well, speculating about what we've seen on some of the previews.
Part 1: Armies of the Imperium
We're starting off with the armies of the Imperium, ensuring that the first chapter of this series will be the most read by far, when twelve thousand of you show up to skip to the blurb about Space Marines and then peace out for the rest of this series. Strong content planning here at Goonhammer dot com.
Adepta Sororitas
What's their deal?
The Adepta Sororitas, or Sisters of Battle as they're more commonly known, are the militant arm of the Imperium's church. Which is a little surprising if you didn't realize that the Imperium had a church that was distinct from its central government since it seems like space marines are already fanatical church warriors. Anyways the Adepta Sororitas have been pretty solid since they got a complete overhaul and new models last December and are absolute fire in 9th edition, as a top-tier army in the right hands.
What are the good units?
There are so many good sisters units. Seraphim, Retributors, Repentia, Celestine, the Triumph, hell even the Battle Sanctum is a top-tier pick, making Sisters the only army in the game with a building worth fielding. Strong "bring your church to work" energy with the Sororitas.
Wings: Honestly this list could be longer, this army is so strong right now it's unreal. Mortifiers and the general high quality of the humble Battle Sister need a shout out too.
How much will you hate painting this?
Rob: Not a ton, to be honest. Sisters have relatively small models and don't have a lot of trim. The vehicles can get really complicated though, and I suspect painting the Triumph of St. Katherine is an ordeal, but you only have to do it once and you also don't have to do it at all. You may have to paint a building, though.
Greg: I largely agree, and the new models are gorgeous, but I think about painting multiple Exorcists and even the new Sisters Rhino, and I have to re-consider.
Wings: I'm going to dissent here – the idea of painting an army of these terrifies me, because the infantry are at least reasonably detailed and you need lots of pretty much whatever you're packing.
Rob: Now that's just coward talk.
What's Happening for them in 2021?
The Adepta Sororitas don't need help and yet they're the only upcoming faction besides Death Guard for which we've seen a full preview of their upcoming model, with the Palatine getting a release in the very lady-focused "PIETY AND PAIN" boxed set that also shows off the new Lelith Hesperax model. It's a pretty safe bet we'll see a codex update for them in 2021, but even if we don't, that Palatine will get new rules.
Wings: Yeah so GW quietly slipped at least one of those rules into the bottom of one of their roundups about Adepta Sororitas – the Palatine is apparently a "fighty character" but more importantly has a juicy, juicy lieutenant aura:

This will, bluntly, launch Sisters into even dumber heights of power, as it goes incredibly well with both multi-meltas and Repentia. Fun stuff, unless you play any other army and like winning.
Rob: This is an interesting rule. Firstly because it's super strong and secondly because It tells me that "GW are likely to redo her rules to add a CORE restriction in there" but also that "a new Sisters Codex is far enough away that they can't just plop a useless CORE keyword restriction in there for a codex that doesn't have it."  Can't wait to see this model in the backfield yelling at Exorcists to shoot angrier. Hell, even after she gets the CORE restriction, she'll be crazy good.
Do you want to play this?
Rob: I mean, I already have about 1,200 points of Sisters waiting to be assembled and painted. So, absolutely yes. The models for this army are dope as hell and I love that they're good. GW did a thing right here.
Condit: As an American, any army that lets you run a parade of gun-toting fundamentalists down the middle of the table is one that I am here for. Bringing the Triumph is like playing Space Mardis Gras, The 40k List, except instead of throwing beads to drunk tourists the participants are tossing explosive ordinance at screaming heretics. I bet their King Cake even has a krak grenade in it.
Wings: This army is probably highest on the list of those I desperately want to play and know full well I would never manage to get painted up.
Rob: That's because you're a coward, Wings. Paint the sisters.
Adeptus Custodes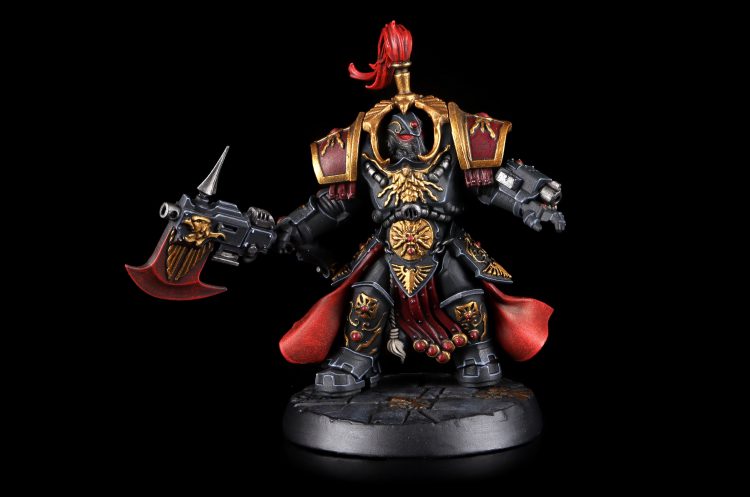 What's their deal?
Somehow even more genetically superhuman than Space Marines, the Custodes are the guy she told you not to worry about to the Space Marines' you, even after you got that sick Primaris upgrade and a fly new haircut. The Custodes were kind of OK at the end of 8th but got a big boost from 9th, where it turns out that very durable all-rounder units that can move a lot, shoot well, and fight like hell are good now, actually. They've got a few things that keep them from being absolutely top tier – mostly they can't consistently seal the deal against some of the better armies – but they're probably the cheapest entry point to competitive 40k right now since while their units aren't cheap you can build a competitive army with like two dozen models.
What are the good units?
Vertus Praetors are pretty good, and Custodians are just fine. There's also probably some good units in the Forge World arsenal for Custodians, if you really want to spend money.
Wings: One of the reasons why Custodes are such a good entry point is that while the best builds make use of Forge World stuff, lists that just use the mainline plastics can still compete. Slamming together some sword/shield Custodians, a block of Allarus and a block of bikes is a real list that can win games. Once you build up the financial reserves to justify crossing the resin rubicon, Venetari, Aquilions, Sagittarum and many of the vehicles are all reasonable adds.
How much will you hate painting this?
Rob: That's going to depend entirely on how much you spend on Forge World units. Basic Custodes? Whatever. Prime those with Retributor Armor, coat in Agrax, then hit the details. Miss me with that whole "scrubbing release agent off an entire hover tank" shit though.
Wings: Yeah these are definitely the opposite of sisters for me where, honestly, if we hadn't spent the first six months of 9th in lockdown there would have been even odds that I'd have tripped, fallen and built an army of these by accident.
What's Happening for them in 2021?
No idea. We haven't seen much about them in any previews but they're broadly fine anyway. This is probably one of the few situations in 9th where you're better off trying to make things work with the army as-is than roll the dice on a new book. Either way, they will continue to look magnificent and not at all ostentatious as hell decked out in gold from head to toe. 
Wings: I think these will feel a bit fresh over the next few months as people start to lean in to the options the new Imperial Armour Compendium has powered up, and it wouldn't shock me to see them get something new this year because their options in that book got the CORE/not CORE treatment while other factions didn't. That could, of course, be a cunning bluff to throw us off the scent, something that GW definitely care enough about our wild speculation to do.
Do you want to play this?
Rob: I personally don't care much for the Custodes but I wouldn't rule out ever picking up an army, either. If a boxed set came along that was like Black Legion vs. Custodes, that'd probably kick-start my Custodes army.
Greg: Custodes are the army where you plug them into BattleScribe and marvel at how a single $60 box of Custodian Guard can make a legal Patrol detachment, and then forget about them when you see that two-thirds of the range is ForgeWorld.
Wings: Kinda? If the new Necron book hadn't stuck the landing I'd have probably brought in, but in the world we live in I have a busy schedule assembling an undead legion.
Adeptus Mechanicus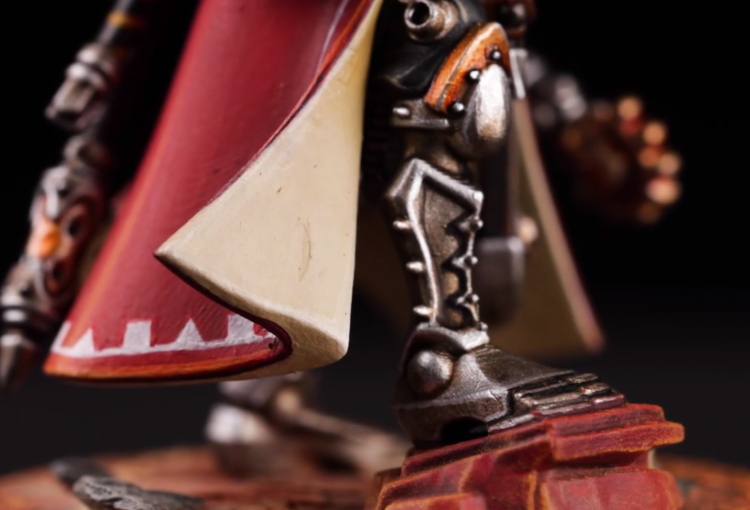 What's their deal?
The shop kids and AV club dweebs of the Imperium, the Mechanicus are the end result of letting the nerds who write essays fawning over the singularity have power in a society. In a stunning twist, playing this army will result in the nerds taking your lunch money. The Adeptus Mechanics were alright in 8th but not amazing, then they got a huge boost with Engine War and came into 9th edition swinging. They're solid competitively with a lot of cheap, efficient units. They're also possibly the most expensive army in the game to actually play.
What are the good units?
Bird-men! Horse-Dogs! Plane-Bats! Tank-Dudes! There's a ton of wet and wild bullshit with this army, and you will have the kind of shooting that everyone seems to think T'au get.
Wings: Honestly tonnes of options here. The Skorpius chassis still turns up in a bunch of lists, Kataphrons are great, and the horse-dogs are hyper efficient.
Rob: I hate playing against Canticles so much. Feels like I'm getting shot at with S+1 heavy weapons all game, every game until I need to shoot back, and then Shroudpsalm is somehow also active.
How much will you hate painting this?
Intensely, like lowering a garage door on your toes. Mechanicus represent one of the worst ratios of both points-per-model, dollars-per-point, and detail-per-model in the entire game. Everything is densely detailed, and as shockingly cheap points-wise as it is expensive dollars-wise. Make your peace with regularly spending $300 and 40 hours to paint a 150 point unit.
Wings: When we did our Engine War review in late 8th I worked out the RRP for the 2,000pts army I wanted to run out of the book and had to go and have a little lie down. 9th has helped a bit, but not as much as you might think because of Kataphron spam being a real thing.
Rob: When Pendulin did our "Getting Started: Adeptus Mechanicus" he struggled like hell to make a decent 2,000-point army that cost less than a thousand dollars to build. It was as hilarious as it was sad.
What's Happening for them in 2021?
Definitely something. The big 40k preview in Q4 showed off an Admech model and the rumor engine had something that might have been an AdMech model, so we're looking to get at least one new model and potentially more for the Admech next year, plus we know they're a key part of the upcoming Charadon campaign book, with new rules to come there. Whether they have a full codex coming or will have to make do with another campaign supplement is anyone's guess, but we're leaning toward "new codex." At the very least, this is likely to help Admech players cut down on the number of books they lug around.
Do you want to play this?
Admech have really kind of become the go-to army for T'au players who want an army that feels kind of like what they were used to playing but doesn't suck complete ass. So if that's you, then yes. They're certainly not a bad pick, but they are an expensive one.
Wings: Amazing what a few decent melee units can do for you huh. Give the Kroot a Gundam, GW.
Rob: I'm gonna pass on these for the aforementioned "dollars-to-points" ratio issues, but as a huge Chaos shill, I'd obviously jump overboard for a dark mechanicus release.
Greg: Every single thing about collection, painting, and playing these sounds hateful, but on the other hand their fluff is basically the cool version of Iron Hands. So, yeah, I'm guessing most of you want to go full sicko mode here.
Astra Militarum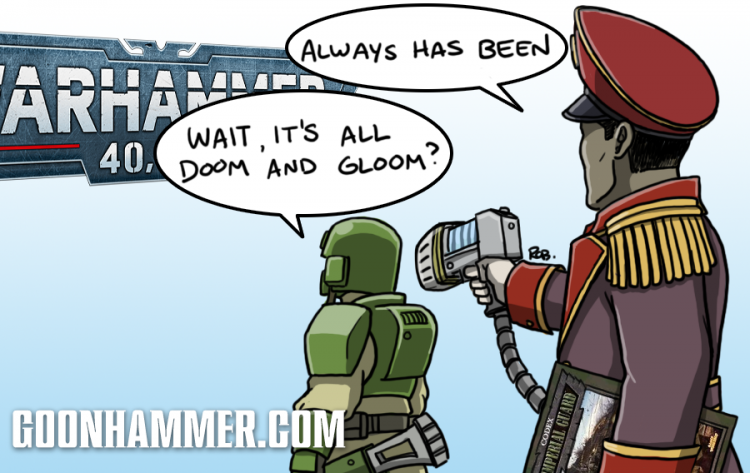 What's their deal?
The fighting men and women of humanity's million or so worlds, the Astra Militarum (or Imperial Guard, to those of you who have been playing long enough to smugly bring up shit about armor values and vehicle facings) are in a rough space in 9th edition. That 5-point floor is an absolute killer for guardsmen, who are too fragile and ineffective to be worth 5 points, especially in a 2-wound marine world. On the other end, their old standby strategy of "take enough tanks to turn half the table into a parking lot" just means they're giving away free max points for Bring it Down while still somehow lacking the mobility and staying power to hold objectives. It's a bad time to enlist, is what I am saying.
What are the good units?
I hope you like painting plasma guns. Some of the better Guard builds revolve around triple plasma veteran squads. And since they don't have many good melee units, your options for what they can take to shore that up are basically "Death Korps Death Riders."
Wings: It should be stressed that the basic core of "three Russ Commanders, two Manticores and some infantry" to build around has only sunk as far as "just about OK" rather than being outright terrible, so if you're starting out that's probably still where to go.
How much will you hate painting this?
Rob: Tanks are fun to paint, particularly if you're living that airbrush life. Guardsmen, not so much. There's a lot of them to get through and while they paint up pretty quick, the basic Cadian models are roughly 20 years old now. The good news is you can mostly get by with an army of all Militarum Tempestus these days.
Greg: Basecoat, wash, possibly highlight. You ever do that thing where you're painting a model and something looks too hard to do properly, so you tell yourself "eh, its a 12 point model, I'm not going to stress", and you just decide to do it wrong instead? That's every model in a Guard army. You will never have to care about anything. It's honestly liberating.
Condit: If you're not averse to batch painting infantry, Guard can be fun – big chunks of infantry that fall off of your painting bench into your list at the fastest rate you're comfortable allowing them to, plenty of armor to flex your skills with weathering, camouflage, and bespoke markings, and a handful of characters to put time into so they stand out amongst the hordes of nameless Guardsmen.
What's Happening for them in 2021?
Right now? Nothing, as far as we can tell. We've gotten enough glimpses of preview models so far to have a guess at stuff coming out in the first half of 2021, but right now it looks like Guard will be waiting more than 6 months for an update unless they get a boost from a campaign book.
Do you want to play this?
Rob: God no. The Imperial Guard mix two things I hate in 40k: Old-ass models and having to paint a ton of them.
Wings: If I want to weep over a once great combined-arms force now reduced to mediocrity, I'll get the elves off the shelf.
Greg: Tokyo Drifting a Demolisher cannon around the table is a fun party piece, but you absolutely bleed points everywhere due to all your ObSec units being, at best, chaff. Seems bad.
Imperial Knights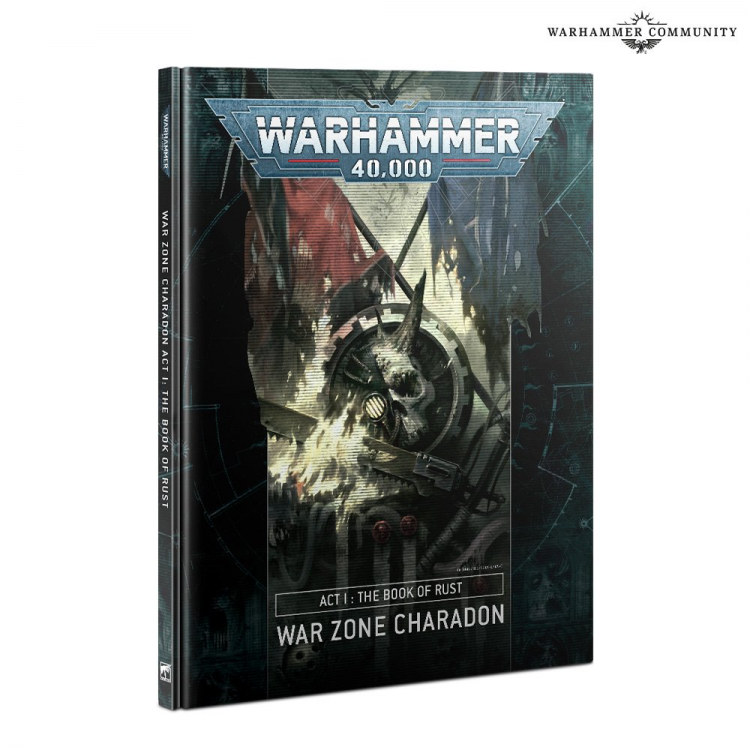 What's their deal?
Fee-fi-fo-fum.
Knights are the Imperium's upper-class pricks, a class of idle rich kids who pile into their big robots with big feet and go kick the everloving hell out of the lumpenproles in their ATVs and trucks. Play a whole army of guys whose dads own titan dealerships. The good news is that on the table, they kind of stink right now – 9th edition's rules and missions just don't really work for them.
What are the good units?
There's basically three units in the book and two of them are good. The large Knight caught a nerf for the ages and kind of recovered, but the game has just kind of left these guys behind structurally. As a standalone army they're the lowest model count you can get but also that's not necessarily a good thing in a game about controlling large areas of the board.
Wings: You absolutely should be souping these if you want to run them, at which point they're kind of nearly there. The Knight Castellan is back to being pretty legit too.
How much will you hate painting this?
Well the good news is that you're only going to be painting 5 or 6 models, tops. The bad news is that, ah, the model is one of the largest and most expensive this side of ForgeWorld. The opportunities are there to go hard in the paint, but even a half-assed Knight army is still a sight to see.
Wings: …or if you like spending even more money, don't forget that some of the Forge World options are pretty legit now! Also, Serberys Raiders are plausibly the best thing to soup with them, which if you refer back to the AdMech section, has got to be some kind of sick joke.
Greg: Are you absolutely certain you aren't planning to start Admech? You're bringing them up an awful lot, for a guy who isn't interested in them.
What's Happening for them in 2021?
Rusting, mostly. The Imperial Knights are major players in the Charadon campaign, and will be getting new rules there to ensure that your "books needed to play" count goes from 3 to 4 with the army. So they should see a boost in early 2021, at least.
Wings: I'm honestly optimistic, I don't think they need much of a boost to get there, so as long as the Charadon book hits the same high quality as Engine War did, they should be golden.
Do you want to play this?
No, you want to play Titanicus. 
Grey Knights
What's their deal?
The muscle wizard Space Marines, these silver-armored nerds specialize in being psychic and fighting daemons. Neither of these is as cool as it sounds when it comes to playing an army in Warhammer 40k. They're overdue for an update to give all their models an extra wound, but, like Chaos Space Marines, are stuck waiting for a new codex for it to happen.
What are the good units?
Paladins, which are 3W terminators. "But everyone has 3W terminators!", you say. Well, Grey Knights don't. They're still on that 1 wound marines bullshit. They also don't have Primaris marines, and are likely to never get them. Your good units are uh, Land Raiders, I guess?
How much will you hate painting this?
Minimally. The sculpts are good, and from before the era where GW went completely batshit with dangly bits and extra detail. Also, much like Custodes, these are a "spray metal, wash, pick out details" army, and a low-model-count one at that.
Wings: There is literally a paint called "Grey Knight Steel" for base-coating these. GW giving you a real layup there.
Condit: Grey Knights really hit the sweet spot between enough detail to have fun with but not so much that you look at one on your bench and immediately start thinking of how badly you need to mow your lawn.
What's Happening for them in 2021?
Greg: Haha hopefully nothing. I got tabled by these guys game 1 at NoVA last year, and I will die mad about that. 
Rob: Right now the outlook isn't great – we haven't heard much resembling news for these guys and it's unclear what the future for them even looks like. It seems incredibly unlikely they'll be able to go on forever without Primaris models – I'm of the mind that Games Workshop has injection-molded their last wide-release small marine – but a whole new range for these guys is a big order and it doesn't seem like they can be a supplement, though it'd be hilarious if their chapter tactic was just to make all your units PSYKERs so you could eat shit to Abhor the Witch.
Wings: If any faction is going to cause a u-turn on the "no extra wounds till your book" thing it's probably these guys, they just flat cannot compete with the turbo-charged infantry options Marines are now packing. The fact that the melee build that was best on the infantry in 8th is now wildly overcosted due to what still looks like an error despite it being unfixed for 6 months is also morbidly hilarious.
Do you want to play this?
Absolutely not.
Space Marines
What's their deal?
They are space marines. If you are even tangentially interested in Warhammer 40k, you've at least absorbed what Space Marines' deal is via osmosis. They just got a new codex, less than a year after their prior one. And they'll get another one before this edition is over.
What are the good units?
Fuckin' space marines. There's like 130 datasheets in that stupid codex and maybe 8 of them are truly bad. Space Marine units primarily range from "game-warpingly good" to "extremely playable if there weren't another two or three better units that do the same thing in the book already."
Greg: What I love about the above comment is that "fuckin' space marines" is both an exasperated sigh, and also a pretty accurate description of what the good units in this book are – literally the good units are the fuckin' space marines, all of them.
How much will you hate painting this?
That's on you. Space Marines range from 20-year-old tanks to overwrought bespoke characters that were sculpted by a psychotic AutoCAD macro, in colors from blue to yellow to checkmarks. You can make yourself as miserable as you want here, or be a normal person and just contrast the damn things.
What's Happening for them in 2021?
Greg: I say this with absolutely no foreknowledge or rumor-milling, but: I 100% guarantee that Space Marines are getting a codex, new supplements, a Crusade update, or a massive box set sometime this year, and it will be chock-full of the most busted bullshit you have ever seen. This is the safest bet I have ever made, I cannot lose. 
Rob: They're definitely getting at least some of those things. Past Dark Angels in Q1 I expect we'll see something for Black Templars before too long, since they'll be the only chapter working off an Index document and that's free money for GW to pick up by publishing a new book. There's also no way the 8th edition chapter supplements don't get updated at some point, but maybe that'll wait until 2022. They'll also get multi-pose kits for things that were previously in the Indomitus box but still haven't been released, like Bladeguard Veterans, plus units that haven't been released yet for some reason, like Heavy Intercessors and the Big Landspeeder. Meanwhile Berzerkers, most Aspect Warriors, and Cadians all have kits old enough to buy a pack of smokes.
Do you want to play this?
Statistically speaking, you already do.
Blood Angels
What's their deal?
Dracula Marines. One of a half-dozen combat-oriented chapters, entirely interchangeable. These are the red ones with daddy issues.
What are the good units?
A rare hit from GW, one of the few chapters where their Specific Guys are the ones you actually want to be using. Sanguinary Guard are fun, Death Company Incestos can drop a horrifying number of attacks, and regular Death Company rocking combat upgrades and jump packs will put the fear of god into just about anything.
Wings: Don't forget that they have a Wizard Robot, who is even good.
Rob: The wizard dreadnought is so good it makes me angry that the Thousand Sons don't get one.
How much will you hate painting this?
It's fine. The red contrast paints are some of the best in the range, if you want to go that route.
What's Happening for them in 2021?
Nothing far as we can tell, which is what they deserve.
Do you want to play this?
Greg: Eh. I'm gonna level with you: this article is taking forever to write. As far as marine chapters go, you probably already have one, or at least an idea of what you'd want. Look at pictures of the models and read Your Legion Sucks, but if the idea of chainsawing yourself to death is up your alley, sure, why not.

Rob: Going Blood Angels is the coward's route. Real heroes play Flesh Tearers.
Dark Angels
What's their deal?
The space marines who are really into swords and robes and turning their vehicles into flying churches. Dark Angels are one of two major Space Marines chapters that hasn't gotten its own supplement in 9th edition, but the Dark Angels are currently enjoying a renaissance thanks to some powerful rules in the Index GW published for them. They were set to get a new Codex in January, but now that may wait until February or March. Probably March, just to piss Greg off.
What are the good units?
Deathwing and Ravenwing are both good as hell right now, but for different reasons. Specifically you're gonna want to build around anything with the INNER CIRCLE or JINK keywords, but Azrael's 4+ invulnerable aura isn't getting any worse.
Rob: That feels like a real monkey's paw statement, given that it used to work on vehicles.
Greg: Yeah, but it's done getting worse now. Probably. Hopefully.
How much will you hate painting this?
Greg: I've mentioned this a bunch of times, but the best thing about Dark Angels is that they have three completely different color schemes that you can suck at. So if you hate one, try a different one and hate that instead.
Rob: Used to be you could get cans of GW primer for all three colors of the army but they don't sell Caliban/Dark Angels Green as a spray any more so now you'll have to settle for Wraithbone or Zandri Dust for your Deathwing and actually painting the green basecoats on your regular Dark Angels. Still, for a chapter called the Unforgiven, they're pretty forgiving when it comes to painting, am I right?
…I'll see myself out.
What's Happening for them in 2021?
The Dark Angels are set to receive a new Codex early in 2021 and if recent trends from the Space Wolves, Deathwatch, and Blood Angels are any indication, it'll hew closely to what we've seen from them in the Index document. Which means that:
Dark Angels will be straight

fire

Greg will continue to lose all of his games with them
That said, the only preview we've seen for the new book shows off Crusade rules dealing with enemy units of FALLEN so there are at least some really bad rules in the thing.
Do you want to play this?
You absolutely do. Dark Angels are, and in fact always were, the coolest marines, and the new Index PDF rules are outrageously good. If even half of this bullshit survives into the codex, you can expect to see them falling out of the warp to appear on tables all over the place.
Rob: The only certain thing about this Codex is that it'll spark half a dozen "Hear Me Out, Cyle" articles, each with a premise more insane than the one before it. I am extremely here for this level of nonsense from Chase, who has already been On One about his Outer Circle list.
Deathwatch
What's their deal?
The alien-hunting specialists of the Space Marines, who are even more elite and and even specialized. Their primary calling card is having cool black armor covered in a quantity of pouches only adequately described as "Liefeldian." They've officially become A Real Boy chapter in 9th edition, moving from a tiny, half-baked codex to a tiny, fully-baked supplement, giving them about a hundred new units to play with. Their rules are currently all about building insane mixed-model units that exploit poor language choices on the part of the 9th edition rules writers. They're also decent now.
What are the good units?
The Deathwatch don't have great units of their own per se (though veterans are pretty neat) but rather specialize in the ability to mix and match units to create mixed units that can get pretty silly thanks to how their rules work. 5-model Outrider squads. Obsec Eradicators. There's a lot of hilariously dumb stuff you can do but whether it actually amounts to a good army or just a mediocre one is anyone's guess at this point. For a number of reasons, new Deathwatch haven't seen a ton of tournament play, and it's tough to tell if the tricks they can pull out with mixed composition units are better than just being as insanely fast and strong in melee as White Scars, Blood Angels, or Space Wolves. Smart money says there is at least one good build for them though.
How much will you hate painting this?
Rob: Deathwatch are pretty fun, actually. Painting black armor kind of sucks but you can do a lot of fun conversion work and there aren't that many models to paint overall. Would recommend.
Greg: It's tempting to paint each model as a different chapter, really lean into that individuality, but consider that a more hilarious – and thus, by the tenets of Robertology, superior – option would be to give them all shoulder pads from the same chapter.
What's Happening for them in 2021?
Probably nothing. They already got a new book, so it'd be surprising to see them get something else again so soon. Hopefully what they got is good enough to hold them over until the next Space Marines codex release, which we hope is well into 2022 and will instead probably be in like July.
Do you want to play this?
Rob: Yeah. I mean, I already do play Deathwatch sometimes, so why not.
Greg: I think the two main types of Deathwatch player are galaxy-brained lunatics who want to run 30 Eradicators, and weirdo modelers that love the customization of them. If you're either of those, you might want these guys. Shine on, you crazy diamond.
Space Wolves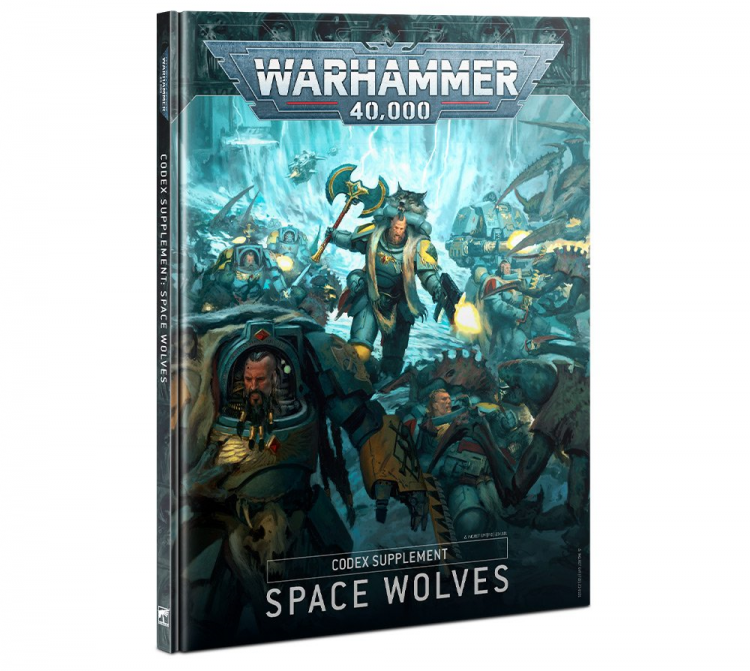 What's their deal?
Viking werewolves.
What are the good units?
Thunderwolf cavalry, if you want to lose all your friends due to min-maxing. Wulfen if you want to lose all your friends due to being a dork-ass herb. Anything else if you want to lose all your friends due to them clowning on you mercilessly.
How much will you hate painting this?
Greg: You won't hate painting them, but you're probably going to hate what you've done when you see the results.
Condit: The Space Wolves conversion options are honestly some of the best bits of any marine kit, and you can make some really cool models out of them. Bashing the Space Wolves Pack box together with a Devastator box or two will make some phenomenally characterful models that look rad as hell on the table.
Rob: Yeah but they're still Space Wolves.
What's Happening for them in 2021?
Hopefully nothing.
Do you want to play this?
Awuuuuuuuuu
Next Time: Chaos
That wraps up our preview of Imperial armies for 2021; join us next time for a look at Chaos armies, which will involve fewer flavors of space marines, but worse ones, and still more than we want to write about. Otherwise, if you have any questions or feedback, drop us a note in the comments below or email us at contact@goonhammer.com.