Adepticon 2023 has come and gone this week, and with it one of the first significant events for Conquest since the 2.0 edition was released earlier this year. Despite being only a very recently released army with a limited initial roster, City States took home the trophy, and we'll be looking at all the top lists (everything that went 5-1 or better) from the event and how they performed. 
Big thanks in particular to both Ben Rislove and Karl Swanson for taking time to answer my questions about their lists in writing this article and provide the pictures you see below.
Ben Rislove – 1st Place – City States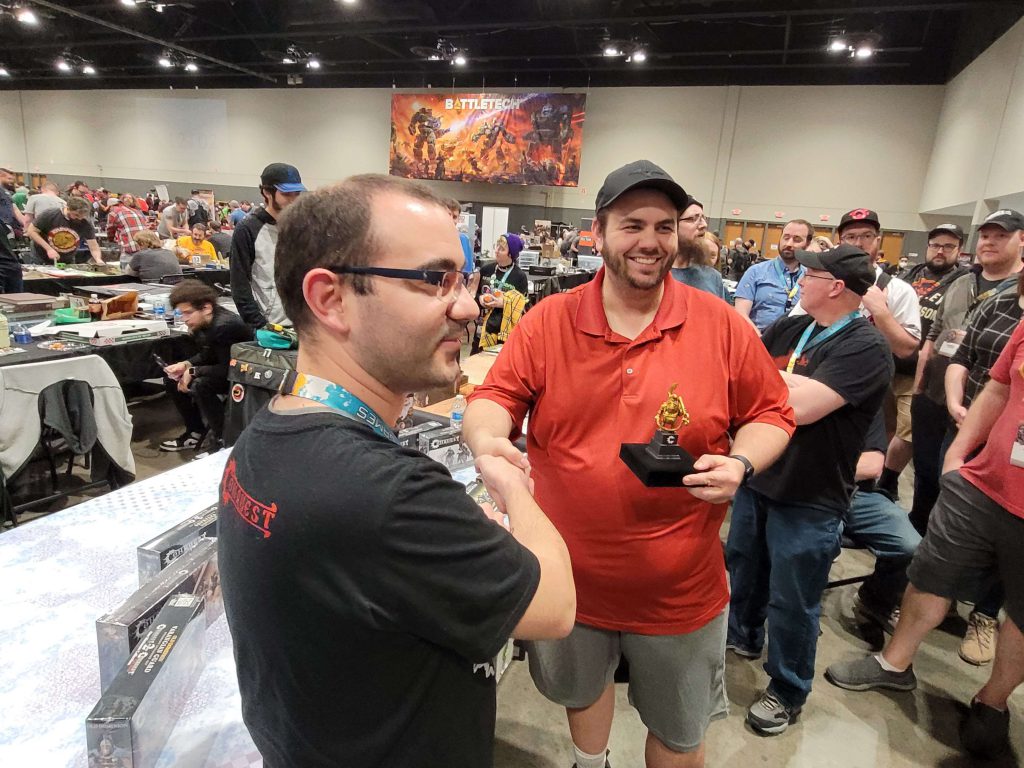 The List
Army list – click to expand
== Warlord Polemarch [180]: Atalanta's Spear, Inscription of Lighter Alloys, Architects 1, Architects 2, Architects 3
* Hoplites 8 [360]: Dorilates, Minotaur Haspist Auxiliary
* Minotaur Haspists 3 [180]:
* Minotaur Thyreans 3 [190]:
* Minotaur Thyreans 3 [190]:
== Polemarch [170]: Standard of Last Oration, Architects 1, Architects 2
* Hoplites 8 [360]: Dorilates, Minotaur Haspist Auxiliary
* Minotaur Haspists 3 [180]:
* Minotaur Thyreans 3 [190]:
Archetype
The biggest, deepest, girthiest wall of spears, aided and abetted by many and varied anthropomorphic bovines.
Thoughts
When I looked at the lists and who was doing well at the end of day one, I was all gee'd up to write an article about how degenerate force-multiplied Vanguard Clone Infiltrators are, and instead this magnificent human being has had to go and be a very good player and sweep the field with the newly arrived City States.
Although they've got by far the smallest army roster at the time of the event, the bones of the City States are thoroughly solid, which Ben has demonstrated with this excellent list. The core of the list is two extremely tough, extremely dangerous Hoplite blocks. Pound for pound, these units are brutal brawlers, able to weather hits from and punch on with almost anything in the game, provided their flanks are kept clear of enemy attacks. 
Of particular note is Polemarch in each unit, which further strengthen the Hoplites against enemy ranged attacks with their battlefield orders (which, if you can get them online in time, cut the ranged damage of units like Bow Chosen and Vanguard Clone Infiltrators down about a third), one of which has Lighter Alloys for an out-of-nowhere fast and aggressive charge for huge damage. By having the Polemarch activate and use Lighter Alloys, then activating the Hoplites immediately off the strategic stack, you get a March 8 charge with unstoppable for rerolls, impact attacks and a huge swing. This requires turning off the unit's defences to do so, but being able to shift the huge bricks from raw durability to raw offence on a dime is a key strength of the States that Ben is extremely well set up to capitalise on.
Speaking to Ben, he indicated that the Hoplites are always the ones on the battlefield first, and were typically positioned close together to protect each other's flanks, while the Minotaur Haspists only came on early if the reinforcement rolls allowed (which they usually didn't). The Haspists screened for the more lethal but slower and more fragile Thyreans, or used their vanguard movements to get up the field to March + Charge into a flank on a subsequent turns just to put the enemy in awkward situations and free up space for the battlecruiser Hoplite units. He also mentioned adopting what you might classically call a 'horns of the bull' deployment, with the Hoplites on one flank and the Minotaurs arriving later on the other, presenting two distinct threats each of which could either overwhelm or piece trade to get ahead.
Ben was the only undefeated player after six rounds, pushing his way through two Deghom opponents, 100 Kingdoms, Nords, and two Spire opponents. His victories were no accident, either, with four of his six opponents finishing in the top ten even after their losses to him. A smashing result and a great showing that the City States have a bright future in store.
Karl Swanson – 2nd Place – Spires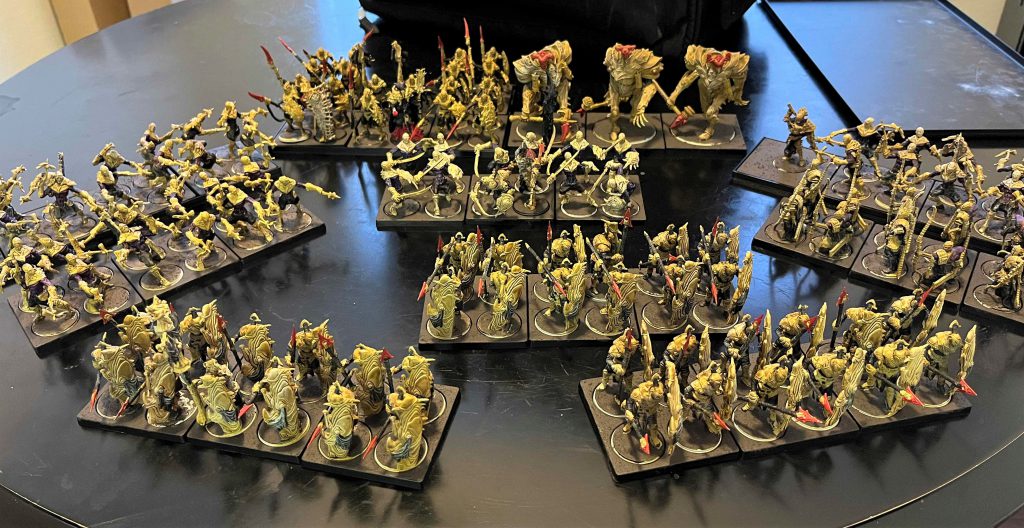 The List
Army list – click to expand
== Warlord High Clone Executor [150]: Infiltrator Variant, Cloned Redundancy, Adrenal Surge, Tactic 3, Additional Neural Receptors
* Vanguard Clones 3 [195]: Standard Bearer, Assault Preceptor
* Force-Grown Drones 3 [90]:
* Vanguard Clone Infiltrators 3 [180]:
* Vanguard Clone Infiltrators 3 [180]:
== High Clone Executor [105]: Marksman Variant, Tactic 3
* Force-Grown Drones 3 [90]:
* Force-Grown Drones 3 [90]:
* Marksman Clones 3 [150]:
* Vanguard Clone Infiltrators 3 [180]:
== Biomancer [215]: Degenerative Aura, Fleshcarver, Mastery of Flesh 1, Mastery of Flesh 2, Mastery of Flesh 3
* Bound Clones 4 [185]: Ward Preceptor
* Incarnate Sentinels 3 [190]:
Archetype
Gunline that eats other gunlines for breakfast
Thoughts
If I'd had to make a prediction ahead of the event for lists most likely to podium, this would have been at the top of the list. Changes made to ranged units in Conquest 2.0 have produced a gunline-friendly environment (which is not necessarily the same thing as a gunline-dominant environment), and spires are packing the ideal list for the environment – a gunline that beats other gunlines. 
Key to the list are the multiple blocks of Vanguard Clone Infiltrators with High Clone Executors. In addition to being competent shooters themselves, the High Clones add the Loose Formation rule to their infiltrator units, which halves the number of incoming shots from ranged and magical attacks. Coupled with their ability to still shoot after withdrawing from combat thanks to the fluid formation rule, and they're about as close to a complete package as you can get, with few obvious weaknesses. Coupled with Biomancer support to crank their damage even further and you have the game's apex ranged unit. The mobility and high damage output for relatively low frontage even means they can typically bring shooting to bear even if the terrain is unfavourable, with Karl noted that he generally found it easy to avoid obscuring and obstructing terrain (although in his opinion this is true for ranged units generally in Conquest at the moment). 
The limitation on Vanguard Clone Infiltrators compared to more independent units like Bow Chosen in Nords is simply that their synergies begin to falter if you go deeper and deeper on them in a list. You can already see this appearing in the second High Clone Executor, who has to take a slightly weaker shooting upgrade than the warlord, and with only a single biomancer (whose support takes them from 'very dangerous for their cost' to 'this four-stand unit does as much damage as if I'd fired with twenty stands of mercenary crossbowmen, what the actual hell'). 
On top of this, the sheer cost of going all the way to the third unit of Vanguard Clone infiltrators, plus a unit of Marksman Clones in the list to boot, means that the list is left with only a single minimum unit of Incarnate Sentinels to present a genuine threat in melee. The list needs to absolutely annihilate its opponents at range, and although it was able to do so in five games out of six, it finally fell short in the finals when the City States Hoplite phalanxes were able to saturate their ability to destroy units at range and engineer a bloody but decisive win. 
Speaking to Karl, he also pointed out the army's ability to pursue sneaky assassinations thanks to the combination of Adrenal Surge and Cloned Redundancy on the Warlord. This will kill the High Clone at the end of the duel (don't worry, he'll be back) but enables him to make a pretty staggering nine attacks at clash 5 with cleave 1 and flawless strikes. This will put down most characters in the game this side of a Fallen Divinity, and even she fears the amount of burst damage in a matchup she's already in extreme risk of becoming a pinata. Karl used this to good effect against the Dweghom in particular, bringing down a Hold Raegh in a decisive moment in one game.
The finals against City States was his only loss, with Karl otherwise absolutely battering his opponents over the course of the first four rounds, taking down Wadruhn, Old Dominion, Nords and Dweghom. He also had the highest strength of schedule of any player in the top three, being responsible for the only losses suffered by the players who took both 3rd and 4th place.
3rd Place – Bryan Weber – Dweghom
The List
Army list – click to expand
== Hold Raegh [160]: 'Until We Have To', Fuelled by the Furnace, Tactical 1, Tactical 2, Tactical 3
* Dragonslayers 6 [440]: Mnemancer Apprentice, Standard Bearer
* Hold Thanes 5 [320]: Herald of Stone
* Hold Warriors 3 [120]:
== Warlord Tempered Sorcerer [190]: Heart of the Mountain, Fire School, Focused, Arcane 1, Arcane 2, Arcane 3
* Fireforged 3 [180]:
* Inferno Automata 3 [180]:
== Tempered Sorcerer [110]: Fire School, Hellbringer Sorcerer
* Hellbringer Drake 1 [180]:
* Hold Warriors 3 [120]:
Archetype
Combined arms and force concentration in equal and terrifying measure
Thoughts
Although there's great temptation to run Dweghom in a gunline configuration not dissimilar to the Spires list above, this list is a pleasing and terrifying combined-arms mix of guns, spells and brutal melee. Of particular note are two extremely high-quality melee units, with the Hold Raegh in his Hold Thanes with Bastion going up to a nigh-invulnerable Defence 6 (!) Hardened 1 when they're on an objective zone, and of course the Dragonslayers who are Dragonslayers – the game's premier horrifying blenders, present in a hugely outsized unit of six here accounting for over a fifth of the entire list's points. Thanks to the Raegh's Tactical Retinue 3, though, both these heavy units are guaranteed to always appear on turn three, meaning these powerful boots will be on the ground soon after the game begins.
Supporting these two heavy duty melee units are some minimum size hold warrior regiments, inferno automata for some fast response and early pressure, and of course the usual excellent dweghom mix of hugely dangerous guns and hugely dangerous spellcasting. Although there are nominally only two ranged units in the list, the Fireforged and the Hellbringer Drake, each of these puts out an outsized amount of offensive power thanks to the Fire School Sorcerers embedded in or atop them. The tempered sorcerer warlord in particular is absolutely loaded for bear, meaning this list balances high ranged damage output with durable, dangerous melee very effectively.
Over the course of the event, Bryan hewed his way through wadruhn, his fellow dweghom, nords, spires and city states, only losing in round five to Karl Swanson's vanguard clone infiltrator list above. 
4th Place – Diego de silva – Nords
The List
Army list – click to expand
== Konungyr [180]: Dragon, Raven Messengers, Tactical 1
* Bow-Chosen 4 [290]:
* Ice Jotnar 1 [265]:
* Bow-Chosen 4 [290]:
* Bow-Chosen 3 [220]:
== Warlord Blooded [105]: Dragon, Prize Silver
* Stalkers 3 [160]:
* Bow-Chosen 3 [220]:
* Stalkers 3 [160]:
* Fenr Beastpack 3 [110]:
Archetype
What units have we got? Ah yes. Bow-Chosen. And look! More Bow-Chosen.
Thoughts
Something of a snowy equivalent to the Vanguard Clone list above, this Nord List is packing a truly prodigious amount of ranged firepower, with only two dedicated melee units in the entire list (and one of them, the Ice Jotnar, has magic at its disposal).
Although Bow Chosen have none of the force multiplication and immunity to counterplay that the Vanguard Clones bring to the table, this list is able to trade on the fact that Nords have them and Stalkers as mainstay units, meaning there's no need to do as Spires do and pay the Force Grown Drown tax of 90pts per unit just to unlock them. This list is nothing but guns, good guns, fast guns, guns from here to the sunset. 
On top of that, although they can't just walk out of combat and keep shooting like Infiltrators, being Nords, all these units are at least somewhat capable of carrying a melee combat, especially against an enemy badly weakened by gunfire. Bow-Chosen have four attacks at clash 3 before triggering blood of the einherjar, and an eminently respectable 5 wounds at evasion 2, resolve 3. Couple that with the fact that two of the ranged units will have quite passable melee characters embedded in them (although neither of them is reaching the high watermark of murder that dedicated melee Nord characters can reach) and you have a recipe for withering firepower easily capable of delivering a coup de grace against whatever few enemies manage to reach them.
In terms of weaknesses, and in comparison to the Dweghom and Spires firepower present in second and third place, this list is notable for probably being a bit more reliant on favourable terrain to be fully effective. Although Adepticon tables generally appeared somewhat open compared to the maximum allowable density under the Conquest scenario pack (which is not, to be fair, especially dense), lists with fewer but more concentrated firepower pieces will generally be able find gaps in more terrain heavy tables to still bring their full firepower to bear. This list is trying to shoot with twenty-two stands of frontage, all of which arrive at about the same time, and none of which can see over the other, meaning its more likely to be gummed up by larger obscuring or obstructing terrain elements if they're present.
But that's a big 'if', and it obviously didn't trouble the list much in the event – in fourth place and comfortably undefeated in all but one match, Deigo played against Wadruhn, Old Dominion, Spires twice (one of which was his only loss) and Nords twice. 
Honourable Mention
Brian Hudson with a 4-1-1 result, playing an awesome Spires monster mash list with tons of avatara and a huge unit of Brute Drones with embedded Pheromancer.
Army list – click to expand
The Sovereign Lineage
== Warlord Lineage Highborne [120]: Cascading Degeneration, Pheromantic Override, Venom
* Avatara 3 [200]: Superior Creations, Standard Bearer
* Avatara 3 [200]: Superior Creations, Standard Bearer
* Centaur Avatara 3 [230]: Superior Creations, Standard Bearer
* Incarnate Sentinels 3 [205]: Superior Creations
== Biomancer [110]: Mastery of Flesh 1
* Bound Clones 5 [235]: Standard Bearer, Ward Preceptor
* Abomination 1 [150]:
== Pheromancer [100]: Avatar Projection
* Force-Grown Drones 6 [200]: Catabolic Node
* Brute Drones 5 [250]:
In addition to a strong overall result, Brian's list is notable just for showcasing how different any two spires lists can be, sharing only a tiny amount of overlap with Karl's list above.
Wrap Up
Although Adepticon only represents one event – albeit a big one – it's interesting to see trends emerge and what was successful and what wasn't. A big theme in almost all the successful lists at the event was quite elite armies, with serious force concentration (in melee or at range) appearing in every one of the top four lists. We also saw low to average activation counts, with most lists being a well-rounded 10 activations, with only Spires rolling in with their unavoidable higher unit count (which only stays higher until the drones finish dying).
We also saw evidence of the gunline meta at play in the upper echelons of the field, with half of the top four lists being extremely ranged focused – but perhaps the more important takeaway is that we saw how important it is to have a plan for gunlines, thoroughly evident in the most successful two armies being a City States list capable of enduring and pressuring enemy gunlines, and a Spires list able to out-gunline all other gunlines. It's also worth noting that outside of the top four, while there was still plenty of ranged presence on display, there were far fewer true all-in gunlines like the lists that took 2nd and 4th. While most players took powerful ranged units if they could, they were usually usually as part of a force mix that included many other elements as well. 
In terms of most successful factions, City States, Nords, Dweghom and Spires dominated the top ten placements, but with very different lists between the various Spires players especially. The City States lists in the top ten were very similar but that's to be totally expected given their released unit roster is still quite small, and while both Dweghom players were using the extremely powerful Tempered Creed rule, 7th pace player Chuck Elswick took a character-heavy, quite diverse list using no less than four spellcasters to spam those elemental power tokens.  
As always if you want to get 10% off and support Goonhammer you can make your Conquest purchase by clicking here for US/Canada or here for EU/rest of world. You'll also need to enter code "goonhammer" at checkout.
Have any questions or feedback? Drop us a note in the comments below or email us at contact@goonhammer.com.