The Goonhammer Open is Goonhammer's own events brand; this page is for the UK edition, coming to a city near you!
We have a number of different events planned, so keep checking back to find out about new ones as they're launched. We'll also post results for each event here as well as galleries from the weekend showing off the games, Best Armies, and the prize winners.
Event Partners and Sponsors
The Goonhammer Open could not happen with support from our Event partners and sponsors. We'd like to thank each of them and encourage you to check them out!
Element Games is one of the biggest online retailers with 15-25% off RRP. 
Their support will ensure that every win is sweeter.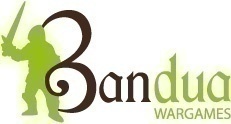 Bandua Wargames design of some very clever MDF sets, so we've partnered with them to ensure each table plays well while looking good!

The Army Painter have paints and hobby supplies for every occasion and have provided some generous prize support to help everyone paint up their next project.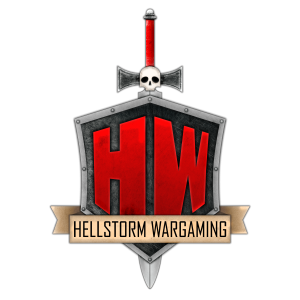 If you can't make Hellstorm Wargaming will be streaming games live during the event and will have VODs available afterwards.

Battlebling make a wide variety of third party bits to help your models stand out on the tabletop.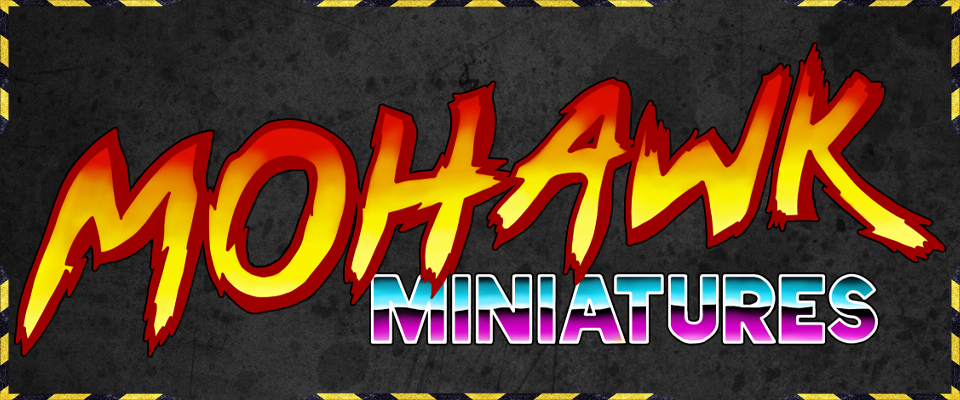 Mohawk Miniatures provide their painting expertise to help with the incredible task of judging best painted and provide some goodies for best hobby.

Army Case make innovative magnetic storage solutions for your armies to keep your minis safe and other accessories 
Upcoming Events
Goonhammer Open UK September 2023 – Leicester
When: 2nd and 3rd of September 2023
Where:De Montfort Students' Union, Campus Centre Building, Mill Ln, Leicester LE2 7DR
Overall Coordinators: Scott White, James Grover, Liam Royle
The Goonhammer Open is back in a brand new venue and location! 
Warhammer 40K players will be fighting for the esteemed Goonhammer Championship belt and a ticket to the Warhammer World Championships!
We're stepping up our narrative game with a new Horus Heresy narrative campaign with some epic moments we're looking forward to sharing with you.
You can find the details for each event below; will you take to the battlefields of the 41st Millennium, or those of the Horus Heresy?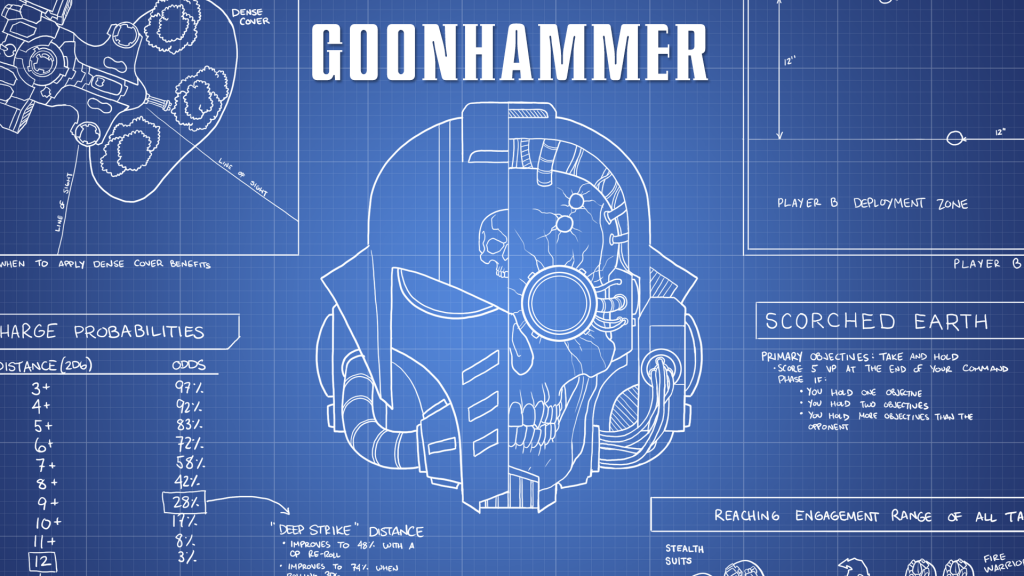 Warhammer 40,000 Grand Tournament
Spaces: 72
Points: 2,000
Rounds: 6
Tickets: Available from Eventbrite
Rules pack:  Here (Updated 9/8)
Maps: Here (Updated 1/8)
Event FAQ: Here (Updated 21/8).
Get your chance to the qualify for the Warhammer World Championship and lift the Big Gold Belt at the next UK Goonhammer Open!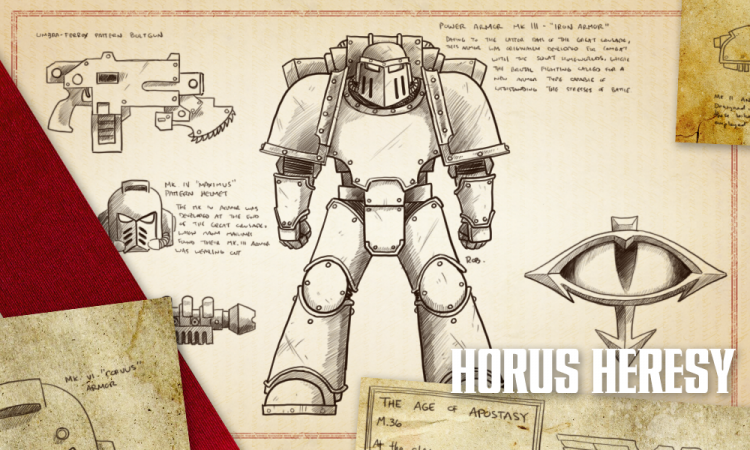 Horus Heresy Narrative: The Battle of Marinus
Spaces: 15 Loyalist, 15 Traitor (30 total)
Rounds: 4
Tickets: Available from Eventbrite 
Rules pack: Here (Updated 24/4)
The city of Marinus, home to a strange and unclassified energy technology, is being fought over by the forces of the Emperor and the Warmaster.
In this Warhammer: The Horus Heresy narrative event you'll pledge your allegiance to the loyalists or traitors and clash over four battles to determine the fate of this valuable resource. The fighting will be as part of an involving narrative campaign with special missions, different fronts of the war, and various special events throughout the weekend.
One player from each Allegiance will take on a unique role: the Supreme Commander. You must indicate if you wish to apply for this role when you buy your ticket.
The Supreme Commander will have a different role to other players at the event. They will engage in pregame play, assign warlords to battle fronts, manage resources and logistics, assign key supports to battles as they are ongoing, and intervene at the moments of greatest crisis. The player taking on this role will play something more akin to a megagame than a traditional wargaming campaign, and may (depending on their actions), never actually play a full game of Horus Heresy. Please be aware of this when you apply for the position, and you will be asked to write a short application explaining why you think you'd be suitable for this role when you do. If you don't get this role then you will play as a normal warlord across the weekend.
Notes for all events
Event refunds policy: refunds are available for individuals unable to attend until 1 month prior to the event. After this date no refunds will be issued (though ticket transfers are still allowed if a replacement player can be found). Refunds will be issued net of the non-refundable Eventbrite fee.
Privacy policy: we will be taking photos during the event for Goonhammer's use. Please find our privacy policy here.
Past Events
Goonhammer Open UK October 2022 – Nottingham
The third GHO featured three systems, with our first Horus Heresy narrative campaign. 
Warhammer 40,000 Grand Tournament
Players: 78
Points: 2,000
Rounds: 6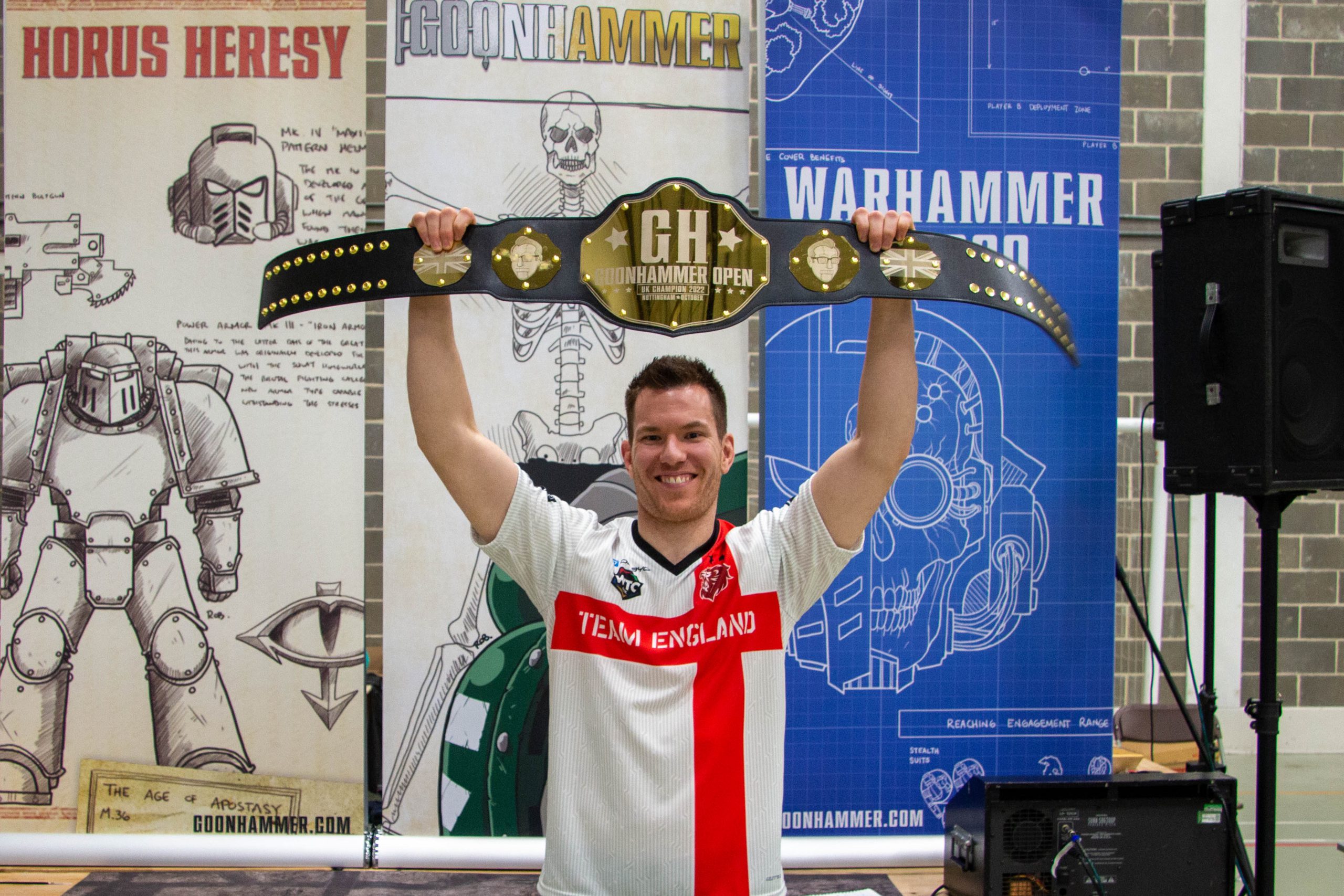 After six rounds of glorious miniature combat, a new champion was crowned and took home the coveted Goonhammer Champions Belt – Josh Roberts.
Click here to see the full event round-up

Our winners were:
Best Painted Army
Winner – Jay Middlecote – Imperial Knights
Runner up – Jonas Mantek – Tau
Best Painted Miniature
1st Place – Marcin Witczak – Saint Celestine
2nd Place – Jonas Mantek – Commander Shadowsun
3rd Place – Andy Morris – Master of Possession
Bracket Winners
Most Determined Player – Matthew Taylor (Deathwatch)
Best Player on 1 win – Rob Chilton (55th, T'au Empire)
Best Player on 2 wins – Dan Ditrana (37th, Grey Knights)
Best Player on 3 wins – Marcin Nowicki (21st , Deathwatch)
Best Player on 4 wins – Kylo Turley (8th, Imperial Knights)
Best Player on 5 wins – Jonathan Clarke (2nd, Adepta Sorritas)
Best in Faction
Space Marines – Chris Paterson
Imperium – Jonathan Clarke
Chaos – Josh Roberts
Aeldari – Matt Robertson
Hive Mind – Matt Palmer
Orks – Andrew Tebboth
Necrons – Scott Morris
T'au Empire – Greg Blackburn
Hellstorm Wargaming Stream Catch Up
Round 1: T'au Empire vs Harlequins
Round 2: Tyranids vs Adeptus Custodes
Round 3: Necrons vs Chaos Knights
Round 4: Necrons vs T'au Empire
Round 5: Blood Angels vs Thousand Sons
Round 6: Emperor's Children vs Thousand Sons
The Harrowing of Tyras – Adeptus Titanicus Narrative Event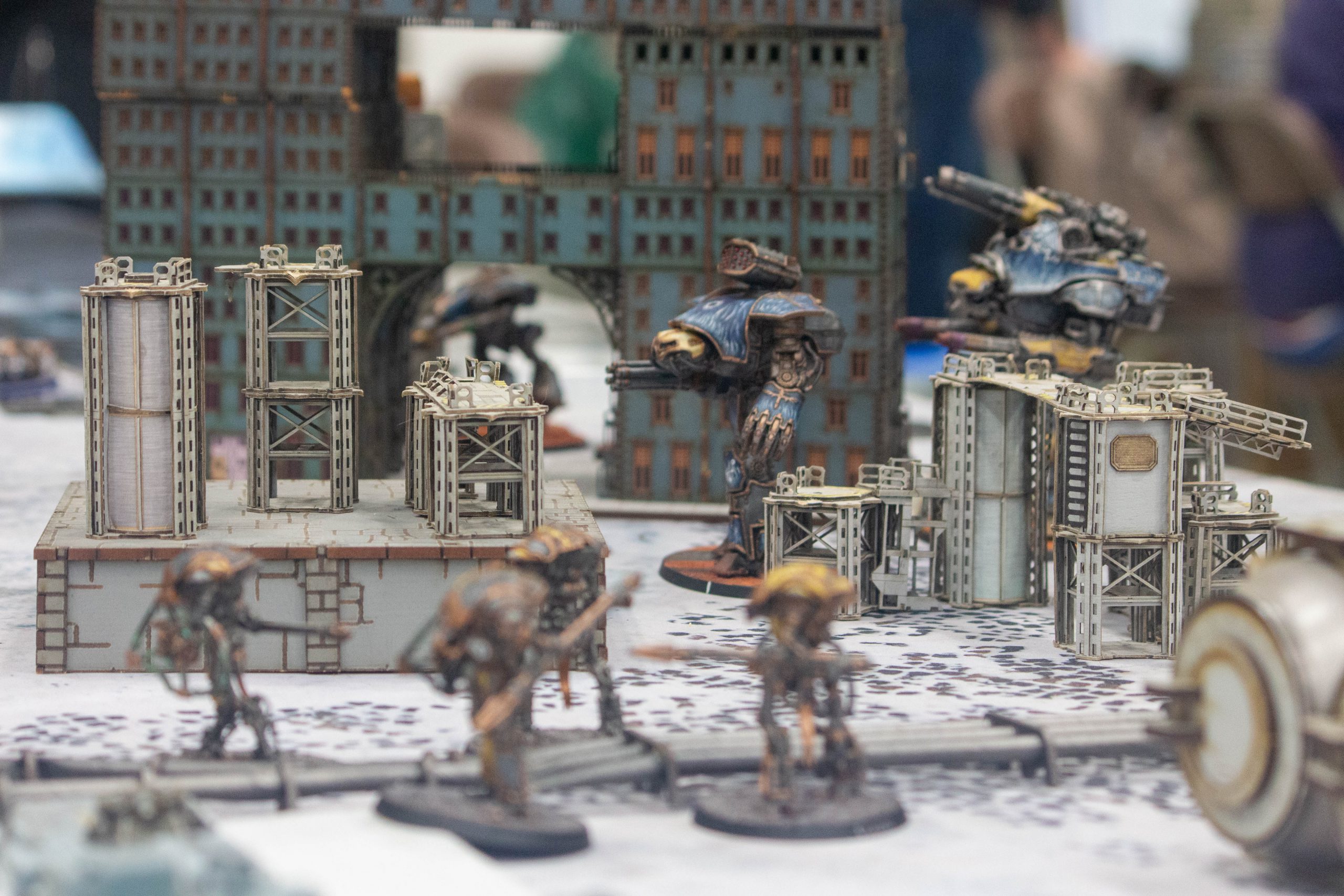 Players: 12 Loyalist, 12 Traitor (24 total)

This weekends event oversaw the Fate of Tyras Prime, a jewel of Old Night that was devastated beyond all recognition or recovery by the actions of the invading Traitor faction this weekend.

Click here to see the full event round-up

This narrative campaign featured some Crusade-style mechanics, where Princeps could gain skills and engines could carry their scars on to further battles. Some battlegroups were definitely a bit worse for wear by the end of the weekend!

Coolest Battlegroup: Andy Judson
Coolest Unit: Neil Cook
Best Traitor Princeps: Rob Crouchley
Best Loyalist Princeps: John Burchell
The Siege of Vandia – Horus Heresy Narrative Event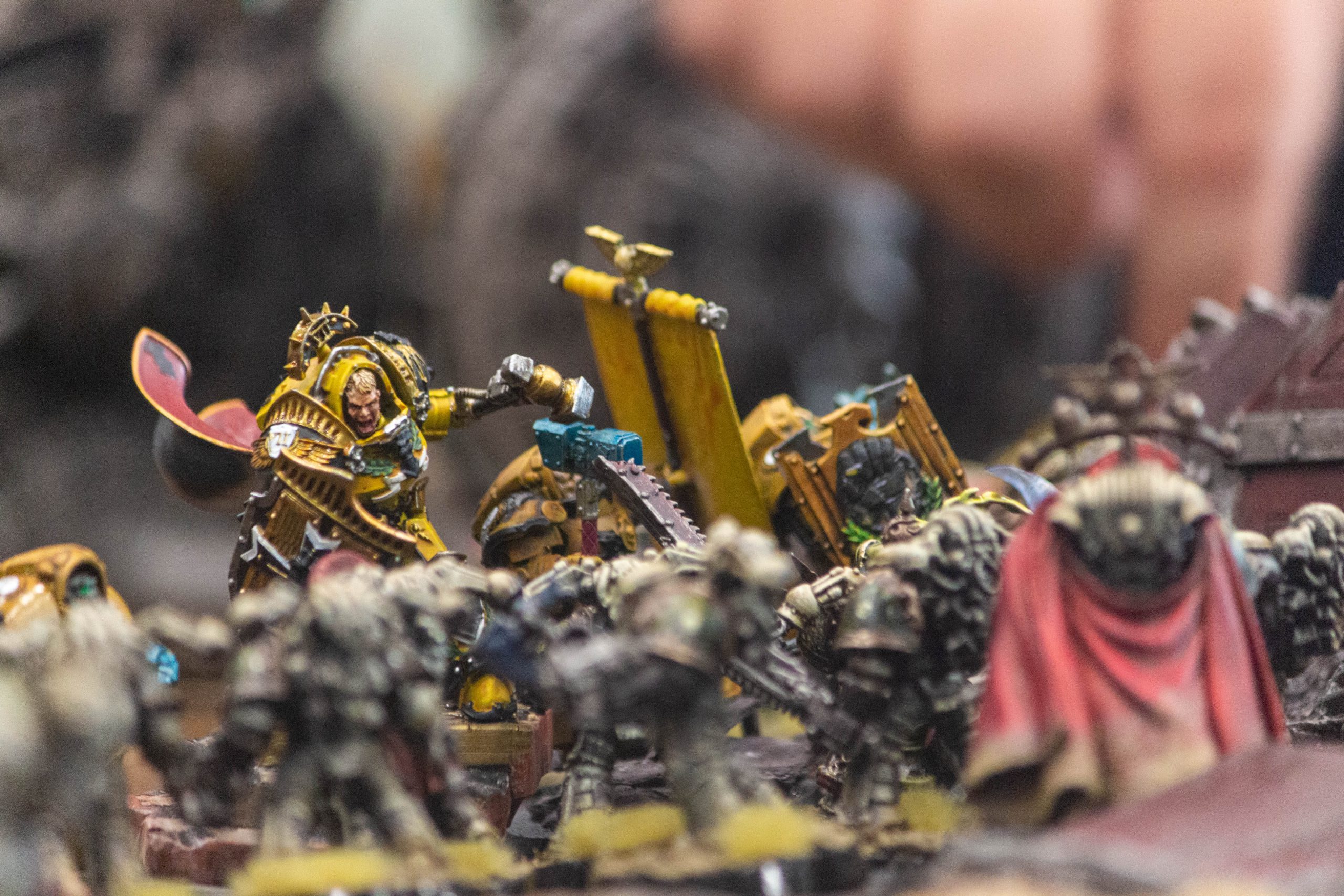 This was our inaugural Horus Heresy narrative event, and it was a huge success. A massive thank you to all the players who showed up and were an absolutely lovely group of people who got into the spirit of the weekend and played some great games.

Click here to see the full event round-up

The hive moon of Vandia hung in the balance over the weekend, with a traitor army attempting to win victory and seize the macrobattery defences before a loyalist relief fleet arrived. It was a tense match up, and in the end the outcome of the entire narrative hung on the last two games to report in. However the forces of the Warmaster took victory. There will be a full wash up and report article going up soon to show off the armies, tables and twists and turns of the campaign, so keep an eye out for that.

As this was a narrative event there were no individual victors, but all the players voted for their favourite opponent over the weekend and we named a loyalist and traitor warlord as the best players among their allegiance for being the most fun to play against. We also awarded a prize for the best painted army.

Best Loyalist Warlord: Chris Gill of the Dark Angels
Best Traitor Warlord: Ruairidh James of the Death Guard
Best Painted Army: Mark Ashworth of the Emperor's Children
Goonhammer Open UK May 2022 – Nottingham
There were two different events to pick from at the May GHO UK, either a competitive Warhammer 40,000 GT or an Adeptus Titanicus narrative event, the Reclamation of Actaeon IV. You can find the results for each of them below!
Warhammer 40,000 Grand Tournament
Players: 96
Points: 2,000
Rounds: 6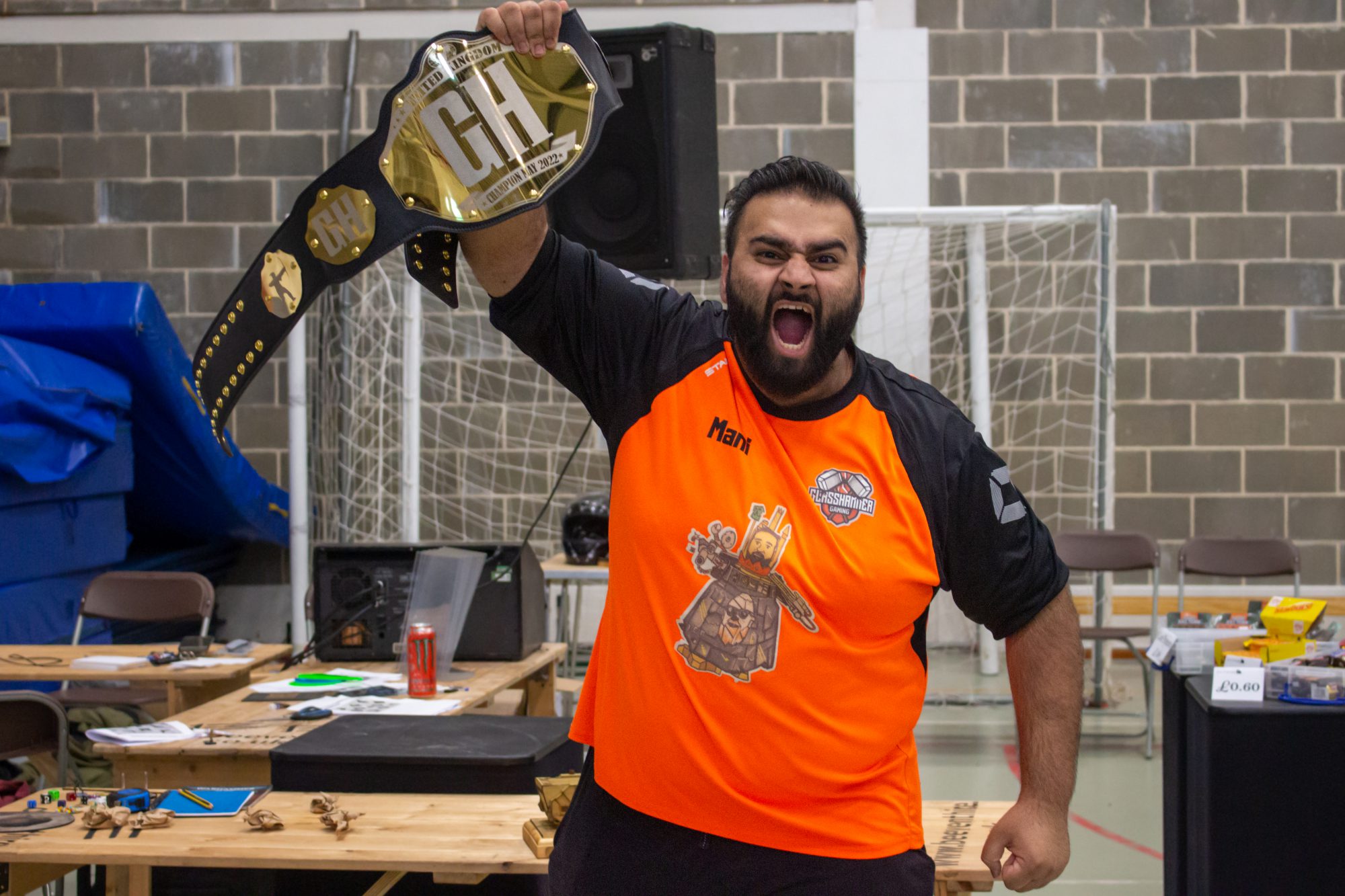 The second Goonhammer Open UK saw 96 40k players battle it out; this time around Mani Cheema's Asuryani were able to seize the belt, leapfrogging David Gaylard's and Innes Wilson's Tyranids on the way.

Click here to see the full event round-up

Our winners were:

Gaming

Overall

1st: Mani Cheema (Asuryani)
2nd: David Gaylard (Tyranids)
3rd: Innes Wilson (Tyranids)

Best in Bracket

4 Wins: Josh Roberts (Harlequins)
3 Wins: Ed Watts (Drukhari)
2 Wins: John McGinty (Necrons)
1 Win: James Bagnall (Blood Angels)

Most Determined Player: Tim Barugh (Dark Angels)

Best in Faction

Space Marines: Chris Irvine (18th place, Blood Angels)
Imperium: Andy Salkeld (21st place, Adepta Sororitas)
Chaos: Richard Smith (15th place, Chaos)
Aeldari: Mani Cheema (1st place, Asuryani)
Hive Mind: David Gaylard (2nd place, Tyranids)
Orks: Matt Guenzel (53rd place, Orks)
Necrons: John McGinty (61st place, Necrons)
T'au Empire: Kyle Grundy (5th place, T'au Empire)

Painting

Best Army – Judges' Choice – Dawid Szmyt, Imperial Knights
Best Army – Players' Choice – Dennis Convery, Ynnari

The event was sponsored by an amazing group of people whose assistance and prize support was invaluable – thanks again to FactoruM/4Ground Publishing and Hellstorm Wargaming, as well as the staff at NGHS who went above and beyond to support the event.

You can find the overall standings on the ITC page here.

Round 1: Orks vs. Chaos Space Marines

Round 2: Tyranids vs. Chaos Knights

Round 3: Death Guard vs. Drukhari

Round 4: Craftworlds vs. T'au Empire

Round 5: Tyranids vs. Harlequins

Round 6: Tyranids vs. Tyranids
The Reclamation of Actaeon IV – Adeptus Titanicus Narrative Event
Players: 12 Loyalist, 12 Traitor (24 total)
Rounds: 5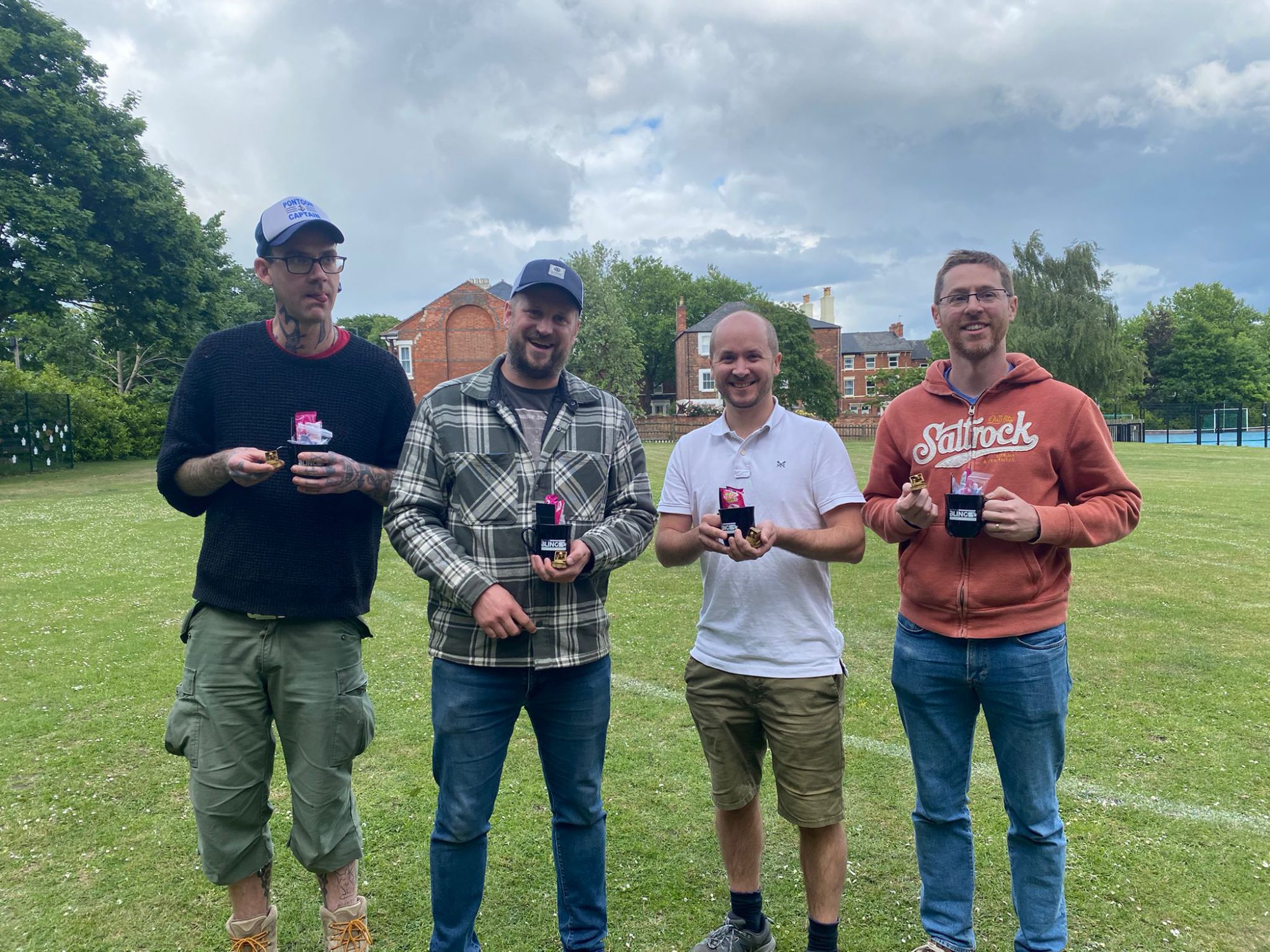 The first ever Goonhammer Adeptus Titanicus event took place, with 24 Princeps battling it out to reclaim Actaeon IV through a storyline by Goonhammer's Titanicus team, ably assisted by Remembrancer Toby Coe's dramatic readings. In the end, the Traitors were able to take command of the planet, with the heretical Legios managing to win all but one round and drive the loyalists back to Terra with their god-engines' tails between their legs!

Click here to see the full event round-up

Our winners* this weekend were:

Best Traitor Princeps: Toby Coe

Best Loyalist Princeps: Tom Stallard

Best Battlegroup: Peter Martin

Best Unit: James Cheesewright

*Anyone playing AT was winning this weekend

As well as those mentioned for the 40k event abovem we'd also like to extend a big thank you to BattleBling for providing our awesome prizes, as well as a free gift for all attendees.
Goonhammer Open UK 2021 – Nottingham
Warhammer 40,000 Grand Tournament
Players: 102
Points: 2,000
Rounds: 6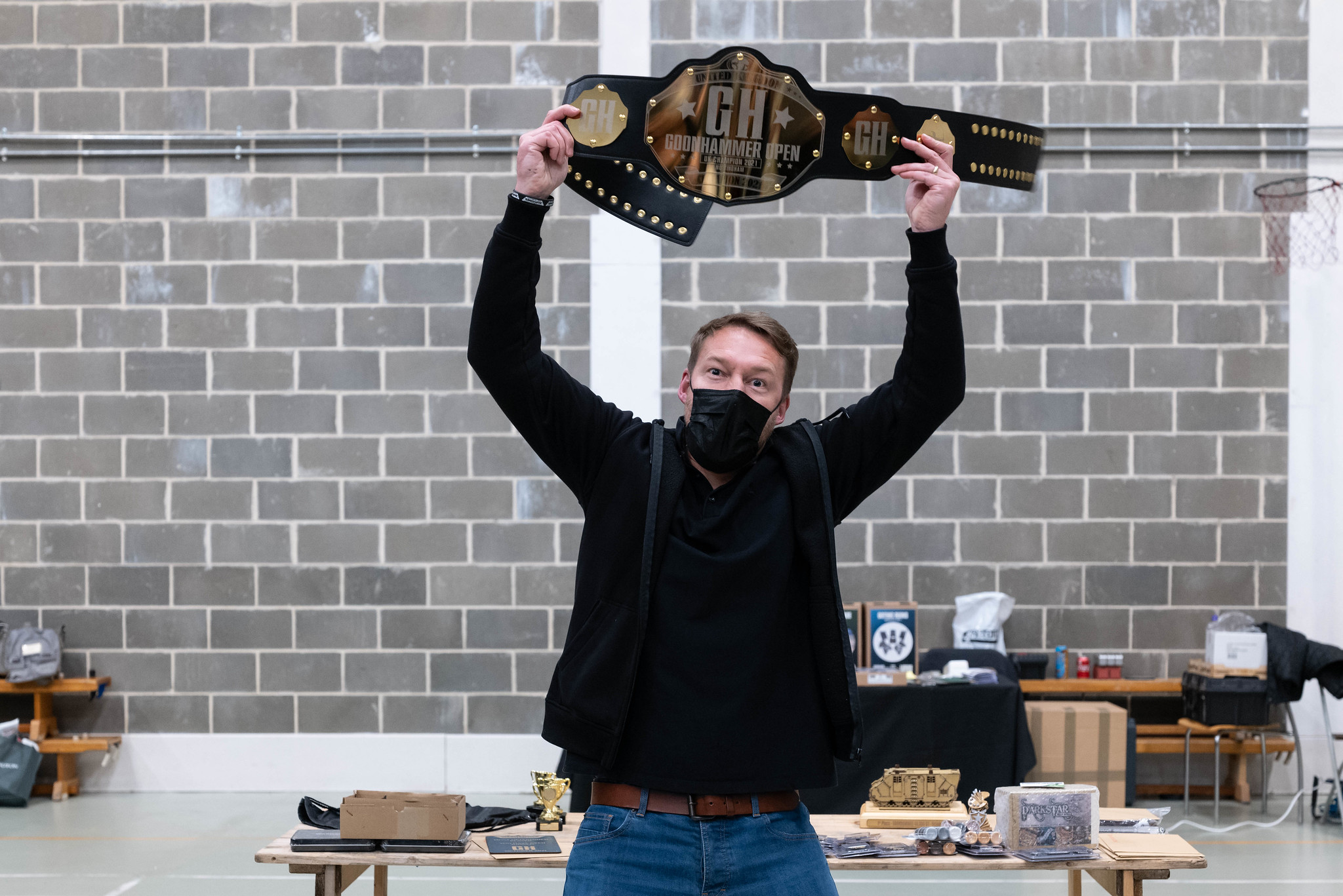 The inaugural Goonhammer Open UK saw 102 40k players assemble for a titanic clash in Nottingham, the home of Warhammer. After six gruelling rounds fought over battlefields built with Vanguard Tactics Terrain from 4ground Publishing, Mike Porter and his mixed Aeldari emerged as the champion, taking home the Big Gold Belt by a single battle point over second-placed finisher David Gaylard.

Click here to see the full event round-up

Our winners were:

Gaming

Overall

1st: Mike Porter (Aeldari)
2nd: David Gaylard (Adeptus Mechanicus)
3rd: Martyn Cooper (Drukhari)

Best in Bracket

5 Wins: Martyn Cooper (Drukhari)
4 Wins: Christopher Radford (Space Wolves)
3 Wins: Peter Dunlea (Adepta Sororitas)
2 Wins: Lyle Torok (Adeptus Mechanicus)
1 Win: Jim Shacklock (Adepta Sororitas)

Most Determined Player: Craig Spiers (Deathwatch)

Best in Faction

Aeldari: Mike Porter
Adeptus Mechanicus: David Gaylard
Drukhari: Martyn Cooper
Adeptus Astartes: Konrad Bartkiewicz
Death Guard: Greg Chamberlain
Thousand Sons: Chris Tutill
Harlequins: Ben Allen
Imperial Knights: Jay Middlecote
Adepta Sororitas: Jonathan Clarke
Grey Knights: Andrew Bourbon
Orks: Tom May
Chaos Daemons: Josh Hill
Necrons: Daniel Grant
Imperium: Gareth Chambers
Chaos: Ben Wadsworth
Chaos Knights: Kevin Nicholls
Adeptus Custodes: Alex Fowler
Tyranids: Matt Palmer
Chaos Space Marines: Joe Coles
Astra Militarum: Mark Cawdrey
Tau: Kenneth Ward

Painting

We had two painting competitions – Best Army judged by the Goonhammer and FactoruM teams, and Best Single Miniature judged by Jay from Mohawk Miniatures. The winners were:

Best Army

1st place: Ben Allen – Harlequins
2nd place: Chris Tutill – Thousand Sons
3rd place: Mike Roberts – Flesh Tearers

Best Single Miniature

1st place: Ben Allen – Harlequin Skyweaver
2nd place: Josh Hill – Be'lakor
3rd place: Mike Roberts – Primaris Gabriel Seth

The event was sponsored by an amazing group of people whose assistance and prize support was invaluable – thanks again to FactoruM/4Ground Publishing and Vanguard Tactics, Hellstorm Wargaming, Mohawk Miniatures, Koyo, and Darkstar Molten Metals, as well as the staff at NGHS who went above and beyond to support the event.

You can find the overall standings on the ITC page here and the post-event round-up here. Jim Grover was on hand taking event photos which you can find here, and you can check out recordings of all the stream games from Hellstorm Wargaming below: