The Commander of the Blood Angels is back, and he's bigger than ever. At long last, Small Dante has crossed the Rubicon Primaris and left behind the world of 90s metal models to become Big Dante. We have several Blood Angels fans on staff here, and when Games Workshop sent over preview copies they dove right in to begin painting him up.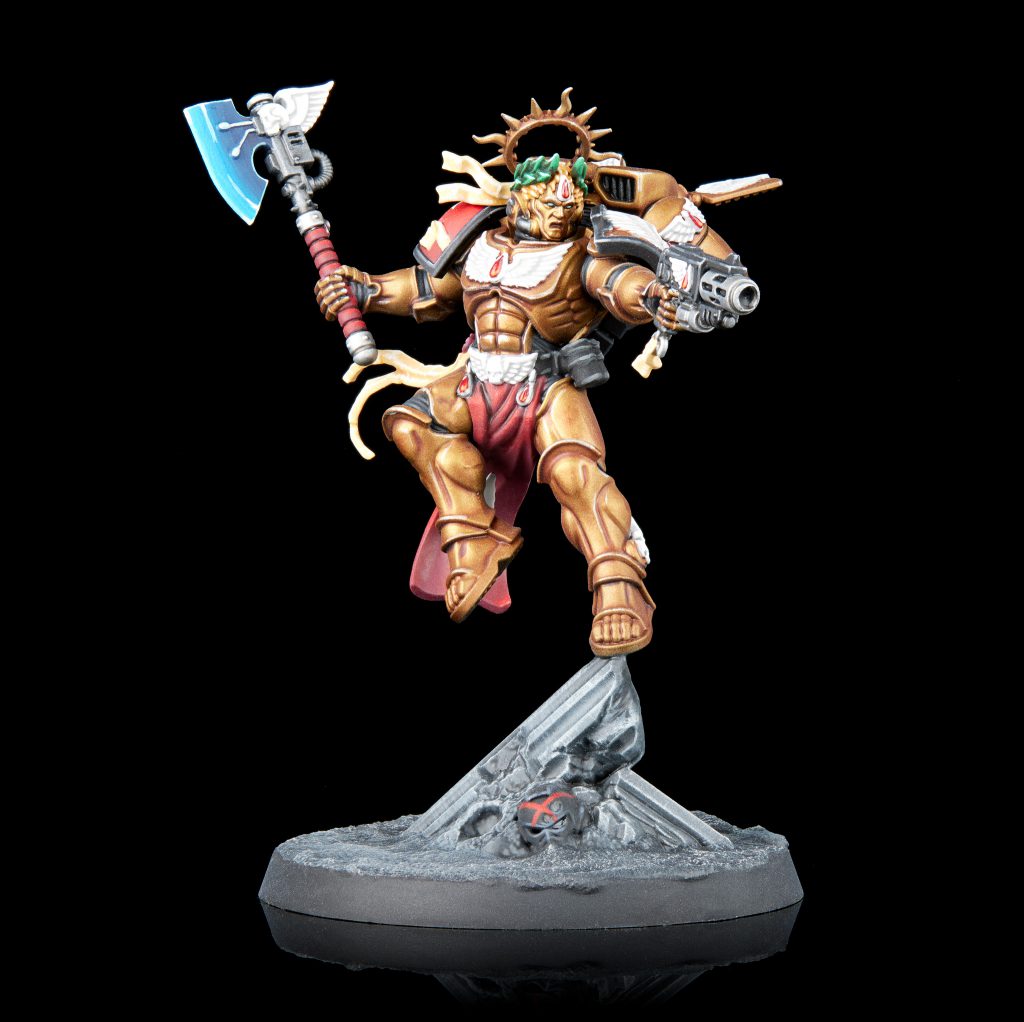 Building Dante
Jack: This was an incredibly straightforward kit to build. Nothing was particularly complex, mold lines were minimal, and pieces fit together well. I built Dante in four parts – the body (including arms), the right shoulder pad, his head, and his backpack. You could easily glue the shoulder pad on, I only kept it separate to get an airbrush red gradient without masking.
While he's not incredibly flashy, to me he's exactly what he should be – a version of the old metal Dante produced in 2023 instead of 1997. The pose is similar, the armor details are similar, the axe and pistol are roughly the same – it's just all bigger, with sharper details, and in plastic instead of metal. My only complaint is one that carries over from the metal model – I don't like death masks and wish he was wearing either a helmet or a bare head.
Liam: Jack's opinions are heretical bullshit. The Death Mask of Sanguinius is integral to Dante's character and I am glad any urge to make it optional was resisted.
Other than this inexcusable butchering of the lore, I agree with all of the above with one minor exception. The build is an absolute dream until you get to the Iron Halo, which has a tiny little join on the back of the head which I found fiddly and annoying. It's not anything you're going to lose sleep over, but it's an irritant when the rest of the kit flows so nicely.
The other final point on Dante is just how absolutely massive he is. The 50mm base makes him properly imposing, and the old model might as well be a Squat for how it stacks up in comparison.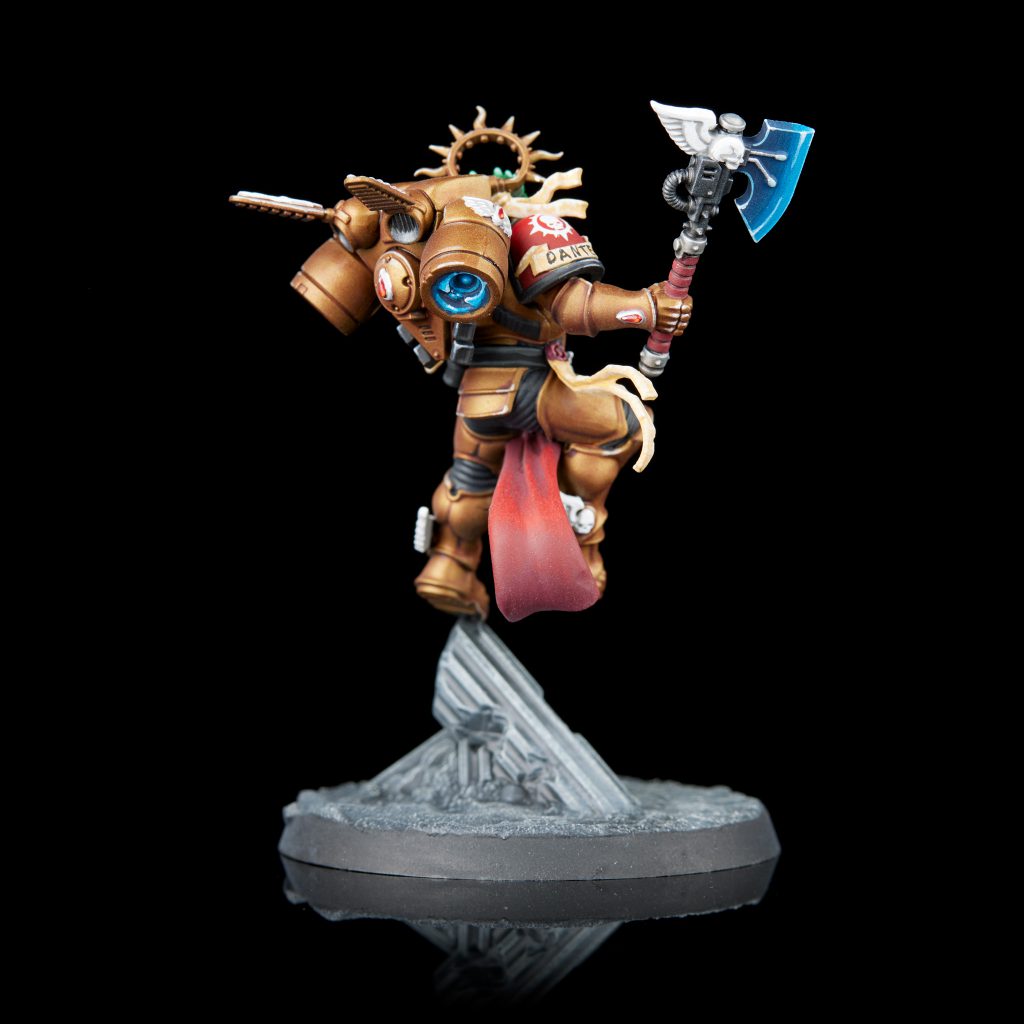 Painting Dante
Jack: I did the gold armor on Dante the same way I've done Sanguinius and other BA characters, as described in our How To Paint Everything article. I am still using Reikland Fleshshade Gloss, though I think the newer formulation will work similarly as long as you're careful to wick it away from raised surfaces. Most of the rest of the model was painted with Pro Acryl paints. The red shoulder pad was a simple gradient from Burnt Red to Bold Pyrole Red, the blacks were Coal Black and either Warm Grey highlights (the leather) or Neutral Grey (shoulder pads and weapon casing). Red on the cloth and axe haft was done with a basecoat of Burgundy and successive layers mixing a bit of Bold Pyrole Red in.
Liam: Any time I have to share a painting article with Jack is a bad day. Not only does he paint the models better, he takes the photos better too. As I write this Matt hasn't added their comments but I'm sure there'll be some further uneven comparisons to be made there.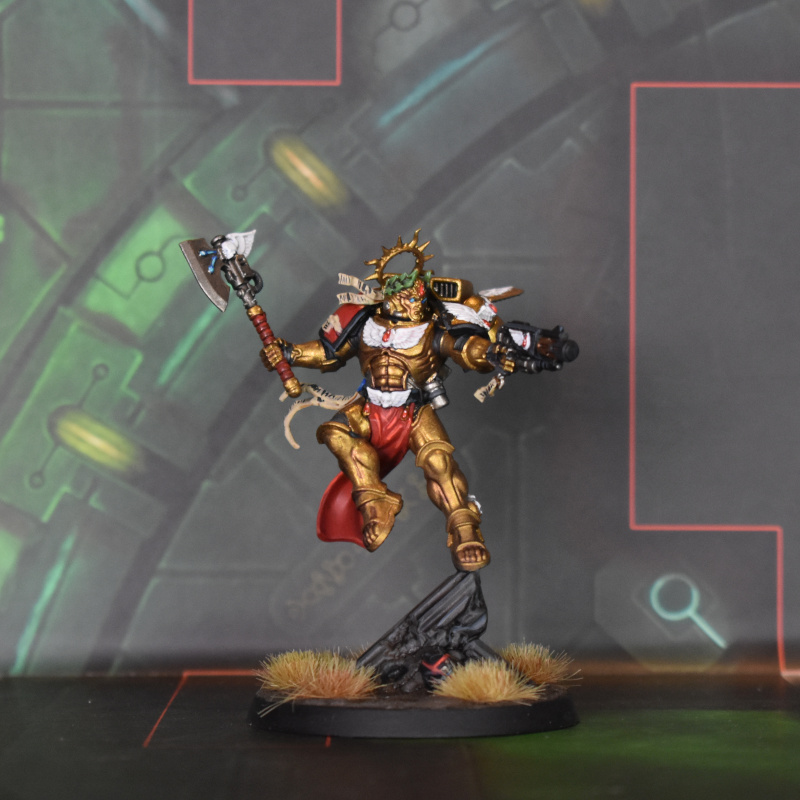 The nice thing about Dante is that most of the model is gold. Darkstar Regency Gold with a thin wash of Druchii Violet in the recesses does the job for me. The other big area is the white, which is not a colour I love painting, but it's a nice contrast against the gold so I decided to commit to it. Vallejo Model Colour White did the job for me here, as a white that actually covers well. Beyond that it's all just GW paints, the ony notable one of which is the Word Bearers Red for the handle of the Axe Mortalis, which gives it a nice deeper, darker tone than the gems and loincloth/shoulder pad.
Rockfish: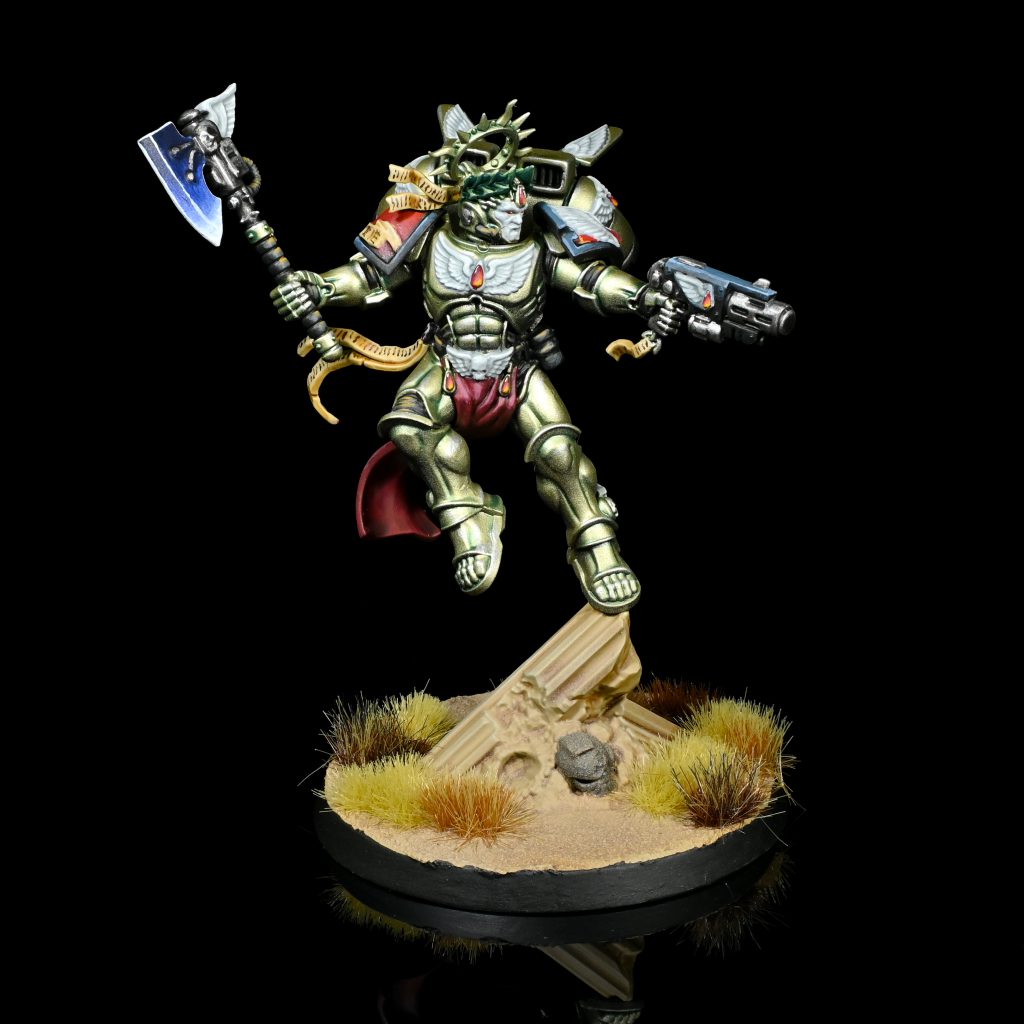 I decided to go for a sorta baroque feel to the armor so I went and fished out a previously unused bottle of VMC gold, which is already a pretty pale gold and with a recess shade of coelia and a highlight of stormhost silver results in a extremely distinct maybe reads as gold!
The rest of the colors are pretty mundane as I only spent like four or five hours on this fellow so I mostly dipped into stuff I have used on my marines before:
A quick white recipe is grey seer washed apothecary white then highlighted ulthuan and a pure white
The gems are the standard technique done up in khorne, wazdakka, wild rider, fire dragon, flash gitz and a pure white
The blue black is just black legion glazed thunderhawk and edge highlight russ and fenrisian
Rubbery black is black legion glazed stormvermin and tau light ochre
Scrolls are morghast, sepia, glaze up the base and then screaming skull
A simple steel is iron hands, basilicanum and then highlighted the base coat and stormhost silver
The engines are baharroth, ultramarines contrast and then lightened up with mixes of the base coat and white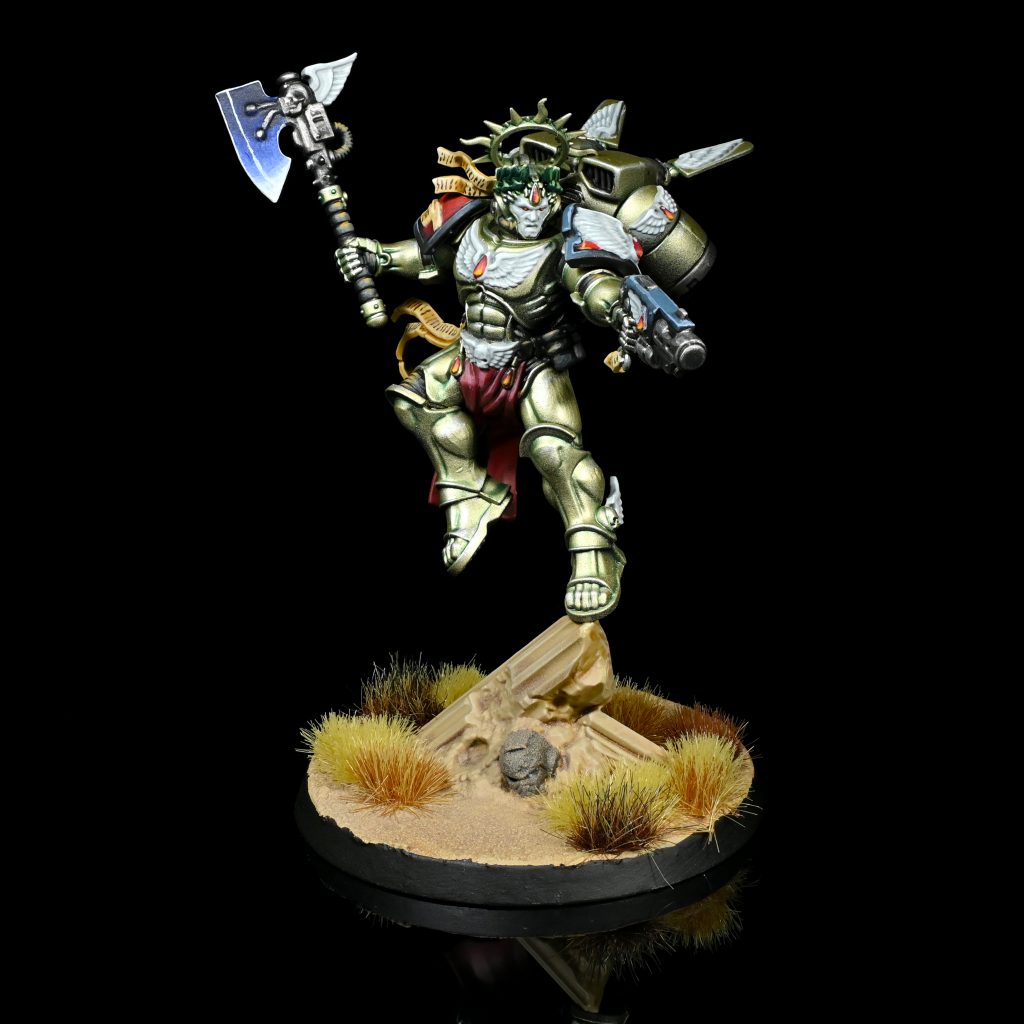 Bouncing into more distinct things for this guy, the laurels were lupercal green washed biel-tan then highlights of warboss, skarsnik, krieg, and screaming skull. Then I did a couple of really simple reds, the tabard is just khorne, thinned agrax, then glazes of wazdakka and screaming skull. The shoulder pads are similarly simple in mephiston washed druchii with a glaze up of evil suns and pseudo outlines of fire dragon and ungor.
The axe is just a really simple base coat pure white then glaze on ultramarines blue, I probably should have alternated the directions of the transition for the head and edge of the axe as it doesn't sell it that well but I didn't want to restart it once I was already fairly far in!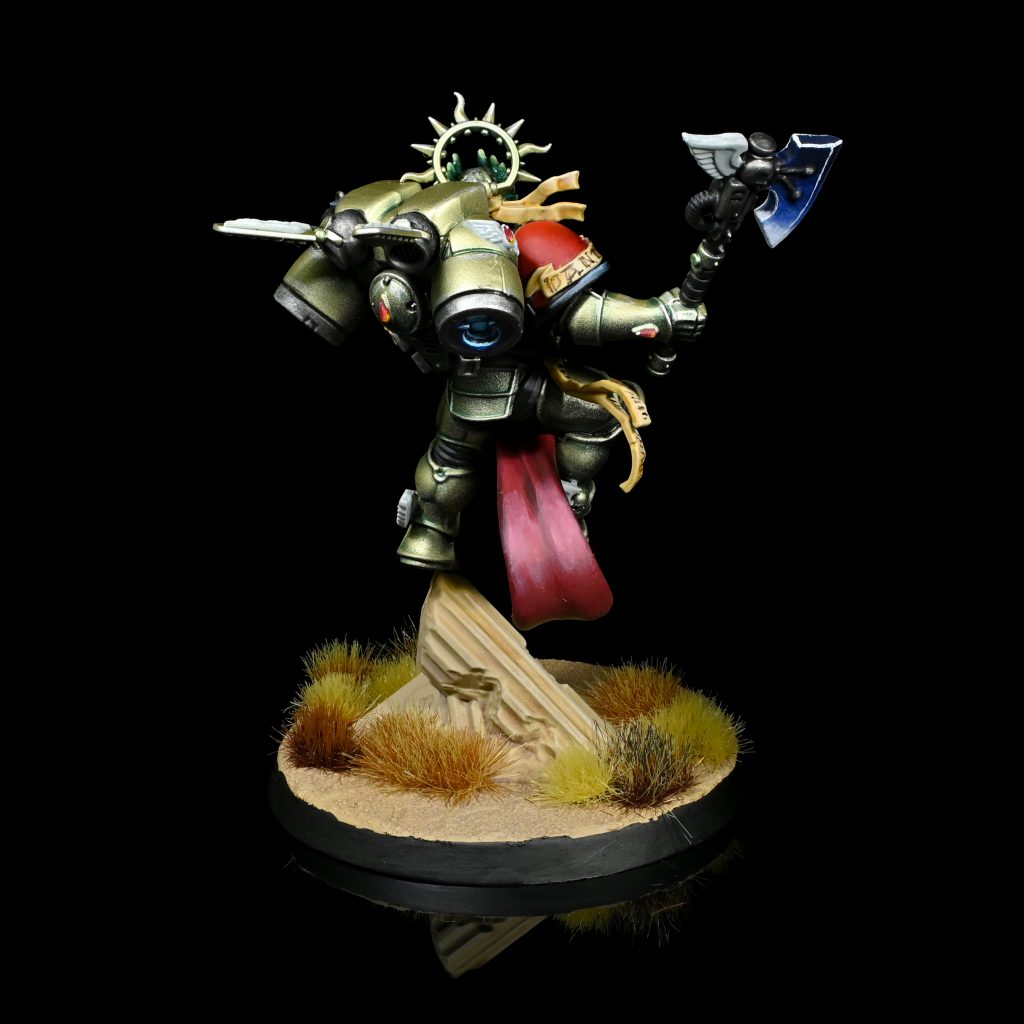 The bases are just zandri dust washed sepia, only the stone got a drybrush of screaming skull, the helmet got hit with a couple of coats of typhus and a drybrush of skrag then the whole base got a airbrushed filter of VMA yellow brown to blend it together then varnish and Gamers Grass tufts.