Welcome back to our coverage of Kings of War. In last week's article we talked about the Good factions of the game. If you missed it, consider checking it out here.
This is the second of three articles introducing the vast array of armies to choose from in the 'rank and flank' tabletop wargame Kings of War. While you can certainly more exhaustive descriptions of each individual, our hope is to provide a laid-back, more digestible overview of these armies, peppered with a few memes for taste and viewing pleasure. For each of the armies we have chosen some 'standout units' that really typify what the army represents. These units aren't necessarily standouts from a competitive view, but rather units we feel embody the fluff or theme of the army, or present great hobby opportunities.
Model disclaimer: Mantic Games has a different completeness of model ranges for each of the armies, ranging from nonexistent to complete. Thankfully the Kings of War community and ruleset encourages you to use whatever miniatures you like, however in this article we will be focusing on Mantic miniatures.
Forces of Nature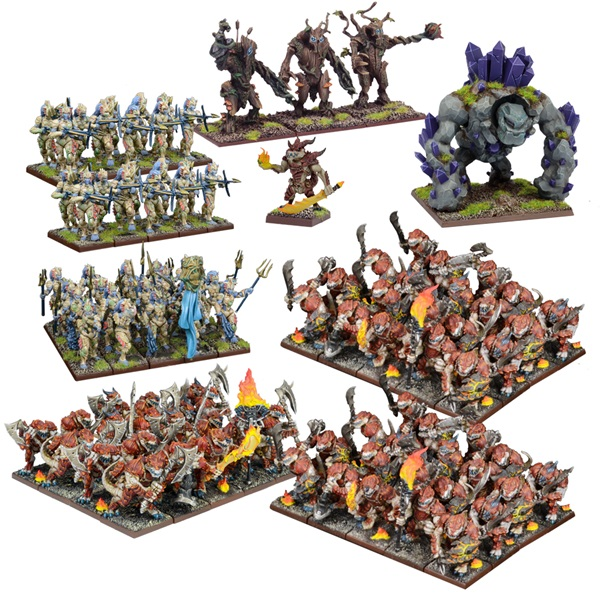 Who are they?
The Forces of Nature describe the vast array of creatures and beings that serve the Green Lady. The Green Lady is the goddess of nature, and serves neither good or evil, instead opposing both so that there is always a balance. At the heart of every army are the elements of nature: walking tree men, and hulking elementals of earth, water, air and fire.
The Forces of Nature are a real mix of many different armies, pulling units from Elves, the Trident Realm of Neritica, Salamanders and Dwarfs. The unique units they bring are powerful spellcasters (Druids and Unicorns) as well as all the small creatures of the woods (mostly militant squirrels and frenzied otters).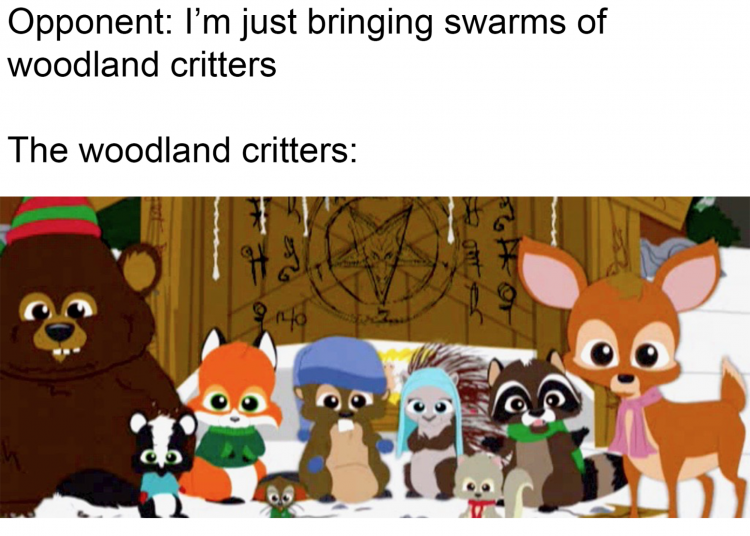 Why play them?
Are you often playing the True Neutral Druid in Dungeons and Dragons? Perhaps you are the kind of person that enjoys crushing an opponent with the literal weather, or watching them being sat on by a walking mountain. Either way, this might be the army for you.
How do they play?
As the varied selection of units might suggest, the Forces of Nature work best as a mixed arms list. This can heavily lean into the defensive nature of Earth Elementals combined with healing from the Druids, being a literal grindstone of an army. Alternatively the Fire and Air Elementals can be the core of an aggressive list. Despite the selection of ranged units, from Naiad Heartpiercers to Scorchwings, these are all rather mid-ranged, so a gunline army style isn't really viable. The best thing about the army overall is that a lot of it ignores the penalties of moving over terrain, so you will often catch your opponent by surprise when they think themselves secure in a forest.
Standout units
Tree Herder


This walking tree is an especially tough monster that can both take and dish out serious amounts of hurt. Add to this the fact that they can also cast spells that move your elementals around and they are a must take.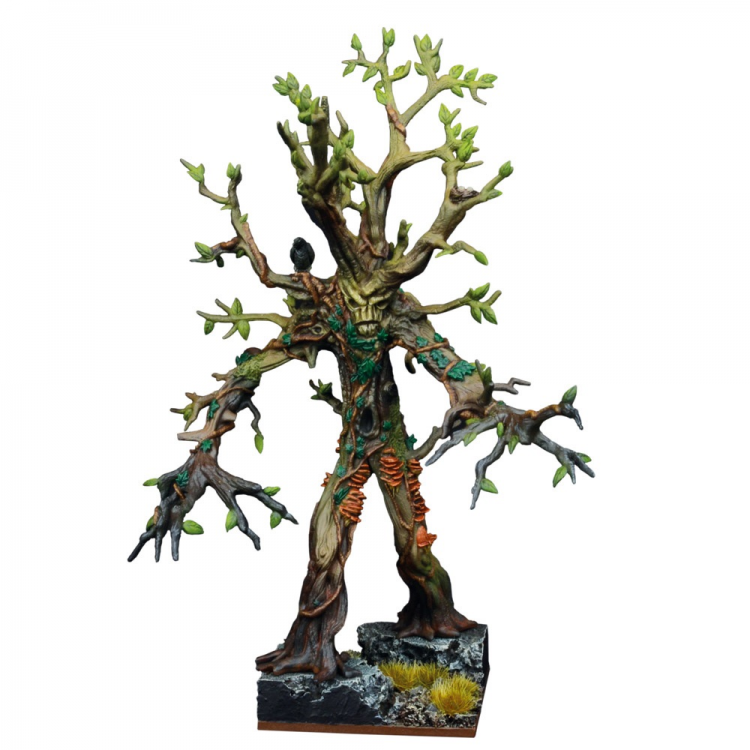 Unicorn


Are you saying unicorns aren't cool? Let me dissuade you of that notion. This sentient horned equine can move about the battlefield with ease (especially when given wings), hitting the most vulnerable units with punchy lightning bolts and healing your own forces. And on the chance you see an exposed flank, unicorns do perfectly well in combat. Fabulous.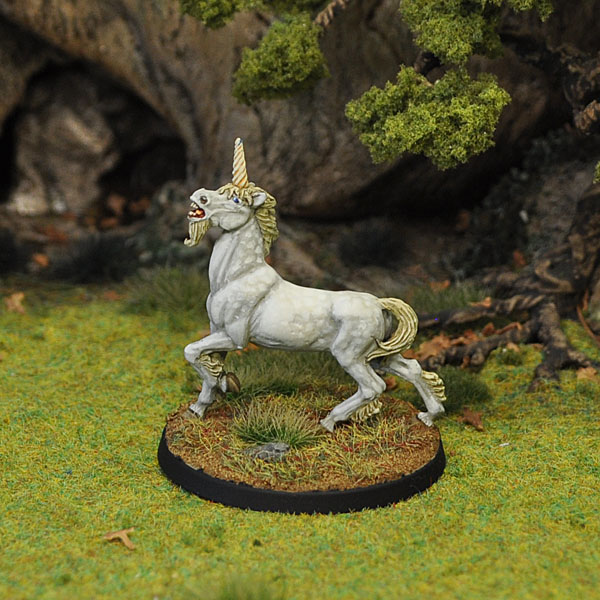 Fire Elementals


Enough has been said about Earth Elementals (see Dwarfs) so what about their flammable brethren? These guys are nasty in combat, melting most armour with ease. They are tough enough to grind it out, and with a druid nearby to buff them they will get a lot done.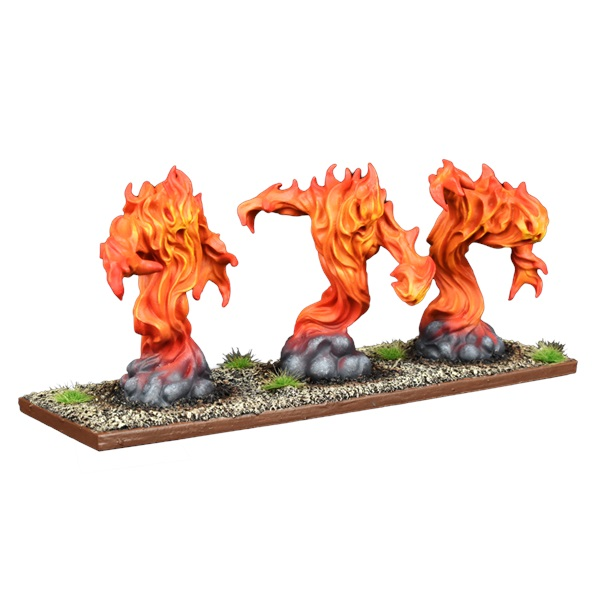 Ogres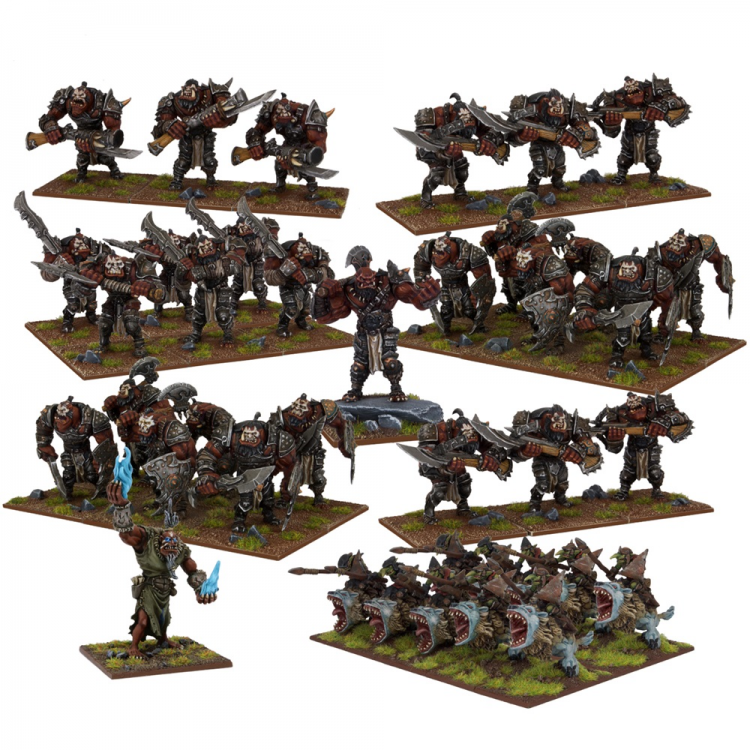 Who are they?
Far in the north of the world exist the nomadic Ogres, leading a peaceful life based around family and caring for each other. Once a year, however, all the Ogres gather together for the great event known as the Thing. Before you know it, your peaceful Ogre son is off fighting in wars for gold and glory and he never calls.
Ogres excel in close combat fighting, but many are drawn to firearms, and some to magic. However, in all cases their choice of approach to any fight is to apply overwhelming force. It is for this reason that many goblins flock to their cause, swelling their ranks with some much needed cannon fodder. The great Giants, too, are drawn to the power of the Ogres, and so when all working together not even fortresses are safe.
Why play them?
Do you prefer low-model count armies like the Custodes? Is your form of 'strategy' to hit things so hard that the only reason they get back up is from their rebound with the floor? Get all this and more in the Ogres.
How do they play?
The Ogres play best as a mixed arms, bringing big blocks of Warriors, Siegebreakers and Beserker Braves. Boomers and shooters bring the short- and long-ranged support, respectively, and then there's Warrior Chariots, Giants, Mammoths and powerful characters (Beserker Bully and Ogre Warlord) to give the opportunity to set up some flanks. The main weakness is that Ogres aren't particularly tough enough to weather many return hits, so its paramount to charge with the intention to kill that same turn. 
Standout units
Siege Breakers


These are the guys you bring to hold the line; they have the best armour in the army and they dish out a world of pain. They might be expensive to bring but they are certainly worth it. 
Credit: Mantic Games
Boomers


When you give an Ogre a gun, they don't cease to be effective in combat. That's the Boomers; eat lead turn 1, then be eaten by the producer of said lead turn 2. 
Credit: Mantic Games
Ogre Warlord


This one Ogre army is capable of holding back entire regiments himself and can be a nasty surprise in a flank charge since he can get around quickly. If you take the legendary warlord Grokamagok, take everything said above, and multiply it by 3.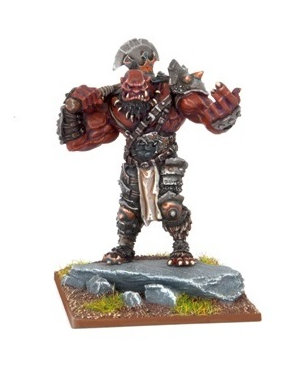 The Trident Realm of Neritica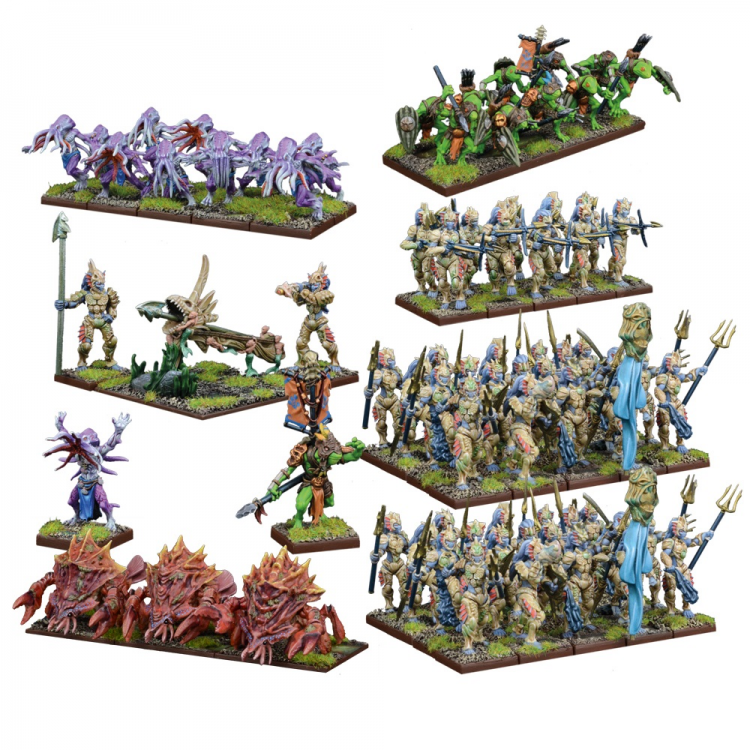 Who are they?
This conglomerate of water-dwelling sentient races are equally noble and benevolent as they are spiteful and capricious. The alluring Naiads have a dark and brutal underlying nature. The reptilian Placoderms are relentless in the defense of their underwater nation. The savage, tentacle-faced Thuul make the others look positively charming. Finally, the frog-like Riverguard might appear cute, but that is only before they spring over your head to impale your comrade on a massive trident.
No deep-sea kingdom would be complete without a host of deep-sea monsters, and that's where the Trident Realm gets really fun. Murderous super-crabs, sea serpents, monstrous amphibian cavalry and even the kraken means you'll never lack for fun ways to disembowel the enemy.
Why play them?
Do you live in a pineapple under the sea? Or do you have a conch on your bedside table and a poster of Jason Mamoa on your wall? If yes, then chances are the Trident Realm of Neritica are your perfect army!
How do they play?
The Trident Realm of Neritica has a lot of durability, but in a way that's different to Dwarfs. This comes down to a mix of regeneration and being harder to hit in combat (ensare special rule). This means that your rank and file can actually tank the enemy whilst your monsters and cavalry can get those crucial flank charges off. How you do this is what makes the Trident Realm interesting as they have many units to choose from that cover similar roles: you can go slow and implacable with Gigas and Placoderms, or fast and brutal with Water Elementals and Riverguard Dambusters.
Standout units
Naiad Heartpiercers


Regenerating harpoon-shooting naiads. How cool is that? Pop these guys on an objective or in a forest and watch them control that part of the board.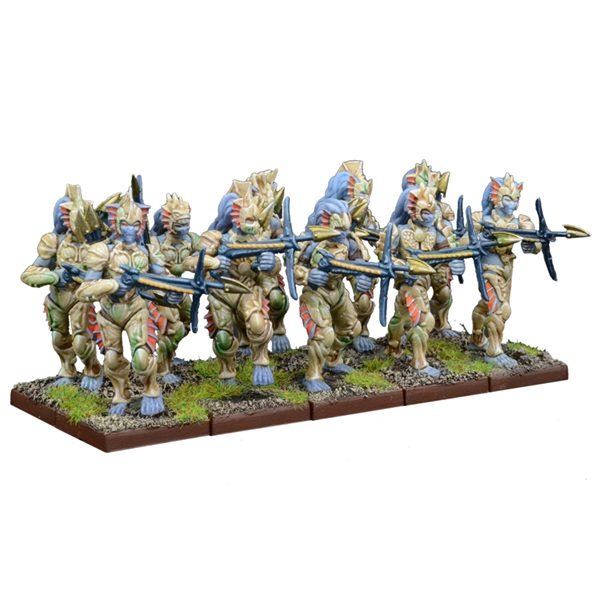 Knucker


Giant sea serpents. They're fast, they hit hard, ignore terrain penalties, are literally hard to hit, and, most importantly, have a very handsome new model.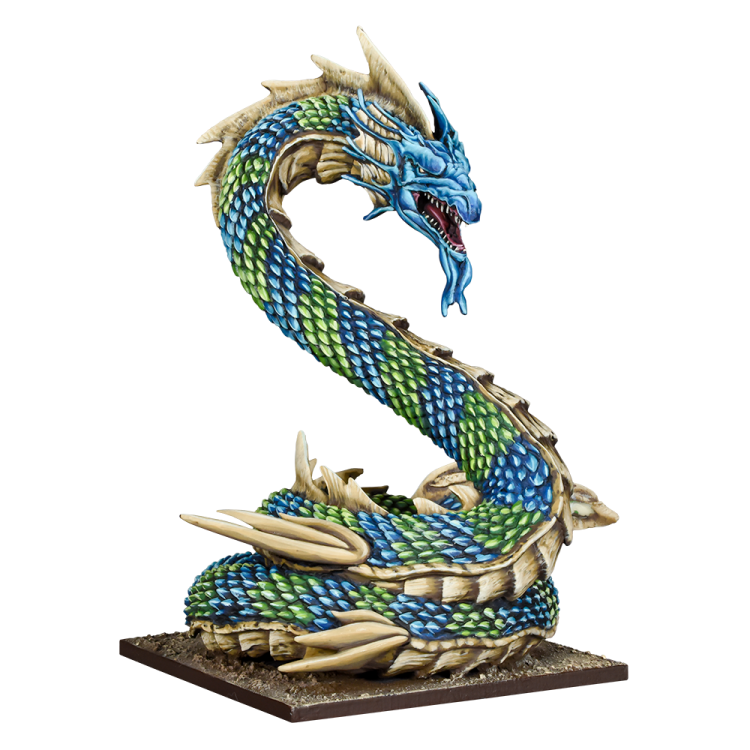 Riverguard Dambuster


What happens when you get a frog riding an even bigger frog into battle? Utter carnage and mayhem, that's what! These guys leap so far they might as well be flying around the battlefield (in fact, they actually do), and when they charge they will leave frog-shaped holes in the enemy's lines.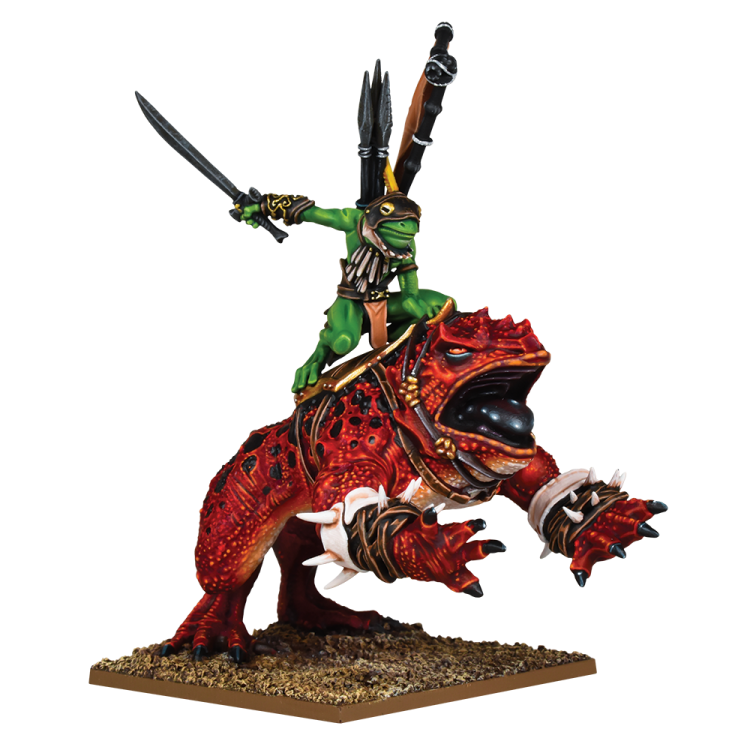 Kingdoms of Men
*Found in the Uncharted Empires expansion
Who are they?
In ages past when the old Republic of Primovantor (ie. Rome) fell, it was not just Basileans that remained. There were many more cities and fortresses of man that persisted, forging their own micro-kingdoms throughout the world. The Kingdoms of Men cannot be said to be wholly good or wholly evil; they are as likely to band together with the other races of Pannithor as they are to torch their homes. 
The Kingdoms of men field all manner of weaponry, from the humble spear or sword to devastating firearms and cannons. Mounted knights and warriors are often seen taking the flanks of the enemy. Behind all this are the generals and wizards, bolstering the army as it marches forward. Of all the means of warfare the Kingdoms of Men display, they do not excel at any one of them, however their versatility is itself their greatest strength.
Why play them?
In a game of fantastical creatures and armies from hell, do you just want to lead the forces of man against them? Do you always pick Mario, thinking that even Luigi is a bit too exotic for you? Or perhaps, you just want to bring your historical army to the world of Pannithor? Then the Kingdoms of Men are the army for you.
How do they play?
The Kingdoms of Men are the embodiment of the jack of all trades, masters of none. They have a tool for everything, but none of them are exceptional. Their forces are solid, but lack the strength of orges, the staying power of Basileans or the cheapness of goblins; however, they're stronger than goblins, cheaper than ogres and more versatile than Basilea. Most of their mass infantry exist to take the charges and hold (hopefully). The 'hammer' units are average and so rely on flank charges to do any real damage. Part of the plan should be the application of cannons and wizards to whittle down key units of the enemy. Hence the Mixed Arms approach is the best. A gunline army is possible, but the firepower is not as cheap as other gunline spam armies, and gunline armies struggle to win the scenario, so best to avoid that trap.
Standout units
Pole-Arms Block


These choppy lads are some of the bravest men in the army, because somehow they were convinced to take pole-arms instead of shields. This means they punch above their weight-class, but will not offer much resistance when charged.

Credit: Warlord Games

Fanatics


Fearless

berserkers. These guys come with a lot of attacks at a reasonable price point. A low defence value means they'll drop to any concentrated attacks, but their fearlessness means they'll never waver, so they'll always swing back, provided they survive.

Credit: Games Workshop

Cannon


It's a big gun that can deal serious amounts of damage. Bring 3 of them if you actually want them to remove units. Unlike most artillery, the cannon can move and shoot when firing grapeshots – this means any sneaky attempts to hit your cannons (look at you Gargoyles) can be met with a spray of hot lead.

Credit: Warlord Games
League of Rhordia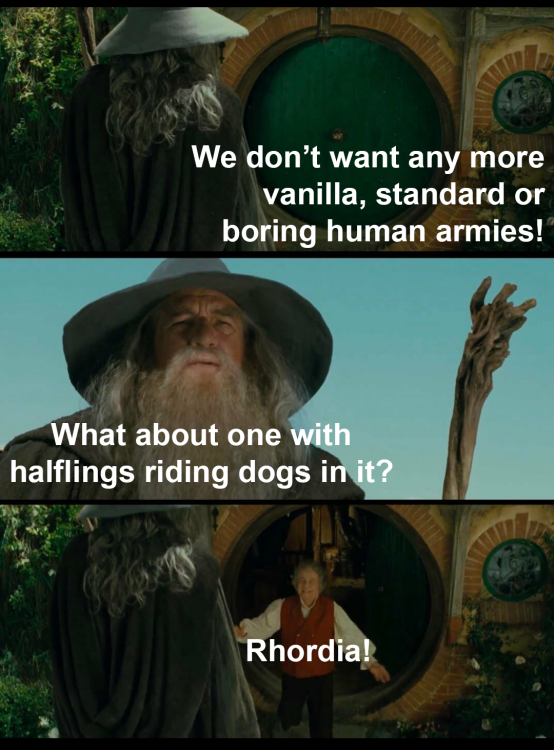 *Found in the Uncharted Empires expansion, the League of Rhordia is a theme list for Kingdoms of Men
Who are they?
Another successor to the Republic of the fallen empire of Primovantor, the League of Rhordia is a less zealous, more enlightened state. Originally formed as a pact between warring city states in the face of an orc invasion, the League continues to grow. The state's encouragement of free thinking, tolerance and innovation has allowed alliances with other races, including adding the halfling shires as fully fledged members of the League.  
Why play them?
Do you like second breakfast? Or think that kitchenware is acceptable armour?
The league of Rhordia might be the army for you. The only home of halfling soldiers in Kings of War, as of the time of writing. They're the place to be if you've got a thing for hairy feet.
How do they play?
As a theme list for Kingdoms of Men, they play in a very similar way, with the exception of having the option to take halfling soldiers. They're not really anything to write home about, but if you like halflings, this is currently the faction that has them (there is a new halfling army in the works, but currently the release date is unknown). Outside of the halflings, the humans of the League ride to battle on the Aralez, a large, dog-like beast with healing abilities, while the Dukes and Barons of the League sometimes manage to get a winged Aralez as a steed.
Standout units
Honour Guard
The Aralez riding knights of the League. While they are a little slower than other knight equivalent units, they trade their speed for strength; they don't have to be the ones charging to do the business. They also have the healing magic of their mounts, recovering a wound everything they pass a nerve check, meaning they'll throw off any plink damage from all but the biggest ranged units. These guys are the 1st reason to play Rhordia instead of Kingdoms of Men.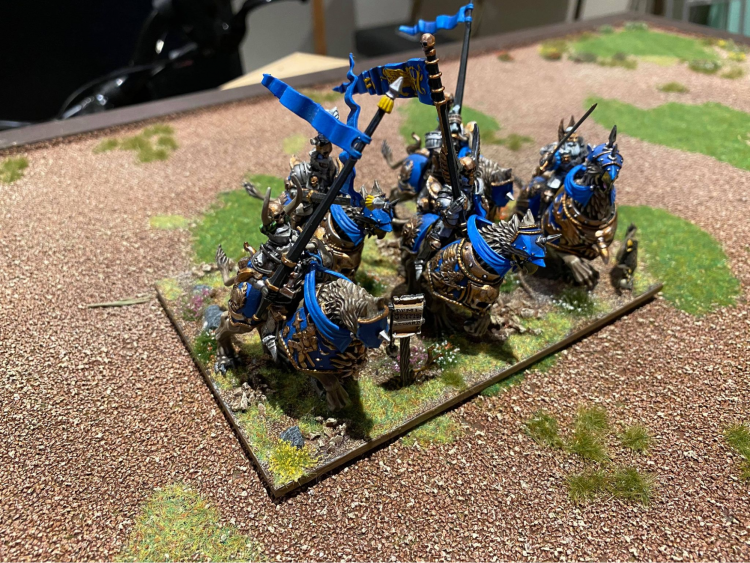 Duke on Ancient Winged Aralez
The guy the Honour Guard are guarding. The leader of a city in the League, mounted upon the eldest and strongest Aralez. This guy can be a huge threat in the flank, but is more useful early game as a buffing character, giving an aura to reroll failed nerve checks, as well as healing a wound each turn. Keep him behind the lines, and throw him out towards the end of the game to finish off weak units or to grab an objective.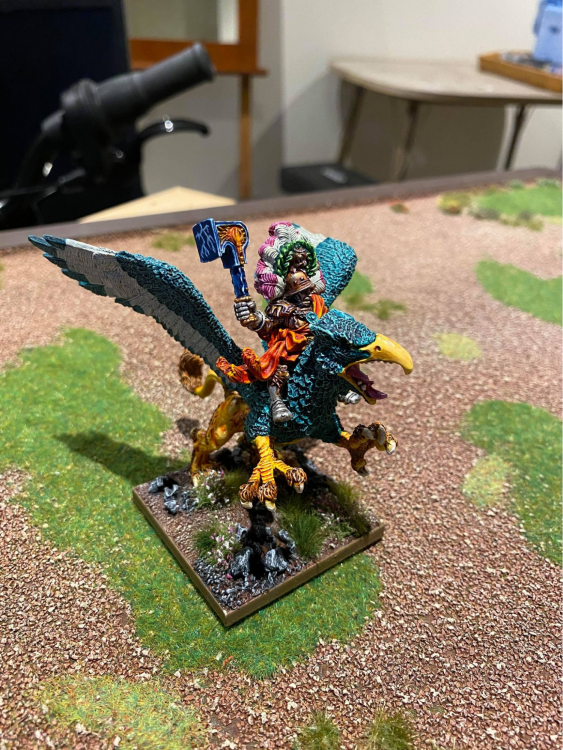 Battle Shrine
The second reason to play Rhordia instead of Kingdoms of Men. In addition to being a great hobby project, the Shrine buffs nearby units with +2 to their health/leadership, can shoot lightning, and if the opportunity presents itself, can do a solid chunk of damage with a flank or rear charge. With a Shrine and Duke behind your lines, and a healing wizard too, your troops will last an extremely long time.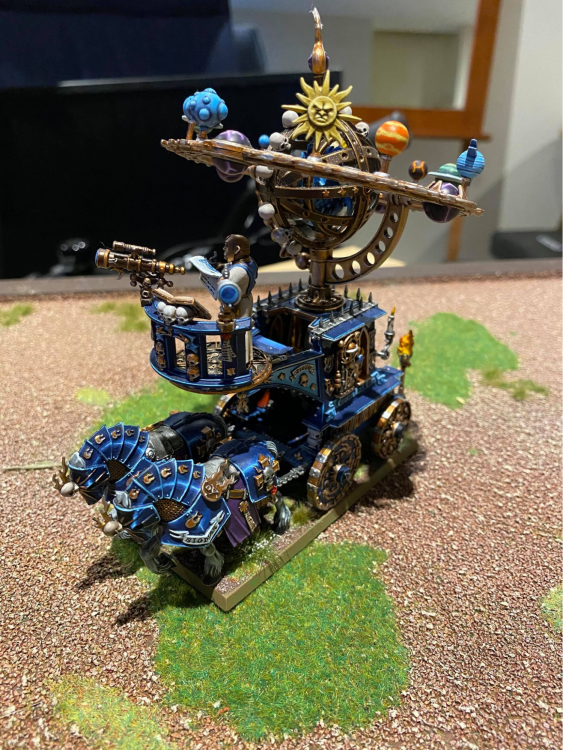 Sylvan Kin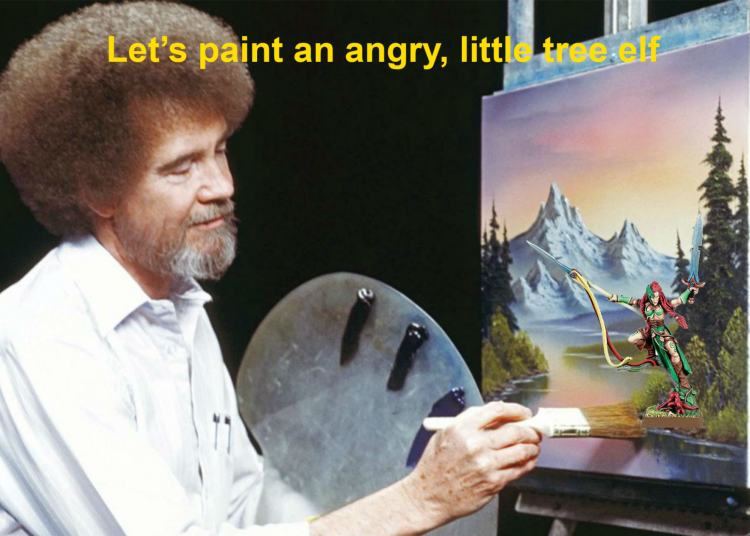 *Found in the Uncharted Empires expansion, the Sylvan Kin is a theme list of Elves
Who are they?
The Sylvan Kin are elves that have abandoned the towns and cities of their empires and formed their own kingdoms in the woods. They live as guardians of the great forests of Pannithor, forming armies of elves aided by the fey spirits inhabiting the woods. Wild panthers run into battle alongside Boskwraiths and the mighty Tree Herder, while Silverbreeze Cavalry pepper the enemy with arrows before charging in for the kill. In especially dire situations, the Green Lady will answer their prayers and send her avatar to assist in the destruction of the enemies of the wilds. 
Why play them?
Have you given up on city life, longing for a tree change to the country and want to play a faction that feels the same way as you? Were you disappointed that the end of MacBeth didn't actually involve the Birnam Wood marching on Dunsinane? Do you just wish Wood Elves didn't split into Sylvaneth and Wanders? As Mantic Games' hippie elf answer to Tolkien and Games Workshop, the Sylvan Kin might be for you.
How do they play?
Sylvan Kin are a well-rounded army that plays best with an equally well-rounded list. There are good shooting options, yet nothing so amazing you should form your army around it. The infantry is solid, but a bit lacking in defence. Their formidable cavalry requires skill to reap their potential. Importantly, the army is fast. There is a lot of access to scout (a pregame move after deployment), giving you great board control from the get-go, and the possibility of first turn charges is a real one.   
Standout units
The Wiltfather
A unique upgrade to the Tree Herder (see Forces of Nature), the Wiltfather exchanges his aura of healing for an aura of

death

, becomes more killy and even makes other trees more killy. Surely your opponent will kill him ASAP, think again as he is one of the toughest monsters in the entire game. Also a great conversion project to make your tree extra scary.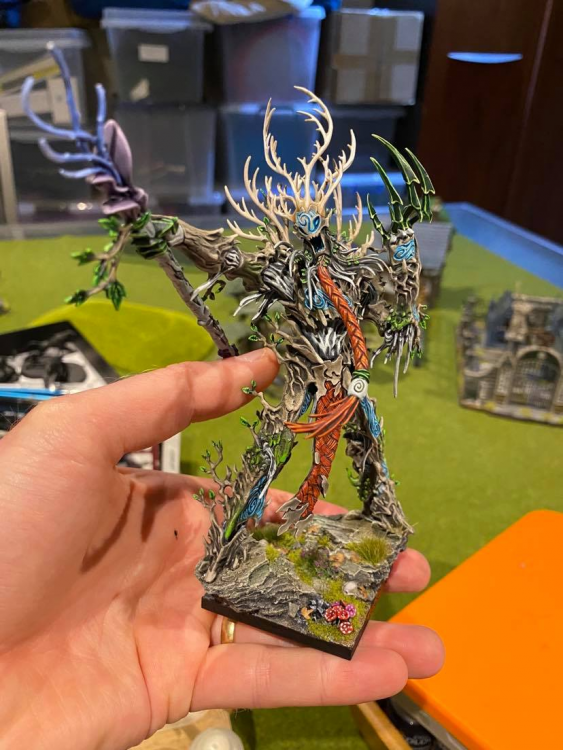 Silverbreeze Cavalry


The fastest light cavalry in the game, these don't exist to do damage but instead to get in the way of your opponent's forces by acting as

chaff

. Stop them charging your archers, force their unit into exposing their flank. These might not be your MVP, but they will help the MVPs get there.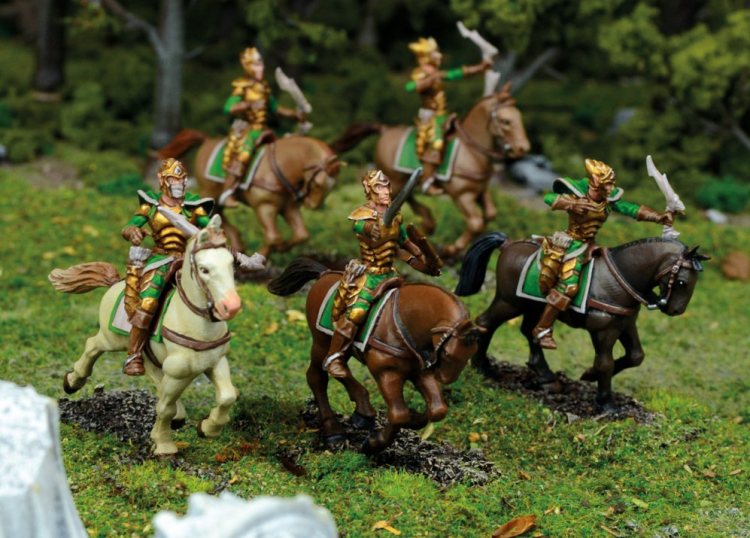 Master Hunter


The mobile sniper of the woodland elves, the Master Hunter can really get around the battlefield and put damage on any target. They're cheap, they're hard to take out, and they can even inspire your other archers.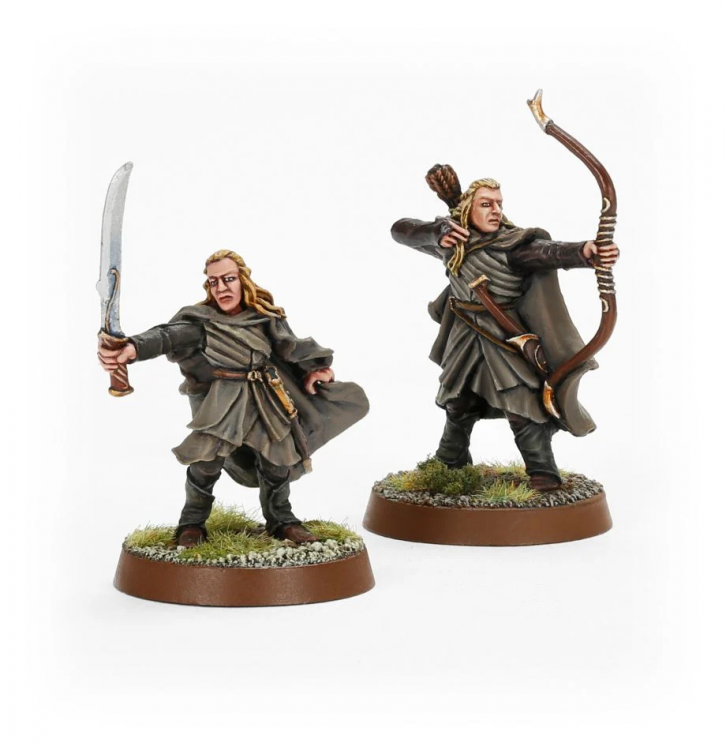 The Herd
*Found in the Uncharted Empires expansion, the Herd is a theme list for Forces of Nature
Who are they?
As the dark gods were making the orcs to serve as their minions, the leftover stuff of their creation, the remains of intelligent beings and beasts, was thrown away. This was reused by the dark god Kyron to create playthings; minotaurs, harpies, lycans and others. His better half saw the suffering of these creatures and saved those he could. The descendants of the saved now worship the Lady and nature, and serve as the guardians of her realm.
Why play them?
 Are you a wild man of the forest, living alone in a cabin with only the company of animals, emerging once in a blue moon for supplies and to play tabletop wargames? This army will keep your home close to mind. If you remember reading the Redwall novels and thought it'd be dope to have an army of forest creatures, this ones for you. Also, if you just like beastmen, this is it; though there's none of the servants of chaos theme here.
How do they play?
The Herd are a fast, hard hitting army; as alpha strike as it gets. Most of their units have the ability to ignore the penalties of terrain, so you can sprint up the board wherever you want to go. Using terrain to your advantage is very important for the Herd, as aside from the Earth Elementals (which we have harped on about enough), you are really lacking in defence. However, most units also get bonuses to charge distance or to wound on the charge, so you should be hitting first and taking out what you hit, just beware enemies with enough chaff to stop you hitting their big boys.
Standout units
Lycans
Lycans are the embodiment of the Herd. Extremely fast, nimble and hard hitting, as well as regenerating, so if the enemy tries to put you down with a few arrows, you can shake it off and return their arrows with interest.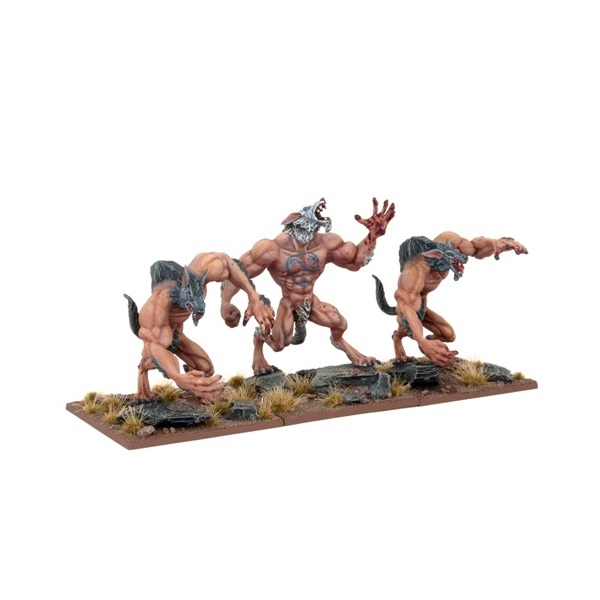 Minotaur Chariots
Absolute beefcakes (heh). Real tough and real strong, though not the fastest around, these chariots will put the hurt on whatever they hit, and give you a great modeling opportunity. Want the minotaurs to be pulling the chariot or on it? It's up to you.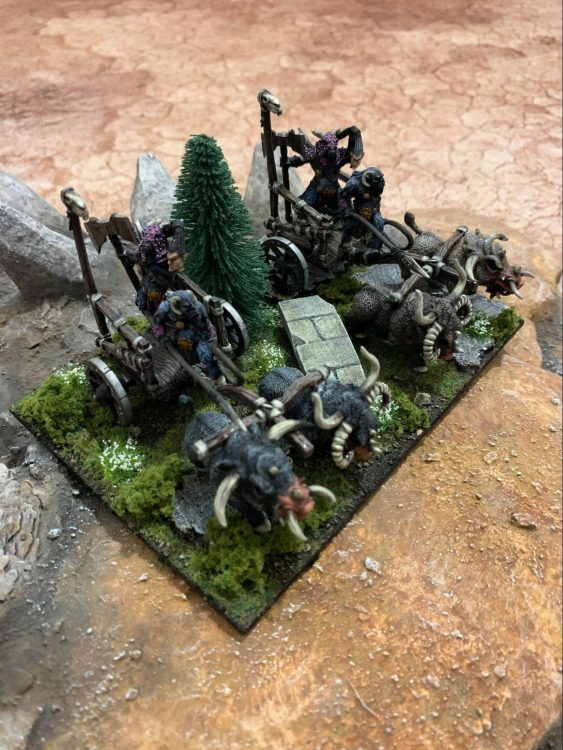 Harpies
Cheap and fast flying units that are perfect for harassing enemy warmachines or any casters they've left unprotected far behind their lines. Harpies will die if anyone so much as sneezes at them, but as a nimble flying unit that can move and fight in terrain unhindered, they really shouldn't be hitting the front of anything anyway. They're able to put in some work on lightly armoured enemies from a flank or rear charge, but mostly their use comes from their harassment abilities or as late game objective grabbers.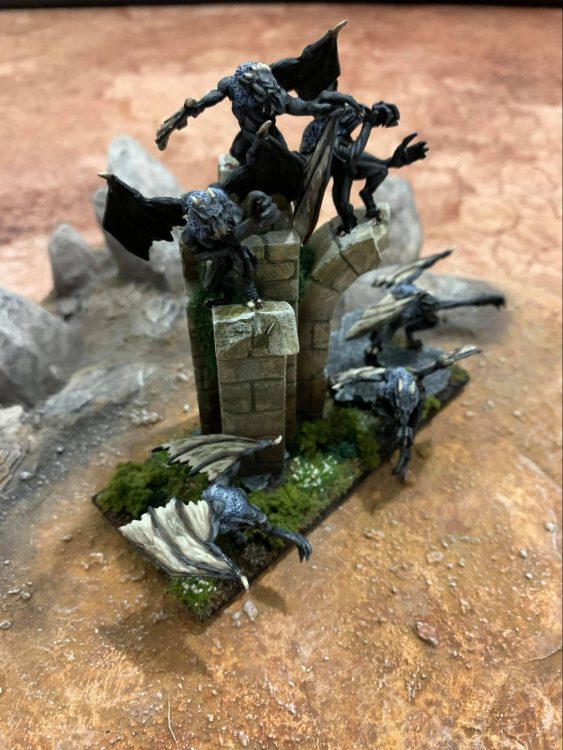 Next Time: The Bad Guys
The Neutral armies offer an interesting array of playstyles to choose from and perhaps their greatest strength is that they can ally in both Good- and Evil-aligned units, making for a very versatile force. Perhaps the best part is that many armies from other game systems can find their home among these army lists. Yet, some of Mantic's best miniature ranges can be found as well. 
Have any questions or feedback? Drop us a note in the comments below or email us at contact@goonhammer.com.