Riders of Rohan is a Jeskai Knights go wide deck with 20 new cards from the Lord of the Rings set. Eowyn and Aragorn are the default Commanders. First I'll review the possibilities of the new cards, then discuss playing the deck as it was printed, and finally how to rebuild it into a more effective go-wide Humans deck in Jeskai that can overwhelm your opponents with a horde of buffed tokens.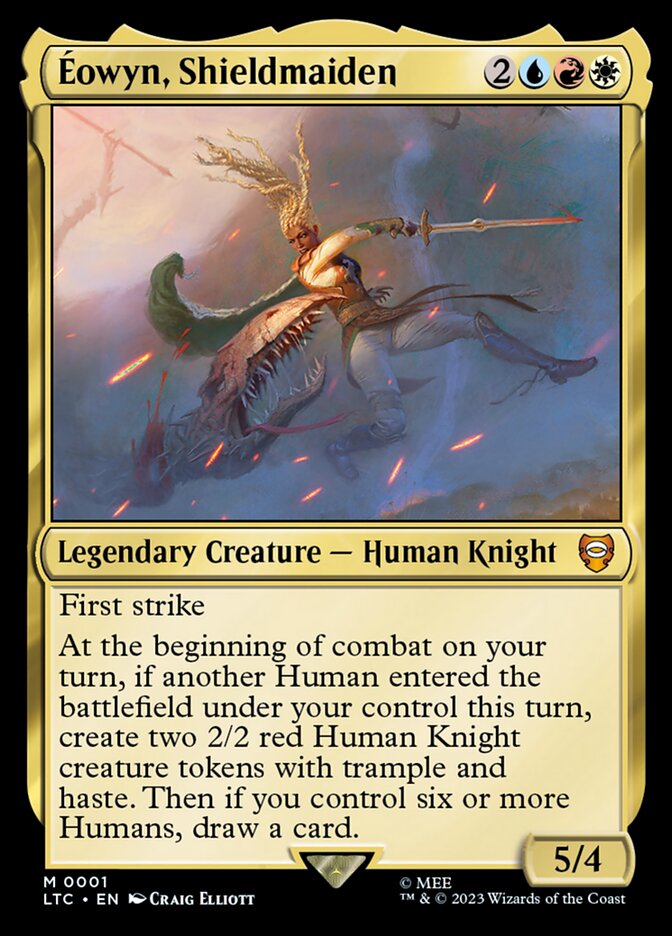 Fun card for Jeskai Knights, 5 mana is a lot for 5/4 but generating 2 2/2 Humans and a card if you have six or more Humans is pretty solid as a Commander for a Human tribal or Knight tribal deck (or both). I think building a red white blue Knight deck around Eowyn would be really fun, and mirrors the other Knight Commander, Syr Gwyn, Hero of Ashvale. There's been a lot of solid red and blue Knights printed over the last year or two, and with another Eldraine set coming out soon there's liable to be even more blue Knights.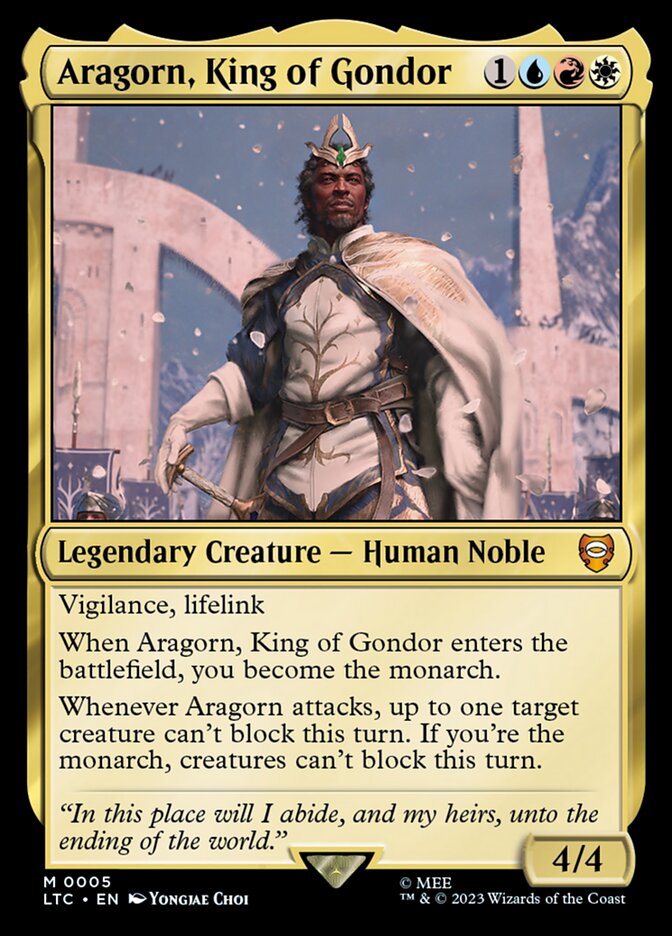 This just seems over costed to me, 4 for a 4/4 that makes it so creatures can't block. The one way I could see this working is as a finisher. Build up a ton of creatures, drop it, you're the monarch, nobody can block. If you can dish out 120 damage in one turn, then it's GG.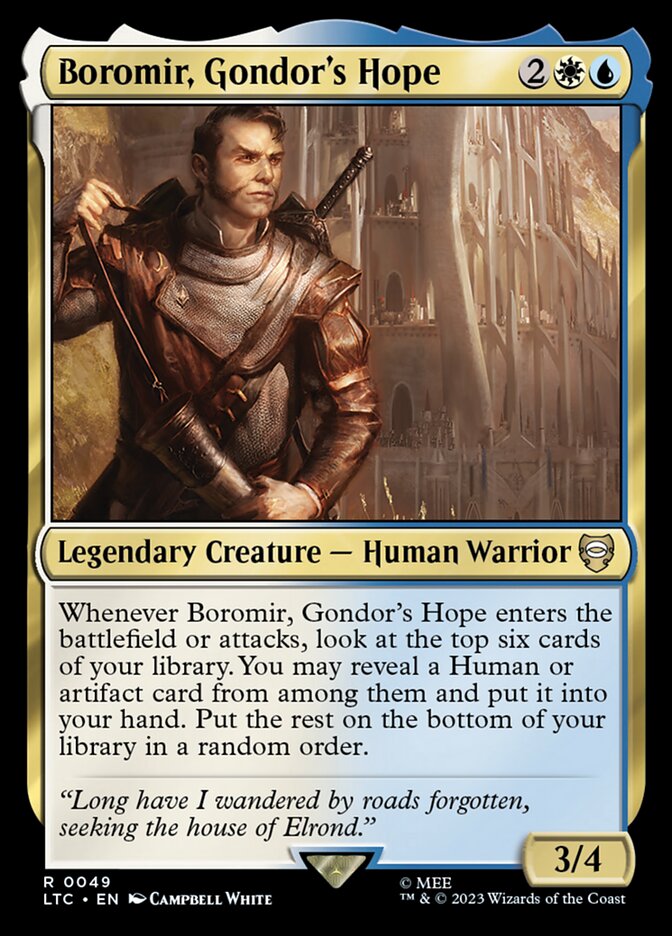 4 for a 3/4 that lets you search for artifacts or Humans is ok but not very exciting. Also he doesn't find The Ring or anything so why does he have that ability? Shouldn't he be like a bodyguard? Sacrifice Boromir, target legendary (or target ring bearer?) gets hexproof and indestructible or something.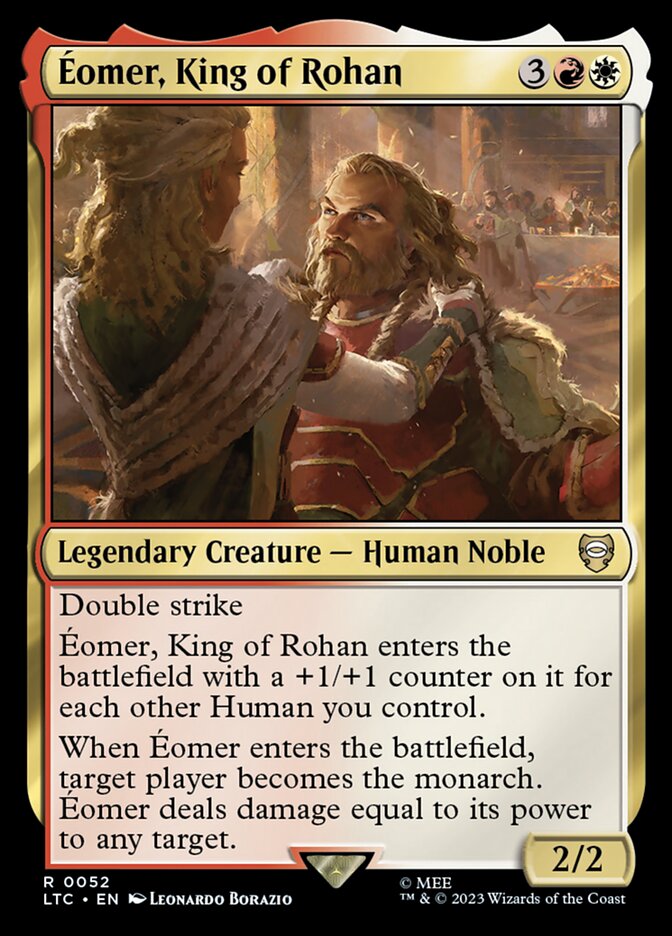 Double strike on a creature that enters with potentially a bunch of +1/+1 counters can be a bit scary. Eomer is capable of one-punching your opponents, white could be used for protection and keeping opponents from interacting and red for generating haste and extra attacks. If you have 9 Humans in play when he enters (admittedly a lot), then his double strike is in range to kill an opponent via Commander damage. Generating white Human Soldier tokens isn't particularly difficult.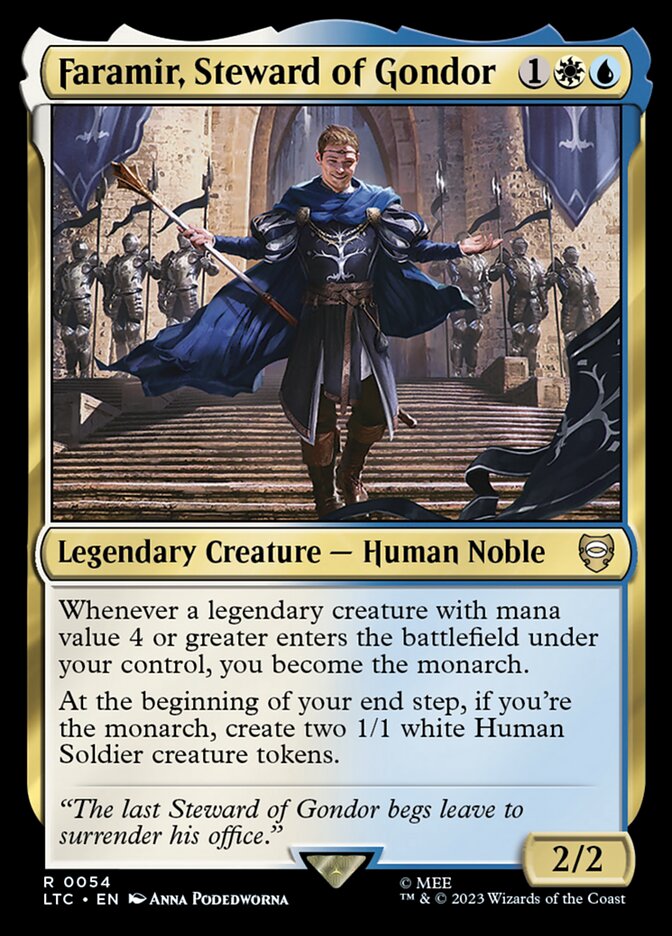 This seems underwhelming unless you're running a deck that simultaneously runs a lot of expensive legendary creatures but also wants to have a lot of token creatures to buff. Those things are mostly in opposition. Yes, you only need to get the monarch into play then keep grabbing it, but you'd want to run several legendary creatures to ensure you could get a monarch emblem into play. It's just a lot of moving pieces for an effect that isn't that critical.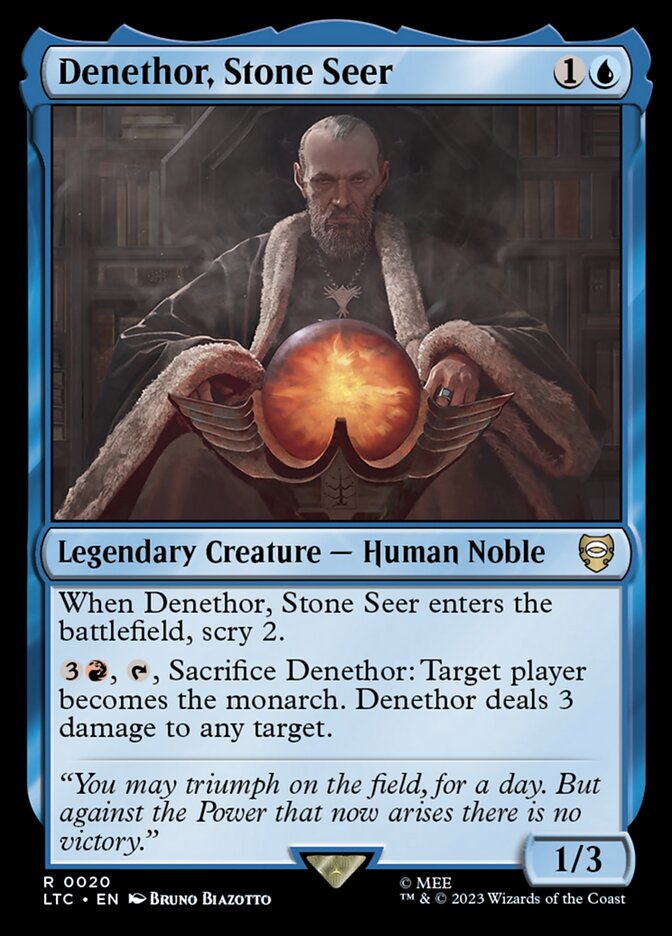 I mean.. what? I would not play this card in Magic decks.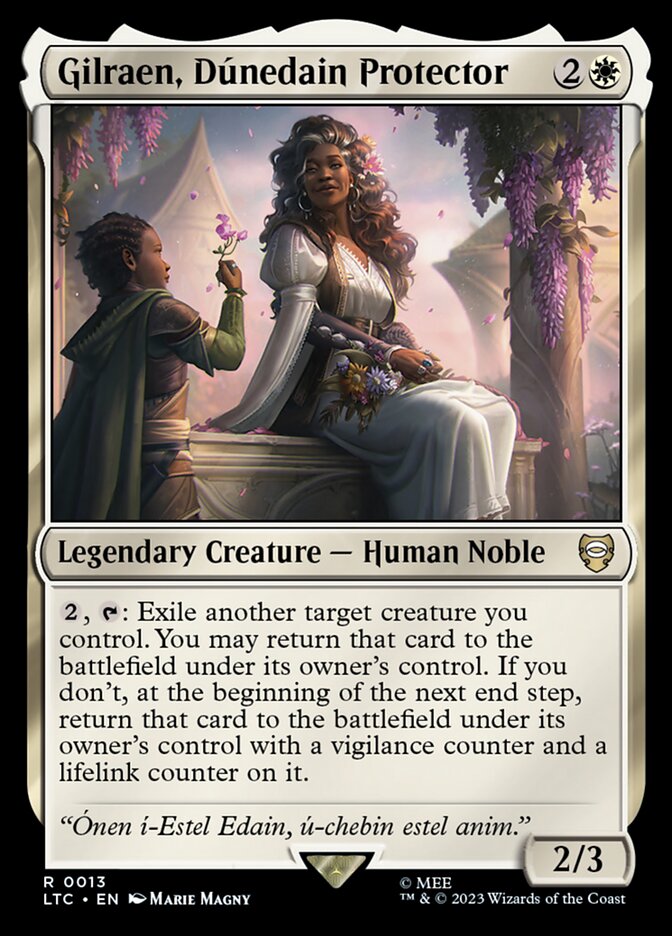 Potentially goes infinite, though it's complicated, and also lets you grab vigilance and lifelink counters, which are neat. Fun (but mana intensive) card for ETB decks, probably would play best in Azorius decks, especially with Yorion, Sky Nomad and Brago, King Eternal though you can use it as a protective for your creatures to keep opponents from killing them. To me the funniest use of this card would be to turn the one ring into a creature by various means and then keep giving yourself protection from everything, which is exactly what's ruining most formats.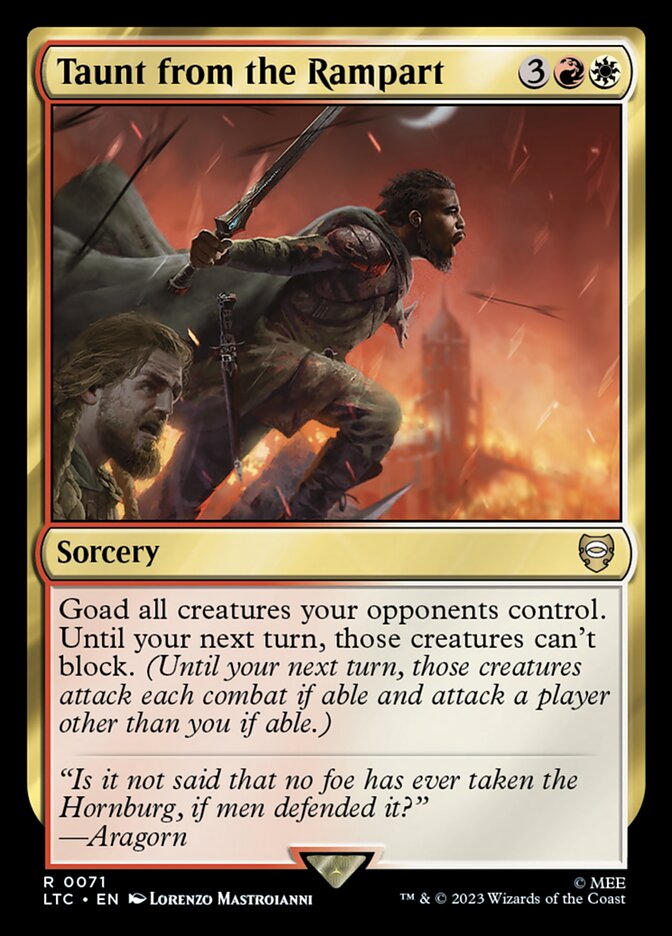 This is a solid political card for that sort of game, could also be used to remove blockers, though any creatures your opponents cast won't be goaded and therefore won't have attacked and become tapped, and vigilant creatures also will still be around, so depending on this to get through is probably not tenable.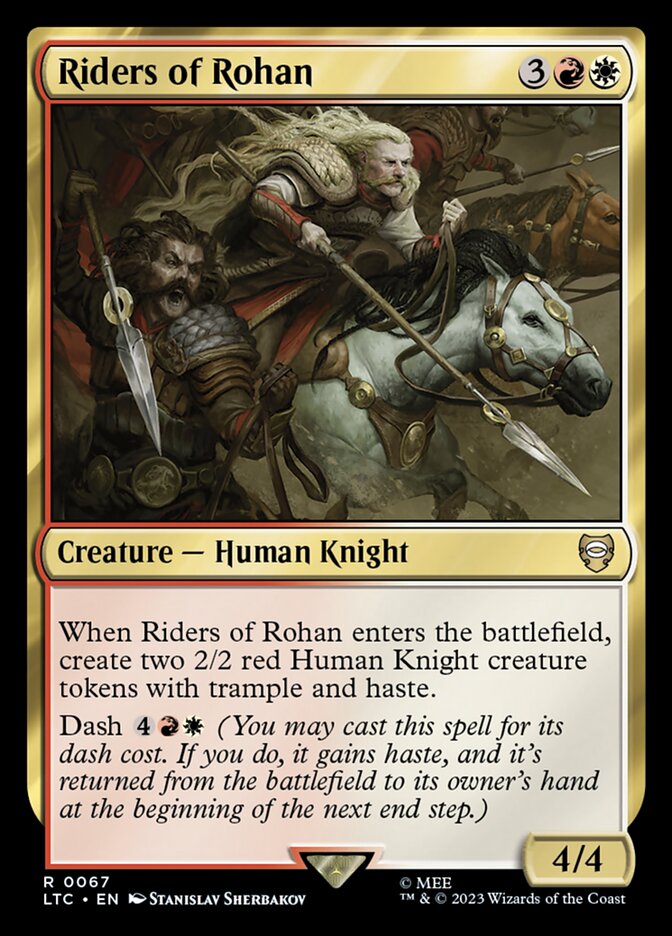 Fun Human Knight generator to accompany Eowyn, but other than needing a lot of Knight or Human tokens way too expensive. The dash cost is basically ludicrous to contemplate playing repeatedly.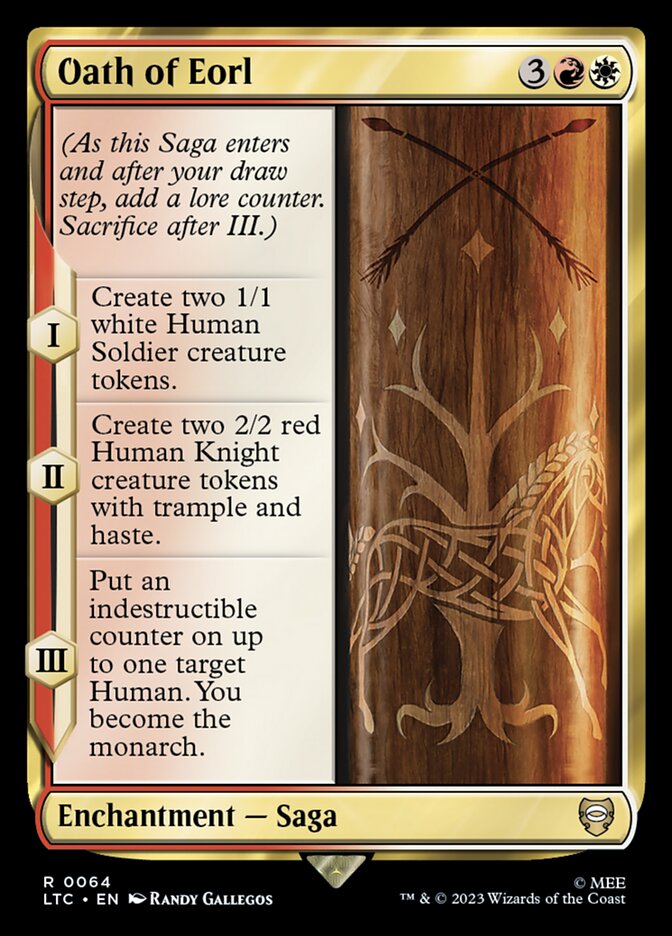 Just really expensive for a mediocre saga, 2 1/1s and 2 2/2s and an indestructible counter and the monarch for 5 mana and 3 turns is just so much. Maybe if it had read ahead.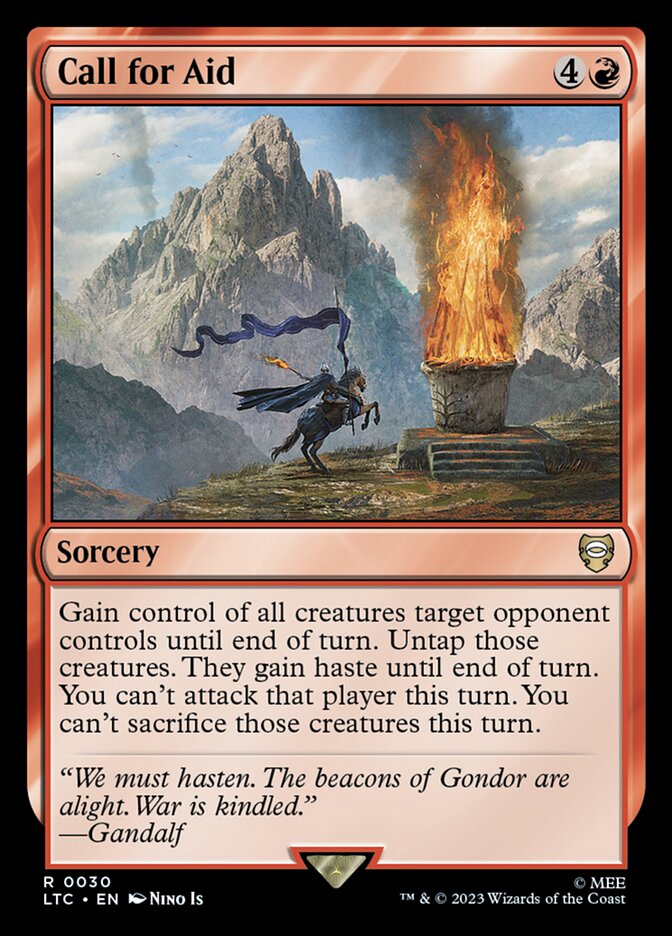 This is funny to me, mostly because of how battlecruiser games play out, and you can actually force some action, but its going to make people so irritated that I'm not sure it's worth it. The no sacrifice clause is so important here and really devalues the card.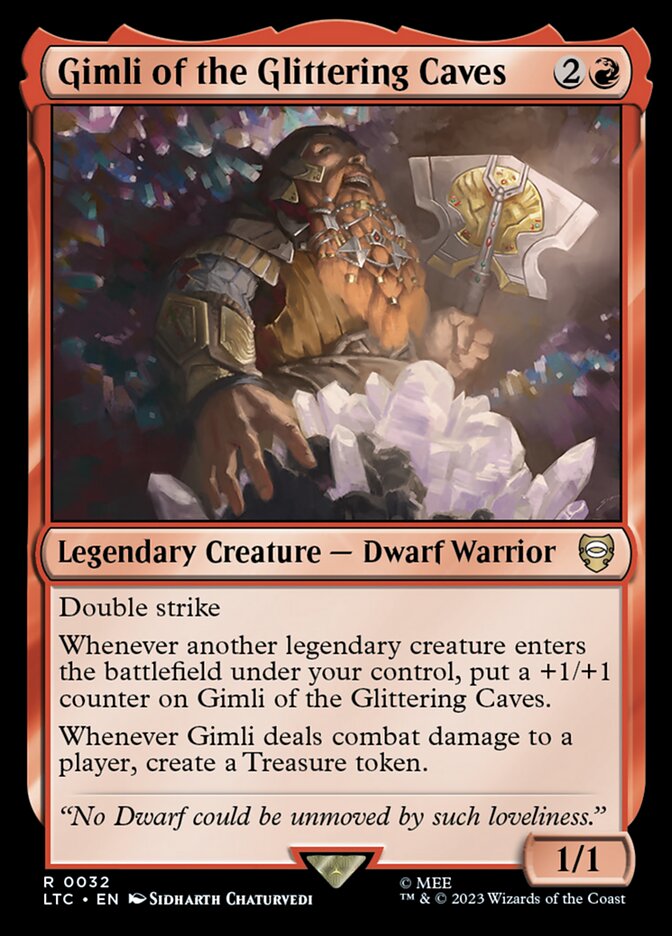 This seems solid enough for a hitter Dwarf, if you're playing Dwarf tribal or legendary matters tribal I guess, double strike is going to mean you get 2 treasures per turn, the problem is it can quickly become threatening enough people will waste their 1 interaction card to stop it from making them lose 10 life.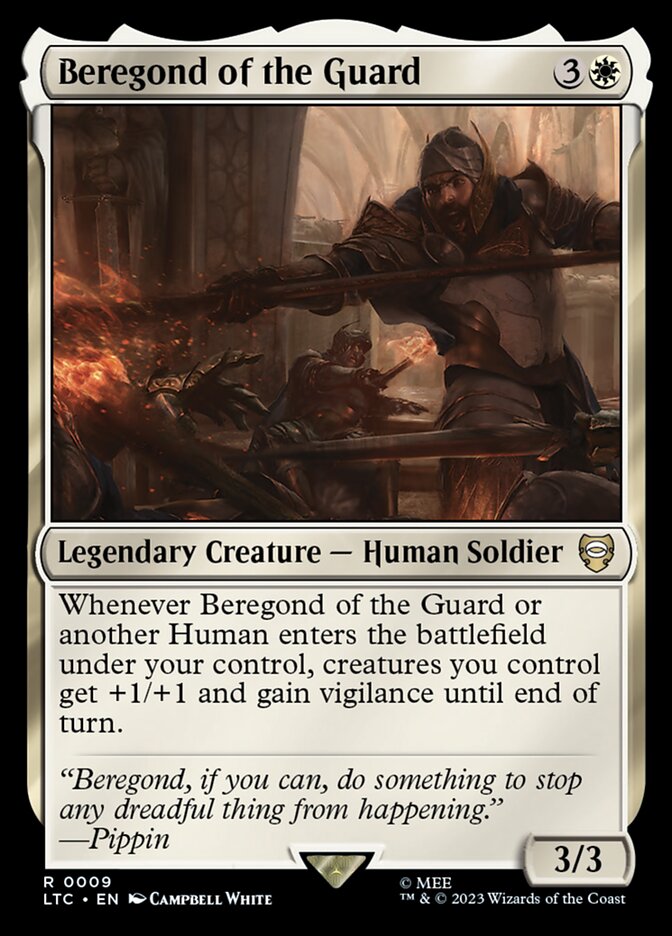 This is a solid semi-anthem for your deck to win off generating lots of tokens, though the tokens that pump you up won't have haste unless they naturally do. Compare this to Cathars' Crusade and this comes up a bit wanting. But it is itself a 3/3 and vigilance is nice.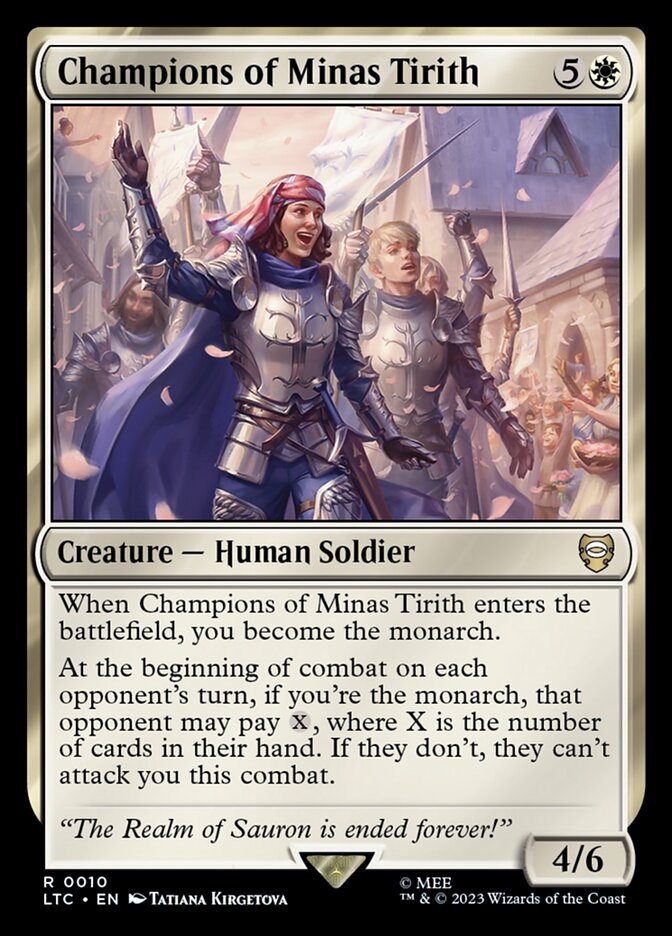 A 4/6 with a kind of conditional war tax isn't horrible if you want to pillow fort, your opponents are generally going to need to pay 3+ mana to attack you, but it's not per creature, so if they need to they probably will.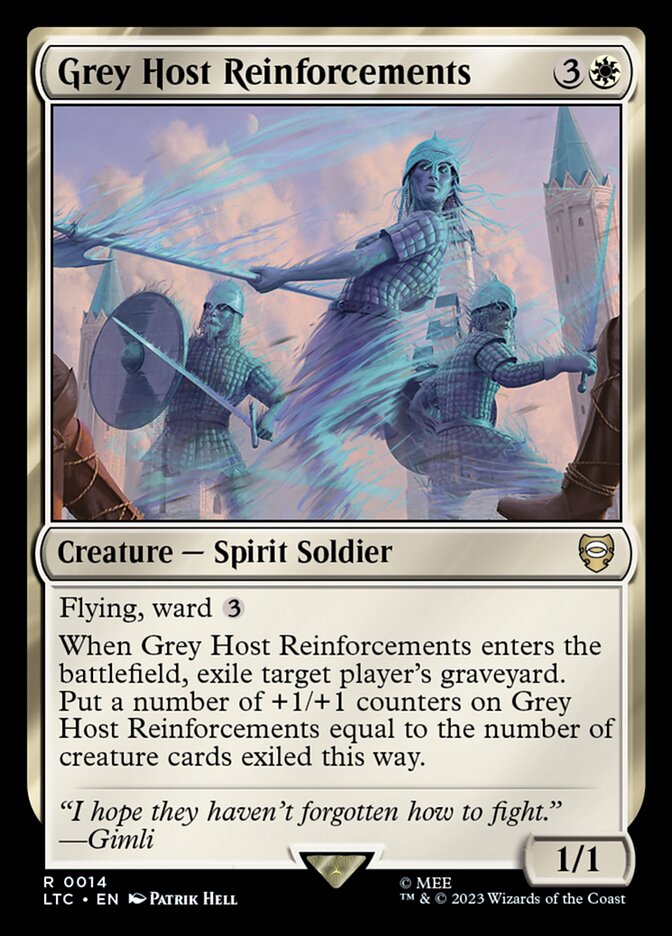 This is a neat Spirit, expensive, but gets big quickly (potentially) and Spirits decks often include flicker effects.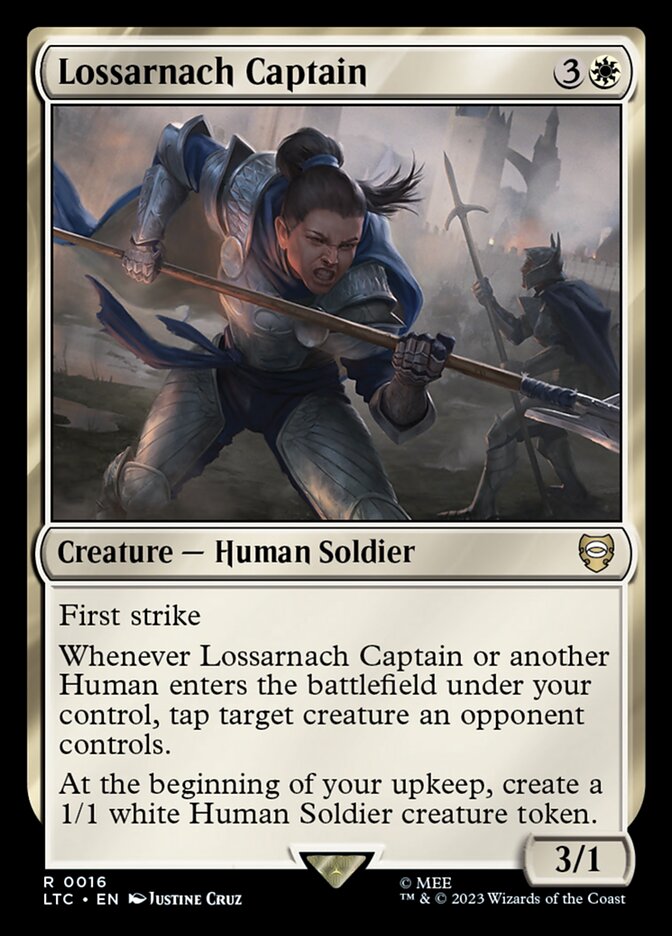 This just seems too expensive to tap down a creature and make a 1/1.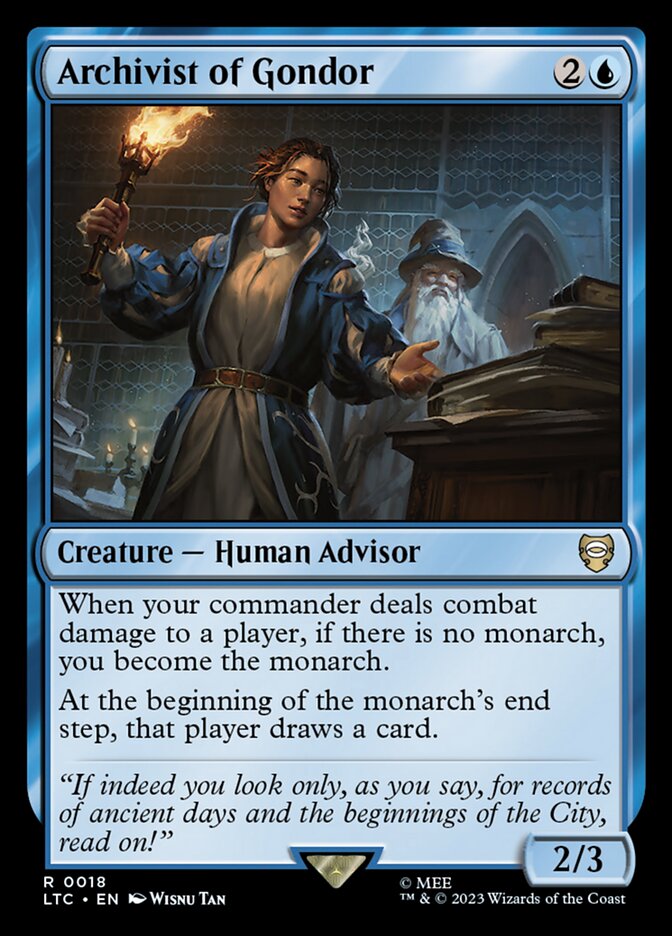 Basically double the monarch, which is fun, especially if your deck is built around keeping it, but often hard to do. Potentially you're handing out a second card to your opponents (or all of them) which is dangerous.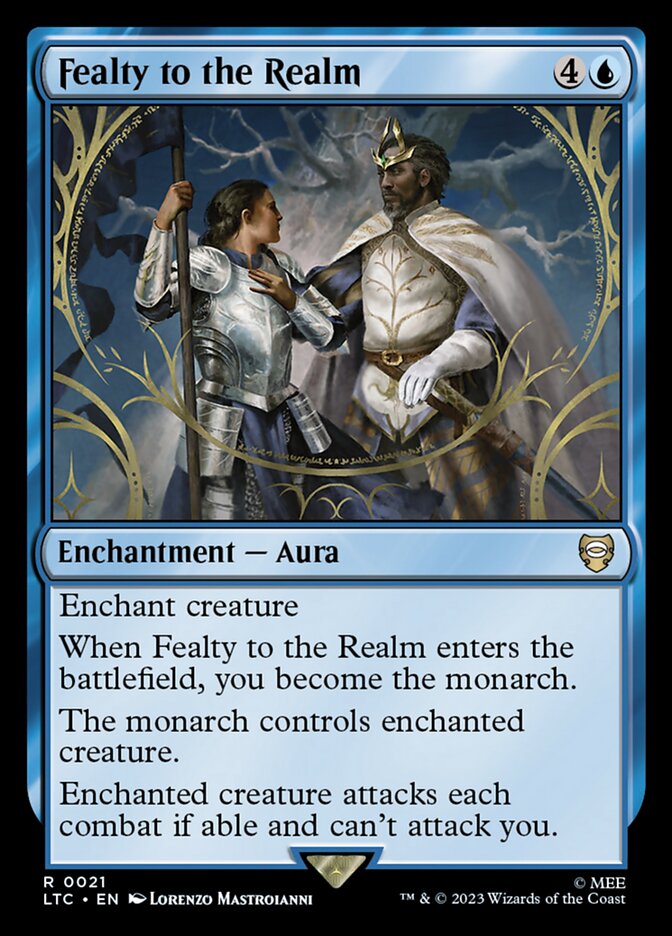 Wow the focus on the monarch is intense here. I like this card, it's a neat idea, to start having things like the monarch control things. But I probably would not play this over control magic effects except in a "fun" deck. In a fun deck this is a way to grab a threat and protect yourself but let it float around and hit people, kind of like a reverse Assault Suit.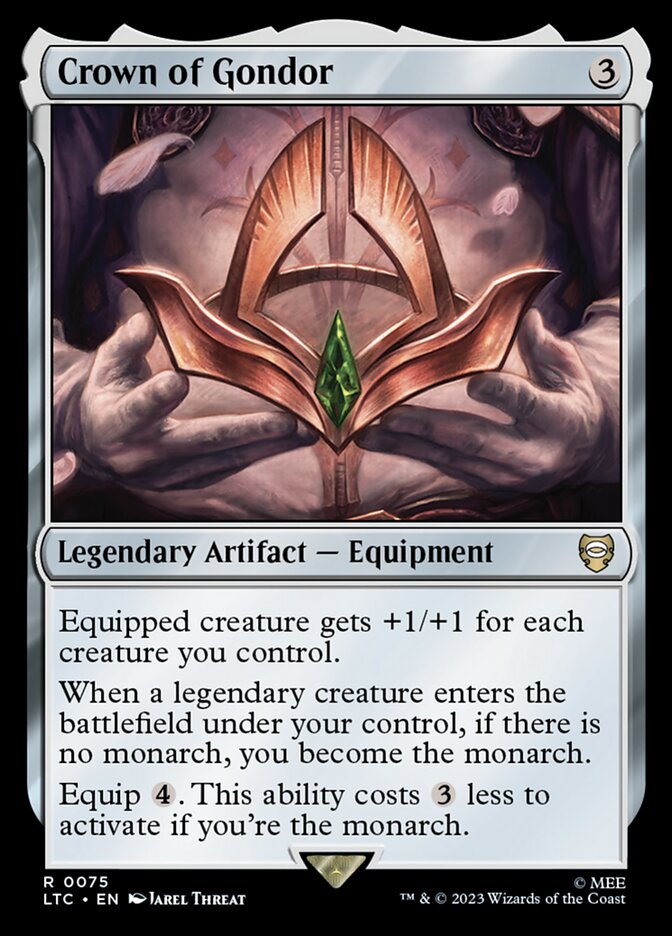 If you want to one-shot people and use legendaries to kill someone off, this is potentially a decent enabler. Could also have a place in Sisay, Weatherlight Captain to enable your search.
Playing this deck out of the box is going to be a slow going affair. With many enters the battlefield tapped lands and some ramp, you're probably looking to not do much until turn 2 or 3, and then hopefully drop a rock (there's 6 in the deck) or one of your 1-2 drops. You won't want to over expose your creatures, since the deck relies on a go-wide strategy, you're virtually going to have to survive a board clear if opponents are playing similar precon-esque decks. In that instance it's probably focus as much as you can on building non-creature board presence, then dropping out Eowyn and trying to start drawing cards so you can expand your board presence more. Around turn 8 or 9 you can probably develop a board state that threatens your opponents, if you're that deep and they don't wrath then you can go for it. Without haste sources or significant ways to punch up a lot your best case scenario is something like Beregond of the Guard on top of something that makes multiple humans, like Forth Eorlingas! to get a bunch of buffs onto 6-7 creatures at once and kill off some opponents. The other big option is to hold Aragorn, King of Gondor, then drop him when you have lethal and swing through when your opponents can't block. Assuming nobody held up interaction that is a viable finisher.
Rebuilding the deck is the usual suspects – more ramp, more interaction, clean up the land base with more basic typed lands and less bad duals that enter tapped. Cut out the entire "monarch" sub-theme the deck had running. Adding more anthems and protection for your creatures mean you more reliably survive board wipes and threaten a win earlier. Odric, Master Tactician is essentially a better version of Aragorn, Herald of Hoofbeats will pump all your Knights with horsemanship but not your Soldier tokens, but this ought to allow you to plow through some damage to get people low much earlier. The addition of all the enchantment and artifact anthems means you can more usefully develop board state while waiting for that critical board clear to go off.
Several of the cards added to the deck are relatively pricy, but none of them critical, so if you don't have a Ranger-Captain of Eos or a Rick, Steadfast Leader laying around feel free to skip them for a different human fetcher or buffer (Knight-Captain of Eos perhaps).
Here are the cuts I'd recommend:
1 Field of Ruin
1 Evolving Wilds
1 Grey Host Reinforcements
1 Champions of Minas Tirith
1 Gimli of the Glittering Caves
1 Lossarnach Captain
1 Archivist of Gondor
1 Fealty to the Realm
1 Call for Aid
1 Faramir, Steward of Gondor
1 Denethor, Stone Seer
1 Oath of Eorl
1 Taunt from the Rampart
1 Crown of Gondor
1 Sunset Revelry
1 Visions of Glory
1 Palace Jailer
1 Prairie Stream
1 Earthquake
1 Throne of the High City
1 Heirloom Blade
1 Rogue's Passage
1 Court of Ire
1 Supreme Verdict
1 Frontline Medic
1 Battlefield Forge
1 Furycalm Snarl
1 Humble Defector
1 Port Town
1 Terramorphic Expanse
1 Secluded Courtyard
1 Selfless Squire
1 Tranquil Cove
1 Zealous Conscripts
1 Wind-Scarred Crag
And the additions:
1 Heraldic Banner
1 Aura of Silence
1 Coat of Arms
1 City of Brass
1 Boros Charm
1 Sacred Foundry
1 Hallowed Fountain
1 Ancient Tomb
1 Steam Vents
1 Tajic, Legion's Edge
1 Prismatic Vista
1 Ranger-Captain of Eos
1 Mana Confluence
1 Cathars' Crusade
1 Rick, Steadfast Leader
1 Dovin's Veto
1 Talisman of Creativity
1 Fabled Passage
1 Esper Sentinel
1 Cathar Commando
1 Odric, Master Tactician
1 Abrade
1 Otawara, Soaring City
1 Lightning Bolt
1 An Offer You Can't Refuse
1 Fellwar Stone
1 And They Shall Know No Fear
1 Myrel, Shield of Argive
1 Flawless Maneuver
1 Rip Apart
1 Herald of Hoofbeats
1 Coppercoat Vanguard
1 Minas Tirith
1 Horn of Gondor
1 Flowering of the White Tree
Here is the moxfield of the finished deck:
Have any questions or feedback? Drop us a note in the comments below or email us at contact@goonhammer.com.