9th edition is on the way, and with it a whole raft of changes to the factions of Warhammer 40,000. With the Munitorum Field Manual out in the wild and the Faction FAQs released, now's a good time to start taking a look at what's changed for all of our favourite armies. Today, Cyle "Naramyth" Thompson is looking at the Adeptus Mechanicus.
9th is upon us, and everything got more expensive. However rising points raise all armies! Are things as "doom and gloom" for the Adeptus Mechanicus as our initial pass in our Munitorum Field Manual review seemed to indicate? Let's break down the Force Organization slots, put it all together, check out the "free" Imperium options, and see if we can squeeze out a couple lists that feel alright.
The Roster Breakdown
HQs
Compared to other, older armies, the Adeptus Mechanicus are blessed with a lean 5 HQ options and the points increases for these were the same modest "minimum 5 points, unless you are a named character, then it's 10" changes that The Algorithm demanded. I do not think this really changes the overall structure for how Admech armies are built. A Dominus or Cawl, with either/or of Manipulus or Daedalosus will still be very common, with the Enginseer being the cheap slot filler choice. A nice change from the old and busted double Battalion approach to army building is that the overall point spend on HQs will probably be lower now that a standard army will only need two HQs instead of four.
Troops
This hurts my multiple small unit machine spirit but lets talk about the big boys first. Torsion Breachers stayed the same while Arc Breachers went up 5 points per model. Grav Destroyers went down slightly (-2) but Plasma Destroyers went up the same 5 points per model. Relatively, they are the in the same spots: Arc/Grav are cheaper than Torsion/Plasma but now the differences are not as pronounced. Coherency checks makes stringing these guys out not as fun as it used to be, and blasts make the 12 man blob probably not worth it. However the Servitor Maniple has not really lost any steam: these guys are big-based slow troops that have good guns and are an easy place to stack buffs. Breachers are not even horrible in combat so when they are tied up it is not the end of the world. I think they came out alright.
But now the little guys. Vanguard and Rangers both went up to 9ppm. Vanguard came out like bandits in this, a single point increase puts them 45 points for 15 shots out of a unit that wants to jump out of rides or be Advancing up the field, and the -1 toughness bubble in combat is just bonus nachos. Rangers, being the great 30" rapid fire guys, really took it with their 2-point cost increase. These guys are certainly OK backline objective holders, but that is usually handled by the variety of tanks and transports that define the Admech army. On the special weapons front Arc rifles, which are kind of not great anyway, went up 2 points so they are not as great for filling a slot anymore while the Plasma caliver dropped a point. Dudes jumping out of rides with plasma can still happen and be aggressively point efficient (65 points for 2 18" assault plasma guns is a steal), but unfortunately that parade may have been postponed due to rain in transport land. More on that in a bit.
Elites
The point increases are small, but these are generally large units so each model going up 2-5 points is a bid deal. Fulgurite priests went up 3 points per model, putting them back at pre CA19 points. I used Fulgurites extensively last year and even at 170 for a squad of 10 they are worth it as a counter charge element. However, like with the Rangers and Vanguard, a cheap ride is what really made these guys sing, and again I will cover that in a bit. Corpuscarii priests are in a similar boat, a 2 point increase isn't the end of the world, but they are short ranged, fragile, and with the loss of their gauntlets only exploding on unmodified 6s really put them from the maybe good pile into the bin.
Hoplites and Peltasts also went up a point each. They have always hung on the edge of playable but are hampered by not having a Forgeworld tag. I feel they will continue to exist in the same space.
Infiltrators and Ruststalkers took it on the chin. Realistically they are only a point above the pre CA19 changes, but both are completely outclassed at their jobs by new models. If I want a Wrath of Mars I'll bring the Skystalkers and if I want a fast ground unit I'll bring the Raiders. Put away the ninjas, they are dead.
Finally, the slot fillers, The Datasmith, Servitors, and humble X-22 went up in points. They sure exist.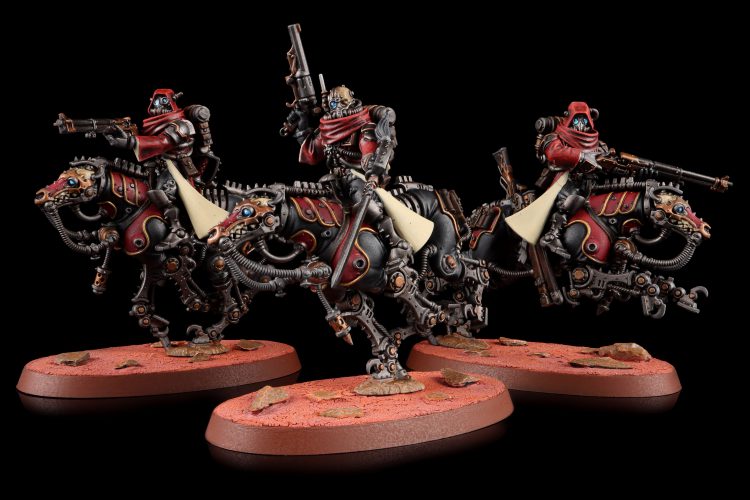 Fast Attack
A lot has changed in the Fast Attack slot with Engine War but I think the overall roles and power levels are about the same with the exception of the Ironstriders really winning and Dragoons really losing. 65 points for twin autocannons or 75 for twin lascannons is a steal, and a blob of them can still do some filthy move blocking and Overwatch with the Cognis Overwatch strat. Combined with being able to move and shoot without penalty and being able to shoot into combat I can certainly see bricks of Ironstriders being a common occurrence. Dragoons on the other hand only took a net 2-point increase but they lost the ability for their taser lances to explode on 4s now that the 9th edition FAQs have issued errata allowing these abilities to only proc additional hits on unmodified 6s. They were already a borderline unit and with priests having access to transports and the Serberys being able to occupy a similar role I do not think they will see much play.
Speaking of the Serberys, Raiders and Sulphorhounds only took small increases, so it looks like we're continuing to see these guys be aggressively pushed. I am not a huge fan of the Sulphorhounds but Raiders continue to be an amazing value, providing some light sniping and lots of wounds for not a lot of points, plus they're great at move blocking and have some absolutely trollish Strategems.
Finally, our flappy Pteraxii. Both units went up 2ppm and are ultimately filling the same role: Drop flamers, which seems dubious, or Just Better Swooping Hawks that also have Wrath of Mars. Given that the AdMech Fast Attack slot is suddenly very crowded, I would not be surprised if these guys do not always find their way onto the table.
Heavy Support
The heavy slot has always been where my armies have played, and I am sad to report that the slots are now a little easier to fill now that The One True Tank ate some hard nerfs, but THE WORLD OF TOMORROW, (is) TODAY! Shooty Kastelan Robots are now 125 per model, and the punchy version clocks in at 115 which feels like back in early 2019 point values except that vehicles now can shoot into combat, can move and shoot no penalty, and now these boys won't care if they are planted and are tied up in combat because they can just shoot their way out. Along with the net modifier max of +/- 1 double shooting Wrath of Mars robots will be a force to contend with. DESTORY DESTROY DESTORY
Dunecrawlers also feel like they got the kids gloves. It looks bleak with the main chasis going up 45 points, but the guns got discounted so the net is only up 15 (115 total) for the Icaraus array and 23 (140) for the Neutron laser. With the general vehicle buffs these feel like they are still in a good place.
Alas, we come to the true Icarus, the Skorpius Disintergrator flew too close to the sun and was smacked down for its hubris. Clocking in at 150 (up from 111) the Disintergrator which three of each was a staple of Admech list design now feels almost unplayable. It does provide indirect shooting that Admech otherwise lacks but its indirect shooting is not that good for what it is. Combined with the new lack of 6 or more heavy slots in every list I'll be looking elsewhere for this competitive slot.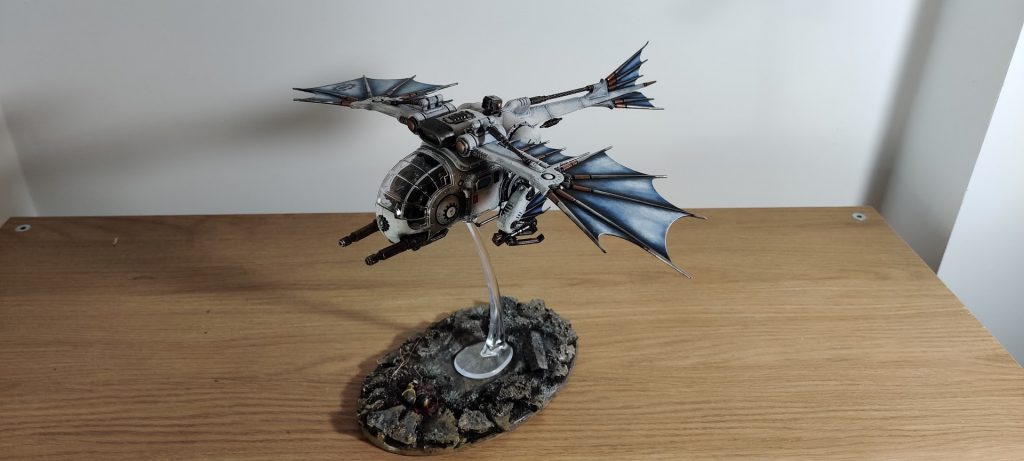 Flyers
The Archaeopters are also a new addition to the AdMech arsenal in Engine War and my initial response to them was tepid. They seemed like kind of a lot of points for not a lot of guns or wounds and to keep their defensive properties they could not really hang out in the big Cawl bubble. In addition, they could not negate the hit penalty from moving and shooting. A lot of those criticisms still apply; however I think there is some potential in the Stratoraptor. Clocking in at 150 points and providing 12 shots and 2 lascannons on a platform that can move far and double pivot seems like a real winner. It's still a fragile platform but these occupy a slot that wouldn't otherwise get filled when building a battalion, which means they aren't crowding out other valuable units. The Fusilave and Transvector also can be built from the same kit, so they have that going for them, I guess.
Dedicated Transports
The Skorpius Dunerider is not what it once was: a 73 point doofy not-hovertank carting around cheap troops and fragile elite bodies shooting 12 stubber shots at anything that indecently gets in the way.  It is now a 100 point doofy not-hovertank that feels a lot worse. Does it still do its job? Sure, but the package of 10 Fulgurites hoping out of a Dunerider was 213. A couple of those felt like a solid counter charge unit. That same package is now 270. That is harder to swallow. I also used these to cart around troops to objectives and while that still has value it is just surpassingly more expensive to do the same thing.
The Terrax Drill, however. They must have forgotten about our sweet drill boy. Going up exactly 2 points the drill still carries 12 bodies, has a couple storm bolters, a d3 melta gun, and 6 S14 Thunderhammer swings it wants to tell you all about. It is a little slower than the Dunerider, only going 10" compared to 12", does not get canticles, but is T8 and is only 36 points more than the Dunerider. All hail our new drill over underlords.
Putting It All Together
Overall the doom and gloom around AdMech post-points and FAQs is not totally justified; the pendulum appears to have swung back in favor of armies with lots of direct shooting and the bogeyman of an opponent being able to get the whole Cawl block party tied up isn't nearly as scary as most of the faction's shooting is vehicle-based. I see threat projection continuing to be an issue. The Raiders are very good but are not the most dangerous so grabbing the midfield could be difficult. I do see blobs of Breachers, Ironstriders, Raiders, and Kastelans running around causing problems with drills coming up in backfields being a downtown threat. And likewise we'll see fewer Skorpius anythings boating about as the game plans that revolved around them (such as multiple small units with plasma guns embarked in them) got more expensive, while fewer Troop choices are now required in army construction.
Imperial Agents
Being an Imperium army certainly has benefits. There are now several characters that can be added in to help shore up some of the weaknesses that an army can face. On the inquisitor front, Coteaz and Draxus only went up 5 points and can bring some additional counter charge, mortal wounds, psychic denies, and morale bonuses for the blobs of units that may start popping up.  All the assassins also went up only 5 points to a clean 100 and in the PA book you can now just pick the Callidus as your default and pay CP if you need to swap out to a different toolkit. Finally, the power couple Stern and Kyganil clock in at a combined 125 points. A couple of fast melee characters that can shoot mortals and deep strike if needed running around in the new "can-shoot-into-combat" AdMech line seem like they could be an OK replacement counter charge unit.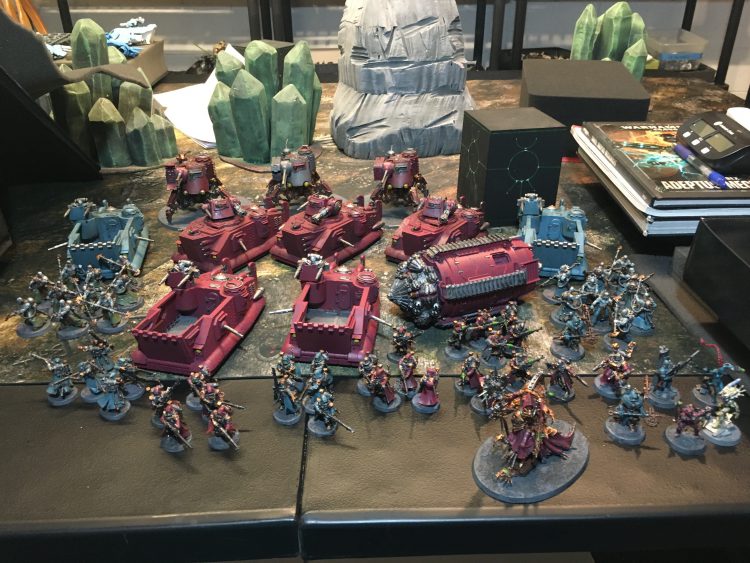 Let's Build Some Lists
So with all that said, it's time to look at some lists we might run in 9th edition.
Drill Baby, Drill
Adeptus Mechanicus Battalion (1,991)
Forge World: Mars
HQ: Belisarius Cawl
HQ: Engineseer
Troops: 5x vanguard, 2x plasma
Troops: 5x vanguard, 2x plasma
Troops: 5x vanguard, 2x plasma
Troops: 5x vanguard, 2x plasma
Troops: 5x vanguard, 2x plasma
Troops: 5x vanguard, 2x plasma
FA: 5x Ironstrider, Autocannons
FA: 9x Serberys Raiders
FA: 9x Serberys Raiders
HS: Icarus Dunecrawler
HS: Icarus Dunecrawler
HS: Icarus Dunecrawler
DT: Terrax Pattern Termite Assault Drill
DT: Terrax Pattern Termite Assault Drill
DT: Terrax Pattern Termite Assault Drill
This is me trying to feel out how MSU could work in the new edition, and I do not immediately hate it. This list gives up any pretense of hidden melee threats or real any subtlety and just puts drills and a Cawl Castle on the table on the table and expects you do deal with it. The raiders fly up ahead gobbling up space and doing their fallback option while the drills and plasma teams grab objectives. The Dunecrawler and Ironstriders are babysat by Cawl and hopefully get +1S on heavy weapons to make most of the shooting out of the castle S8. Any charges can be dealt with by a devastating Cognis Overwatch from the Ironstriders, then shot again if I do not feel the need to fall back. I do not really enjoy trading troops by putting them in harm's way with the plasma and could see the plasma being cut back for some of the imperial agents above, especially if the game devolves into needing 3rd– and 4th-turn melee threats on midfield objectives but actual testing would be required.
DESTROY DESTROY
Adeptus Mechanicus Battalion Detachment (1,997)
Forge World: Mars
HQ: Belisarius Cawl
HQ: Engineseer
Troops: 5x Skitarii Vanguard
Troops: 5x Skitarii Vanguard
Troops: 8x Arc Breachers
FA: 5x Ironstrider, Autocannons
FA: 7x Serberys Raiders
FA: 7x Serberys Raiders
HS: 4x Kastellan Robots
DT:Terrax Pattern Termite Assault Drill
N/A: Coteaz
N/A: Stern & Kyganil
Just walk the robots up the field and plant when you finally have chance. No one is going to want to mess with Cawl and his Large Robot Sons. Meanwhile the blobs of Raiders, Ironstriders and Arc Breachers fill up the table shooting everything that is in LOS. Coteaz helps keep the Breachers in play and helps out with counter charges while the Drill and Ster-ganil (Kyg-ern?) drop in and are a huge pain in the ass. Yes it's a second Mars list, no I don't care.
What's Next
That wraps up our view of the Adeptus Mechanicus, who sadly never really got a fair chance to dominate the meta with their new toys in 8th edition, but may still have lots of value and versatility in 9th. We'll continue to cover other factions in our Faction Focus series, so if you missed one or want to see which ones are coming up, check out our 9th edition page in the navigation bar on the right side of the screen. If you have any questions or feedback, drop us a note in the comments below or email us at contact@goonhammer.com. Or if you're a patron, head on over to our Discord server and shoot us a message and we'll be happy to respond.