Thanks to Army Case for sending the Kane case for review. I've also recently reviewed their magnetic painting handle, so check that out. 
I  want to start by saying that pictures do not do this case justice. This thing is huge. I didn't fully appreciate how much it could carry and how deep the shelves were until I started using it for multiple armies/systems at the same time. In fact for some users it very well might be too big for what you actually need to carry around.
Out the Box
The case comes flat packed and you need to do some very minor DIY to get it ready. Just slot the sides and back into the bottom and then the top on before sliding into the bag. It's a very snug fit and keeps the metal structure secure; I had no issues with the fit for my case and it slid in very easily.
You get a set of pins and bands to attach to each side of each tray (enough for each tray to have a pin each side) which keeps the trays in place instead of sliding in and out. It's very simple to do, took me about 20 minutes in total and definitely worth doing. To use the pins it's just 2 simple loops as below; thread the band through the hole in the side of the tray and loop it back on itself then thread the other end through the pin and loop that back on itself. Should look like this:
The case comes with 3 shelves automatically but unless you're only transporting Imperial Knights or similarly massive models you're going to want to get additional shelves. I have yet to need less than 4 at any point, because again, this case is massive.
The Good
Lightweight
Massive Capacity
Comfortable Backpack
I live in a one-bed flat in London and I don't drive; that means that I don't have space at home for gaming and to get anywhere to game I need to rely on public transportation. This has always made taking larger armies or even multiple game systems awkward at best unless I was just going to play a small board/skirmish game like Necromunda, Blood Bowl, or Star Wars Legion.
For about the last 2 months I've been using this case almost exclusively to tote my armies around in and for some storage. Below you can see how much I fit in for a day of Horus Heresy and Conquest gaming with Soggy, carrying about 1500 points of Conquest as well as 3,000 points of Imperial Fists (there's a spartan on the same shelf as Dorn, behind the Rhino!).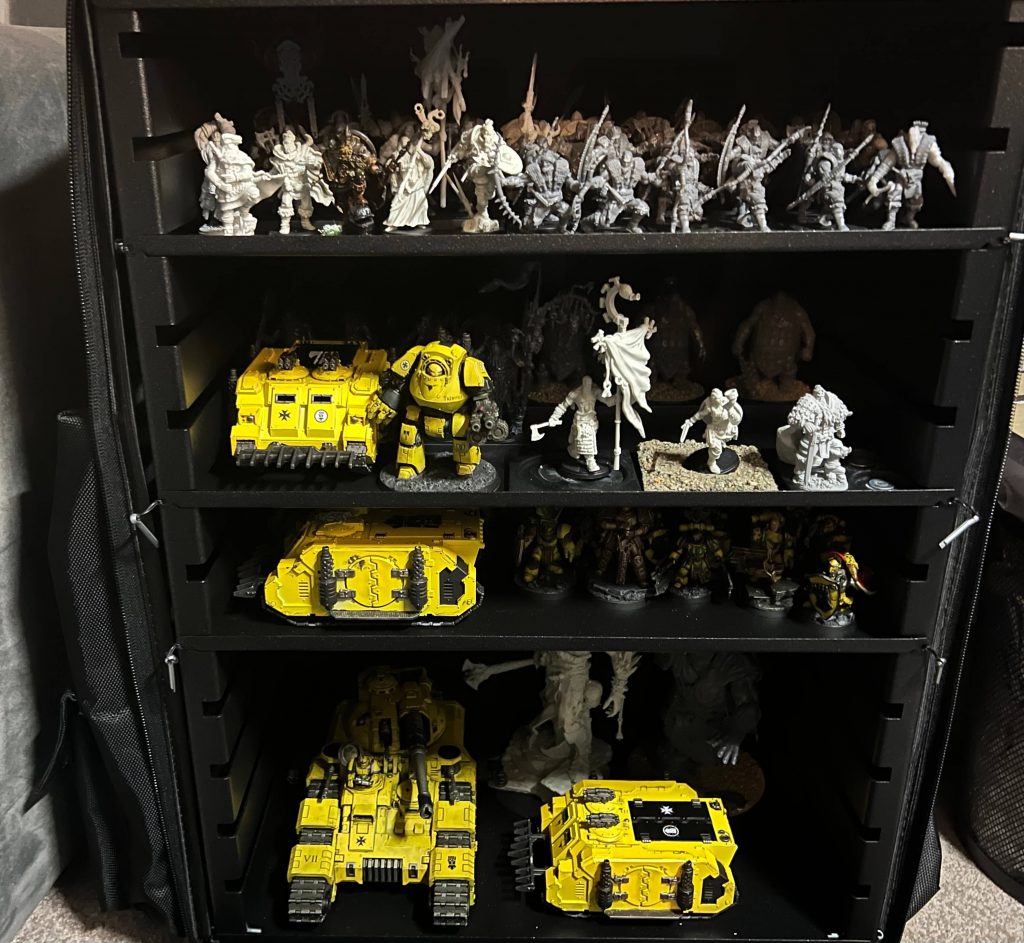 One game system that this has really been useful for is Conquest: The Last Argument of Kings, which we've recently started covering. Those models are large, sit on large square bases, and a "real" army of them is not small by any means either. I collect and play Nords which means I'm transport a few dozen infantry, a couple giants, and some larger beasts/ogre type creatures as well. All of which are in 38mm scale. The trays for this case (accidentally?) fit stands for conquest exceedingly well, each holding up to 15 stands for infantry/brutes. That's a lot of models: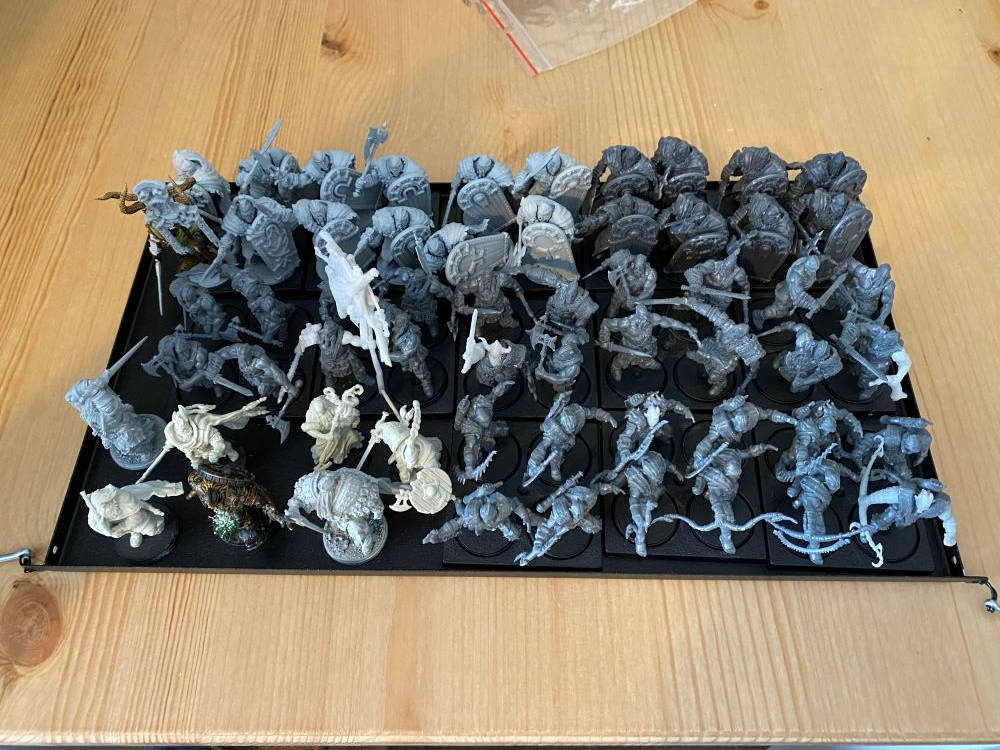 What I need is something that I can stick a load of models into, have them be safe, and be able to feasibly carry it for an hour or more without getting uncomfortable. I'm also not in shape, so that last part isn't as easy as it might sound. I assumed that carrying something this bulky would be uncomfortable but the straps and padding go a long way. Now, I'm not the tallest human at about 5'6″ (about 167cm) but this is how it looks on me, photos courtesy of Soggy:
It also has a strip of velcro on the front and top so you can stick your favourite velcro patches to it, if you have any. I only had a Warhammer aquila one so had to get an MD flag (of course) and stuck a Titanicus sticker to some velcro backing to represent the best game.
The Bad
This case is big. And it's definitely going to be far too large for some gamers out there. Not everyone is needing to transport 2 full armies for 2 different game systems at the same time.  Fortunately for them A Case makes smaller sized cases that use smaller trays too to accommodate. There's no beating around the bush that this is not a cheap case. Coming in at £252 or £281 with the extra shelves it's important to consider if you really would need this massive one or one of the smaller, cheaper options to transport your models.
If you don't already magnetise your model bases it's an additional cost and a bit of time and effort too; and obviously something you'll need to do for this case, but if you've read this far into the review you knew that already. For GW and Star Wars Legion bases I've been using N52 5x2mm magnets but for the thinner Conquest bases 6x1mm instead.
I also need to say that the big pocket on the front is useful for sticking things like army lists and maybe 1 army book Trying to put the Horus Heresy rulebook and a liber book in there tipped the weight too much and made it far more awkward to carry. There's a pocket on the back instead which is better suited for that at least and keeps the weight less awkward.
Final Verdict
This is a good case. It feels sturdy even though it's light and I have yet to load it up wishing I had more space for more models. If you're needing to transport a lot of models and/or some very large and awkward ones then this is a great case. If you're not needing to transport as many models as this holds then you'll be better off with one of their smaller cases. Just be aware the smaller ones don't have backpack straps.