In our How to Paint Everything series we look at how to paint well, everything, with different techniques and approaches. This week Bair goes over how he painted his simple, earthy, Nords for Conquest: The Last Argument of Kings! 
Para Bellum's take on Nords is different than we normally see. They've already had their Ragnarok, it happened, this is what comes after. Which means a mix of humans and non-humans fighting alongside each other with Ugr, various beasts, and mighty Jotnar. We covered the army's rules and how they play more in depth over here.
Broadly speaking I take a very simplistic approach to painting minis and the Conquests larger 38mm scale works well with that. I primarily use a technique called underpainting as a base for my minis followed by mostly Citadel contrast paints with some highlights after. For all of the following minis I follow the same basecoating steps:
Spray with Colourforge matt black
Heavy drybrush with Citadel Corax White
That's it, very simple but gives a good base to start from. I use Corax White for this because it's not a pure white, but close to it, and has excellent coverage over the black basecoat. It's very easy to think you're doing too much with that heavy drybrush but it's very important that you get a nice even coating and no streaking or drybrush marks because these will show through the contrast layers! You want more white than black showing on these for this to work. Like this, below.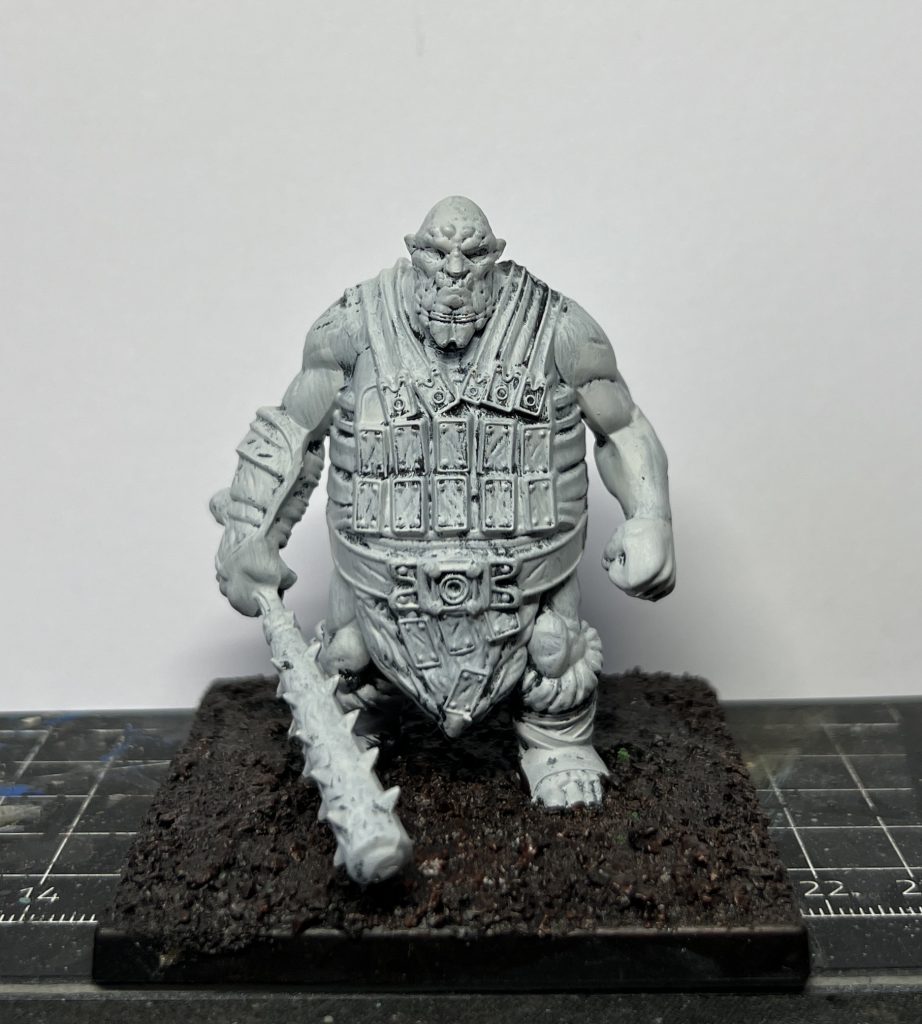 Paint List
Colourforge Matt Black spray
Corax White
Guilliman Flesh
Militarum Green
Gore Grunta Fur
Black Templar
Skeleton Horde
Cygor Brown
Snakebite Leather
Wyldwood
Garaghak's Sewer
Stormfiend
Blood Angel Red
Briar Queen Chill
Runelord Brass
Leadbelcher
Retributor Gold
Kislev Flesh
Caledor Sky
Calgar Blue
Gorthor Brown
Ushabti Bone
Nuln Oil
Agrax Earthshade
Scalecolour (Scale75) Soilworks Spring Soil
Gamers Grass grass and flower tufts
Overall I wanted to keep a very earthy theme, not bright colours but something that might be a little more realistic to a raiding party.
While applying contrast paints it's easy to want to do too much if you're not getting as dark a tone as you may want. We'll be adding shades at the end which will darken them a bit anyways so be patient but most importantly: don't let the contrast paint pool too much in one area!
The basing is consistent across all minis: layer on a hefty amount of texture paint using an old brush you no longer care about. Then shade down in Agrax Earthshade and pick out some larger pieces with Dawnstone to break up the brown. Add on tufts to your heart's content! I liked the contrast of white flowers against all the darker tones on the minis.
The Humans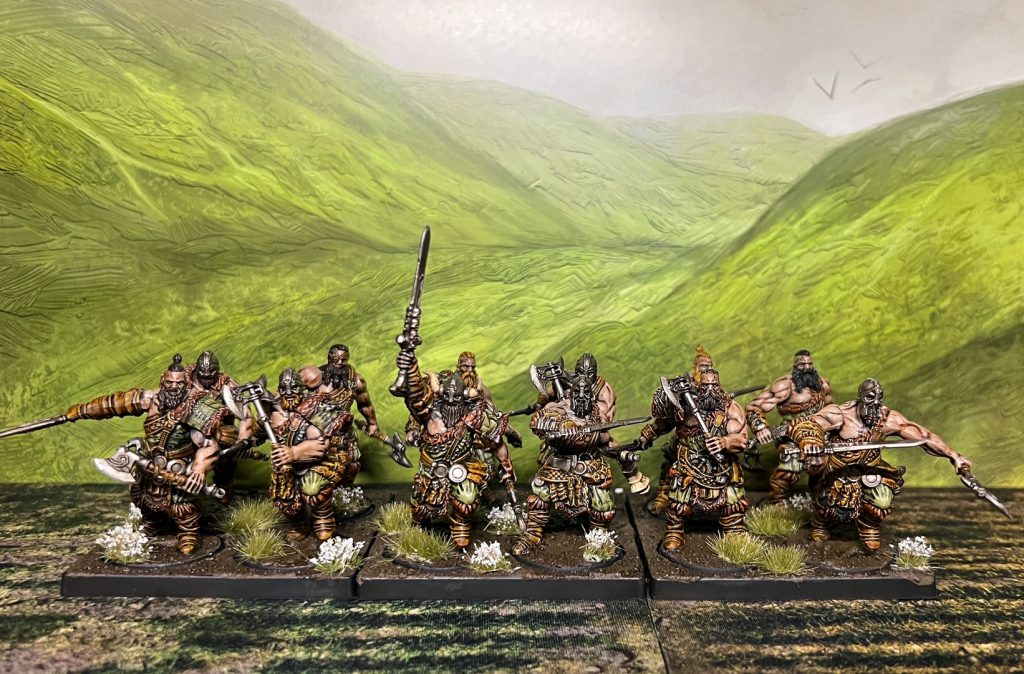 As above I started with the underpainting basecoat before first painting the flesh all-over with Guilliman Flesh. You can really use any flesh tone you want here and mixing a variety of flesh tones would look great across a unit! After the other steps are finished you can go back over and highlight to skin with Kislev flesh if you want it a little lighter for some minis.
The hair and beards you can really use any colours you want. I used a mix of browns for them as well as Skeleton Horde for dirty blonde.
Next up: leathers. Using the aptly-named Snakebite Leather this is one of my favourite paints. Apply carefully as to not get any on the skin as it will stain. Cygor Brown is used for trousers and similar cloth that you don't want to be green.
Militarum Green is a lighter contrast paint and compared to others takes a little getting used to. It shows that white undertone more than the browns do so don't let this surprise you, this will be darkened down with shade later on. If you do want a deeper green then you could use Dark Angel Green instead.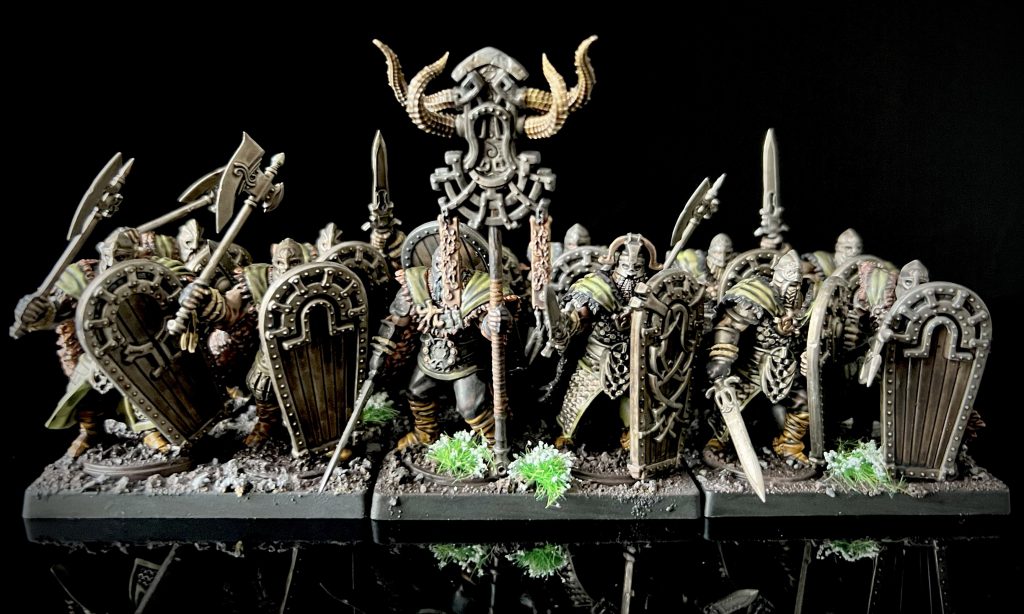 All of the furs are Gore Grunta Fur, it's ok if you use some of this for some beards as well, the textures read differently enough that it won't look confusing or bad!
My Huscarls' shields are painted over with Wyldwood to keep the very earthy tones across in the army. Other wood parts such as the Shaman's staff are also with this colour.
After all of the contrasts are down then I tidy up and go over any bone parts such as on the Huscarl banner or that might appear as ornamentation with Ushabti Bone and then going over that with Skeleton Horde.
Last of the paints are metals. I liked to keep it very simply on my troops and just do silver for weapons and other metallic parts leaving the golds for characters to help them stand out a bit more.
Similarly, to help characters stand out I added red to weapon haft and other cloth areas like my Konungyr below.
After all of that's done it's time to add some shade! I shade down the clothes, beards, golds, and really anything that's not silver with agrax earthshade. It helps keep a natural look on the colours. Then nuln oil on silvers to darken them a bit and give a natural highlight to the edges.
If you're looking for more pointers on painting human skin, you can find our tutorial on flesh tones here.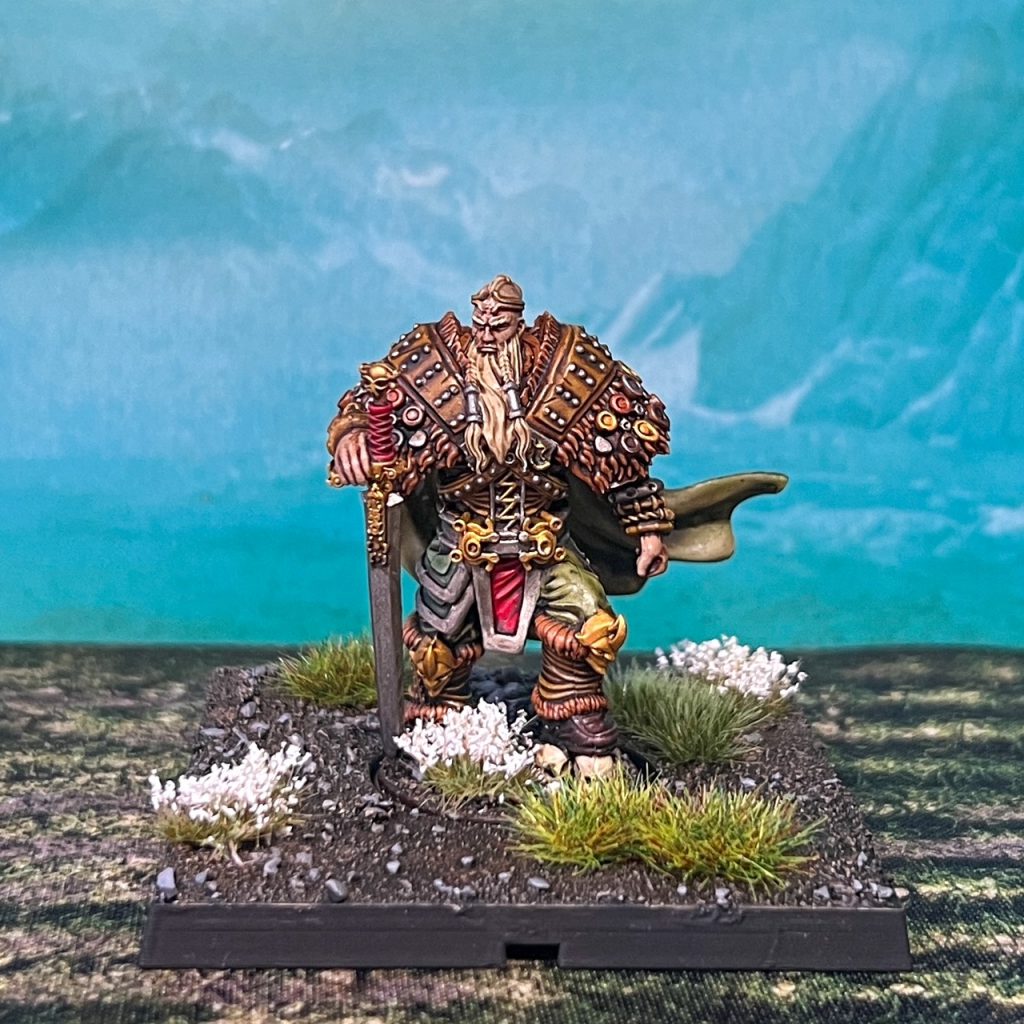 The Non-Humans
A real mix of minis here from Jotnars to various beasts (with only Fenr so far released) and then Ugr and Trolls. I'll be showing how to paint the traditionally blue fleshed minis here, which will apply for Ugr, Trolls, Fenr, and the Ice Jotnar. You can easily apply this to the Sea Jotnar as well of course!
My Mountain Jotnar I painted with the human-scheme above using more Kislev Flesh as highlights since the proportions are much larger and benefits from being highlighted much more.
Start with the blue skin, applying Stormfiend carefully as you don't want to spill this on to other parts of the model. For a highlight you can use different blues as you see fit, I used Caldeor Sky to brighten them up a bit.
Then as above use Militarum Green, browns for hair/beards, Snakebite Leather, Wyldwood, and Gore Grunta Fur as you would on your human minis. It's important to me to keep the theme of the army consistent and share colours between.
Again using just silvers, and not golds, on the more basic troops like Ugr and Trolls. Ugr are covered in what seem like metal plate bars as armour, the silver works well on top of the green tunics and shaded down with nuln after are very fitting!
These like to show their teeth, so paint these with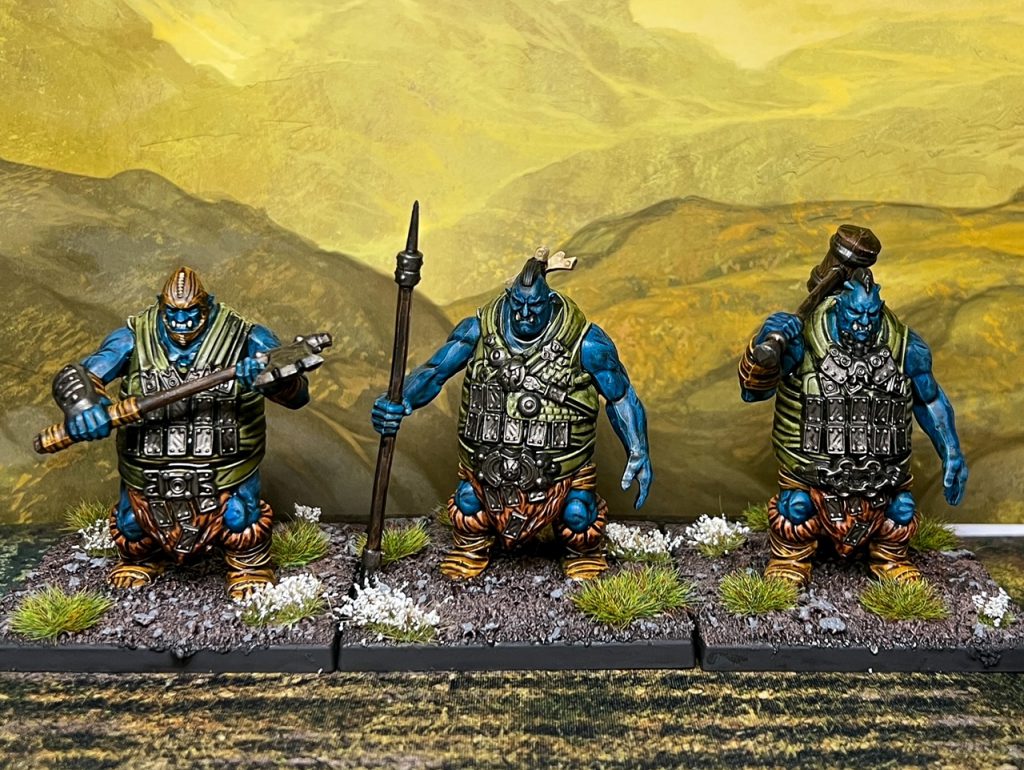 The Ice Jotnar is a bit of a different beast all his own. Same skin, though, and many of the other same elements from above just a few new pieces to work with. For the skin, I added a further highlight on scars and nipples of Calgar Blue so that they stand out more. The red is Blood Angels with a highlight of Evil Sunz Scarlet.
Still tying him in to the rest of the force with the same green, browns, and fur of course. The beard is simply the undercoat shaded over with nuln oil and highlighted back up with corax white; this is a quick and easy dirty grey/white hair.
For the ice I painted over with Briar Queen Chill and I did not think it was going to dry well. This is a really strange paint that doesn't appear to be doing much, but be patient with it and highlight the edges with a pure white such as White Scar and you'll really see the difference! The eyes were also painted with White Scar to look piercing and menacing.
I didn't want that large metal piece behind his head to be more-silver like his boots and armour but also not a bright and shining gold so I went for Runelord Brass with an Agrax shade over; the crown by contrast deserves to be gold so Retrinbutor was the right call.
Since the massive boots are such large areas of silver, it's a good idea to highlight back up with leadbelcher after shading to add more depth.
Those leather straps are Cygor Brown layered over with Gorthor Brown before shaded back down, you could easily do Snakebite Leather on these though if you want to minimise the number of paints you're using! With much larger clothe areas I also picked out the stitching in Ushabti Bone.
As with other bones, the massive skulls he carries around as trophies (as well as the human sized ones) were also done with Ushabti Bone and gone over with both Skeleton Horde and Agrax Earthshade for more depth; before being highlighted back with Ushabti Bone.
That massive stone slab he's standing on is just gone over with Basilicanum Grey and shaded over with nuln oil after.
A larger miniature like this will only benefit from more highlights. Adding that much more depth to an already detailed miniature goes that extra step to making it look even better.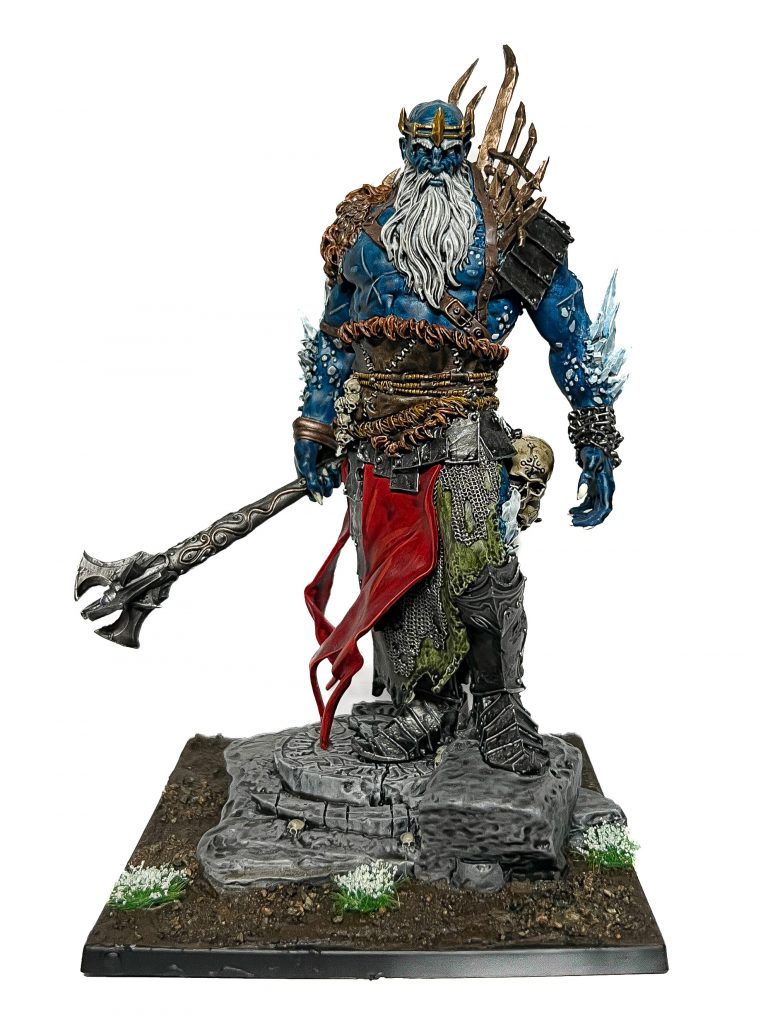 Wrapping Up
And that's it! This is a quick and easy way to get a Nord army out onto the tabletop quickly and easily.
The most important things to remember:
Get that undercoat smooth and consistent
Don't let contrast or shade pool too much in recesses, wipe away with a dry clean brush if they start to
Keep colours consistent across the army, even with varied units
Have any questions or feedback? Drop us a note in the comments below or email us at contact@goonhammer.com. And if you want to get 10% off and support Goonhammer, make your Conquest purchase by clicking here for US/Canada or here for EU/rest of world and enter code "goonhammer" at checkout.