Yesterday we previewed it, and today we're happy to say that the public beta of the new Tabletop Battles app (formerly ITC Battles) is finally here! You can go and download the app by using one of the links below. And if you have questions about what's in the new app or what our plans our, keep scrolling to learn more.
Note: If you already have an Administratum account, that login will also be your Tabletop Battles login – just use the same account you've already made. If you are creating a new account, you can use that account for Administratum later!
What's in the New App Beta
First things first – this new app is a public Beta. That means it isn't done yet – there's still a ton of things we're working on, and not every feature in the old app has been built in the new app yet (more on that in a bit), but for most of you, it's well worth it to try out the new app. Here are 5 reasons to switch:
1. A New, Cleaner Interface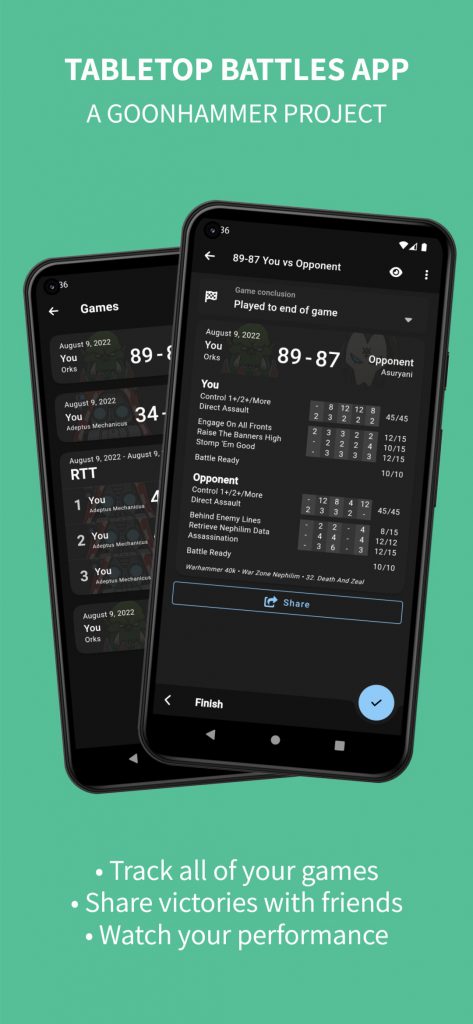 The new app has a cleaner, more appealing interface that's easier to navigate than ever before. On top of that, as we mentioned before, your Tabletop Battles account is now shared with Administratum. Now you can log into Tabletop Battles with your Administratum account, and vice versa, and if you create an account, it'll work on both.
2. Support for Tempest of War Games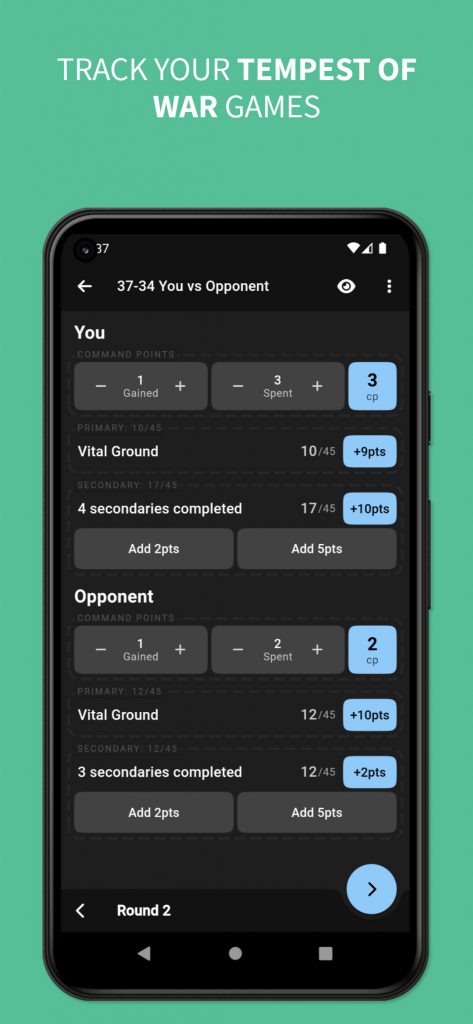 You may remember that we're big fans of Tempest of War, the other matched play mode Games Workshop released cards for. If you've wanted to track Tempest scoring with the ITC Battles app, this new app has got you covered!
3. Better Tournament Support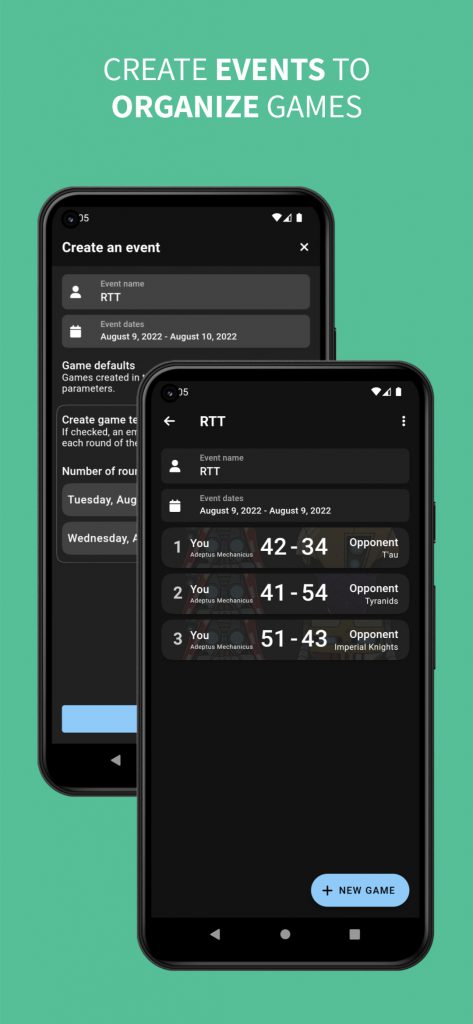 Ever get tired of re-entering your faction for every game of an event? With the new app you can create events ahead of time, set your faction and the number of rounds, and the new app will automatically create the games ahead of time for you.
4. Improved Smart Scoring Prevents Mistakes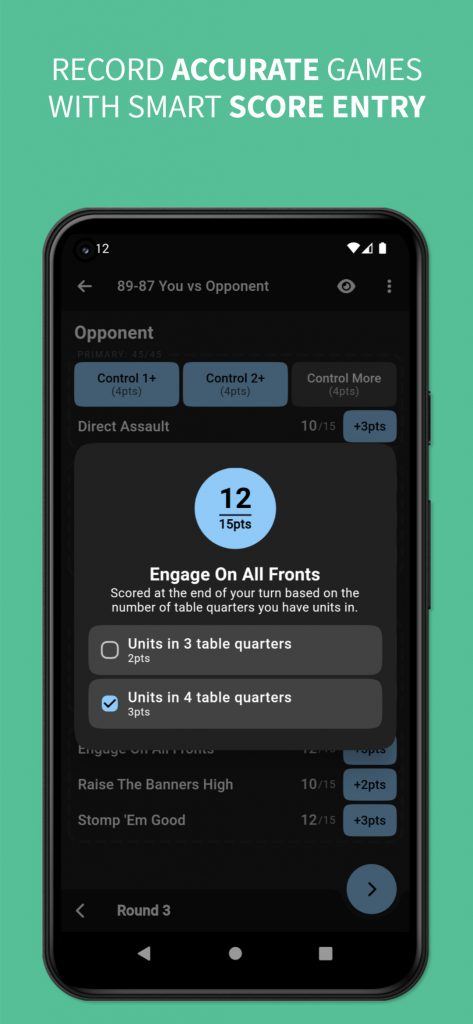 The new interface makes it easier than ever to ensure you're scoring secondaries correctly. Ever have a player accidentally pick two secondaries from the same category? Avoid problems like that with the new app and get helpful, persistent reminders of the current score for both players – no more surprises on round 5.
5. Track Your Personal Stats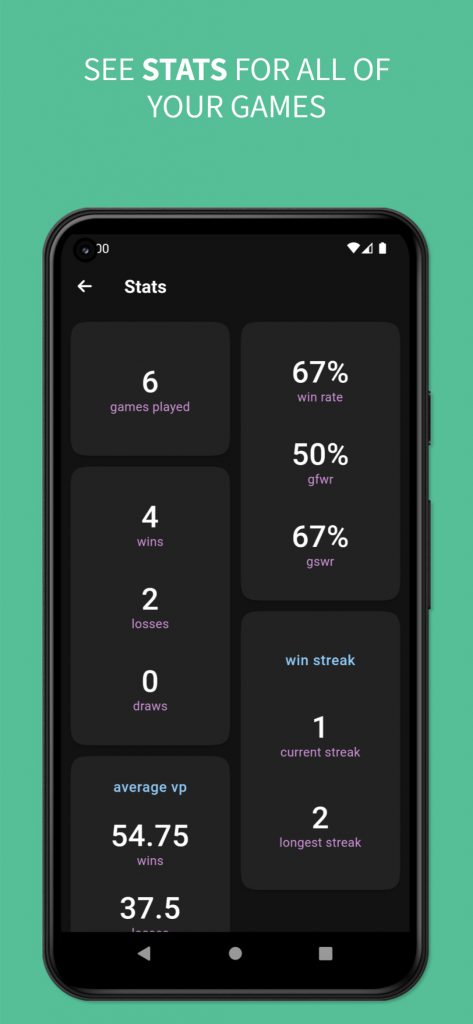 In addition to tracking your games, you can also track your personal stats – the new app will help you track your average VP, win rates, and current streaks. And this is just the beginning – stay tuned for improvements in this area.
You've Got Questions. We've Got Answers.
You might have some questions about the new app, or about the old app, or about where we're going with all this. Well we've got answers to most of your questions here, hopefully.
Why did you change the name of the app? 
The ITC Battles app has a ton of regular users and is well loved, so we were loathe to change the name. That said, our plans are bigger than the ITC and Warhammer and we wanted to change the name of the app to something that reflected that change. Also, we're not affiliated with ITC and we didn't want to create any confusion there.
Does this mean you'll be supporting more games? 
Eventually! But probably not for a while. Right now our focus is on getting the new app to feature parity with the old app.
About that – where's <Insert Feature>? Will it be in the new app?
Also yes, eventually. We're dutifully working on putting every one of the features in the old app – such as streaming support – into the new app. Our plan is to build those features out and then once that's finished, sunset the old app.
Will you be porting over the old data from my games in ITC Battles?
Yes, eventually.
What about new features? 
Oh man, you better believe we are adding a bunch of new features. Stay tuned for some announcements there, but there's more coming down the line, such as synched games with other players, more personal stats, and the ability to take photos of your games.
Can I submit games to Administratum?
Now we're talking. Unfortunately, not yet. But yeah, that's absolutely on our road map.
How do I report bugs?
Shoot us an email at contact@goonhammer.com. Be sure to send us a screenshot if you can, and note whether you're on iOS or Android.
Have any other questions or feedback? Drop us a note in the comments below or email us at contact@goonhammer.com.